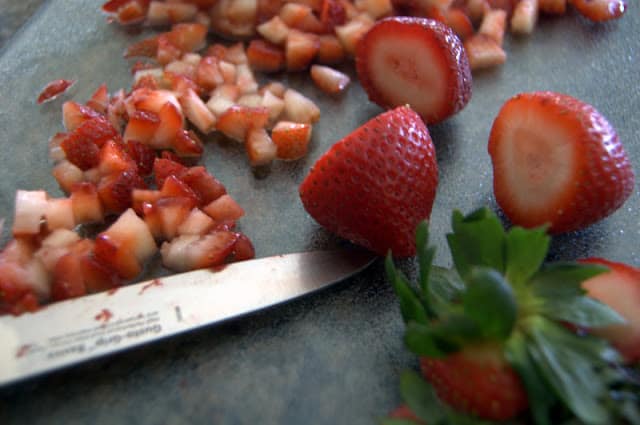 We are into the heat of summer, especially here in the southwest desert. The triple digits have come to stay, at least for the next couple of months. I'll definitely take a couple months of oven roasting temperatures over ice, snow, gray gloomy skies and the frigid cold temperatures we had back in New England.
I wasn't made for the cold
Ask Mr. 365.
He hates it when I crawl into bed using his legs as a warming blanket for my poor little piggies.
They're cold now as we speak. I'm sitting in air conditioning and am thinking about putting my warm, fuzzy socks on.
Be right back…
That's better.
Now for the good stuff…
Adapted from The Fannie Farmer Cookbook and inspired by the recent Strawberry Lemonade post Jamie did at My Baking Addiction. It looked so refreshing and delicious that my immediate thought was CUPCAKES!!!
Strawberry Lemonade Cupcakes – makes 28 cupcakes
White Cupcakes
2½ cups sifted cake flour
1 tablespoon baking powder
½ teaspoon salt
2/3 cup butter (10-2/3 tablespoons or 1 stick plus 2-2/3 Tablespoons)
lemon zest from 1 large lemon
1½ cups sugar
1 teaspoon vanilla
½ teaspoon almond extract
3/4 cup milk
4 egg whites, at room temperature
1 lb. strawberries (10-12 strawberries diced small for cupcakes, remaining strawberries for decorating)
Preheat oven to 375ºF.
Sift flour with baking powder and salt, and set aside.
Cream butter until light, gradually add 1¼ cups sugar, continuing to cream until fluffy.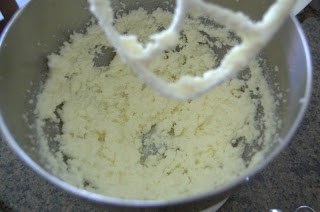 Ok, NOT really light and fluffy because I spaced and added sugar to butter before I creamed the butter. Whoops!
Add vanilla and almond extract. Mix thoroughly, scraping down the bottom and sides as needed.
Add lemon zest.
At low speed, mix in dry ingredients alternately with the milk, beginning and ending with the dry and adding about one third the total at a time.
In a separate bowl beat egg whites until frothy and add remaining ¼ cup sugar, and beat til very soft peaks form.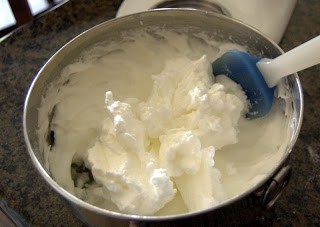 Fold both egg whites and strawberries into batter until just blended, making sure to pull up batter from the bottom, and fold over.
Spoon into a 12 cup muffin tin lined with cupcake papers, filling each only 2/3 full.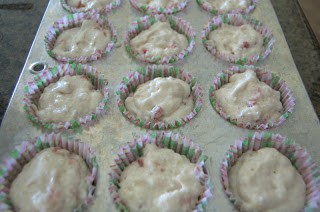 Bake for 20 minutes, rotating pan halfway through baking time.
Remove from oven and cool cupcakes on their sides for 5 minutes in the pan and then transfer to a wire rack to cool completely before frosting.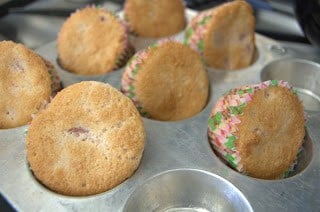 Lemonade Frosting – makes about 3 cups icing
adapted from Wilton's Buttercream Icing
½ cup solid vegetable shortening
½ cup (1 stick) butter, room temperature
1 teaspoon clear vanilla extract
½ teaspoon lemon juice
4 cups sifted confectioners' sugar (about 1 pound)
½ cup CountryTime Lemonade Mix (yellow)
2 tablespoons milk
yellow food coloring


In large bowl, cream shortening and butter with electric mixer.
Add vanilla, and lemon juice.
Gradually add sugar, one cup at a time, beating well with each addition at medium speed.
Make sure to scrape down the sides and bottom of bowl often.
Add the Lemonade Mix, and beat well.
Add desired amount of yellow food coloring (I went on the lighter side.) Icing will then appear dry.
Add milk and beat on medium speed until light and fluffy.
Frost each cupcake and decorate with remaining strawberries.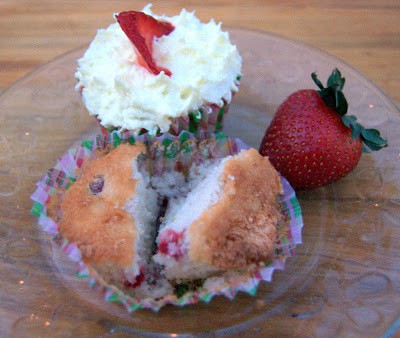 Not happy with the blurry picture, will post another picture tomorrow.
These cupcakes were SO yummy!!!
The cupcake itself was delicious with the lemon zest and strawberries and they were so light and airy reminding me of an Angel Food cake. They really didn't even need the frosting.
I put a small amount of frosting on each cupcake because I didn't want it to overpower the cake. The frosting was very sweet and I think instead of adding the lemonade powder, I should just have added more lemon juice. I also think that fresh lemon juice would have been better, but I used the bottled (GASP!).
I rate everything I bake on a scale of 1-4 with a 4 being the best and these Strawberry Lemonade Cupcakes earned 3 rolling pins.
A great BIG baking hug for you!!!!
Thanks for reading!!