Now you need to know that when I started this adventure, I set out to bake something different every day, but didn't take into account that I might become sick or that Blogger would have technical issues from time to time which would prevent me from posting.
Also, since I'd be baking every day, I would be experimenting from time to time. Since I'm not a trained, professional chef there would be, shall we say, mishaps.
This would be one of those times.
Because we have zucchini in our garden I wanted to create a different way to eat it.. I did, but it didn't work out too well.
So, this is your warning: if you choose to make this, I would definitely make changes to it, so that it comes out of the oven fully baked. And if you follow the recipe exactly as I made it, I'm off the hook for the way it turns out.
I take no responsibility 😉
It needs something changed.
I haven't figured it out yet and I've already changed it once.
Zucchini Bites – makes 12
1 cup shredded zucchini with skin on (about 2 small zucchini)
1 egg, lightly beaten
1 tablespoon melted butter, plus extra for muffin tin
¼ cup sour cream
3 tablespoons shredded cheddar cheese
1/3 cup fine bread crumbs
3 tablespoons flour
¼ teaspoon baking soda
1 teaspoon ground mustard
½ teaspoon salt
1/8 teaspoon ground pepper
¼ teaspoon thyme
1 tomato seeded and diced
Preheat oven to 375ºF and butter a 12 cup mini-muffin tin.
In a small bowl combine bread crumbs flour, baking soda, ground mustard, salt, pepper and thyme. Mix well.
In a large bowl, combine zucchini, egg, butter, sour cream and cheddar cheese. Mix well.
Add dry ingredients and mix thoroughly to combine.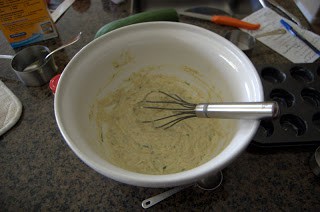 Place 2 teaspoons of batter into each muffin cup.
Place a few pieces of diced tomato in the center on top of the cups.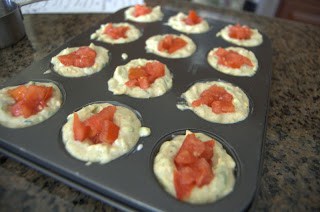 Here's what I did: Baked at 375ºF for 25 minutes.
They weren't done.
Baked for another 5 minutes. Browner, but still soft in middles.
Baked for 10 minutes becoming even browner.
Lowered oven temp. to 350ºF, covered in foil and baked for another 10 minutes.
Too brown and still soft in middle.
UGH!!!!
So I baked them for a total time of 40 minutes at 375ºF and for 10 minutes at 350º.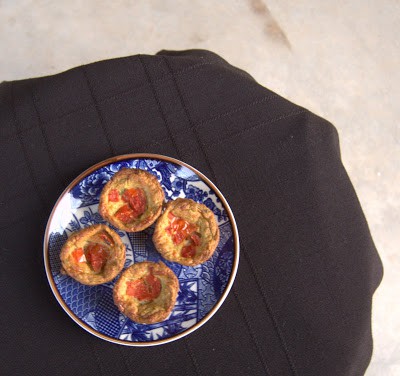 I'm thinking it should have been at 350ºF for 45 minutes and that I should have added another tablespoon of flour to make the total amount of flour ¼ cup, or maybe even more, like ½.
I don't know. They tasted kind of eh.
I rate everything I bake on a scale of 1-4 with 4 being the best. These Zucchini Bites earned a measly 1 rolling pin.
Maybe if I make more changes, they'll work out.
They looked ok, except for the browning.
You never know until you try.
I would love to hear from all you readers out there what you might do to change this recipe!
Happy baking