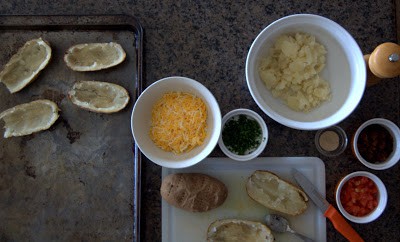 I have nothing to say, (WOW- I know, I know) so enjoy it and think happy thoughts. Enjoy the silence.
Silence is good.
I'm rambling.
I'll stop.
Read the recipe.
It's good.
We all like good, but great is better.
These were much better than good, and pretty darn close to great.
So try them.
Potatoes.
Potato Skins.
They're good, great even!
On the day New York Yankee, Derek Jeter, reached his 3,000 hit. With a home run! I called that, by the way. I said to my husband and son that I think it would be so awesome for his 3,000th to be a home run and I didn't want to miss it. (I can't believe I'm saying this because we are HUGE Red Sox fans) But it's part of history and Jeter is a pretty great baseball player regardless of the fact that he plays for THAT team. It's a great accomplishment and he deserves the recognition. And a HOME RUN!! How cool!!!
Potato Skins with Lime Sour Cream – serves 4 with 2 skins each


4 medium potatoes
2 slices bacon, cooked and crumbled
1 cup Mexican Cheese (Queso Quesadilla, Mild Cheddar, Monterey Jack, Asadero cheeses)
¼ teaspoon Lawry's Seasoned Salt
1 tomato, diced
freshly ground pepper to taste
Sour Cream with Lime
1 cup sour cream (or Greek yogurt)
2 tablespoons chives, chopped
2 teaspoons fresh lime juice
salt and freshly ground pepper to taste
In a small bowl, combine, sour cream (or Greek yogurt), chives, lime juice, salt and pepper. Mix well, cover with plastic wrap and refrigerate until ready to serve.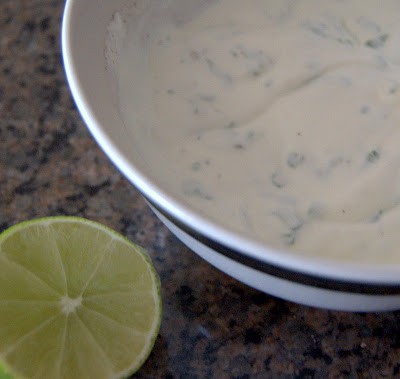 Preheat oven to 425ºF.
Prepare a cookie sheet by spraying with cooking spray.
Clean potatoes with a scrub brush under running water and prick all sides with a fork.
Place in oven directly on rack and bake for 1 hour.
Remove from oven and allow to cool enough so that they are able to be handled.
Cut potatoes in half lengthwise so that you have 8 halves and scoop out (what do yo call that stuff, the inner potato, the meat of the potato?) you know what I mean – the stuff inside the skin. But make sure you don't puncture the skin and leave a little bit of the potato. Save the other stuff for tomorrow's recipe. Maybe we'll make potato cookies. I'm kidding, but it sure is going to be something with potatoes!
Place potato skins on baking sheet.
Season the inside of the potato skins with the freshly ground pepper and Lawry's Seasoned Salt.
Place Mexican cheese in each half of potato, followed by tomato and bacon.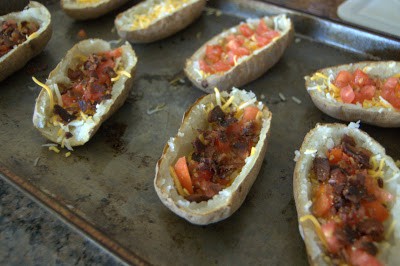 Bake for 10 – 15 minutes until cheese is melted.
Serve with sour cream on the side or add a dollop to each potato skin before serving.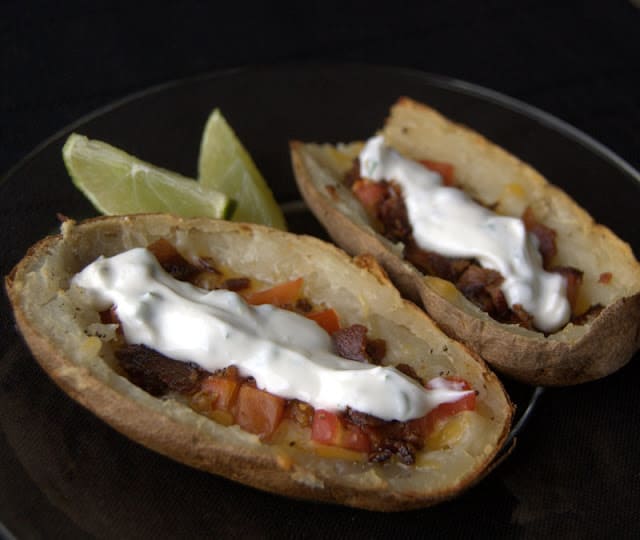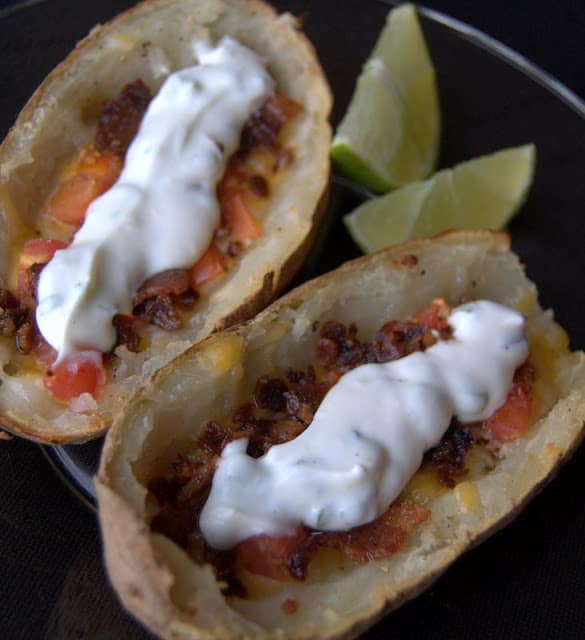 These were really delicious. I don't ever feel the need to have potato skins at a restaurant again when they're really so easy to make at home.
I rate everything I bake on a scale of 1-4 with 4 being the best and these earned 3½ rolling pins. Mr. 365 thought they should earn a 4, but I can't say that they were that good. The lime sour cream was pretty delicious with it, too. It was much better than having just plain sour cream.
I'll post pictures tomorrow – promise.
Happy Baking!