Piña Colada Cupcakes turn your favorite cocktail into a handheld dessert! Made with real pineapple and a rich coconut frosting, these easy cupcakes are bursting with summertime flavor.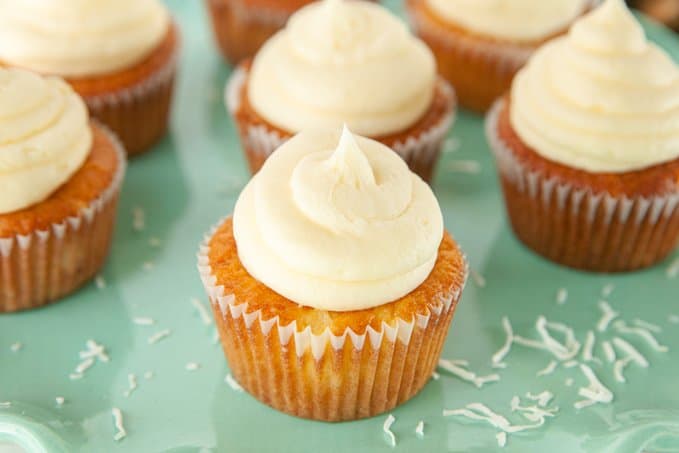 Feel like a tropical escape?
These cupcakes are the next best thing.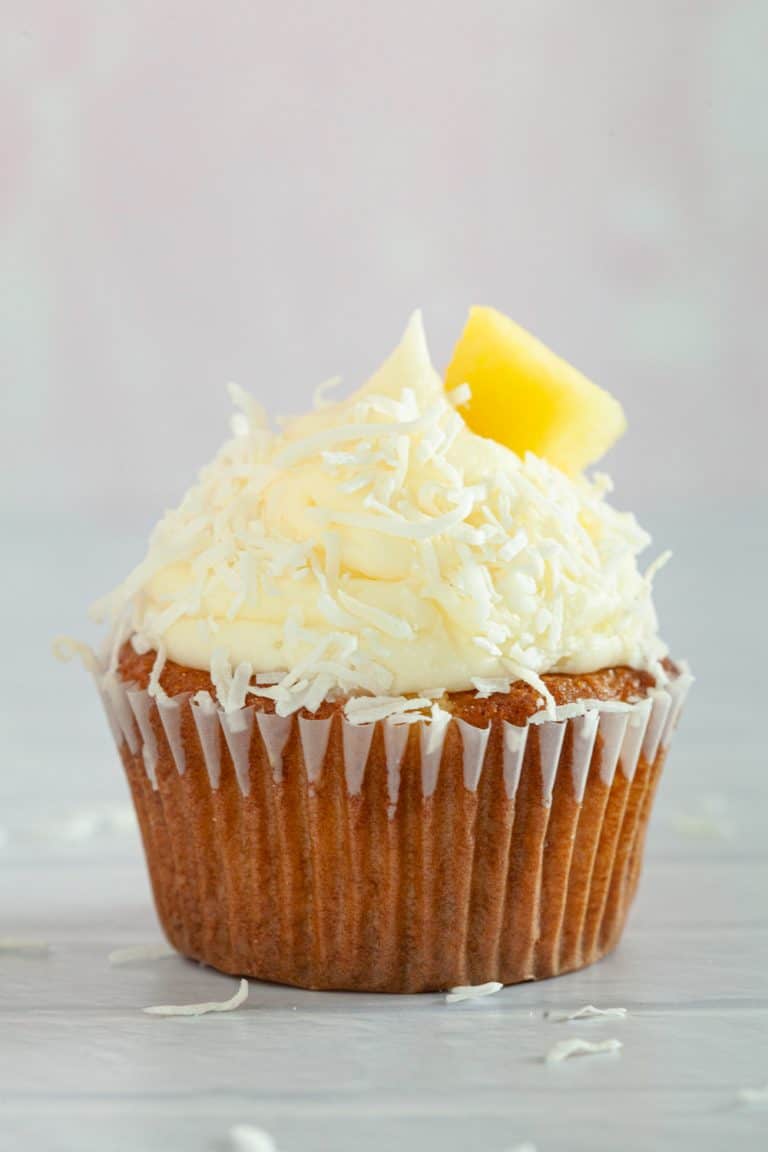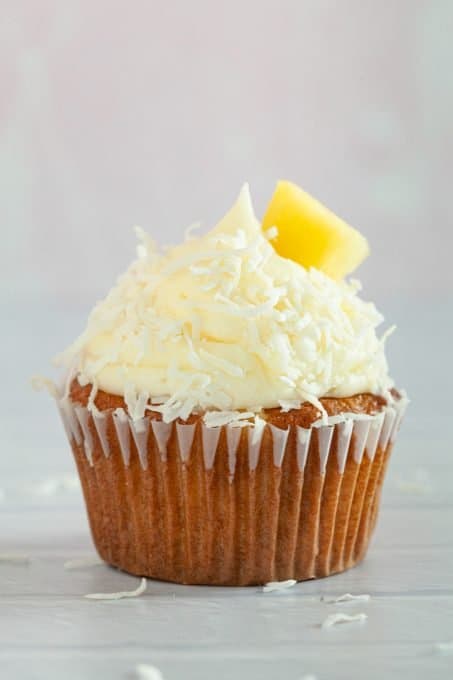 If you like piña coladas AND cupcakes, you're talking to a kindred spirit.
In this recipe, the pineapple coconut flavor you love beachside is baked into moist, sweet cupcakes! A dollop of coconut frosting on top sends them totally over the top. Since these treats are made without alcohol, the kids will love them too.
Pina Colada Cupcakes without rum (or with a little bit of rum extract!) are perfect for a summer pool party or anytime you're craving a little escape.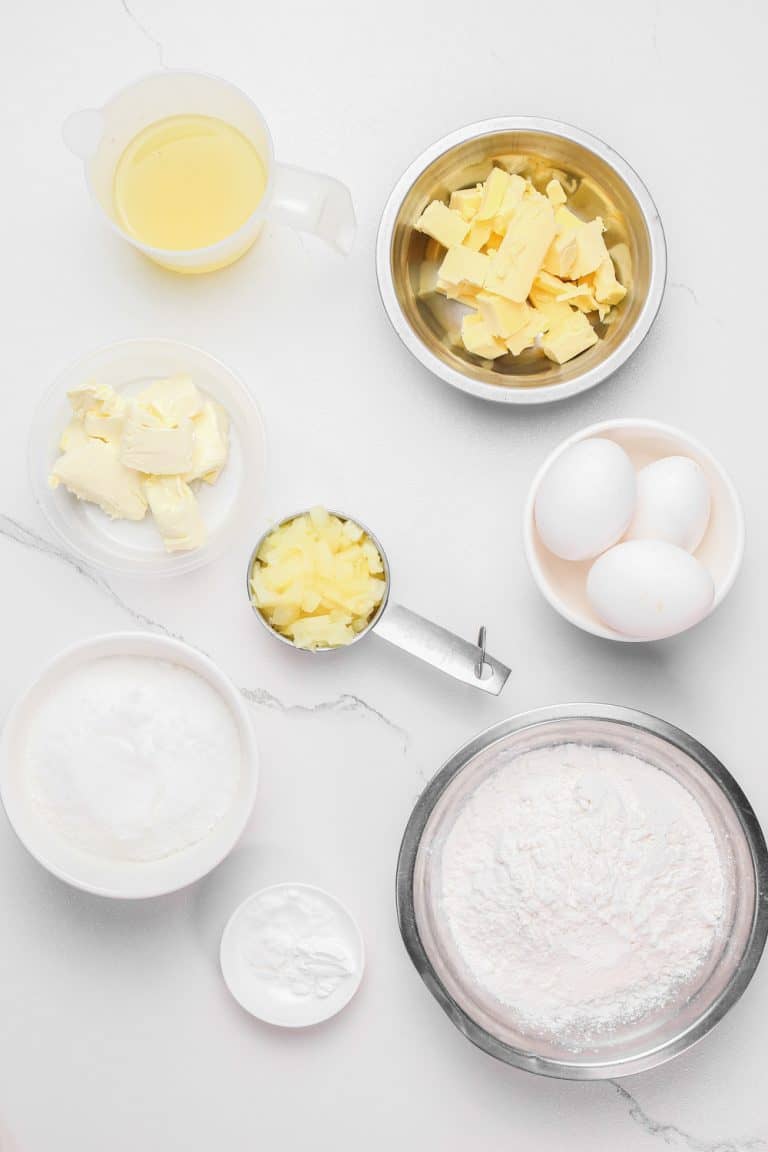 What do I need?
Here's what we used to make piña colada cupcakes without alcohol.
Flour
Baking powder
Baking soda
Salt
Butter
Sugar
Cream cheese
Eggs
Milk
Pineapple juice
Chopped pineapple
Optional – Use 1 teaspoon rum extract in the batter
Don't forget the frosting! You will need these ingredients for the coconut frosting:
Butter
Powdered sugar
Milk
Coconut extract
Toasted coconut –an optional garnish.
Cherries – another optional topping.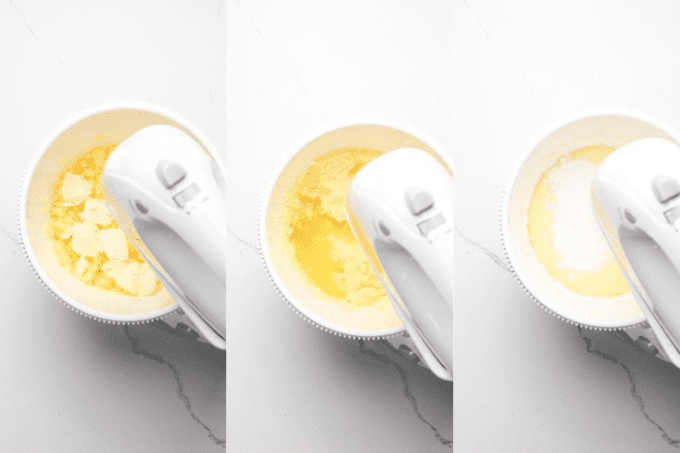 How do I make them?
This Piña Colada Cupcake recipe is easy to make with just a few minutes of prep time. Start by mixing up a simple cupcake batter. Then you fold in pineapple juice and chopped pineapple pieces.
From here, just pour the batter into a lined cupcake pan and bake! While the pineapple cupcakes are cooling you can beat together the frosting ingredients. Use a spatula or a frosting bag to frost each cooled cupcake.
After piping on the frosting, you'll want to garnish your Pineapple and Coconut Cupcakes with a sprinkle of toasted coconut and a few maraschino cherries.
A cherry on top gives a pop of color to the white frosted cupcakes that brings me joy. Don't you think these summer-y pineapple cupcakes would look fabulous on a dessert platter next to my homemade Funfetti Cupcakes?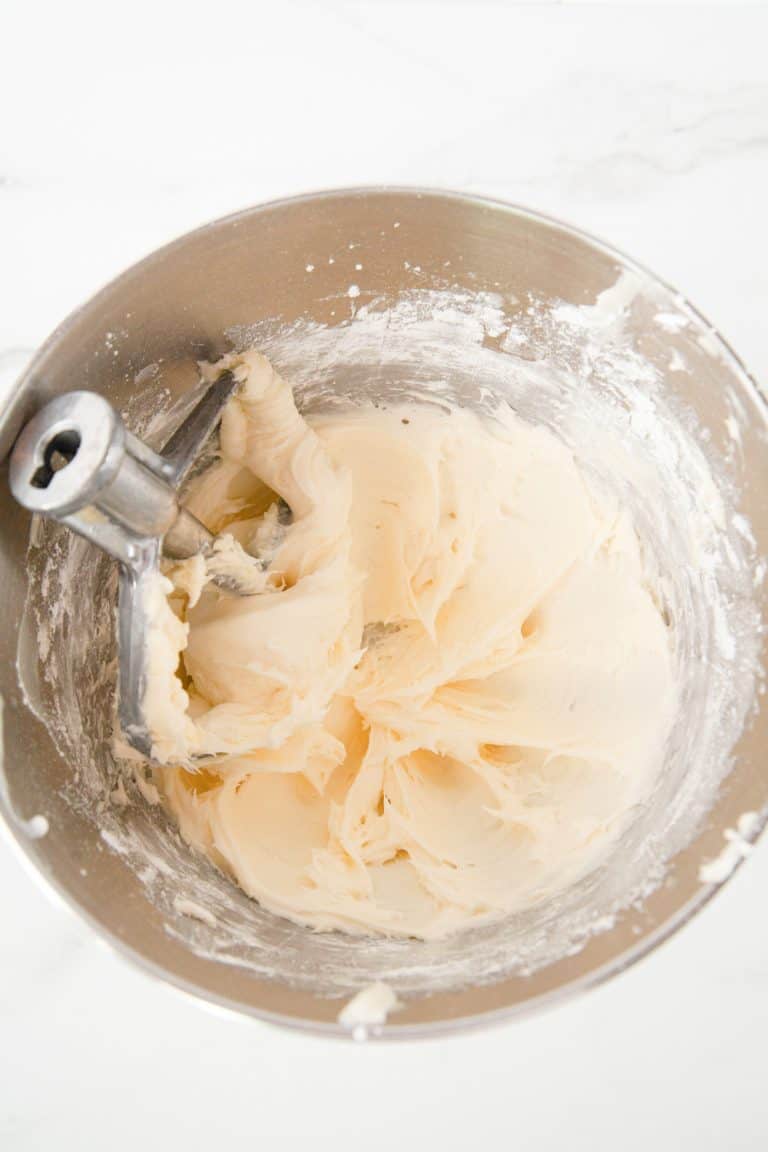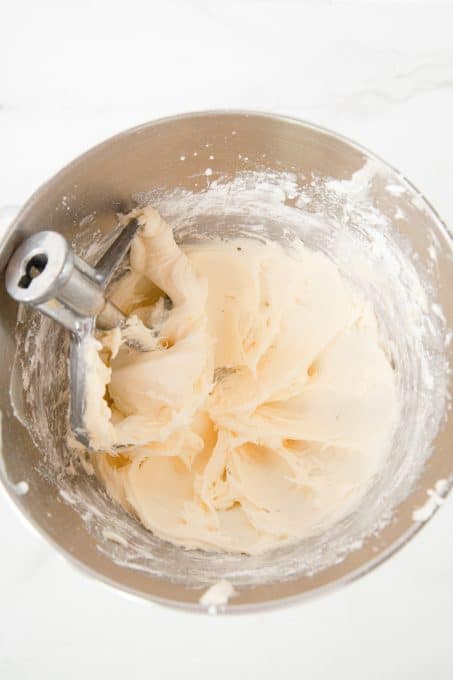 Tips and Tricks
Make sure to use real pineapple juice NOT syrup!
I use canned pineapple in its own juice for this recipe. Drain the juice to add to the batter, then fold in the pineapple pieces. Easy!
Fresh pineapple is also delicious baked into these cupcakes. Make sure it's sliced into small chunks.
Can I use untoasted coconut?
Some people love coconut but aren't a fan of the way it tastes toasted. If that's you, feel free to swap the toasted coconut for regular sweetened coconut flakes straight from the bag. Or leave the coconut off entirely!
How do I store these cupcakes?
Store your homemade Pina Colada Cupcakes without rum in an airtight container at room temperature or in the refrigerator. At room temperature, they keep for about 3 days. Stored chilled, they'll keep for an additional day or so.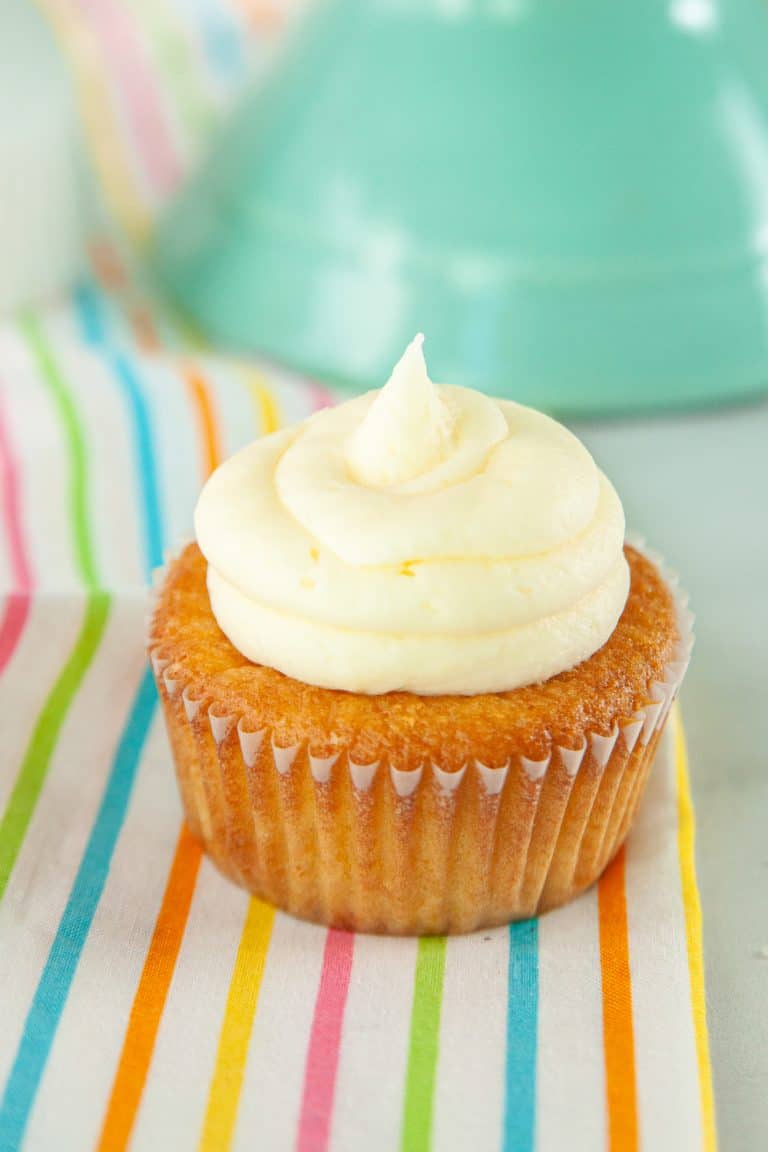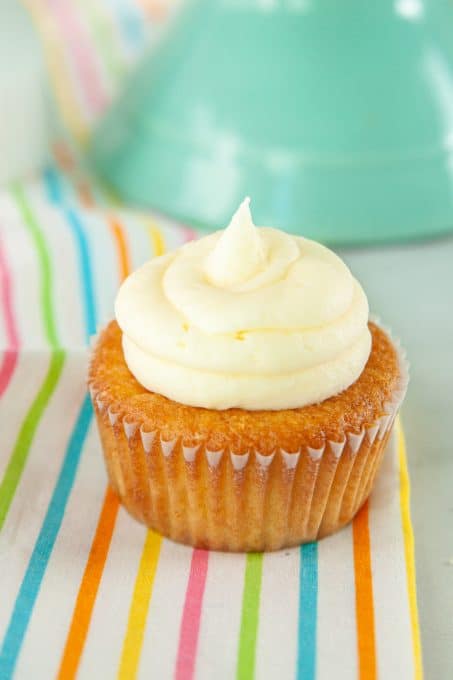 Can I freeze them?
Yes, as long as you freeze them before frosting! Pineapple cupcakes can be stored in the freezer unfrosted for up to 2 months. Make sure to keep them in a freezer-safe sealed container. Let frozen Piña Colada Cupcakes thaw before adding the coconut frosting and garnishes.
Dessert Recipes
Today's cupcake recipe was inspired by my love for sipping piña colada cocktails and Pina Colada Milkshakes. Basically, give me a cold drink with pineapple and coconut in it and I'm happy.
I was even inspired by a certain wizarding world to transfigure butterbeer into cupcakes. My Harry Potter Butterbeer Cupcakes are some of the most popular cupcakes I've shared on the blog. The butterscotch flavor and sweet swirl of frosting on top is to die for!
I've turned plenty of other drinks into dessert recipes too. Check out these refreshing Strawberry Lemonade Bars and these Chai Tea Snickerdoodles.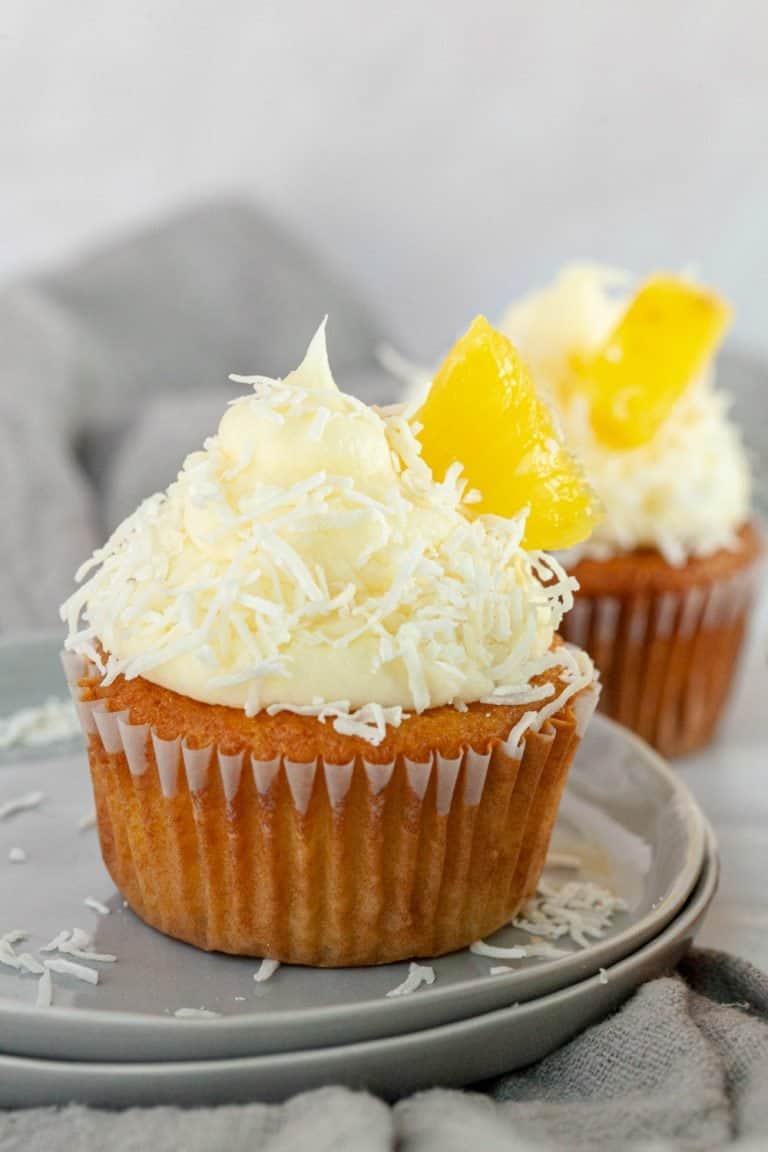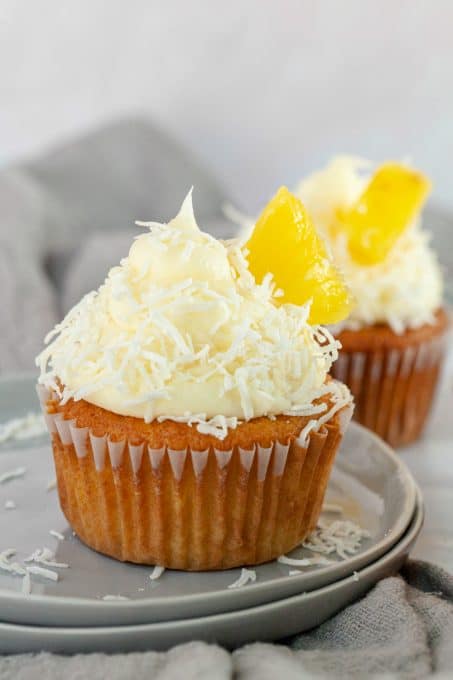 Pineapple Desserts
I already mentioned how much I love pineapple.
A current favorite way to enjoy it at my house is in the form of this easy Pineapple Bread. It comes together so quicky with the perfect amount of sweetness! I've been known to eat a slice (or two) for breakfast with my coffee.
On the days I'm feeling like something a little healthier, one of these Pineapple Coconut Silk Smoothies is perfect. It's nourishing but sweet enough to serve as a drinkable dessert!
Coconut Desserts
Love making desserts with coconut? You'll love these other easy coconut recipes too!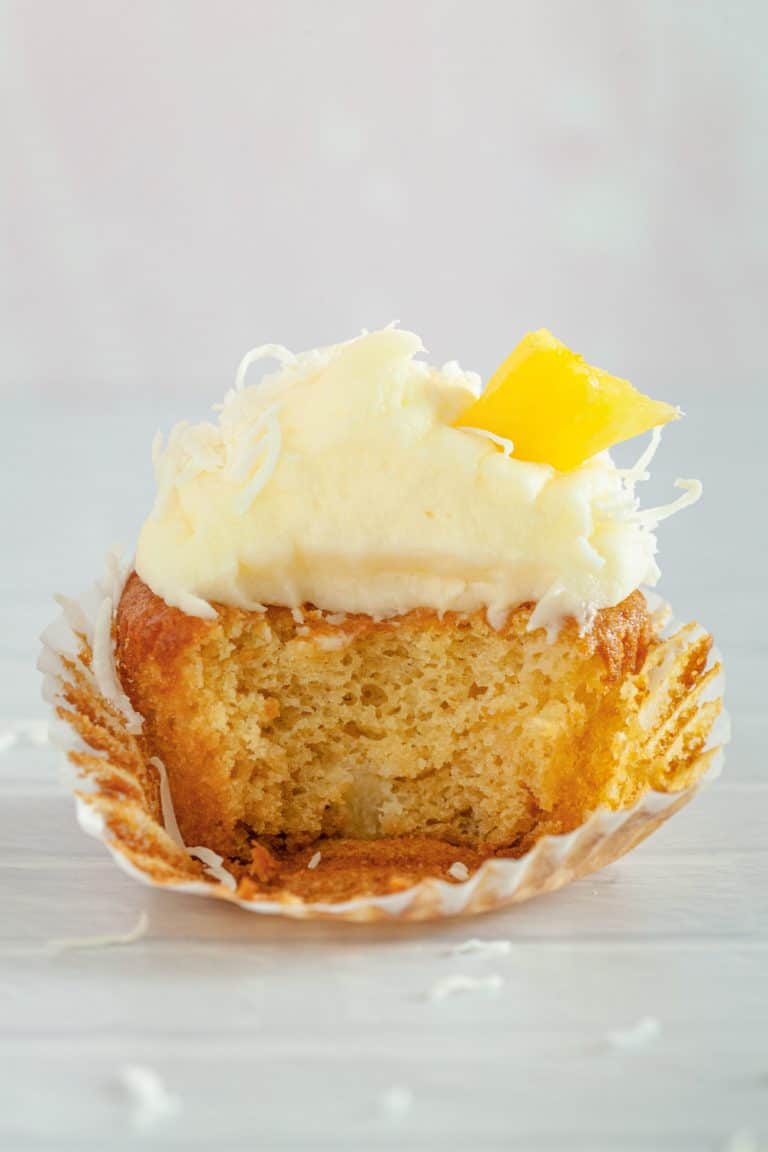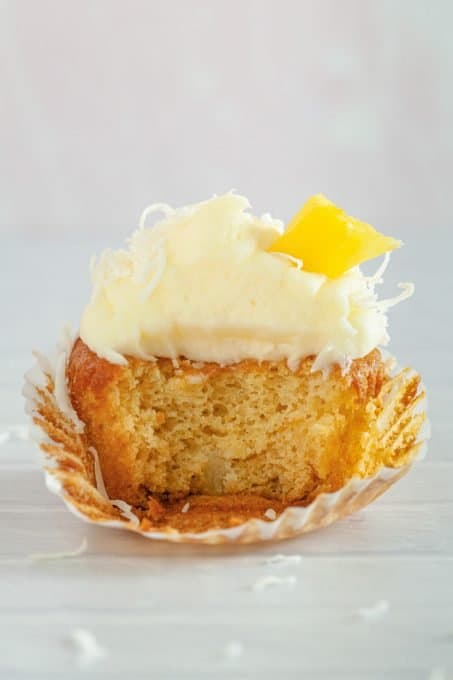 Piña Colada Cupcakes with coconut frosting are all but guaranteed to give you an instant mood lift!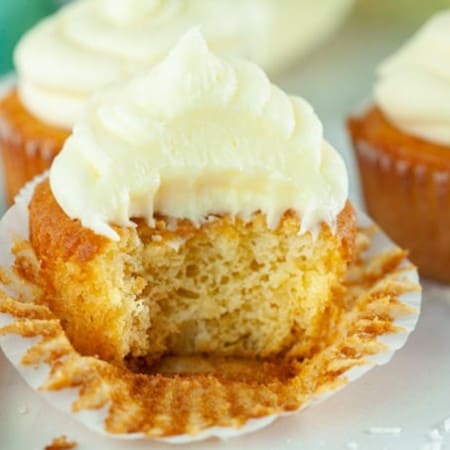 Piña Colada Cupcakes turn your favorite cocktail into a handheld dessert! Made with real pineapple and a rich coconut frosting, these easy cupcakes are bursting with summertime flavor.
Equipment
Ingredients
Cupcakes
1 ¼ cups all-purpose flour
1 teaspoon baking powder
1 teaspoon baking soda
¼ teaspoon kosher salt
6 tablespoons butter room temperature
¾ cup granulated sugar
6 tablespoons cream cheese room temperature
3 large eggs
½ cup pineapple juice NOT syrup
⅓ cup pineapple finely chopped
1 teaspoon rum extract optional
Coconut Frosting
1 cup unsalted butter room temperature
4 cups sifted powdered sugar
3-4 tablespoons milk
2-3 drops coconut flavoring (extract) optional
½ cup toasted coconut flakes for optional garnish
12 maraschino cherries for optional garnish
Instructions
Cupcakes
Preheat oven to 350°F, and place cupcake liners into a cupcake pan.

In a medium bowl, whisk together the flour, baking powder, baking soda, and salt.

In a large mixing bowl, add the butter, sugar, and using a handheld or stand mixer, mix until light and fluffy, about 2 minutes.

Add room temperature cream cheese and mix until just combined.

Add the pineapple juice and rum extract (if using), and mix.

Add the remaining dry ingredients and mix until fully incorporated.

Fold in finely chopped pineapple and scrape down the sides of the bowl to make sure all ingredients are well combined.

Evenly distribute the batter between the 12 cupcakes liners.

Bake for 19 minutes.

Allow cupcakes to cool completely before frosting and adding additional garnish, if desired.
Coconut Frosting
In a large bowl, beat softened butter until soft and fluffy.

Slowly add 1 cup of powdered sugar at a time, then add milk, coconut flavoring and beat until creamy.

Use your favorite frosting tip to pipe the frosting onto the cupcakes and garmish.
Nutrition
Serving: 1cupcake | Calories: 520kcal | Carbohydrates: 68g | Protein: 4g | Fat: 27g | Saturated Fat: 17g | Polyunsaturated Fat: 1g | Monounsaturated Fat: 7g | Trans Fat: 1g | Cholesterol: 104mg | Sodium: 230mg | Potassium: 124mg | Fiber: 1g | Sugar: 56g | Vitamin A: 816IU | Vitamin C: 3mg | Calcium: 46mg | Iron: 1mg
Did you make this recipe?
Share it with me on Instagram and make sure to follow me on Pinterest for more recipes.
Reader Interactions