Strawberry Lemonade Bars – those delicious lemon bars with the great addition of strawberries. A great summertime treat what's perfect all year round!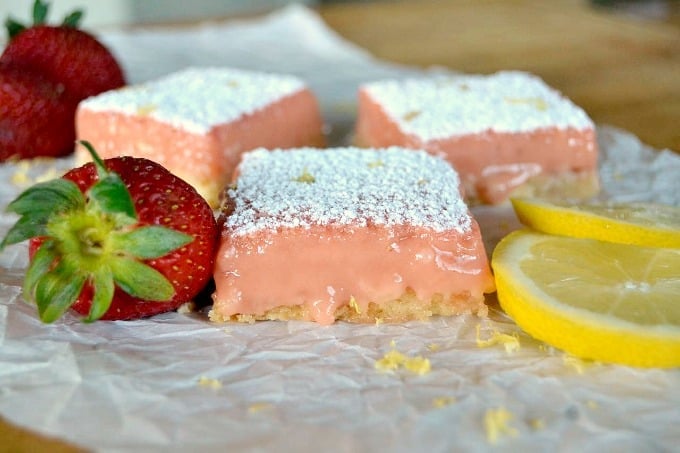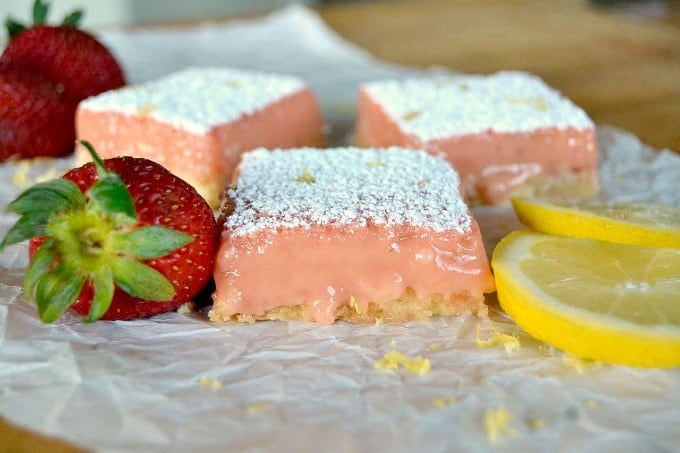 Strawberry and lemon – two of my favorite dessert flavors.
Hmmm… well, maybe there are others, too.
Chocolate. Chocolate is a good flavor for dessert and I really like that, too.
And don't forget banana. I really like banana in banana cake.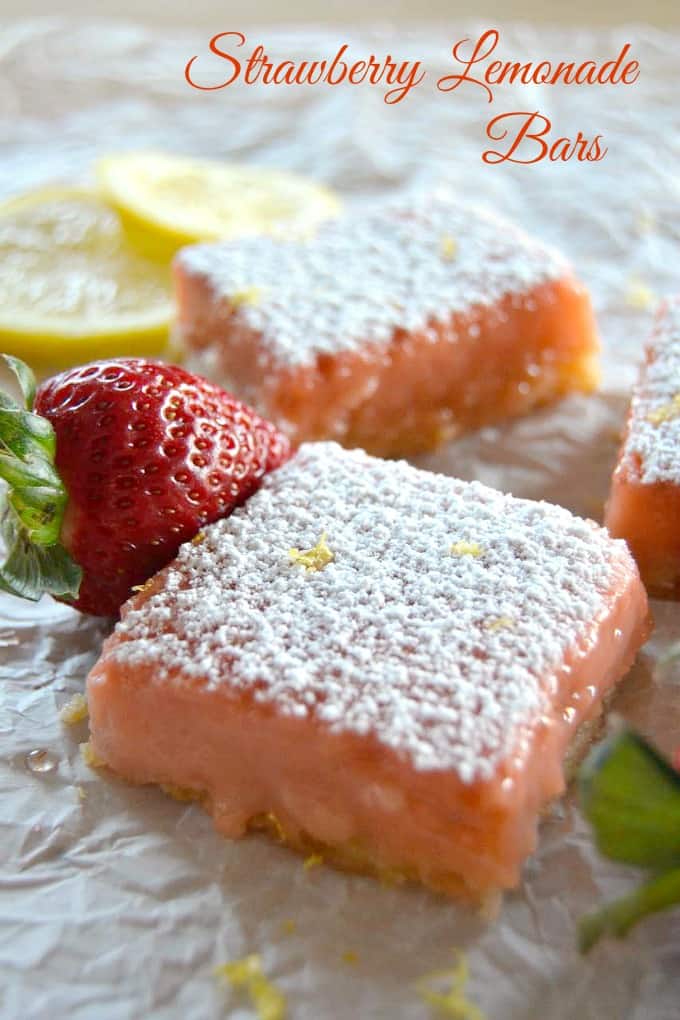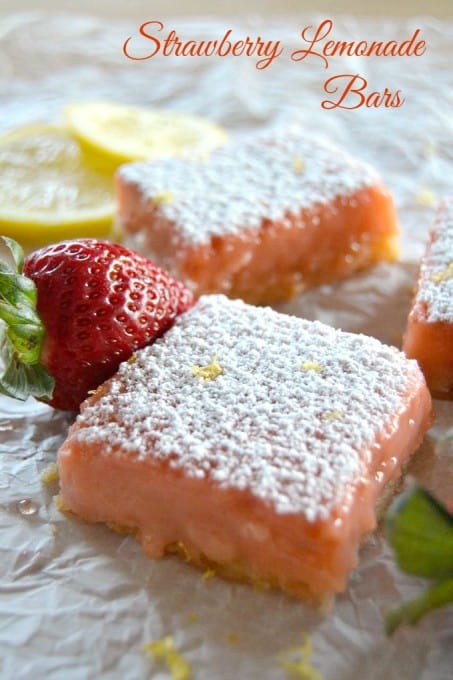 Hmmm…I guess I enjoy quite a few flavors in my desserts.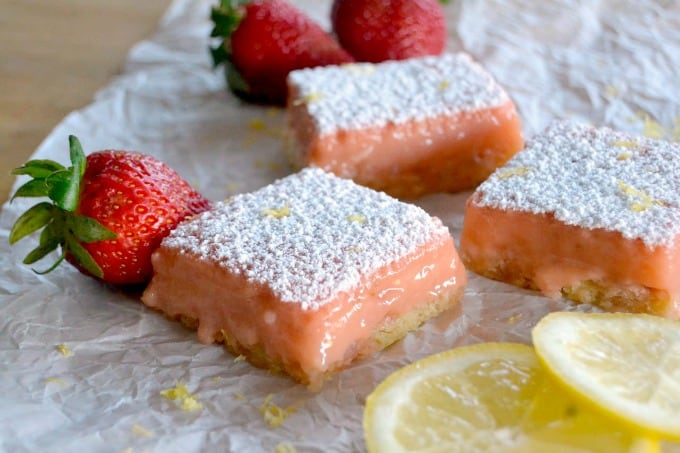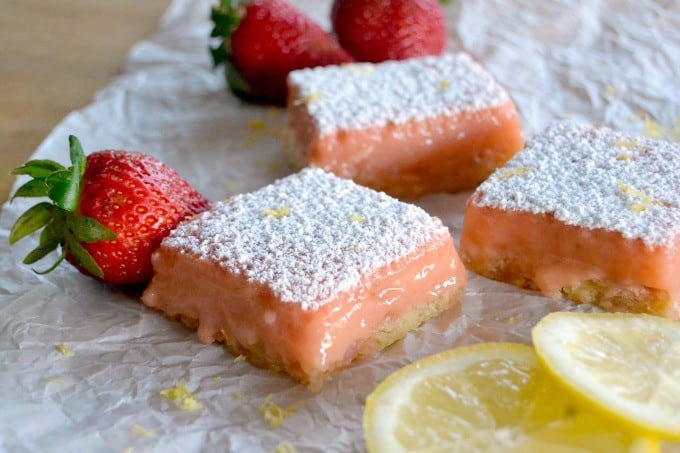 I decided to make these after going on the Click Retreat last month. Man, was that awesome. It was a cruise through the Caribbean on Royal Caribbean's Oasis of the Seas.
I'll be sharing a recap of the trip next week because if I shared it here with these bars, you'd be reading this post until 2016.
SAVE THESE LEMONADE BARS RECIPE TO YOUR FAVORITE PINTEREST BOARD!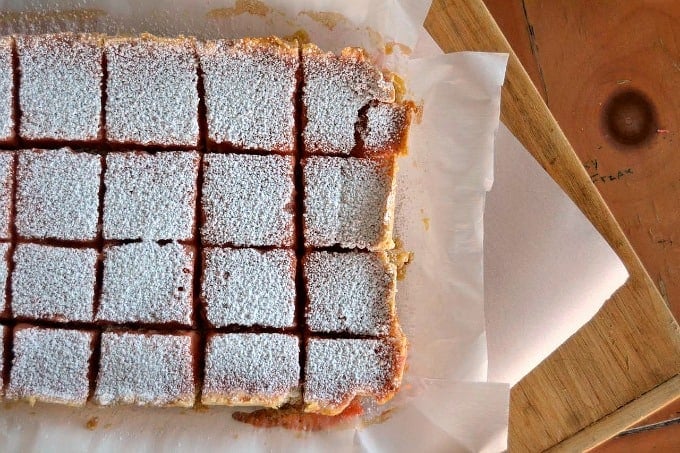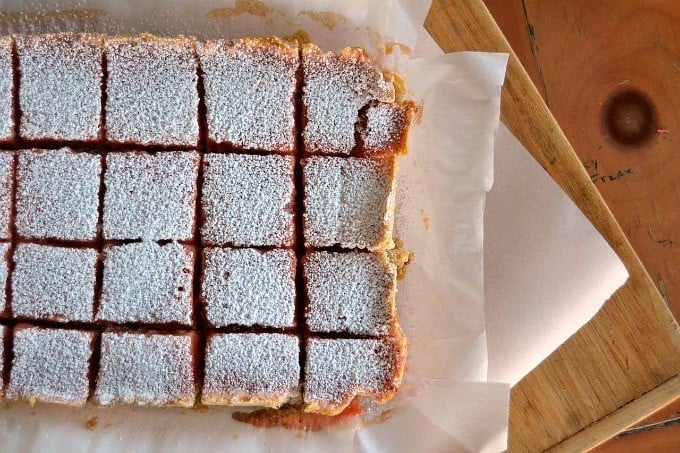 Ok, I exaggerate. Just maybe into July.
So, pictured below were just some of the delicious desserts aboard the ship. My favorite and something I ate every. single. day. was that strawberry lemonade tart in the back. It was so delicious and I really missed my daily snack them when I returned home.
Now, I can make these delicious bars and I'm slightly transported to bright blue skies, intermittent showers, the smell of salt air, the gentle rocking of the ocean, and even the beautiful beaches.
It was an incredible trip!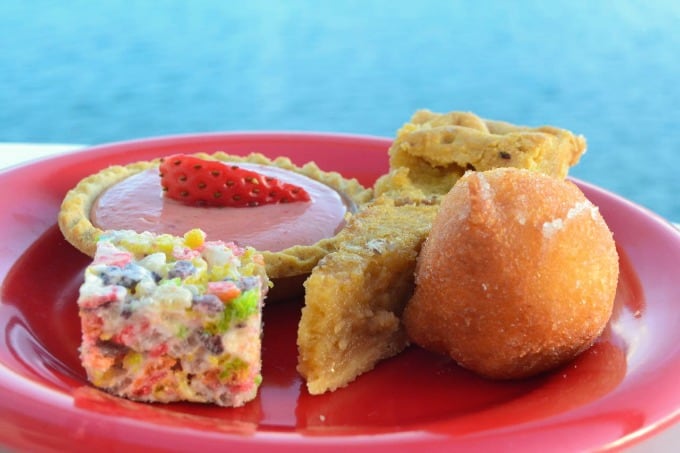 I knew I wouldn't last long on the mainland without these tarts, so soon after I returned home, I added some strawberries to these luscious lemon bars and fell in love.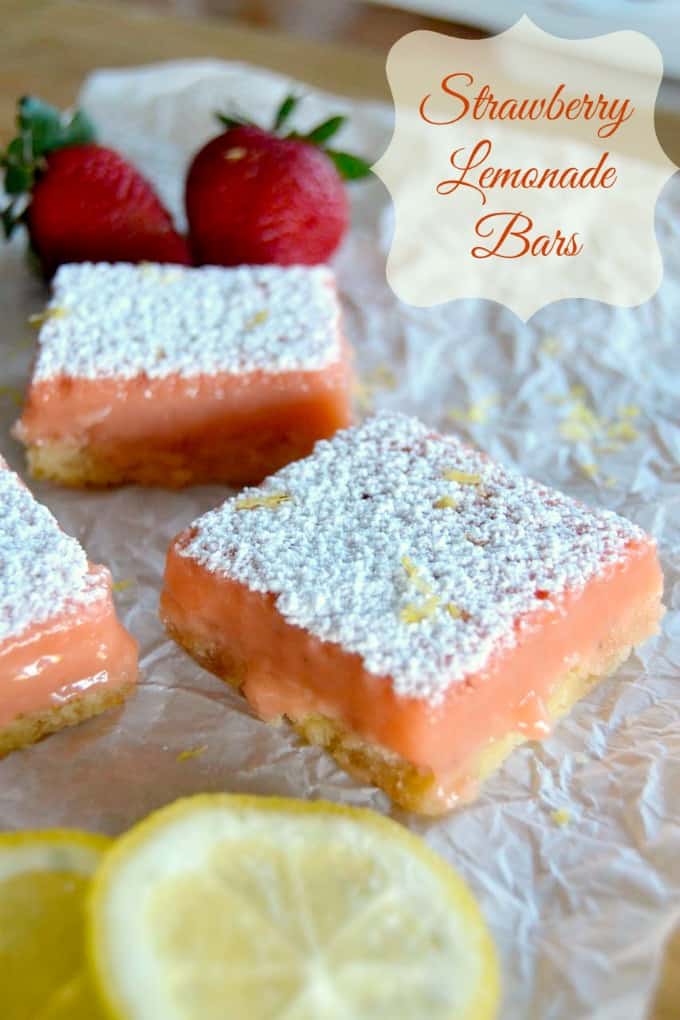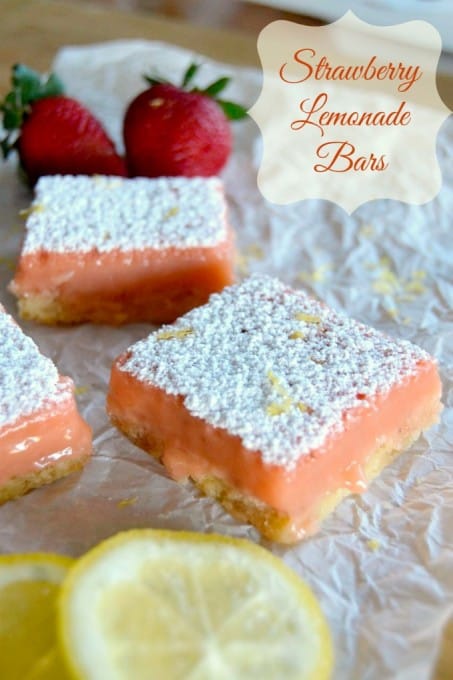 SIGN UP FOR THE WEEKLY 365 DAYS OF BAKING & MORE
NEWSLETTER BELOW!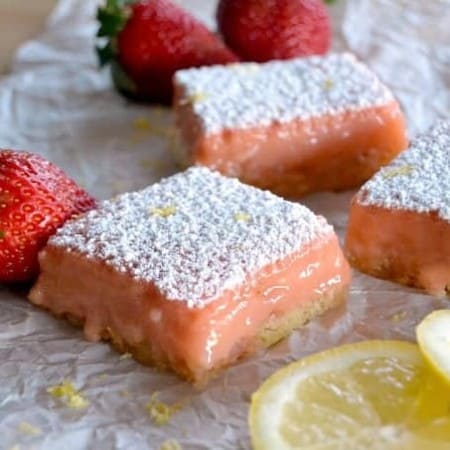 Ingredients
Crust
1 ¾ cups all-purpose flour
⅔ cup confectioners' sugar plus extra for topping
¼ cup cornstarch
¾ tablespoon salt
1 ½ sticks unsalted butter plus extra for greasing pan
Filling
4 eggs lightly beaten
1 ⅓ cups granulated sugar
3 tablespoon all-purpose flour
2 teaspoons finely grated lemon zest
⅔ cup fresh strained lemon juice
1 ¼ cups fresh chopped strawberries
⅓ cup whole milk
⅛ teaspoon salt
Instructions
Crust
Lightly butter a 9 X 13? baking dish and line the pan with a sheet of parchment paper.

Lightly butter parchment and lay a second sheet of parchment across it, so that they are in two different directions.

In a medium bowl, combine flour confectioners' sugar, cornstarch, and salt. Slice butter into small pieces and then cut into flour mixture using a pastry cutter or two knives. Work until mixture resembles coarse meal.

Pour mixture into pan and press firmly into pan so that there is about 1/4 inch thickness on the bottom and crust goes up sides about 1/2 inch.

Refrigerate for 30 minutes.

Place rack in middle of oven and preheat to 350F.

Bake for 20 minutes or until golden brown.
Filling
In a medium bowl, whisk eggs, sugar, and flour.

Place the lemon zest, chopped strawberries, lemon juice, milk, and salt in a blender and mix until well puréed.

Add lemon mixture to the egg mixture and whisk until thoroughly combined.

Reduce oven temperature to 325F.

Blend filling mixture again thoroughly with the whisk before pouring into warm, but not hot, crust.

Bake about 25 minutes until the filling feels firm when touched.

Cool completely on wire rack about 30 minutes. Remove bars from pan and place on cutting board.

Peel paper down and cut into bars. Wipe knife or pizza wheel off between each cut as necessary.

Sift confectioners' sugar over bars.
Did you make this recipe?
Share it with me on Instagram and make sure to follow me on Pinterest for more recipes.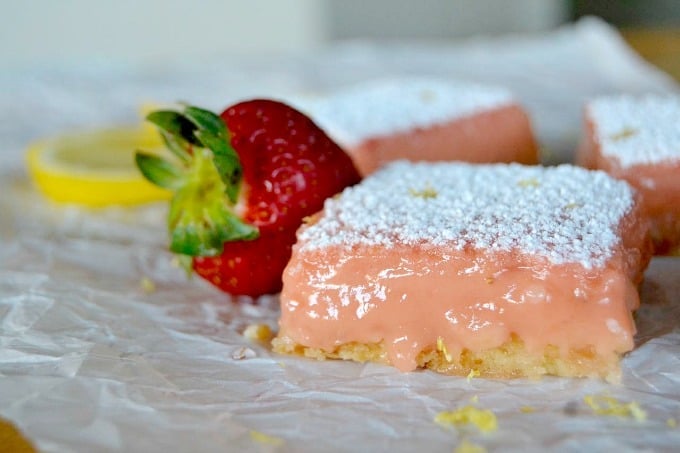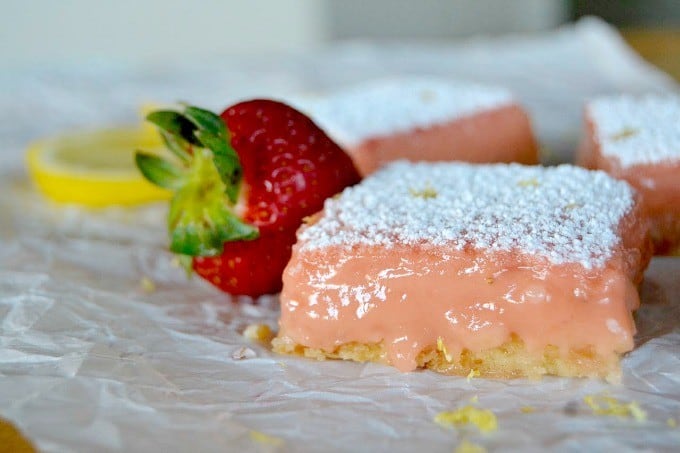 I rate everything I make on a scale of 1 – 4 with 4 being the best and these Strawberry Lemonade Bars earned 3 1/2 rolling pins.
They were quite delicious and everyone who tried them really enjoyed them.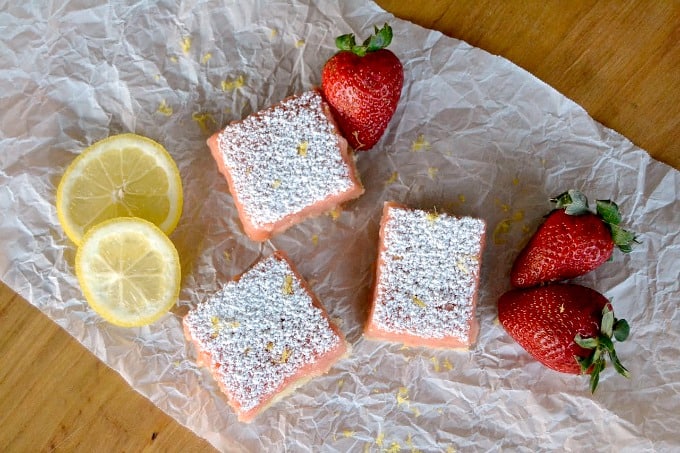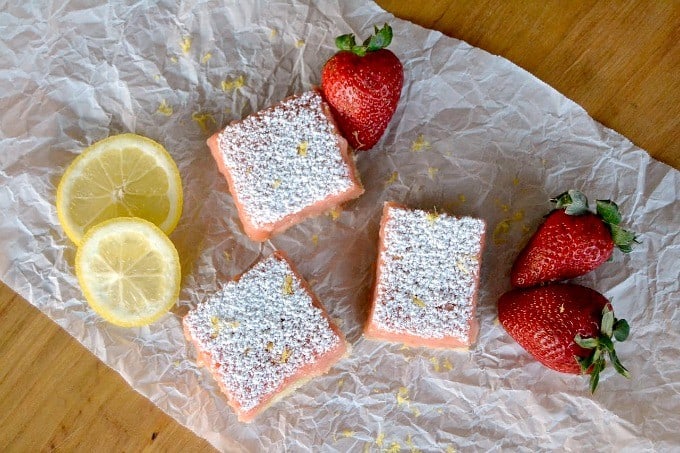 See that shiny ball of fun sitting in front of the bars below? Can I just tell you how much I love this thing?! It's an OXO Baker's Dusting Wand and I can't stop playing with it.
It made it so easy to top the bars with confectioners' sugar without it flying all over the counters…ok, my kitchen. It's also great for sprinkling cinnamon/sugar over toast, and white chocolate cocoa into my coffee.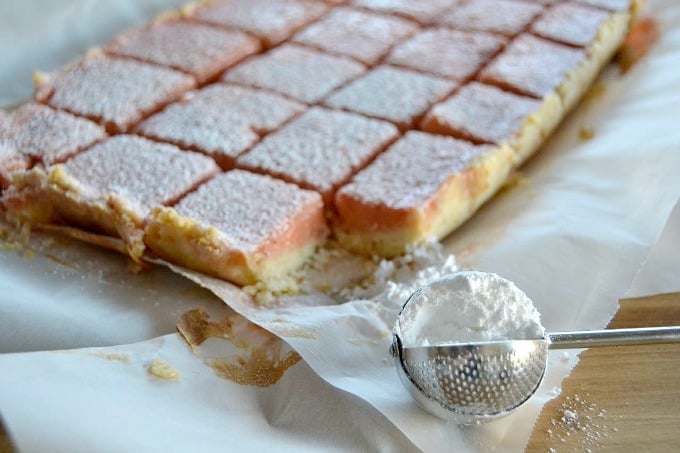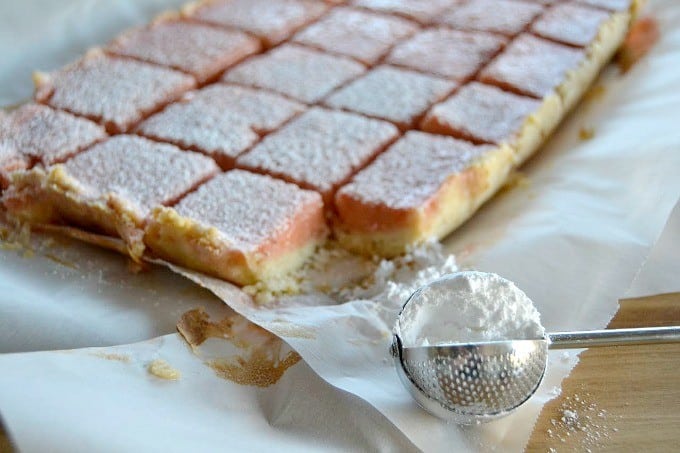 I only recommend products to you that I enjoy using and feel that you would benefit from, also.
I am not receiving payment from OXO for endorsing their products, but I have received some for personal use.
Let these other sweet treats be a crowd pleaser at your next party…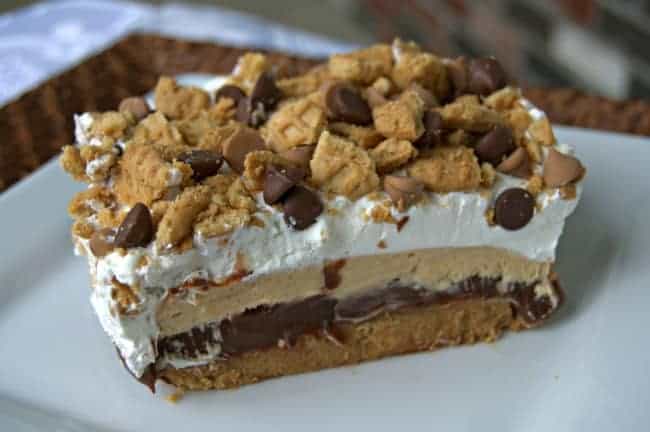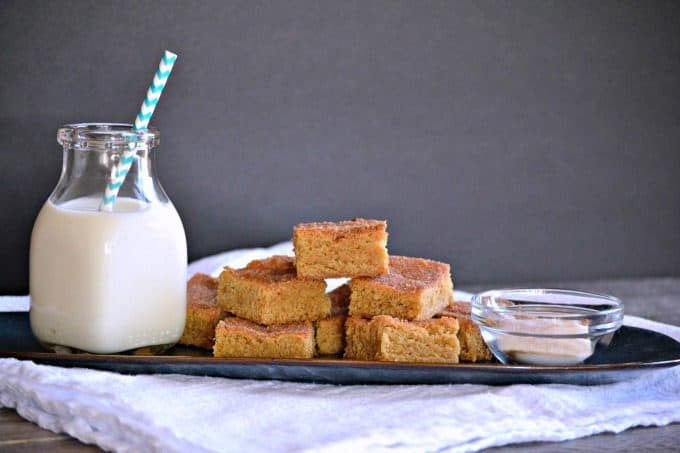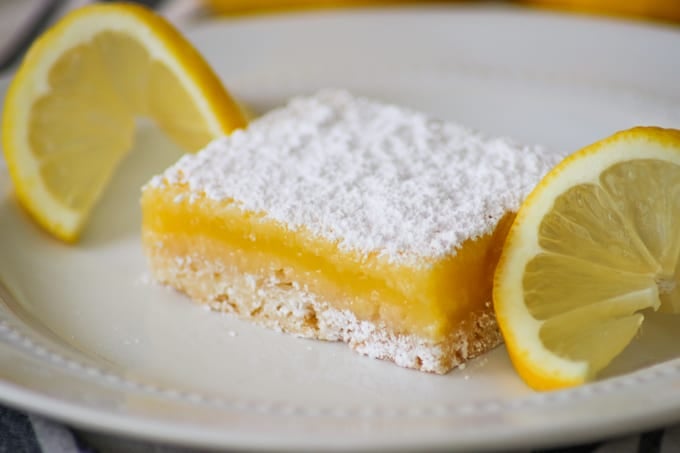 There are affiliate links in my posts if you would like to purchase the item or items I talk about and if you do, I receive a small percentage of each purchase and I thank you for your support.
**This post contains an affiliate link(s). These are links that can take you to a product (or products) that I recommend. I do receive a portion of the sales or credit for my future purchases from any items purchased through those links. Your purchases encourage my baking, cooking and butter habit, and contribute to the life of this blog. I thank you so very much for your support. Let's keep having fun in the kitchen!!
Reader Interactions