4th of July Strawberries are dipped in white chocolate and covered in red, white, and blue sprinkles. You'll love this easy no bake strawberry dessert with a patriotic flair!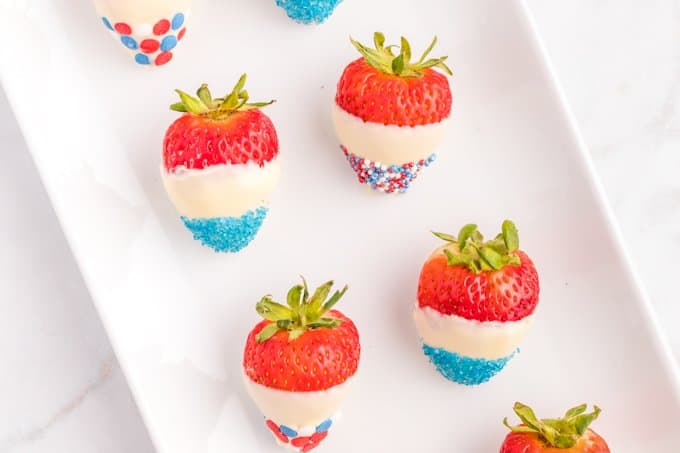 Every Fourth of July celebration needs a red, white and blue dessert.
*This post contains an affiliate link(s).
I was given a cookbook by Dorothy of Crazy for Crust to review. As always, all opinions are 100% my own.
It doesn't get any easier than these white chocolate dipped strawberries.
SAVE THIS EASY RED, WHITE, AND BLUE STRAWBERRIES RECIPE TO YOUR FAVORITE PINTEREST BOARD!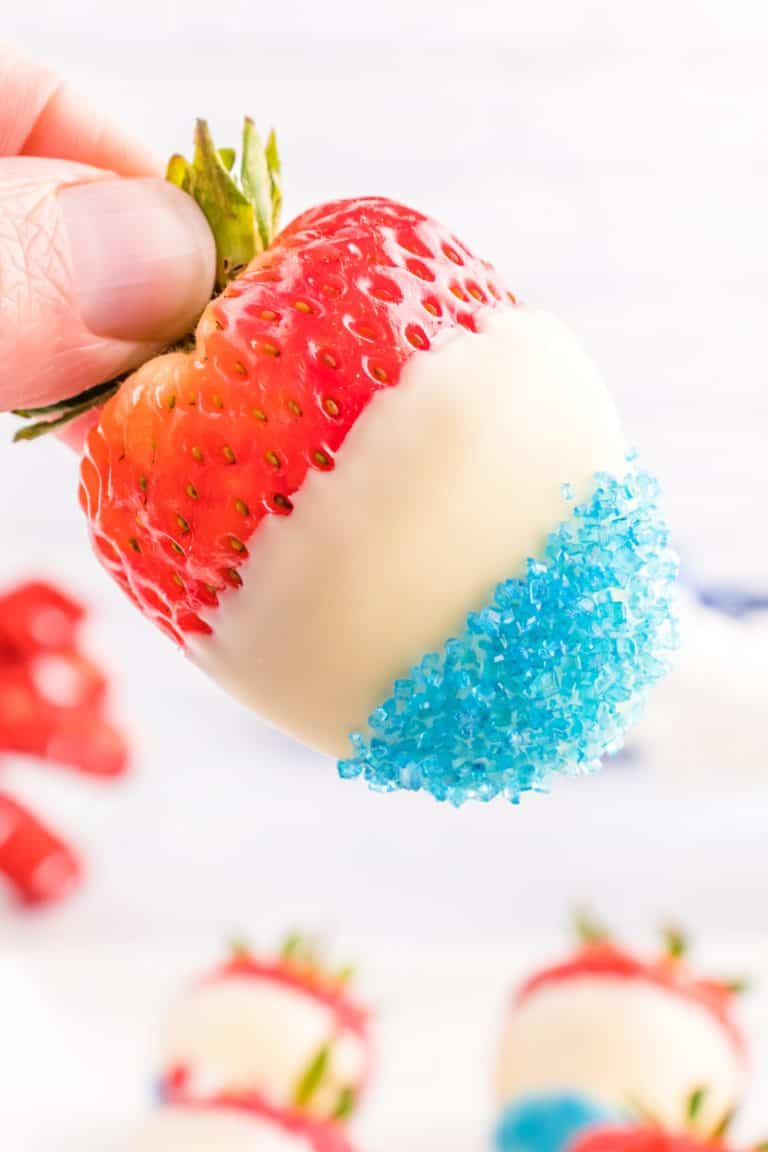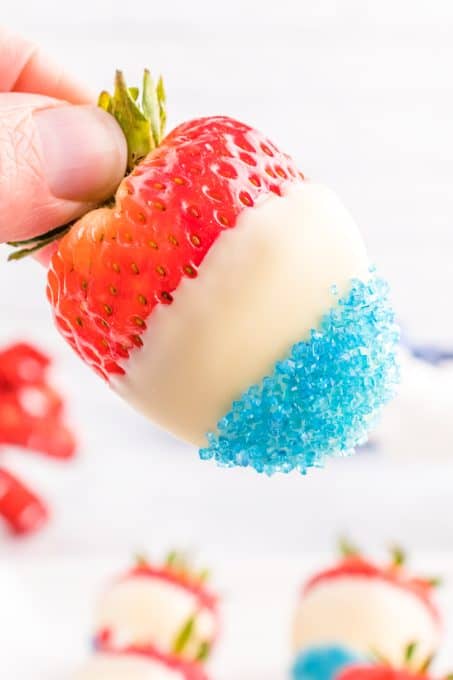 Don't you love when the simplest treats are also some of the most delicious?
A smooth white chocolate coating enhances the naturally sweet juicy strawberries in this 4th of July Dessert. To complete the patriotic theme, they're dipped in red, white and blue sprinkles too!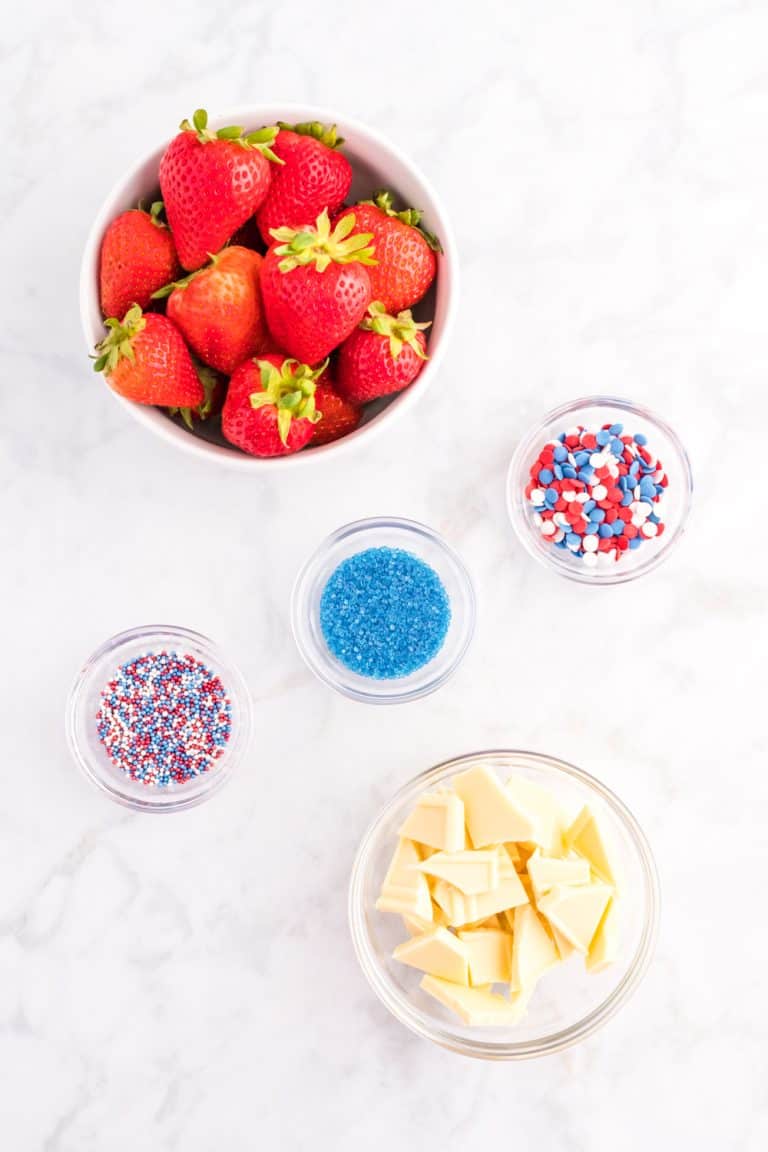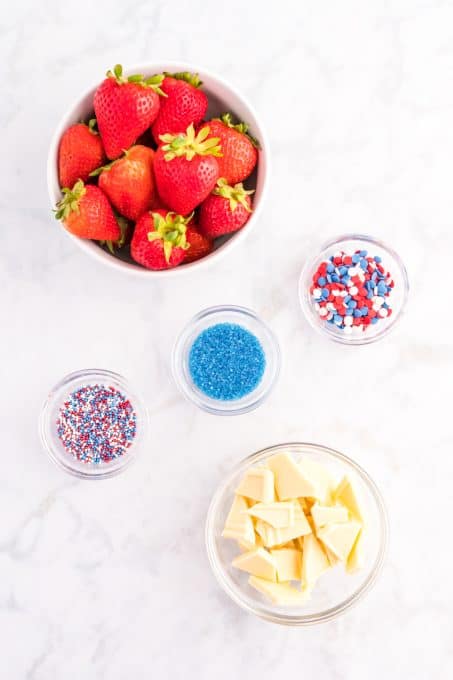 What do I need?
If you need any more reasons to make this 4th of July Strawberries recipe, here's another. You only need 3 ingredients.
Once you have your ingredients ready to go, you can make these red, white and blue dipped strawberries in about 20 minutes.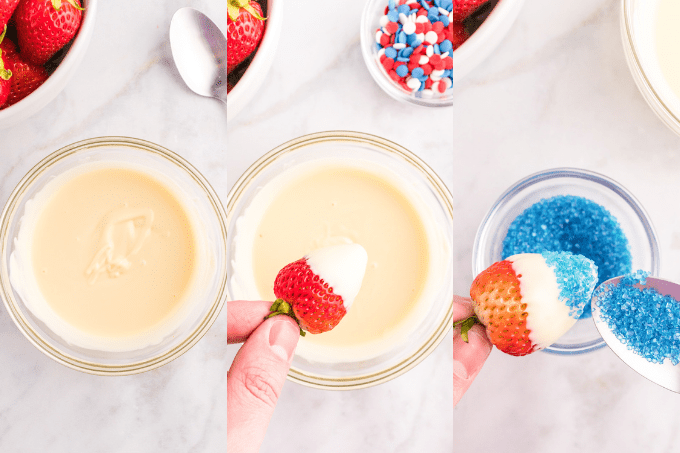 How do I make them?
Start by washing and drying your strawberries. There's no need to hull the berries or remove the tops for this strawberry dessert. The stems make dipping easier!
Now, melt the chocolate in the microwave. I recommend heating the chocolate in 30 second intervals, stirring between each one.
Dip the strawberries into the melted chocolate, leaving the top third uncovered. Finally, it's time for the finishing touch—sprinkles!
Spoon the sprinkles onto the bottom third of each strawberry right away, before the chocolate sets. You can get a little fancier making different patterns with the sprinkles here, but it's not necessary. The combination of colors is bound to look festive and patriotic no matter what.
Place the strawberries on a tray lined with parchment paper. Let them set for about 30 minutes or until the chocolate hardens.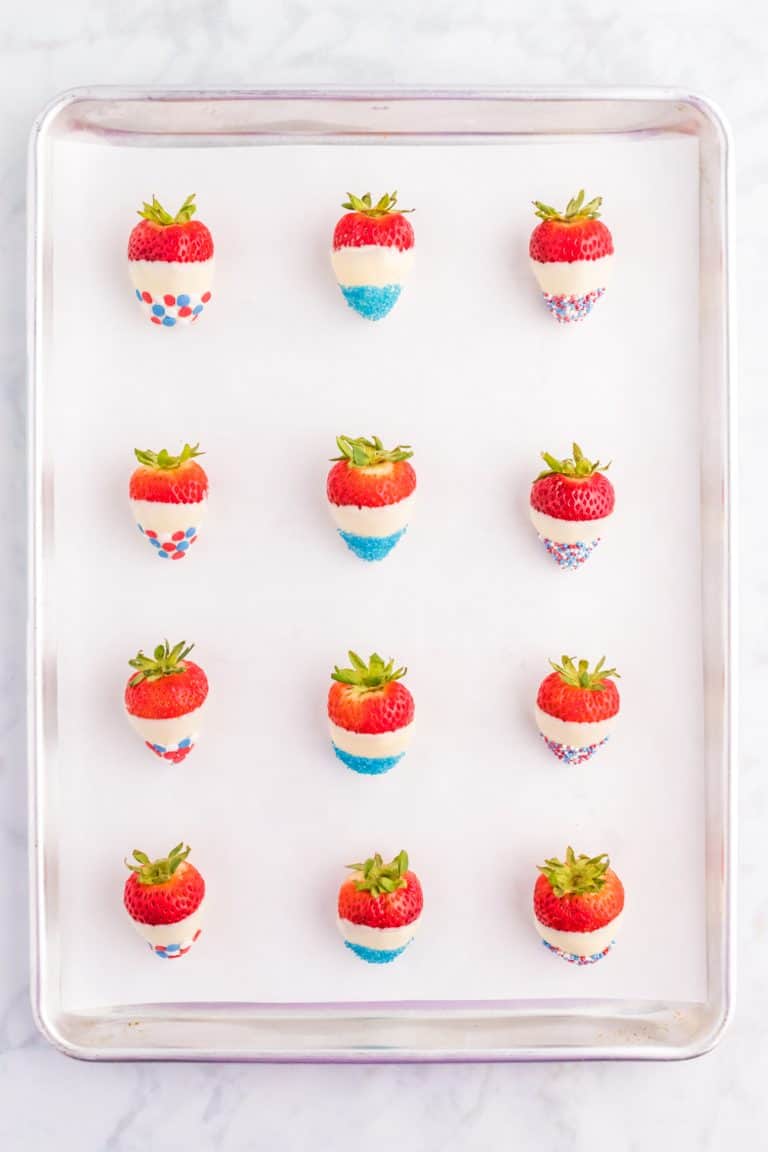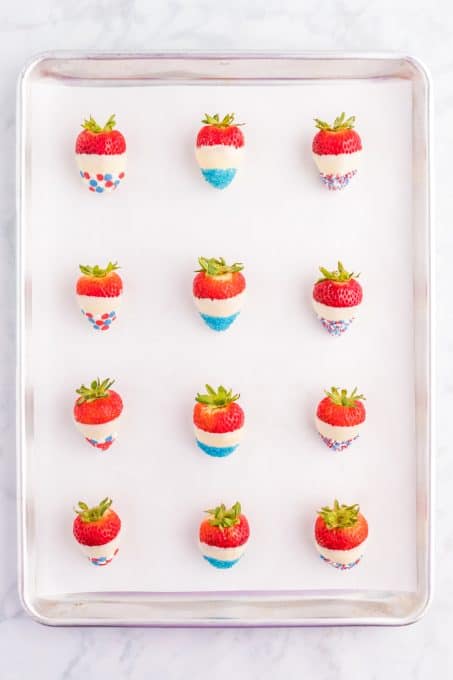 What kind of white chocolate is best for dipped strawberries?
You can dip your strawberries into any melted chocolate and it'll probably taste good. When it comes to white chocolate and strawberries, it's hard to go wrong!
But if you want next-level chocolate dipped strawberries like the kind you admire in a confectionary case, you need to get a little choosier. We used a white chocolate baking bar for this recipe. It melts smoothly with a perfect sweet taste.
For an even smoother chocolate coating that sets quickly, use white chocolate melting wafers. They're specifically formulated for melting and give these 4th of July Strawberries a flawless appearance, but know they will have a different flavor than white chocolate.
If you don't have melting chocolate, you can use 1 cup of white chocolate chips plus 1 tablespoon of vegetable shortening or coconut oil.
How do I store them?
If you won't be eating the 4th of July Strawberries within a couple of hours of making them, store them in a sealed container in the refrigerator for up to 2 days. To keep the chocolate and sprinkles intact, make sure the strawberries are arranged in a single layer. They're fine to eat as long as the tops aren't brown and the strawberry isn't mushy.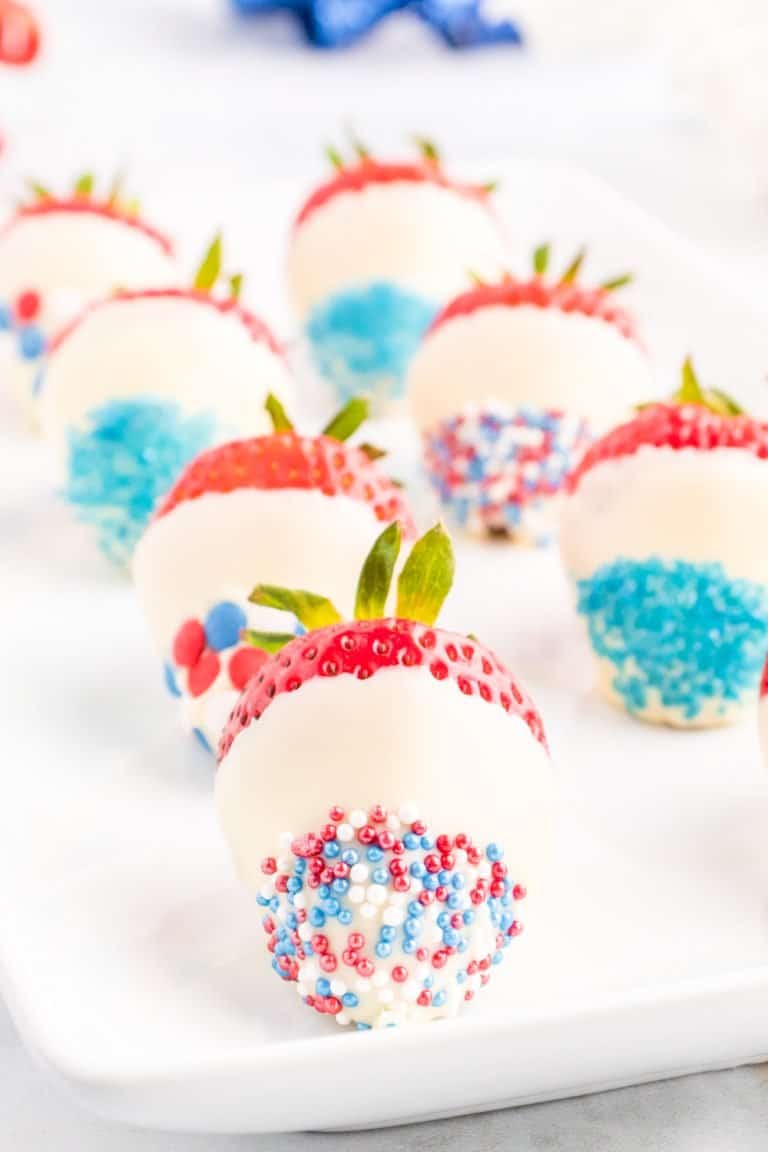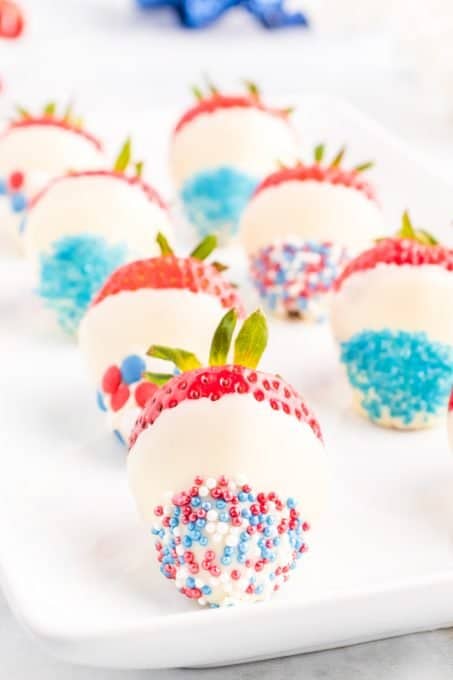 Can I melt white chocolate without a microwave
If you don't have a microwave, you can melt your white chocolate on the stove the old fashioned way. Use a double-boiler or make one yourself by placing a heat proof bowl over a pot filled with a few inches of water.
Set the stove to medium heat and add the white chocolate to the top bowl of the double boiler. Stir the chocolate as it softens. Continue heating and stirring until the chocolate is smooth and melted.
Tips for Perfect Dipped Strawberries
Stop heating the white chocolate BEFORE it's entirely melted. It will continue to melt as you stir.
If you overheat the chocolate it will "seize" (harden) and be impossible to use. You will need to discard it and start over with new chocolate.
After dipping, tap the strawberries gently against the rim of the bowl. This helps remove excess chocolate for a neat polished look.
Make sure to add the sprinkles to the dipped strawberries right away, before the chocolate begins to harden. Otherwise the sprinkles will not stick to the strawberries.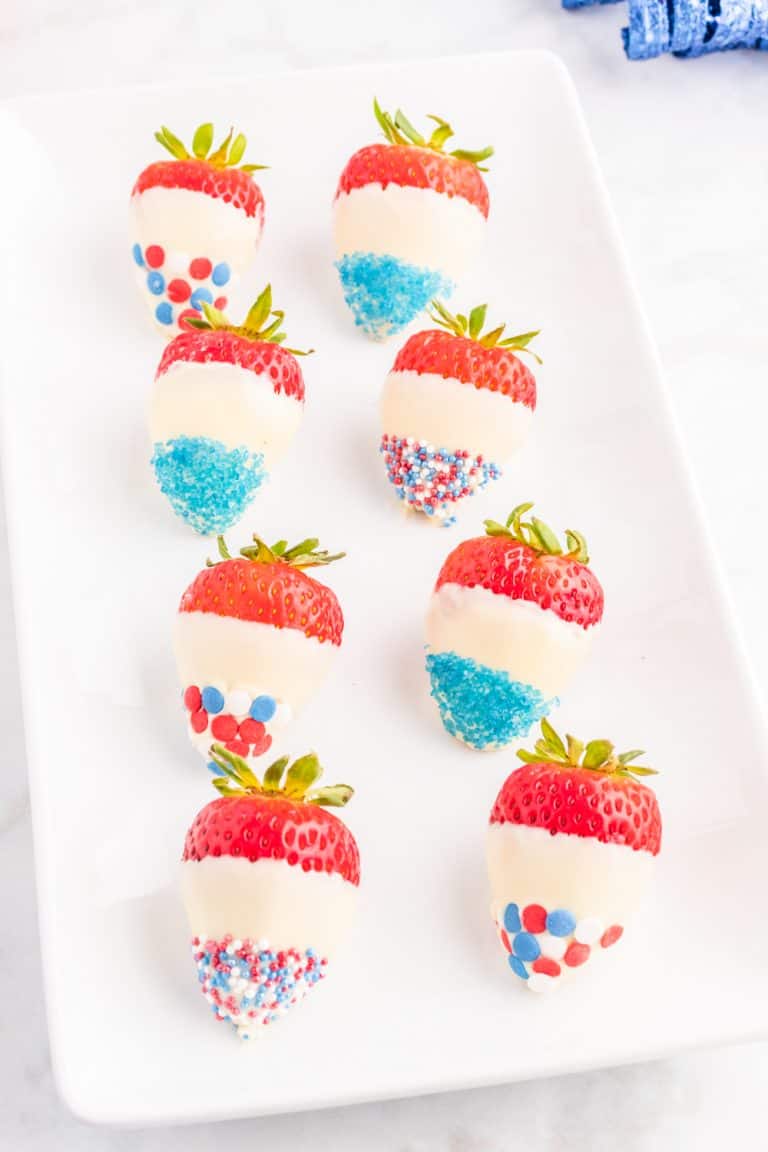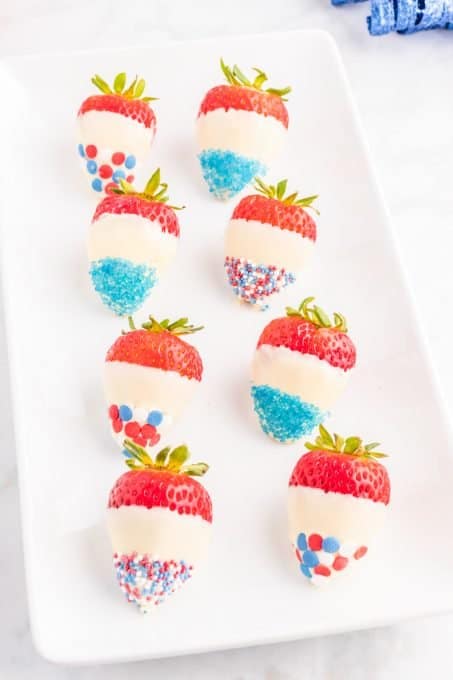 Patriotic Recipes
Have you ever made Jell-o Stars? They're just as easy as today's 4th of July dessert recipe and kids can't get enough of them. This Patriotic Jell- O Dessert is another spin on the red, white and blue theme my family requests every year.
If you're looking for the perfect dessert for a Memorial Day barbecue or Independence Day picnic, give this Patriotic Poke Cake a try. The sweet, moist cake pays tribute to Old Glory with lots of red, white and blue color all over.
At my house, we always start the Fourth of July with a big stack of Buttermilk Pancakes with Blueberries and Strawberries for breakfast. You can even add whipped cream for some extra decadence!
Strawberry Desserts
Spring and summer are strawberry season in my kitchen but I often can't help myself from baking with strawberries all year long.
Here are even more strawberry dessert ideas to try next!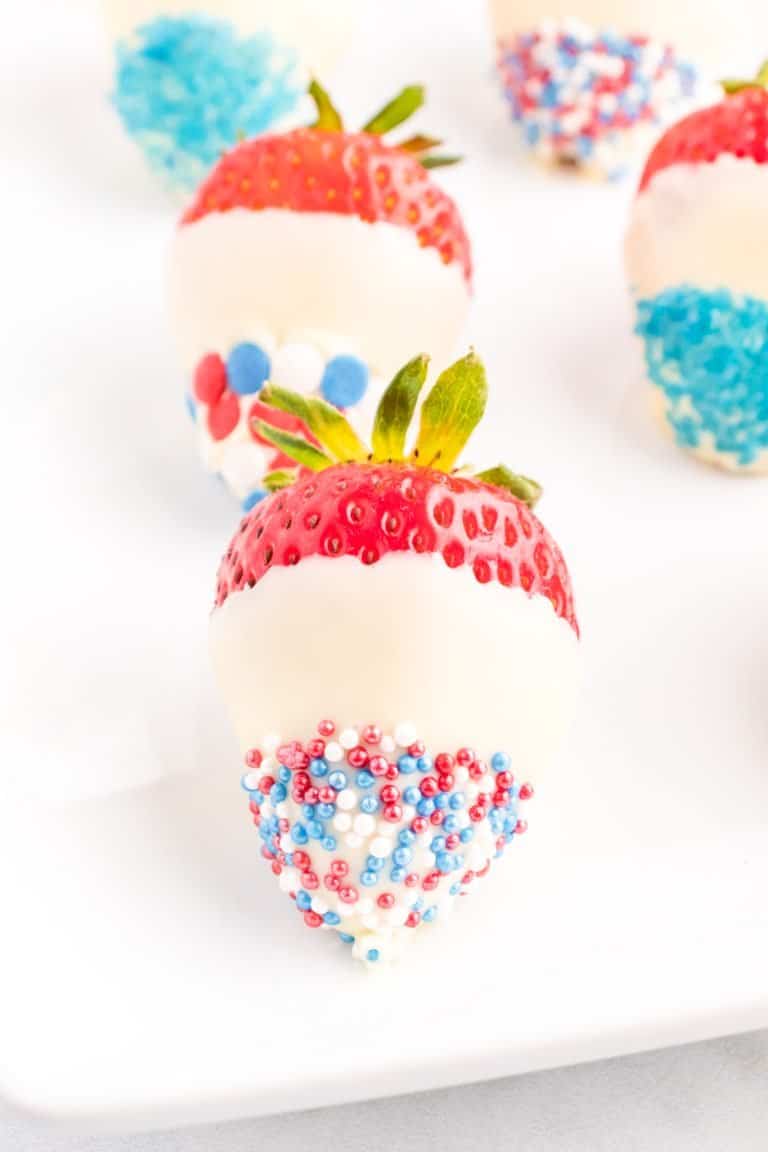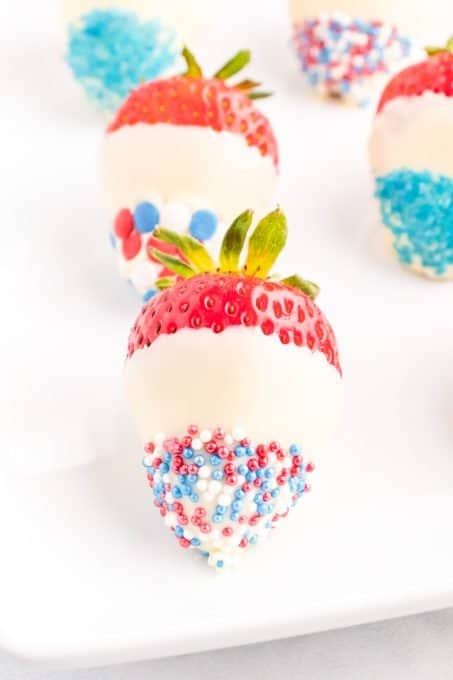 SIGN UP FOR THE WEEKLY
365 DAYS OF BAKING & MORE
NEWSLETTER BELOW!
Once you learn how to make red, white and blue dipped strawberries they're bound to become a new 4th of July dessert tradition!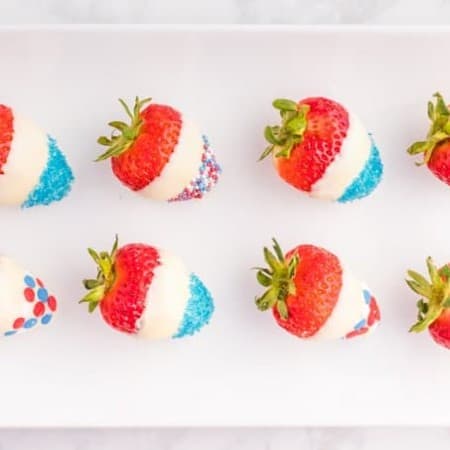 4th of July Strawberries are dipped in white chocolate and covered in red, white, and blue sprinkles. You'll love this easy no bake strawberry dessert with a patriotic flair!
Equipment
1 Baking Sheet

parchment paper

1 medium microwavable bowl

3 small bowls

4 spoons
Ingredients
1 pound strawberries washed and dried with tops on
4 oz white chocolate baking bar broken into pieces
assorted red, white, and blue sprinkles
Instructions
Line a baking sheet with a sheet of parchment paper.

Place the white chocolate pieces into a medium microwavable bowl. Microwave for 30 second intervals, stirring well in between, until all chocolate is melted. It is important not to overheat because chocolate will seize (harden) and there is no way to fix it. You will need to start over if that happens.

Pour a few tablespoons of each sprinkle into separate small bowls.

Hold the strawberry by the top and dip into the melted chocolate, leaving the top third uncovered. Alternatively, you can spoon the melted chocolate onto the bottom ⅔ of the strawberry. Gently shake off any excess.

Immediately spoon the sprinkles carefully onto the bottom third of the strawberry, leaving a plain white center band.

Place the dipped strawberries onto the tray lined with the parchment paper. Let them sit for about 30 minutes or until the chocolate sets. After the chocolate is set, place the dipped berries on a tray and serve.
Nutrition
Serving: 1strawberry | Calories: 63kcal | Carbohydrates: 8g | Protein: 1g | Fat: 3g | Saturated Fat: 2g | Polyunsaturated Fat: 1g | Monounsaturated Fat: 1g | Cholesterol: 2mg | Sodium: 9mg | Potassium: 85mg | Fiber: 1g | Sugar: 7g | Vitamin A: 7IU | Vitamin C: 22mg | Calcium: 25mg | Iron: 1mg
Did you make this recipe?
Share it with me on Instagram and make sure to follow me on Pinterest for more recipes.
*We are a participant in the Amazon Services LLC Associates Program, an affiliate advertising program designed to provide a means for us to earn fees by linking to Amazon.com and affiliated sites as well as ShareASale.
These are links that can take you to a product (or products) that I recommend. I do receive a portion of the sales or credit for my future purchases from any items purchased through those links. Your purchases encourage my baking, cooking and butter habit, and contribute to the life of this blog. I thank you so very much for your support. Let's keep having fun in the kitchen!!
Reader Interactions