This Strawberry Pretzel Pie has a salty pretzel crust that balances the sweet cheesecake filling and delicious fresh strawberry gelatin topping perfectly! Each bite is heaven!
Taken from my friend, Christi Johnstone's new cookbook, My Little Pony Baking Book, it's a collection of recipes every baker needs to have.
I am a sucker for anything strawberry.
*This post contains an affiliate link(s).
I mean, they are my most favorite fruit.
Strawberry dessert recipes like my Strawberries Lenox Shortcake, Strawberry Rhubarb Galette, and even this Lattice Strawberry Rhubarb Pie are perfect for summer, too!
Or pies, even! You can't go wrong with a pie, and they're great for summer desserts, too! This No-Bake Peanut Butter Pie will cool you off in the dog days of summer. And if you don't want to turn the oven on? Then make this No-Bake Blueberry Pie or this No Bake Nutella Snickers Pie! Everyone will love all of them!
So, when I saw this Strawberry Pretzel Pie recipe in my friend, Christi's new cookbook, I just had to make it. If you like Strawberry Pretzel Salad, then you'll love this recipe even more!
Christi is the incredibly talented blogger behind Love from the Oven. If you haven't already discovered her, please pay her a visit. I know you'll fall in love with all of her delicious recipes, especially her desserts like her Chocolate Peanut Butter Cookies!
SAVE THIS STRAWBERRY PRETZEL PIE RECIPE TO YOUR FAVORITE PINTEREST BOARD!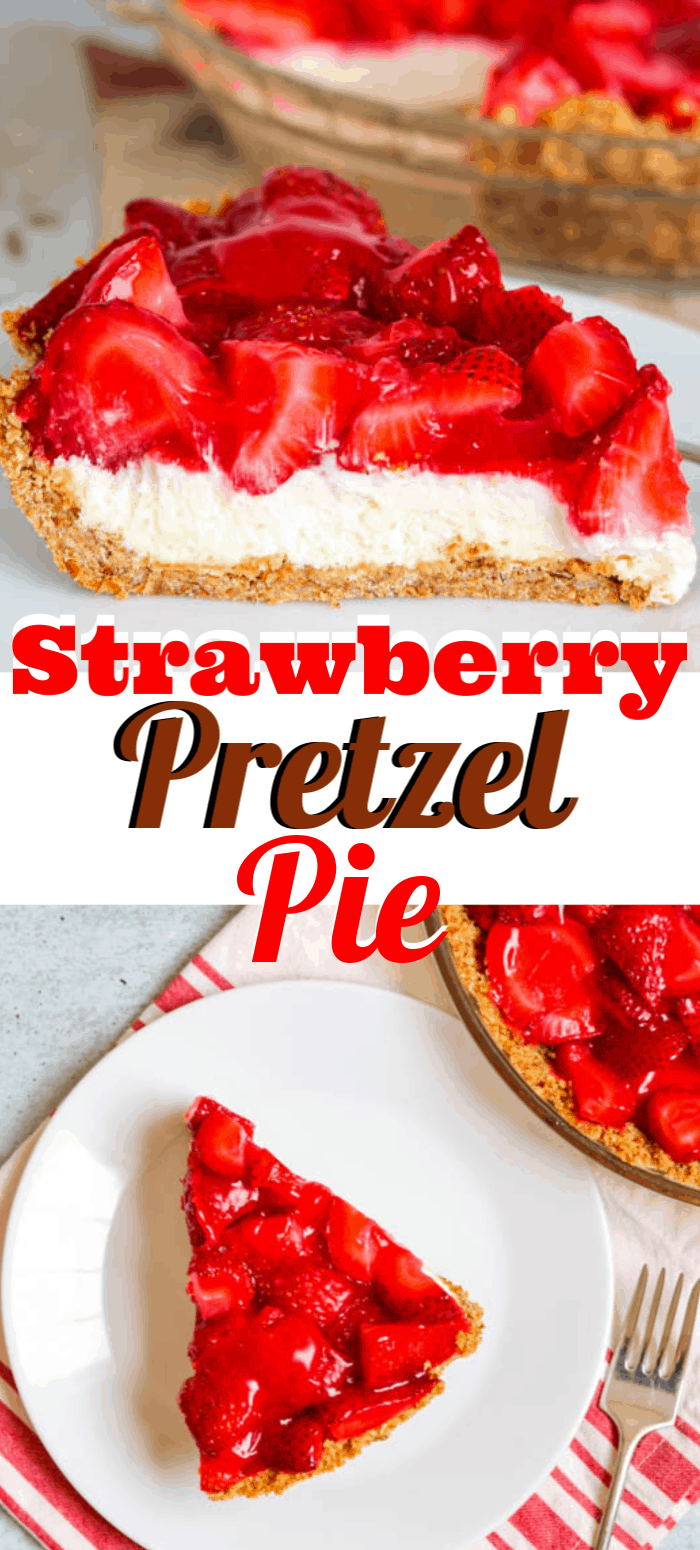 I knew when I opened her My Little Pony Baking Book and saw Christi's recipe for Strawberry Pretzel Pie that I just knew it was the recipe I had to make.
This book is one of the most beautiful cookbooks I have in my collection. Besides the fact that she's got so many delicious baking recipes, each item is accompanied by gorgeous and colorful pictures.
This book needs to be in every baker's kitchen. These recipes are near and dear to Christi's heart because they are all of her family favorites and they're all in this beautiful book.
It will make a great gift for those My Little Pony lovers in your life, grandchildren, grandmother's, mom or anyone who loves to bake.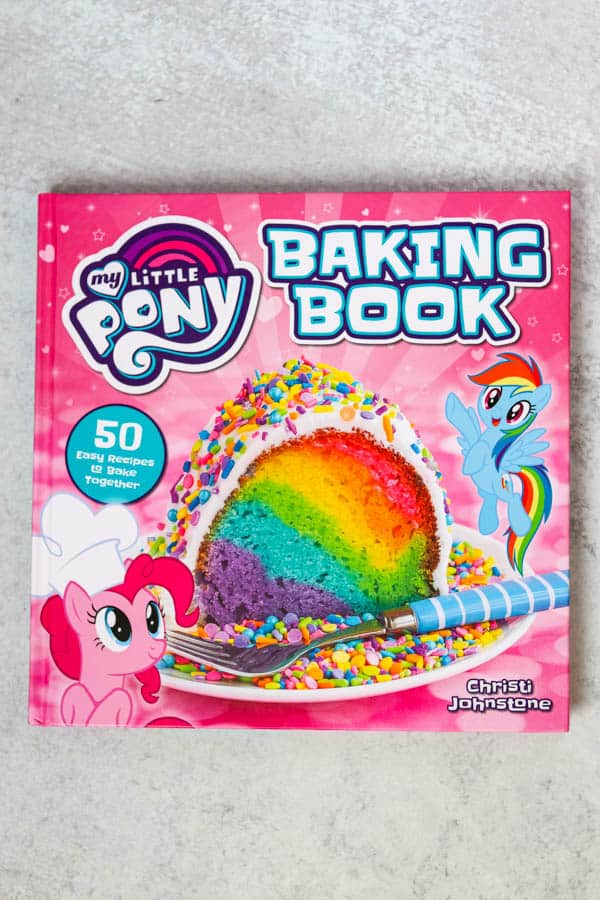 Look at how colorful this book is! I absolutely love it!
I can't wait to try more of the recipes, like this Lemon Cake with Lemon Glaze.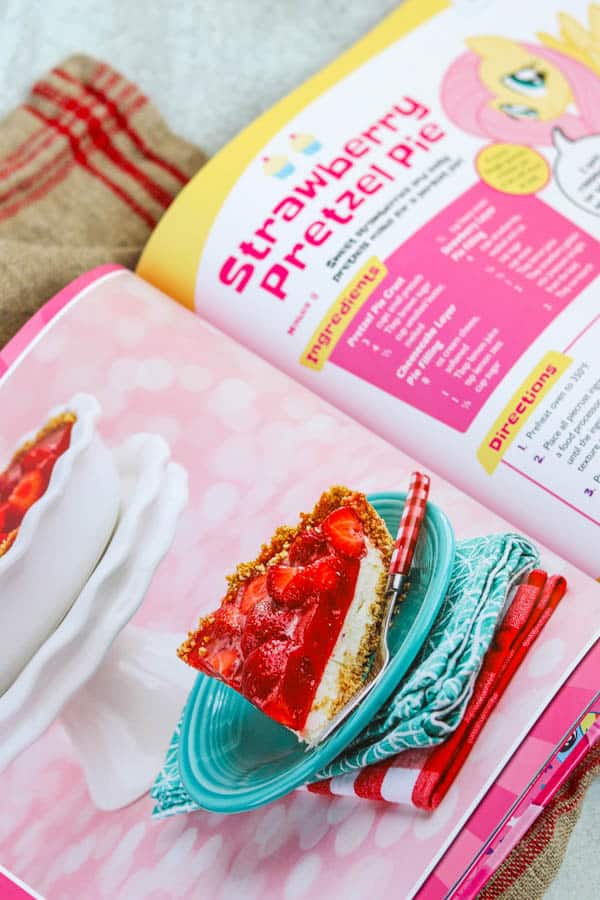 I really think you'll fall in love with this cookbook just as much as I have.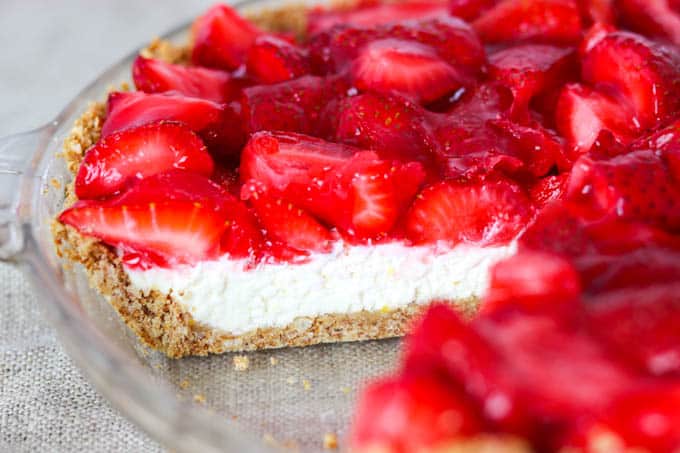 How to Make this Strawberry Pretzel Pie Recipe –
Cut the strawberries in various sizes. This will make sure you don't have any empty spots on the top of your pie. Everyone has to have a lot of strawberries on their slice, right?
Crush the small pretzels by using a food processor. If you don't have a food processor, you can place the pretzels into a large plastic freezer bag, seal it, and crush them with a rolling pin. Then add the crushed pretzels to a mixing bowl with the other crust ingredients.
Grease the pie plate to make it easier to remove the slices when serving.
Bake the crust for only 10 minutes so that it sets.
Combine the softened cream cheese, lemon juice, lemon zest, and sugar until light and fluffy.
Beat the heavy cream until you have stiff peaks and then fold it in to the cheesecake mixture.
Place the pie into the refrigerator for at least two hours to set.
Into a medium saucepan, combine the sugar, water, lemon juice, gelatin mixture and cornstarch. Bring it to a boil over medium heat and allow it to bubble for just one minute. It will thicken and will then be perfect to pour over the strawberries.
Pour the gelatin mixture over the washed and cut strawberries and gently toss to completely cover. Smells delicious, doesn't it?
Gently place the strawberry mixture over the cheesecake layer, filling in any empty spaces. The trick here is don't let any of the white cheesecake layer show through the top!
Place the pie into the refrigerator for a minimum of four hours before serving.
Items I used to make this Strawberry Pretzel Pie –
Cuisinart Food Processor
9″ pie plate
Lemon/Lime Citrus Juicer
KitchenAid Mixer
Glass KitchenAid Mixing Bowl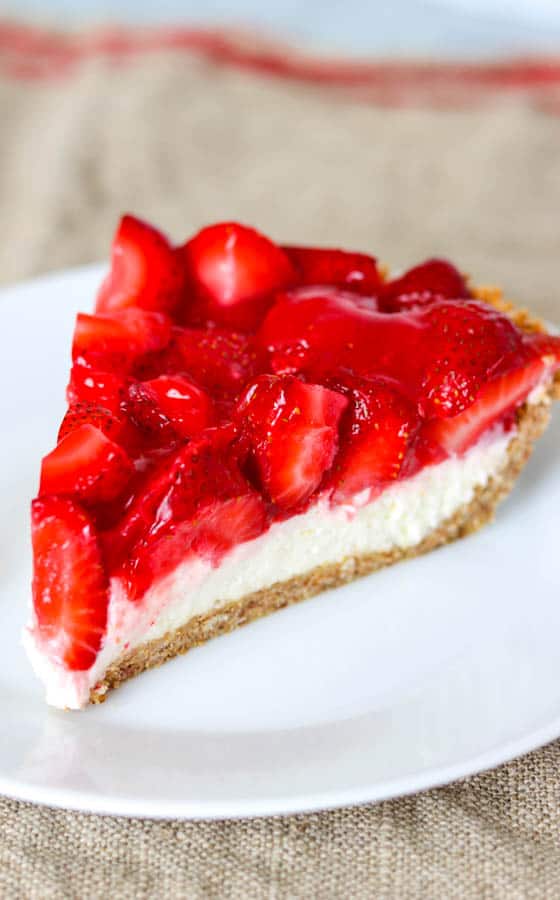 One of my favorite strawberry desserts is this Strawberries Lenox recipe. One of THE best no bake desserts, it's perfect to use in strawberry shortcake, on top of ice cream or just in a bowl with a dollop of whipped cream.
Ingredients
Pretzel Pie Crust
3 cups small pretzels
4 tablespoons brown sugar
½ cup unsalted butter melted
Cheesecake Layer Pie Filling
8 ounces cream cheese softened
1 tablespoon lemon juice
1 teaspoon lemon zest
¼ cup sugar
½ cup heavy cream
Strawberry Layer Pie Filling
4 cups fresh strawberries washed and cut
¼ cup sugar
½ cup water
1 tablespoon lemon juice
3 tablespoons strawberry gelatin mix measured straight from box
2 tablespoons corn starch
Instructions
Pretzel Pie Crust
Place all piecrust ingredients into a food processor and process until the ingredients resemble the texture of wet sand.

Press crust mixture into the bottom and of the sides of a greased 9" pie pan.

Bake for 10 minutes. Allow to cool completely prior to filling.
Cheesecake Filling
To make filling, in a large bowl using an electric mixer, combine cream cheese, lemon juice, lemon zest and sugar until light and fluffy.

In a medium bowl, beat heavy cream until stiff peaks form. Fold whipped cream into the cream cheese mixture just until combined, then spread into prepared pie crust. Chill in refrigerator for 2 hours.
Strawberry Layer
In a medium saucepan, combine sugar, water, lemon juice, dry strawberry gelatin and cornstarch. Bring to boil over medium heat and let bubble for 1 minute. Remove from heat.

Place cleaned and cut strawberries in a bowl, and pour strawberry glaze mixture over strawberries. Toss to coat strawberries in glaze. Spoon strawberry mixture onto cheesecake mixture. Refrigerate for at least 4 hours prior to serving.
Nutrition
Serving: 1g | Calories: 477kcal | Carbohydrates: 54g | Protein: 6g | Fat: 28g | Saturated Fat: 16g | Cholesterol: 82mg | Sodium: 494mg | Potassium: 209mg | Fiber: 2g | Sugar: 26g | Vitamin A: 965IU | Vitamin C: 44.1mg | Calcium: 63mg | Iron: 2mg
Did you make this recipe?
Share it with me on Instagram and make sure to follow me on Pinterest for more recipes.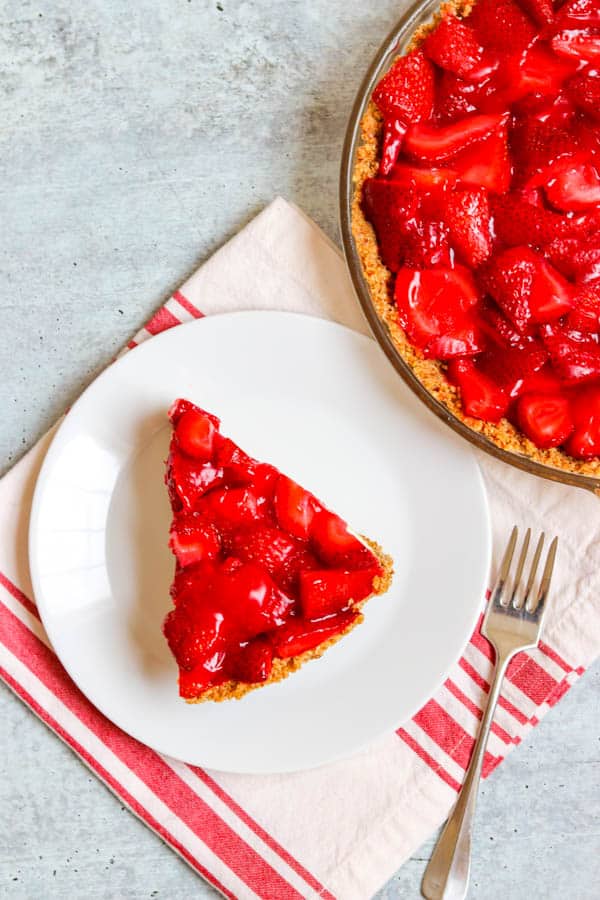 Give the gift of baking to someone you love by presenting them with a copy of Christi's My Little Pony Baking Book. You'll be so very glad you did!
*We are a participant in the Amazon Services LLC Associates Program, an affiliate advertising program designed to provide a means for us to earn fees by linking to Amazon.com and affiliated sites.
These are links that can take you to a product (or products) that I recommend. I do receive a portion of the sales or credit for my future purchases from any items purchased through those links. Your purchases encourage my baking, cooking and butter habit, and contribute to the life of this blog. I thank you so very much for your support. Let's keep having fun in the kitchen!!
Reader Interactions