Walking Strawberry Pretzel Salad combines the flavors of the classic layered dessert and makes it portable by using individual bags of pretzels! This one trick makes it possible to enjoy this delicious treat on the go.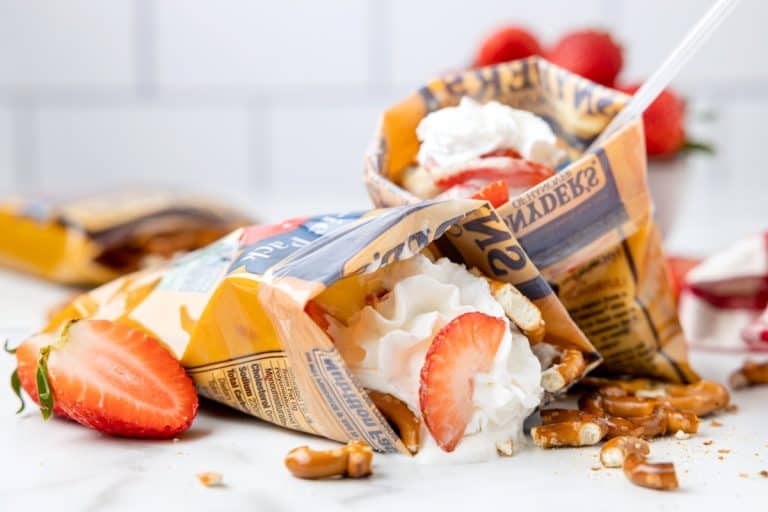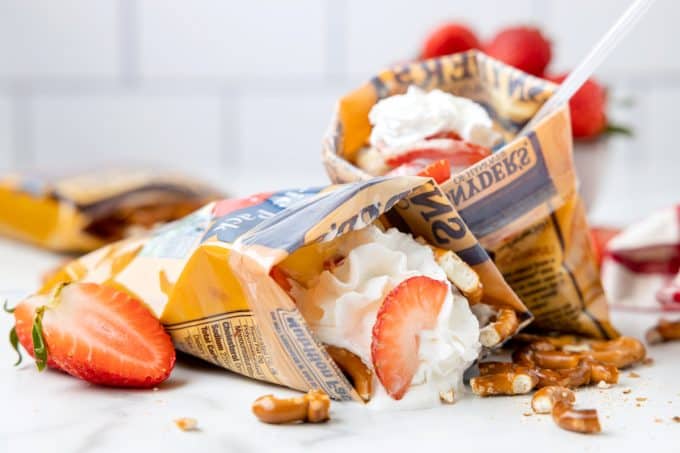 First off, I know that Strawberry Pretzel Salad isn't a "salad", per se. My friends in the Midwest have this habit of throwing different things together in a pan and calling it a salad! Some of my family favorites are Jello Salad, Ambrosia, Cucumber Salad, Carrot Raisin Salad, and more!
What is Strawberry Pretzel Salad?
If you haven't had this unique treat, you're probably not from the Midwest, or you don't know anyone who is! The classic Strawberry Pretzel Salad is really more of a pie. It's made up of a buttery pretzel crust, followed by the middle layer of sweetened cream cheese filling, and is topped with strawberry Jello with sliced strawberries. I've always finished mine off with a dollop of whipped cream.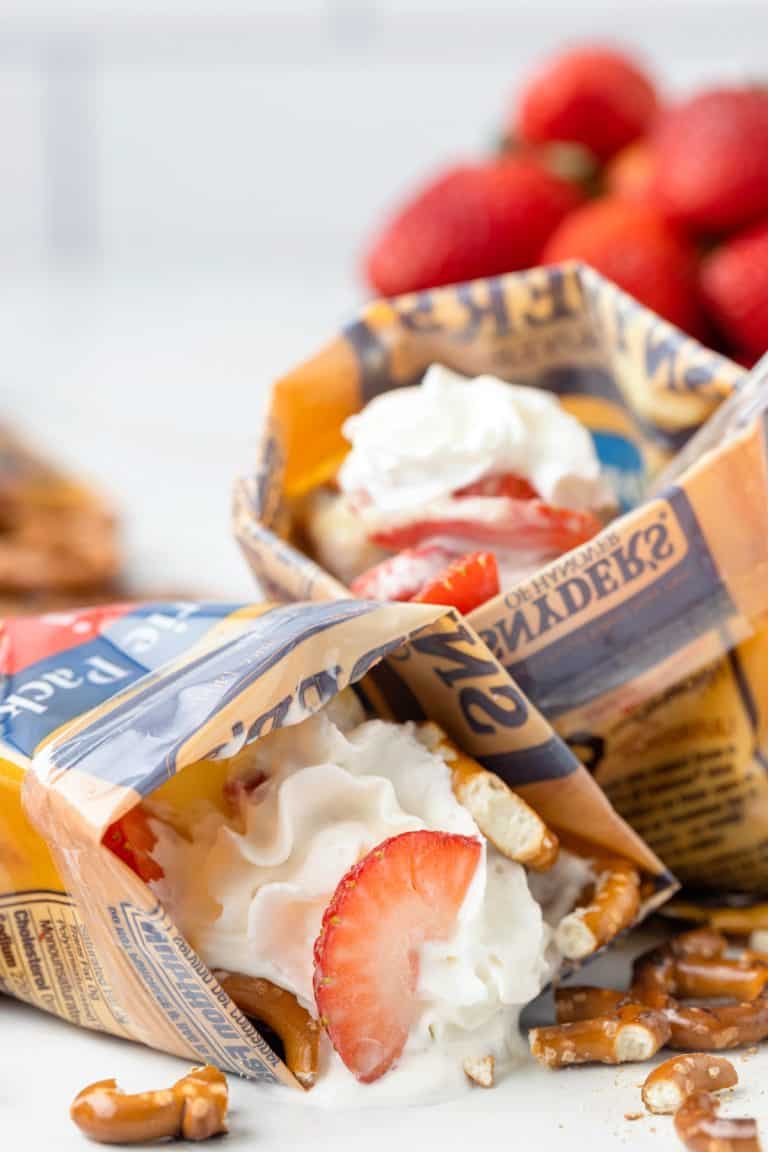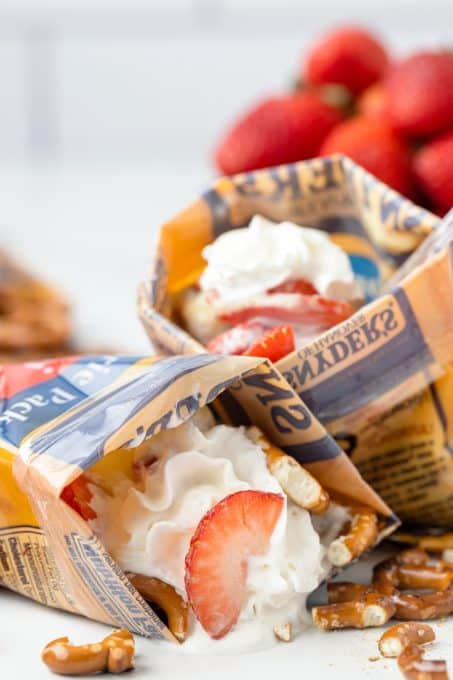 Why is this called a "Walking" Salad?
Some things are difficult to eat on the go, so some smart people got the idea to make them portable by changing up the ingredients just a bit! The most famous "walking" recipe is probably Walking Tacos (coming soon, so keep an eye out!). Since traditional tacos can be messy and hard to eat while moving, the taco filling and toppings are added to a bag of tortilla chips or Doritos, then eaten with a fork.
These unique treats accomplish a similar purpose: rather than eating this layered dessert on a plate, cheesecake pudding (in imitation of that cream cheese layer) and fresh strawberries are added directly to a small bag of pretzels, making nice little bites you can eat as you walk. It isn't exactly like a traditional pretzel salad because you don't have the strawberry gelatin layer, but the flavors are similar, and the convenience makes up for any taste difference. Also, clean up is super easy, too!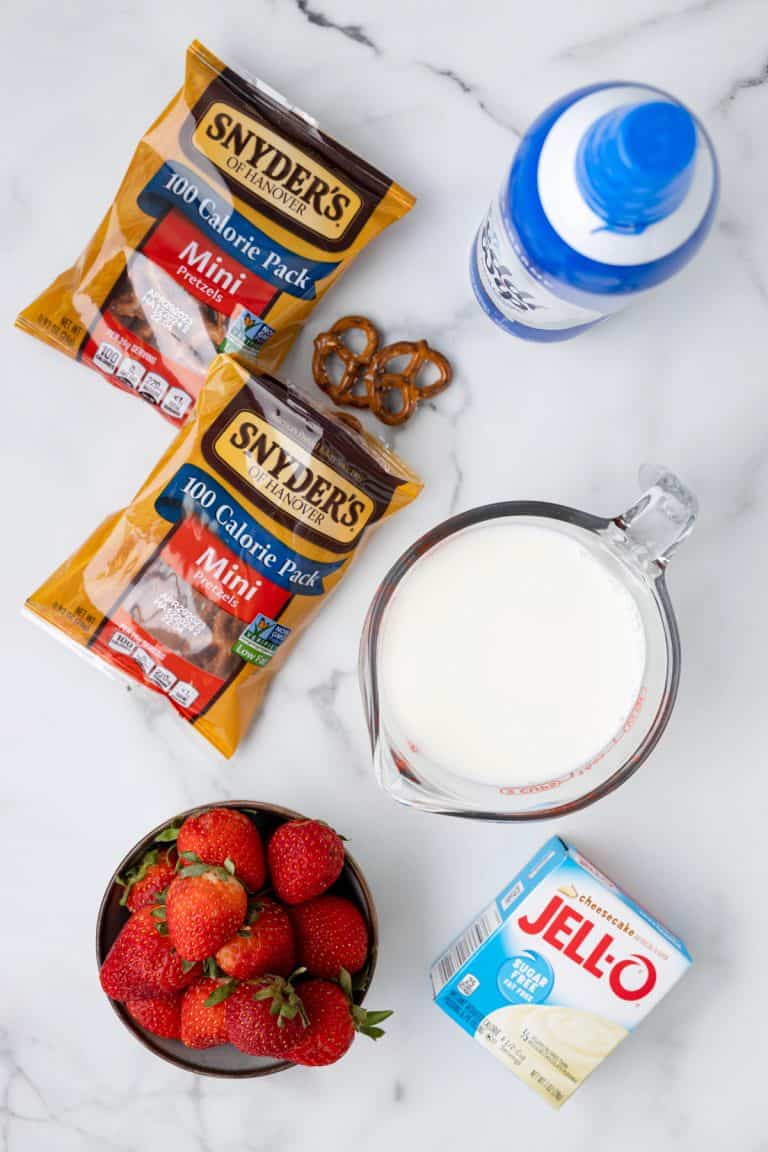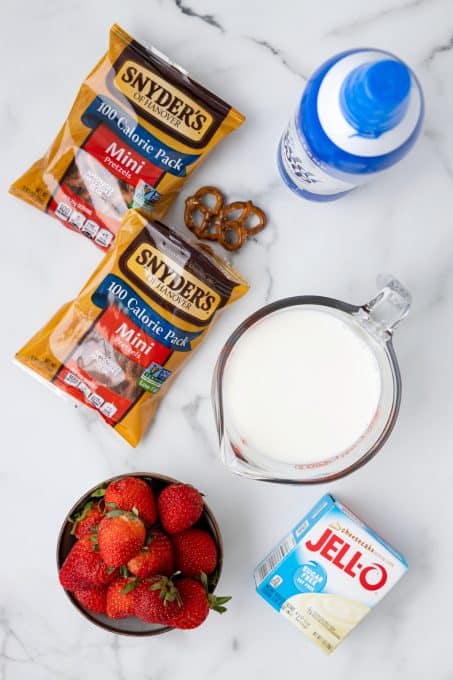 What ingredients do I need?
All you need for this great dessert is five simple ingredients:
1 box (5.1 ounces) instant cheesecake pudding
(pictured is sugar-free, but nutritional value has been calculated with regular cheesecake pudding. If purchasing a multi-pack on Amazon, you can use the other boxes for some of my Dream Bar recipes!)
2 cups of cold milk
7 single-serving bags of mini pretzels (you could use regular pretzels too, but you might want to crush them a bit before opening the bag)
2 cups of strawberries, sliced
1 can of whipped cream (or tub of Cool Whip)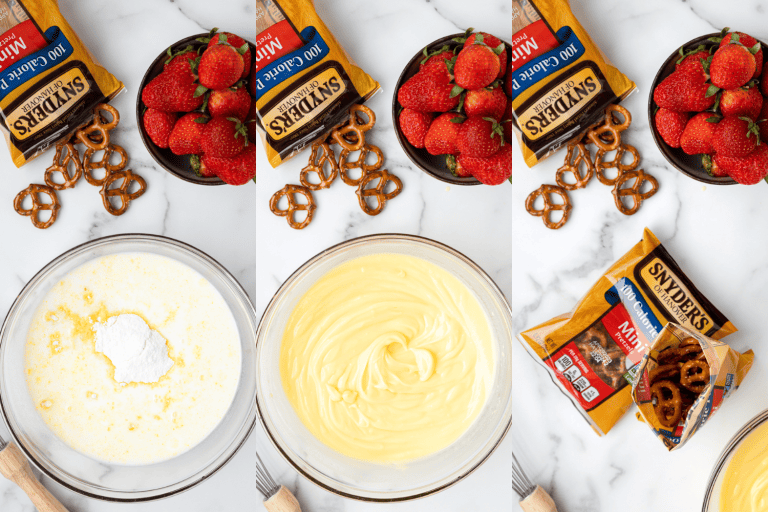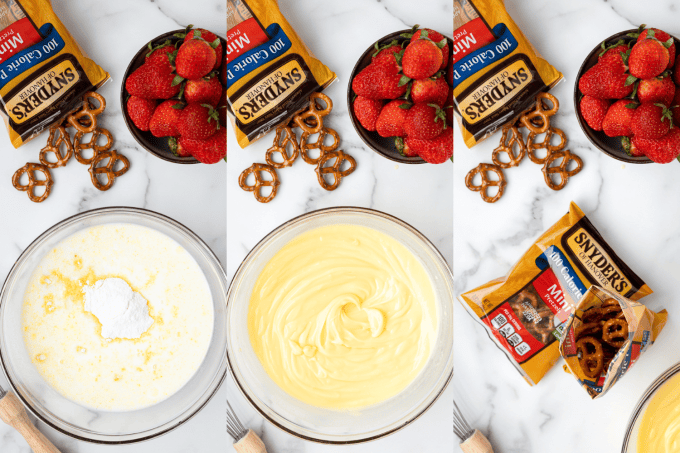 How to make Walking Strawberry Pretzel Salad
This strawberry salad comes together in just a few easy steps:
First, stir together the pudding mix and milk in a large bowl for two minutes. Then allow the pudding to set for three minutes.
Cut the tops off the bags of pretzels and flip over the edges. This helps get rid of some of that extra space and makes them easier to eat.
Add the pudding to each bag. Top the pudding with some sliced strawberries and some whipped cream. Enjoy!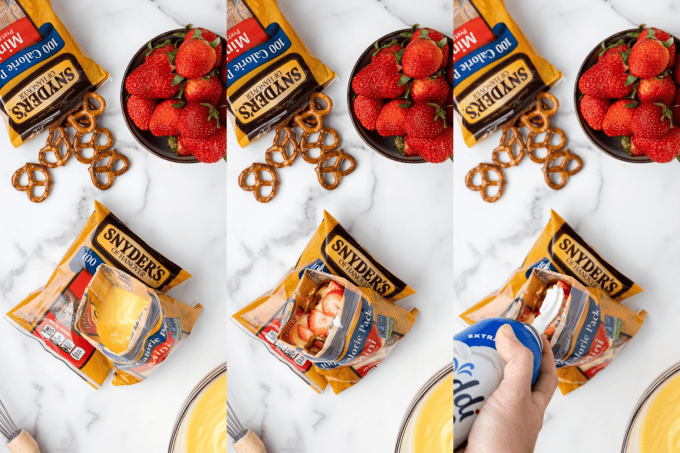 Can I use another kind of pudding?
Yes, you can use other pudding flavors. If you have a hard time finding cheesecake pudding, you can use straight vanilla pudding. Or, mix in some softened cream cheese to the vanilla pudding for that cheesecake flavor.
I have had good luck finding cheesecake pudding at Walmart, as they seem to have the most varieties of pudding mix.
Can I use frozen strawberries for this walking Pretzel Salad recipe?
You can use frozen strawberries, but you must thaw and drain them before adding them to your pretzel bags, or the excess liquid will make the pretzels too soft. You could also use a scoop of strawberry pie filling with your strawberries.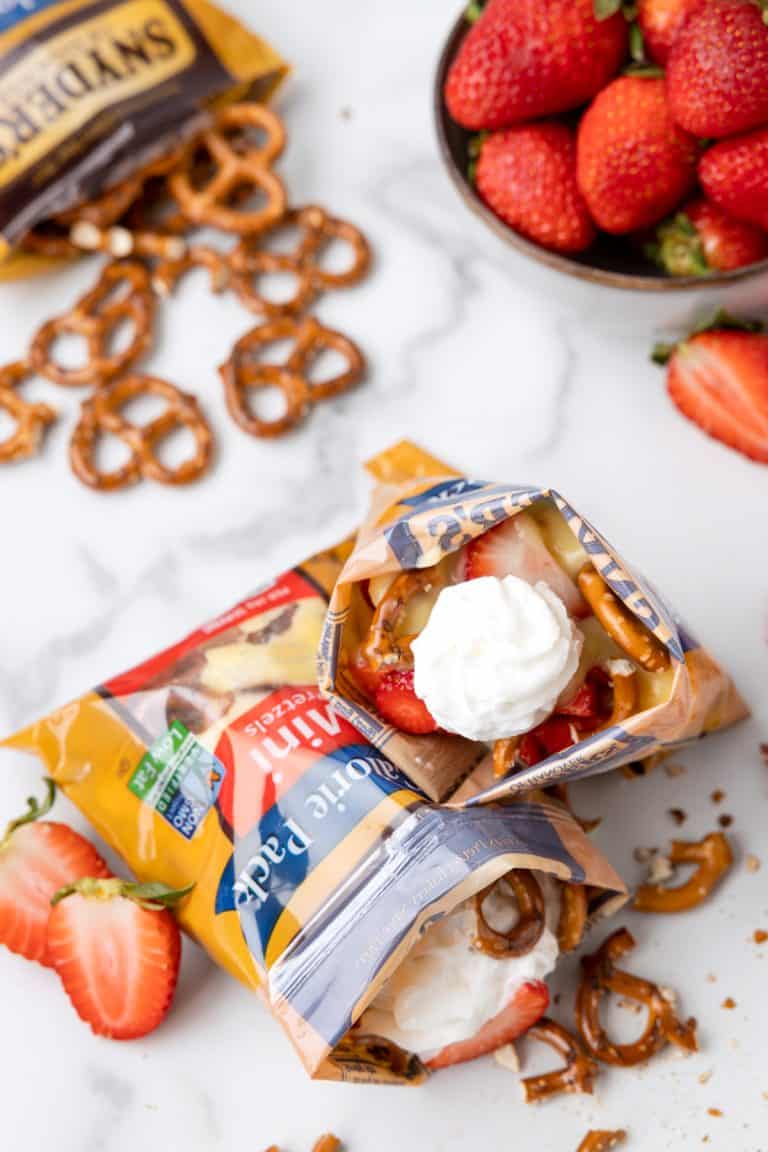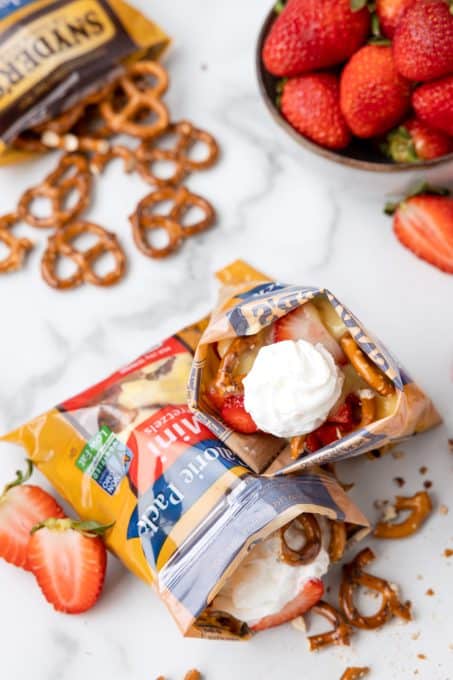 Can I use ready-made pudding cups instead of pudding mix?
Yes, you can use a pudding cup, but know that most stores don't carry cheesecake-flavored pudding cups. I suggest vanilla pudding cups or strawberry cheesecake pudding cups.
Can I make this treat ahead of time?
You can prepare all the ingredients ahead of time, but I would not assemble them until you are ready to serve them, so the pretzels stay nice and crunchy!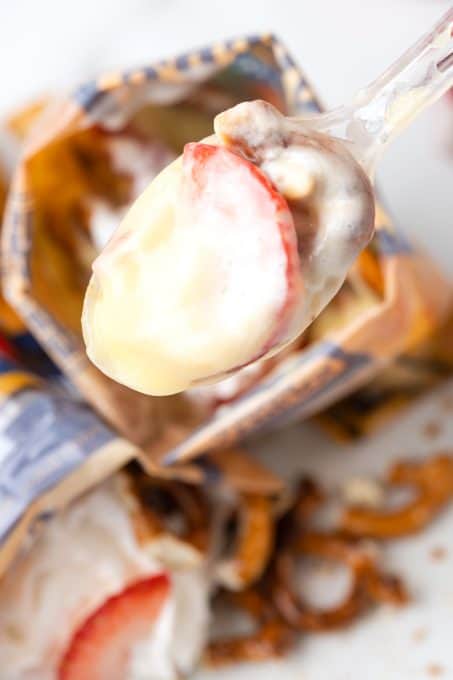 Can I store any leftover Walking Strawberry Pretzel Salad?
These treats are best eaten immediately, but if you have leftovers you want to save, you can cover them with plastic wrap and keep them in the refrigerator for up to two days. Just know that the pretzels will be very soft if you eat leftovers!
Walking Salad Variations
You can do all sorts of things to change up this strawberry pretzel salad recipe! Try different fresh berries like blueberries or raspberries! Or, add the pudding and fresh fruit to graham crackers or other sweet crackers.
Love Pretzels? Try one of these recipes!
Strawberry Pretzel Pie– this version has a salty pretzel crust that perfectly balances the sweet cheesecake filling and deliciously fresh strawberry gelatin topping!
Chocolate Peanut Butter Pretzel Brownies– fudgy brownies with salty pretzels and a ribbon of peanut butter—sounds like heaven!
Rolo Pretzel Turtles– this sweet and salt candy is a hit any time of the year! They're one of the quickest and easiest treats to make when you want to satisfy your sweet tooth. The most challenging part is waiting for them to cool so you can enjoy them!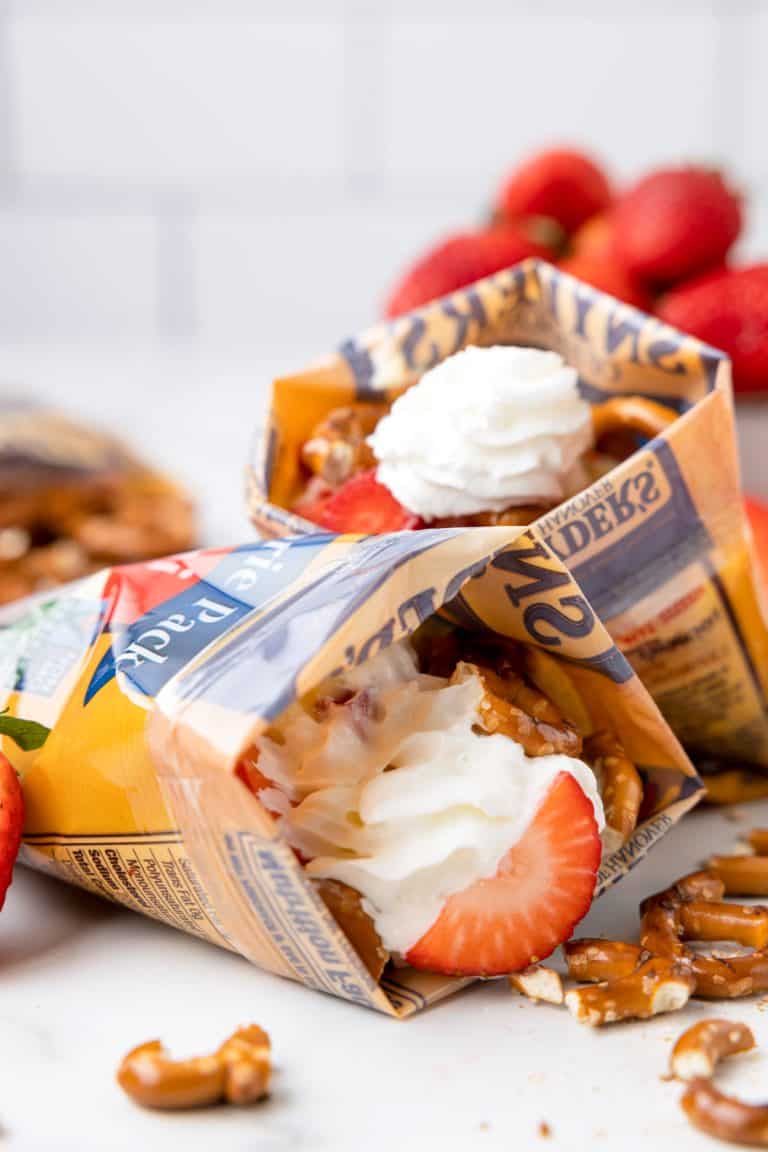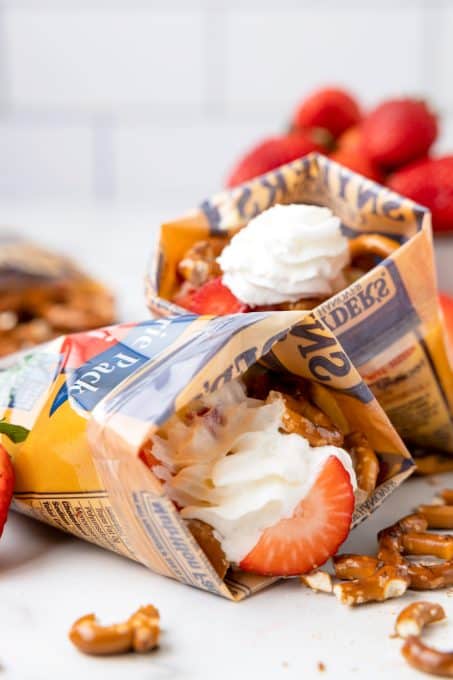 More Strawberry Treats
I love strawberries, and I spotlight them in a lot of my desserts! Here are a few you definitely need to try: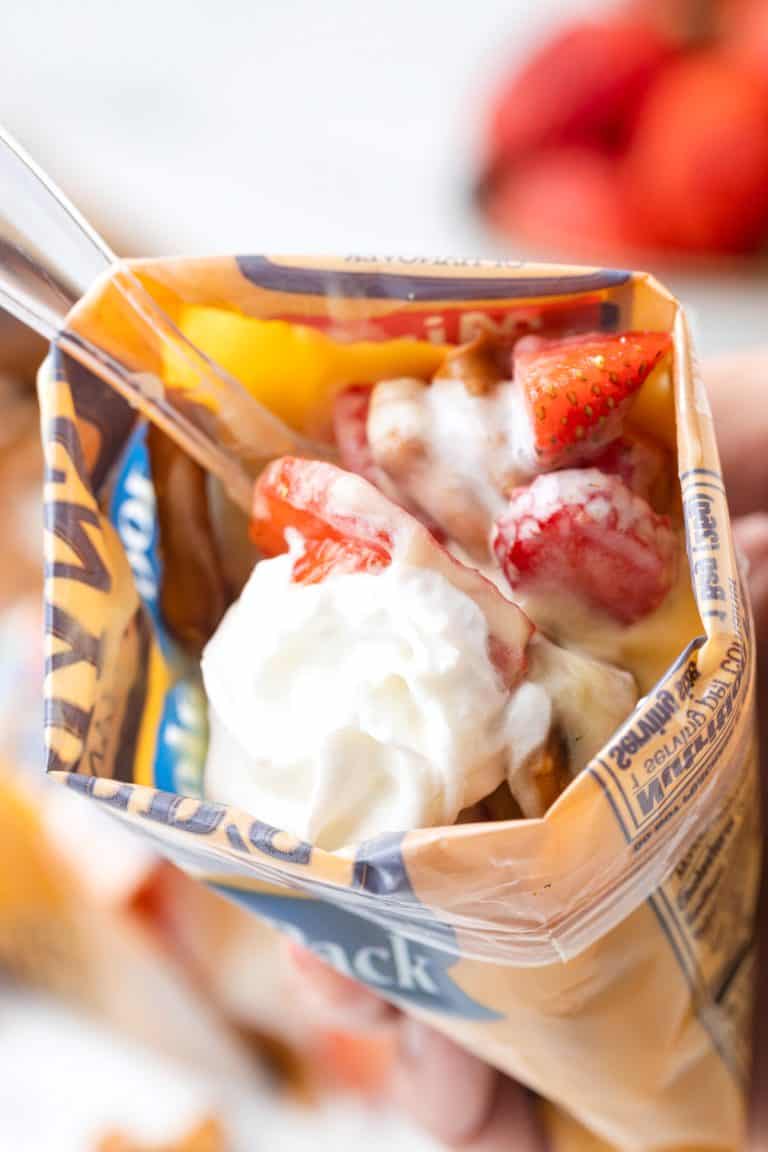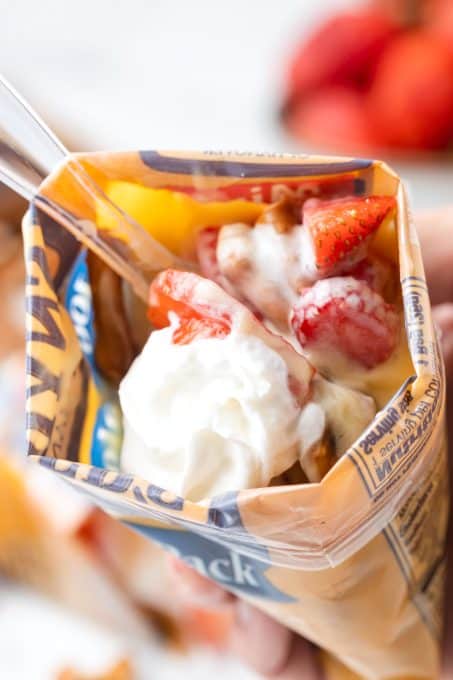 ~ FOLLOW ME ~
Keep an eye out for more of my easy recipes each week!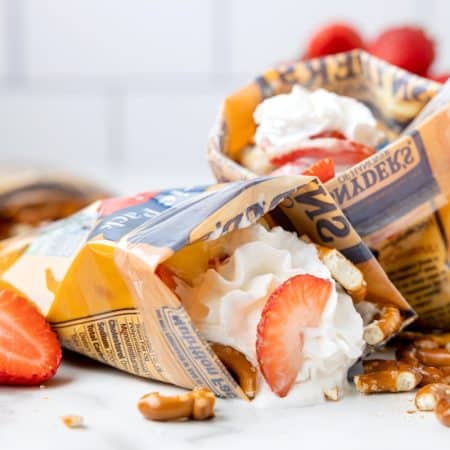 Walking Strawberry Pretzel Salad
Walking Strawberry Pretzel Salad is a twist on a classic layered dessert. It's made into one so you can eat on the go using individual pretzel bags! It's an easy and great dessert option for pool parties, BBQ's and potlucks!
Ingredients
1 box instant cheesecake pudding mix (5.1 ounces)
2 cups milk
7 packages mini pretzels
2 cups strawberries sliced
1 can whipped cream
Instructions
Stir together the pudding mix and milk in a medium mixing bowl for two minutes. Allow the pudding to set for three minutes.

Cut the tops of the bags of pretzels and flip over the edges.

Add the pudding to each bag. Top the pudding with some sliced strawberries and some whipped cream.
Notes
You can use frozen strawberries, but be sure to thaw and drain them before use.
Vanilla pudding can be substituted for cheesecake pudding.
You can use individual pudding cups rather than pudding mix but you may have to substitute a different flavor.
Nutrition
Serving: 1serving | Calories: 112kcal | Carbohydrates: 20g | Protein: 3g | Fat: 2g | Saturated Fat: 1g | Polyunsaturated Fat: 0.2g | Monounsaturated Fat: 1g | Cholesterol: 8mg | Sodium: 230mg | Potassium: 170mg | Fiber: 1g | Sugar: 16g | Vitamin A: 119IU | Vitamin C: 24mg | Calcium: 93mg | Iron: 0.2mg
Did you make this recipe?
Share it with me on Instagram and make sure to follow me on Pinterest for more recipes.
Reader Interactions