Bring the beach vibes to the all of your summer parties with Blue Hawaiian Jello Shots! Coconut infused rum and blue curaçao add a colorful, tropical flair for the perfect boozy treat.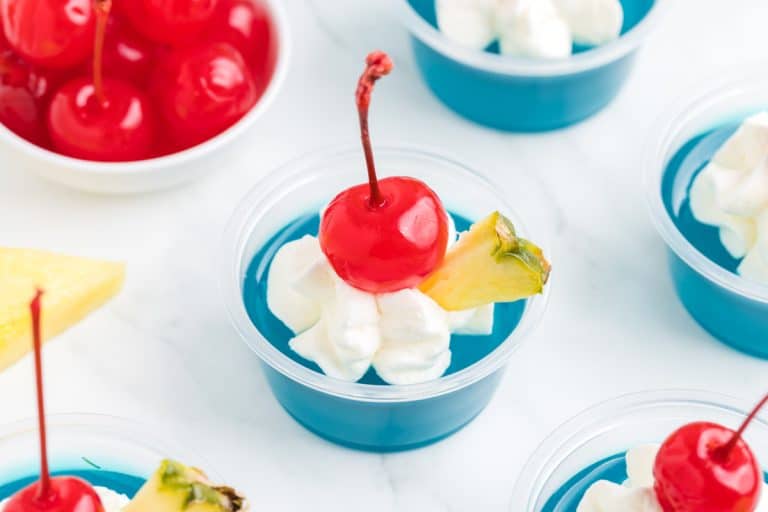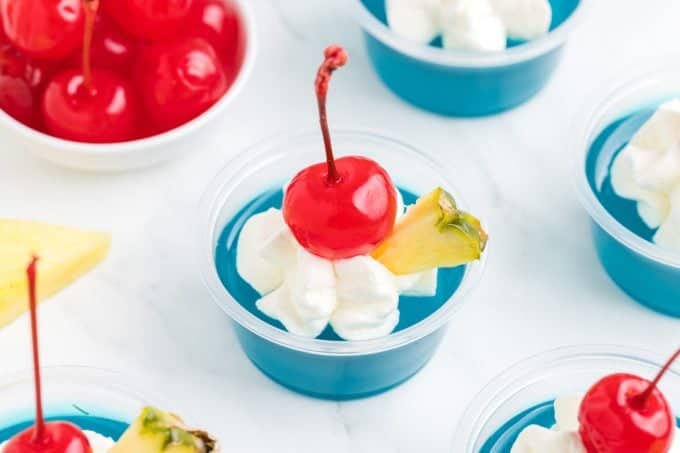 Fun jello shot recipes are the best way to add more fun to your summer party.
Even though it should go without saying, keep these out of reach for those under the age of 21! The bright blue color, whipped cream and cherry is inviting, but it's only for the BIG kids.
SAVE THIS BLUE JELL-O SHOT RECIPE TO YOUR FAVORITE PINTEREST BOARD!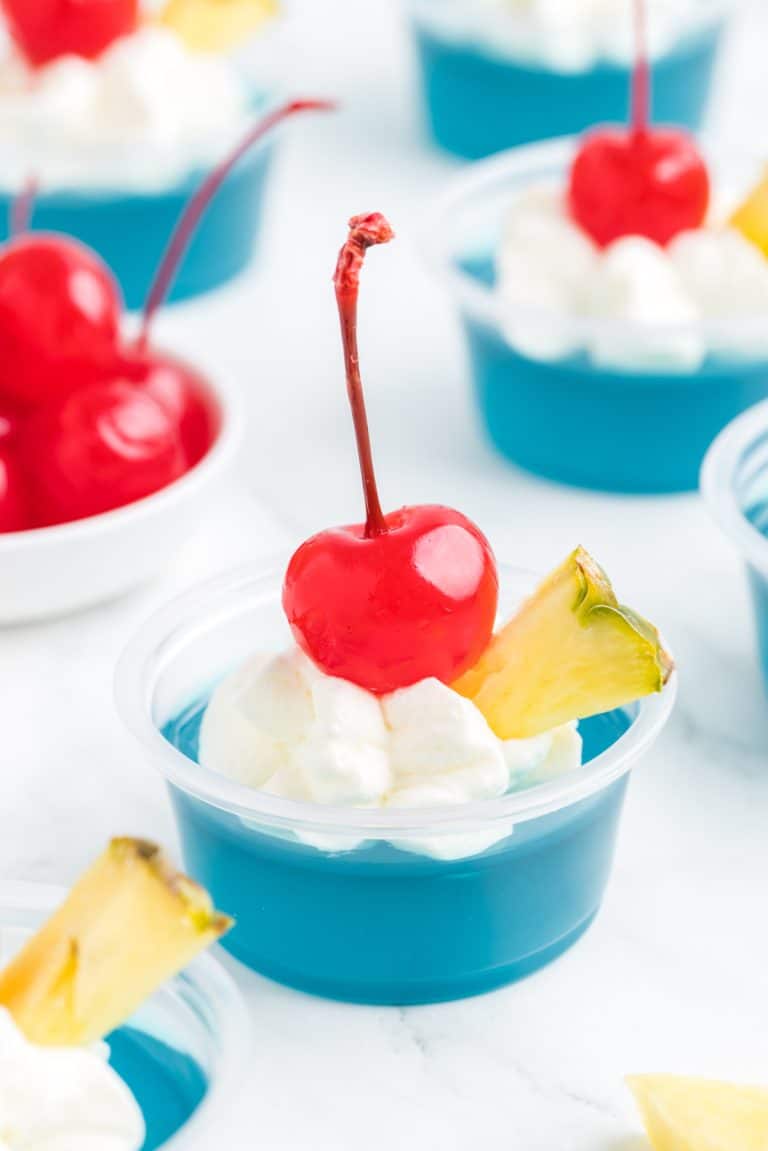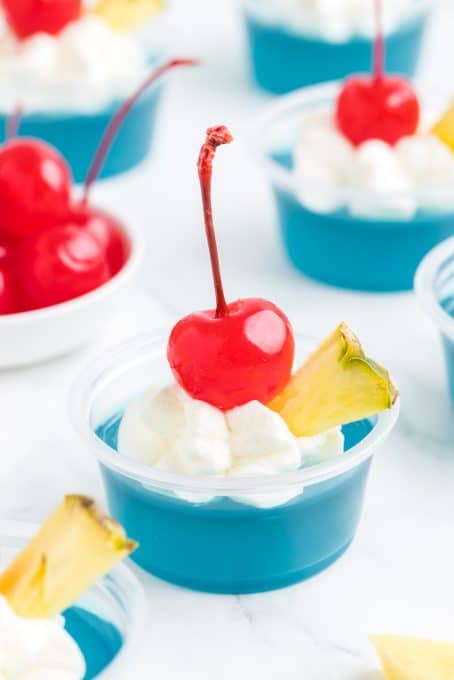 If you're looking for the perfect cocktail for pool parties or your next summer party, you can't do better than this Blue Hawaiian Jello Shots recipe. Since they're made without ice, you don't have to worry about the drinks getting watered down in the summer heat. And know what, they'd be great to serve at a summer-themed winter party, too!
Coconut rum Jello shots are as quick and easy to make as they are to drink! Served in disposable shot glasses, these little mini cocktails are a one sip experience. Enjoy your shot, toss your cup and dive back into the pool. 
While you're at it, make a batch of these Pina Colada Jello Shots to share too! Those taste just a miniature version of the classic beachside sipper.
What are Blue Hawaiian Jello Shots?
Blue Hawaiian Jell-o Shots are made by combining berry gelatin with coconut rum and blue curacao syrup. The taste is explosive — rich coconut, tangy berry and bright citrus packed into smooth jello. Not to mention that eye catching brilliant blue color!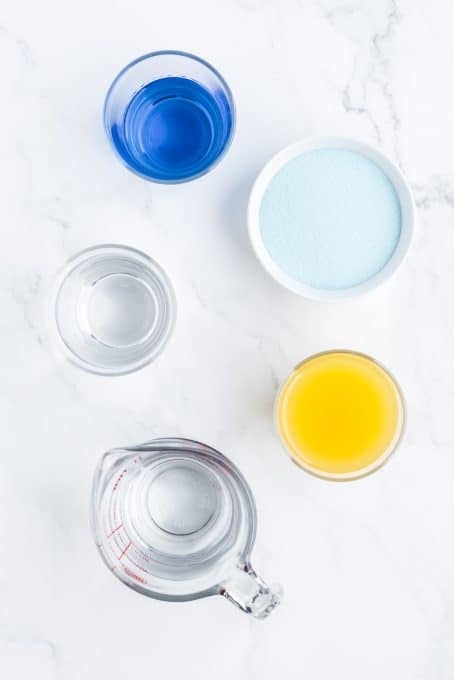 What ingredients do I need for this blue Curacao cocktail?
Coconut rum – any brand, but I like Malibu Rum.
Blue gelatin powder – I used berry blue JELL-O for that bright blue color
Blue Curacao – an orange liqueur with a bold blue color
Cans of pineapple juice
Maraschino cherries and fresh pineapple wedges for serving!
Make sure to chill your pineapple juice, rum and blue Curacao before making the JELL-O shots. The cold ingredients help the JELL-O shots set more quickly when you add them to the hot gelatin mixture. 
If you're pressed for time and your ingredients aren't chilled, stick them in the freezer for 15 minutes. That usually does the trick!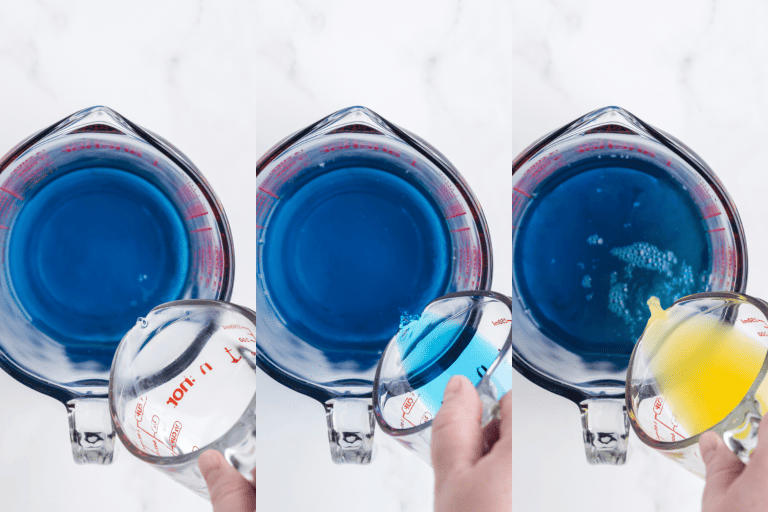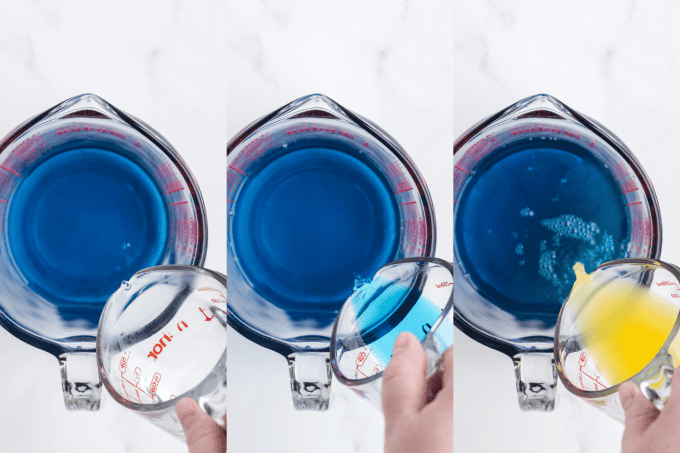 Instructions for Blue Jello Shots
Just follow these simple steps!
First, get your plastic jello shot cups ready by lining them up on a cookie sheet. 
In a medium bowl, dissolve the gelatin powder in boiling water, then add the pineapple juice, rum and blue curacao. Stir until everything comes together. Pour jello mixture into shot glasses, being careful not to overfill them! You want them to be about 3/4 of the way filled to the top.
Transfer the Jello shots to the fridge to chill for at least 4 hours. When you're ready to serve the Blue Hawaiian Jello Shots, top each one with a small piece of fresh pineapple, whipped cream, and a maraschino cherry. Serve cold and enjoy the party!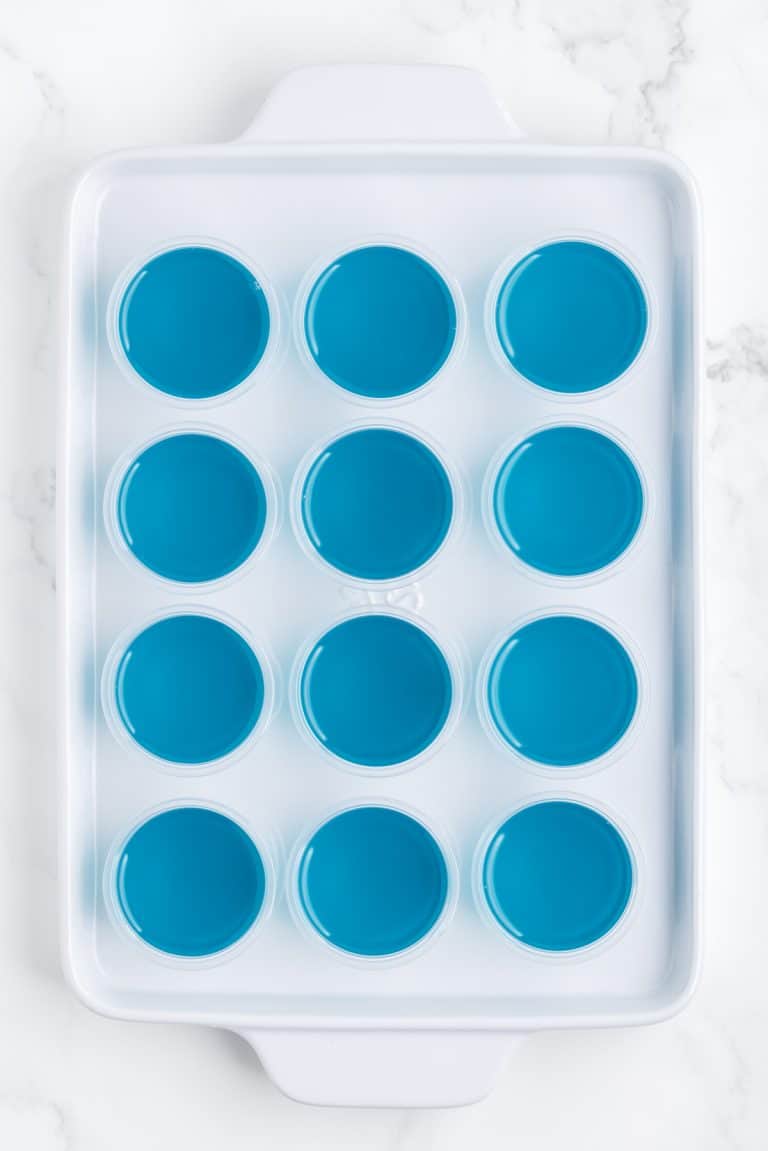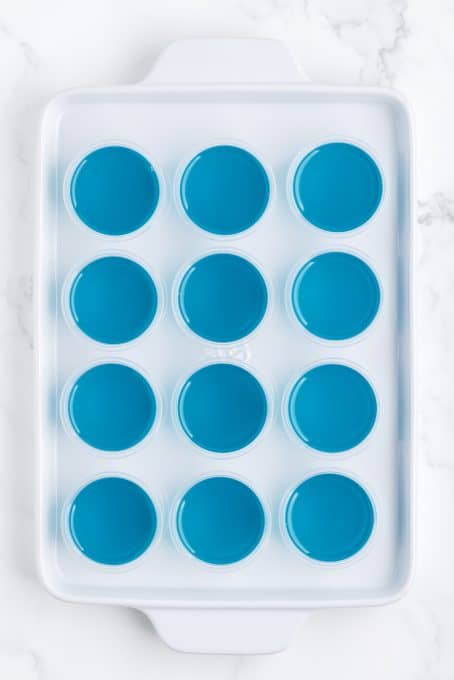 What cups are best for making Jello shots?
You can use any 1.5 ounce or 2 ounce shot glasses for this recipe! This is the perfect time to show off your shot glass collection, if you have one. When I make these for a party, I usually opt for the disposable plastic shot cups for easy clean up.
Don't have any shot glasses? Use small condiment containers instead! They're the ideal size for shots and the lid is handy for transporting your drinks, not to mention keeping them covered outdoors.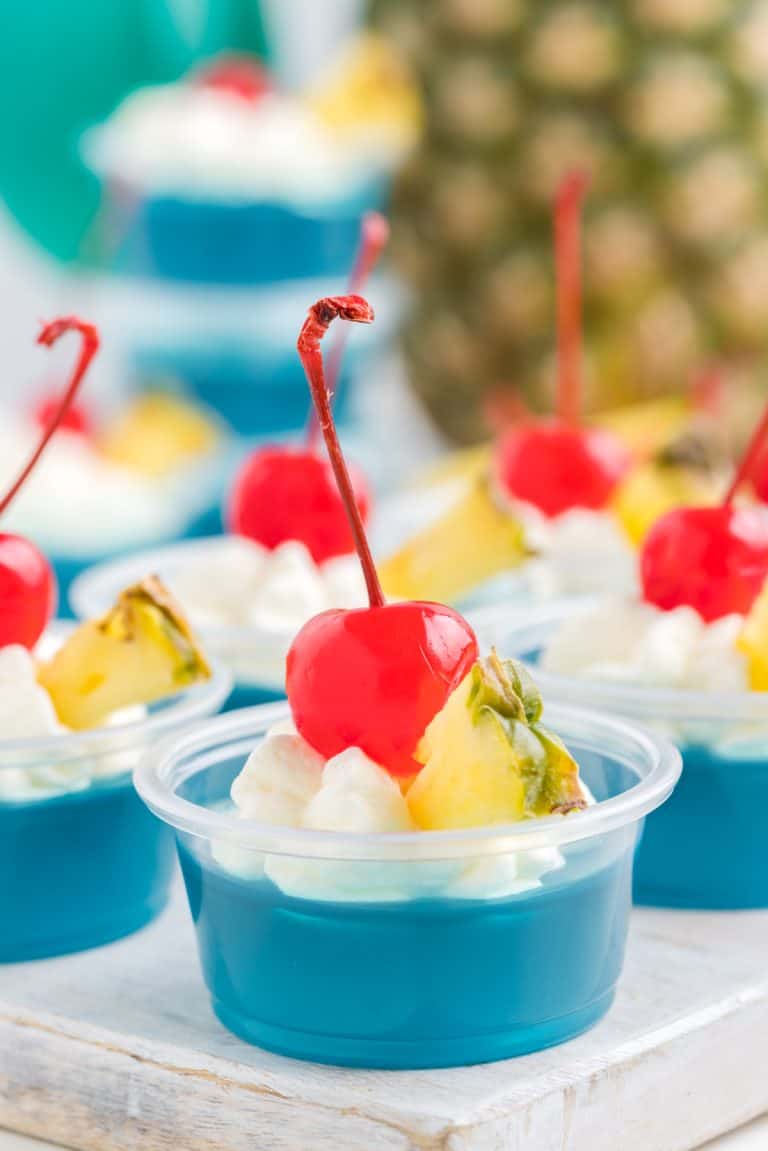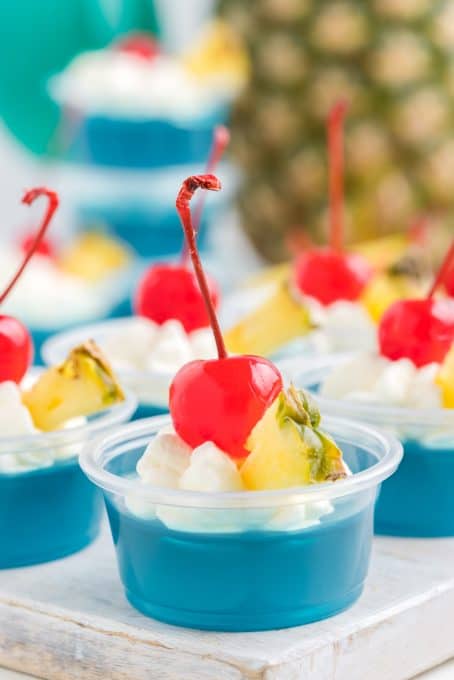 Tips & Tricks
Make sure the gelatin is COMPLETELY dissolved into the water before you add the other ingredients. This takes about 90 seconds of stirring. You want the gelatin evenly distributed throughout the mixture so that all of the shots set up correctly.
Keep your JELL-O shots cold by placing them on a container full of ice during the party, or keeping them in the refrigerator until just before you plan to drink them.
Leftover jello shots can be stored in the refrigerator for up to 2 weeks. Jello shots make a great make ahead cocktail as long as you keep them cold!
Can I make Jello Shots Without Alcohol?
You don't need to miss out on the great flavor and all the fun of  Blue Hawaiian Jell-o shots just because you aren't drinking! To make alcohol free shots, replace the coconut rum with coconut water. Instead of blue Curacao, use chilled water as a substitute. I suggest adding a couple of drops of blue food coloring to the mixture for a brighter blue color, too. 
These would be a great option to serve the kids, but they will need to be labeled or use a different color so they don't get mixed in with the adult shots.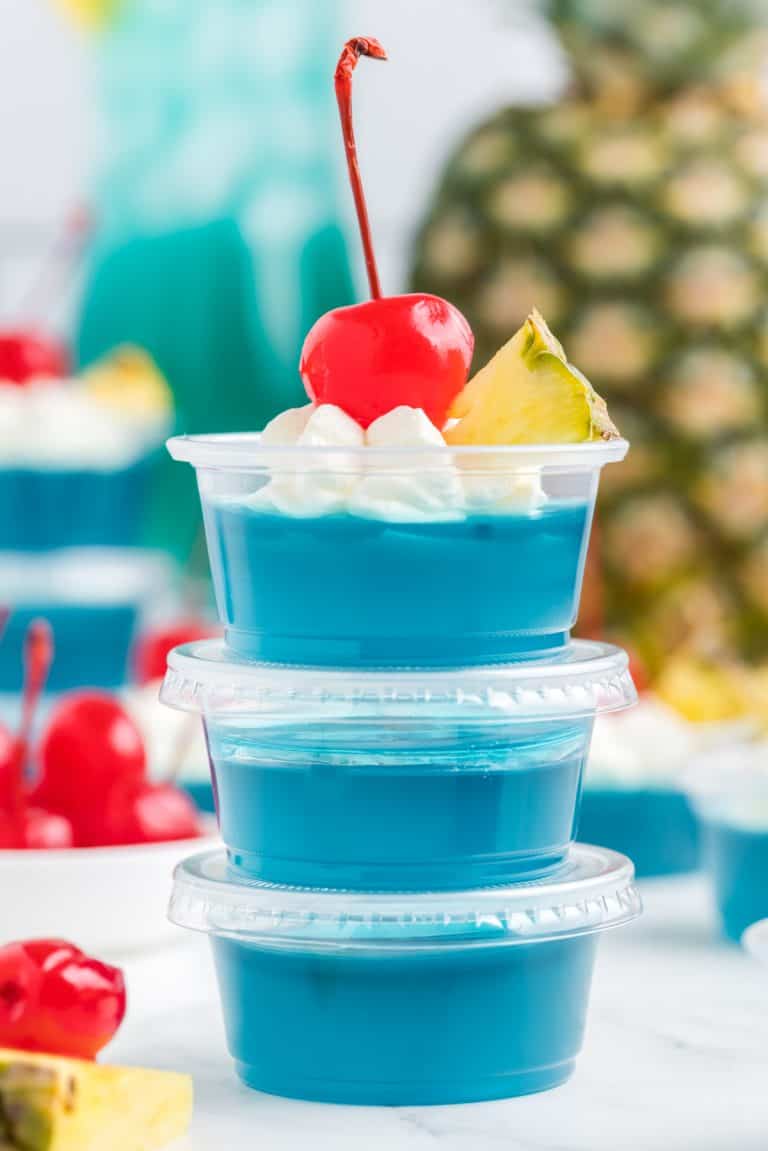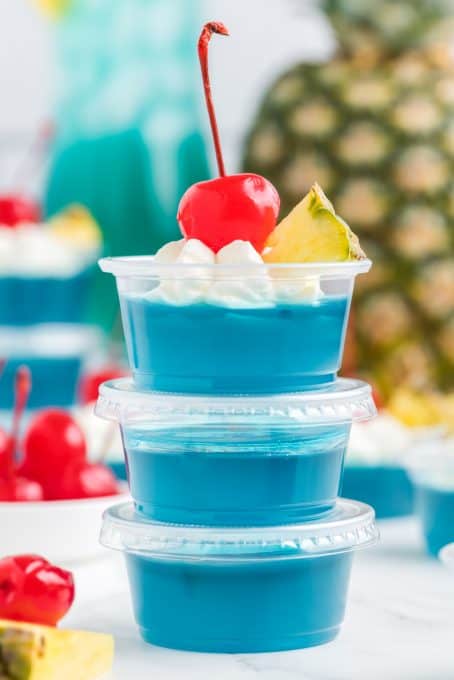 Summer Cocktail Recipes
I don't make any secret of the fact that I love a good cocktail in the summer time. This Rum Slush is one of my favorites to enjoy by the pool or just out on the deck in the sunshine!
Looking for more ways to use that bottle of blue Curacao you bought? Make my Blue Ocean Cocktail recipe! It's one of the most aesthetically pleasing cocktails I've ever had, with a picture perfect layer of ocean blue at the bottom of the frozen blended coconut cocktail.
When you're craving something more citrusy, this Frozen Bahama Mama gets the job done! Orange and pineapple paired with lime, dark rum and grenadine make it a crowd pleasing refreshment for any event.
Most of the cocktails I make are fruity, but every now and then I like a drink that doubles as dessert! Frozen Marshmallow Mudslide combines chocolate, Bailey's and coffee creamer with Homemade Marshmallow Vodka. It's a milkshake and a cocktail all in one! 
Drink Recipes
Everyone needs a few good non alcoholic drink options for summer, too. Frosted Watermelon Lemonade and Pineapple Coconut Silk Smoothies are two refreshing beverages that everyone in the family can enjoy! I love this Coconut Cooler when I want to feel like I'm drinking a cocktail but don't want the booze.
Horchata is one of my favorites and it's an easy, thirst quenching Mexican specialty to get you in vacation mode. Keep a pitcher of Fresh Strawberry Lemonade in the fridge on a warm summer day to keep the heat at bay — and if you decide to add a little vodka to your glass too, I won't tell!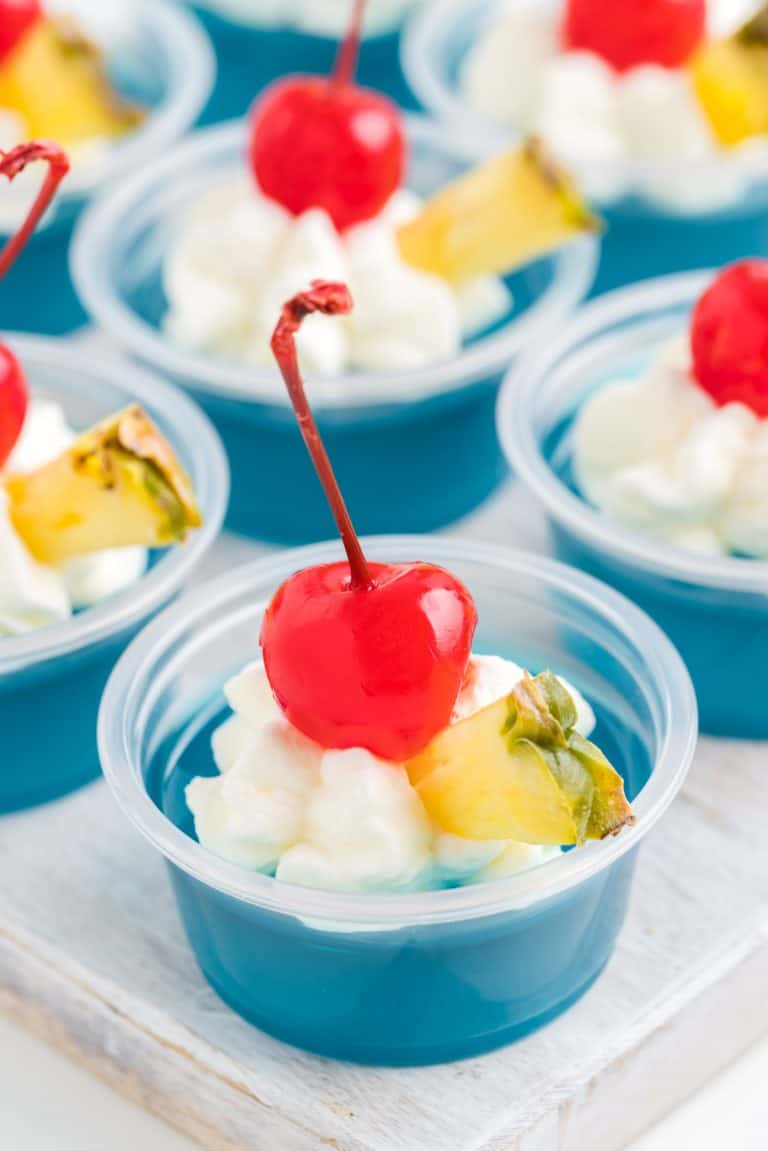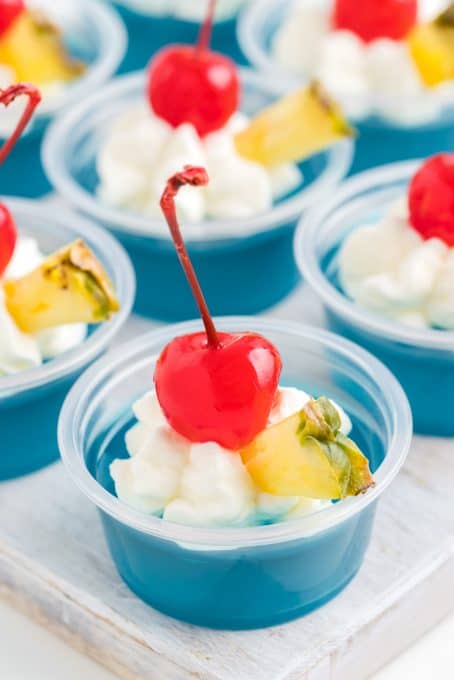 These delicious blue Hawaiian jello shots with tropical flavors will be the perfect addition to your next party menu.
~ FOLLOW ME ~
Keep an eye out for more of my easy recipes each week!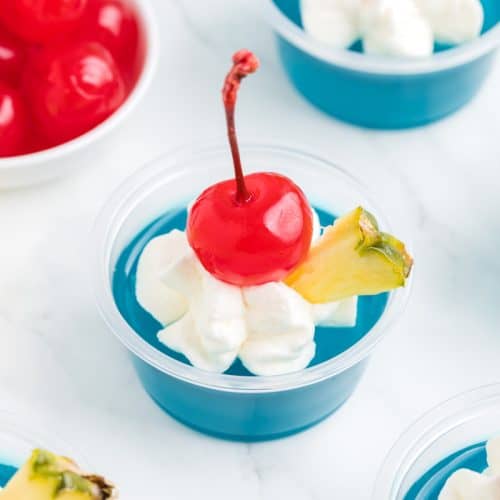 Blue Hawaiian Jello Shots
With rich coconut, sweet pineapple and a hint of orange, these boozy blue treats will get your party started this summer!
Ingredients
1 3 ounce box of blue jello
¾ cup boiling water
½ cup pineapple juice chilled
½ cup coconut rum chilled
¼ cup blue curaçao chilled
12 maraschino cherries optional for garnish
Pineapple wedges optional for garnish
Instructions
Arrange 12 (2-ounce) shot glasses on a rimmed tray or baking sheet.

Combine the jello and boiling water in a large measuring cup or medium mixing bowl with a spout. Stir until the jello is completely dissolved.

Add the pineapple juice, rum, and blue curaçao and stir to combine.

Careful pour the jello mixture into the shot glasses filling each ¾ full.

Chill the jello shots for at least four hours or overnight.

Serve chilled, garnished with maraschino cherries and pineapple wedges if desired.
Nutrition
Serving: 1serving | Calories: 49kcal | Carbohydrates: 5g | Protein: 0.1g | Fat: 0.02g | Saturated Fat: 0.003g | Polyunsaturated Fat: 0.01g | Monounsaturated Fat: 0.004g | Sodium: 2mg | Potassium: 14mg | Fiber: 0.2g | Sugar: 4g | Vitamin A: 3IU | Vitamin C: 1mg | Calcium: 4mg | Iron: 0.1mg
Did you make this recipe?
Share it with me on Instagram and make sure to follow me on Pinterest for more recipes.
Reader Interactions