This Garlic Fettuccine Alfredo recipe rivals any dish you'll find at your local Italian restaurant! Save money by making this creamy pasta with roasted garlic at home!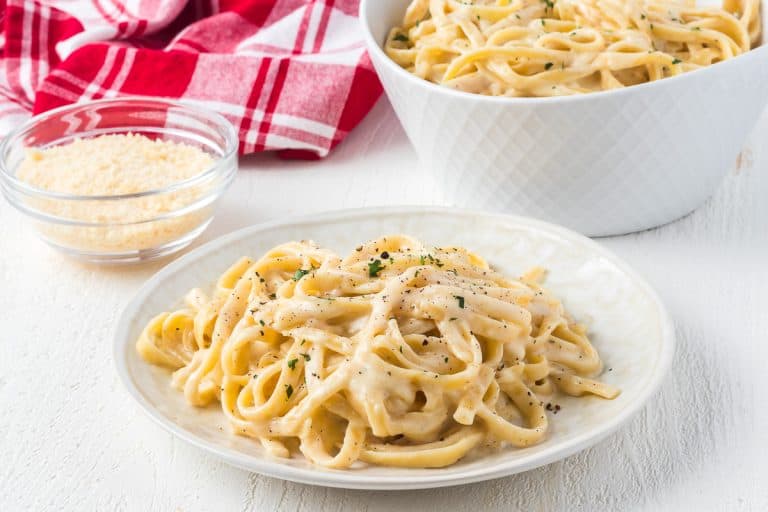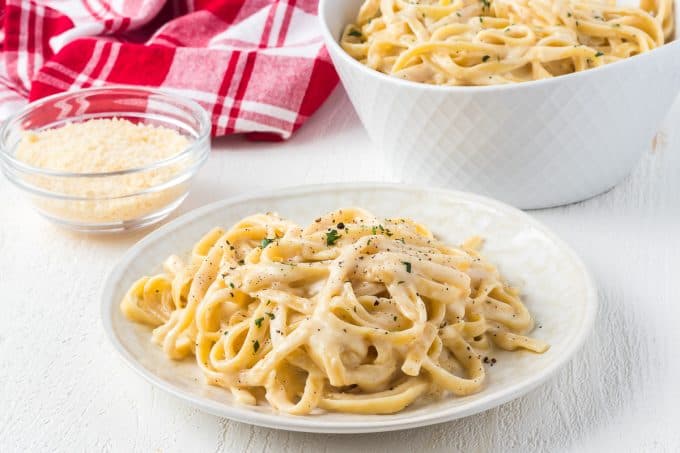 Pasta is one of my favorite comfort foods. It doesn't really matter what type of pasta, as long as it's full of flavor, but of course, my mom's homemade Lasagna will forever be at the very TOP of my list.
This pasta dish combines homemade roasted garlic Alfredo sauce with your favorite fettuccine pasta for the ultimate comfort dish! Trust me when I say this creamy Alfredo sauce is 10X better than any of the jarred stuff you'll find in a grocery store.

Yes, using it from a jar is convenient and can save time, and I do use it often, BUT the next time you want to impress family and friends, I highly encourage you to take the time and little effort to make this creamy garlic white sauce. I can pretty much guarantee that you'll hear ooh's and aah's with this great recipe because I certainly do every time I make it.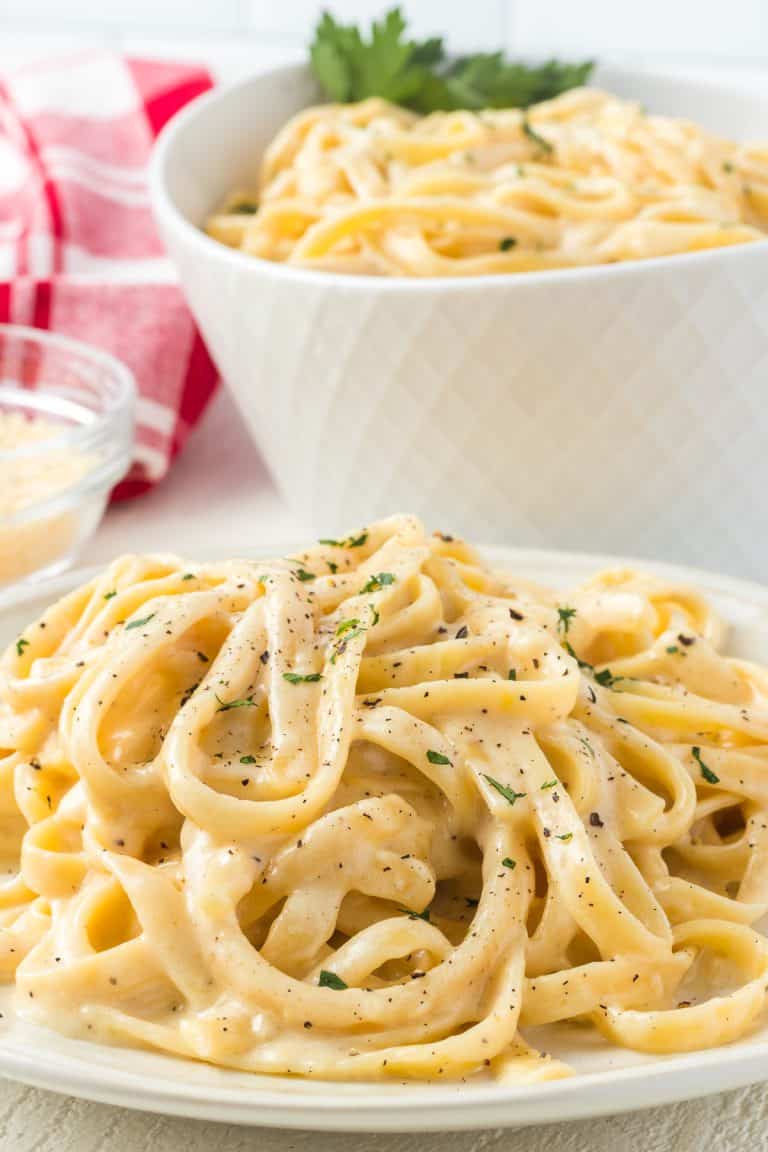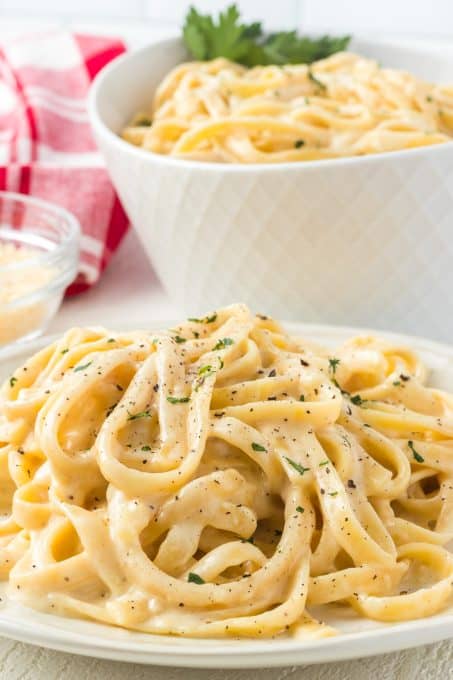 The key to phenomenal, restaurant quality fettuccine is the sauce. "It's in there!" Remember that pasta sauce commercial?
My homemade Alfredo sauce features an entire head of roasted garlic along with generous amounts of butter and cheese. 
All about the original Fettuccine Alfredo
The original Alfredo sauce was created at a restaurant in Rome called Alfredo's. It is exquisite and simple, made from only three ingredients: butter, Parmesan cheese, and pepper. The sauce was paired with fettuccine noodles because their thick, wide shape is ideal for collecting the creamy sauce.
When visiting Americans took the idea of this famous pasta back home, chefs tinkered with the recipe to come up with the heavy cream-drenched version typically served today. Beneath all that heavy cream, the essential components remain the same: butter, cheese and a touch of pepper.
Traditional Alfredo sauce never really caught on outside Rome, and indeed, you can only find the original recipe served in two restaurants in Rome and a few related franchises in Mexico! My Fettuccine Alfredo recipe is based on the Americanized version with heavy cream. The addition of roasted garlic and herbs makes the velvety cheese sauce more aromatic, complex and flavorful. And of course, you can omit the garlic if you'd like.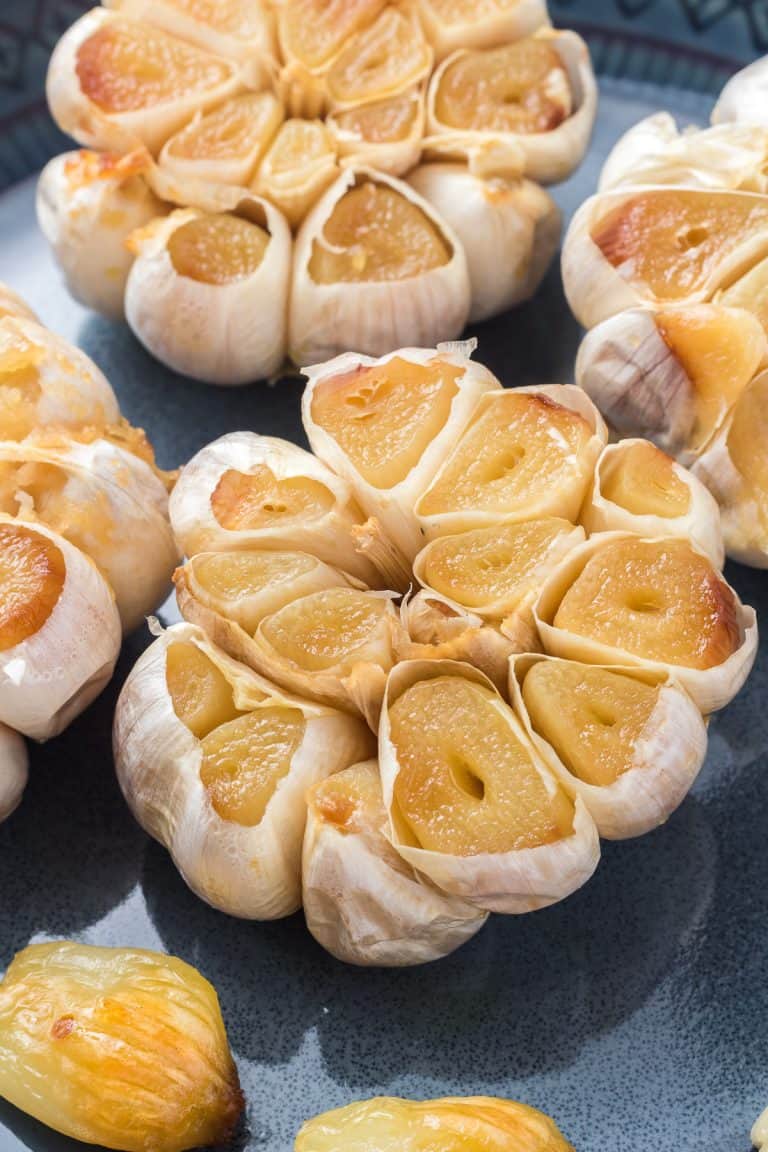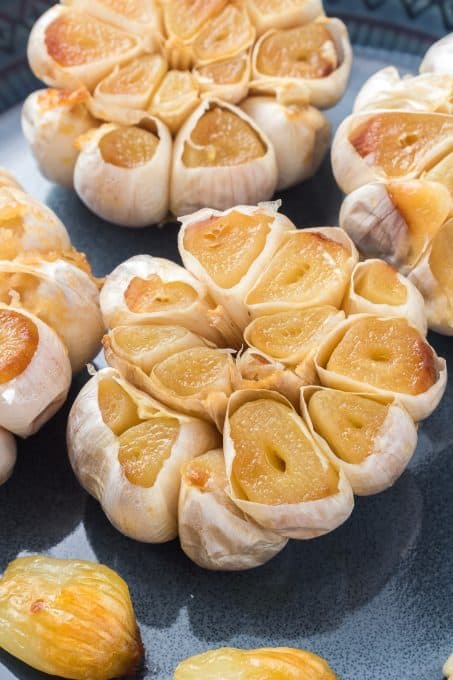 How to Roast Garlic
This post tells you exactly how to roast your own garlic. To summarize, you drizzle olive oil over a head of garlic, wrap it in foil, and bake until the insides are buttery soft. It's so easy, and you can store the roasted garlic for use in other recipes in the refrigerator or freezer. I like to cook up a few heads at a time just for that purpose.
Wondering if you can skip the roasting and just use raw garlic instead? The answer is no. Raw garlic has a much sharper bite than its roasted counterpart and would change the flavor of the finished Alfredo sauce. Set aside the tiny bit of extra time it takes to roast some garlic for your Fettuccine Alfredo. You will not regret it!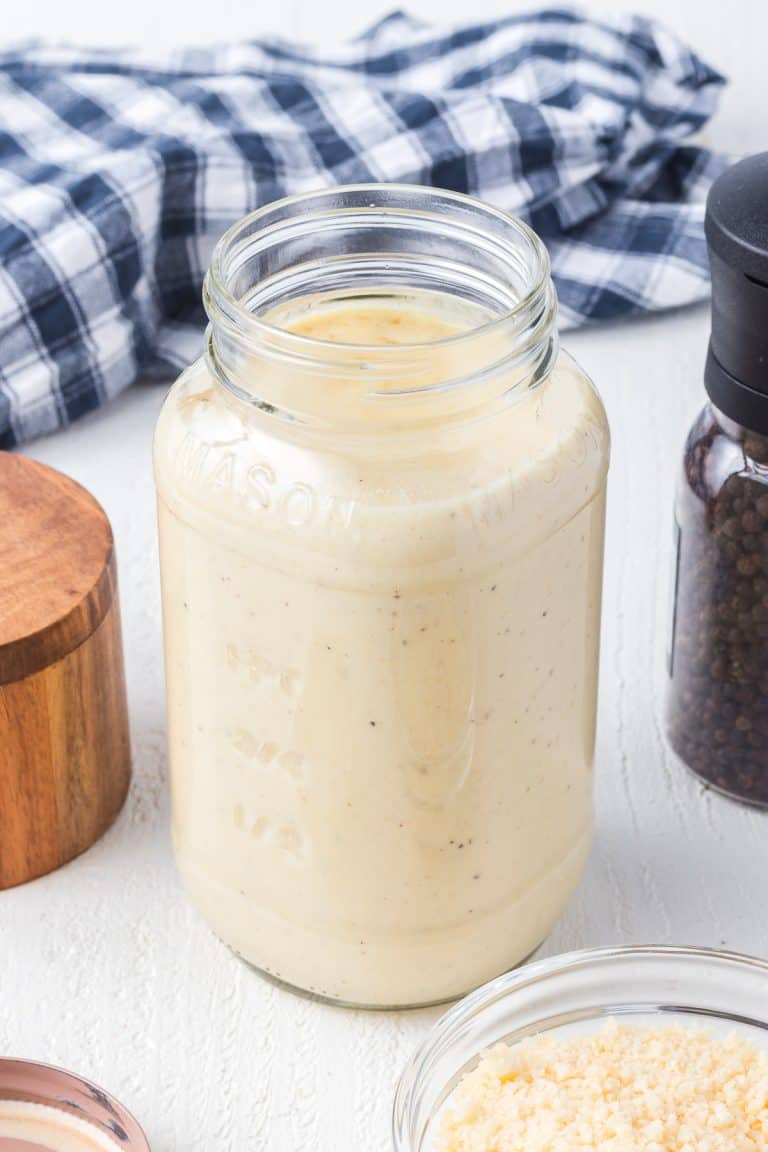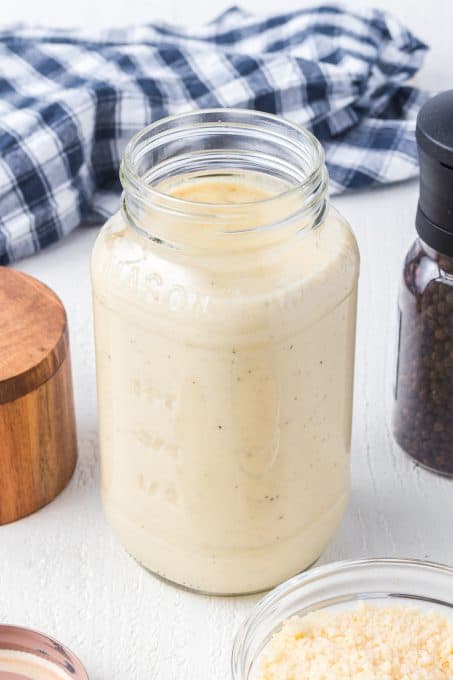 Common Ingredients for Fettuccine Alfredo with Garlic
Here are the ingredients you need for my garlic fettuccine Alfredo sauce recipe:
For the roasted garlic:
· 1 head of fresh garlic
· olive oil for drizzling
For the cream sauce:
· 4 tablespoons of butter
· Heavy whipping cream
·        Parmesan cheese – FRESHLY grated, not the shaker cheese! 
· ½ teaspoon ground black pepper
· Salt to taste
To thicken the sauce:
· 1 tablespoon of flour mixed with 1/4 cup heavy cream
Noodles
· 1 box of fettuccine pasta, uncooked
· Salt to taste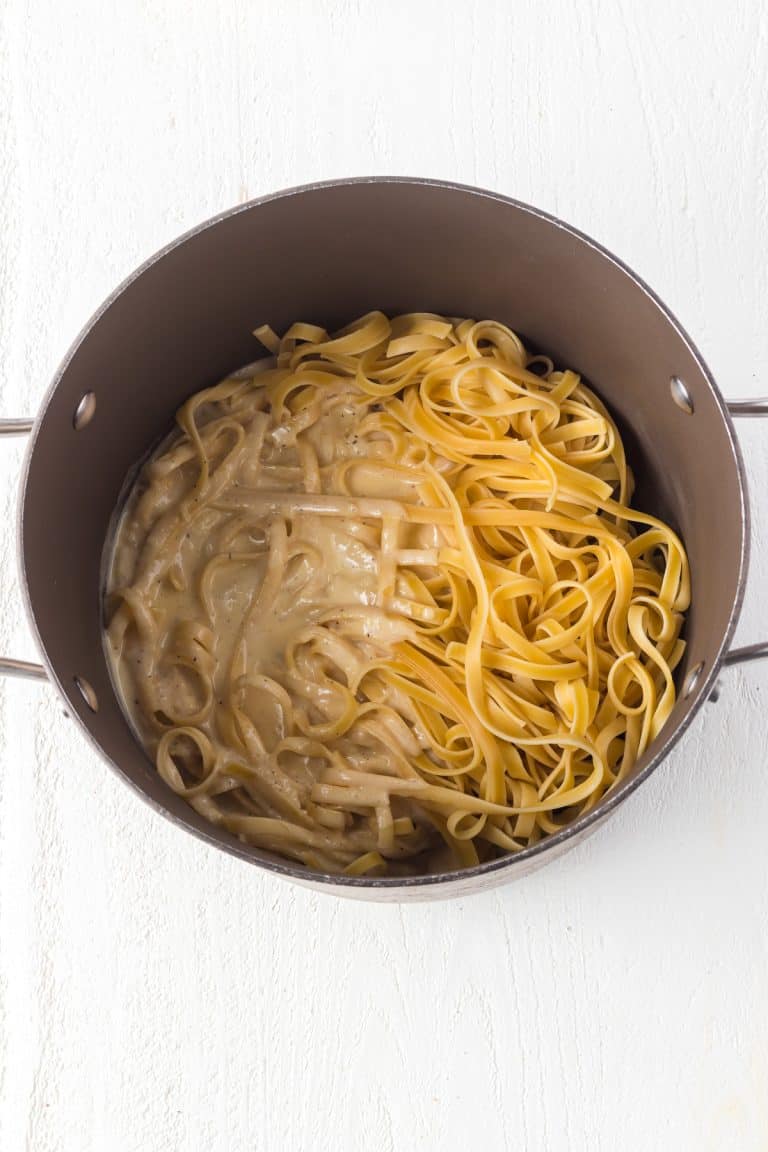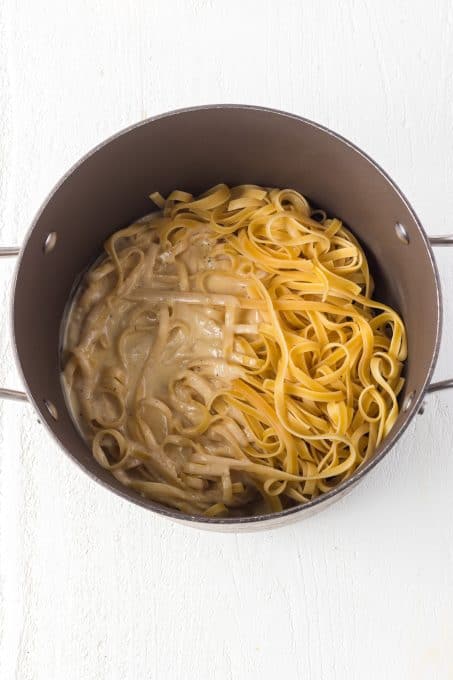 How to make Garlic Fettuccine Alfredo
First, this post details exactly how to make the best homemade Alfredo Sauce. If you're new to making homemade Alfredo, that post is worth a read for all my best tips and tricks.
Here's the overview: Melt the unsalted butter over low heat in a saucepan, add cream and roasted garlic, then heat (but do NOT boil!) Mix in the parmesan cheese, salt, and pepper until the cheese melts, then thicken as directed in the post using the flour-cream mixture.
While the sauce heats, fill up a large pot of water and add a generous amount of salt. Bring the water to a boil, then add the fettuccine noodles and cook pasta "al dente" according to the package directions. When done, drain and toss them with Alfredo sauce in the large pot for the perfect pasta dinner!
I might be biased, but I think this Fettuccine tastes better than any version I've had at local restaurants. Serve it with a garnish of fresh parsley and extra fresh grated Parmesan, if desired. 

Find the complete list of ingredients and measurements as well as the full instructions in the recipe card below.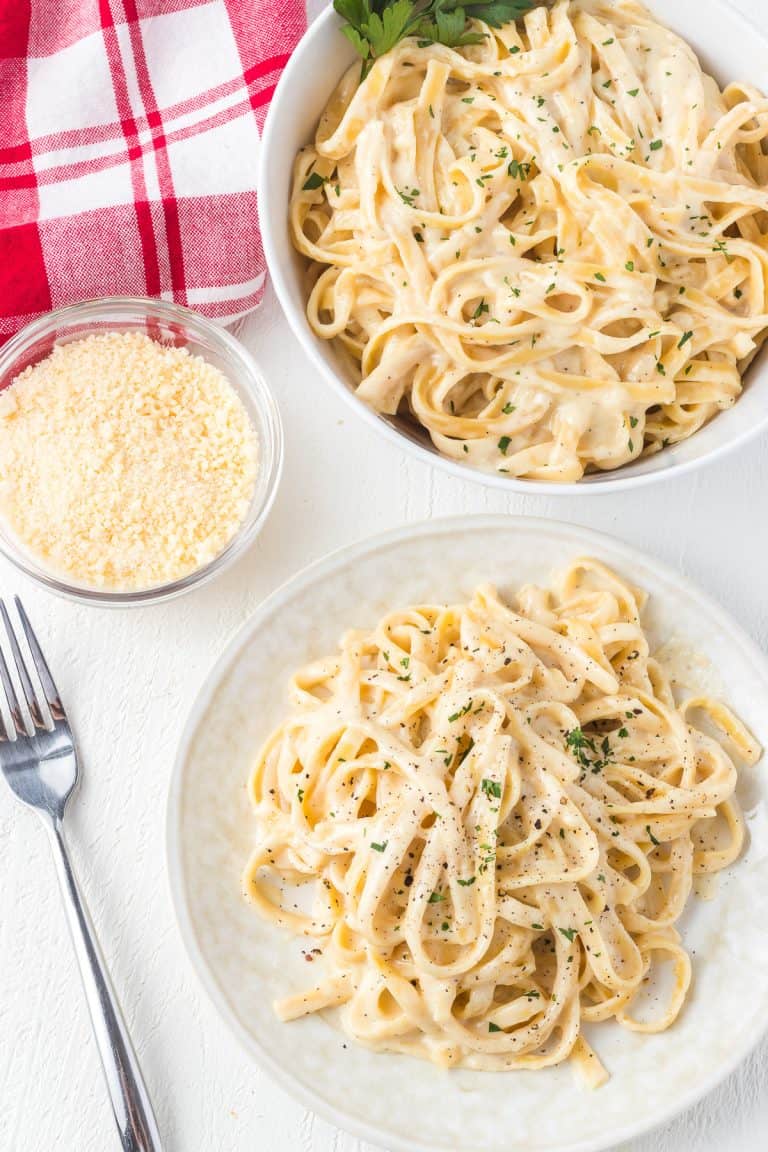 How to store leftover Fettuccine Garlic Alfredo
Store leftover pasta in an airtight container in the refrigerator. It will keep for up to 3 days.
I don't recommend freezing Garlic Fettuccine Alfredo once combined. You could make the sauce, let it cool, and then pour it in a freezer bag or other container. Freeze it for up to four months. Let frozen Alfredo sauce thaw in the refrigerator, then reheat on the stove or the microwave until warmed through.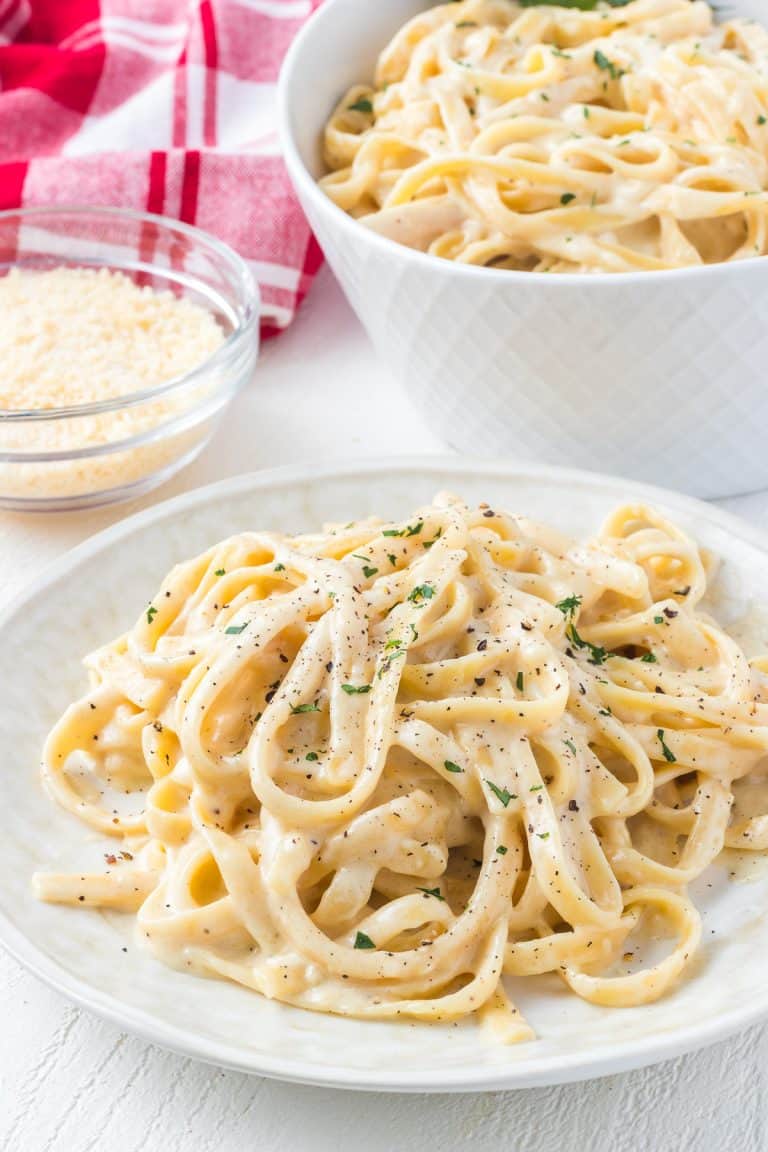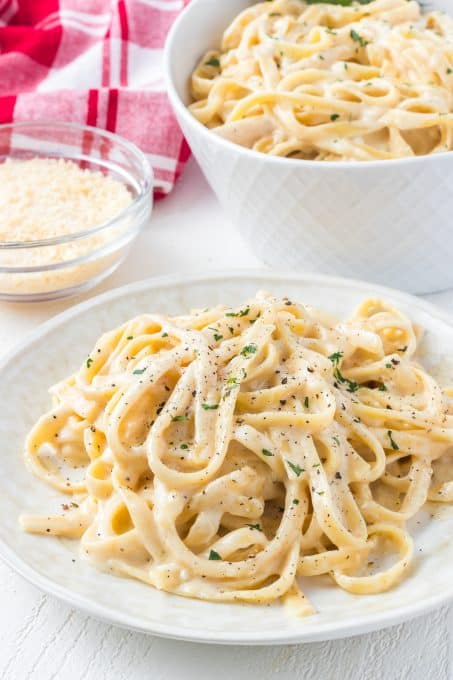 How to reheat Parmesan Alfredo sauce
If you've ever tried to reheat fettuccine Alfredo, you know that it often turns into a separated mess that tastes greasy and doesn't look appetizing at all! . To avoid that, try using one of these two methods to reheat your noodles:
Oven method: Place the fettuccine Alfredo tightly in an oven-safe dish and cover it with a lid or aluminum foil. This will trap the steam inside the dish and keep the pasta moist. Place the dish of fettuccine alfredo into the oven and heat for 10 minutes, then remove and stir the pasta. Heat covered for an additional 10 minutes, then stir again, ensuring it is heated through.
Sauté method:: Place thawed fettuccine Alfredo into a skillet or sauté pan, turn the heat to medium, and toss it for 2-3 minutes in the hot pan or until the noodles are hot and the sauce is melted and creamy.
Microwave method: Place leftover fettuccine Alfredo in a microwave safe dish. Loosely cover with a paper towel. Heat for 30 seconds, then stir the pasta to incorporate the sauce. Repeat until the noodles and alfredo sauce are warmed through.
For all reheating methods, slow heating is your friend. Stir the fettuccine regularly to help incorporate the oils in the cream sauce for a smooth, velvety consistency.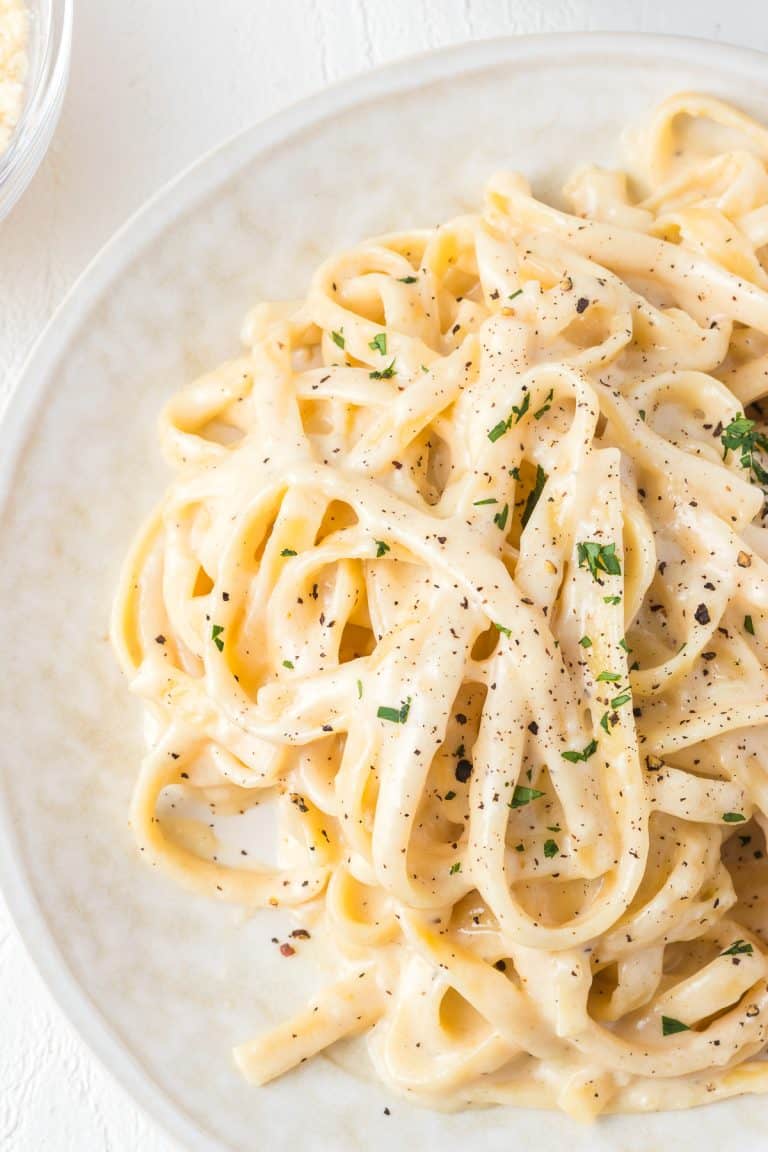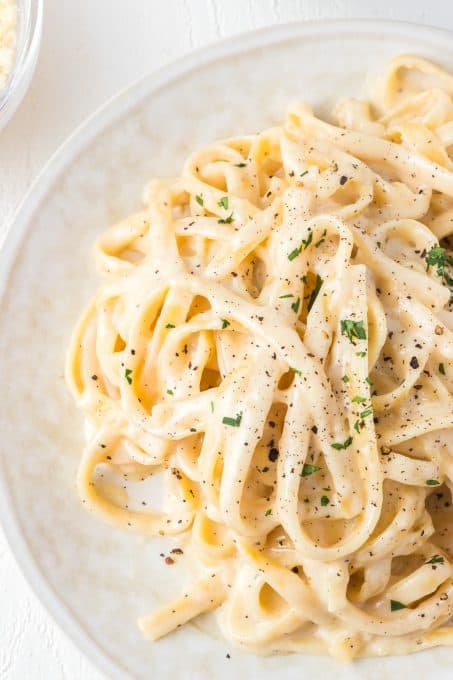 Recipe Variations
This recipe is just a simple dish with sauce and noodles. This summer, make chicken fettuccine Alfredo by adding some grilled chicken or even a garlic shrimp fettuccine Alfredo! YUM!. You can even add more flavor with red pepper flakes, parsley, a touch of lemon juice, fresh herbs, or even some wilted spinach!
A side of romaine lettuce or other fresh greens topped with homemade Italian Dressing makes a fabulous side dish for this hearty meal. A side of Roasted Parmesan Broccoli is another simple way to add some green to this pasta dinner.
Want something to soak up the leftover Alfredo sauce in your bowl? Everyone loves nibbling on these garlic breadsticks. A slice or two of some crusty bread like my grandmother's Italian Bread will go perfectly with it, too!
Can I make Alfredo with different kinds of pasta?
Fettuccine is the most popular choice for serving with Alfredo. Of course, the sauce tastes wonderful with all kinds of pasta shapes!
Spaghetti, linguini, penne and farfalle (bow tie) pasta are all great alternatives if you don't have Alfredo. Because the sauce is so heavy, sturdier noodles are preferable to thinner ones (like angel hair).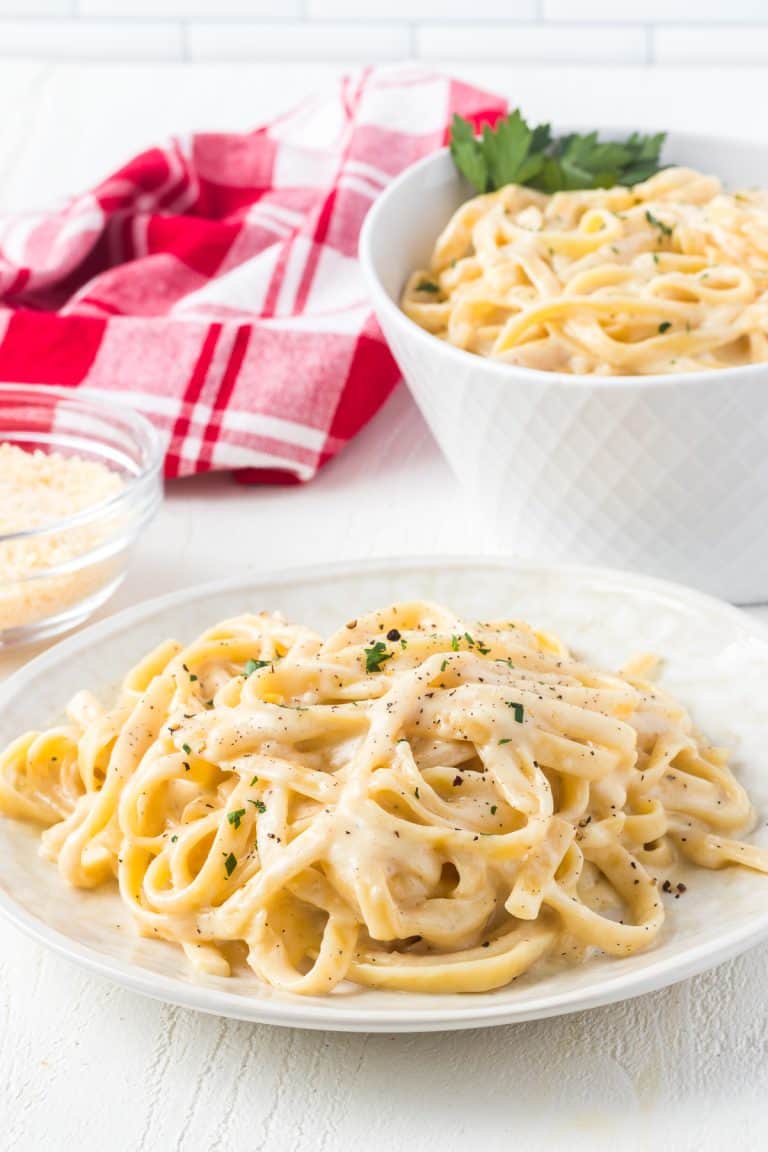 Looking for more pasta recipes?
Pasta is one of my favorite things to have for lunch or dinner! It can be as light or as hearty as you want to make it!
If you're looking for some lighter pasta dishes, try one of these:
These pasta recipes are a bit heartier, perfect for a big family meal: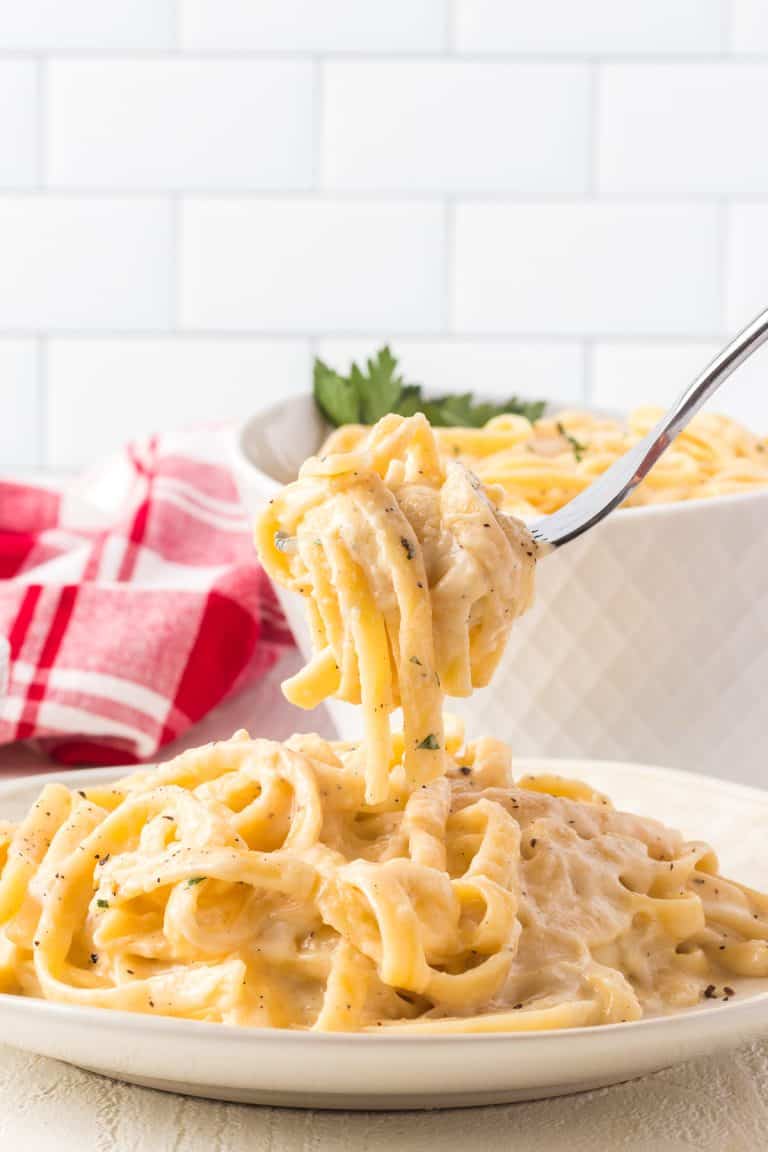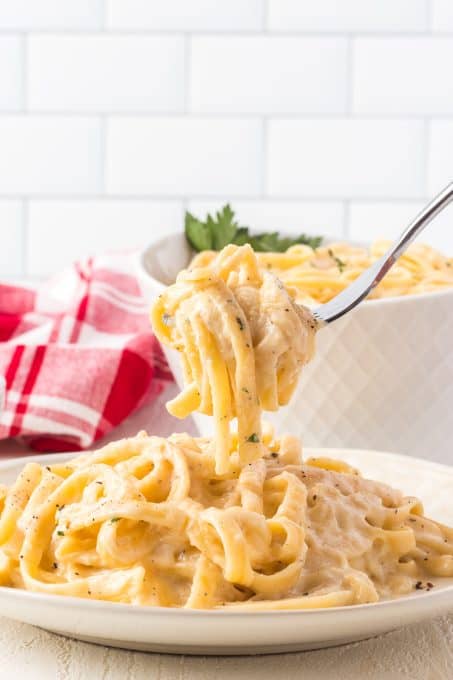 Recreate the popular restaurant favorite at home with this creamy, easy and lusciously decadent Garlic Fettuccine Alfredo recipe!
~ FOLLOW ME ~
Keep an eye out for more of my easy recipes each week!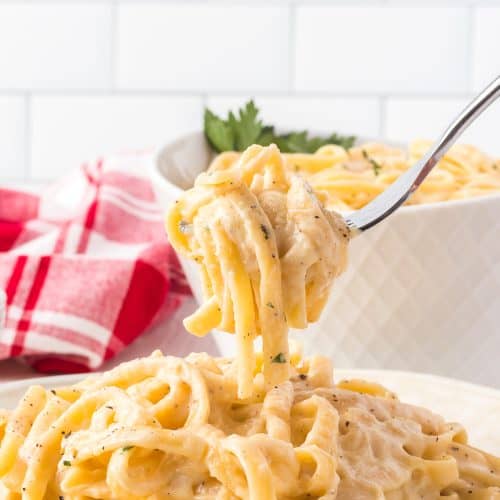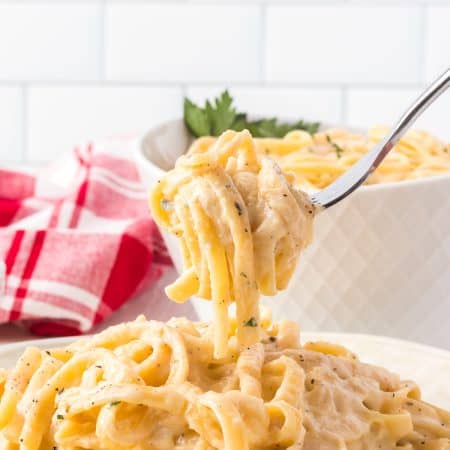 Garlic Fettuccine Alfredo
This Garlic Fettuccine Alfredo recipe rivals any dish you'll find at your local Italian restaurant! Save money by making this creamy pasta with roasted garlic at home!
Ingredients
1 pound fettuccine
1 head roasted garlic mashed
olive oil for drizzling
4 tablespoons unsalted butter
16 ounces heavy cream divided – 1 3/4 for sauce and remaining 1/4 cup for thickener.
1 ¼ cup Parmesan cheese freshly grated
salt to taste
½ teaspoon ground black pepper
For thickening the sauce
1 tablespoon all-purpose flour
¼ cup heavy cream the remainder of the 16 ounces
Instructions
Roast Garlic
Preheat oven to 400°F. Peel off the outer skin of one head of garlic, leaving the skin on the individual cloves. You can roast multiple heads at one time, but for this recipe you'll only need one. Cut 1/4 to 1/2-inch off the tops off of the cloves with a sharp knife so that you can see the individual cloves.

Place the head of garlic on a square piece of tinfoil and drizzle with olive oil. With clean fingers, massage the olive oil into the tops of the garlic cloves. Wrap aluminum foil around the head of garlic so that it is completely encased. You can either wrap multiple heads of garlic in one piece of foil or individually.

Place the wrapped head(s) of garlic on a baking sheet. Bake for 30 minutes, or until cloves are tender when lightly squeezed. Set aside to cool enough to be handled. Remove the cloves of garlic by gently squeezing them from the skins and place into a small bowl. With a fork, mash the cloves.
Fettuccine
Bring 4-6 quarts of salted water to a rolling boil in large pot. Place the fettuccine noodles and cook to "al dente" about 12 minutes. While the pasta cooks, make the Alfredo sauce.
Alfredo Sauce
In a small saucepan, on low to medium heat, melt the butter. Add 1 ¾ cups heavy cream  and roasted garlic, and heat to very warm, but DO NOT boil.

Mix the Parmesan cheese, salt and pepper, whisking constantly until cheese has melted.

To thicken the sauce, mix 1 tablespoon of flour with the remaining heavy cream (1/4 cup)in a small bowl. Add the cream/flour mixture to the saucepan, stirring and heating until mixture thickens.

Remove from heat, toss over the drained fettuccine noodles to completely coat and serve topped with additional cracked black pepper and chopped parsley.
Notes
This recipe makes two cups of Alfredo Sauce and should be enough to feed four people hence nutritional value is calculated for 4 servings. Total time also includes the roasting of the garlic.
Nutrition
Serving: 1serving | Calories: 1062kcal | Carbohydrates: 89g | Protein: 31g | Fat: 65g | Saturated Fat: 40g | Polyunsaturated Fat: 4g | Monounsaturated Fat: 17g | Trans Fat: 1g | Cholesterol: 275mg | Sodium: 558mg | Potassium: 450mg | Fiber: 4g | Sugar: 6g | Vitamin A: 2333IU | Vitamin C: 3mg | Calcium: 502mg | Iron: 3mg
Did you make this recipe?
Share it with me on Instagram and make sure to follow me on Pinterest for more recipes.
Reader Interactions