Happy first day of SUMMER!!
I can't believe it's here. Time is just a flyin' by!
In just two weeks is my most favorite holiday – the 4th of July.
I LOVE the fireworks and the WHOLE party!!
Mainly because I grew up thinking it was for me.
My birthday is on the 3rd and in the little ol' town I grew up, we had our 4th of July celebration on the 3rd.
It was, in a word, AWESOME.
And I have to say, that one of the best things my parents ever told me was that they were "my" fireworks.
Yes, I was spoiled. I am an only child.
I just can't tell you how special I felt and how truly magical it was looking up at the sky thinking they were celebrating me. AND that all these people had come out for the party!!!
This year when you look up at them, I want you to think the same! I want you to have that same feeling.
Imagine looking up into those brilliantly, spectacular lights and thinking to yourself, "Wow, those are for me! This is a celebration of my life, of me being here. I'm supposed to be here and I AM special and very loved, and this is MY party!"
Pretty cool, hunh?
The fireworks are a part of a celebration for our country's birth. This year, no matter what time of year your birthday is, allow those fireworks to celebrate YOU as well.
You don't have to tell anyone, it will be our little secret. And it may even feel a little weird.
But I most certainly hope you do.
I want you to feel the magic.
I want you to feel special, and very, very loved.
Because you are.
AND…
You. Deserve. It.
The other night I was really perplexed about what to make for dinner.
Perplexed.
I love that word.
I just love the way it sounds as I say it.
Perplexed.
Like blubber or plump.
Plump.
So the other night…
Yeah, it was going to be something with pasta, had to have some chicken because I had defrosted a chicken breast in the fridge and had to use that up and it was going to have some fresh veggies from the garden.
Either that or we were going to be eating cereal for dinner.
I really wasn't in the mood to serve the family cereal.
Not that they'd have a problem with that, it's just that since I've started this blog, I just can't see giving them that stuff for dinner.
It's processed and I can give them something healthier by making it.
Don't get me wrong though, there are nights like tonight when I'm mixing up some Bisquick and serving the loved ones some pancakes.
A dinner from scratch doesn't happen around here every night, but it does more often than not.
Summer Pasta – serves 4
1/2 lb. pasta (I used penne)
2 tablespoons olive oil
1 clove garlic, minced
1 boneless, skinless chicken breast, cut into 1/2-inch pieces
1/4 teaspoon salt
1/8 teaspoon freshly ground black pepper
1 medium zucchini
1 large red pepper
1 14.5 ounce can diced tomatoes, undrained
1 teaspoon dried basil
1/2 cup freshly grated Parmesan cheese
Cut the ends off the zucchini and grate using a box grater or food processor. Mix with 1/4 teaspoon salt and place into a colander over a bowl to drain for 10 minutes.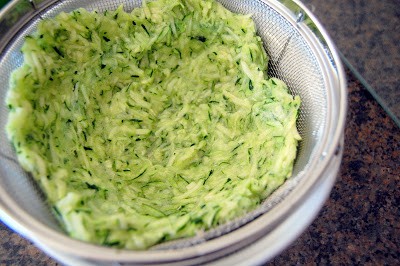 Remove top and seeds from the red pepper and cut into thin strips.
Remove excess moisture from zucchini by pressing down with a rubber spatula; set aside.
In a large pot, bring salted water to a boil. Cook pasta according to directions and then drain.
In a large skillet, heat olive oil over medium-high heat.
Saute minced garlic until fragrant, about 2 minutes.
Add chicken, sauteing until fully cooked, about 5-7 minutes. (I went for 7 minutes.)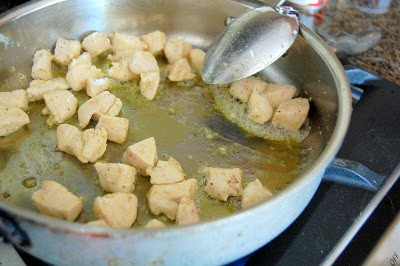 Remove chicken from pan and set on a plate.
Add the zucchini, red pepper, and diced tomatoes to the preheated skillet. Add the basil. Saute for 7 minutes.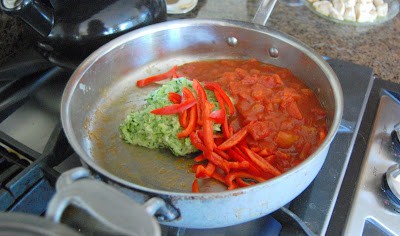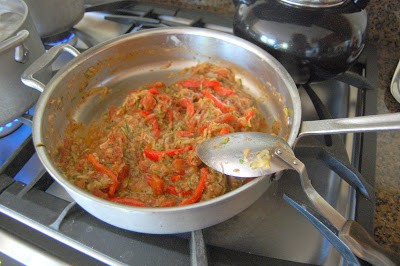 Return the chicken to the pan and mix thoroughly to combine.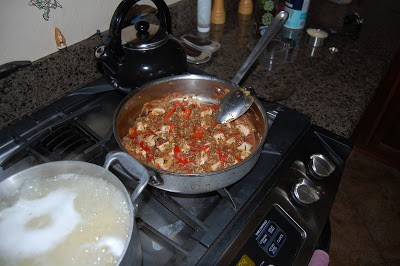 Add pasta to skillet, stirring until heated throughout.
Place in serving dish and add Parmesan cheese. Toss.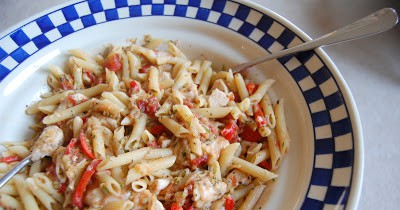 I rate everything I make on a scale of 1-4 with 4 being the best and this Summer Pasta earned 3 rolling pins.
I loved it because it was quick, easy and healthy.
I also loved that it used the fresh veggies and that we had a green vegetable mixed in with our pasta! You really couldn't even tell the zucchini was in there to be honest.
I would have used fresh tomatoes instead of the canned, but those weren't looking so hot.
I'll be making this again.
And yay, another use for that abundant zucchini growing in the garden!!
I swear, that stuff multiplies like rabbits!!
I shared this at DJ's Sugar Shack Whatcha Whipped Up #5. Go see all the delicious creations people have shared!!
I give you BIG baking hugs and muffins!!