Everyone needs to know How to Roast Garlic in the oven. Roasted Garlic elevates pasta dishes, dips, potatoes, salad dressings, and even a good crusty bread! It is so easy, you'll wonder why you've never tried roasting garlic before!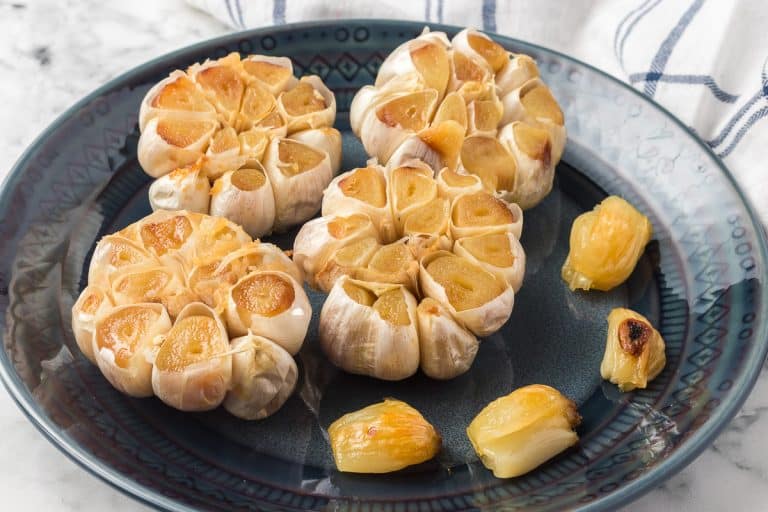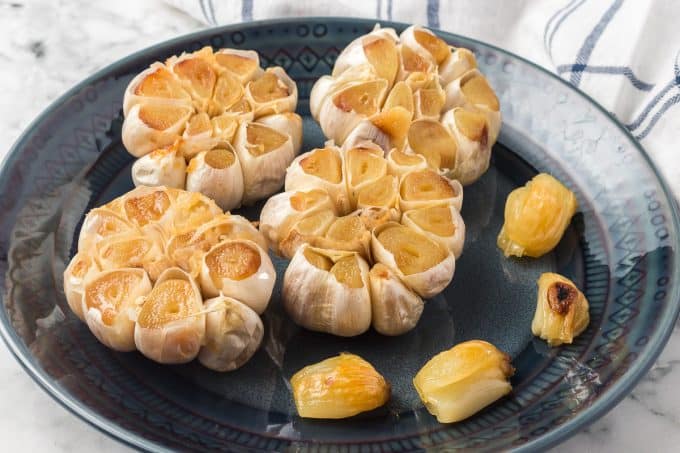 Roasting garlic is easy to do! Even if it's your first time, I promise it's pretty much fail-proof. Unless you leave the house while you're in the middle of roasting it which I definitely wouldn't recommend.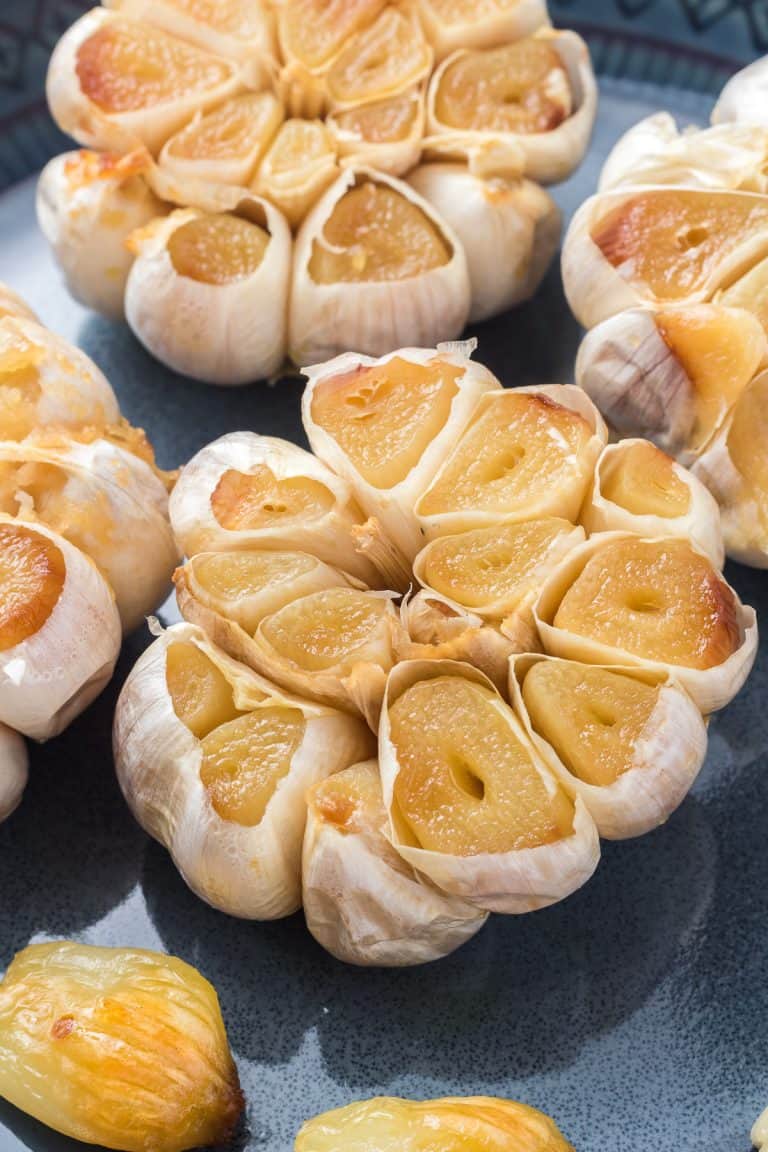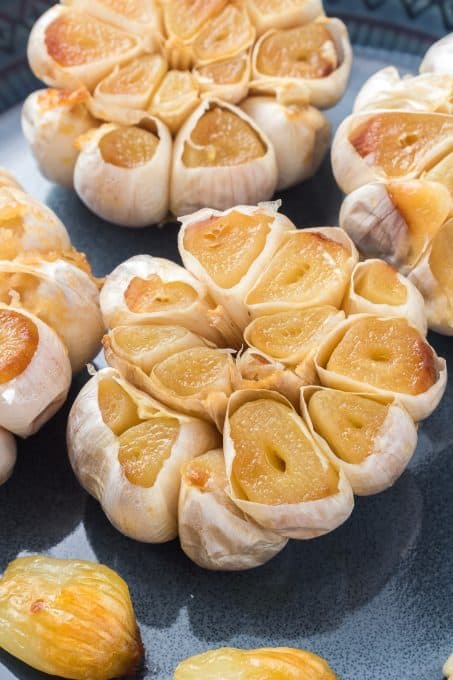 Why should I roast my garlic?
When you roast individual cloves or whole heads of garlic, you're actually changing the chemical makeup of the garlic to make it easier to digest! The roasting process also removes the bitter taste and transforms the flavor into a sweeter, more mellow flavor that complements so many dishes.
Is eating Garlic good for you?
Garlic lovers probably already know this: besides being a delicious addition to many recipes, garlic has many health benefits! Garlic supplements are the most effective, followed by raw garlic and cooked garlic. According to WebMD, health benefits can include the following:
Increased cardiac health: components of garlic oil have been found to help protect the heart and reduce blood pressure, particularly in people with hypertension.
Reduced risk of infection: Garlic is well known for its ability to fight off bacteria, viruses, fungi, and more. I have a friend who swears she never gets sick because she eats a spoonful of garlic every morning!
Reduce blood clotting: Garlic can reduce the risk of blood clots forming.
Reduced risk of some cancers: Studies have shown that people who regularly consume have a decreased risk of developing colon, gastric, and lung cancer!
Of course, garlic consumption has potential side effects, and this is a food blog, not a health blog! Talk to your doctor before starting any sort of garlic regimen.
I've heard it will also keep vampires away, but that's probably for another post. 😉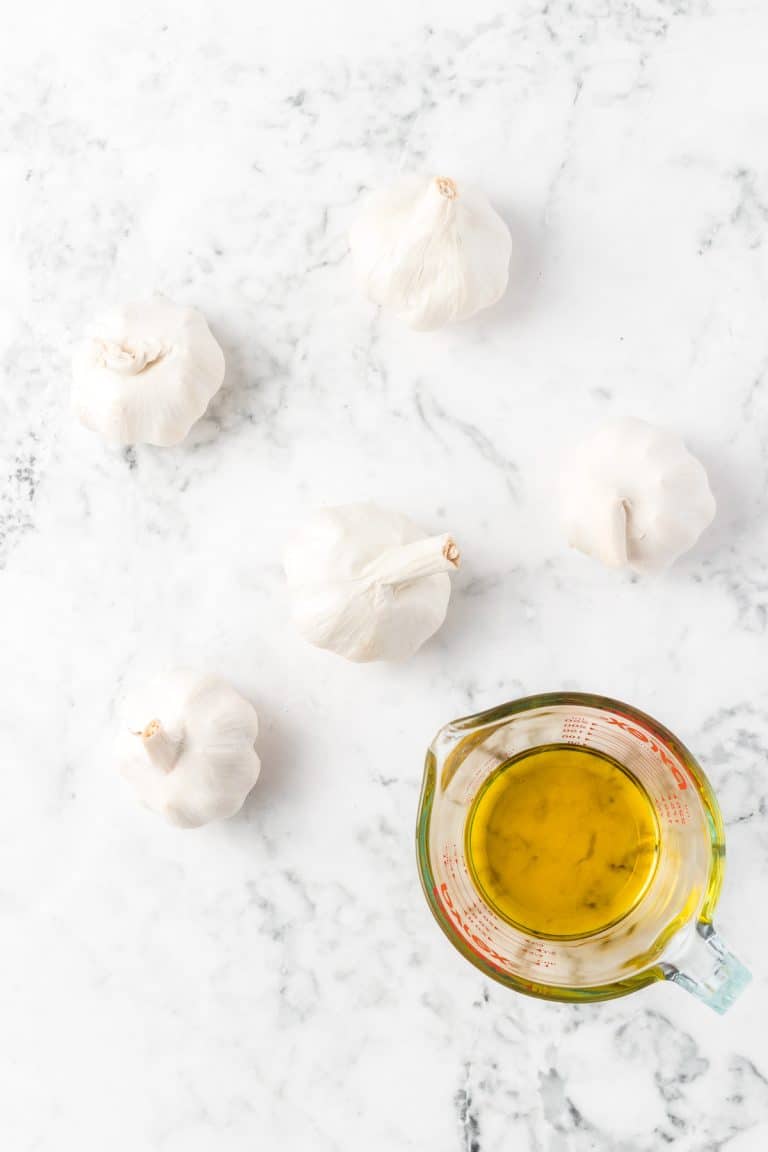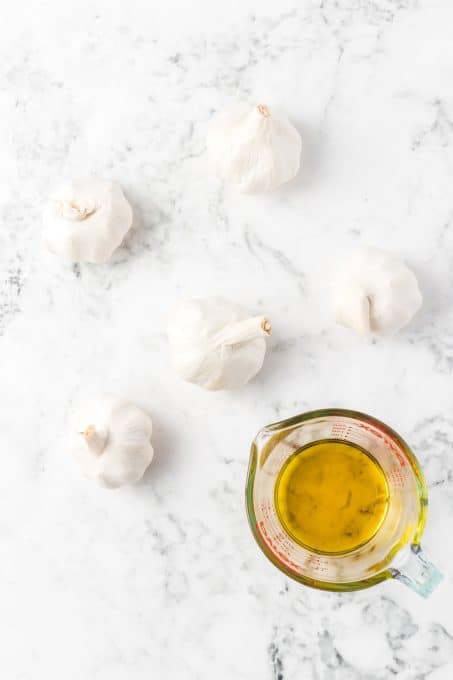 What Ingredients do I need for Roasting Garlic?
Head(s) of garlic for this particular recipe, not individual cloves
Olive oil
Aluminum foil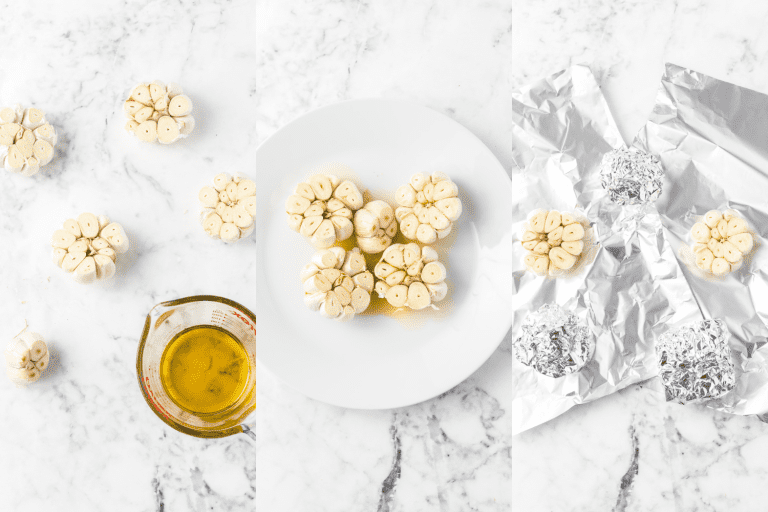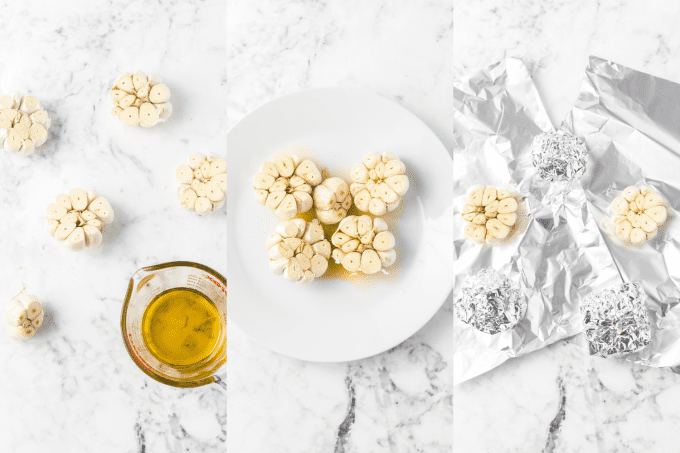 How to Roast Garlic in the oven
One of the best ways to roast garlic is to roast the entire garlic head at once.
Preheat the oven to 400 degrees F. Slice off the top of the bulb with a sharp knife, just enough to expose the individual garlic cloves. You can leave the papery skin on or take it off—I've seen it done both ways.
Place the whole head of garlic on a piece of aluminum foil and drizzle a little bit of olive oil over the top. Rub the oil in with your clean fingers. Wrap the garlic head up in the piece of foil. You can wrap them all together or each individually.
Bake the garlic for 30 minutes or until cloves are tender when lightly squeezed. Set it aside until it is cool enough to be handled. Then remove the foil, separate individual cloves, and slice through the skin to remove each clove.
I found that it was also easy to remove each clove from the skin by squeezing each clove at the bottom, so it pops out of the skin! And then it pops really well into my mouth, too!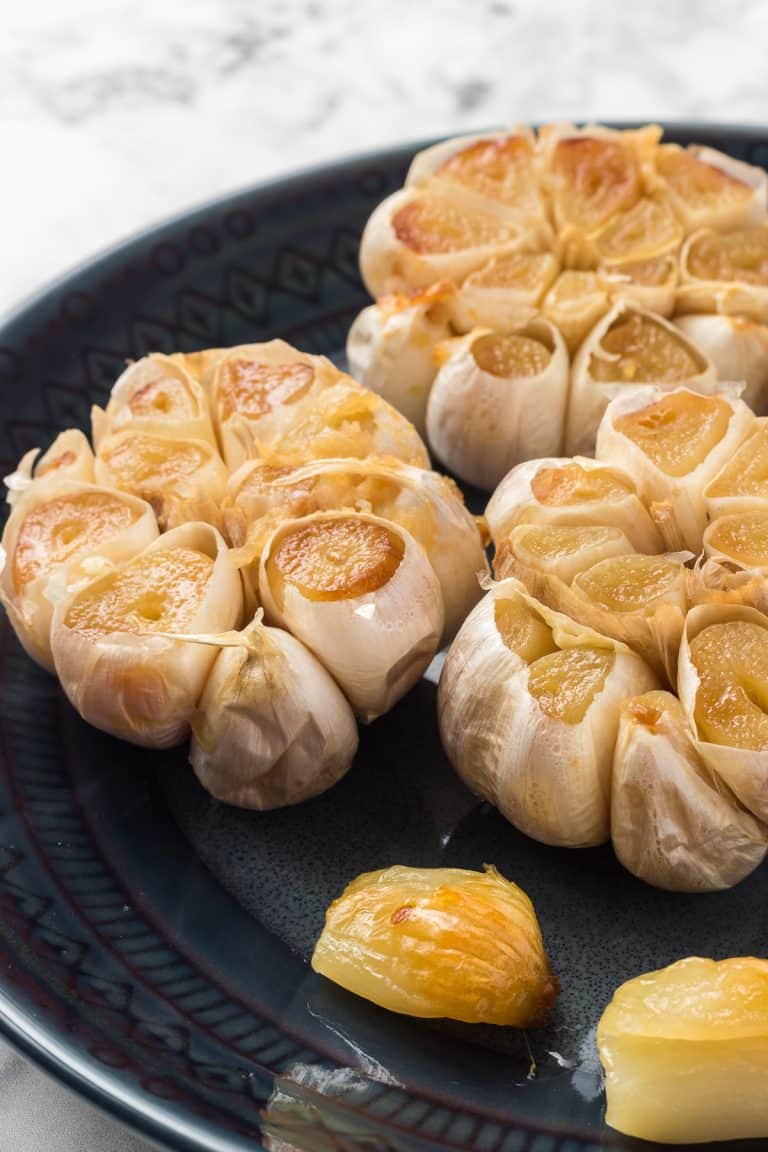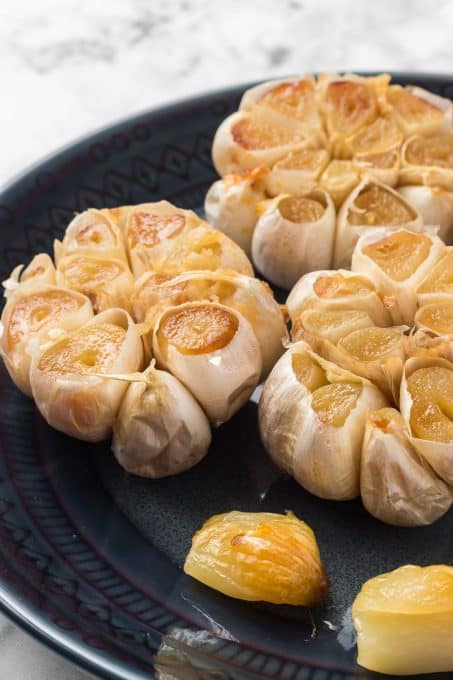 Roast Individual Garlic Cloves
You can also roast garlic cloves individually! First, break apart the whole bulb of garlic, then trim the ends of each clove and peel. Then place the whole cloves in a small glass baking dish.
Cover the cloves with olive oil, then place the baking dish in the preheated oven and roast for about 40 minutes. Cool them completely on a wire rack before using them. You can store any leftover roasted garlic cloves in olive oil in an airtight container.
More Ways to Roast Garlic
You can roast garlic in an air fryer, a slow cooker, or on the stove top. Each method will give you a slightly different depth of flavor, but as long as your garlic is golden brown and fragrant, you'll be good to go.
When using the oven, you can even use a Garlic Baker instead of using the aluminum foil. You can also use it to store your garlic and roast onions, too!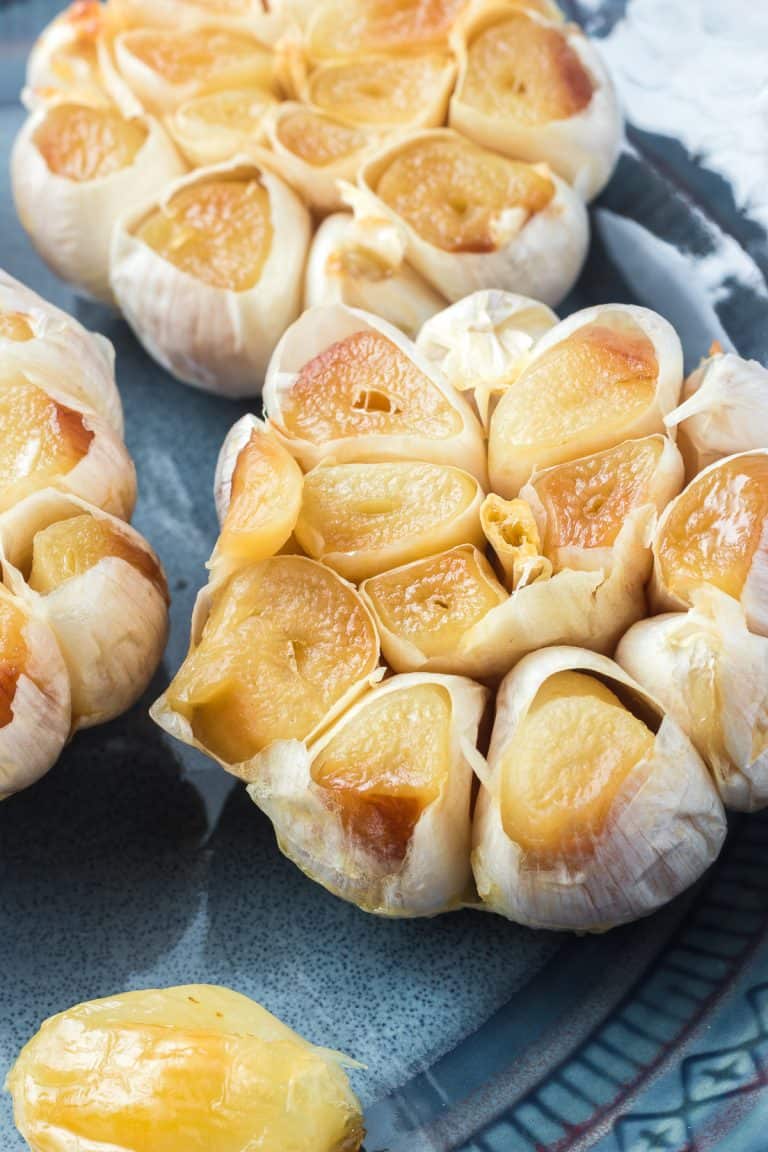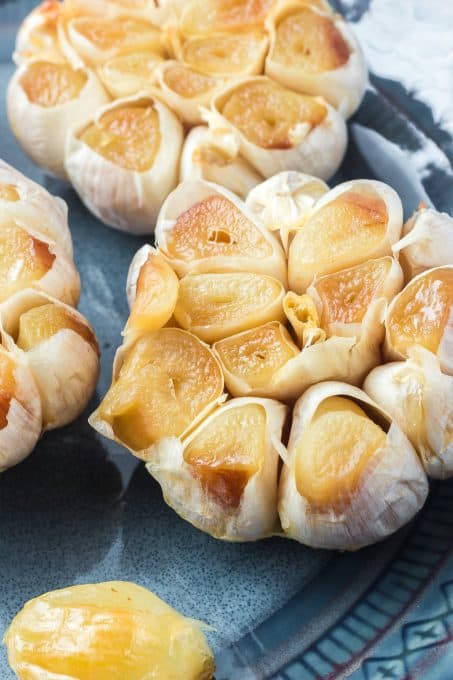 How to store Roasted Garlic
Roasted garlic does not keep very long at room temperature, so you'll want to use it within a few hours. If you have leftovers, you can store them in olive oil in a sealed container for up to 2 weeks in the refrigerator.
You can also make roasted garlic paste by mashing the cloves. Put the paste into a small jar, cover it with a thin layer of olive oil, and refrigerate for up to a week.
Can you freeze Roasted Garlic?
Yes, you can freeze roasted garlic! Freezing your roasted garlic is one of the best ways to store it! Mash your cloves into a paste, then scoop the paste into the cubes of an ice cube tray. Freeze, then transfer to a freezer bag and store for up to 3 months.
I love being able to grab a cube of roasted garlic and throw it into soups, sauces, or veggies for a little boost of flavor!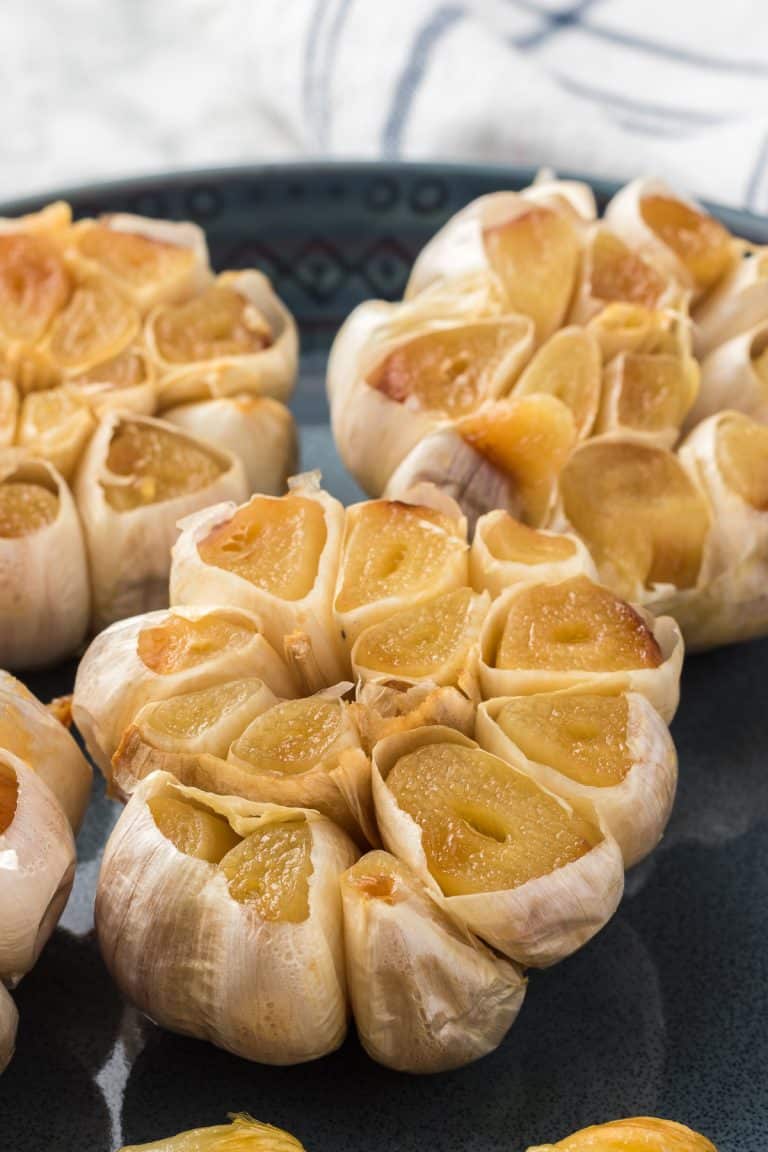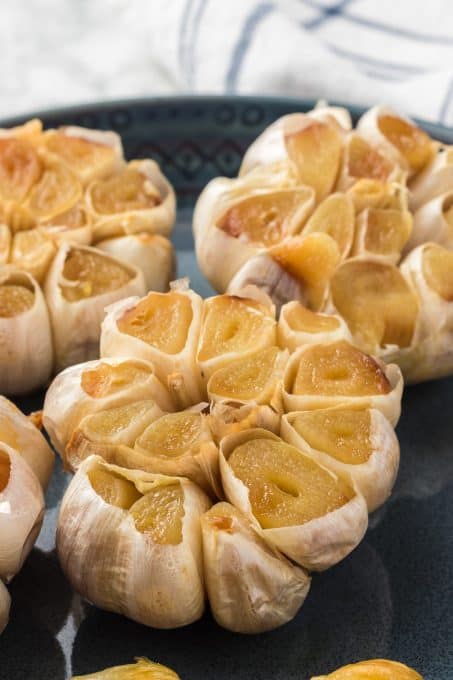 What are some ways to use Roasted Garlic?
There are tons of different ways to use roasted garlic!
Spread mashed garlic on bread by itself or mixed with butter. I love a good garlic bread made from homemade Garlic Butter!
Mix it with mayonnaise and your favorite herbs for a yummy sandwich spread.
Use it in pasta sauces in place of fresh garlic or garlic powder.
Use it as a pizza topping! Stir it into homemade pizza sauce or spread some roasted garlic around your pizza for a flavor boost.
Add it to your roasted vegetables – put some in the pan with your veggies before roasting or stir-frying!
Try these Roasted Garlic Recipes
If you love this roasted garlic, try it in one of these favorite recipes: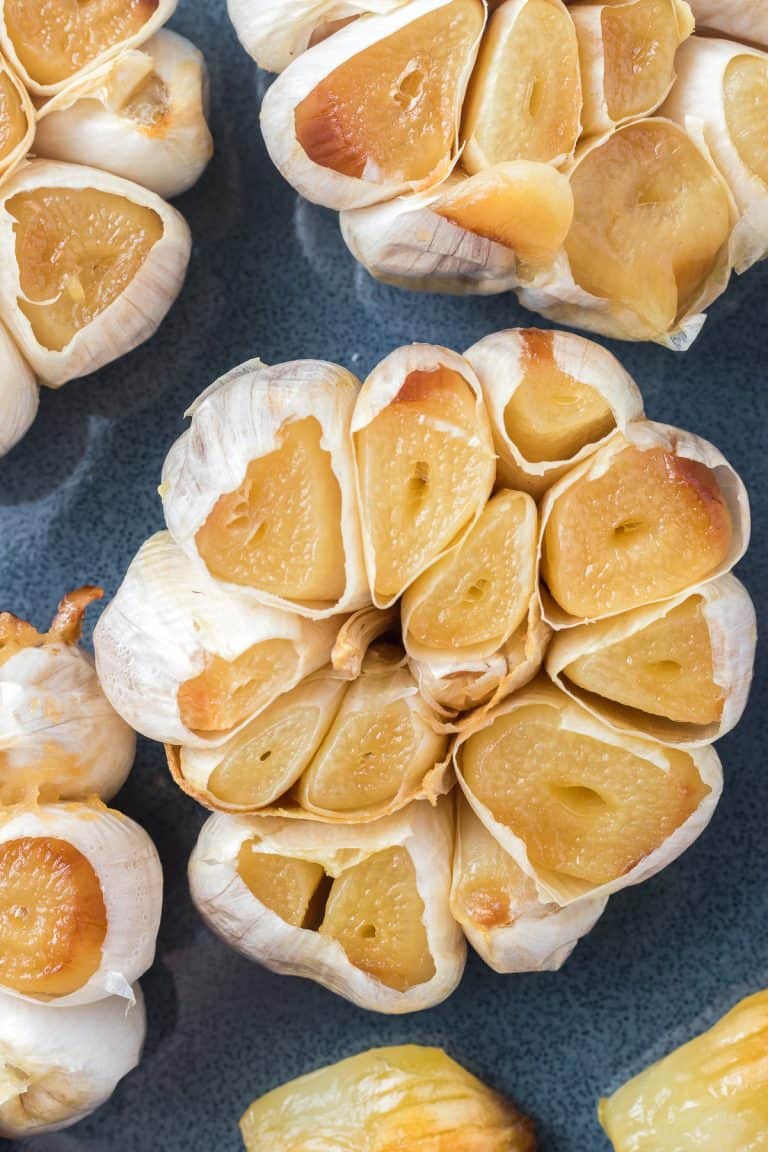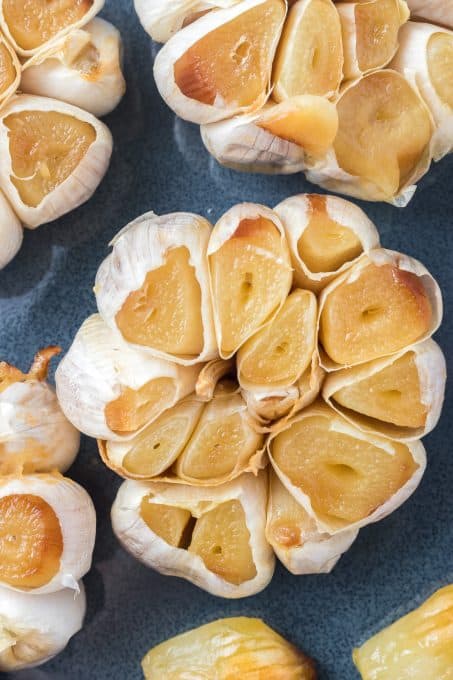 Once you learn how to roast garlic, it's something you'll do again and again.
Roasting caramelizes the natural sugars giving the garlic a sweet, nutty flavor unlike the sharp bite is has when it's eaten raw. It's so yummy that you might find yourself noshing on it alone!
~ FOLLOW ME ~
Keep an eye out for more of my easy recipes each week!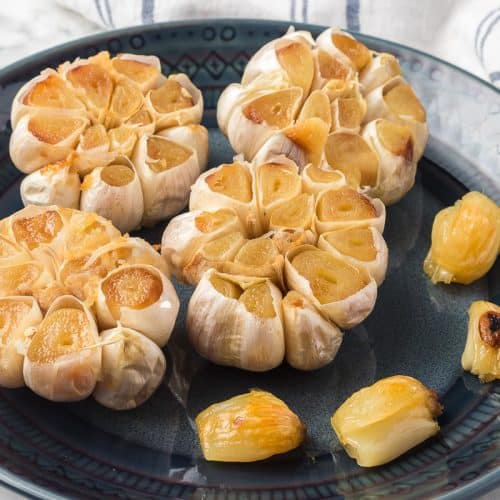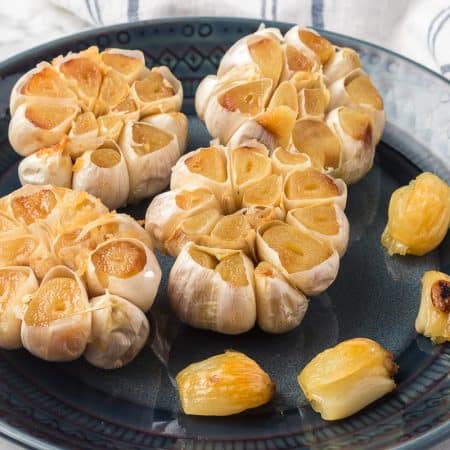 Learn How to Roast Garlic so that you can use it in a variety of recipes. Once it's roasted, garlic has a delicious creamy, sweet and mellow flavor unlike when it's raw, and can greatly increase the flavor profile in pasta, breads, salads, and more!
Ingredients
1 head of garlic can use more
2 teaspoons olive oil
aluminum foil
Instructions
Preheat the oven to 400 °F.

To roast a whole head of garlic, peel off the outer skin, leaving the skin on the individual cloves. Cut 1/4 to 1/2-inch off the tops off of the cloves with a sharp knife so that you can see the individual cloves.

Place the head of garlic on a square piece of tinfoil and drizzle with olive oil. With clean fingers, massage the olive oil into the tops of the garlic cloves.

Wrap aluminum foil around the head of garlic so that it is completely encased. You can either wrap them all in one pice of foil or individually. Place the wrapped head(s) of garlic on a baking sheet.

Bake for 30 minutes, or until cloves are tender when lightly squeezed. Set aside to cool enough to be handled.

To remove the individual cloves, I find that it easiest to squeeze each one at the bottom, so that it kind of pops out of the skin.
Notes
Of course, you can roast more than one head of garlic at a time. For nutritional purposes, we only calculated the information using one head of garlic and 2 teaspoons of olive oil, though you may not need that much.
Nutrition
Serving: 1serving | Calories: 19kcal | Carbohydrates: 0.2g | Protein: 0.05g | Fat: 2g | Saturated Fat: 0.3g | Polyunsaturated Fat: 0.2g | Monounsaturated Fat: 1g | Sodium: 0.2mg | Potassium: 3mg | Fiber: 0.01g | Sugar: 0.01g | Vitamin A: 0.1IU | Vitamin C: 0.2mg | Calcium: 1mg | Iron: 0.02mg
Did you make this recipe?
Share it with me on Instagram and make sure to follow me on Pinterest for more recipes.
Reader Interactions