Turn a simple bowl of fettuccine into a feast with homemade Roasted Garlic Alfredo Sauce! Creamy, garlicky and full of cheesy Parmesan, this sauce is so easy to make and tastes like it came straight from your favorite Italian restaurant.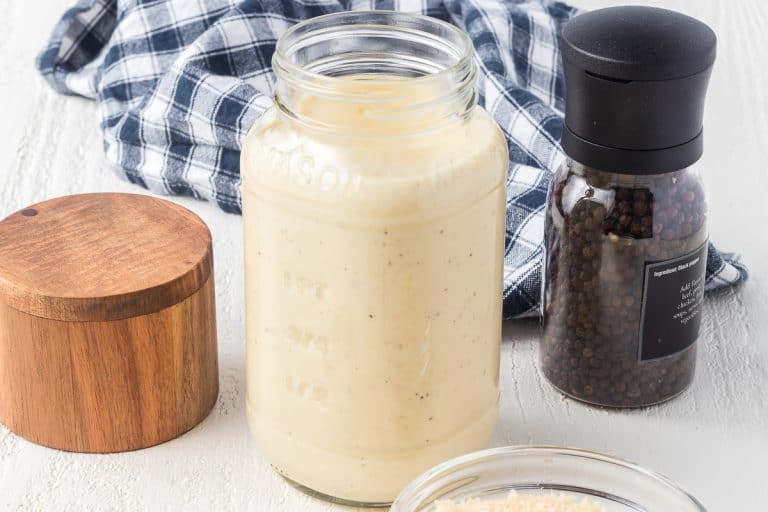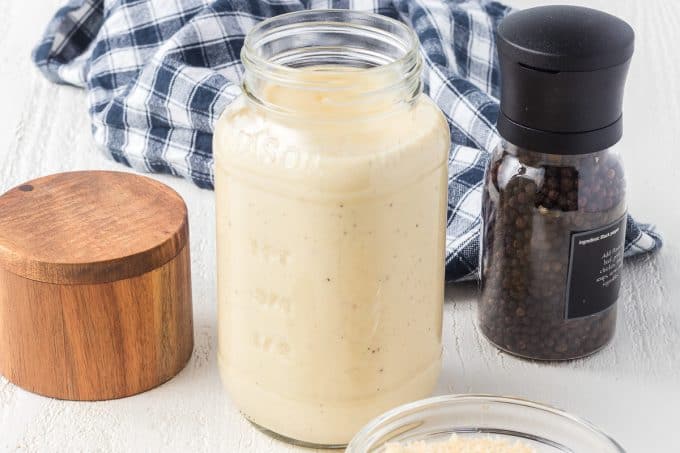 Folks, I'm not lying when I say this is the best Roasted Garlic Alfredo Sauce we garlic lovers have ever eaten. The Roasted Garlic seriously makes all the difference.
Roasting brings out a smoky sweetness to the fresh, fragrant garlic. Blended with tangy Parmesan cheese and rich heavy cream, it creates a garlic cream sauce that's so good you'll want to eat it straight out of the pot with a spoon!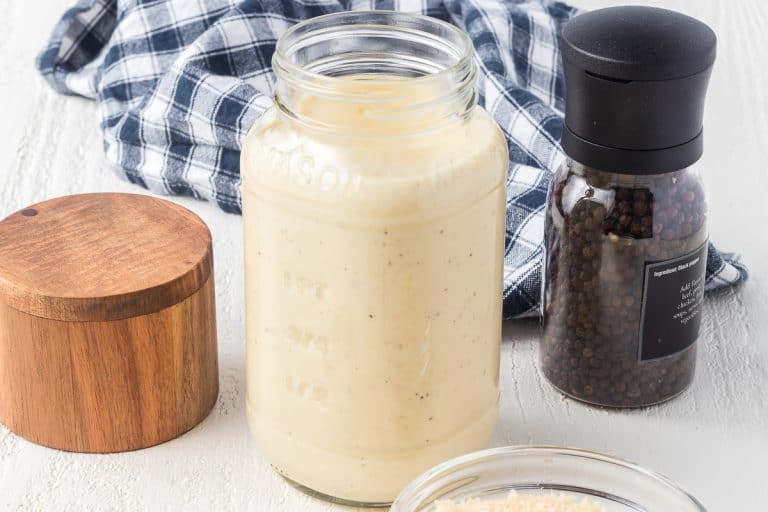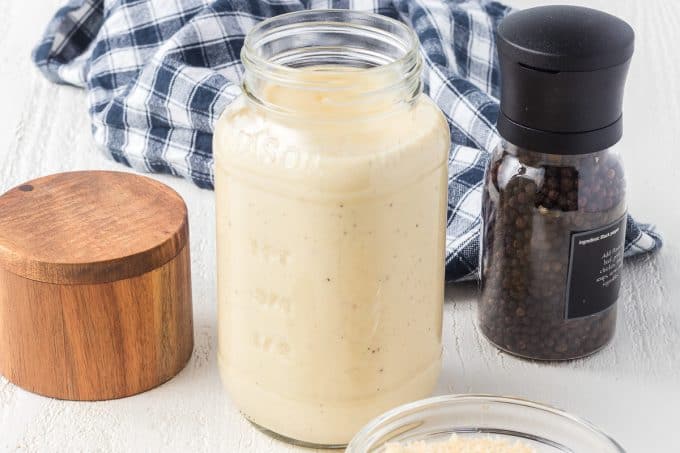 I'm telling you right now. Once you try this creamy homemade alfredo sauce, you'll never enjoy the jarred version the same way again.
What is Alfredo Sauce?
Alfredo sauce is a white sauce made with butter, cream and grated cheese.
You're not alone if you wonder where alfredo sauce got its name. At first, I thought it was named for a person, but it actually got its name from a restaurant! A famous restaurant in Rome called Alfredo alla Scrofa perfected its earliest alfredo sauces in the 1920s, made from butter and cheese and mixed directly with hot fettuccine pasta.
American chefs played around with this recipe, adding cream, less expensive cheeses, and spices to create the version of Fettucine Alfredo we know and love. These days you can find some version of pasta with Alfredo sauce at just about every restaurant featuring Italian-American cuisine.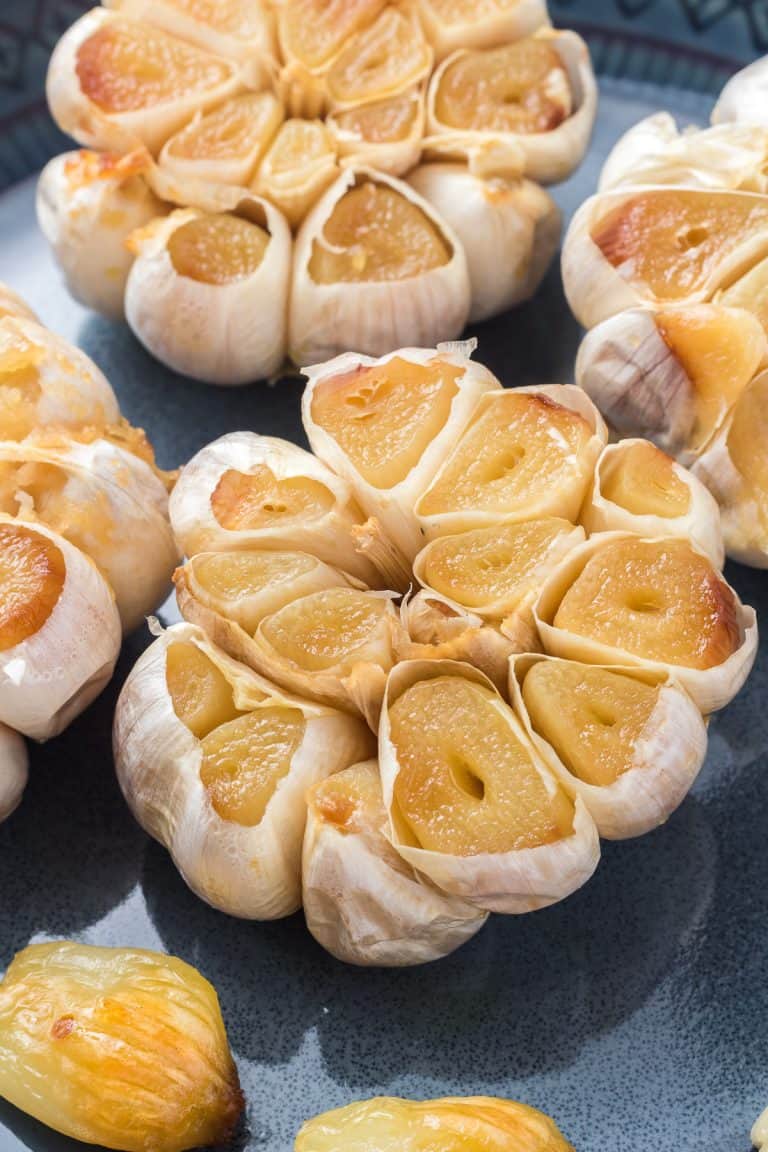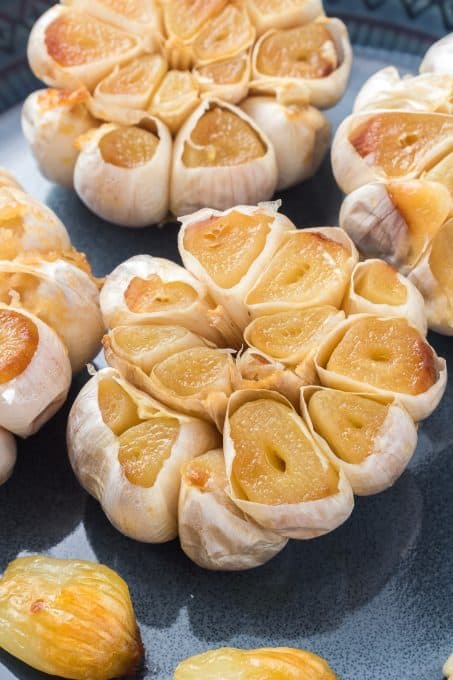 How do I roast garlic?
This post details the simple process of roasting your own garlic. It's so easy, and you can store it in the refrigerator or freezer to use in other recipes too!
You start with a whole head of garlic drizzled with olive oil. Wrap it in foil and bake until the cloves become buttery soft and your kitchen smells like garlic heaven.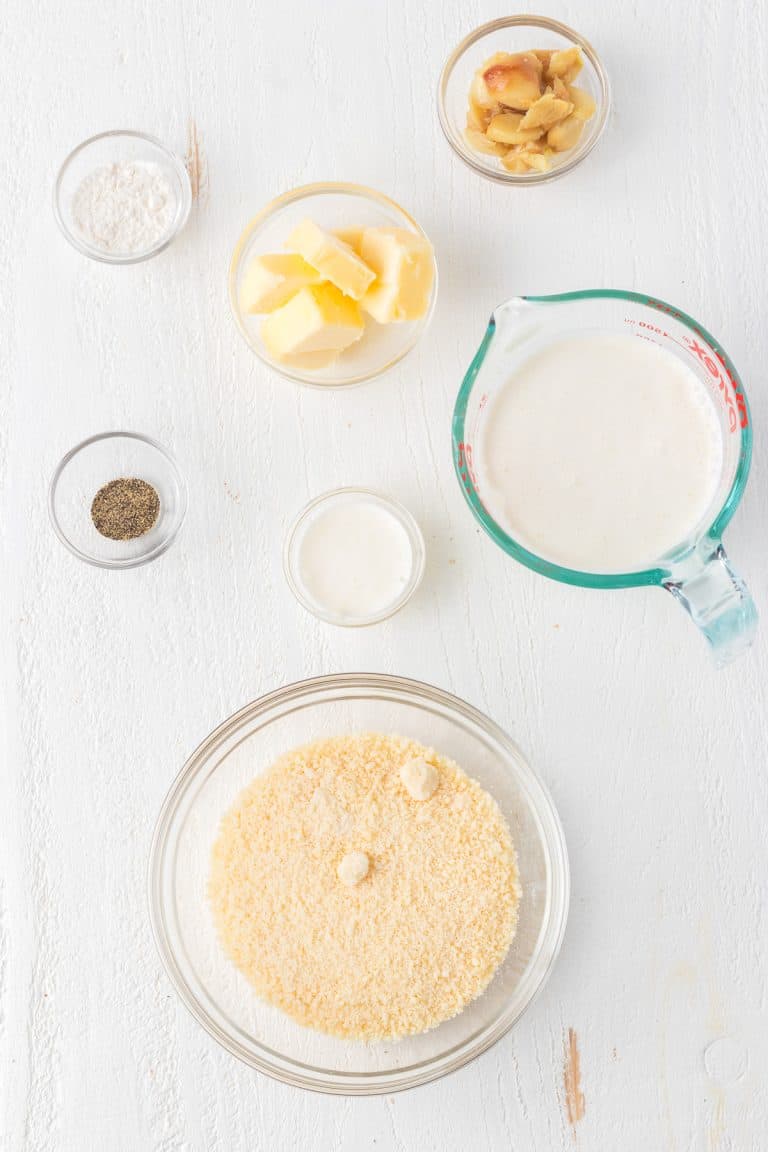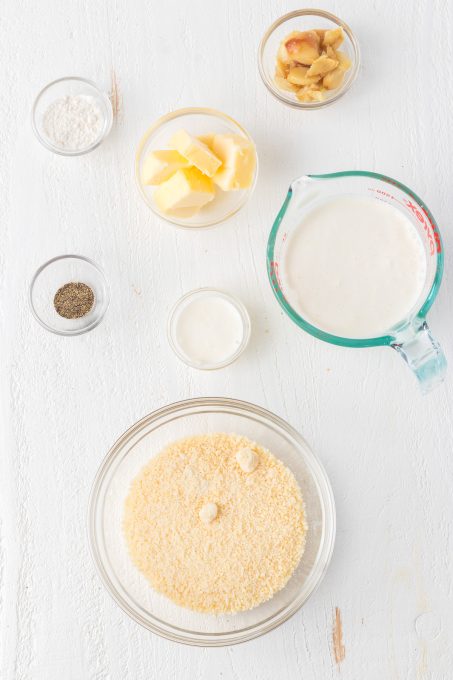 What ingredients do I need to make Roasted Garlic Alfredo Sauce?
You will need a few simple, fresh ingredients to make this creamy alfredo sauce:
For the roasted garlic:
1 head of garlic
olive oil for drizzling
For the cream sauce:
unsalted butter
heavy cream
Parmesan cheese – freshly grated, NOT from a shaker can!
flour
salt
pepper
To make garlic fettucine alfredo, you'll also need cooked fettucine noodles for serving.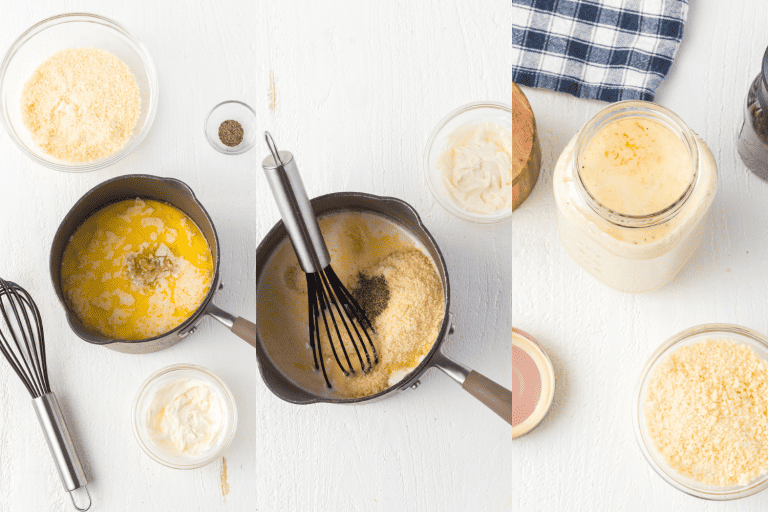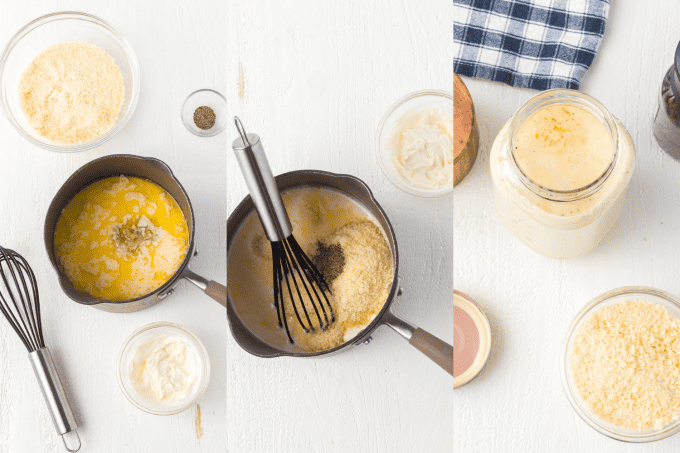 How to make homemade Roasted Garlic Alfredo Sauce
Remove the cloves of garlic from the garlic head by gently squeezing them out the bottom. Place the garlic cloves into a small bowl and mash them with a fork. Yes, it is a lot of garlic, but I firmly believe you can never have enough garlic!
In a small saucepan, melt butter over low to medium heat. Add the fresh cream and roasted garlic cloves to the melted butter. Heat to very warm, but DO NOT boil.
Mix in the Parmesan cheese, salt, and pepper. Whisking it constantly until the cheese is fully melted and the sauce looks smooth.
To thicken the sauce, combine 2 tablespoon of flour with the remaining ¼ cup of cream in a small bowl. Add the flour mixture into the saucepan, then stir and heat until the sauce thickens. Pour the sauce over fettuccine noodles or another favorite cooked pasta and enjoy!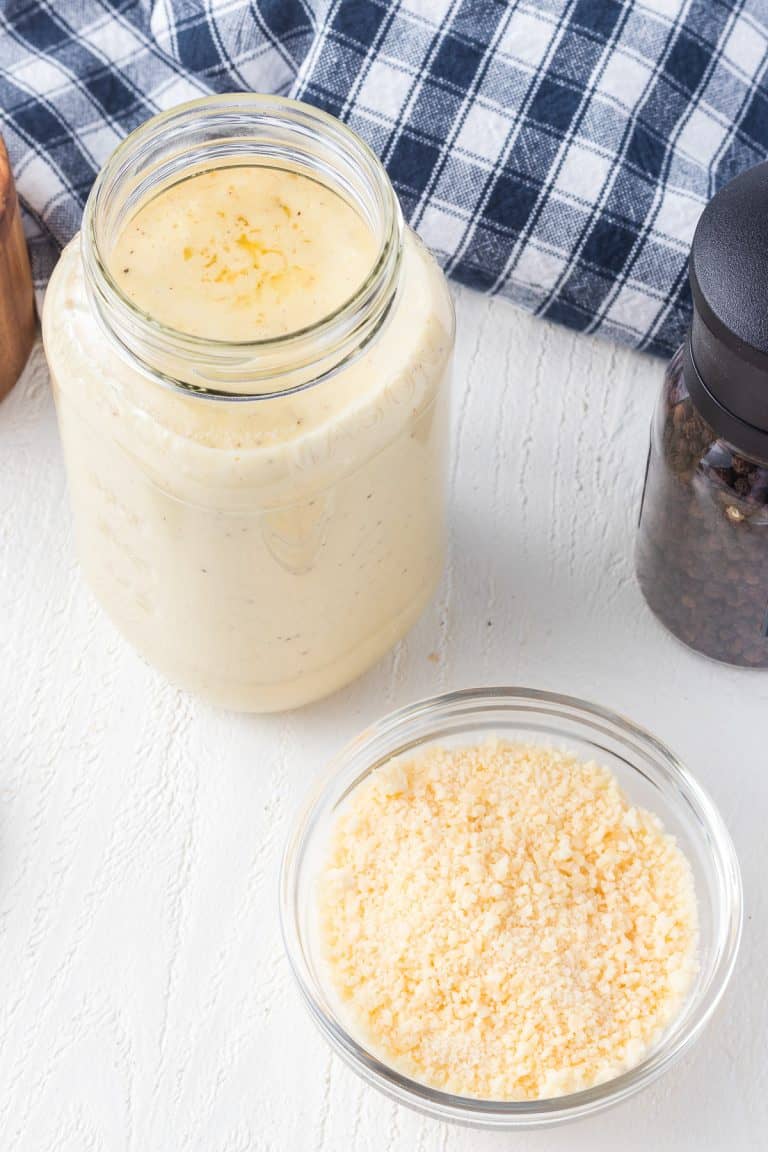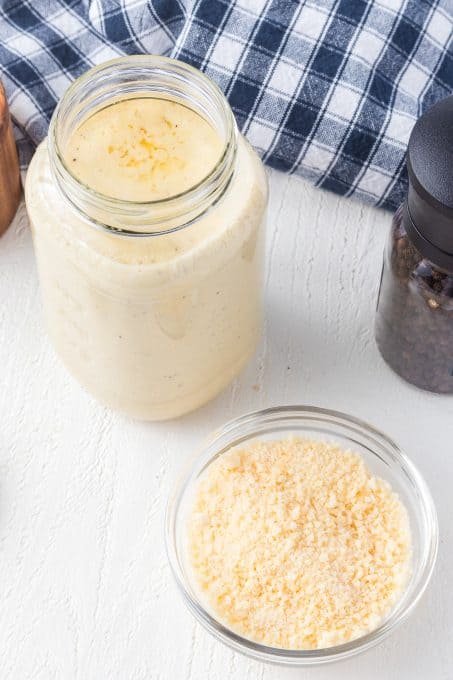 How to store leftover homemade Alfredo Sauce
This flavorful sauce is so nice to have around to add to meat or pasta for a quick meal. Luckily, it's easy to store any leftover sauce!
Once your roasted garlic alfredo sauce has cooled, transfer it to an airtight container and store it in the refrigerator. I store mine in a mason jar with a tightly sealed lid. It will last for 3-4 days in the fridge.
The garlicky flavor gets even bolder after a day or two. This would be a great sauce to prep on the weekend and keep in the fridge for easy meals during the week.
When you're ready to serve your leftover sauce, just reheat in the microwave or in a pot on the stove. The sauce will look thicker while it's still cold, but should smooth out to the perfect consistency as it warms up. If the sauce is still thicker than you want, you can always whisk in a bit more heavy cream or milk until you reach the consistency you like.
Can you freeze Alfredo sauce?
You can freeze alfredo sauce too! Pour it into a freezer-safe container and freeze it for up to 4 months. To reheat it, let it thaw completely, then reheat it on the stovetop or microwave. Stir it well as it heats until it is creamy and warm throughout.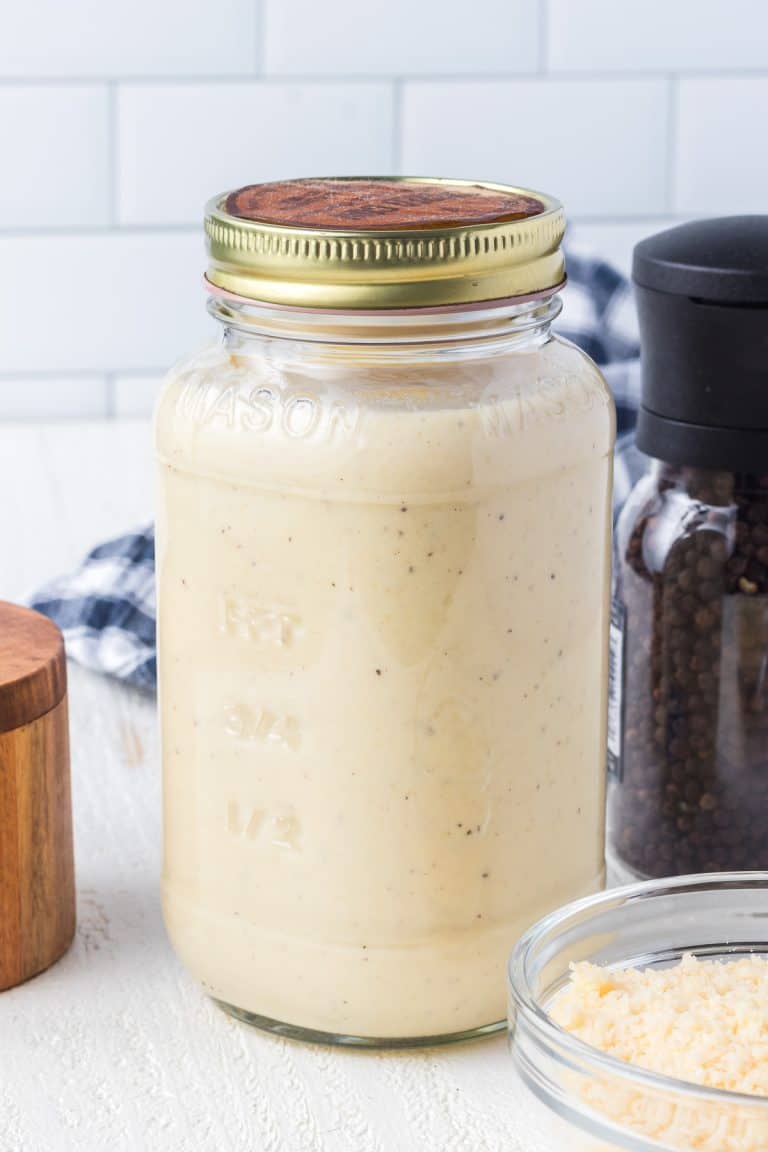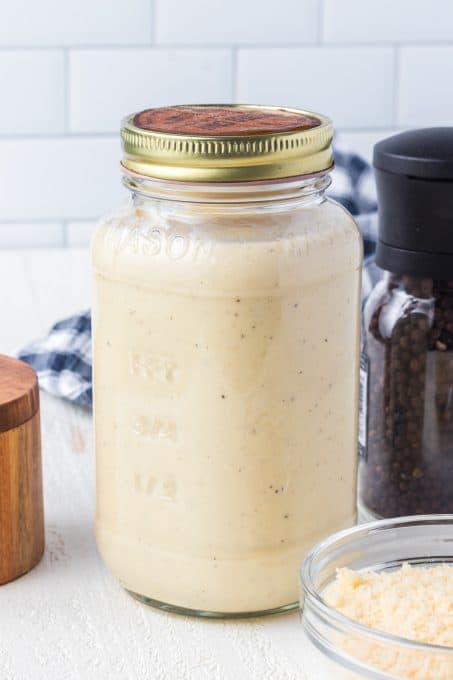 What to serve with Roasted Garlic Alfredo Sauce
This classic alfredo sauce can be served with so many things! Of course, you can make Fettuccine Alfredo with fresh or dried fettuccine noodles. You can use other wide, flat noodles such as linguine or tagliatelle to sop up some of this hearty, creamy sauce.
Garlic Alfredo Sauce is also a tasty dipping sauce for bread. Try this recipe for Italian Herb and Cheese Bread or Grandma's Easy Homemade Italian Bread. Garlic bread and breadsticks would taste amazing when dipped into this parmesan cream sauce! Like I said, you can never have too much garlic.
Try pouring Roasted Garlic Alfredo Sauce over the meat dish of your choice for protein rich meal. Make classic Chicken Alfredo by pouring the sauce over some grilled chicken or toss the sauce with cooked shrimp. Add a side of broccoli for a balanced meal the whole family will love. Drizzle garlic alfredo sauce over these Mozzarella Stuffed Meatballs for a hearty, meaty Italian dinner.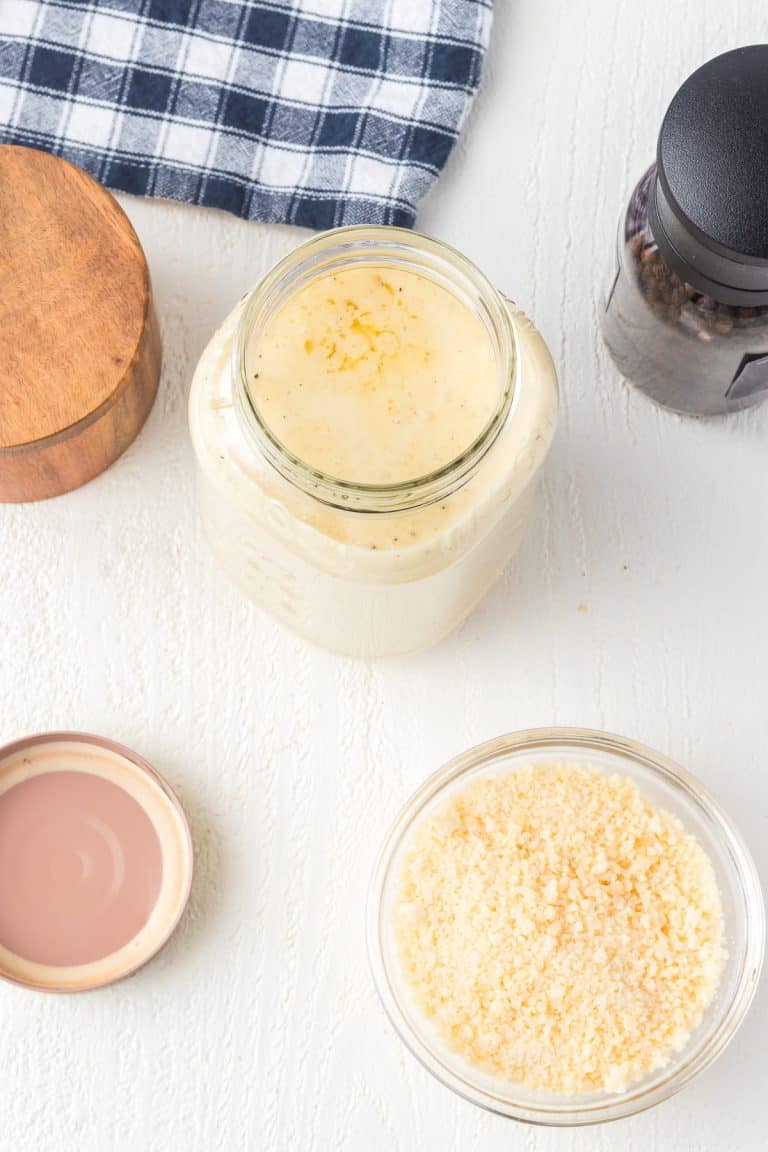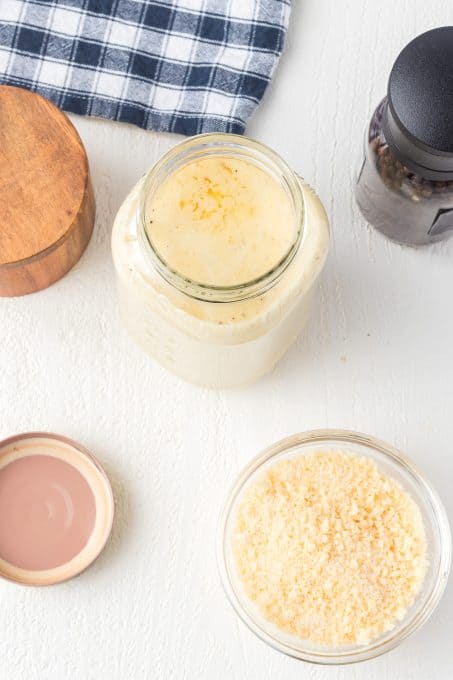 Italian-Inspired Dishes
The Italian inspired meals I love might not be authentic, traditional Italian fare, but they're a hit just the same! Skip the restaurant and make one of these dishes at home next time you get a hankering for Italian food.
Spinach and Cheese Manicotti is a stuffed pasta recipe with a fresh cheesy filling. You can feed a crowd with my Mom's Homemade Lasagna -a lasagna just the way mom used to make it! It's perfect for Sunday dinner, too.
On busy weeknights, this One Pot Sausage Linguini makes it easy to get a homemade meal on the table. Or combine two Italian American staples in one with a bowl of Pepperoni Pizza Pasta!
This Lemon Garlic Shrimp Pasta is another one you'll enjoy if your family loves garlic as much as mine!
Need a fun appetizer for your next party? Make a batch of Breaded Baked Ravioli or Lasagna Pasta Skewers to pass around. For something even easier, assemble a batch of Tomato Bruschetta. The fresh tomato and aromatic basil create an explosion of mouthwatering flavor in every bite.
Garlic Fettucine Alfredo made with homemade roasted garlic cream sauce is a kid-approved meal you'll find yourself craving all the time!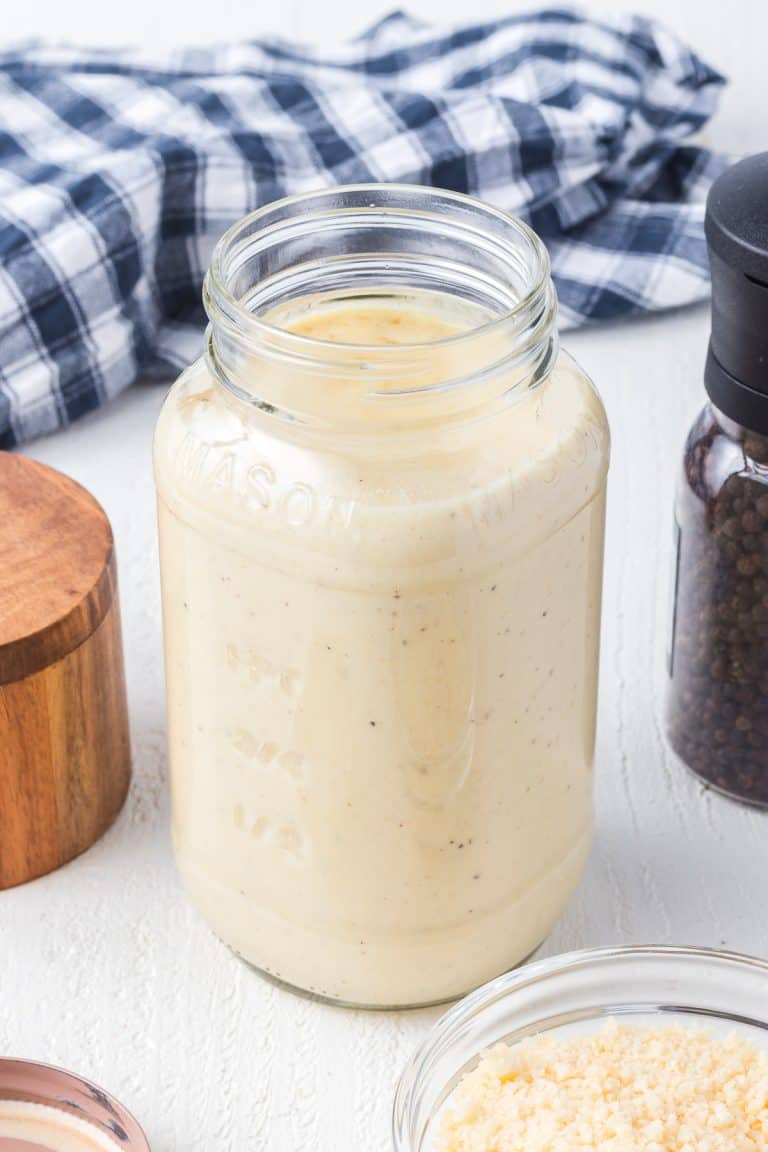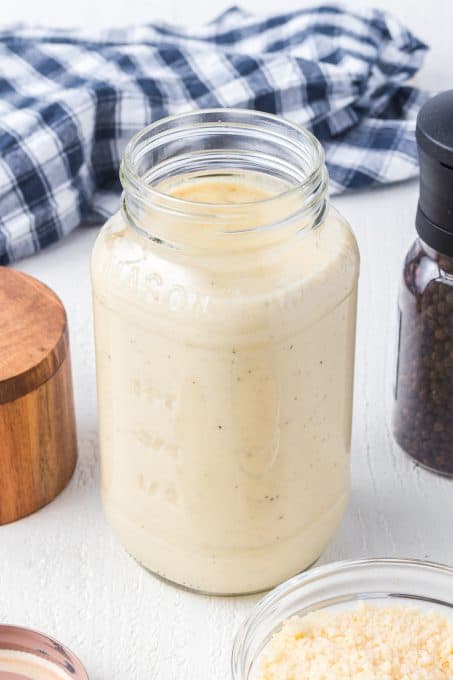 ~ FOLLOW ME ~
Keep an eye out for more of my easy recipes each week!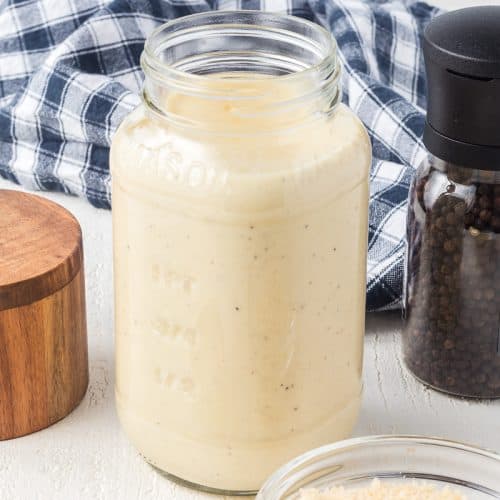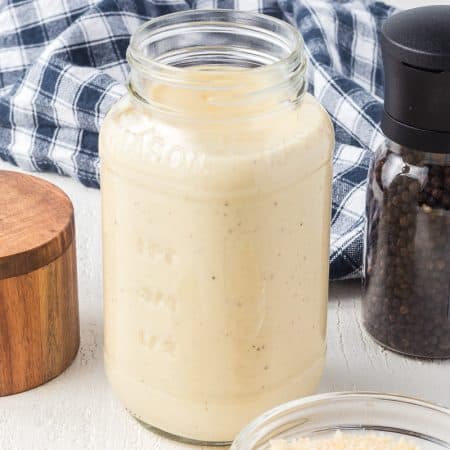 Roasted Garlic Alfredo Sauce
Top fettuccine noodles and other delicious meals with this creamy Roasted Garlic Alfredo Sauce. This classic cream sauce features the natural flavor of homemade roasted garlic combined with heavy cream and freshly grated Parmesan cheese. It's so easy and full of creamy flavor, yet everyone will think it came from your favorite Italian restaurant.
Ingredients
1 head roasted garlic mashed
olive oil for drizzling
4 tablespoons unsalted butter
16 ounces heavy cream divided – 1 3/4 for sauce and remaining 1/4 cup for thickener.
1 ¼ cup Parmesan cheese freshly grated
salt to taste
½ teaspoon ground black pepper
For thickening the sauce
1 tablespoon all-purpose flour
¼ cup heavy cream the remainder of the 16 ounces
Instructions
Remove the cloves of garlic by gently squeezing them from the skins and place into a small bowl. With a fork, mash the cloves.

In a small saucepan, on low to medium heat, melt the butter. Add 1 ¾ cups heavy cream  and roasted garlic, and heat to very warm, but DO NOT boil.

Mix the Parmesan cheese, salt and pepper, whisking constantly until cheese has melted.

To thicken the sauce, mix 1 tablespoon of flour with the remaining heavy cream (1/4 cup)in a small bowl. Add the cream/flour mixture to the saucepan, stirring and heating until mixture thickens.

Remove from heat and serve over fettuccine noodles or ravioli.
Notes
This recipe makes two cups of Alfredo Sauce and should be enough to feed four people hence nutritional value is calculated for 4 servings. Total time also includes the roasting of the garlic.
Nutrition
Serving: 1serving | Calories: 727kcal | Carbohydrates: 9g | Protein: 16g | Fat: 71g | Saturated Fat: 45g | Polyunsaturated Fat: 3g | Monounsaturated Fat: 18g | Trans Fat: 1g | Cholesterol: 211mg | Sodium: 539mg | Potassium: 189mg | Fiber: 0.3g | Sugar: 4g | Vitamin A: 2656IU | Vitamin C: 3mg | Calcium: 474mg | Iron: 1mg
Did you make this recipe?
Share it with me on Instagram and make sure to follow me on Pinterest for more recipes.
This post was originally published 10/2/2012. It has been updated in format and with pictures on 5/29/23.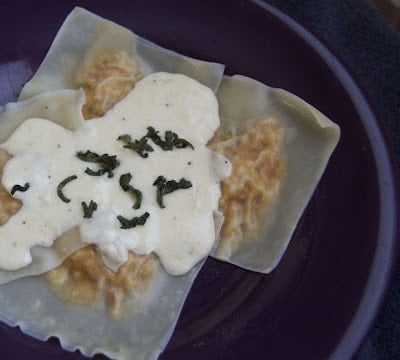 Reader Interactions