Learn how to make Bruschetta at home with a few simple ingredients! This easy tomato bruschetta recipe features fresh, flavorful ingredients topped with a perfect balsamic glaze.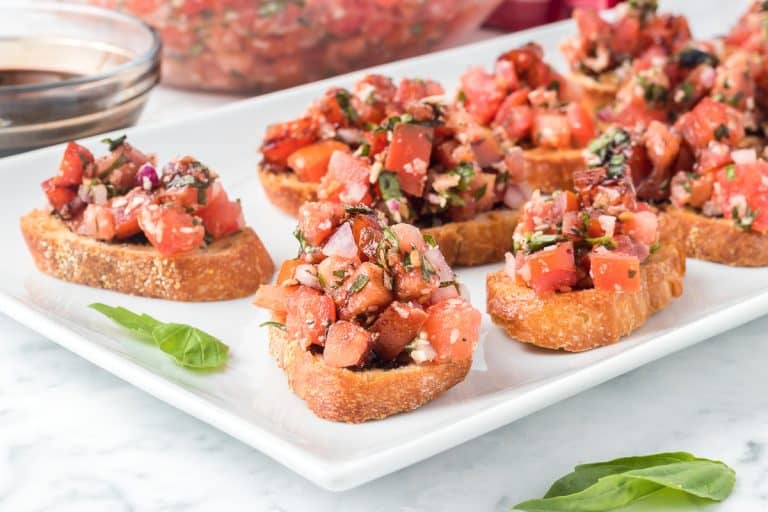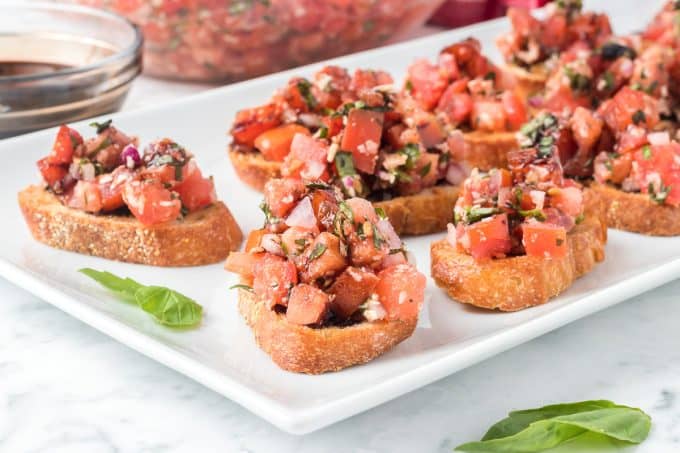 Remember this balsamic glaze? Today we're using it to make homemade bruschetta.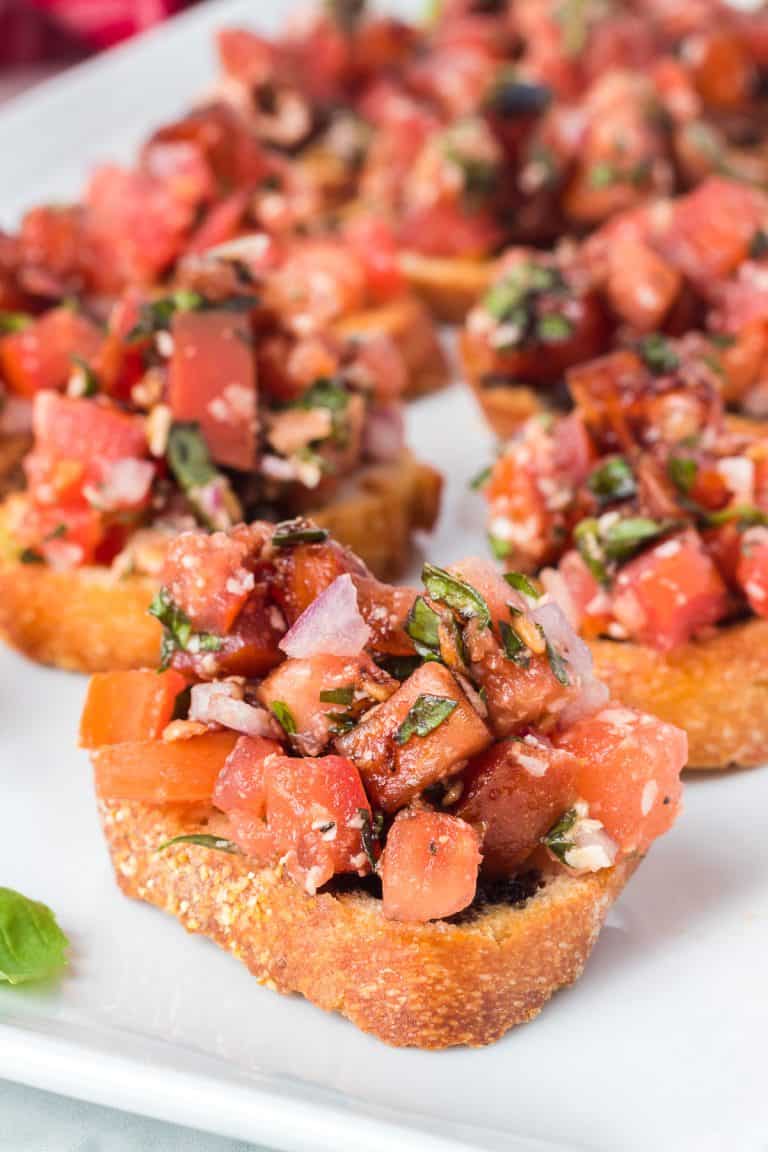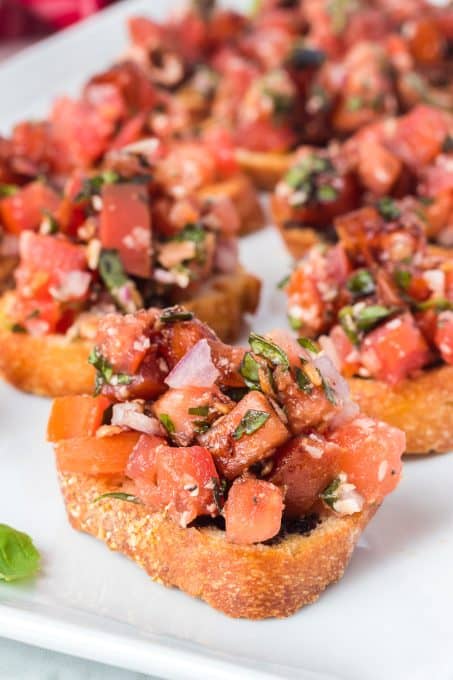 Bruschetta is a classic Italian appetizer made with toasted (or grilled) bread slices and olive oil. Today I'm going to share my favorite way to eat bruschetta: topped with plenty of fresh tomatoes, basil and garlic!
The crunchy bread paired with garden fresh tomato and basil flavor screams "summer" to me. I often make bruschetta in the winter time when I'm craving sunnier days and garden produce. Thanks to well stocked grocery stores, I can make this easy tomato bruschetta anytime of year.
Here's why you'll love an easy bruschetta recipe:
So easy to make! Just toast, chop, top and serve.
Tastes even better than your favorite restaurant version.
A perfect appetizer to impress your dinner guests.
Drizzled with balsamic glaze for an extraordinary presentation.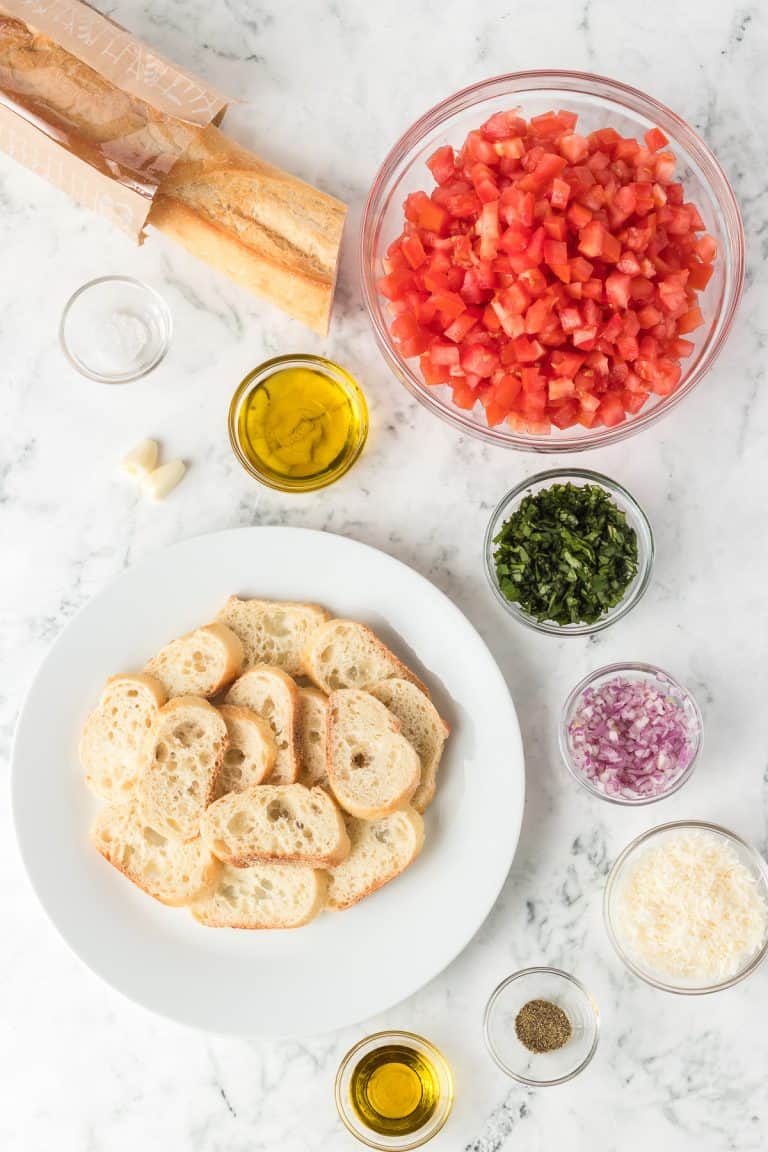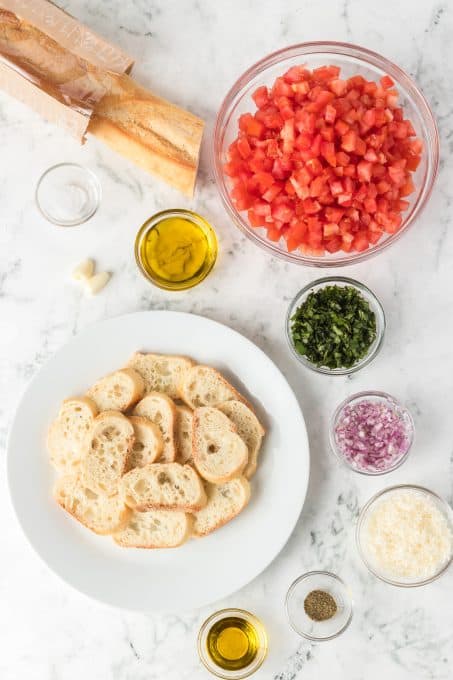 What ingredients do I need for bruschetta?
For this bruschetta recipe you will need these ingredients:
French bread – I buy it fresh from the bakery department at the store.
Extra Virgin Olive oil
Roma tomatoes – Pick fresh and ripe tomatoes!
Fresh basil leaves
Red onion
Parmesan cheese – PLEASE use freshly grated parm here. No shaker cans!
Fresh garlic cloves
This Balsamic glaze made with balsamic vinegar and honey
Salt and pepper
Notice a recurring theme of freshness?
Bruschetta is all about FRESH ingredients, from the tomatoes right down to the Parmesan.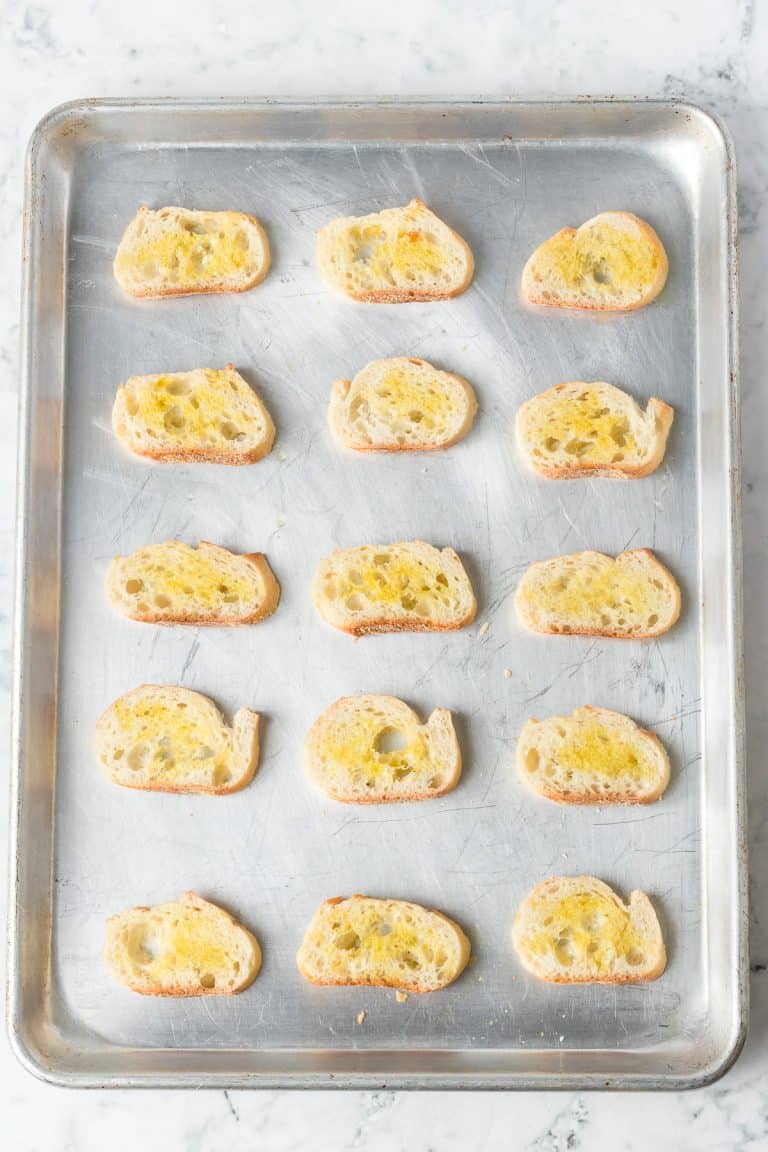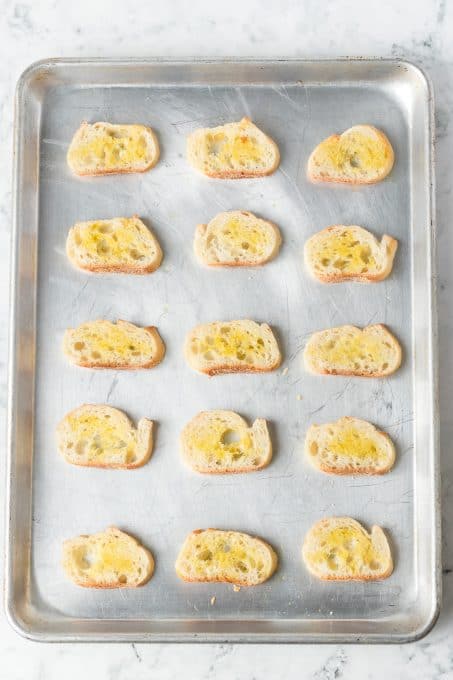 What are the best tomatoes to use?
It's important that they're fresh, ripe and plump!
Over the years, I've found that Roma tomatoes tend to be more flavorful and juicy than most other common varieties. That's why I prefer them for making bruschetta. Plum tomatoes, vine-ripened tomatoes and all kind of heirloom tomatoes are delicious for bruschetta as well. Cherry tomatoes are an option as well. I recommend halving them.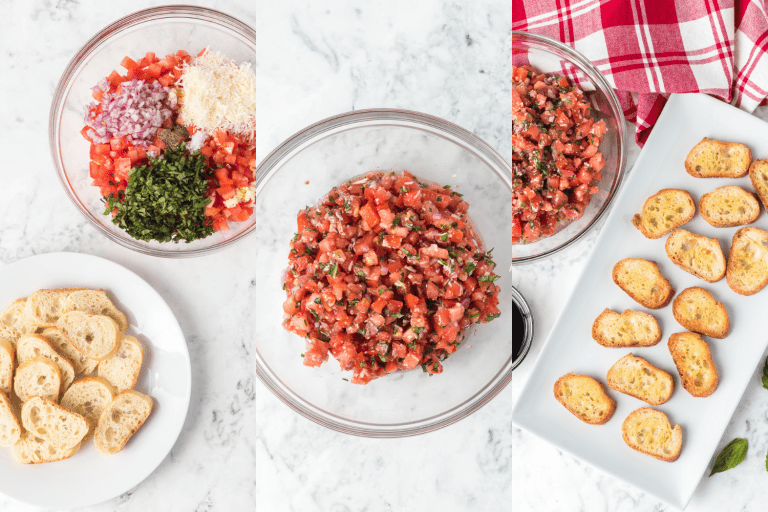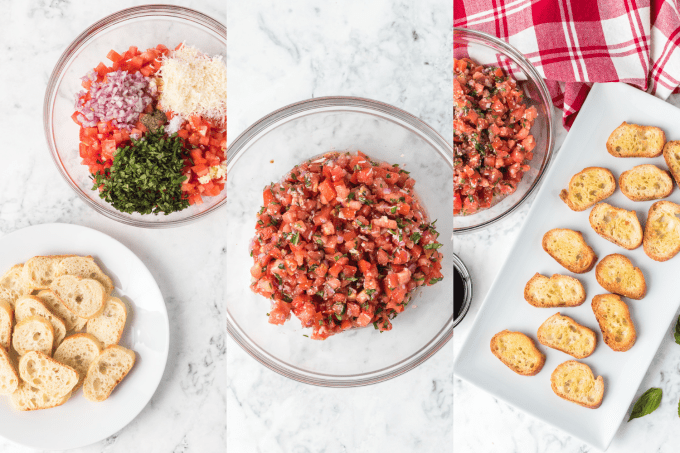 Step-by-step instructions to make the best bruschetta recipe
First chop up your tomatoes, basil, garlic and onion. Mix them together in a bowl with grated parmesan, salt, pepper and more olive oil.
Now we've gotten to a key step that most people skip when making bruschetta: let the tomato mixture sit for 30 minutes. This time allows the flavors to mix, mingle and blend to create an incredible garlicky basil flavor.
Use this time to prepare your bread.
Slice the whole loaf of baguette slices along the diagonal. Aim to make even slices that are ¼-inch thick.
Brush each slice of bread with olive oil on both sides. Bake for 7 minutes on the first side, flip and bake for 5-10 more minutes, or until the bread looks golden brown.
Use a slotted spoon to scoop the tomato mixture onto each slice of bread. Drizzle with your balsamic glaze and voila! You've made tomato bruschetta!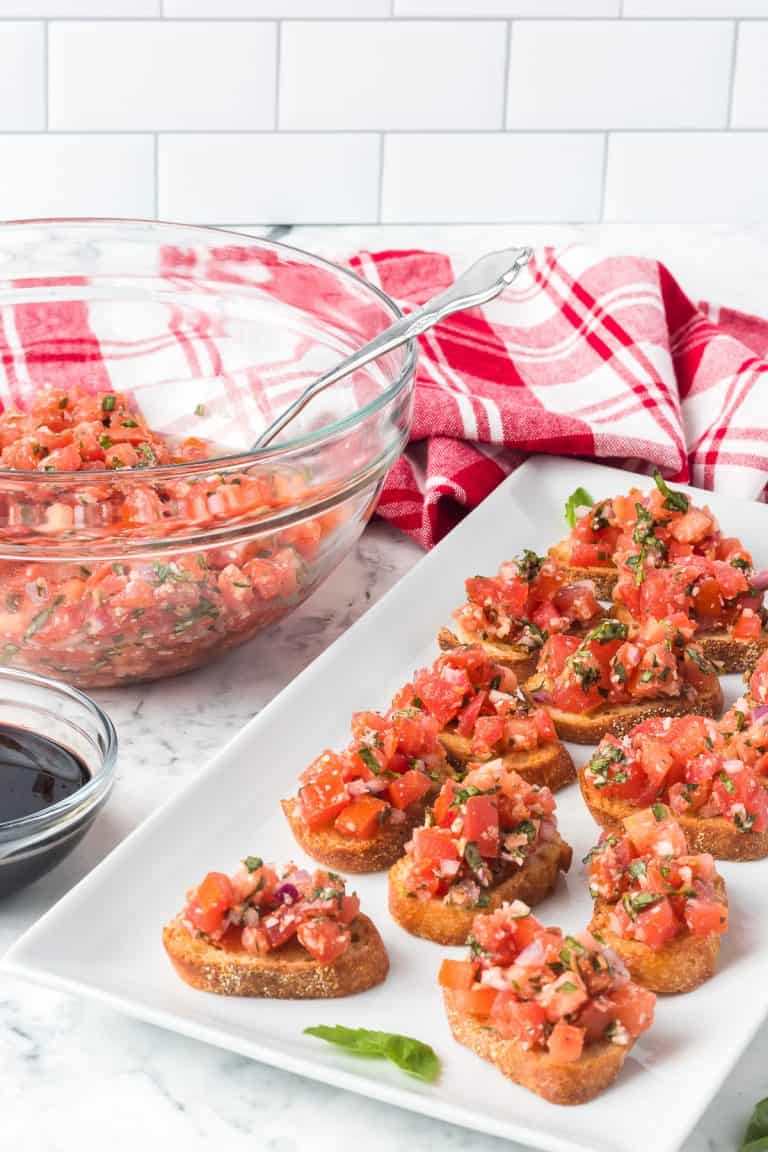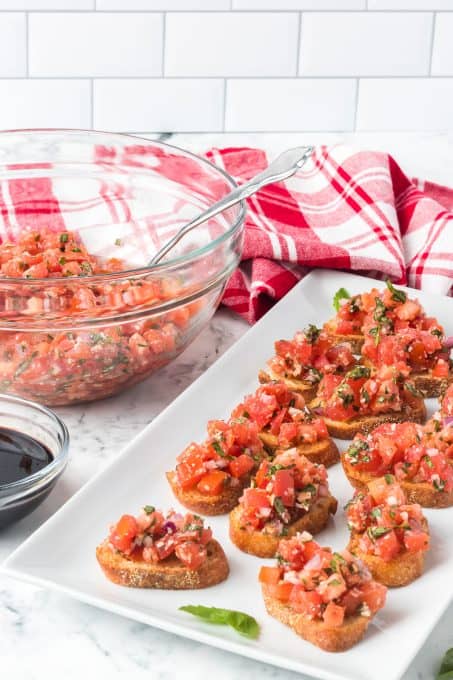 How do I store bruschetta?
After the bruschetta has been assembled, it really needs to be served and enjoyed right away. The longer the bruschetta sits, the softer (and eventually soggier) the bread will become.
If you want to save time when your dinner guests arrive, you could mix together the ingredients for the bruschetta topping up to several hours in advance. Then cover and place in the refrigerator until the toasted bread is ready for topping and serving.
Italian Recipes
Bruschetta is a quintessential antipasto (starter) for an Italian meal. Serve your homemade bruschetta for your guests to nibble on while they wait to dig into a plate of cheesy Lasagna or this light Lemon Garlic Pasta.
This appetizer also pairs will with classic Meatballs and Spaghetti and my Pizza Stuffed Shells.
Add a side salad with Homemade Italian Dressing or a cup of Creamy Tomato Basil Soup for the next course. Finish your meal with a slice of Tiramisu Poke Cake for dessert and you have a full Italian-inspired feast!
I use store bought baguette (French bread) to make my bruschetta. If you have some extra time on your hands, you could make my Easy Homemade Italian Bread Recipe to use in this recipe instead. It's so good fresh from the oven that I always end up eating the whole loaf before I have a chance to make bruschetta.
My obsession with toasted Italian baked goods is not limited to tomato bruschetta either. I love few things more than starting my day with a cup of coffee and a couple of crunchy biscotti to dip in my coffee! I recommend this Gingerbread Biscotti for spice lovers and this Peppermint Chocolate Biscotti for everyone with a big sweet tooth!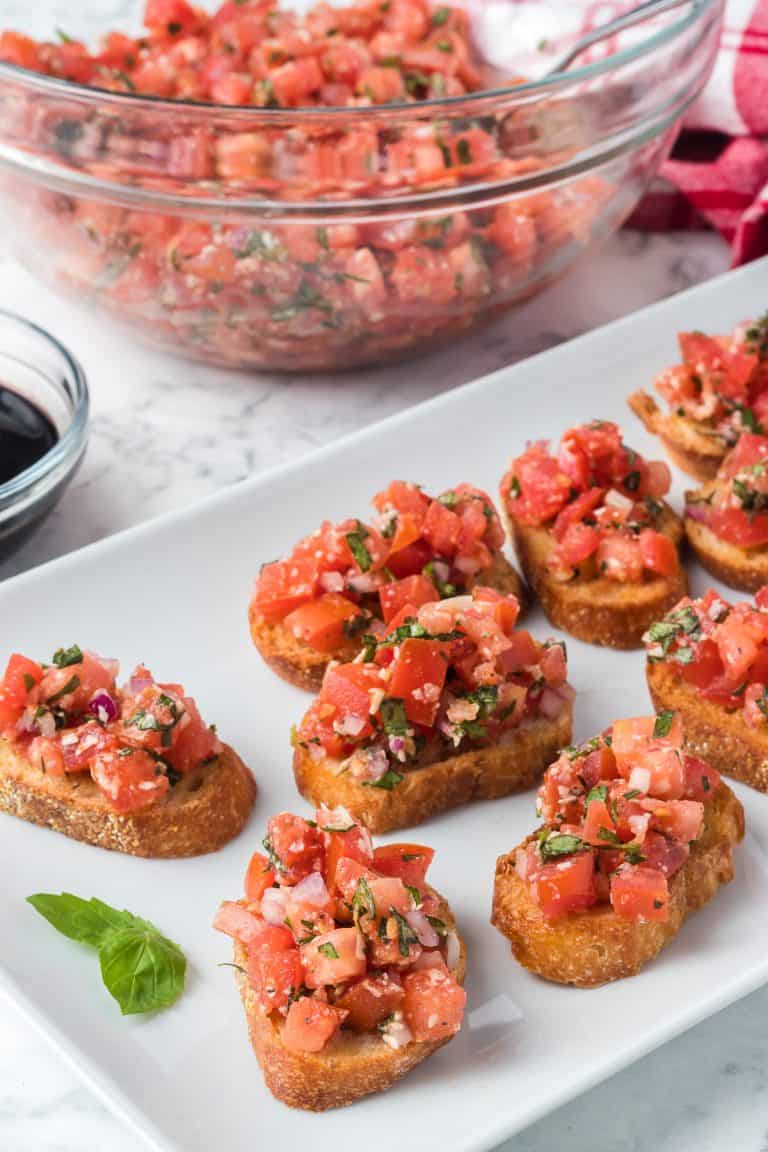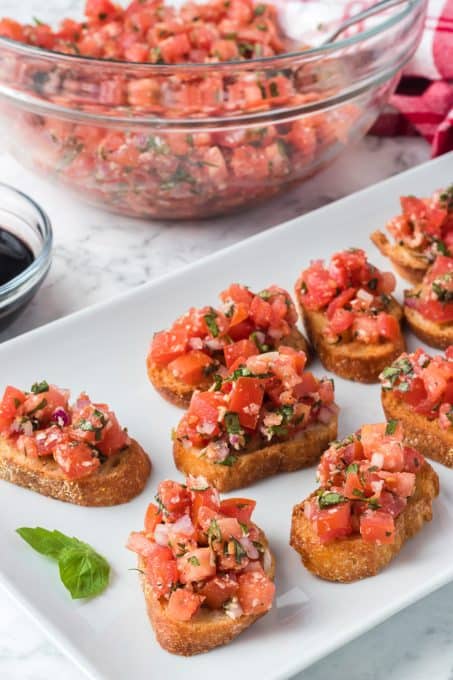 Tomato Recipes
There's nothing quite like a vine ripened tomato to brighten up a dish.
If you love the tomatoes in this easy tomato bruschetta recipe, you'll love my Instant Pot Tomato Basil Soup. It's all the bruschetta flavors you love served in the form of a cozy soup.
In this Baked Stuffed Tomatoes recipe, the bruschetta concept is turned inside out! Tomatoes are filled with bread crumbs, parmesan and herbs then baked to perfection. For a tomato dish with southwestern flair check out these Ranch Fried Green Tomatoes with chili ranch dipping sauce.
Then there's the tomato sauce category. Who can resist a comforting bowl of Beef Ragu or Stuffed Shells? This Homemade Pizza Sauce is another variation on tomato sauce that's delicious on pizza, pizza inspired pastas and as a dipping sauce for breadsticks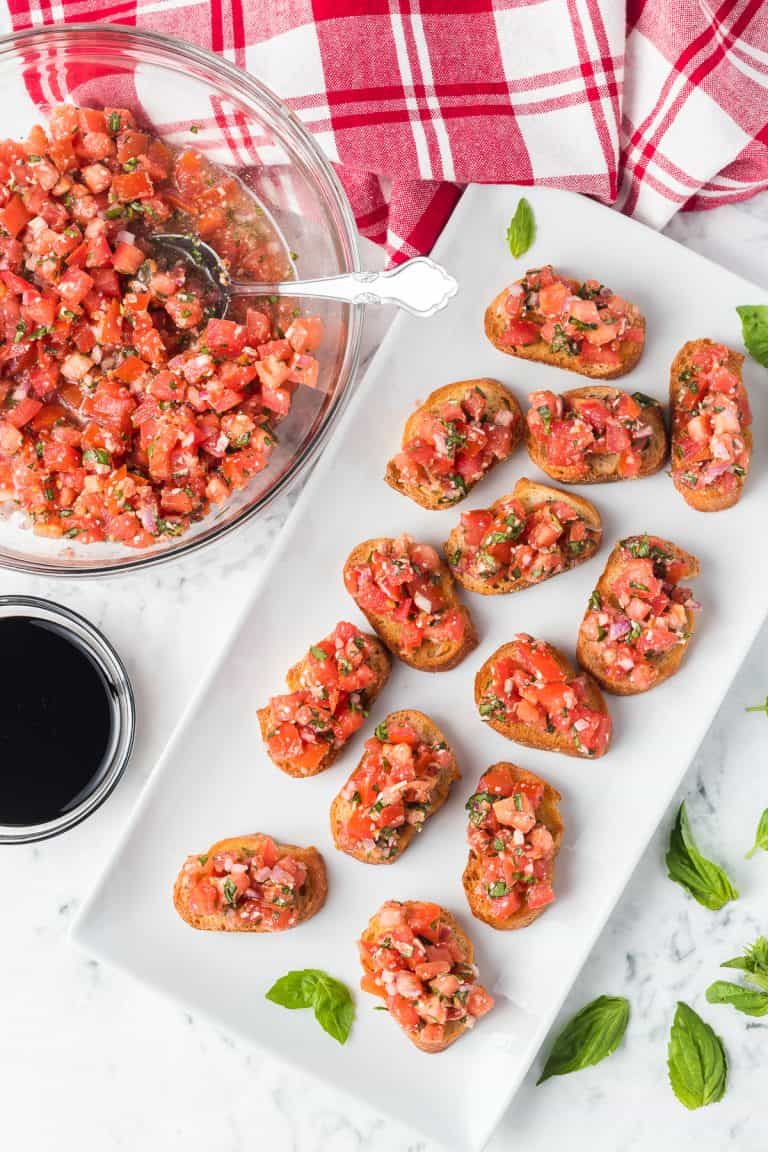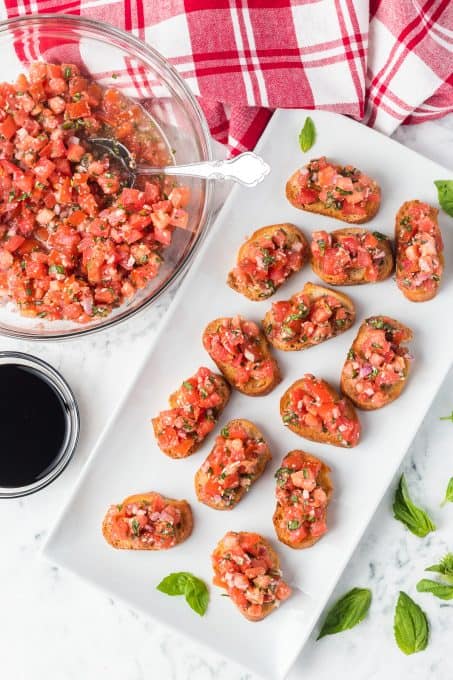 More Easy Appetizer Ideas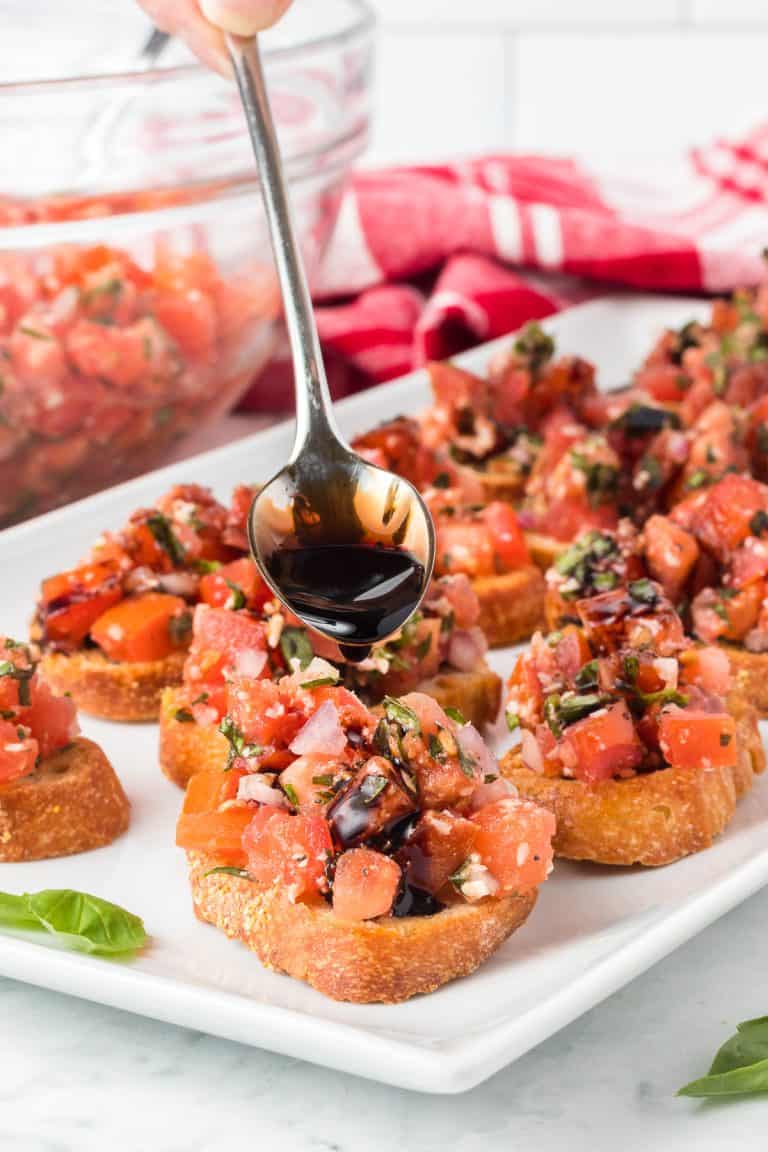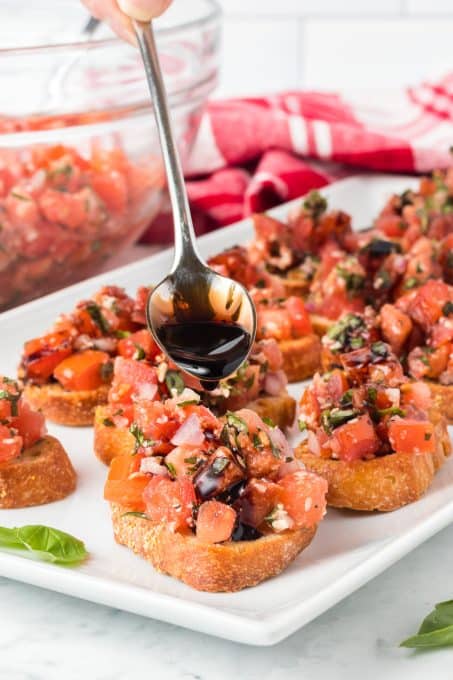 Crusty bread slices topped with juicy tomatoes and lots of fresh flavor make this classic tomato bruschetta a go-to summer appetizer or light lunch any time of year.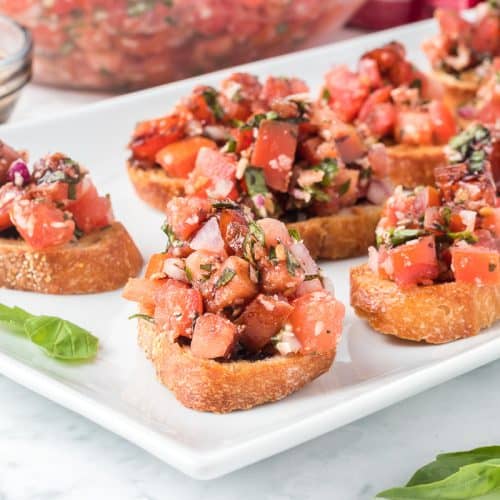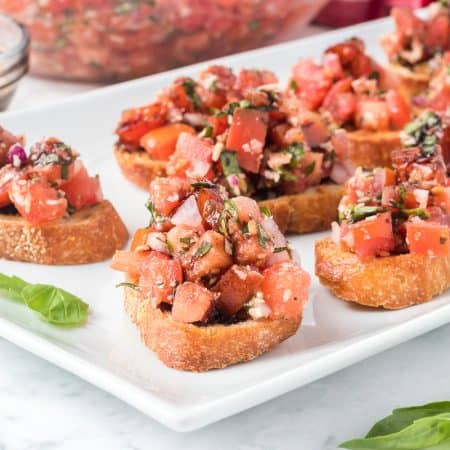 Easy Tomato Bruschetta Recipe
Learn how to make Bruschetta at home with a few simple ingredients! This easy tomato bruschetta recipe features fresh, flavorful ingredients topped with a perfect balsamic glaze.
Ingredients
1 loaf French bread
3 tablespoons olive oil
8 Roma tomatoes plum tomatoes
⅓ cup chopped fresh basil
⅓ cup minced red onion
5 tablespoons freshly grated Parmesan cheese
3 cloves garlic, minced
2 teaspoons olive oil
¼ teaspoon kosher salt
¼ teaspoon pepper
Balsamic glaze my recipe
Instructions
Preheat the oven to 400°F, and slice the French bread diagonally into slices that are ¼-inch thick. Brush both sides lightly with the 3 tablespoons of olive oil (can use more if desired), and place onto two baking sheets. Place into the oven and bake for about 7 minutes. Turn slices over and bake for another 5-10 minutes until golden.

In a large bowl, combine chopped tomatoes, basil, red onion, Parmesan cheese, garlic, olive oil, salt and pepper. Let sit at room temperature for 30 minutes.

With a slotted spoon, place mixture onto toasted bread slices and drizzle with Balsamic glaze. Serve immediately.
Notes
This recipe makes 5 cups of Bruschetta. The nutritional information has been calculated for a ½ cup per person.
Nutrition
Serving: 1serving | Calories: 176kcal | Carbohydrates: 24g | Protein: 6g | Fat: 7g | Saturated Fat: 1g | Polyunsaturated Fat: 1g | Monounsaturated Fat: 4g | Cholesterol: 2mg | Sodium: 342mg | Potassium: 181mg | Fiber: 2g | Sugar: 3g | Vitamin A: 475IU | Vitamin C: 8mg | Calcium: 60mg | Iron: 2mg
Did you make this recipe?
Share it with me on Instagram and make sure to follow me on Pinterest for more recipes.
Reader Interactions