Learn how to make the best Balsamic Glaze with 2 ingredients in this simple recipe. This balsamic vinegar reduction is a delicious sauce for drizzling over everything from meat to vegetables!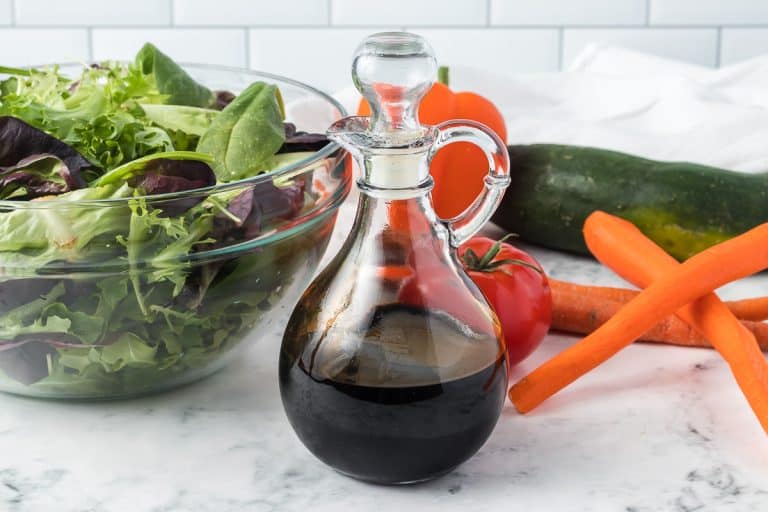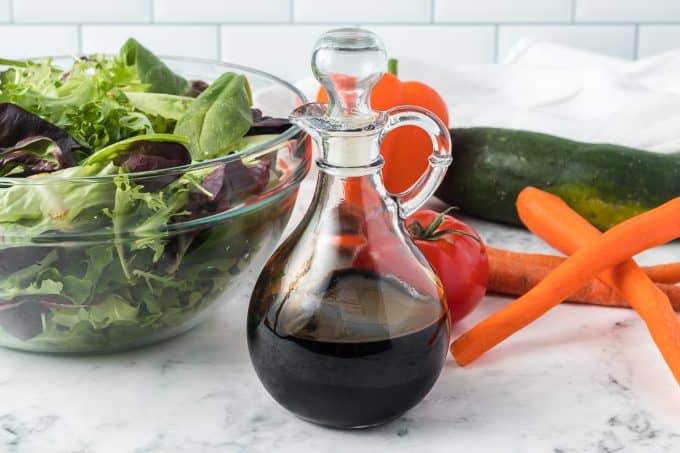 Balsamic Glaze is an easy way to add intense flavor to any dish!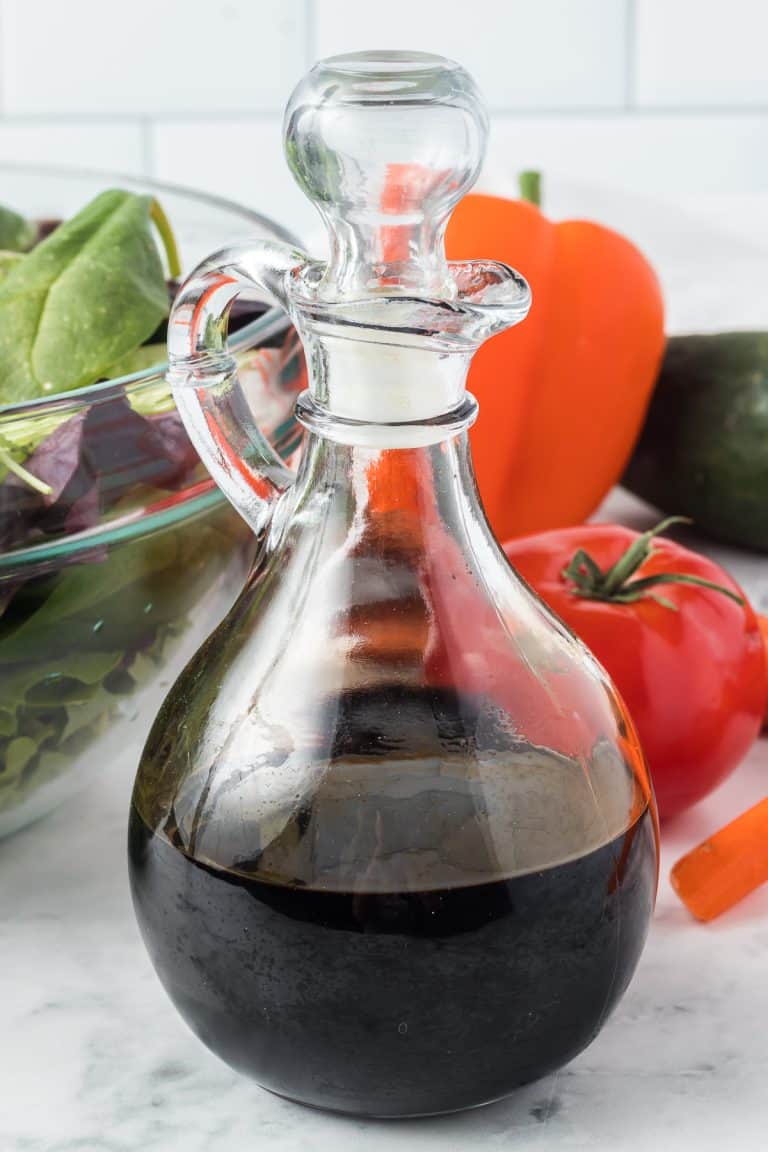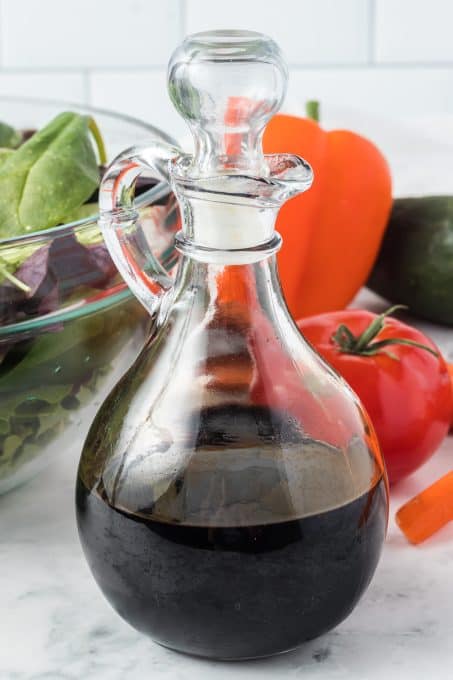 I seriously love food–cooking it and eating it. You don't start a blog about baking and cooking if you don't enjoy time in the kitchen. But like most of us with jobs and families, I just don't have time to spend hours bent over a stove to make something extraordinary and elaborate every day of the week.
Over the years I've collected a few hacks for making my food better, even when I'm short on time. Homemade sauces and homemade condiments are one way to do that. Not only do you know exactly what ingredients you're putting into them, but most often then not, they taste MUCH better than what you'd buy in the grocery store.
This easy Balsamic Glaze is one of the most versatile and easy of the bunch!
This savory sauce takes only minutes to make and has so many uses. You'll want to keep a batch of this sauce handy to add a pop of flavor to your meal whenever you need it!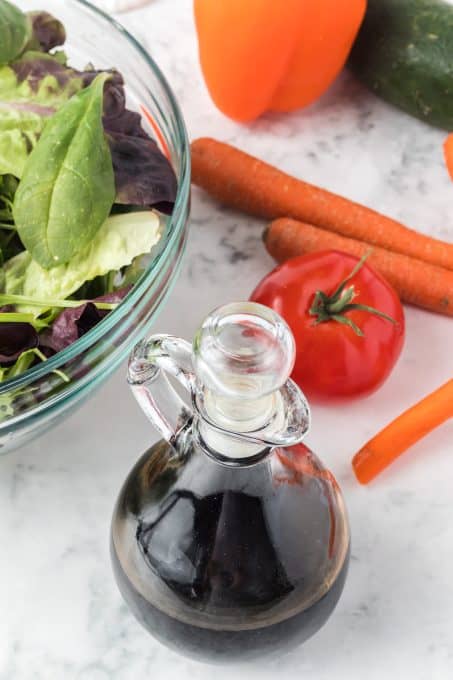 What is Balsamic Glaze?
Also called balsamic reduction, balsamic glaze is a sweet and tangy condiment made from balsamic vinegar. The vinegar cooks down on the stove until much of the water evaporates, leaving behind a flavorful syrup.
Balsamic glaze adds a complex acidity and hint of sweetness to any food. You can drizzle it over the top of salads like a caprese salad, fresh strawberries and other fresh fruit, cheese plates, fish, chicken, and pretty much anything else you can think of.
I use balsamic glaze as the finishing touch for these Cranberry Pecan Goat Cheese Bites. They're such an impressive appetizer already with a delicious blend of nutty, savory and sweet flavor. The balsamic reduction on top takes them to the next level in both taste and appearance.
This easy glaze recipe is also an incredible addition to my Roasted Brussels Sprouts and Oven Roasted Chicken recipes.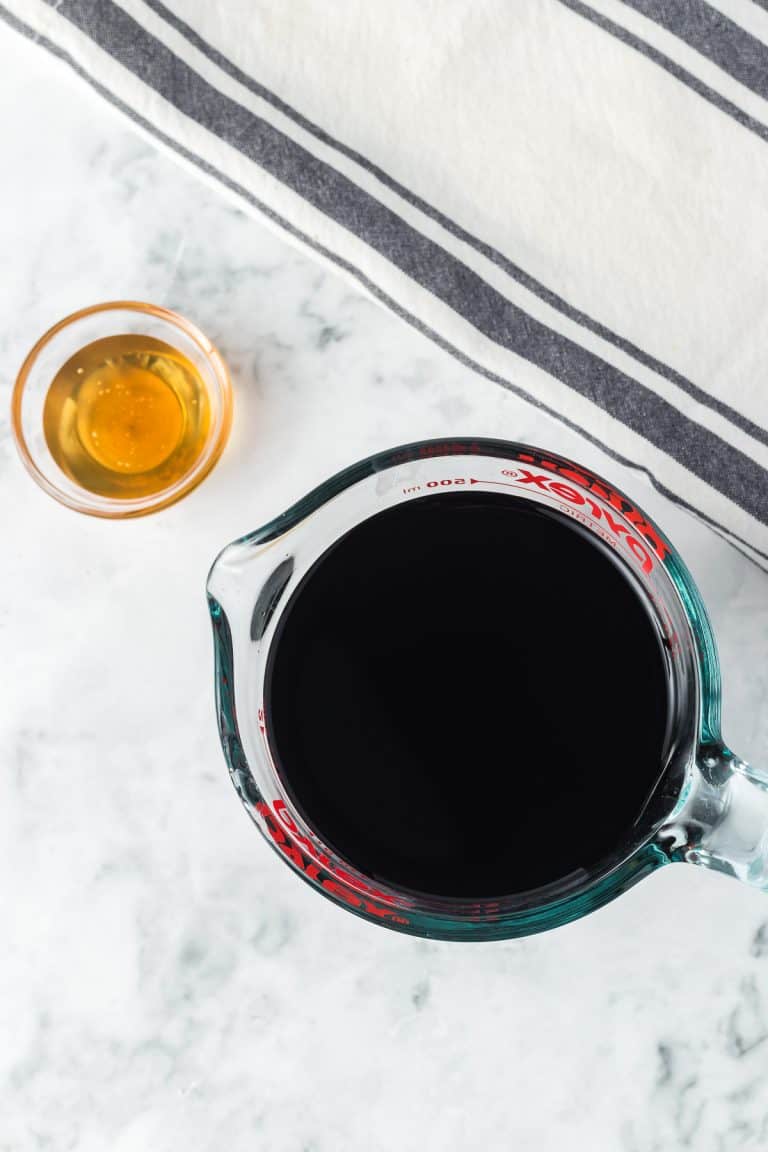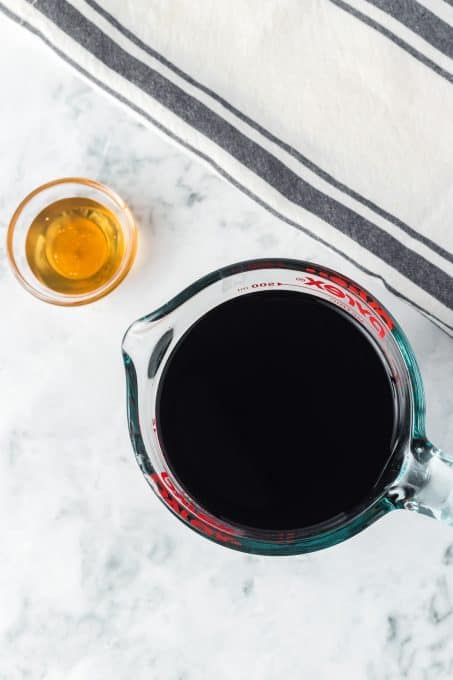 What do I need for this homemade balsamic glaze recipe?
To make a good balsamic glaze, you need to start with a good quality balsamic vinegar, like this one.
A decent balsamic vinegar will have a dark color and mixture of mellow acidity with sweet notes of cherry and molasses.
Your best bet is to look for brands labeled "balsamic vinegar of Modena". While you don't need to spend a fortune on the fanciest schmanciest vinegar in the world, now is not the time to go cheap. The watered down dollar store version isn't going to produce nearly the same results here.
To ensure that what you're purchasing is a good quality balsamic vinegar, "cooked grape" should be listed first in the ingredient list, and the shorter the list, the better it will be.
Also, know that just because it may be thicker, doesn't mean it's been aged and better quality. It may be only concentrated.
I also use honey in this easy balsamic glaze recipe to balance out the acidity. It's technically optional so feel free to leave it out for a tangier glaze.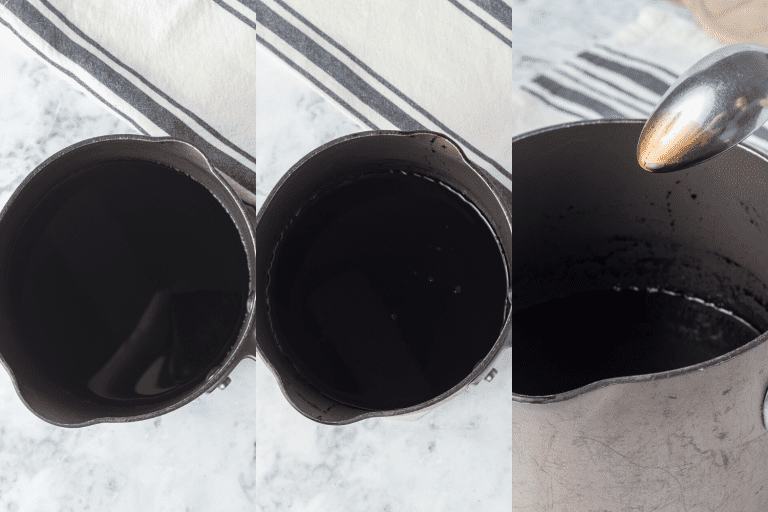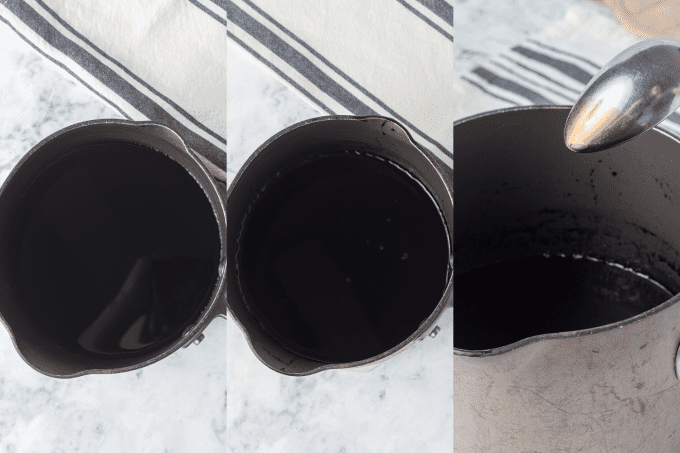 How do I make a reduction of balsamic vinegar?
Combine the balsamic vinegar and honey in a small saucepan on medium heat. Stir constantly until the mixture comes to a boil. Now turn the heat to low and simmer the vinegar mixture, stirring occasionally, until it's reduced to half of its volume.
Do yourself a favor and avoid standing directly over it when you're stirring. The smell is so intense that
When it's done, the glaze should a syrupy consistency and coat the back of a spoon. This takes about 25 minutes.
Make sure to let your homemade balsamic glaze cool completely. Then transfer the glaze to an air-tight container like a clean glass jar (I use a mason jar with a lid) and store it in the refrigerator.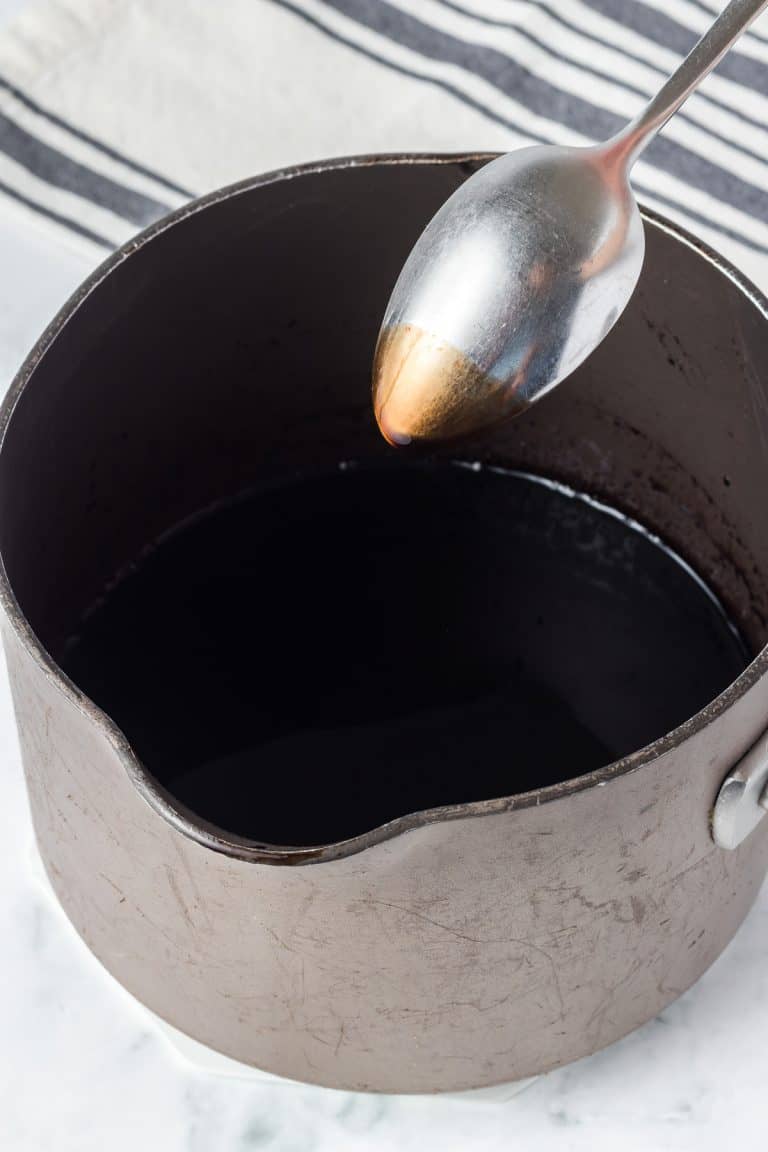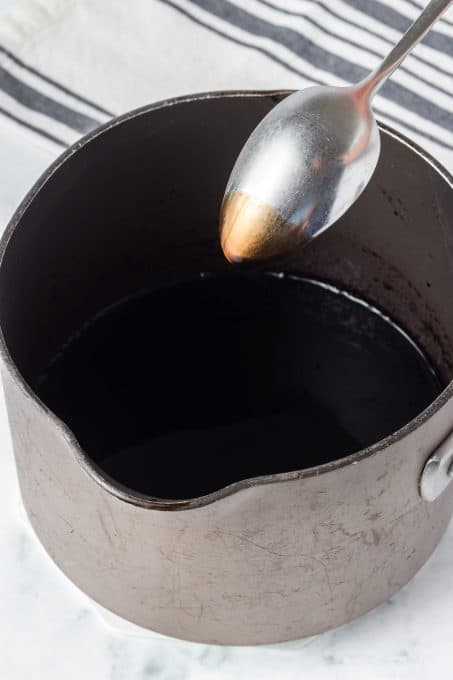 How long does balsamic glaze with honey stay good?
Balsamic glaze keeps well for about 2 weeks if properly sealed and refrigerated.
It's delicious chilled if you're using it on fresh salads, fruits or other cold dishes. When I add it to warm foods like chicken or cooked vegetables, I like to let it come to room temperature first, but that's just a personal preference.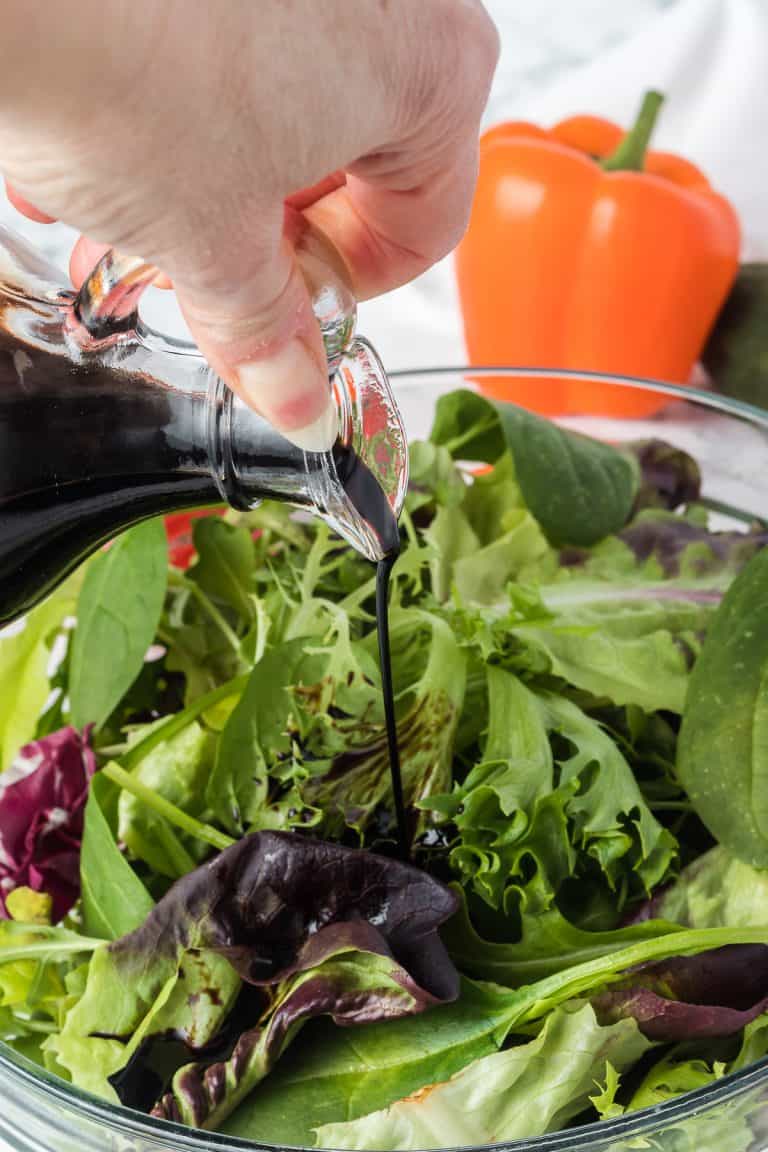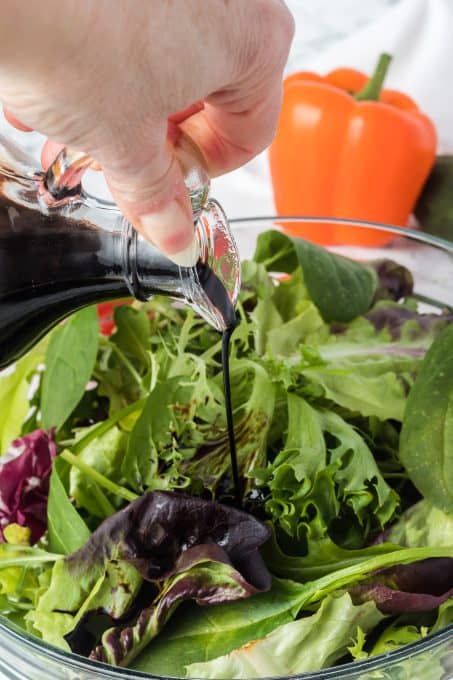 Appetizer Recipes
I mentioned how much I enjoy topping these Cranberry Pecan Goat Cheese Bites with a balsamic reduction. This Poached Pear and Goat Cheese Appetizer is another ideal vehicle for enjoying your homemade balsamic glaze.
I've been meaning to try topping some Cream Cheese Stuffed Mushrooms with this easy glaze, too. Doesn't that sound amazing?
When it comes to easy, crowd pleasing appetizer recipes, I've got you covered.
These Lasagna Pasta Skewers are a fun twist on the classic baked version—no utensils required. For another appetizer-style version of a popular pasta recipe, try my Breaded Baked Ravioli. It's just as good as any of the restaurant versions and easier to make than you think.
When all else fails, I fall back on this Quick and Simple Cheese Fondue recipe. It takes just 5 minutes to make with inexpensive ingredients and everyone loves it! For a more refined variation, try this Beer Cheese Dip served with homemade pretzel bites.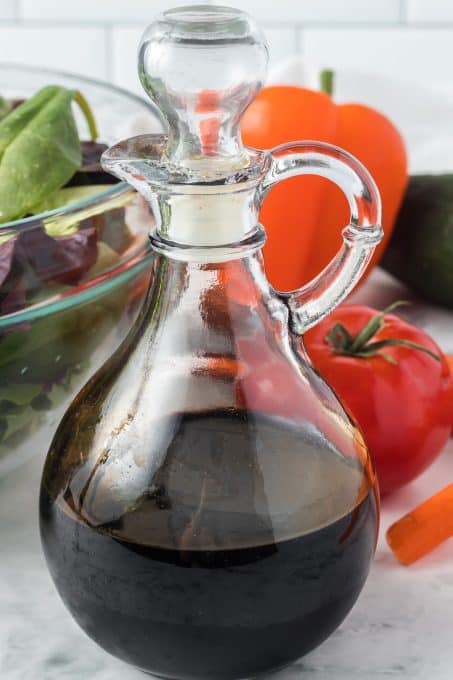 This easy recipe with just a few simple ingredients is a delicious condiment to have on hand. The tangy flavor of this balsamic vinegar glaze is the perfect accompaniment to egg dishes, aged cheeses, fruit salads, pork chops, and on the top of salads.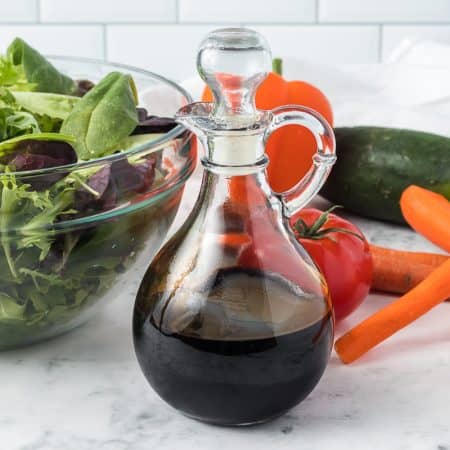 Learn how to make the best Balsamic Glaze with 2 ingredients in this simple recipe. This balsamic vinegar reduction is a delicious sauce for drizzling over everything from meat to vegetables!
Ingredients
2 cups good quality balsamic vinegar
1 tablespoon honey
Instructions
In a medium saucepan, combine the balsamic vinegar and honey over medium heat. Stir until it comes to a boil.

Reduce heat to low and simmer for about 25 minutes, stirring occasionally. Glaze will be done when contents has reduced to half of the original amount and it will coat the back of a spoon.

Allow it to cool completely before storing in a tightly sealed jar or container and place into the refrigerator.
Notes
Nutritional information calculated in tablespoons. Read the post on how to choose the best quality balsamic vinegar for this recipe.
Nutrition
Serving: 1tablespoon | Calories: 32kcal | Carbohydrates: 7g | Protein: 0.2g | Sodium: 7mg | Potassium: 36mg | Fiber: 0.003g | Sugar: 6g | Vitamin C: 0.01mg | Calcium: 9mg | Iron: 0.2mg
Did you make this recipe?
Share it with me on Instagram and make sure to follow me on Pinterest for more recipes.
Reader Interactions