This is a sponsored post written by me on behalf of Shaw's Supermarket. All opinions are 100% mine.
Roasted Chicken and Vegetables recipe is an easy sheet pan dinner. Marinated chicken thighs, along with onion, squash, and Brussels sprouts tossed in herbs and bacon grease, are baked in the oven then sprinkled with bacon. It's a dinner good for any night of the week.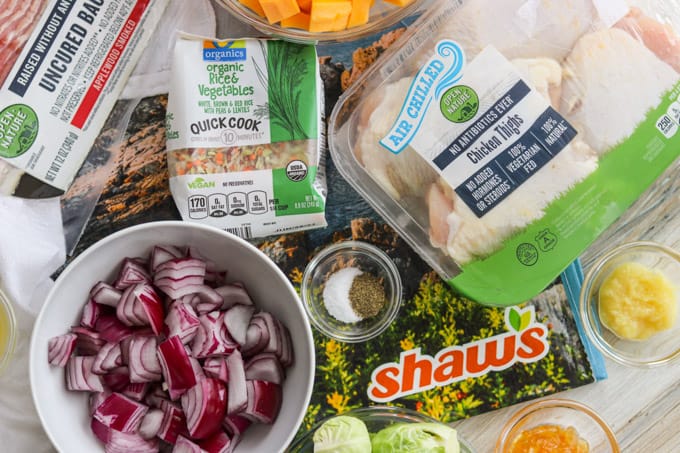 I don't care what time of year it is, easy dinners are where it's at.
And, if you're anything like me, you probably ask yourself that age-old question, "what am I going to make for dinner?" quite a bit, right?
Or maybe you're a bit more organized than I am and meal plan for the week.
Either way, this chicken recipe will serve you well.
SAVE THIS ROASTED CHICKEN and VEGETABLES RECIPE TO YOUR FAVORITE PINTEREST BOARD!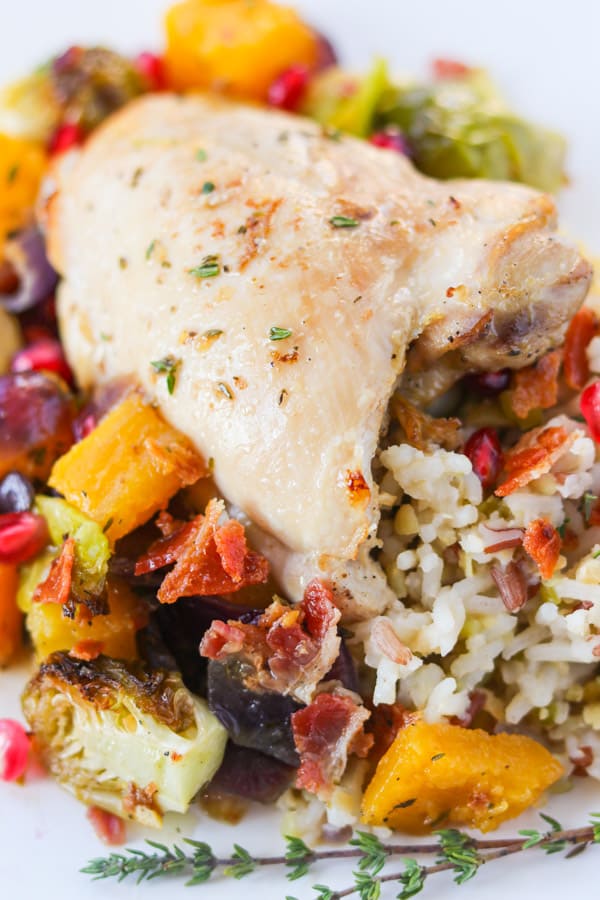 One of the dinner sides my family loves most is roasted vegetables.
Seriously, they are just soooo good!
AND, we eat A LOT of chicken, so combining the two into one easy meal was a no-brainer.
Easy dinner and easy cleanup – I like that!
I buy my groceries at my local Shaw's Supermarket and I love the variety of exclusive items I find there.
They had everything I needed and more so I could put this incredible meat and cheese board together.
I usually go shopping by myself, but there have been days when I've just wanted my groceries delivered.
And they do that!
They also offer a pick up service.
All I have to do is order my groceries online or through their app.
I love that Shaw's Supermarkets offers Grocery Delivery and Pick Up for convenient ways to shop!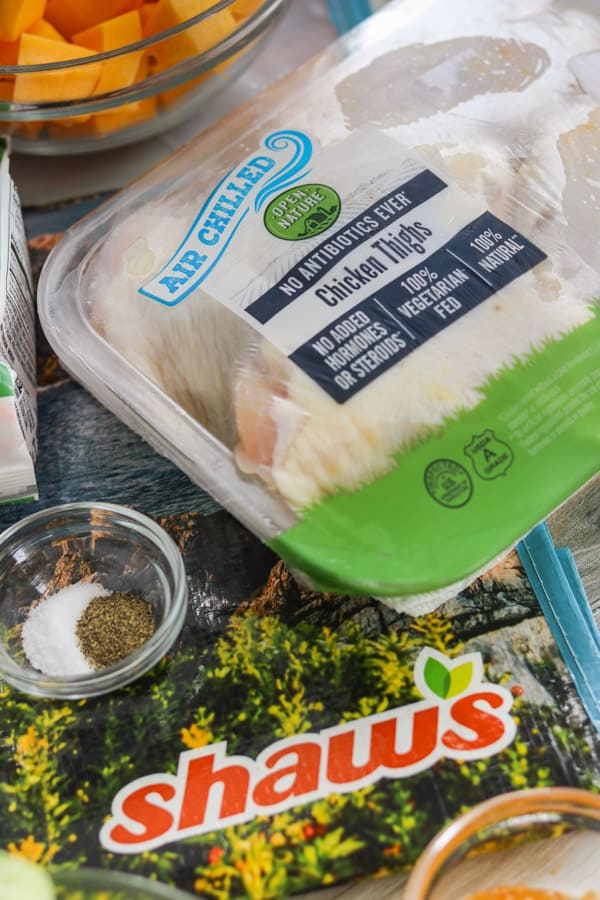 Shopping at Shaw's Supermarket is easy, convenient, and it's where I can find Open Nature® products exclusively.
Open Nature offers value items that are minimally processed, and high quality.
There's something for everyone in the family with plant-based, high-protein, and gluten-free products.
I love their Air Chilled chicken.
What's air chilled you ask?
These are chickens that are individually processed in a series of cold chambers with purified air.
There's no retained water which results in a more intense flavor in the chicken and makes it better for marinades. BOOM!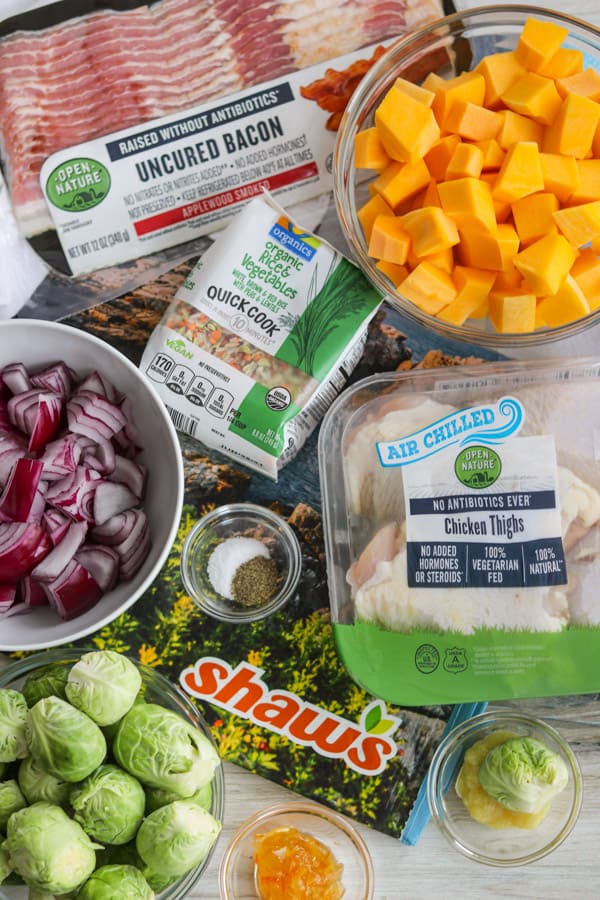 Open Nature Chicken –
contains NO antibiotics EVER

is 100% vegetarian fed

contains NO added hormones or steroids

is now air-chilled for more intense flavor
I buy my groceries at my local Shaw's Supermarket, but you can find a variety of Open Nature Air Chilled Chicken products exclusively at the Albertsons Companies family of stores which include Albertsons, Safeway, ACME Markets, Jewel-Osco, Randall's Shaw's Supermarket, Star Market, Tom Thumb, and Vons.
How do you cook roast chicken and vegetables?
Cooking the chicken and vegetable together is easy and helps make dinner so easy to prepare!
Start by marinating the chicken. Place it into the refrigerator for a minimum of two hours.
Bake the bacon! Start with a cold oven. It will come out perfectly every time! Save the bacon grease. You'll use it for added flavor.
Cut up your onion, butternut squash, and prepare those Brussels sprouts. Don't like those? Use the same amount of sweet potatoes and broccoli.
Toss the vegetables with the bacon grease, olive oil, thyme, salt and pepper.
Place the marinated chicken thighs onto the baking sheet. Make it easy and use the same pan you used to cook the bacon – less cleanup! Then surround them with all of the veggies.
Bake at 425° for about 30 minutes or until the internal temperature of the chicken registers 165°F.

This is a great recipe to make-ahead!
You can prep the ingredients – marinate the chicken, bake the bacon and reserve the bacon grease, and chop the vegetables in the morning or night before then store them in the refrigerator until you're ready to roast!
TIP: If you find that the skin on the chicken is browning too quickly for your liking or before it's time to be taken out of the oven, cover the baking pan with a sheet of tin foil.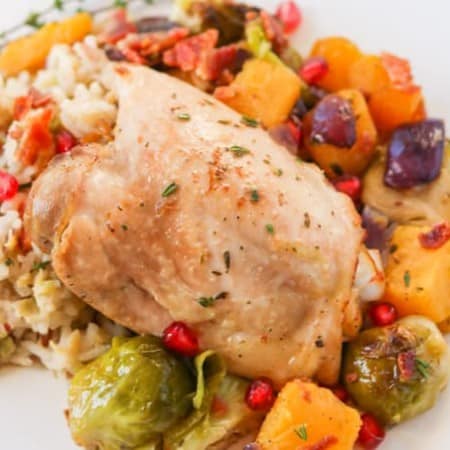 Roasted Chicken and Vegetables
Roasted Chicken and Vegetables is an easy sheetpan dinner. Chicken thighs, onion, squash, and Brussels sprouts are baked in the oven tossed with bacon grease then sprinkled with the bacon for a dinner that is good any night of the week. 
Ingredients
Chicken Marinade
4 Open Nature Air Chilled Chicken Thighs
2 tablespoons soy sauce
1 tablespoon orange marmalade
1 tablespoon fresh lemon juice
1 ½ teaspoons fresh ginger
½ teaspoon kosher salt
¼ teaspoon black pepper
Bacon
8 slices Open Nature Uncured Bacon uncooked, and you'll reserve the bacon grease
2 tablespoons reserved bacon grease
Roasted Vegetables
3 tablespoons olive oil
3 ½ teaspoons freshly chopped thyme
¾ teaspoon kosher salt
½ teaspoon pepper
1 pound butternut squash cut into 1-inch pieces
16 ounces Brussels sprouts outer leaves and ends removed, cut in half
1 large red onion cut into 1-inch pieces
8.8 ounces O Organics Organic Rice & Vegetables
¼ cup pomegranate arils for garnish, if desired
Instructions
Chicken Marinade
Put the soy sauce, orange marmalade, lemon juice, ginger, black pepper, and salt into a resealable plastic bag and mix. Add the 4 chicken thighs, seal the bag, and move the chicken around to coat. Place into refrigerator to marinate for a minimum of two hours. Turn bag over after first hour, if possible.
Bacon
Put the 8 slices of bacon onto a rimmed baking sheet. Place a rack in the middle of the oven and put the bacon in. Turn the oven on to 400°F. and cook for about 22 minutes or until bacon is done to your liking. *SEE RECIPE NOTE!* (Do not clean the pan - you'll use it to cook the chicken and vegetables.) Place the bacon onto a plate lined with a paper towel and pour the grease into a large bowl.
Roasted Chicken and Vegetables
Preheat oven to 425°F.

In the large bowl with the bacon grease, add the olive oil, thyme, salt, and pepper, and mix. Add the butternut squash cubes, halved Brussels sprouts, and cut red onion. Toss to coat.

Spray the rimmed baking sheet with cooking spray and place the 4 chicken thighs on it. Surround the chicken with the vegetables.

Put the chicken and vegetables into the oven and bake for about 30 minutes or so. Chicken will be cooked when internal temperature reads 165° on a thermometer.

While chicken and veggies are in the oven, cook the O Organics Organic Rice & Vegetables according to package directions.

Evenly sprinkle bacon over the sheet pan. Add about a tablespoon of pomegranate arils to each dish and serve with O Organics Organic Rice & Vegetables.
Notes
*For baking bacon: Begin with a cold oven and set the temperature to 400°F. Look to see how it's doing after it's been in for 10 minutes. Then continue to cook it, checking every three minutes. I will take mine out after about a total of 22 minutes. I like to check every so often because it can burn very quickly if ignored. 
*If you find that the chicken skin is browning too quickly before it's finished cooking, cover pan with a sheet of tin foil.
Nutrition
Serving: 1g | Calories: 674kcal | Carbohydrates: 42g | Protein: 31g | Fat: 44g | Saturated Fat: 12g | Cholesterol: 150mg | Sodium: 1392mg | Potassium: 1259mg | Fiber: 8g | Sugar: 11g | Vitamin A: 13105IU | Vitamin C: 128mg | Calcium: 128mg | Iron: 4mg
Did you make this recipe?
Share it with me on Instagram and make sure to follow me on Pinterest for more recipes.
Reader Interactions