This Gingerbread Biscotti with molasses is lightly sweetened and full of flavorful warming spices. Cozy gingerbread spices are at their best baked into crunchy biscuit cookies and served with a hot mug of coffee!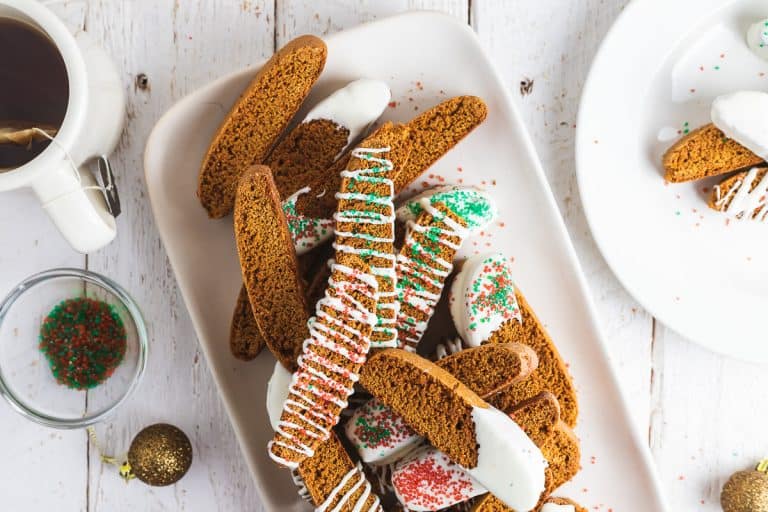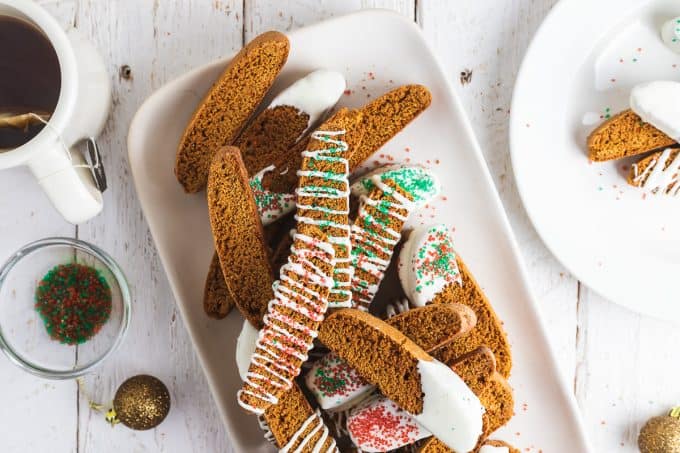 The holiday season is not complete without a few kinds of gingerbread cookies in the mix. Maybe it's the nostalgia factor, but even the smell of these spiced biscotti as they bake is enough to get me in the seasonal spirit.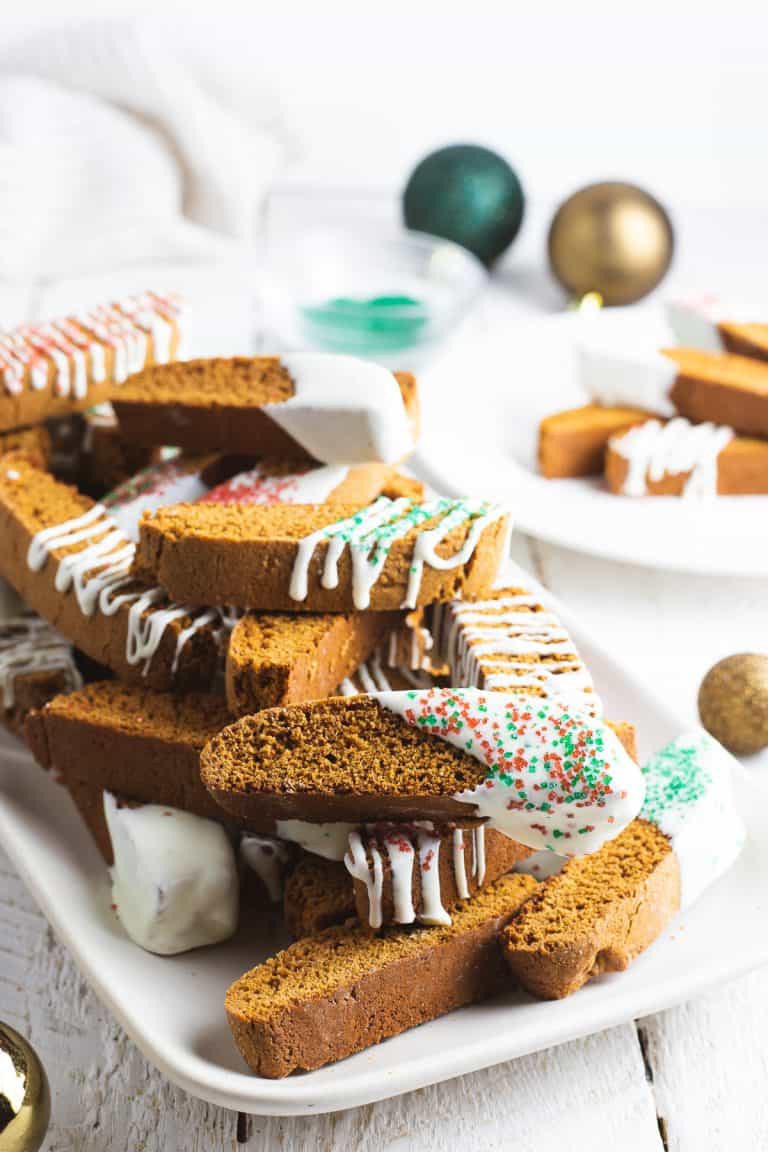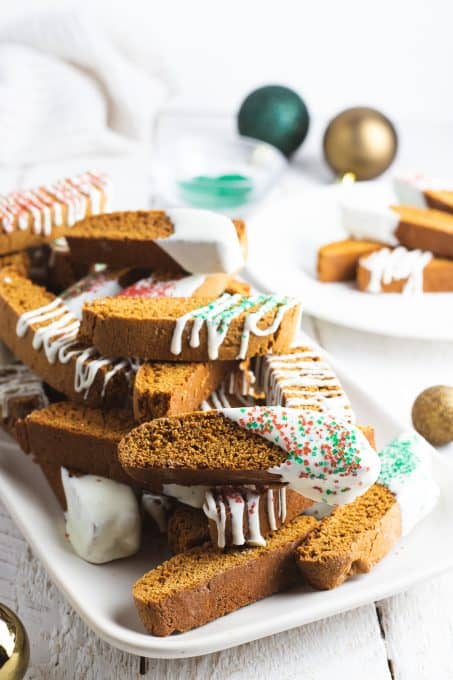 Then, there's the taste: a perfect combination of warm spices including ginger, cinnamon, and cloves all baked to toasty perfection in classic biscotti!
These are simply too good to enjoy just once a year. Why not let gingerbread biscotti become a regular accompaniment to your morning cup (or pot) of coffee no matter the season?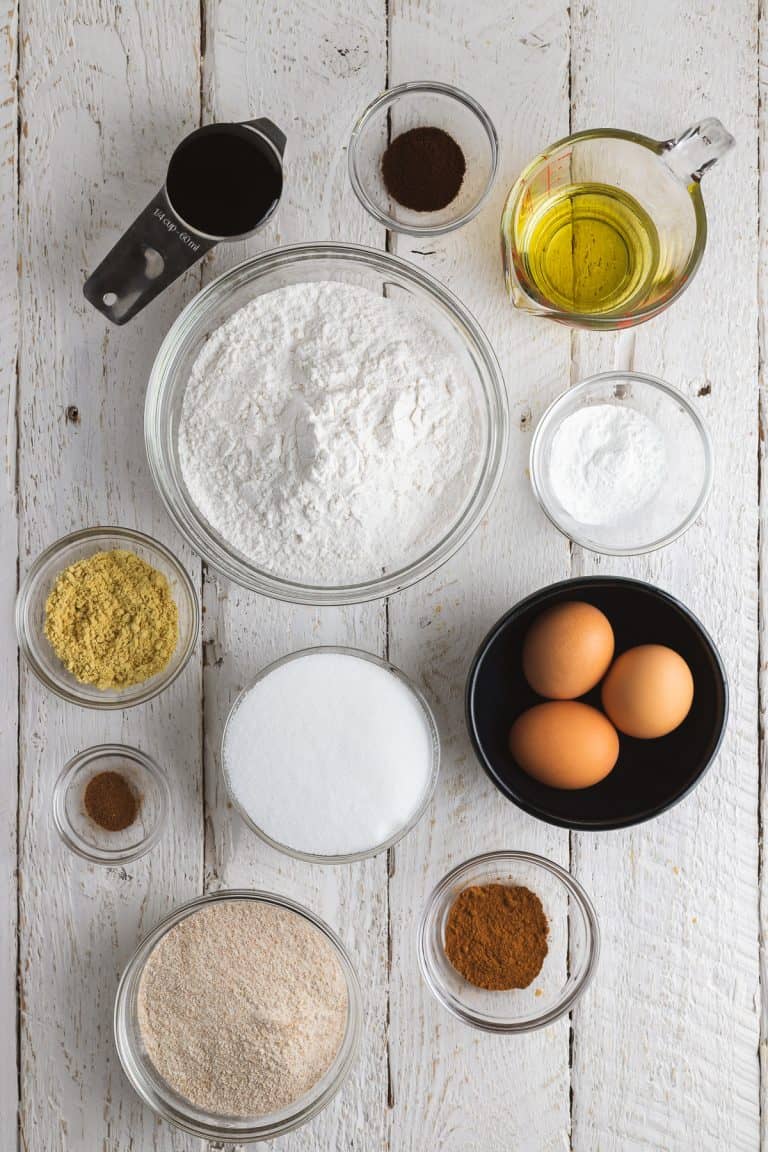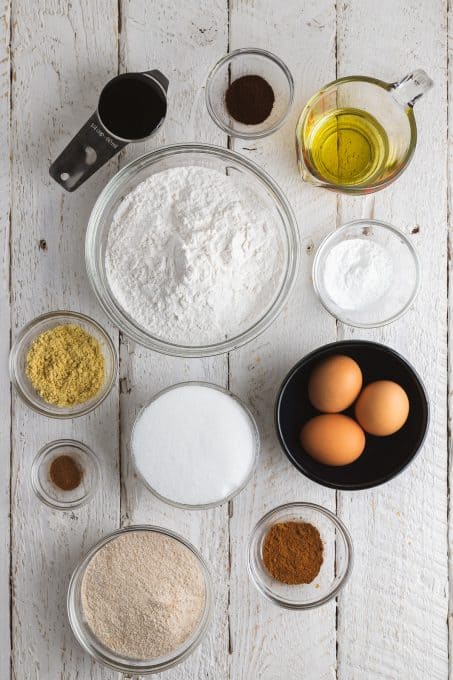 What do I need for this delicious biscotti recipe?
You will need these ingredients to make this easy homemade biscotti:
vegetable oil
sugar
large eggs (room temperature)
molasses
all-purpose flour
whole wheat flour
baking powder
ginger
cinnamon
cloves
nutmeg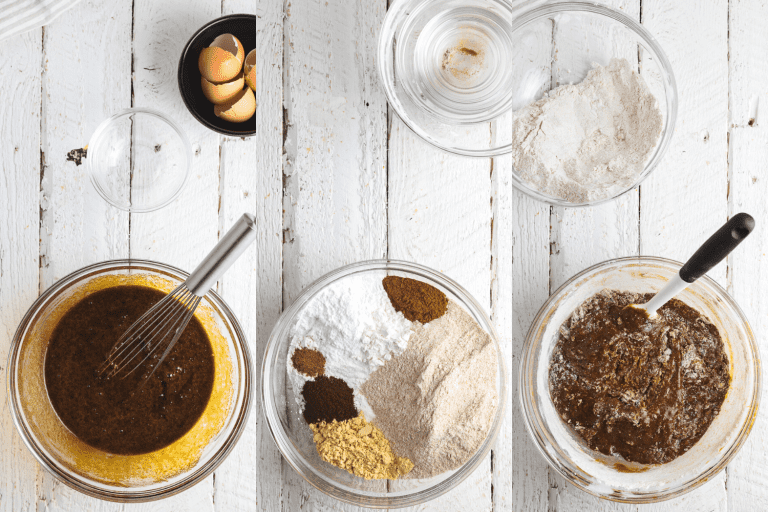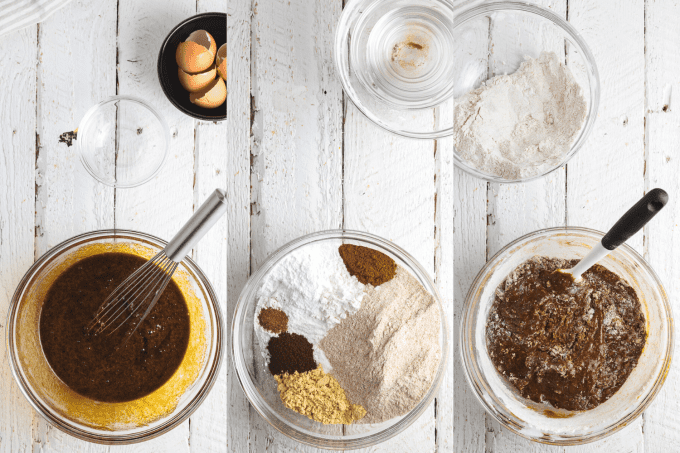 Why whole wheat flour?
You might be surprised to see whole wheat flour in a cookie recipe! Using the higher fiber, grainier flour makes biscotti harder by absorbing more water. In this recipe, I use a combination of white and whole wheat so that the biscotti have a hard bite without tasting nutty or grainy.
Ground spices or freshly grated?
It is sure hard to beat the convenience of ground spices when you're baking! In this recipe, I use primarily ground spices, with one exception: nutmeg. You only need a tiny amount of it to make a huge difference in the aromatic flavor of these gingerbread biscotti with molasses.
You can find containers of whole nutmegs in the spice aisle at most well-stocked grocery stores. Grate the nutmeg with a sharp food razor or this grating tool I have in my kitchen, just before adding it to the biscotti dough.
That being said, if you can't find whole nutmeg or simply prefer not to use it, feel free to use ground nutmeg in this recipe. I guarantee it will still taste (and smell) fantastic.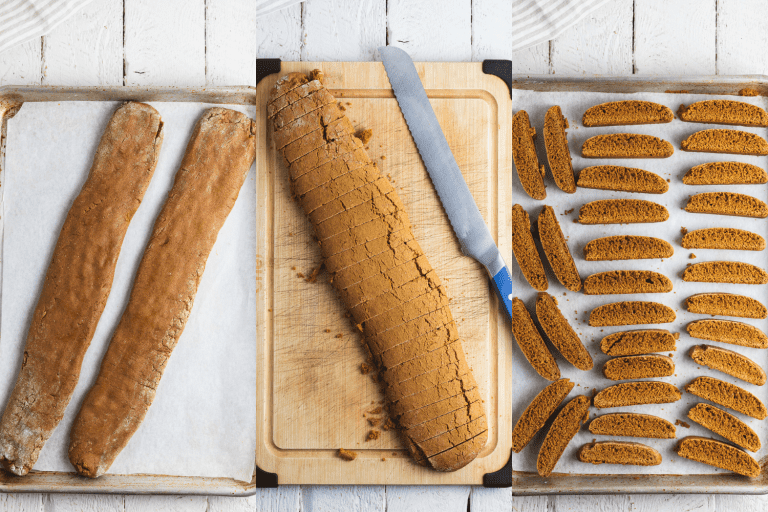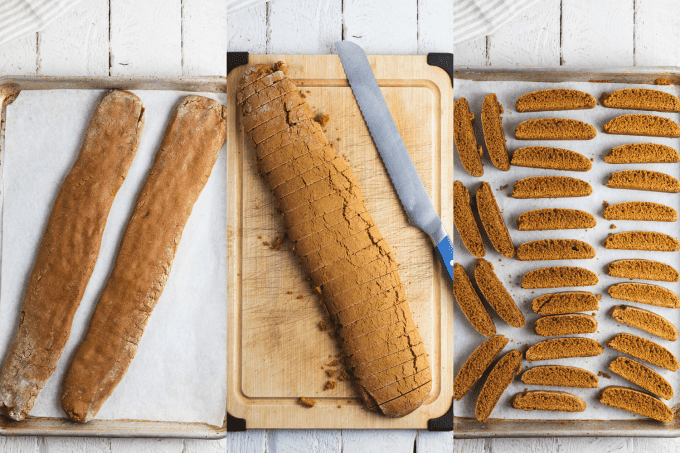 How to make Gingerbread Biscotti
If you've never made biscotti before, this easy biscotti recipe is the perfect way to start, and making it is much easier than you would think!
First, beat together oil, eggs, sugar, and molasses with an electric mixer in a medium bowl until combined. Then mix the dry ingredients together in a separate large bowl at low speed. Gradually add the flour mixture to the wet ingredients and combine until a thick dough forms.
On a lightly floured surface, divide this stiff dough into two logs about the length of your baking sheet.
Place your biscotti logs onto your prepared baking sheet lined with parchment paper and set the timer for a first bake to about 25 minutes. Then, using a sharp serrated knife and a cutting board, cut the logs into half-inch-wide slices. Place slices on their side and put them back in the oven again for a second bake, about 5 minutes.
Finally, flip them once last time and let them bake until crisped and golden brown (another 5 minutes or so).
As difficult as it will be to resist biting into a crunchy cookie as soon as they come out of the oven, make sure to let them cool on a wire rack first!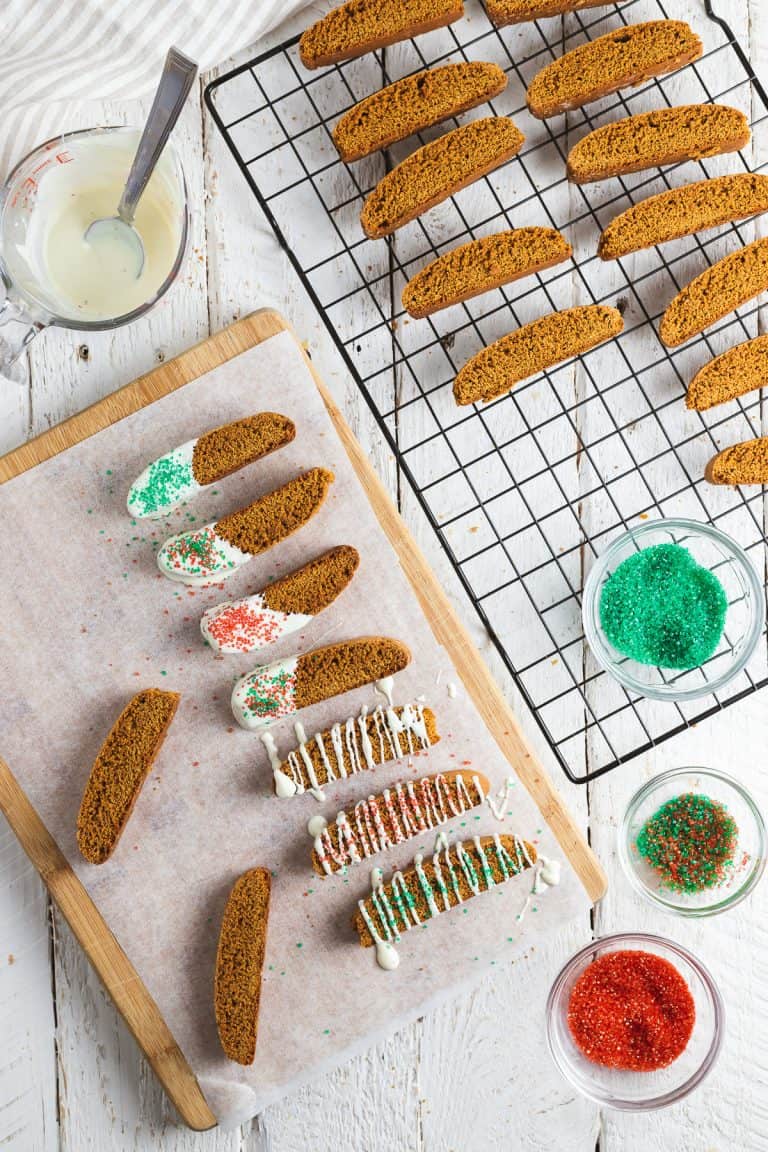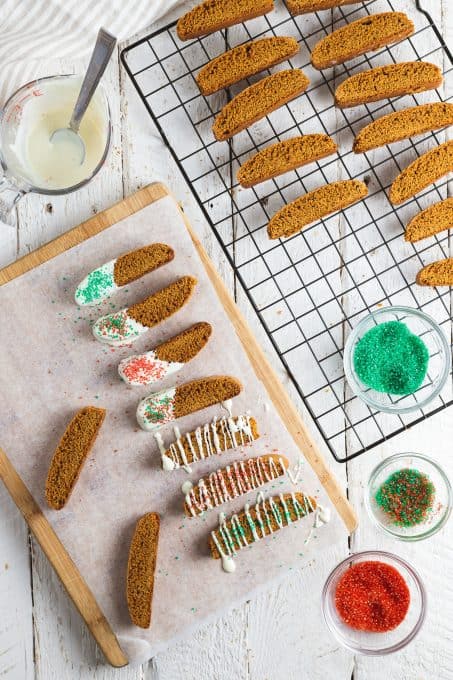 Serving Suggestions
Everyone knows that biscotti are best served with something hot to dunk them in! A freshly-brewed hot cup of coffee or strong espresso is the traditional dunker of choice, but why not get a little creative to make your biscotti breakfast even more fun?
The lightly sweetened cookies pair well with sweeter beverages like our homemade Hot Chocolate and White Chocolate Mocha. Or, for a breakfast combination that ginger lovers will go crazy for, try gingerbread biscotti with a Cookie Butter White Chocolate Mocha too!
If you're more of a tea person than a coffee connoisseur, I can't think of anything better than fresh gingerbread biscotti dipped in sweet and spicy Chai Tea on a cold winter day.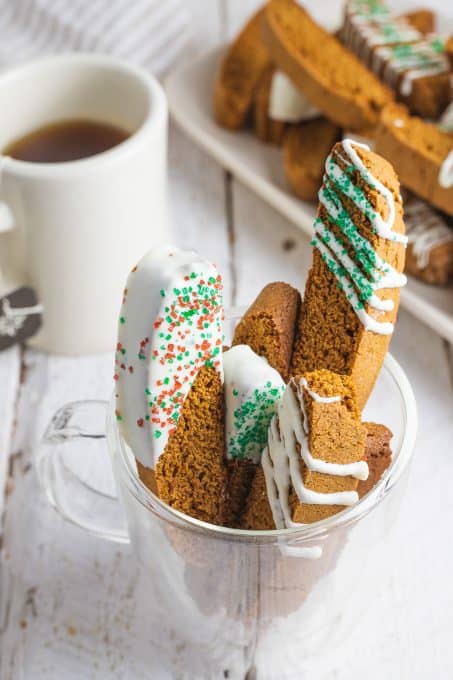 Biscotti Recipes
Once you have mastered the art of homemade biscotti, there are nearly endless combinations of flavors and mix-ins to try! These Peppermint Chocolate Biscotti with white chocolate drizzle are a hit at Christmas cookie exchanges and make a great gift!
These fruity Cranberry Orange Pistachio Biscotti and Citrus Biscotti recipes are two more of our reader favorites. Store-bought biscotti just can't compare with a freshly homemade treat! They'll also make great gifts, too.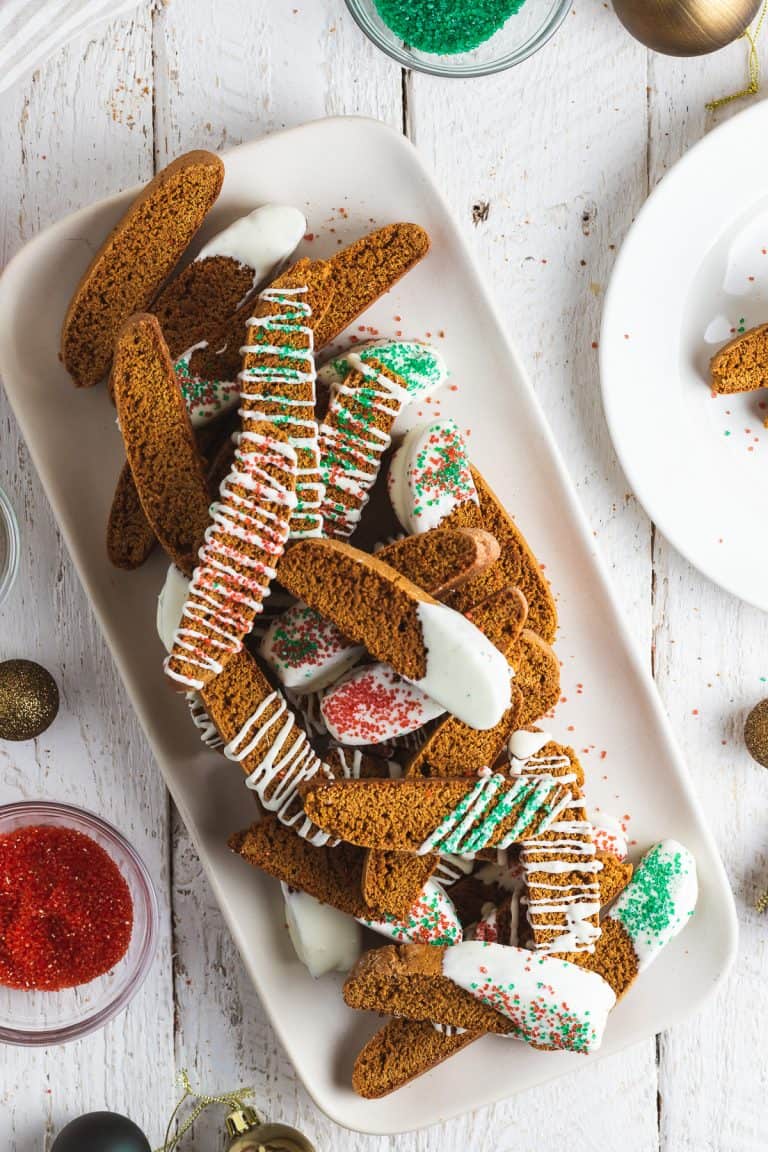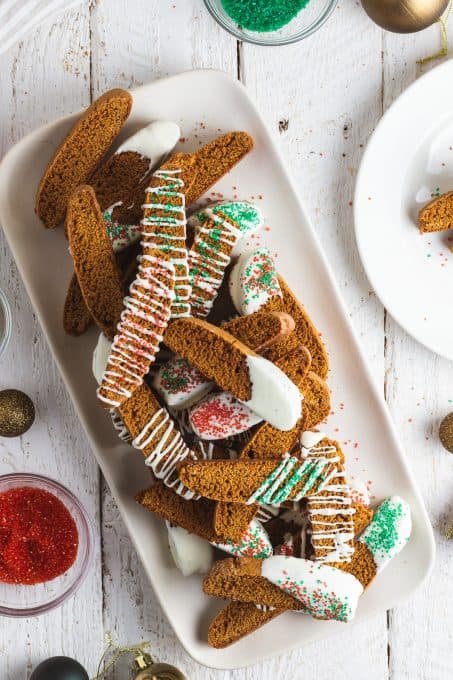 More Cookie Recipes
From more ginger cookie variations to revamped childhood favorites, we have all the cookie recipes you need to satisfy your sweet tooth all year long.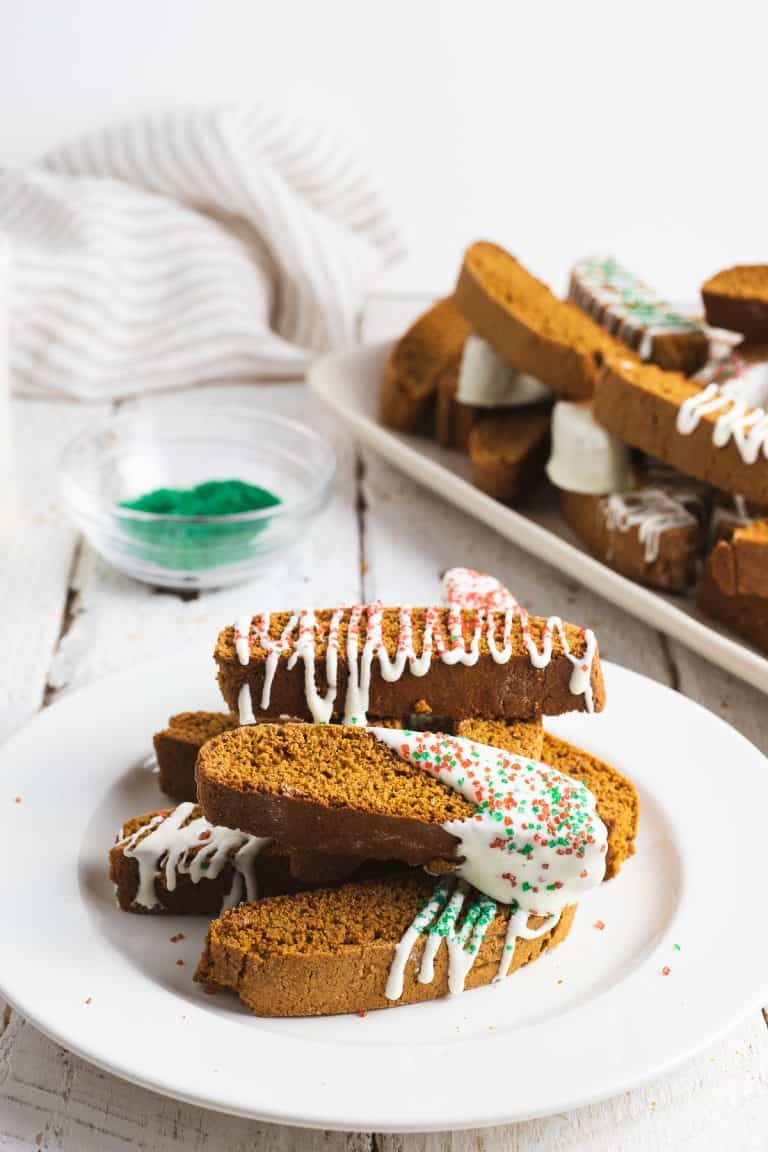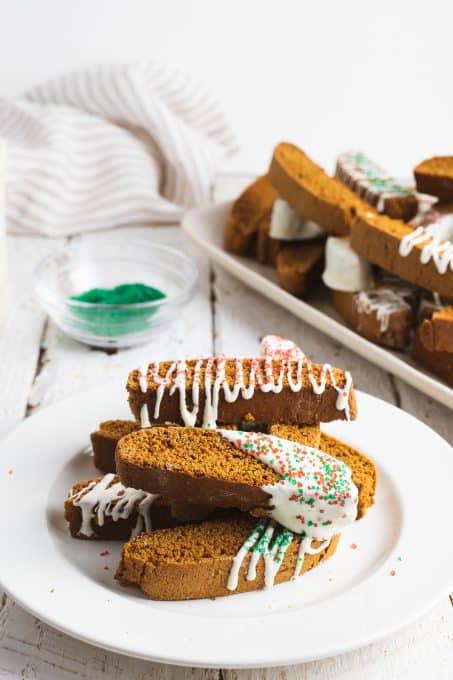 Get cozy with homemade Gingerbread Biscotti! This easy biscotti recipe has the perfect blend of spices and rich molasses flavor.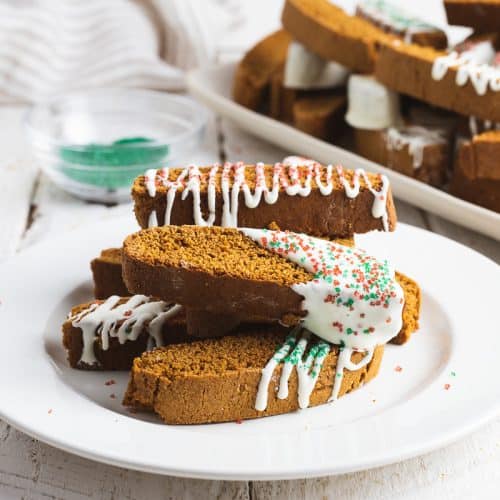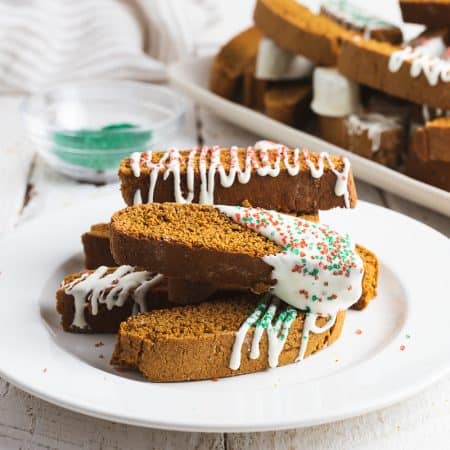 These crunchy biscotti are filled with the warming spices of classic gingerbread. Lightly sweetened and baked to crisp perfection, they're the perfect match for your Christmas morning coffee.
Ingredients
⅓ cup vegetable oil
3 large eggs
1 cup sugar
¼ cup molasses
2 ¼ cup all purpose flour
1 cup whole wheat flour
1 tbsp baking powder
1 ½ tbsp ground ginger
1 ¼ tsp ground cinnamon
1 ½ tsp ground cloves
¼ tsp freshly grated nutmeg
⅓ cup White Chocolate Chips
red and green colored sprinkles
Instructions
Preheat the oven to 375°F. Line a baking sheet with parchment paper.

In a large mixing bowl, beat together oil, eggs, sugar and molasses until combined.

In a separate bowl, whisk together the flours, baking powder, ginger, cloves, cinnamon and nutmeg. Gradually add the flour mixture to the wet mixture until a stiff dough forms.

Divide the dough in half. On a lightly floured surface, roll each half of the dough into a log the length of your cookie sheet (about 18 inches). Place the logs on the baking sheet. Use your hand to pat down the dough until it is 1/2 an inch thick.

Bake for 25 minutes. Remove biscotti logs from the oven and let cool slightly, just until the dough is cool enough to handle (about 5 minutes). Use a serrated knife to cut biscotti logs into 1/2 inch thick slices.

Flip the biscotti slices on their side with one cut end up and one cut end down. Return to the oven and bake for 5 – 7 minutes. Flip the biscotti and bake for another 5-7 minutes or until the cookies are hardened. Allow to cool completely before dipping in melted chocolate.

Prepare a work surface or room temperature cookie sheet with a sheet of parchment.

In a small microwaveable bowl, melt the white chocolate chips for 30 seconds. Stir well, and heat for additional 1o second increments, stirring in between until chocolate is melted and completely smooth. Dip one end of each cookie into the white chocolate and place onto the parchment-lined surface. Decorate with colored sprinkles.
Notes
Store biscotti in an airtight container at room temperature. Enjoy within 2 weeks of baking for best taste. 
Nutrition
Serving: 1cookie | Calories: 63kcal | Carbohydrates: 13g | Protein: 1g | Fat: 1g | Saturated Fat: 0.4g | Polyunsaturated Fat: 0.1g | Monounsaturated Fat: 0.2g | Trans Fat: 0.001g | Cholesterol: 12mg | Sodium: 7mg | Potassium: 77mg | Fiber: 1g | Sugar: 6g | Vitamin A: 18IU | Vitamin C: 0.01mg | Calcium: 22mg | Iron: 1mg
Did you make this recipe?
Share it with me on Instagram and make sure to follow me on Pinterest for more recipes.
This post was originally published 12/9/11. It has been updated in format and with pictures 11/14/22. Recipe adapted from AllRecipes.

Reader Interactions