Ginger Molasses Snickerdoodles. Your favorite chewy cinnamon sugar cookies with the addition of ginger and molasses. This snickerdoodles recipe is perfect for the holiday season!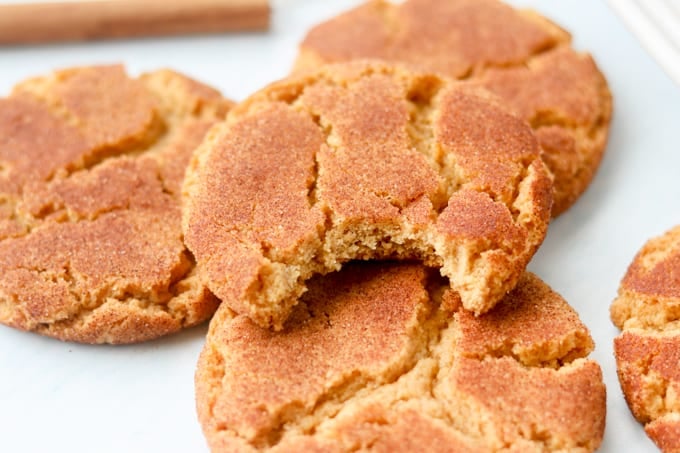 Are you ready for me to wax poetic about these cookies? They're right up there with Chai Snickerdoodles in deliciousness.
I've fallen head over heels for these babies. I've always loved a Snickerdoodle. I love eating them and I LOVE saying the word.
SNICKERDOODLE. Try saying it without smiling. Impossible.
SAVE THESE SNICKERDOODLES TO YOUR FAVORITE PINTEREST BOARD!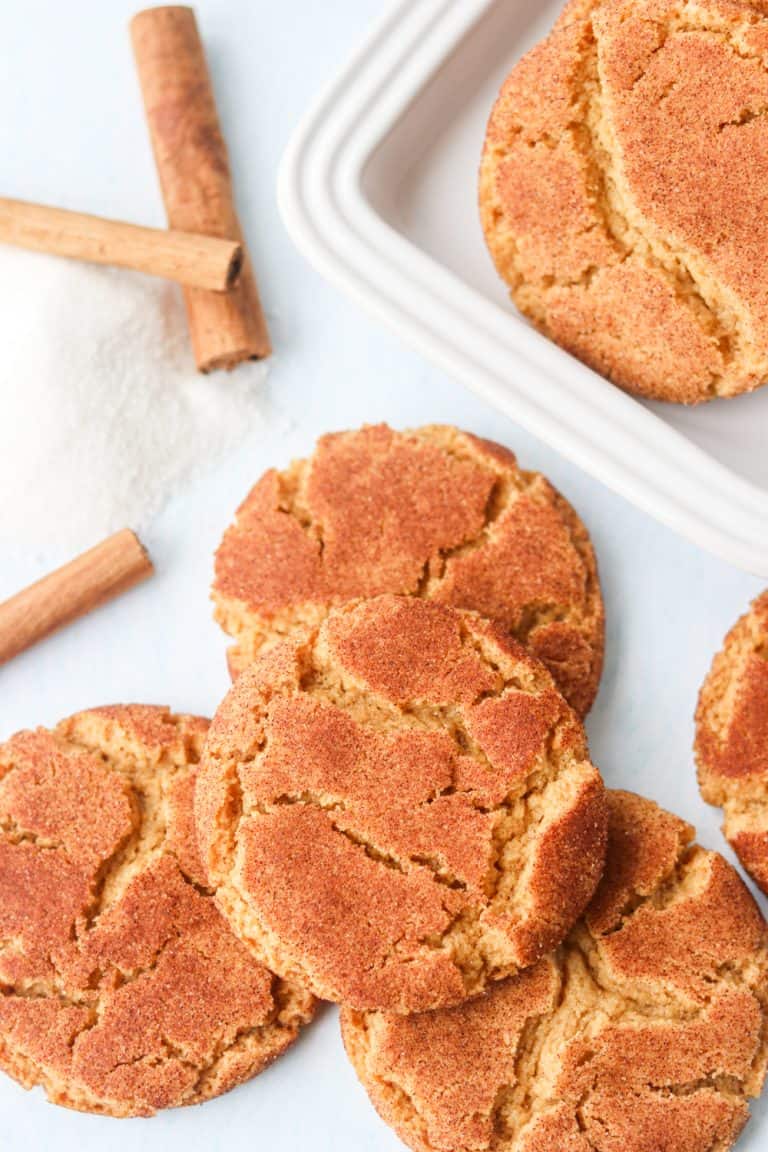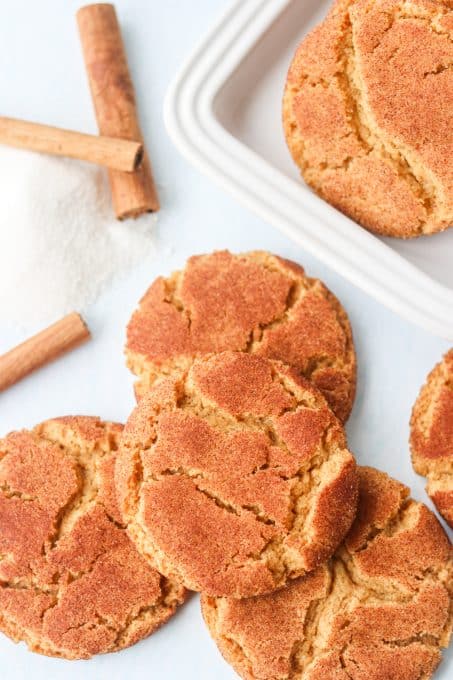 I found this recipe for Emeril's Snickerdoodles and made them early on in my blogging journey. As the years pass, I find myself coming back to that Snickerdoodles recipe over and over.
The simple sweet cookie dusted with cinnamon sugar is already perfect for the holiday season. But this year I couldn't resist making them just a little bit warmer, spicier and festive! Adding ginger and molasses elevated the cookies to the next level of amazing.
I have to say that I am very pleased with the results. Even my daughter said that my cookie game was on point, so that must be sayin' something. I mean, LOOK at that cinnamon and sugar all over that cookie!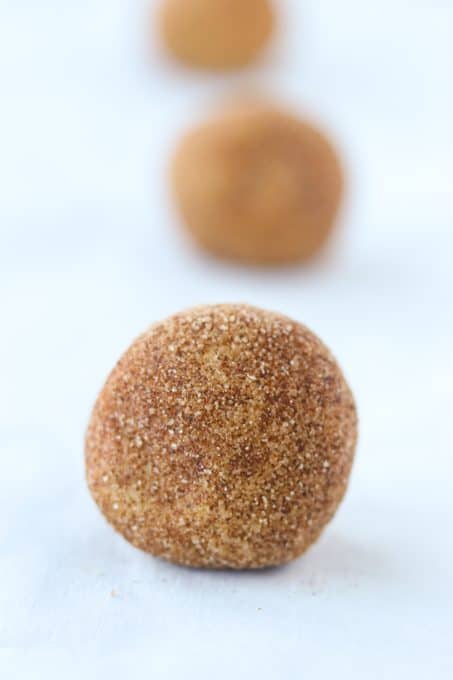 *SWOON*
The combo of cinnamon and ginger flavor makes these extra cozy. Eating them makes me want to curl up next to a fireplace and watch the snow fall.
Even if I can't quite live out that particular Christmas Card-worthy fantasty, at least I can eat more Ginger Molasses Snickerdoodles!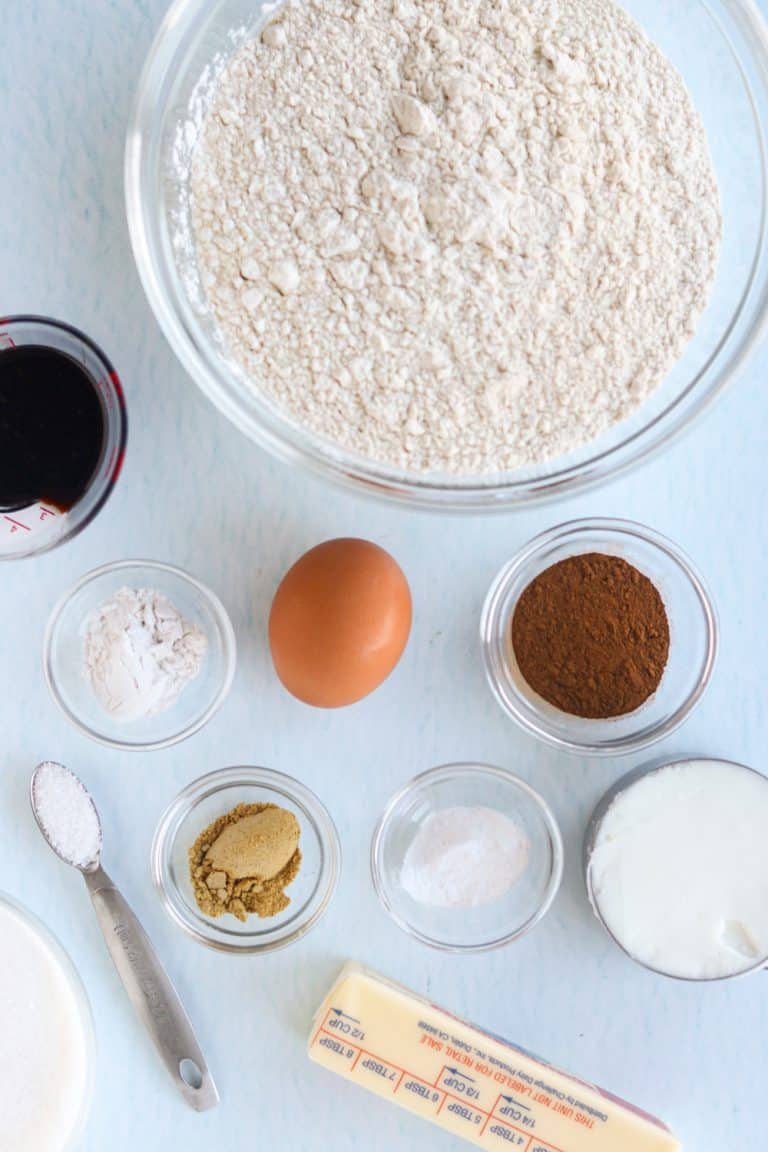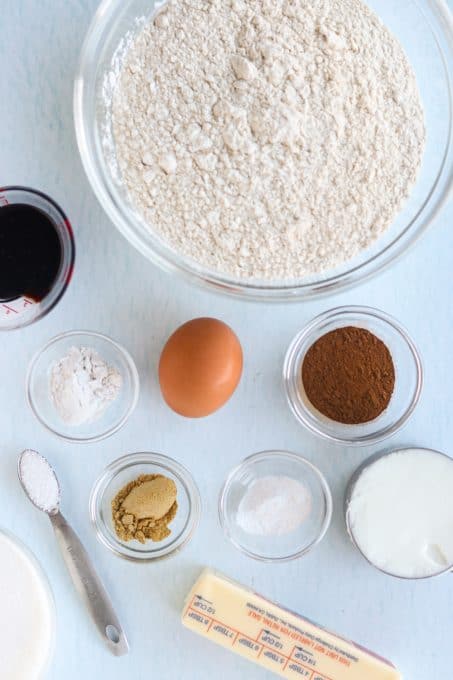 Ingredients for these Ginger Cookies
all purpose flour
cream of tartar
ground ginger
baking soda
salt
shortening
butter
sugar
molasses
egg
cinnamon
Yes, these Snickerdoodles use both shortening AND butter. That's one of the reasons why they're so rich, chewy and delicious!
How to make Snickerdoodles with ginger
Line a baking sheet with parchment paper. Preheat your oven to 350 F.
Sift together the flour, ginger, baking soda, salt and cream of tartar. Set aside
Use an electric mixer to cream together the shortening, butter and sugar until light and fluffy.
Add the egg and molasses to the mixer and beat to combine.
Mix the dry ingredients into the wet in batches. Combine well after each addition.
Combine the cinnamon with 3 tablespoons of sugar in a small bowl.
Roll the Snickerdoodle dough into balls. Then roll each ball in the cinnamon sugar.
Place rolled cookie dough on the prepared baking sheet in rows. Bake for 14 minutes. Let the cookies cool for a few minutes on the baking sheet. Remove and transfer to a wire rack to cool completely.
Look how gorgeous they are! The tops come out crackly and sparkling with cinnamon sugar.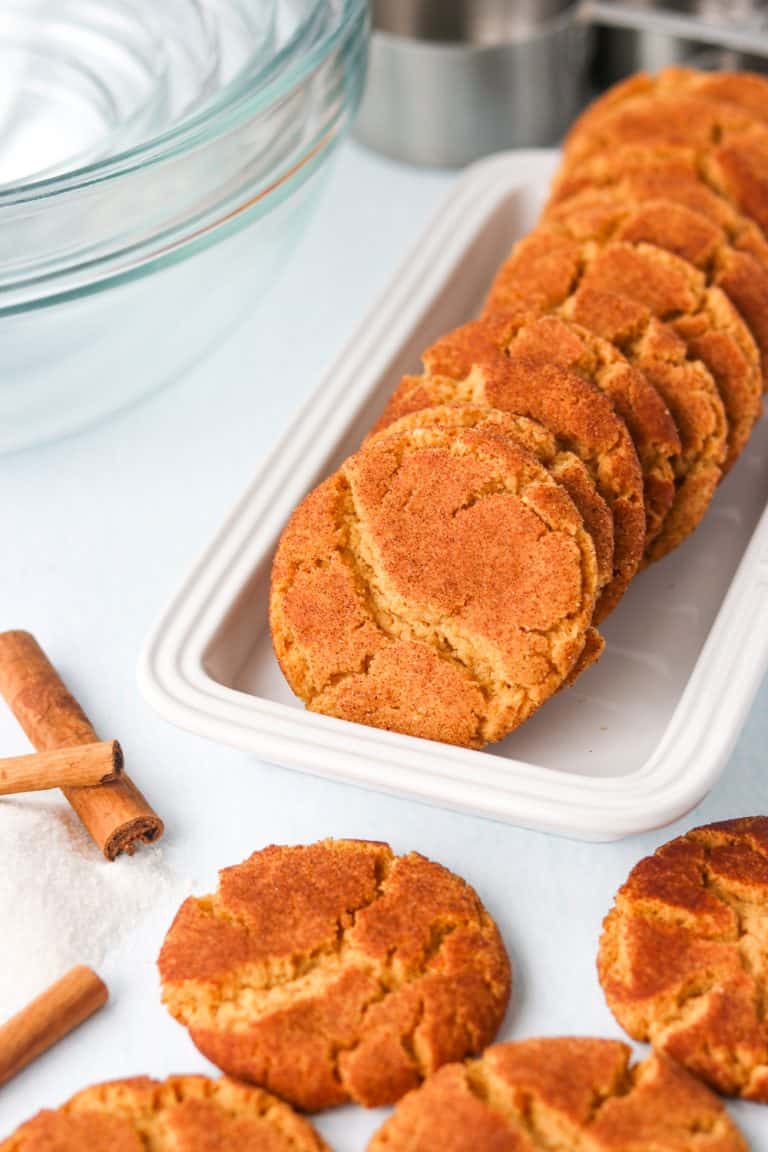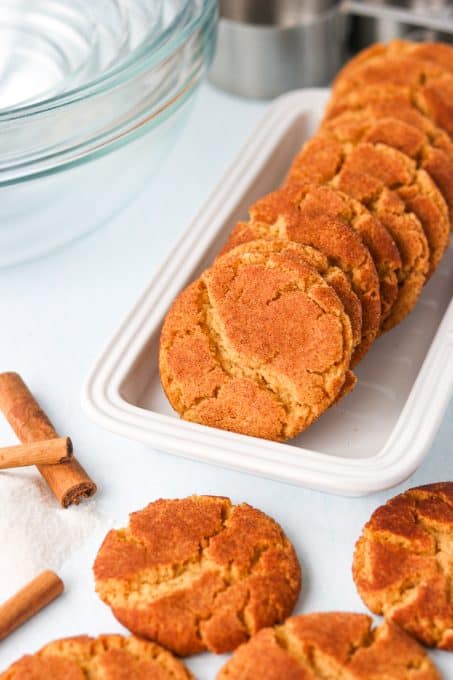 What kind of molasses is best in ginger cookies?
I use an unsulphured molasses for these cookies.
It is called unsulphured (unsulfured) because it is has no additives and is made from ripe sugar cane.
It is a dark molasses and makes for a great gingerbread flavor.
Can you freeze homemade Snickerdoodles?
Yes, these Ginger Molasses Snickerdoodles freeze beautifully! You can store in them in freezer bags for up to 3 months.
Thanks to the high fat content of the dough, you can also freeze the cookies unbaked! Freeze the rolled cookie dough balls on the baking sheet until solid. Then transfer to freezer bags.
When ready to eat, just place the frozen cookie dough right on the baking sheet and bake–adding an extra couple of minutes to the baking time. Ginger Snickerdoodles, made from scratch, are ready in minutes!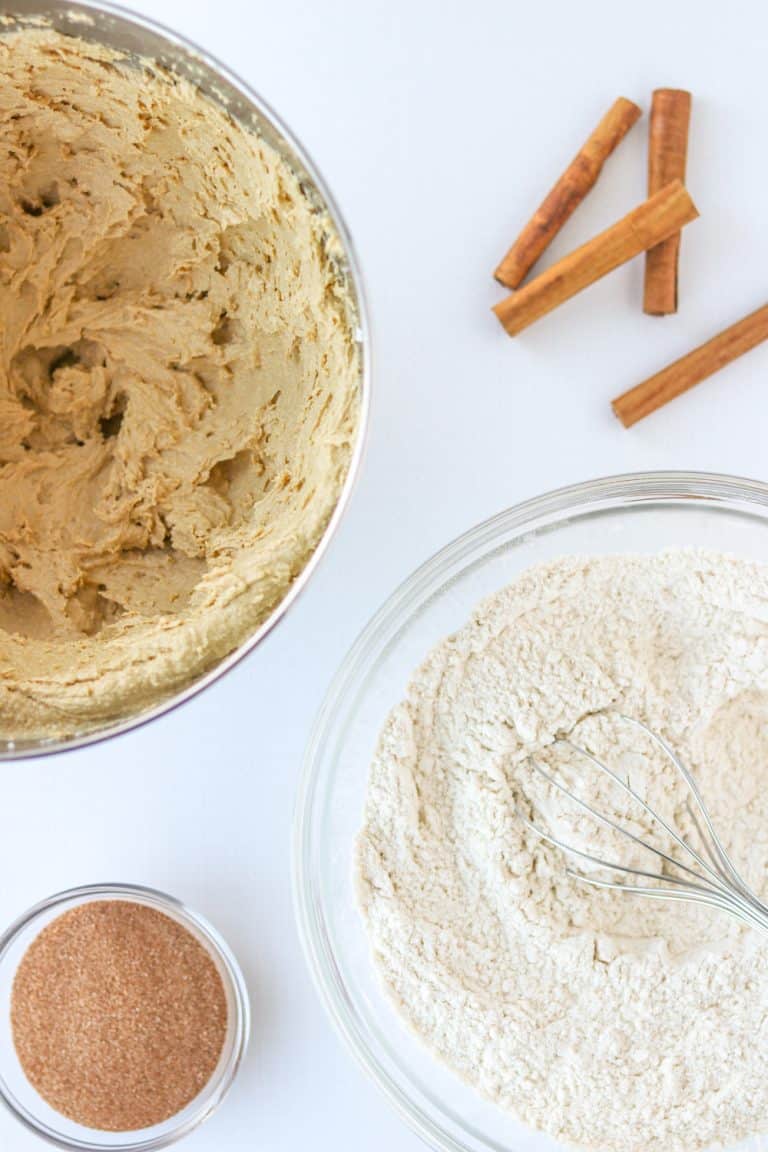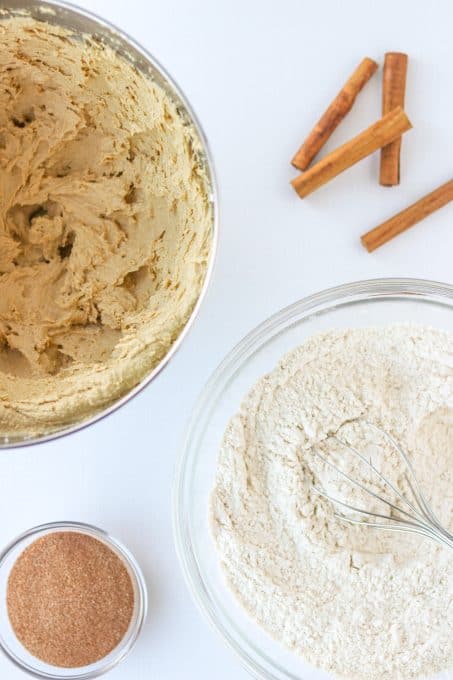 More Dessert Recipes with Ginger
Love ginger? Give these other recipes a try! Make them for the holidays or any time you want to fill your kitchen with the sweet and spicy aroma of ginger treats.
Cookie Recipes
Don't stop at Snickerdoodles this holiday season. Here are some other easy and impressive cookie recipes our readers love!
My cookies are hard. How do I make them soft again?
I love a soft chewy cookie.
What I can't stand is when you go to eat one the next day and they're hard.
Rest assured, I have a solution!
Store your cookies in an airtight container and add the end slice of a loaf of bread.
The piece of bread absorbs the moisture and will help your cookies stay soft!
I also put a small piece of bread in my brown sugar canisters to soften them as well.
SIGN UP FOR THE WEEKLY
365 DAYS OF BAKING & MORE
NEWSLETTER BELOW!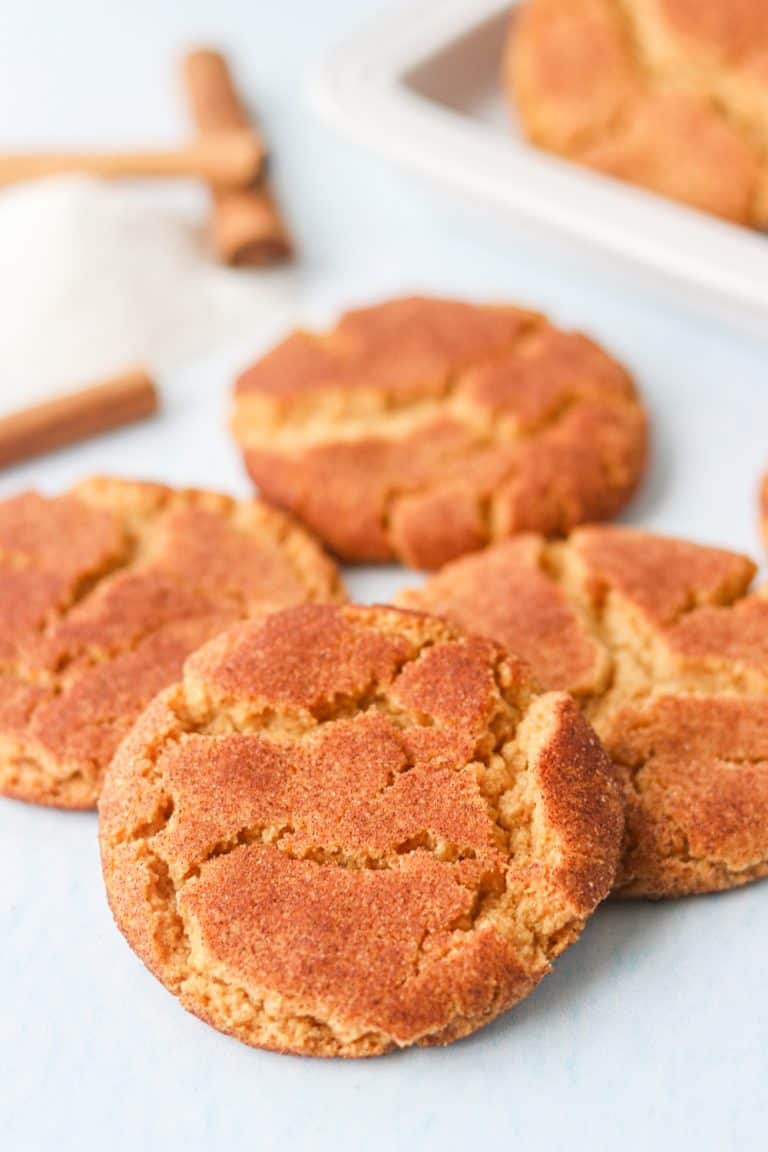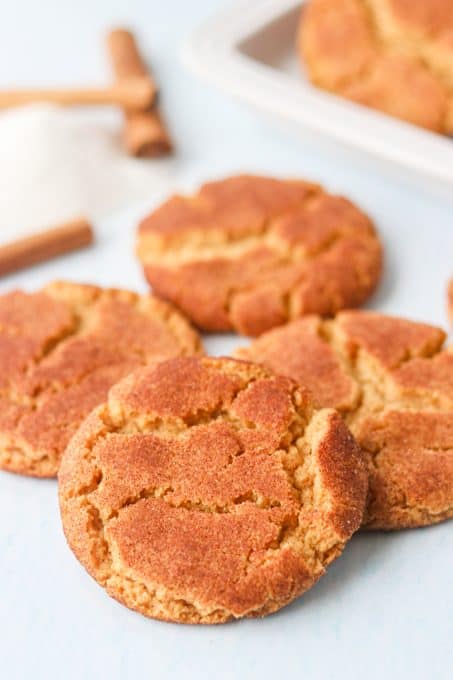 These Ginger Molasses Snickerdoodles are an easy cookie to make and are full of flavor!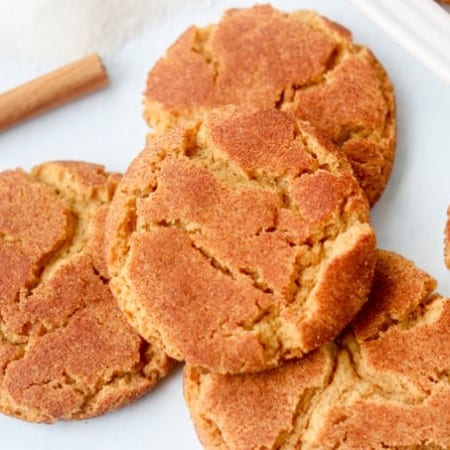 Ginger Molasses Snickerdoodles
These Ginger Molasses Snickerdoodles are chewy cinnamon sugar cookies with the addition of ginger and molasses – the perfect Snickerdoodle for the holidays!
Equipment
Mixer

Baking Sheet

parchment paper
Ingredients
2 ¾ cups all-purpose flour
2 teaspoons cream of tartar
1 teaspoon ground ginger
1 teaspoon baking soda
½ teaspoon salt
½ cup shortening
8 tablespoons unsalted butter room temperature
1 ½ cups sugar plus 3 tablespoons divided
3 tablespoons molasses
1 large egg
1 tablespoon ground cinnamon
Instructions
Preheat oven to 350 degrees F. and prepare a baking sheet by lining it with parchment.

Into a medium bowl, sift together the flour, cream of tartar, ginger, baking soda and salt.

In the bowl of an electric mixer, cream the shortening and butter.

Add the 1 1/2 cups sugar. Cream until light and fluffy, about 5 minutes.

Add the egg and molasses, and mix thoroughly.

In two batches, pour in the dry ingredients and thoroughly combine after each addition.

In a small bowl, mix the tablespoon of cinnamon with the remaining 3 tablespoons of sugar.

using two tablespoonfuls of dough, roll into a ball.

Roll the ball into the cinnamon sugar mixture and place onto the prepared baking sheet. Do not flatten.

Bake for 14 minutes.

Cool on baking sheet for about 3 minutes before transferring to wire rack
Nutrition
Serving: 1cookie | Calories: 138kcal | Carbohydrates: 19g | Protein: 1g | Fat: 6g | Saturated Fat: 3g | Polyunsaturated Fat: 1g | Monounsaturated Fat: 2g | Trans Fat: 1g | Cholesterol: 13mg | Sodium: 74mg | Potassium: 75mg | Fiber: 1g | Sugar: 11g | Vitamin A: 96IU | Vitamin C: 1mg | Calcium: 10mg | Iron: 1mg
Did you make this recipe?
Share it with me on Instagram and make sure to follow me on Pinterest for more recipes.
This post was originally publshed on 12/21/16, and has been updated in format and with new pics on 12/22/21.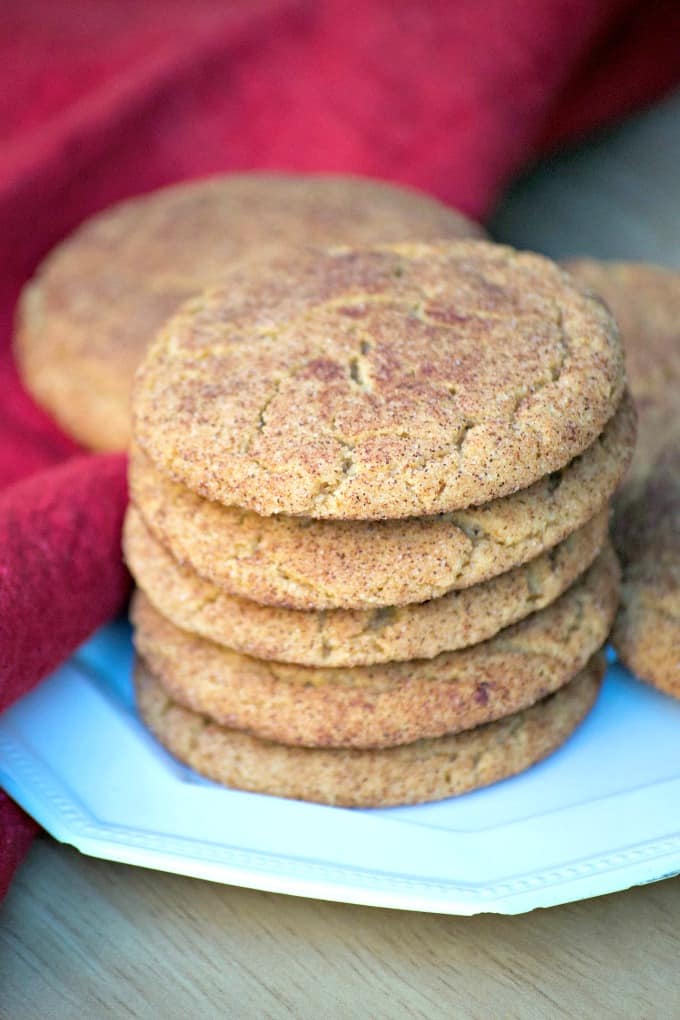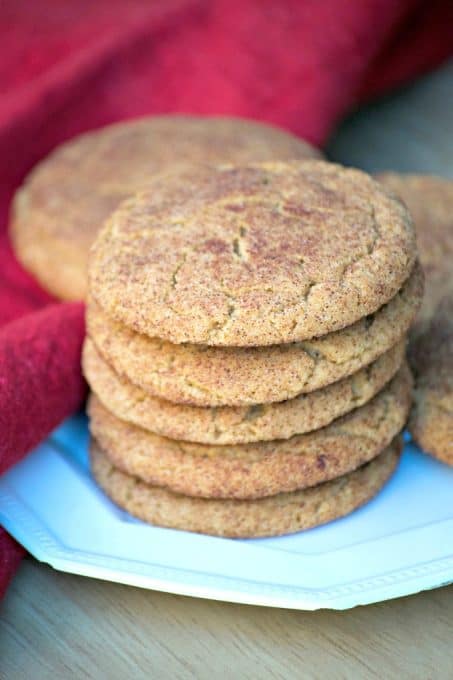 Reader Interactions