Yeah, I know. There was lime in yesterday's recipe and lime in the day before that, too. I guess when I start using one ingredient I have a tendency to just "go with it". I'll spare you the song and the video tonight though. But you can go ahead and hum it in your head if you want. No? What, can't hum and read at the same time? I suppose it's kind of like that rubbing your belly while patting your head kind of thing – a little too difficult. You can always go back to yesterday if you've forgotten how it goes.
Today was a wonderful day while running errands. I need to get out and do that more often! I went to pick up some groceries and one of the cashiers, JoNell, came up to me and said, "Have I told you my joke about the mushroom?" I said, "no", and was thinking, I don't ever remember you telling me any jokes, but I'm game. She says, "A mushroom went into a bar and sits down and has a few drinks." Now I'm thinking uh-oh, how is this going to end? "After these few drinks he turned out to be a fun guy!" Get it, fungi. Mushrooms, fungi. I thought it was cute, and very appropriate for a supermarket setting. And it was clean. I love people. You just need to open yourself up and let them in.
Then I went to the library to find some gluten free cookbooks. They were all out, but I found others! As I was browsing, a mother and an adorable little two year old with long brown hair and big brown eyes came into the section. The little girl said hello after she'd rounded the corner because we were both eye level. She showed me the book she was taking home and then sat down next to me to read it. And read it she did, in the way a two year old will do. Very loudly and nonsensical to adults, but true to themselves. I couldn't help but chuckle as her mother kept trying to quiet her because it brought back so many wonderful memories. The three of us talked for a few minutes, and as Peyton and her mommy started to walk away I said, "Peyton, it was so nice to meet you." She turned around, and came running towards me. She held out her hand, looked up at me and said, "it was nice to meet you!". Awww, it made me melt! I really hope I see her at the library again.
I found the Molasses Gingerbread with Lime Cream in a book that I picked up while listening to Peyton read. I picked up a few actually and they are all SO YUMMY! I'm excited! This one though is from Crescent City Cooking: Unforgettable Recipes from Susan Spicer's New Orleans, p. 361-362; author, Susan Spicer with Paula Disbrowe; publisher, Alfred A. Knopf, a division of Random House, Inc.; ISBN 978-1-4000-4389-7. I really like this book and there are quite a few things in here that look quite delicious besides the items that I plan to be baking. I just might have to purchase it or ask for it for Mother's Day (hint, hint).
Molasses Gingerbread with Lime Cream
¼ pound (1 stick) butter, plus more for buttering the pan
1 cup sugar
3 eggs
2 cups flour
1 teaspoon ground cinnamon
1 teaspoon ground cloves
2 teaspoons baking soda
1 tablespoon fresh grated ginger
(or ½ teaspoon ground ginger) I used this.
1 cup unsulfured molasses
2 teaspoons baking soda dissolved in 2 tablespoons hot water
Lime Cream
Preheat oven to 350ºF, and butter and flour an 8-inch square pan.
Melt the stick of butter, pour into a large bowl, and allow it to cool slightly. Beat the sugar and eggs into the butter. In a separate medium bowl, whisk together the flour, cinnamon, cloves, baking soda and grated ginger.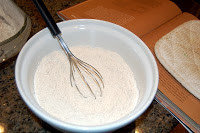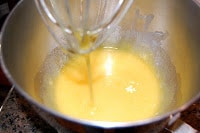 Bring 1 cup of water to a boil in a small saucepan. Using a wooden spoon, stir the molasses and soda solution into the water. Whisk the dry ingredients into the sugar and the eggs, then stir in the molasses mixture.
Pour the batter into the prepared pan and bake for 45 minutes to 1 hour, testing for doneness with a wooden toothpick in the center of the cake (it should pull out clean and free of batter). Another indicator is that the cake will pull away from the sides of the pan when it's done. Cool the cake on a wire rack for 10 minutes. Run a knife around the rim of the pan to loosen the cake, invert onto a cooling rack and cool completely. Cut into squares and serve with Lime Cream.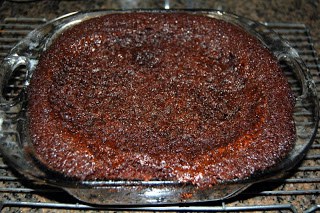 Lime Cream
2 eggs
½ cup sugar
1/3 cup fresh lime juice
Zest of 1 lime, grated (about 1 tablespoon)
4 tablespoons (½ stick) butter, cut into small pieces
1 cup heavy cream
In the bowl of an electric mixer, use the whisk attachment to whip the eggs and sugar at high speed until double in volume and light in color. Lower the speed and blend in the lime juice and zest.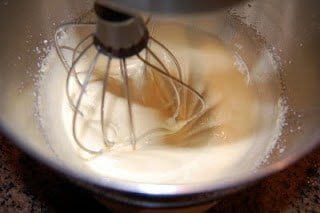 Pour the egg mixture into a medium metal bowl placed over a pot of simmering water (or a double broiler). Cook over high heat, whisking often, until smooth, very thick, and custard like (about 20 minutes). Remove from the heat and use a wooden spoon to stir in the butter, a few pieces at a time, until it is fully incorporated. If the final mixture is lumpy, strain though a fine sieve. Otherwise, cool to room temperature.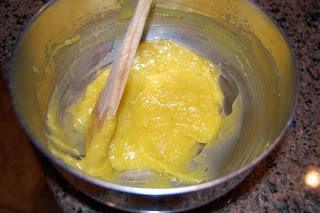 Using an electric mixer or a wire whisk, whip the heavy cream into soft peaks. Gently fold a fourth of the whipped cream into the lime curd. Then fold in the remaining whipped cream.
*Note: If you don't have time to make the lime cream, no one is going to complain if you serve this cake with whipped cream sweetened with brown sugar and a couple tablespoons of bourbon.*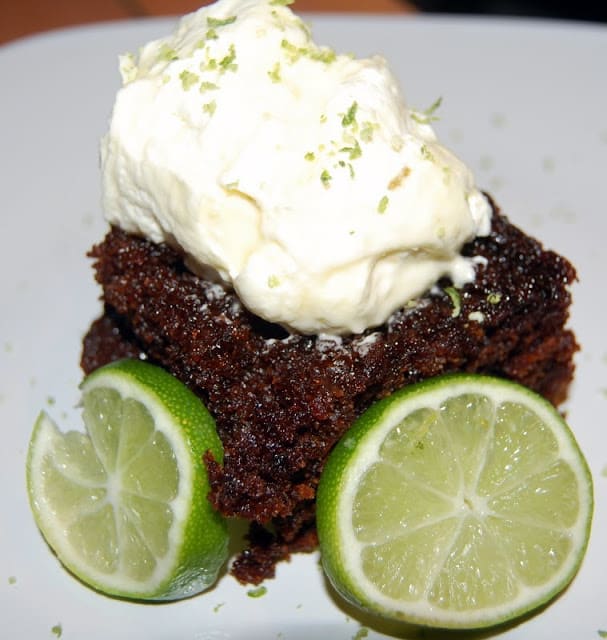 I have always loved gingerbread and this one was absolutely delicious, especially with the Lime Cream! The cake was extremely moist and very rich in flavor. I liked eating that just by itself, but then add the lime cream. Oh. My. Goodness. As my husband said, it was unlike any other dessert he has ever had. The lime cream really added something special to it. I know Susan put in the note about using whipped cream sweetened with brown sugar and bourbon, BUT I would highly recommend that you do whatever it takes to make this cream. I cannot tell you how excited I was as I was standing over the stove and dipped my finger into the double broiler and tasted the CURD! I actually made lime curd!!!! Something I've never done before and I made it tonight! The best part was, that I didn't really think that was what it was going to turn out to be. So, I was ecstatic with the surprise! See what happens when we go into something with NO expectations?
I must tell you though. Be careful when you pour the soda solution into the molasses mixed with water. It will bubble up on you extremely quickly and if you're not paying attention, you are going to have one big sticky mess all over your stove top. I can proudly say, that this did not occur. Also, when the batter is ready to be poured into the baking dish, it will seem pretty soupy and not as thick as other cake batters you may have made. I kept checking the recipe, thinking I had added an extra cup of water somewhere. Don't panic, it's supposed to be this way. Also, when inverting the pan, wave your hand over the thing, do a dislodging happy dance, or put a heck of A LOT of butter and flour in the bottom 'cause that sucker ain't gonna cooperate. I knifed around the edges as it said…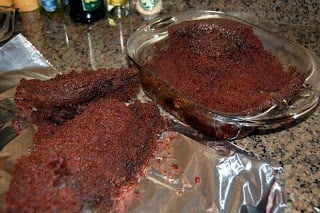 Oh yeah, and when the cake is in the oven, it's going to get kinda high, so make sure there is plenty of room between the racks and you may want to put a cookie sheet under the pan in case it should spill over. That did occur. Back to the inverting. Yeah. No. It came out. Well, in pieces that were not so pretty, and only half of it. So I shoved it back in the pan and served it from there.
My rating system is on a scale of 1-4 with 4 being something you really should consider making and when you serve it to others, they are going to think you're a baking expert! Tonight was a definite 4 rolling pin recipe! I was going to put a little Tequila in the lime curd, but was afraid to. Maybe next time. Enjoy this one!
Happy baking!