Spritz Cookies are a festive, light and delicious cookie made with a cookie press. They are fast to make with this easy recipe and can be a part of your holiday tradition, if they aren't already!
Adapted from my Cream Cheese Cookies, this particular recipe is made with less sugar. When you include Sweet'N Low® in your holiday baking, you can enjoy sweet treats with less sugar and fewer calories.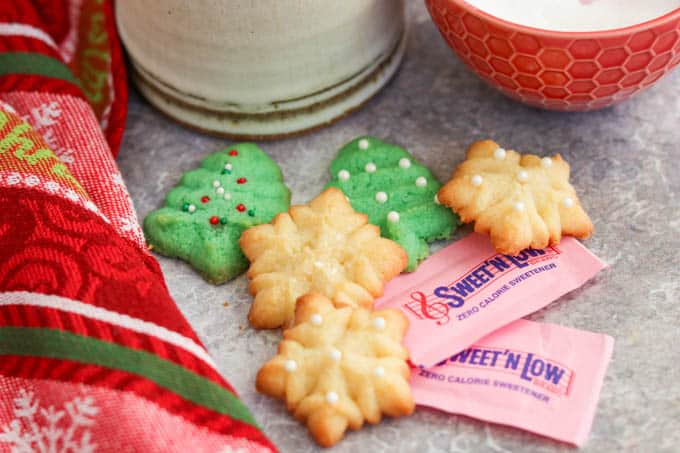 This time of year is filled with holiday traditions.
I am partnering with Sweet'N Low®, America's favorite pink zero-calorie sweetener, to bring you this sponsored post. As always, all opinions are 100% my own.
Growing up, the holidays were spent at my grandparent's house.
One of the things my grandmother, aunt, mom and I did every year was to bake together. I can still remember now how the comforting aroma of cookies, pies, Italian bread, and more filled grandma's kitchen.
I sure do miss those days.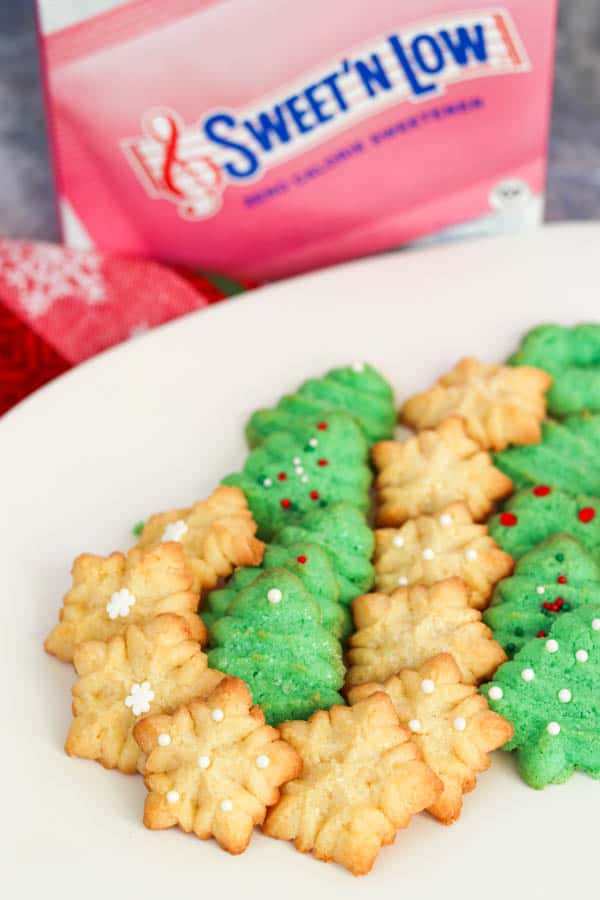 Family and friends baking together during this busy time of year is an important part of what makes the holidays so very special.
It is quality time spent sharing stories, laughter, and making incredible memories. This activity brings us closer to the ones we love and strengthens our relationships.
The kitchen is and always will be the heart of the home.
As our children were growing up, I continued the family baking tradition with them. We've made Peanut Butter Reindeer Cookies, decorated Gingerbread Houses, one of my favorites – Chocolate Cherry Crinkles, Cut-Out Sugar Cookies, and another family favorite, Stained Glass Cookies.
This labor of love is something I hope to continue for many years to come.
I hope that it's something that you are able to enjoy with your family and friends as well.
What are Spritz Cookies and where did they originate?
These light and buttery cookies originated in Scandinavia and have become extremely popular here in the United States.
The word Spritz is German for "Spritzen" meaning to squirt which is exactly how you form the cookies with the cookie press.
I think it's appropriate that I finally have a Spritz cookie recipe here on the blog given the fact that our daughters have been living in Germany the past two years.
They can be made into many decorative patterns depending on the template used, but are most popular during the holiday season. One of the things I love most about these cookies besides the fact that they're so easy to make, is that they can be made into so many fun shapes.
Often decorated with cherries, sprinkles, candies, drizzled with chocolate, or glazed. They are just as delicious when left plain.
SAVE THESE SPRITZ COOKIES TO YOUR FAVORITE PINTEREST BOARD!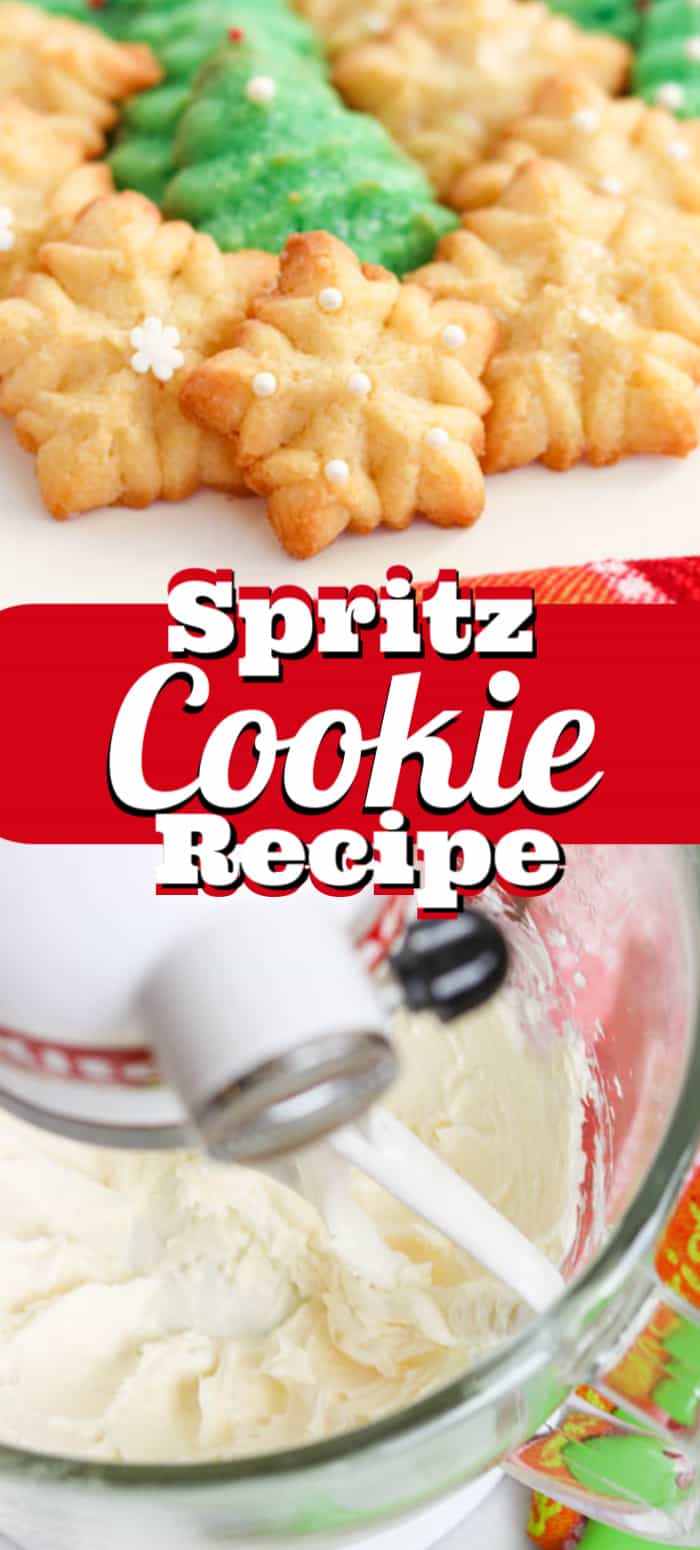 What do you need to make this Spritz Cookie recipe?
For this easy cookie recipe, we use –
cream cheese
shortening
all-purpose flour
granulated sugar
Sweet'N Low®
one egg yolk
pure vanilla extract
salt
food coloring and assorted sprinkles, etc.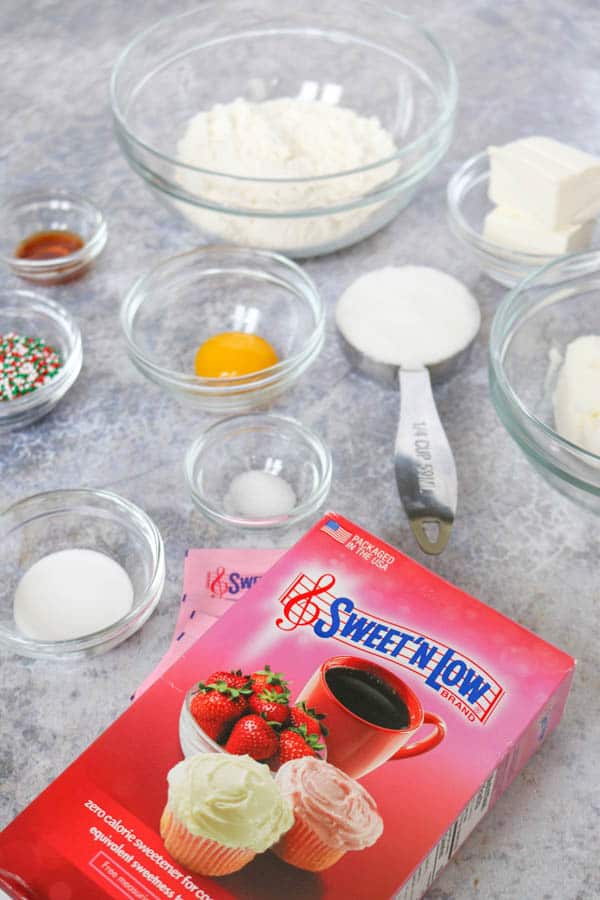 How do you make this classic cookie?
Preheat oven to 350°F.
In a large mixing bowl, combine the cream cheese and shortening and beat until completely smooth and well combined. Scrape down the sides of the bowl as necessary.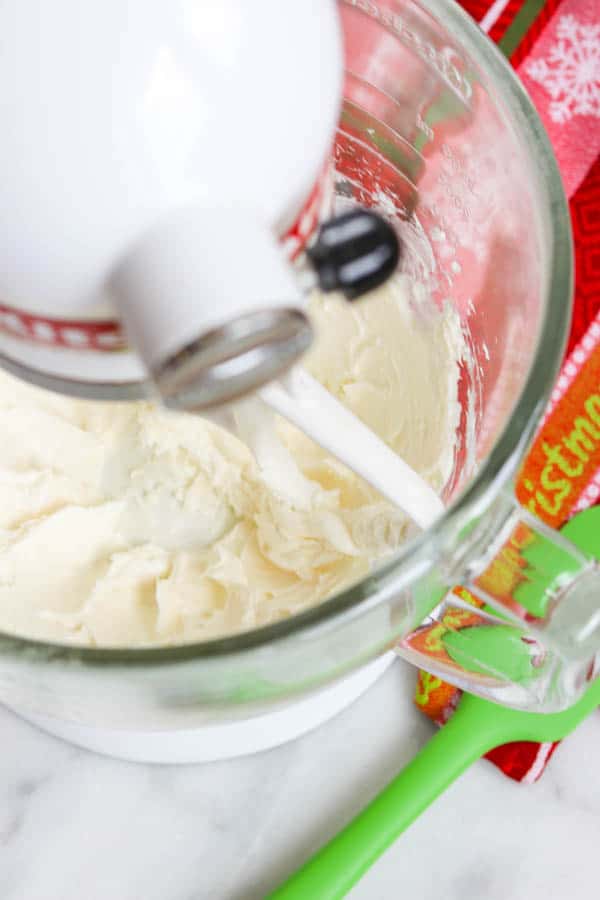 Add the flour, granulated sugar, Sweet'N Low®, egg yolk, pure vanilla extract and salt.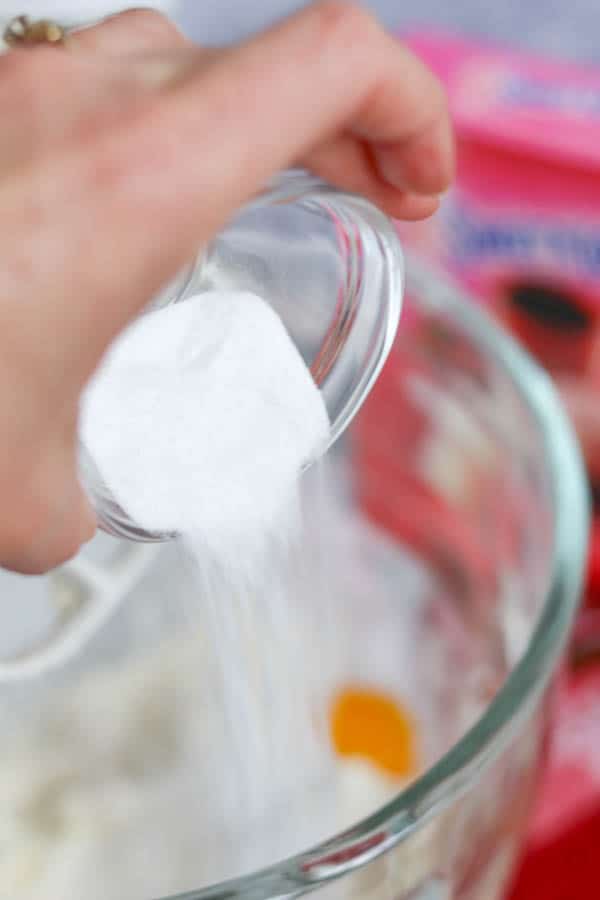 Beat until thoroughly mixed.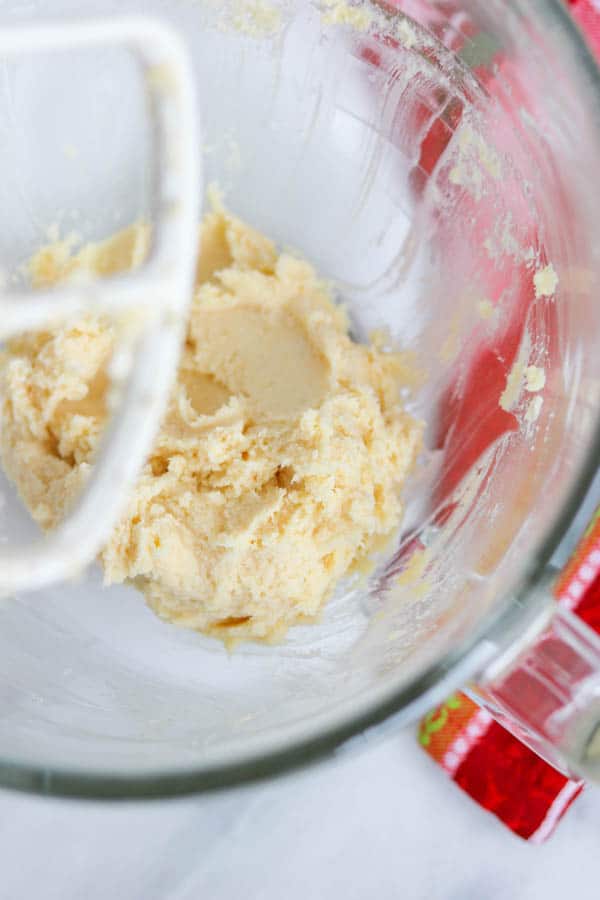 Load dough into cookie press as directed below.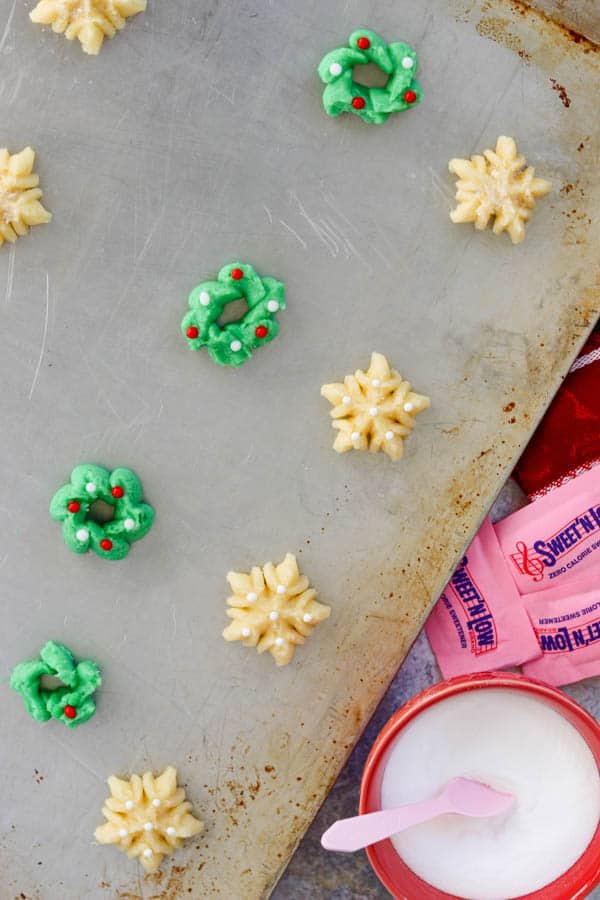 What is a cookie press and how do I use it?
A cookie press is a kitchen utensil that is easy to use and can be utilized throughout the year, not just during the holidays.
These Spritz Cookies can be a year 'round tradition!
Make sure the press – barrel, plunger and discs are cleaned in warm, soapy water before first use. Reassemble the press.
Unscrew the ring at the bottom of the barrel and pull the plunger all the way to the top. With a rubber spatula or knife, load dough. Leave about an inch of space at the bottom so that you'll be able to press any air out before making the first cookie.
Put the desired disc into the ring and screw the ring on to the bottom.
Gently push the plunger or squeeze the handle until the dough reaches the bottom of the barrel.
Place the cookie press flat on to an unlined and grease-free cookie sheet. The press should be vertical to the sheet and the ring flat against it. If you use parchment, grease the pan and do not hold the press flat, the dough may not stick.
Pump the handle once to push the dough out and gently lift the press straight up from the cookie sheet. You'll see cookie dough in the shape of the patterned disc.
Repeat the process, placing the cookies every 1 ½ to 2 inches apart, filling the press and switching discs as needed.
SIGN UP FOR THE WEEKLY
365 DAYS OF BAKING & MORE
NEWSLETTER BELOW!
How do I make Spritz Cookies stick to the pan?
It is important that you use an ungreased and unlined baking sheet so that the dough has something to stick to as it is pushed through the press.
You do not want to use parchment or a Silpat nonstick baking mat.
It might also be helpful to place the cookie sheets into the refrigerator or freezer for 10-15 minutes before pressing the dough onto the sheets.
If the cookie dough pulls away from the sheet and continues to stick to the press, gently use the tip of a knife or your finger to remove it.
Should it not cooperate at all, simply scrape it off, and place it aside to add it to the batter to use again.
Also, if the dough becomes too wet, place the press into the refrigerator for about 20 minutes to chill.
Did you know that when you use Sweet'N Low® in your holiday baking like in this Cream Cheese Spritz Cookies recipe and more, that you'll be consuming less sugar and fewer calories?
You can find Sweet'N Low® in both packets and an 8 oz. bulk box. Sweet'N Low® can be used in many different cooking and baking recipes as well as to sweeten drinks.
Each packet of Sweet'N Low® has the sweetness equivalent to about 2 teaspoons of sugar.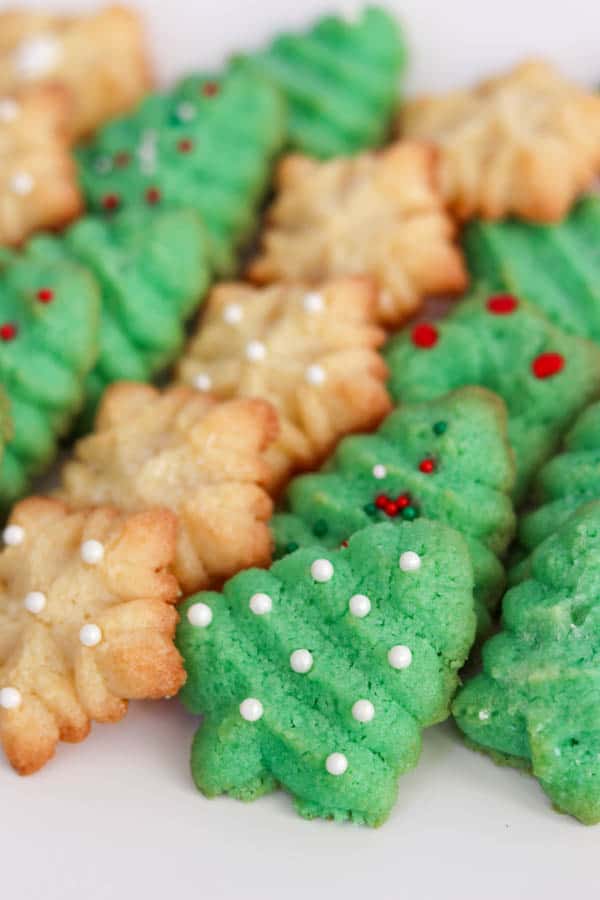 Can I bake with Sweet'N Low®?
YES, you can! Sweet'N Low® is easy to bake with!
In this cookie recipe, instead of using the half cup of sugar called for in my Cream Cheese Cookies recipe, I used only ¼ cup of the granulated sugar and substituted the remaining 1/4 cup of sugar with two teaspoons of Sweet'N Low®.
These cookies are perfect for adding to your holiday cookie trays, gifts for hostesses, teachers, and coworkers.
As a gift to me, I can definitely see myself enjoying a few of them while snuggled under a blanket sipping a Peppermint White Chocolate Mocha.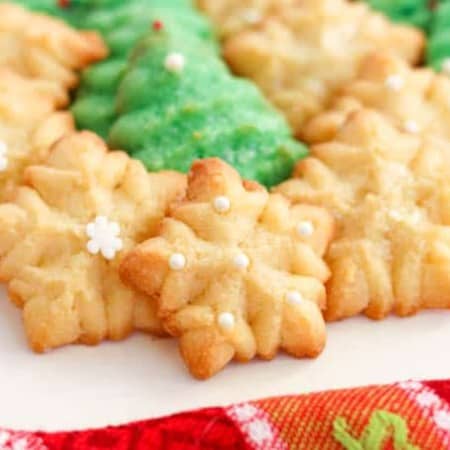 Spritz Cookies are a festive holiday tradition! With this fast, easy recipe and a cookie press, you'll be enjoying delicious cookies made with less sugar.
Ingredients
3 ounces cream cheese room temperature
½ cup shortening
¼ cup granulated sugar
2 teaspoons Sweet'N Low® 8 oz. Bulk Box or 10 Sweet'N Low® packets
1 egg yolk
1 cup sifted flour
½ teaspoon pure vanilla extract
¼ teaspoon kosher salt
red or green food coloring if desired
assorted sprinkles
Instructions
Preheat oven to 350° F.

In a mixer, cream the shortening and cream cheese until smooth and well combined.

Add the sugar, Sweet'N Low®, egg yolk, flour, vanilla, and salt and mix until well combined.

At this point, divide the dough in half or thirds and add some drops of food coloring until the desired hue is reached.

Using a spatula or knife, press one dough color into the barrel of the cookie press and use according to manufacturer's directions. Place the cookie press on a baking sheet, squeeze the trigger, and gently lift up. If dough should stick to the press, gently remove with the tip of a knife or finger. Cookies can be about 1 ½ inches apart on the baking sheet. Decorate with sprinkles, if desired.

Bake for 10 minutes or until cookies are very lightly golden on the edges.

Allow to cool on baking sheet for a couple of minutes before transferring to a wire rack to cool completely.
Notes
You can divide the dough in half or in thirds before adding it to the cookie press, and add food coloring. I recommend gel food coloring for a more vibrant and solid colors.
Nutrition
Serving: 1g | Calories: 40kcal | Carbohydrates: 3g | Protein: 1g | Fat: 3g | Saturated Fat: 1g | Cholesterol: 6mg | Sodium: 18mg | Potassium: 5mg | Fiber: 1g | Sugar: 1g | Vitamin A: 29IU | Calcium: 3mg | Iron: 1mg
Did you make this recipe?
Share it with me on Instagram and make sure to follow me on Pinterest for more recipes.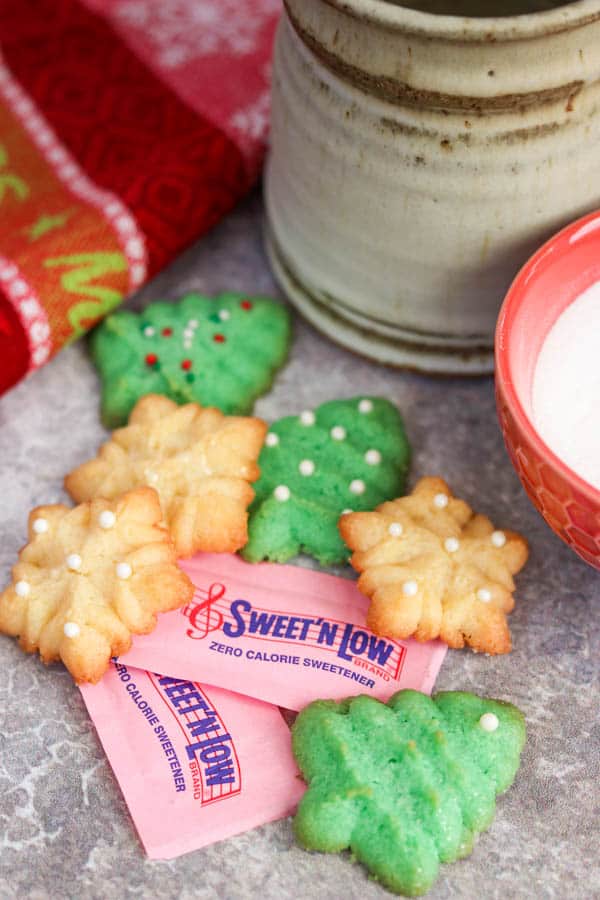 Reader Interactions