This crustless Cranberry Pie recipe with fresh cranberries in a delicious buttery cake is an easy holiday dessert. Made with Kerrygold Pure Irish Butter, you can be sure that everyone will enjoy it and come back for more. To be on the safe side, you might just want to make two.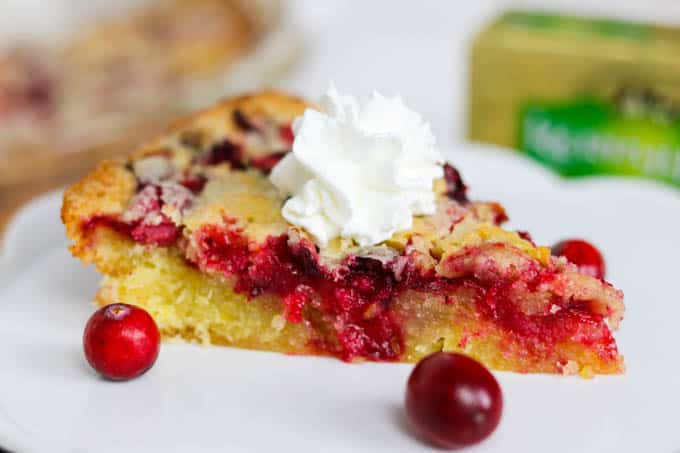 Tis the season to be all about the cranberries, the butter, and ALL the things that go into making your holiday season absolutely spectacular!
I am proud to be partnering with Kerrygold and Martha Stewart Living to bring you this sponsored post. As always, all opinions are 100% my own.
Everyone knows that desserts are where it's at this time of year.
BUT, I certainly won't tell if you want to eat this delicious recipe for breakfast or any time of day for that matter.
It's just that good.
I love it because it's one of THE easiest Christmas dessert recipes I've ever made.
It's delicious.
And it tastes more like a cake in a pie plate!
SAVE THIS NANTUCKET CRANBERRY PIE TO YOUR FAVORITE PINTEREST BOARD!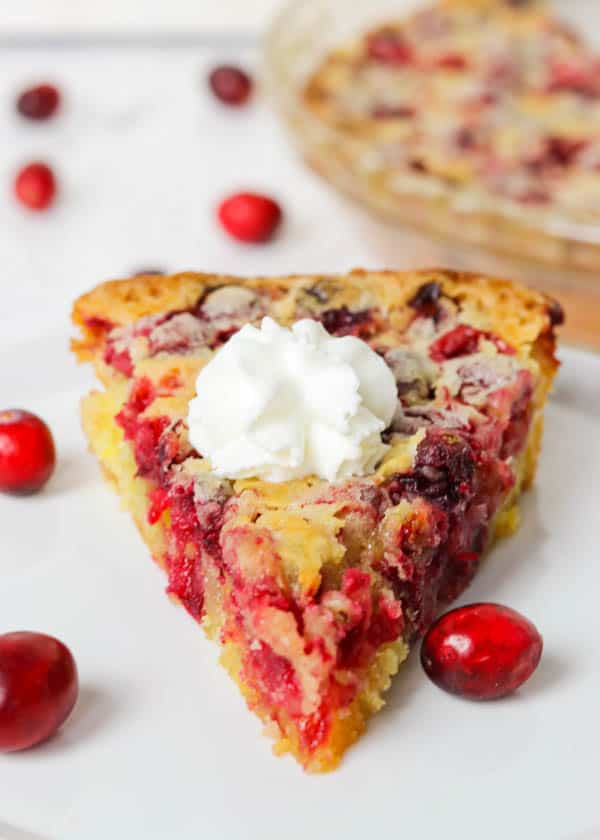 So, dessert, breakfast, tea time, whenever you want to enjoy it, it's the perfect time.
Also, whatever you want to call it is fine, too.
Pie, cake, Christmas Cranberry Pie, Christmas Cranberry Cake, Nantucket Cranberry Pie, Nantucket Cranberry Cake…you get the picture.
Just. Make. It.
Why is it called Nantucket Cranberry Pie?
Nantucket has been known for their cranberries. Farmer's have been growing them there since 1857.
These little berries are one of only three fruits native to North America! The other two are Concord grapes and blueberries.
They were originally called bitter berry or "ibimi" by the Cape Cod Pequots and other Native Americans. Later they came to be known as the "crane berry" by early Dutch and German settlers because the shape of the berries' blossom resembles the Sandhill Crane's head and bill.
Fun fact, Kurt and I honeymooned in Nantucket almost 30 years ago! I absolutely love it there.
That's my personal attachment to the Nantucket, so of course, it bears mentioning. haha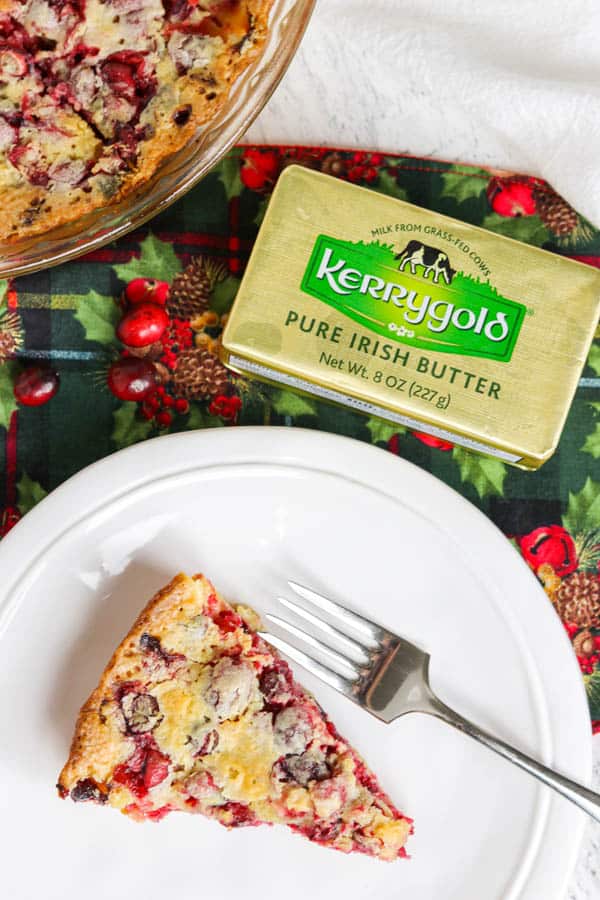 Now onto the Kerrygold Pure Irish Butter!
Have you had this stuff??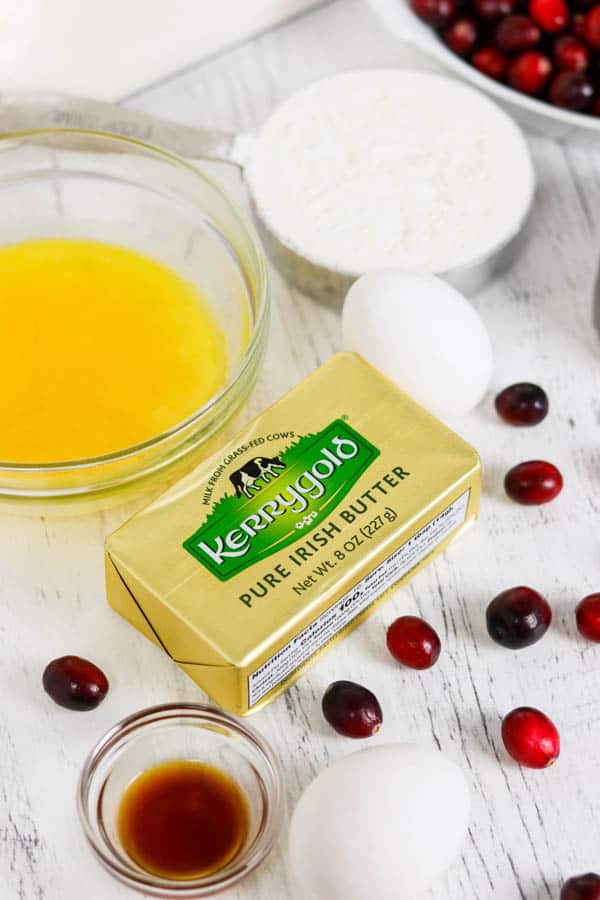 I'm not gonna lie, up until last month, I had never had Kerrygold butter.
I know, I can hear you all gasp.
I'm even ashamed to admit it.
However, I've been loving their cheeses, especially the Reserved Cheddar Cheese for the past 6 months, so at least give me a little credit.
We were at our best friends' house for dinner and Mary introduced me to it.
She said it's the ONLY butter they use since their friend, Kieran, who lives in Ireland introduced them to it.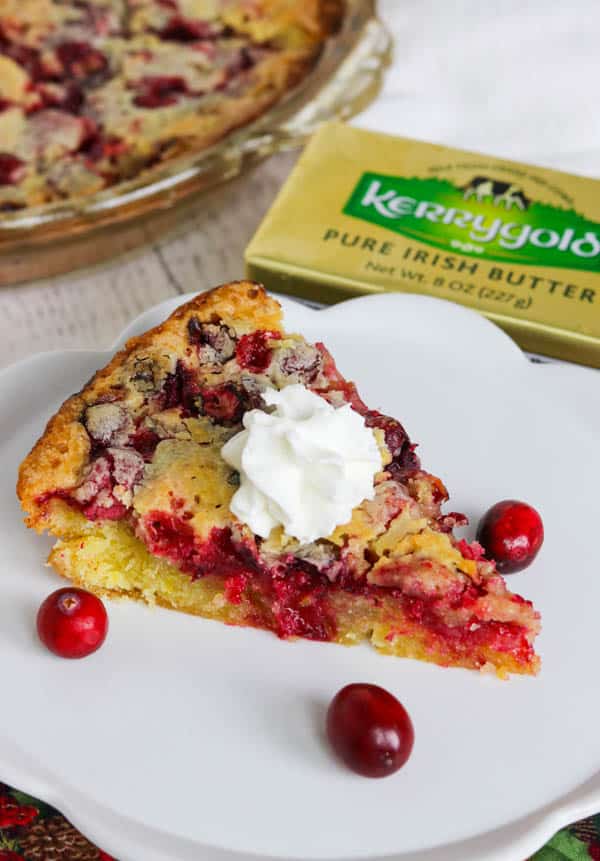 Kerrygold butter and cheese are made from milk with grass-fed cows. These cows are raised on small, family-run dairy farms in, you guessed it, Ireland!
The country's mild and gentle climate combined with the plentiful rain provide the best possible environment for grass-fed cows to graze.
I mean, have you seen how lush and green it is over there?!
I seriously cannot wait to visit.
The all-natural milk the cows produce is what makes every Kerrygold item so flavorful and creamy.
Take a look at Kerrygold's site to learn more about their products and their happy cows!
If butter can be life changing, Kerrygold does it.
Yes, this is a sponsored post, but if you've been following me for a while then you know I love a product when I can't say enough about it.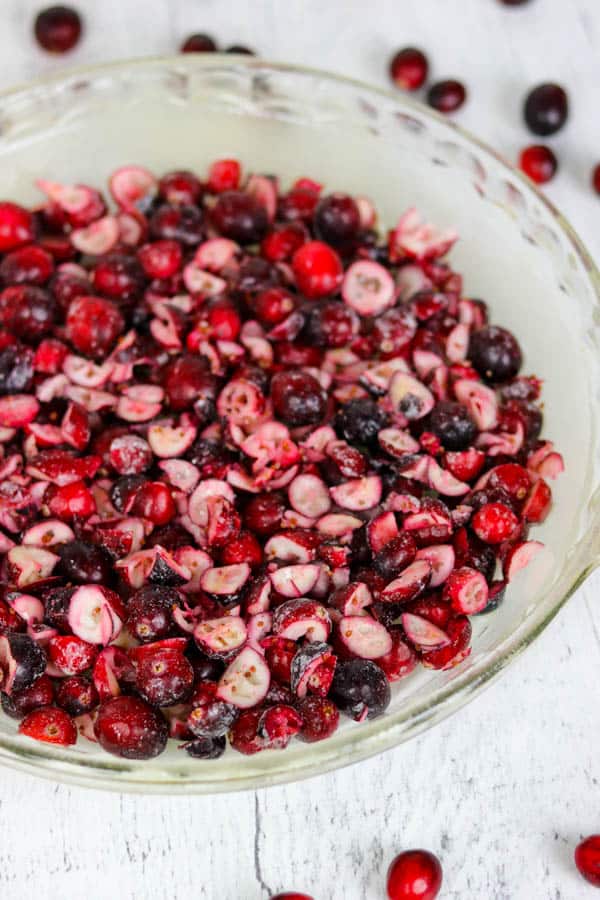 How do you make this Easy Cranberry Pie from scratch?
Use fresh cranberries. You can use frozen as well, but make sure they're thawed. They'll become missiles should you try to chop them as directed and I certainly wouldn't want you to injure yourself or loved ones.
Also, use the berries. NOT canned cranberry sauce. It is not the same and will not work in this recipe.
Preheat the oven to 350°F. and butter your pie plate with a tablespoon of Kerrygold Pure Irish Butter so you can easily remove the slices from the dish.
Toss the chopped and whole cranberries in two teaspoons of flour taken from the whole cup required in the recipe. This will help support them in the batter so they won't sink to the bottom.
Beat the eggs and sugar together in a mixing bowl. Add the melted Kerrygold Pure Irish Butter, vegetable oil, flour, and pure vanilla extract. And PLEASE use PURE vanilla extract! You're using super delicious butter, so why on earth would you want to skimp and use imitation vanilla?? You won't be sorry!
Pour the batter over the cranberries and using a rubber spatula, gently spread the batter to the edges of the pie plate.
Bake for 40 – 55 minutes until the edges are golden and the middle is set. Insert a toothpick into the middle and make sure it comes out clean, too.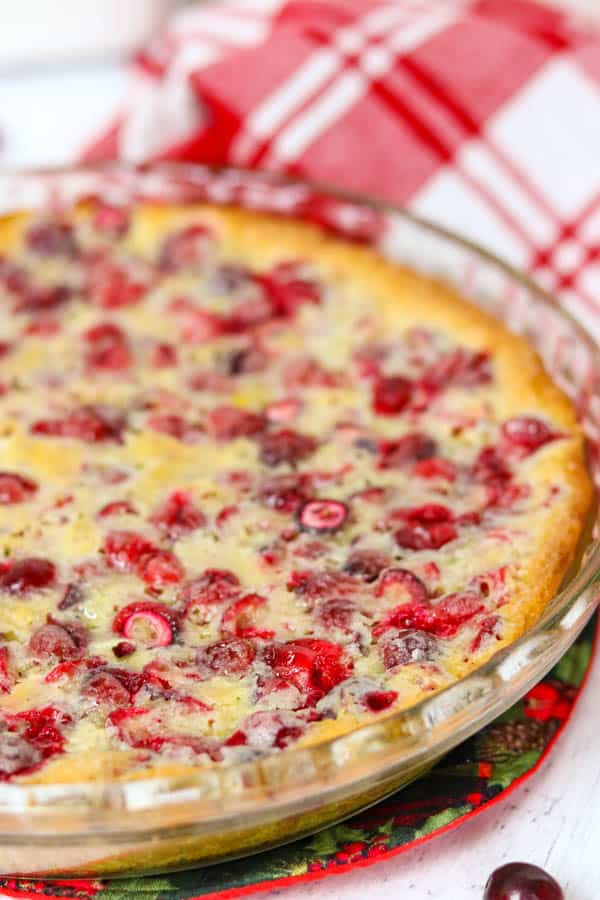 How do you serve this recipe?
One of my favorite ways to serve this cake-like dessert is with this Stabilized Whipped Cream. It's a fresh whipped cream that is perfect for any and all of your holiday desserts that call for either a dairy whipped topping or fresh whipped cream.
Ice cream is always a good topper, too! A scoop of vanilla ice cream always brings something special to a dessert.
Serve it with a cup of coffee or tea and it's perfect for an afternoon snack. You can even have a slice for breakfast. I won't tell.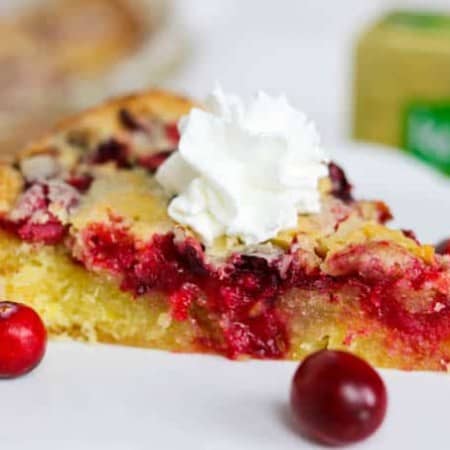 Easy Cranberry Pie Recipe
This Nantucket Cranberry Pie Recipe made with fresh cranberries in a delicious buttery cake is an easy holiday dessert everyone will enjoy and want again.
Ingredients
1 tablespoon Kerrygold Pure Irish Butter
2 cups fresh cranberries
2 eggs
1 cup sugar
½ cup Kerrygold Pure Irish Butter melted
¼ cup vegetable oil
1 cup all-purpose flour divided
1 teaspoon pure vanilla extract
Instructions
Preheat oven to 325°F. and prepare a 9-inch pie plate by rubbing it with the tablespoon of Kerrygold butter.

In a medium bowl, place two teaspoons of flour from the one cup required. Chop half of the cranberries, add the entire two cups of berries to the bowl, and toss to coat. Pour the cranberries into the prepared pie plate and spread evenly.

In a mixing bowl, beat the eggs and sugar until well combined.

Add the Kerrygold Pure Irish Butter, vegetable oil, flour, and vanilla. Mix thoroughly, about 1-2 minutes, scraping sides as needed.

Pour batter over cranberries and spread evenly to sides.

Bake for 45-55 minutes. The edges should be a golden brown and the center should be set.
Nutrition
Serving: 1g | Calories: 355kcal | Carbohydrates: 40g | Protein: 3g | Fat: 21g | Saturated Fat: 14g | Cholesterol: 75mg | Sodium: 131mg | Potassium: 53mg | Fiber: 2g | Sugar: 26g | Vitamin A: 473IU | Vitamin C: 3mg | Calcium: 14mg | Iron: 1mg
Did you make this recipe?
Share it with me on Instagram and make sure to follow me on Pinterest for more recipes.
We all know that cranberry recipes are popular this time of year.
Making cookies? These Cranberry Ginger Sugar Cookies are a delicious addition to your holiday cookie trays. The cranberry ginger combination is one that will make your taste buds sing.
Like biscotti? Then a piece of Cranberry Orange Pistachio Biscotti will be a great accompaniment for an afternoon cup of coffee. Call a girlfriend and invite her over.
These Cranberry Orange Dream Bars are a layered treat that are sugar free. It's a light and creamy dessert that is also no bake, so no need to turn on the oven.
Want cranberries for breakfast?
This Cranberry Coffee Cake is a super easy recipe. It will make a great hostess gift, too.
Cranberry Pancakes with Orange Cream Cheese Drizzle are a special morning treat. Try the cream cheese drizzle instead of maple syrup.
Dried cranberries make this Cranberry Chia Granola extra delicious. If you've never made your own granola, you need to give it a go. It's a great option for your breakfast parfait.
There are even delicious appetizers made with these little berries.
One of our favorites are Cranberry Pecan Goat Cheese Bites. There's so much flavor in these bite-sized morsels and they're even better when drizzled with a balsamic reduction.
Finger foods are always popular at parties. These Cranberry Feta Pinwheels are festive and will brighten your holiday table.
Cranberries and bacon? Yes sir! I'm drooling thinking about this Cranberry Bacon Jam Crostini recipe.
SIGN UP FOR THE WEEKLY
365 DAYS OF BAKING & MORE
NEWSLETTER BELOW!
Reader Interactions