These Cheesy Sausage Stuffed Mushrooms made with cheddar cheese, Italian sausage, cream cheese and a touch of Cajun spice are the must-have finger food for your next gathering. With Kerrygold cheeses, this stuffed mushroom recipe has a flavor combination unlike any other and one you'll want to eat and serve more often than when you entertain.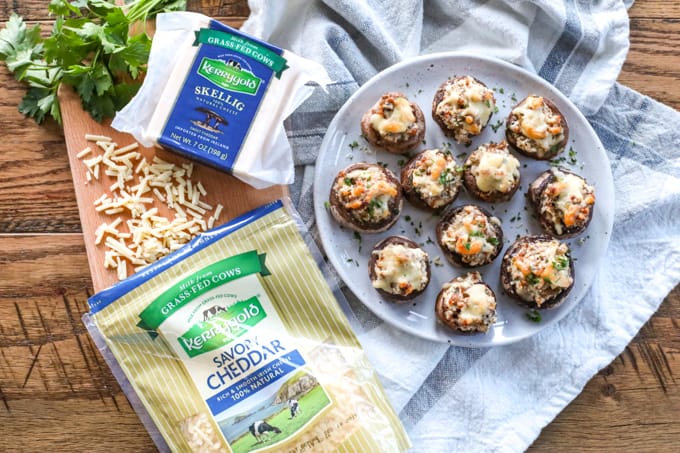 Are you like me, always on the lookout for easy appetizers that friends and family will love?
I am proud to be partnering with Kerrygold and Martha Stewart Living for this sponsored post. As always, all opinions are 100% my own.
There are some appetizers that I've made that are just, how shall I say it…, eh?
Not that I wouldn't make them again, cause I would, they just didn't just excite my taste buds.
Then there are ones just like this recipe I'm sharing today, and these Cranberry Pecan Goat Cheese Bites that are really out of this world delicious.
They're appetizers that are so yummy that I don't want to serve them just as appetizers. They deserve to be shared with family and friends more often, like as a side for dinner even!
You can do this.
Who says that appetizers are just for parties, Game Days or potlucks?
Pshaw, people!
SAVE THIS CHEESY SAUSAGE STUFFED MUSHROOMS RECIPE TO YOUR FAVORITE PINTEREST BOARD!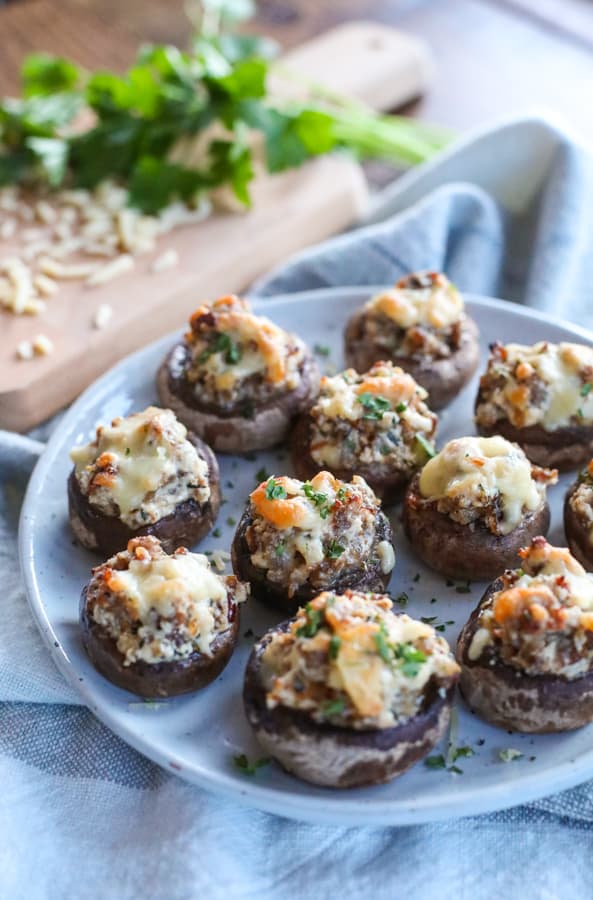 What makes this recipe unlike all the other stuffed mushroom appetizers you ask?
Simple.
A combination of Kerrygold cheeses – Skelling which has been grated, and Shredded Savory Cheddar.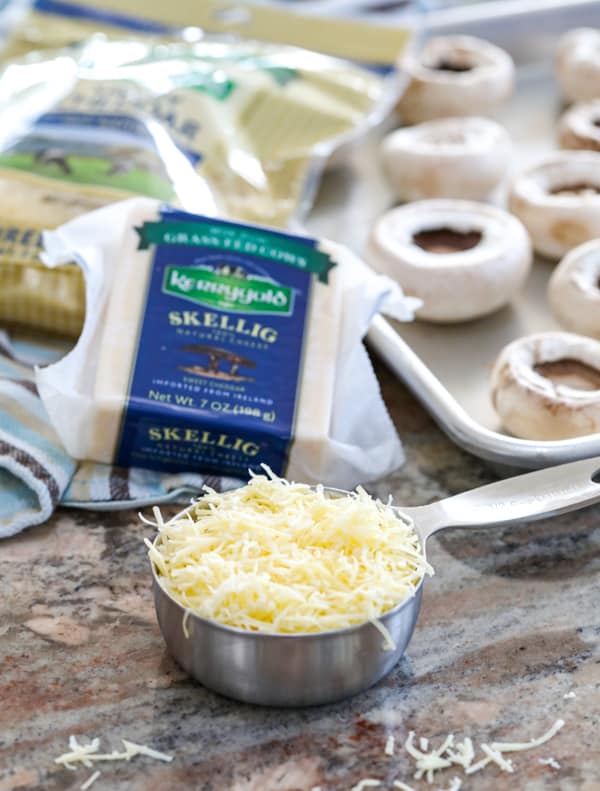 There's something special about Kerrygold cheese.
It's creamy and so very flavorful.
Know why?
The milk used to make all of the Kerrygold cheese and Pure Irish Butter is provided from grass-fed cows raised on small family-owned farms in Ireland.
Grazing in lush green pastures, these cows live in a mild climate with abundant rainfall.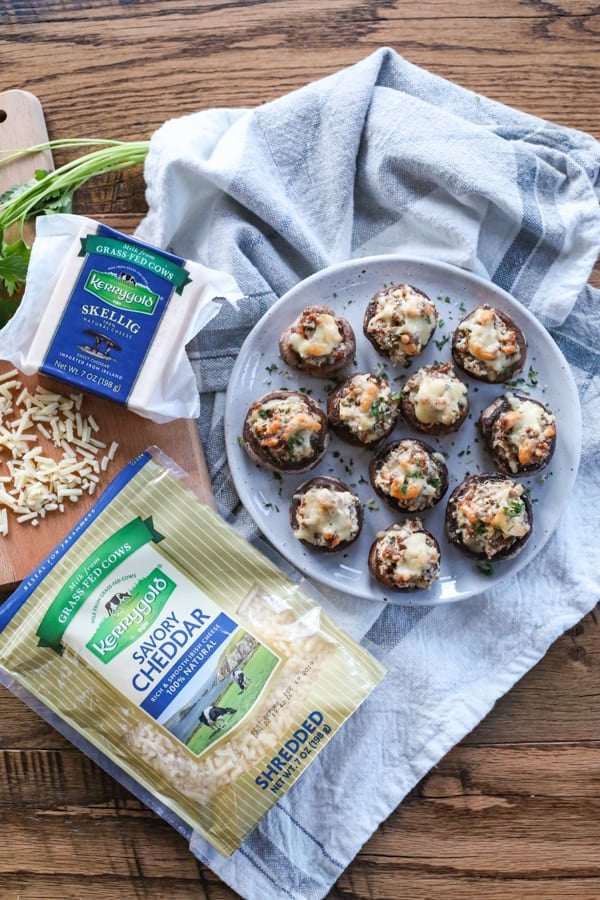 How do you make Baked Stuffed Mushrooms?
Prepare a rimmed baking sheet by lining it with parchment and preheat your oven to 450°F. The parchment will help absorb some of the moisture from the mushrooms as they bake.
Remove the stems from the mushrooms and using a damp paper towel, gently rub to clean them off.
Sautée the onion and garlic in a medium skillet over medium heat in the tablespoon of Kerrygold Pure Irish Butter. Add the bulk sausage, breaking it apart as it cooks. Season with the freshly chopped sage and thyme, and Cajun seasoning. Feel free to add more or less seasoning to suit your taste.
In a medium bowl, place the cream cheese and grated Kerrygold Skellig cheese. Add the sausage and mix with a rubber spatula until well combined.
Place a portion of the mixture into each mushroom until evenly distributed. Sprinkle with the Kerrygold Shredded Savory Cheddar.
Bake for 8 10 minutes.
Remove to a plate lined with a paper towel to drain and sprinkle with freshly chopped parsley, if desired.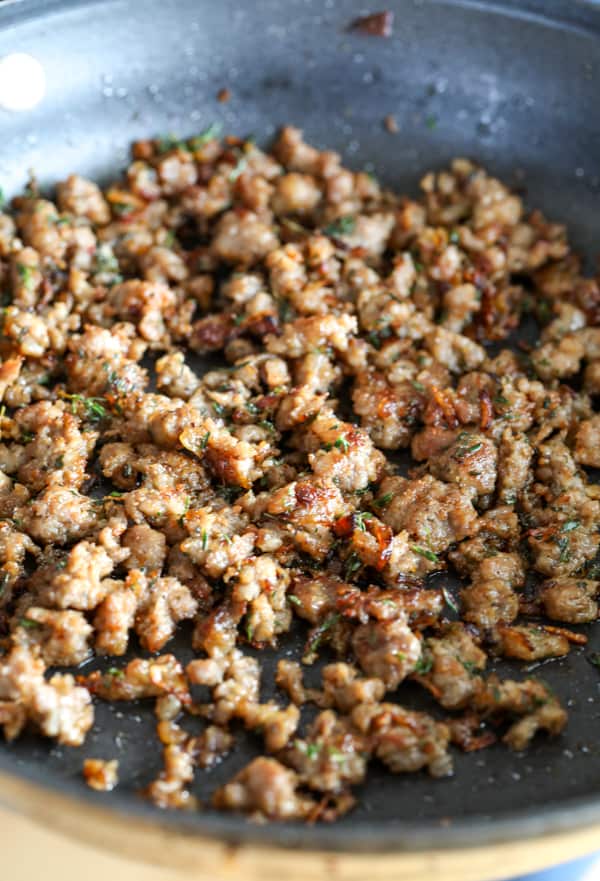 Can these Sausage Stuffed Mushrooms be made ahead of time?
Yes, they can!
This recipe can be prepared before you bake it.
Place the filled mushrooms on the baking sheet and cover them with plastic wrap up to a day before you bake them.
I appreciate that I can save time by making some recipes ahead of time, like this Jalapeño Ranch Dip because it helps to ease any anxiety I might have to finish everything before guests arrive.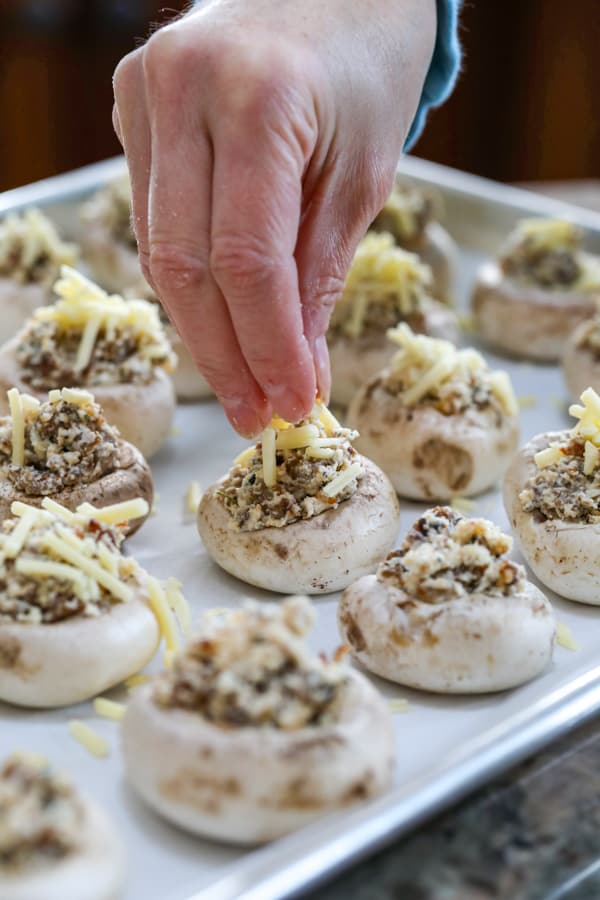 Can this mushroom appetizer be frozen?
Yes, you can freeze them.
Stuff the unbaked mushrooms and freeze them in a tightly sealed container. Then thaw and bake them later.
OR, bake the mushrooms, store them in a tightly sealed container and reheat them before serving.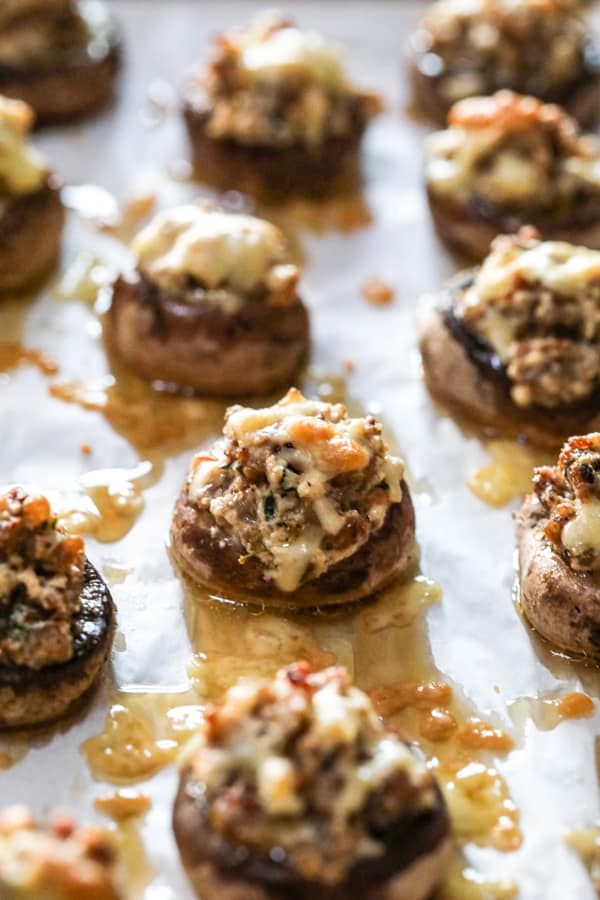 Having a variety of finger foods and appetizers at any gathering is important.
This allows your guests to mingle and enjoy themselves while eating delicious bites of food that won't require much effort.
Be sure to have a good variety of things to eat so there will be no guest left hungry.
One recipe that I'm asked to make again and again, especially for any party or potluck is my Pepperoni Bread. It's so good that I make it at least once a week for dinner, too.
Every party needs at least one dip. You can't go wrong when you serve this Beer Cheese Dip and Homemade Pretzel Bites. It really is a flavorful match made in heaven.
Sliced veggies and pita chips are perfect accompaniments to this Roasted Garlic Hummus. It's a recipe that I'll be digging into all night long!
Like dill pickles? Then this Dill Pickle Hummus will surely awaken your taste buds. You might not be able to pull the pickle lovers away from this one.
One of the most popular recipes on the site is this Taco Braid. It might be classified as a main dish, but that doesn't mean you can't serve it at a potluck or get together.
Speaking of Mexican, this Taco Dip is a favorite and goes quickly. You definitely need to have plenty of chips on hand otherwise people won't be shy about using their fingers. Trust me.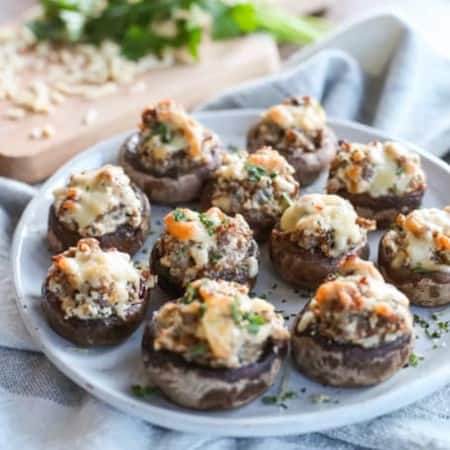 Cheesy Sausage Stuffed Mushrooms
These Cheesy Sausage Stuffed Mushrooms are an easy, delicious appetizer. Bites of sausage and a variety of cheeses make them the perfect hearty finger food.
Ingredients
24 ounces button mushrooms
1 tablespoon Kerrygold Pure Irish Butter
⅓ cup onion
4 cloves garlic minced
8 ounces pork sausage
2 teaspoons freshly chopped sage
2 teaspoons freshly chopped thyme
½ teaspoon Cajun seasoning or more, if desired
4 ounces cream cheese room temperature
½ cup grated Kerrygold Skellig cheese
¼ cup Kerrygold Savory Shredded Cheddar
freshly chopped parsley for garnish if desired
Instructions
Preheat oven to 450°F and prepare a rimmed baking sheet by lining it with parchment.

Remove stems from mushrooms and with a damp paper towel, gently wipe them clean. Place onto the prepared baking sheet.

In a medium skillet over medium heat, melt the Kerrygold Pure Irish Butter. Add the onion and garlic, and sautée until soft, about 1 -2 minutes. Add the sausage, sage, thyme, and Cajun seasoning and cook until well browned.

In a medium bowl, put the cream cheese and grated Kerrygold Skellig cheese. Add the sausage and with a rubber spatula, blend well.

Distribute the sausage filling among the mushrooms, and sprinkle the Kerrygold Savory Shredded Cheddar on top of each one.

Bake for 8 -10 minutes. Remove from the baking sheet and place on a lined paper towel to drain.
Nutrition
Serving: 1g | Calories: 287kcal | Carbohydrates: 7g | Protein: 14g | Fat: 24g | Saturated Fat: 11g | Cholesterol: 68mg | Sodium: 412mg | Potassium: 511mg | Fiber: 2g | Sugar: 3g | Vitamin A: 596IU | Vitamin C: 5mg | Calcium: 140mg | Iron: 1mg
Did you make this recipe?
Share it with me on Instagram and make sure to follow me on Pinterest for more recipes.
SIGN UP FOR THE
365 DAYS OF BAKING & MORE
NEWSLETTER
BELOW!
Reader Interactions