This Dill Pickle Hummus is the perfect way to satisfy any craving whether you're pregnant or not. Chickpeas, dill pickles, tahini and dill weed make this a healthy snack that you'll have trouble sharing.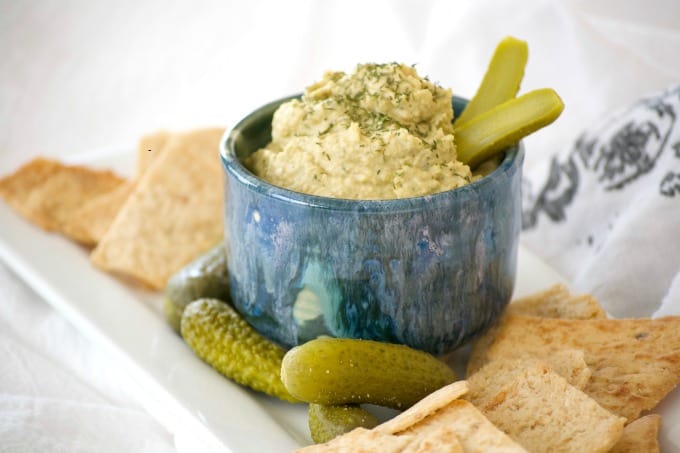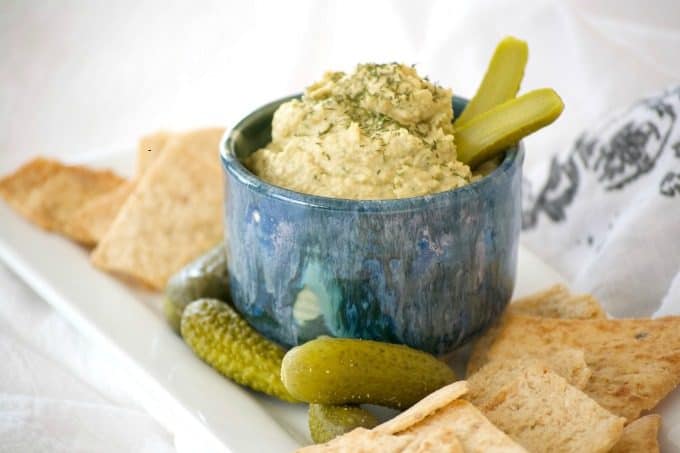 How's your basketball bracket doing?
So far, so good for me, I suppose. I do believe my final four teams are still in it, but there are still quite a few games to go.
SAVE THIS HUMMUS TO YOUR FAVORITE PINTEREST BOARD!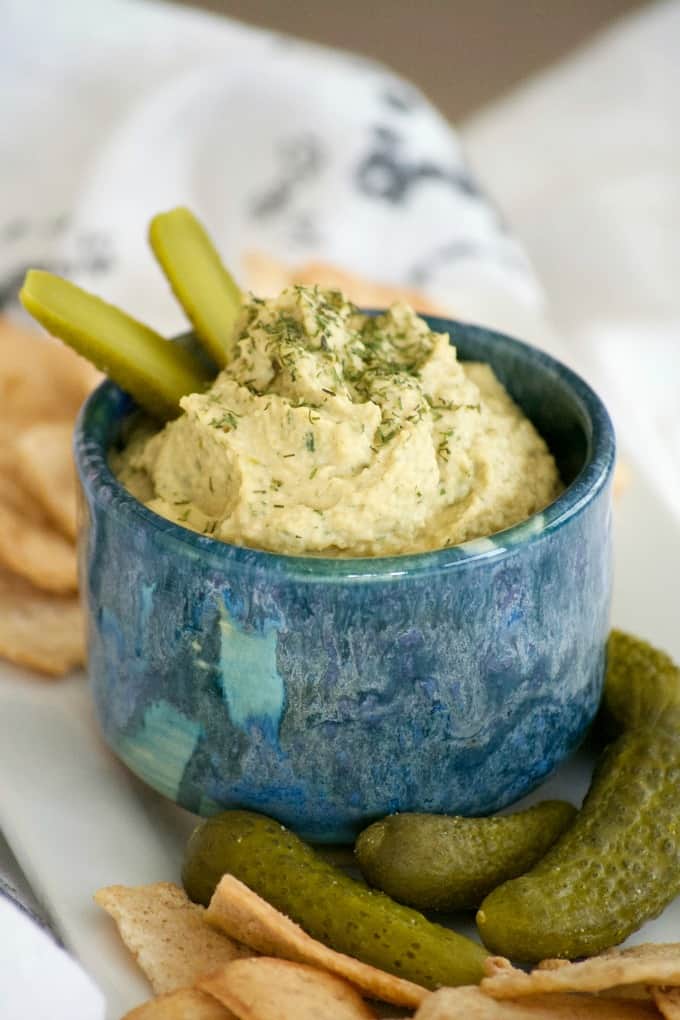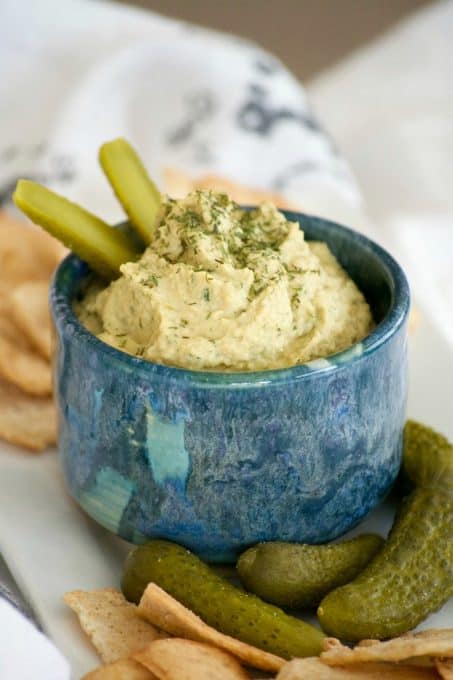 I was very excited that the University of Rhode Island beat Creighton today. Of course, being from Little Rhody we will cheer them on to the finish. I hope they continue to win, but I really do think that U of A can go all the way with it and it would be so cool to have them win right here in Phoenix.
That would be AH-mazing!!

I've really been enjoying hummus lately and decided it might just taste good with some dill pickles. I was right! There's not really a way to describe the flavor, it just really tastes like dill pickles and is pretty cool!
I think even if you aren't pregnant and have a craving for dill pickles this would be a healthy and great snack to have. Pair it with some chips, pita bread or even dill pickles!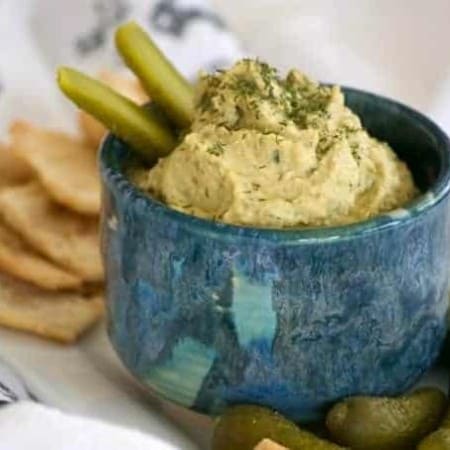 Dill Pickle Hummus is the perfect way to satisfy your craving. Chickpeas, dill pickles, and tahini make this a healthy snack you'll have trouble sharing. 
Ingredients
1 15 ounce can of garbanzo beans/chickpeas drained with water reserved, and rinsed
½ cup chopped dill pickles
2 ½ tablespoons olive oil
2 tablespoons tahini
2 tablespoons dill pickle juice
1 tablespoon lemon juice
1 ½ teaspoons dill weed
¾ teaspoon garlic powder
½ teaspoon salt
¼ freshly ground black pepper
⅛ teaspoon cumin
2 - 3 tablespoons reserved chickpea water
Instructions
Place all of the hummus ingredients with two tablespoons of the reserved chickpea water into a blender or food processor.

Mix until completely smooth and well blended, adding the additional water if needed. It may be necessary to add just a little bit more of the chickpea water as well, but do so sparingly, until desired consistency is reached. You don't want runny hummus!

Store in a tightly covered container in the refrigerator.
Did you make this recipe?
Share it with me on Instagram and make sure to follow me on Pinterest for more recipes.
If you like this Dill Pickle Hummus, I think you'll really enjoy my Roasted Garlic Hummus, and Roasted Garlic and Red Pepper Hummus. These will make great appetizers while you're watching the basketball games the rest of the month!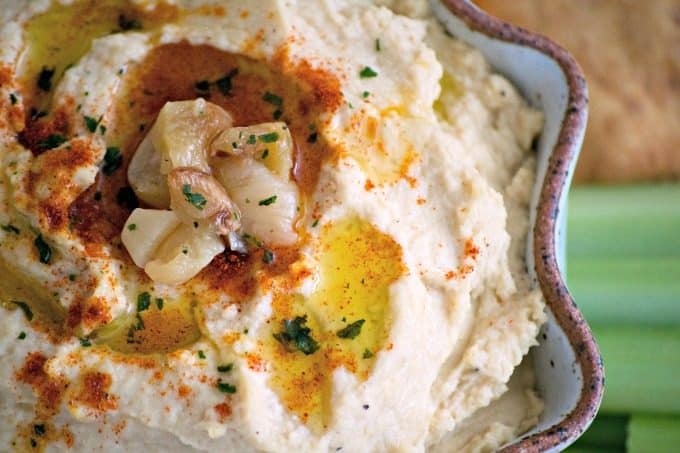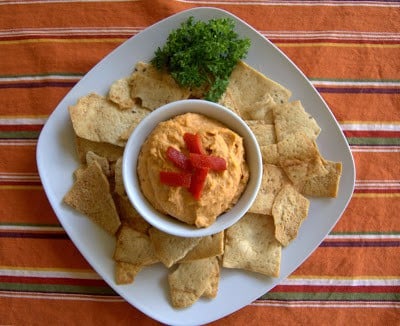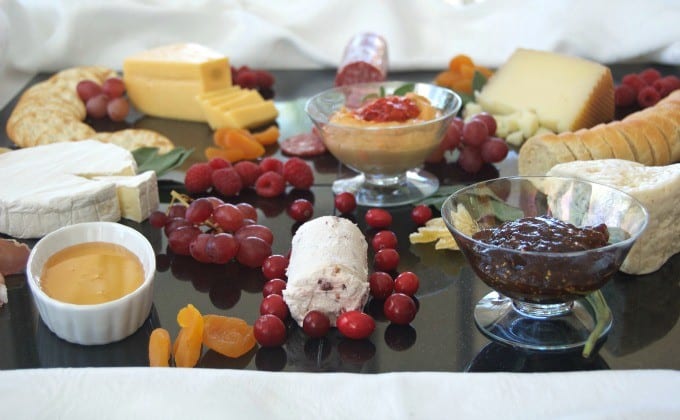 Reader Interactions