This Taco Dip is an easy game day dish to make and fun to serve. With four layers of deliciousness, it's sure to please your hungry crowd. This dip of refried beans, taco seasoned ground beef, sour cream and cheese topped with diced tomato and jalapeño and served with tortilla chips is a fan favorite at our house!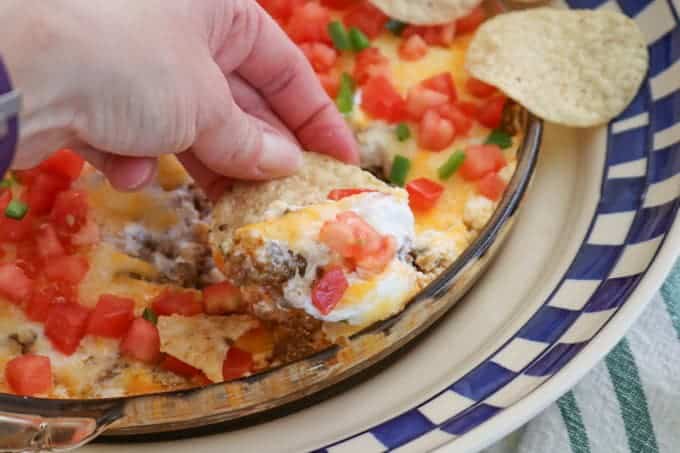 **This post has been updated in format and with pictures from its' original publication.

Here we are again -the third Monday of the month.
I just cannot believe how very fast the weeks go by.
My daughters have finished their year at college and my son will finish his sophomore year of high school on Thursday.
This. Year. FLEW!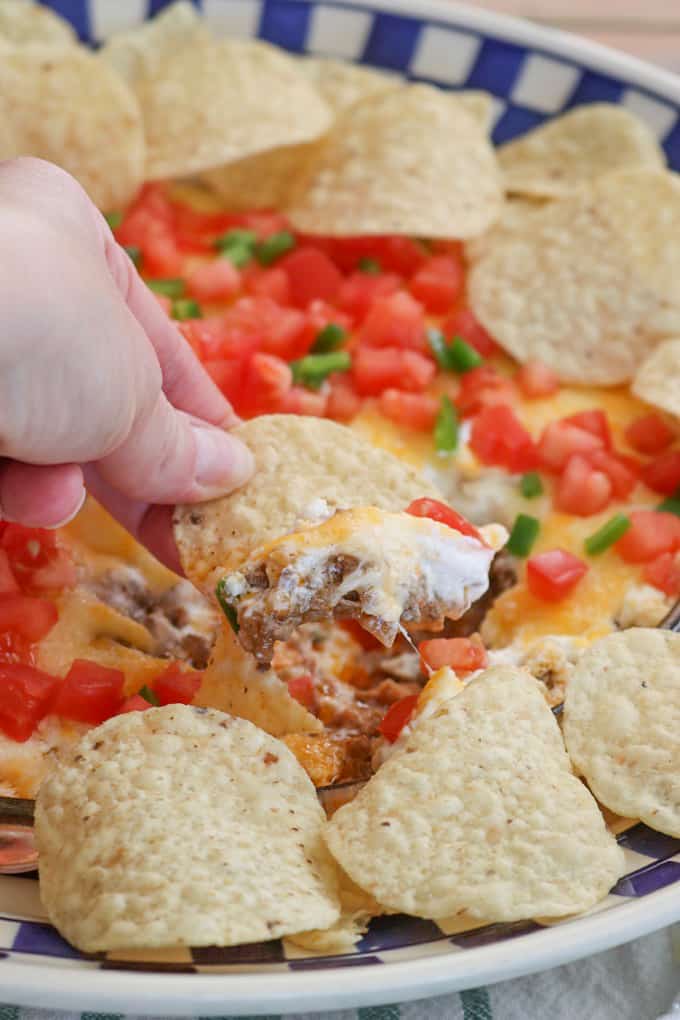 How 'bout you, do you think it's gone by fast?
We've been busy the last week with getting the girls organized here at home, work…
AND we have a new family addition.
Yes, his name is Keiser and he is a 9 week old Golden Retriever. He is absolutely one of the cutest things I've ever seen. And the best part?
He gets along famously with our almost 9 year old Golden, Brady.
They are spitting images of each other and love, love LOVE to play tug of war with Brady's rope toy.
Who needs TV when you can just watch the dogs play together?!
So, back to the post. Otherwise I'll be talking about the puppy ALL day…
It's based on Secret Santa and it is SO much fun!! If you're interested, you should check it out and request to join!
Now onto the exciting stuff!!
For the month of May, I was assigned to…
She has A LOT of recipes to choose from on her blog, so I had absolutely NO trouble searching for something the family would like. The only problem was, after I narrowed it down to about three, I had trouble choosing between those. haha.
It was simple, quick, and well, you'll read my rating after the recipe.
Capiche?
Cover completely with the tacoed (my new word) ground beef.
Spread the sour cream on top of the beef.
Top it off with the shredded cheese.
I rate everything I make on a scale of 1-4 with 4 being the best and this Taco Dip earned 4 rolling pins!
It was fabulous, easy and quick to make.
This will be a great thing to make not only as an appetizer, but on a weeknight when I'm working late and need something quick for dinner.
OR if I need a 16 year old boy to make dinner when I'm on my way home!
(wink, wink)
Be sure to check out Christine's blog and all of the other fantastic recipes my fellow bloggers have made from their assigned blogs!
I give you BIG baking hugs and muffins!