Taco Casserole – layers of Frito corn chips, taco seasoned beef, cheese, spinach, and tomatoes make up this easy and delicious dinner. It's quick and something the whole family will love on those busy weeknights.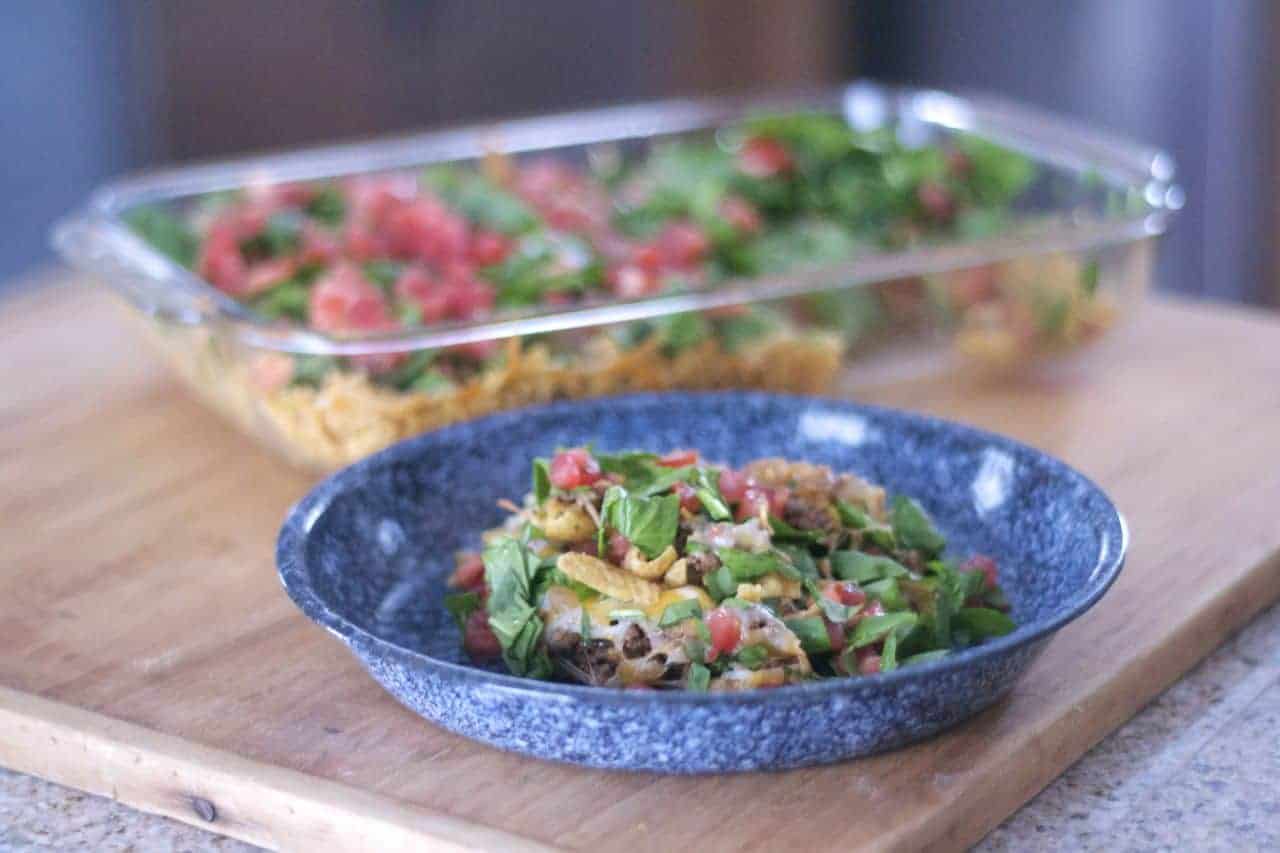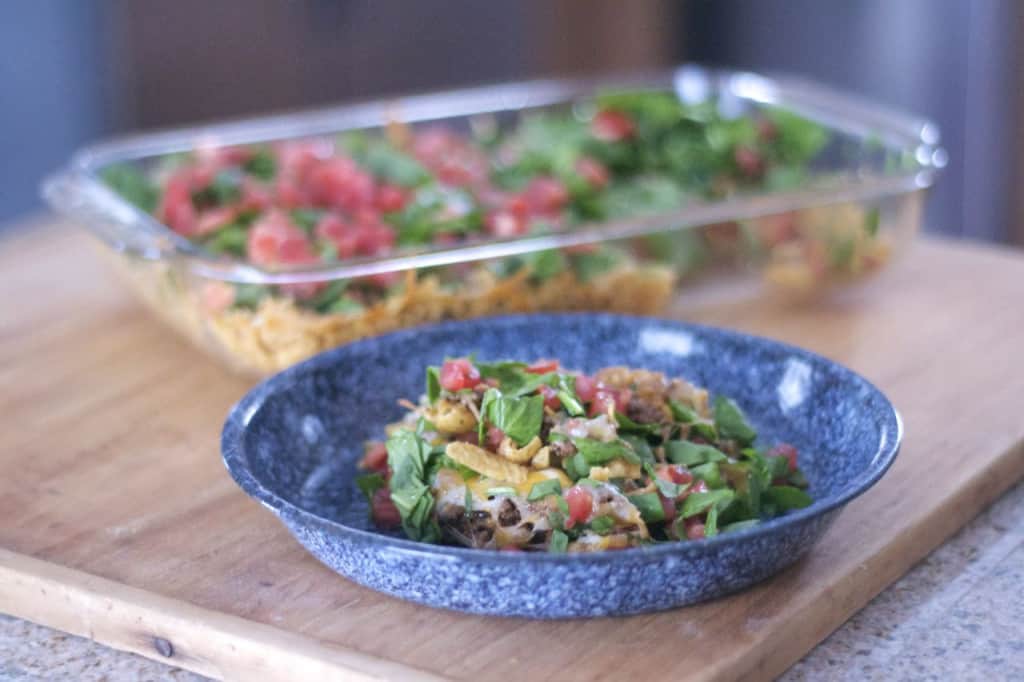 Last night we had a casserole, so tonight I thought why not continue it?
And yes, I know I still have yet to post last night's dinner – I'm working on it.
Tonight we had an easy quick and delicious dinner.
We love to eat tacos and I wanted to make a baked version, so I could post it.
I know this is something I'll definitely be making again.
SAVE THIS CASSEROLE RECIPE TO YOUR FAVORITE PINTEREST BOARD!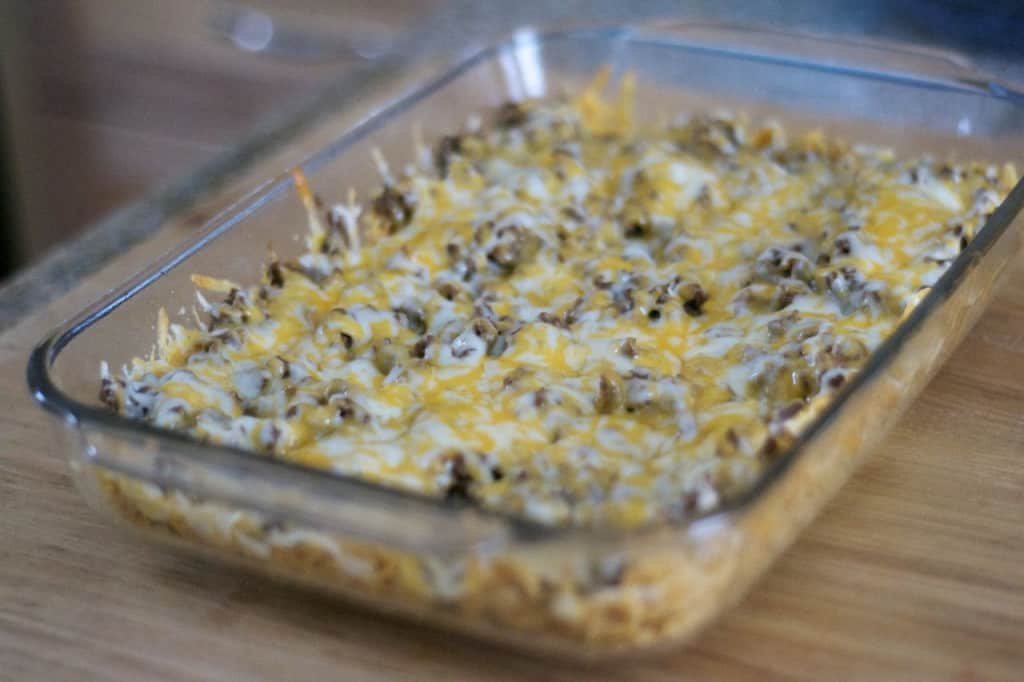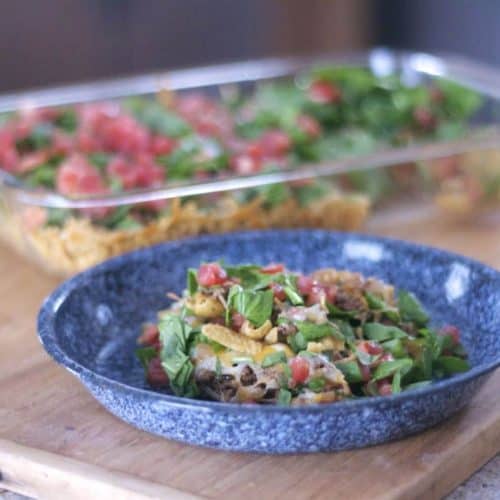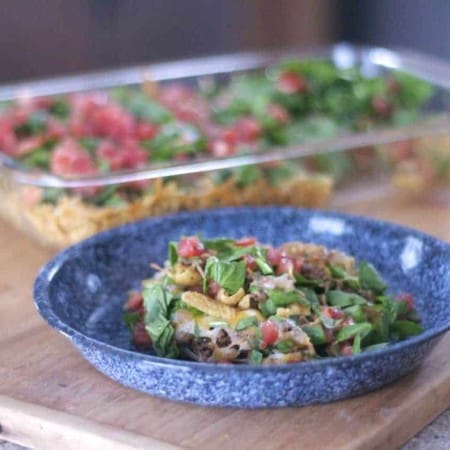 Ingredients
1 10 ounce bag Fritos crushed (do not have to be fine crumbs)
1 lb. ground beef I actually used 1.16 lbs.
3 tablespoons homemade taco seasoning
½ cup water
1 medium onion chopped
2 cups shredded Mexican cheese blend
4 plum tomatoes diced
3 cups chopped fresh spinach about 1/2 of 6 ounce bag
Instructions
Preheat oven to 350 degrees F.

Prepare a 9 X 13-inch baking dish by spraying it with cooking spray.

In a large skillet, brown the ground beef over medium high heat.

Add the chopped onion, homemade taco seasoning and water, reduce heat and allow to simmer for 5 minutes.

Place the crushed Frito chips into the bottom of the baking dish, spreading evenly.

Evenly distribute the taco seasoned beef over the chips.

Sprinkle the cheese over the beef.

Bake for 10 minutes.

After removing from oven, scatter the tomatoes and spinach over the cheese layer, alternating between each.
Nutrition
Serving: 4g
Did you make this recipe?
Share it with me on Instagram and make sure to follow me on Pinterest for more recipes.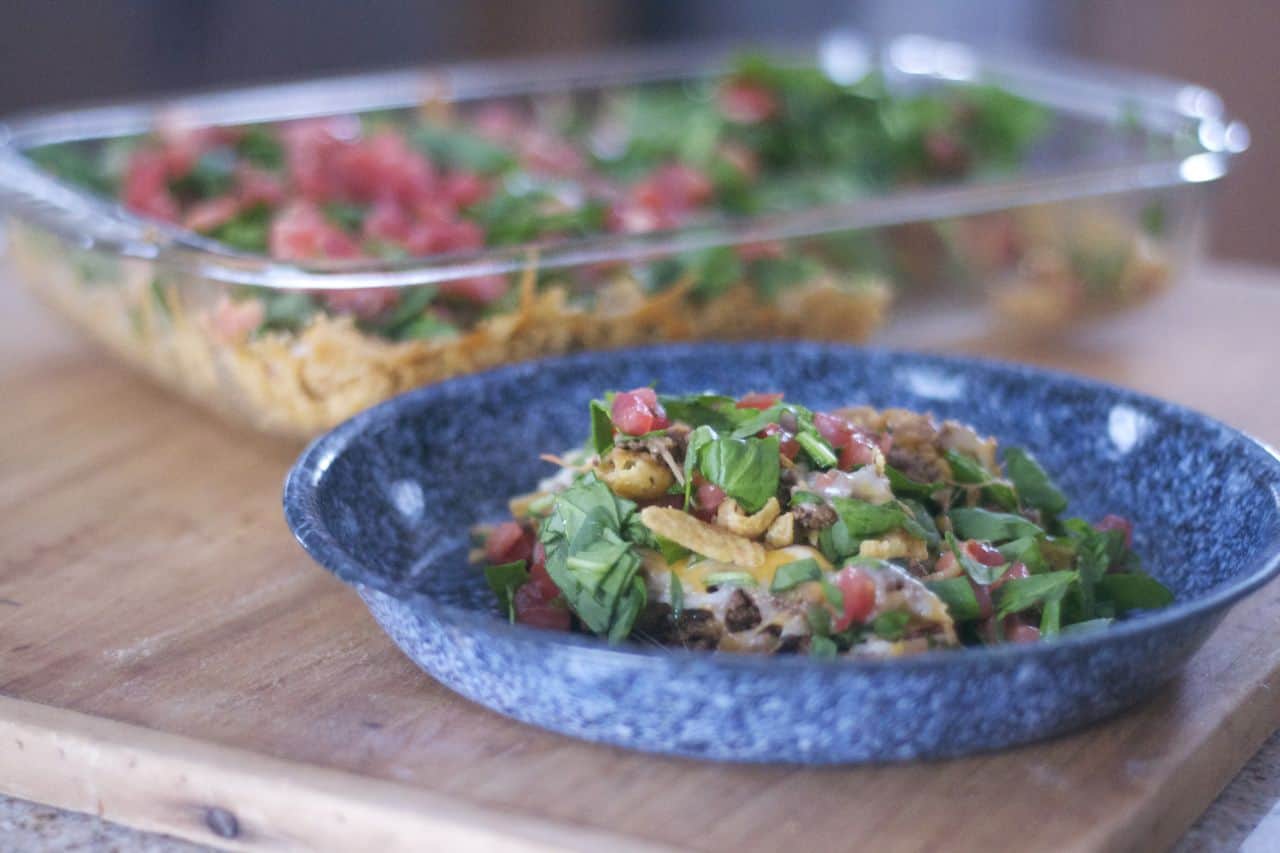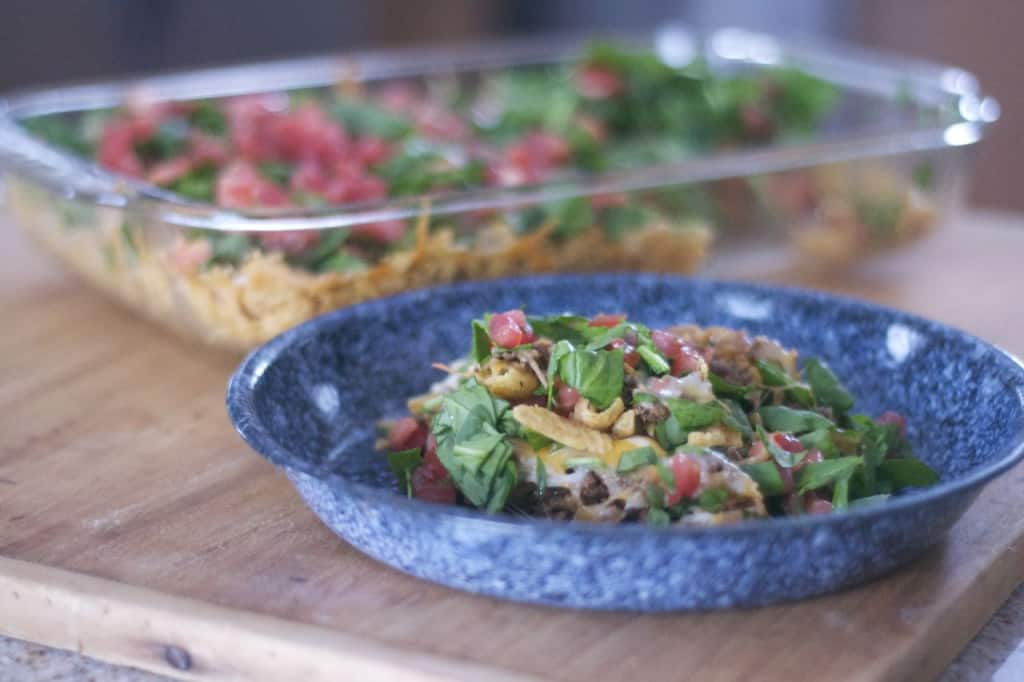 This dinner was so easy, so quick, and so very yummy.
There wasn't much left over after the five of us sat down to dinner tonight.
We love tacos, I love a casserole, and I LOVE when dinner is not only easy but is something I know the family will enjoy eating.
As I said, this will definitely be a regular on our menu.
I rate everything I bake on a scale of 1 – 4 with 4 being the best and this Taco Casserole earned 3 1/2 rolling pins!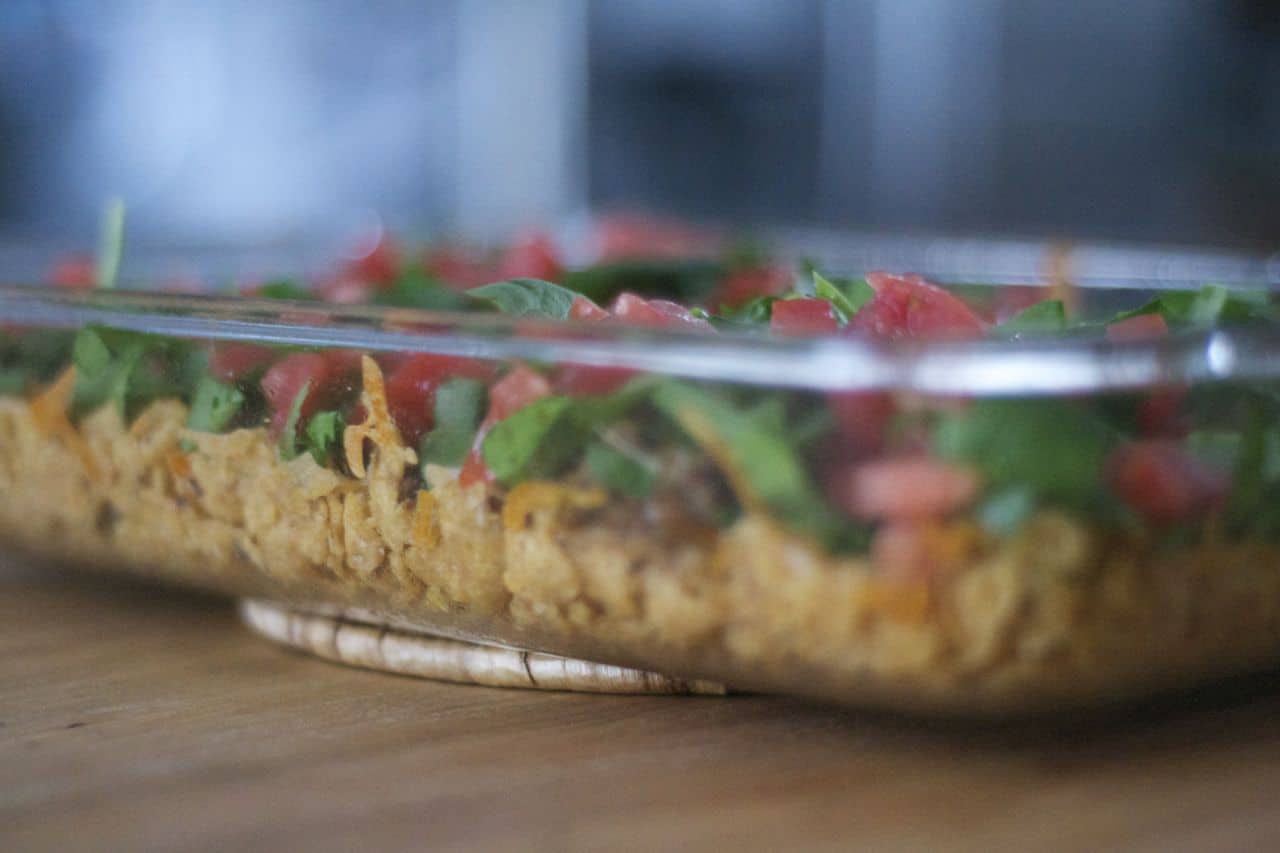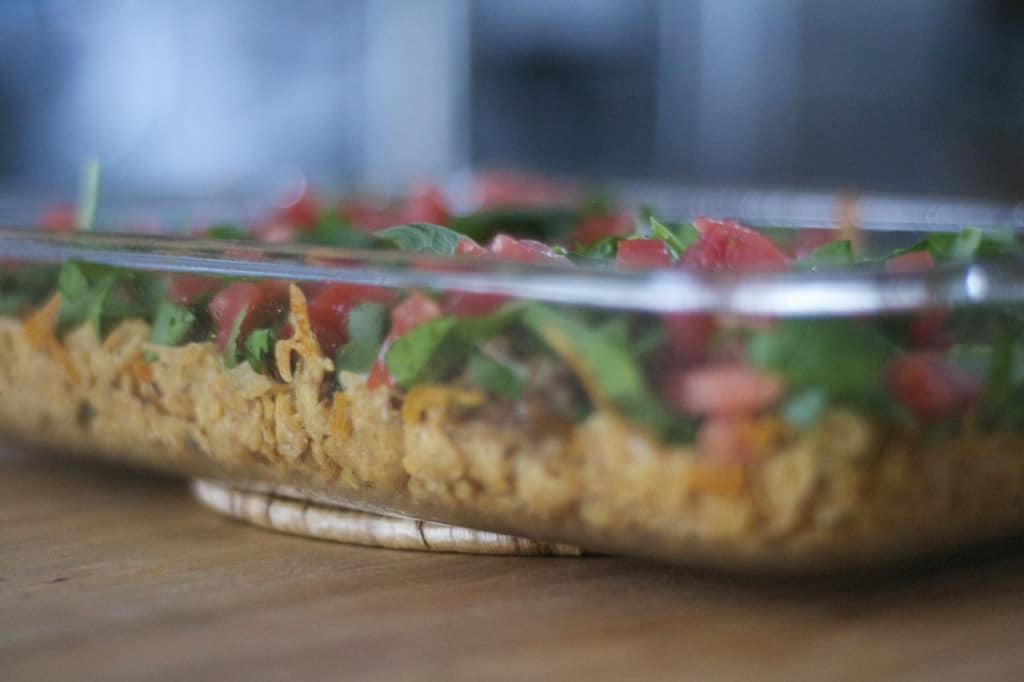 The Fritos on the bottom gave the casserole a wonderful crunch and taste, so I'm happy I used them. I was so happy I used the Fritos on the bottom – they gave it a wonderful crunch and taste.
I thought they might be a little salty, but there were fine.
Also, when you put the ground beef on top of the Fritos, they're going to move around a lot, so place the beef around the dish and spread it gently. You definitely don't want to clump it in the middle and then spread it out.
No Bueno.
If you enjoyed this recipe then you might like…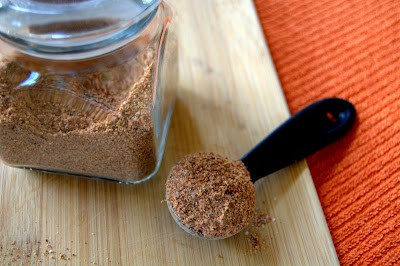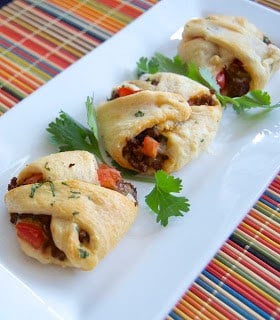 What ingredients make THE best tacos? Find out here!

Reader Interactions