Taco Casserole is made up of layers of Frito corn chips, taco-seasoned beef, cheese, spinach, and tomatoes for a delicious dinner. It's something the whole family will love on busy weeknights. Make it for your next Taco Tuesday!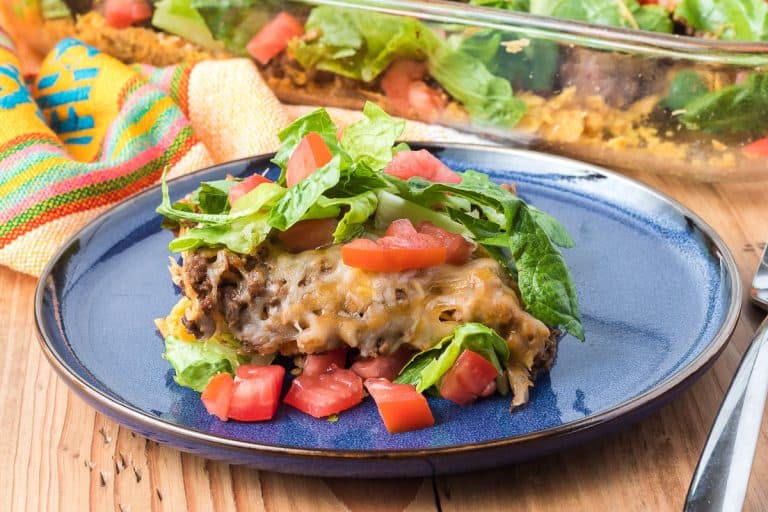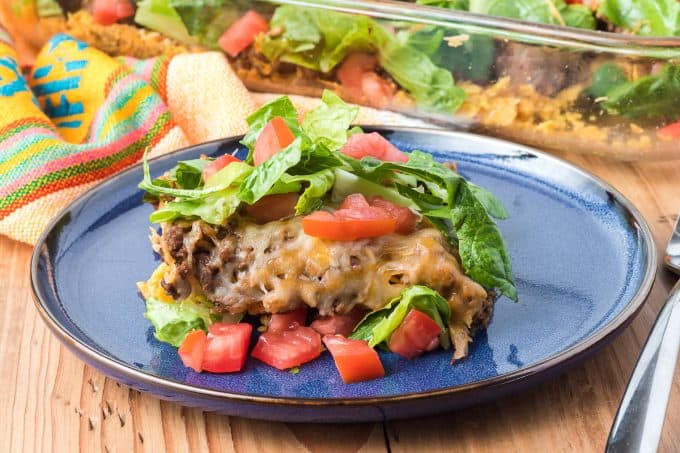 We love tacos, I love a casserole, and I LOVE when dinner is not only fast but is something I know the family will enjoy eating. This has definitely become a regular on our menu.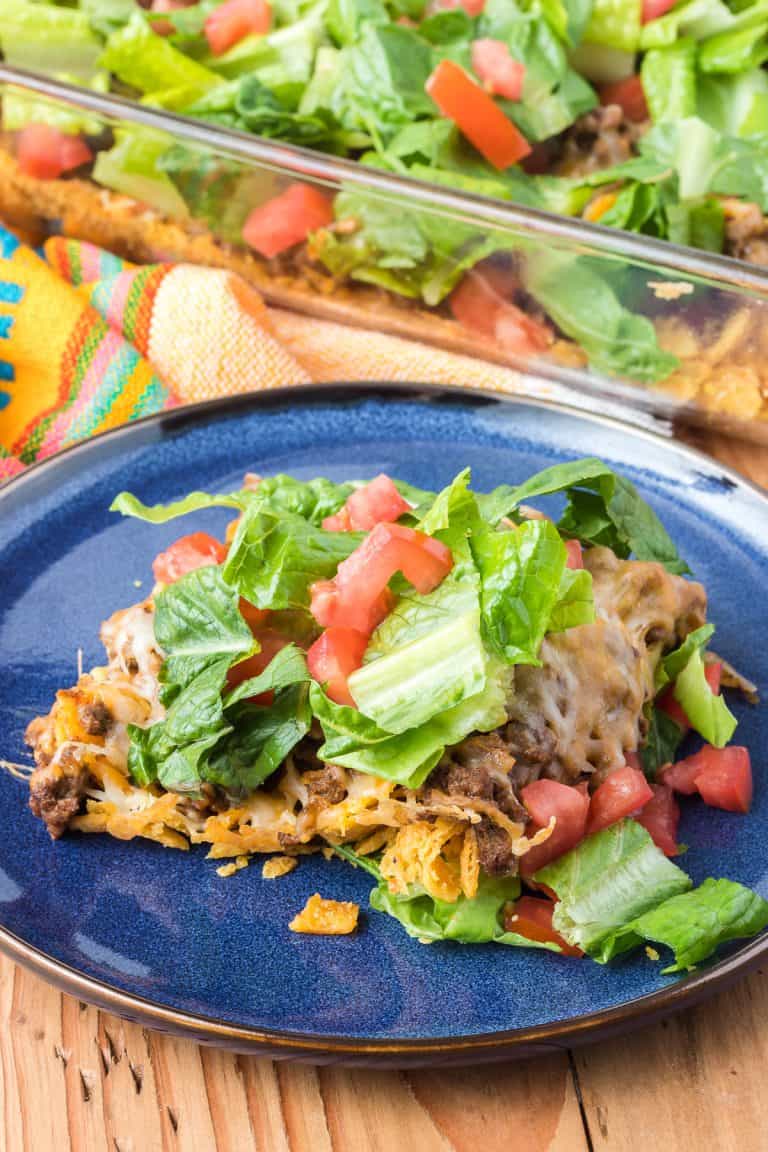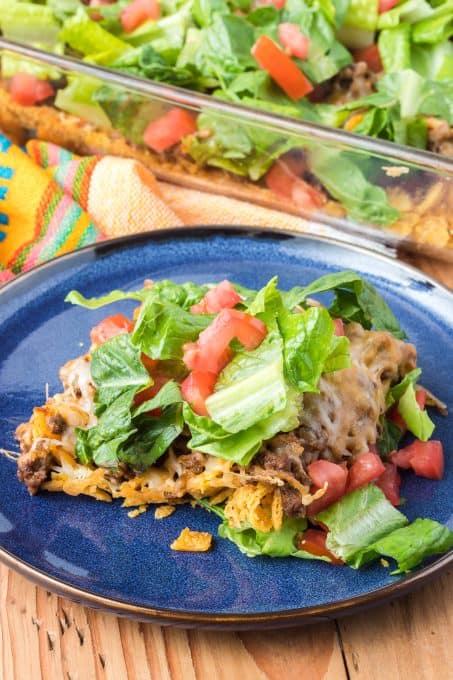 Another great thing about this recipe is that it's a great way to get your vegetables in. The recipe includes Romaine lettuce and chopped tomatoes, but you can also top it with your favorite toppings like fresh avocado, crunchy green peppers, green chiles, corn, black olives, and anything else your heart desires!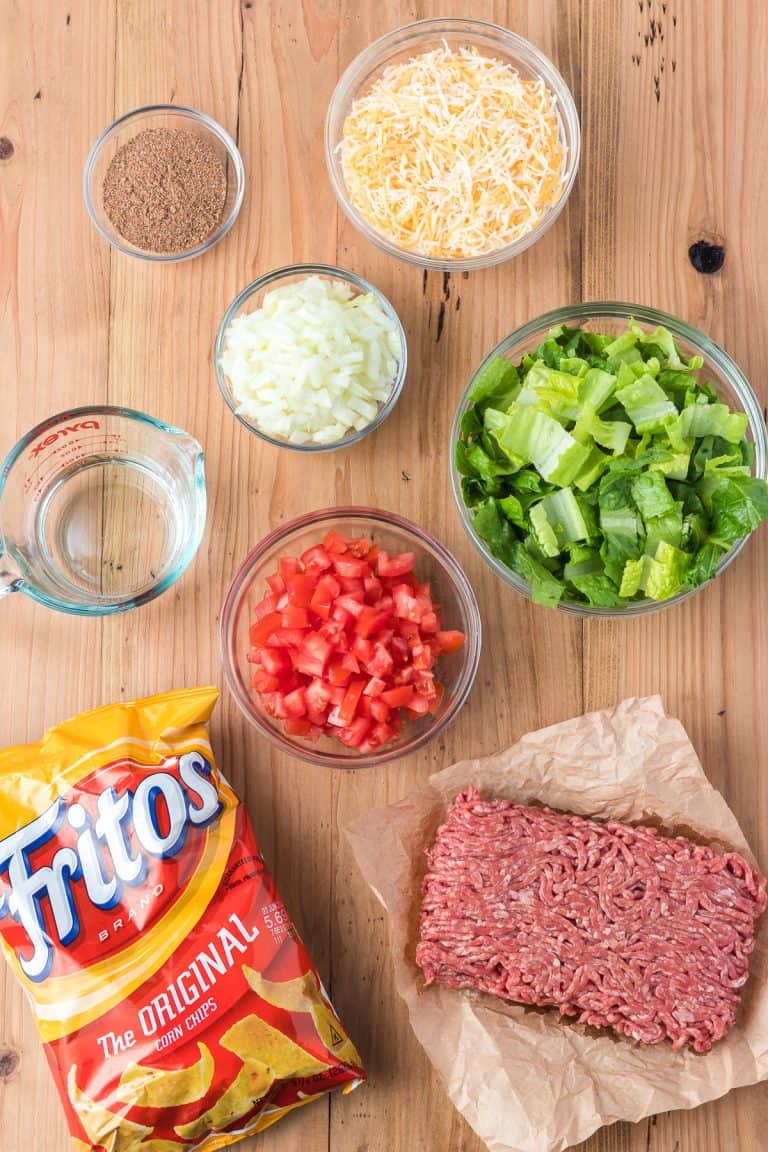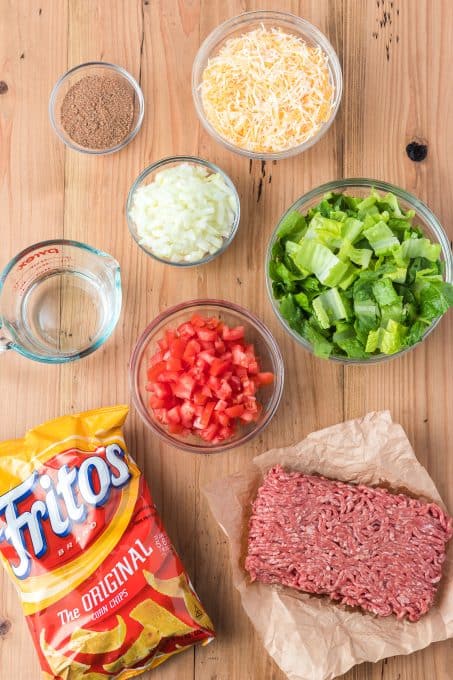 Taco Casserole Ingredients
Here's what you need to make this easy casserole recipe:
1 tablespoon olive oil
1 pound of lean ground beef
3 tablespoons taco seasoning (try my homemade taco seasoning recipe!)
½ cup of water
1 medium onion, chopped
2 cups shredded Mexican cheese blend
3 plum tomatoes, diced
1 head Romaine lettuce, chopped
9.4 ounce bag Frito corns chips, crushed
Suggested toppings:
Sour cream
Pico de gallo
Guacamole
Green onions
Olives
Chopped cilantro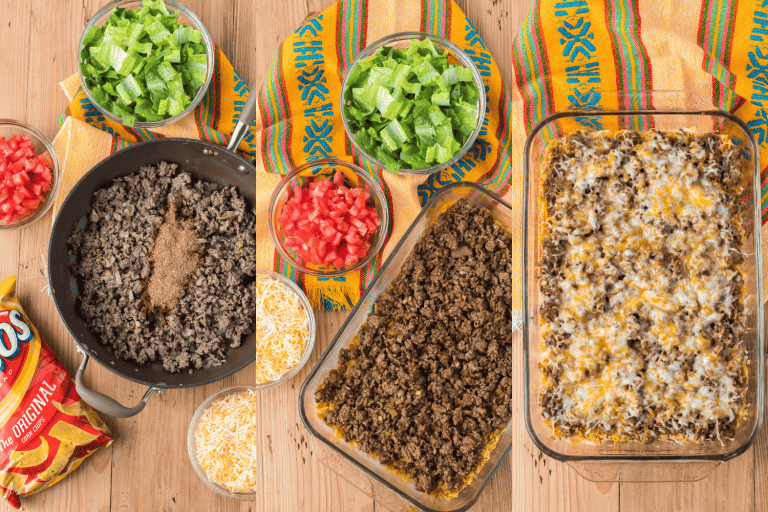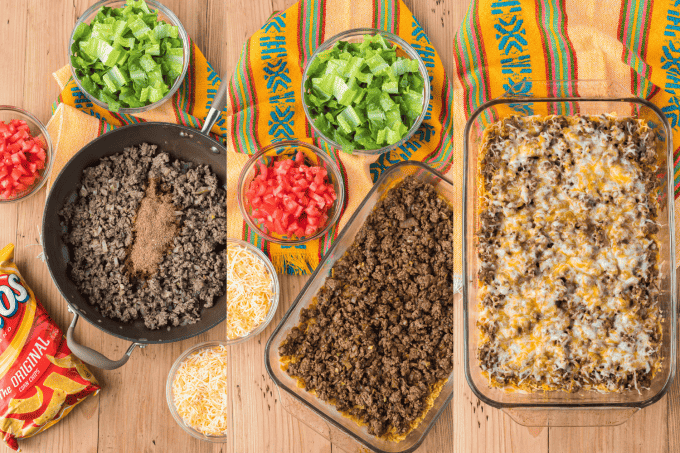 How to make this easy Taco Casserole recipe
Fill your stomach with this delicious taco casserole next time you have taco night! Here's how to make it:
First, preheat the oven to 350 degrees F. Prepare a 9×13 baking dish by spraying it with nonstick cooking spray. Spread the crushed Fritos over the bottom of the dish in an even layer and set it aside.
In a large skillet, drizzle the olive oil and over medium heat, sautee the onion for a few minutes until soft. Add the ground beef and cook until browned and thoroughly cooked. Add the taco seasoning, and water. Reduce the heat to low and allow the ground beef mixture to simmer for about five minutes.
Evenly distribute the taco meat over the chips. Sprinkle the cheese over the beef. Place the baking dish into the oven and bake for 10 minutes.
After removing the casserole dish from the oven, scatter the tomatoes and lettuce over the cheese layer, alternating between each. Top with your favorite taco toppings and serve warm.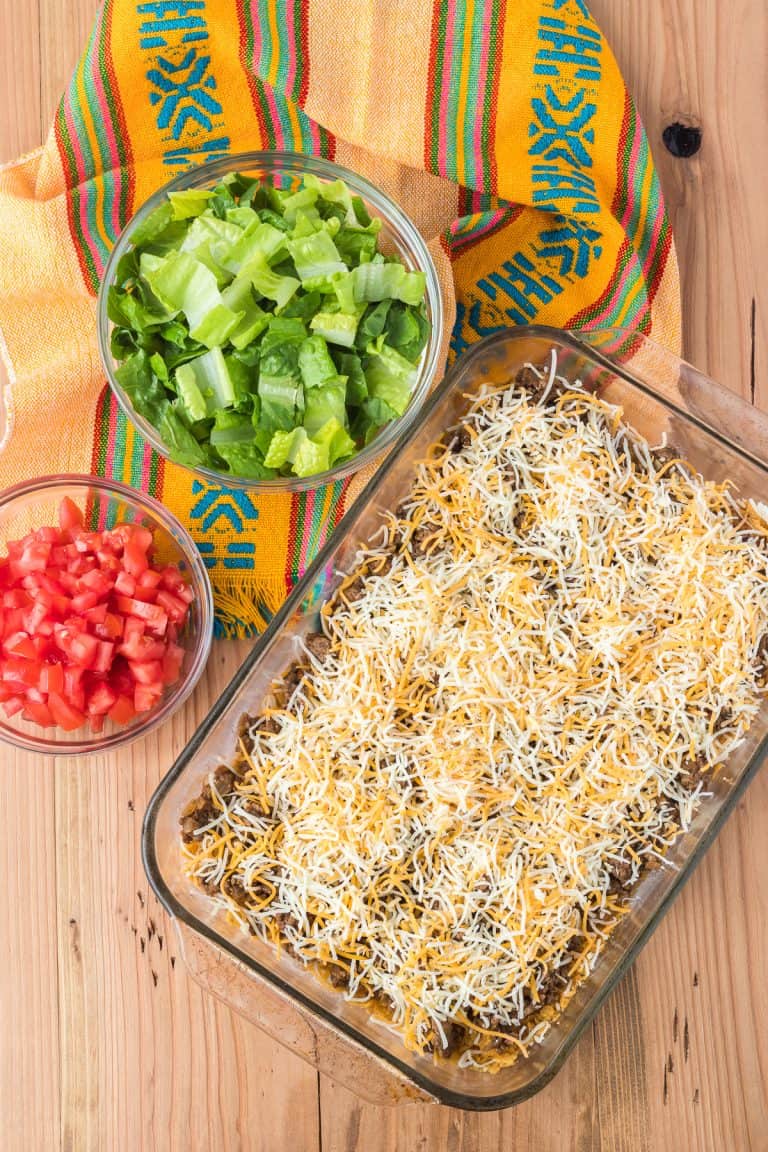 Recipe substitutions
Make it meatless by omitting the ground meat and substituting a can of your favorite beans. I prefer black beans, but you can also use pinto beans.
Substitute ground turkey for the ground beef to make it a bit healthier.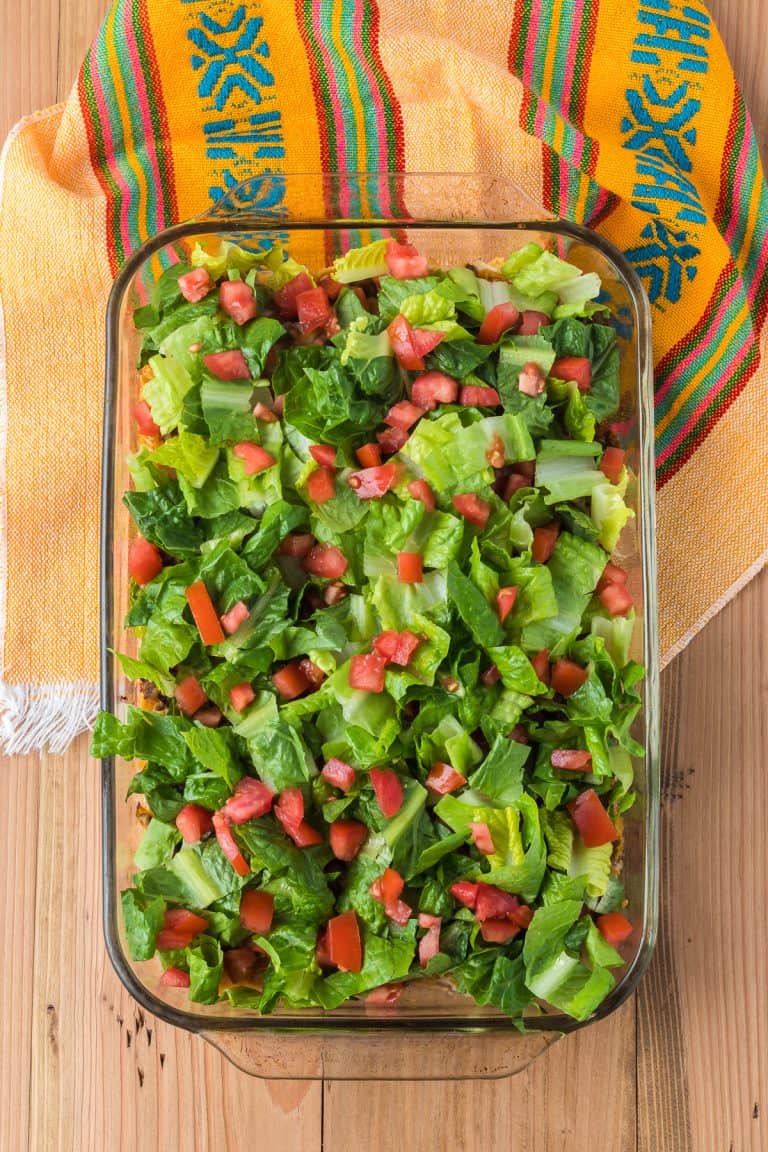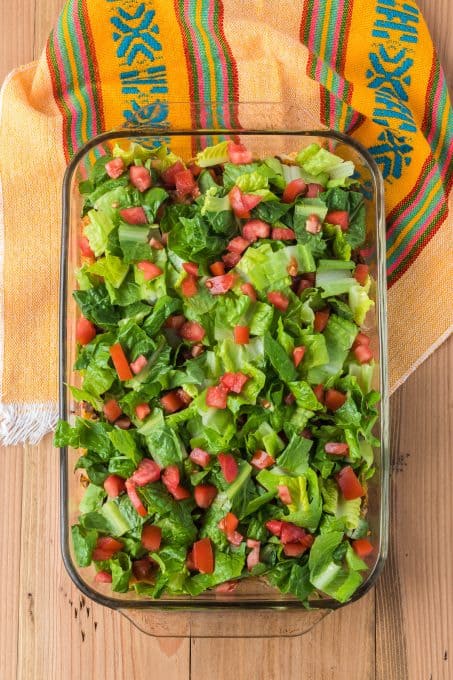 Recipe Tips
I was so happy I used the Fritos on the bottom – they gave it a wonderful crunch and taste. Some people prefer to put them on top of the ground beef mixture- that's okay, too.
Also, when you put the ground beef on top of the Fritos, they will move around a lot, so place the meat around the dish and spread it gently. You definitely don't want to clump it in the middle and then spread it out.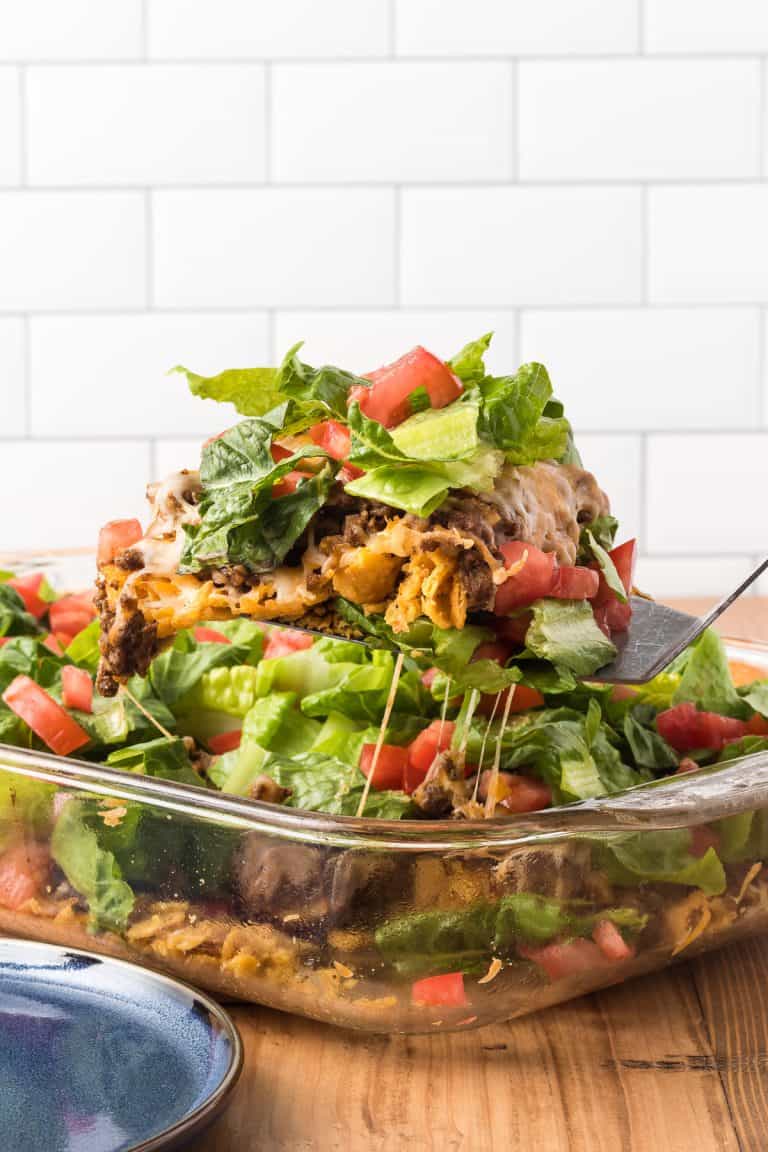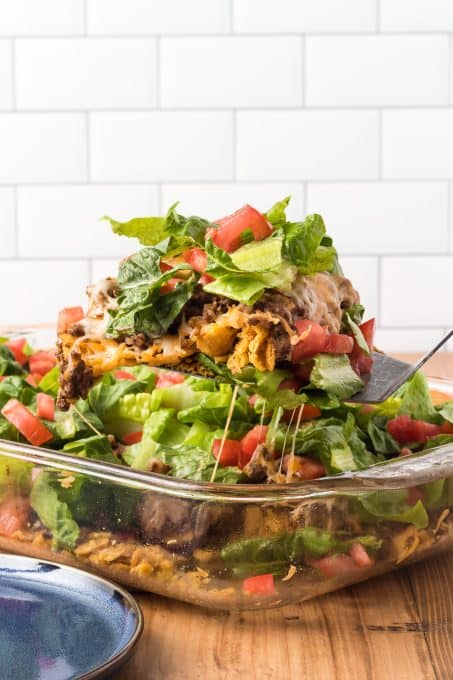 Can you use a different type of chips in this Taco Salad?
I used Frito corn chips, but you could use different chips. Doritos and crunchy tortilla chips are popular. You could even use broken taco shells.
How to make this Taco Casserole ahead of time
This taco bake makes a great freezer meal. Cook the beef mixture and assemble the casserole as directed in the recipe.
Sprinkle 1 cup of cheese over the beef. Let it cool completely, then cover it tightly with a layer of plastic wrap, then aluminum foil. Freeze for up to 3 months.
When you're ready to make it, let it thaw in the refrigerator overnight. Remove the plastic wrap and aluminum foil, then preheat the oven to 350 degrees. Top the casserole with Fritos and another cup of cheese, then bake until heated throughout.
Since it is cold, it will take longer to bake than the original recipe. Start checking it at 25 minutes and remove it when the center is warm, and the cheese is melted.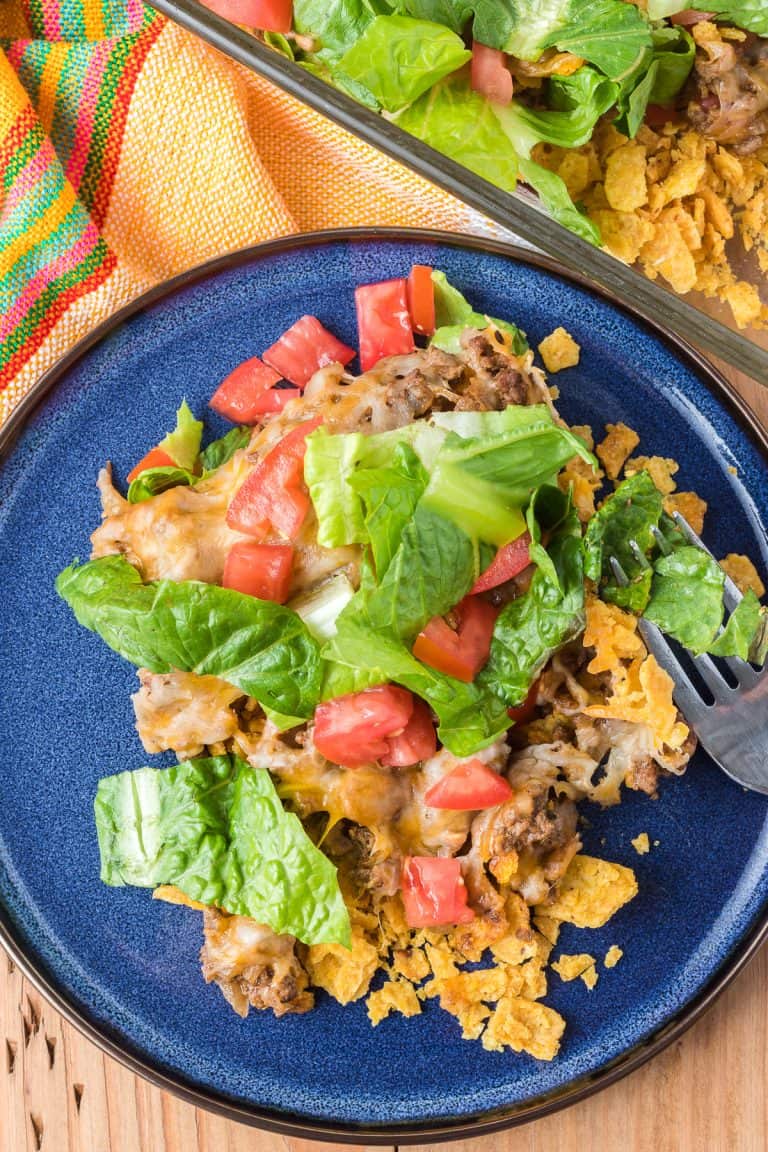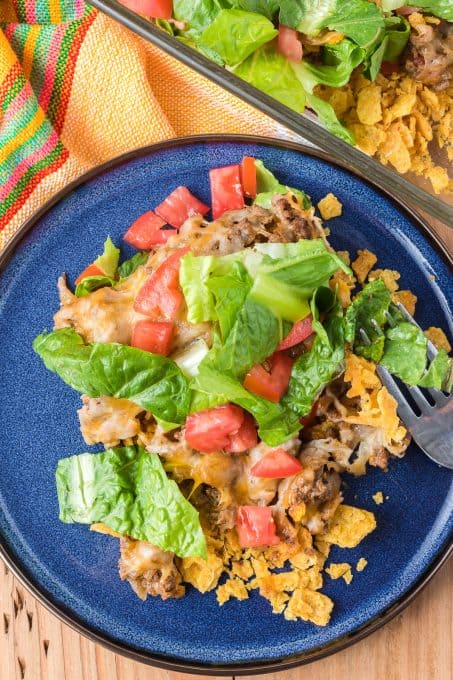 How to store leftover Taco Casserole
You can store leftovers covered in the refrigerator for 1-2 days. Or place it in an airtight container.
You can also freeze leftovers. Place individual portions in an airtight container and freezer for up to 1 month.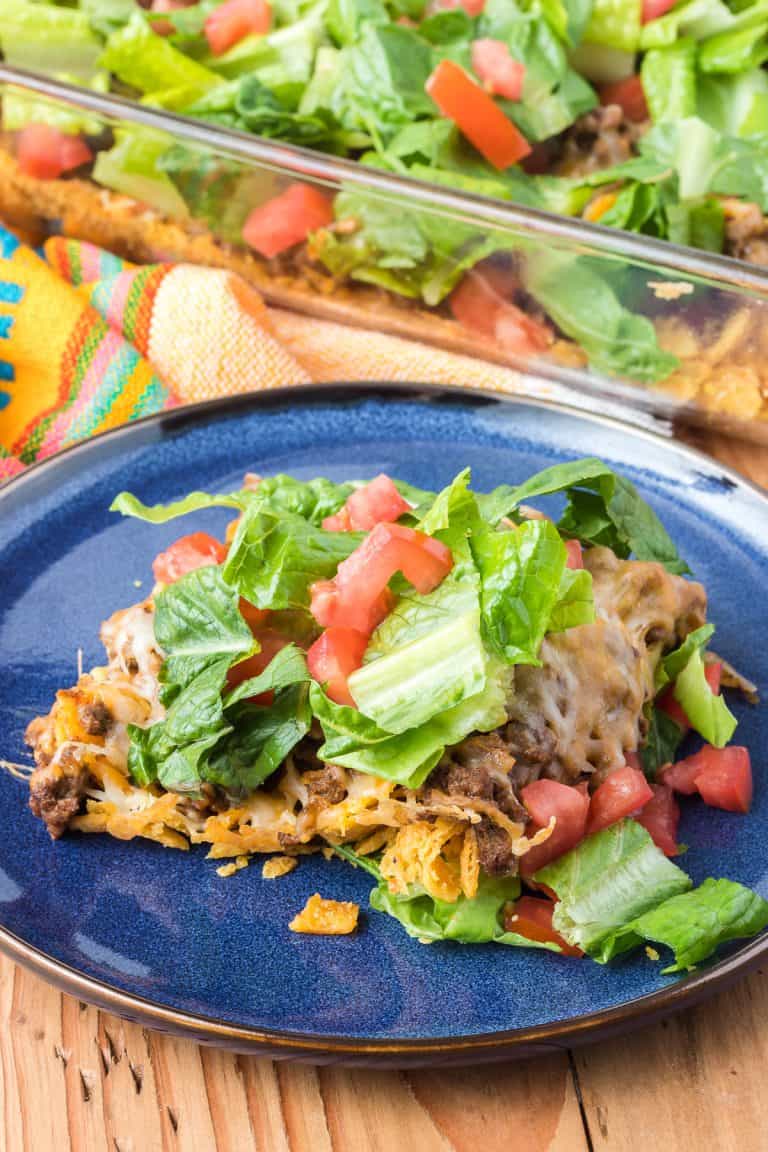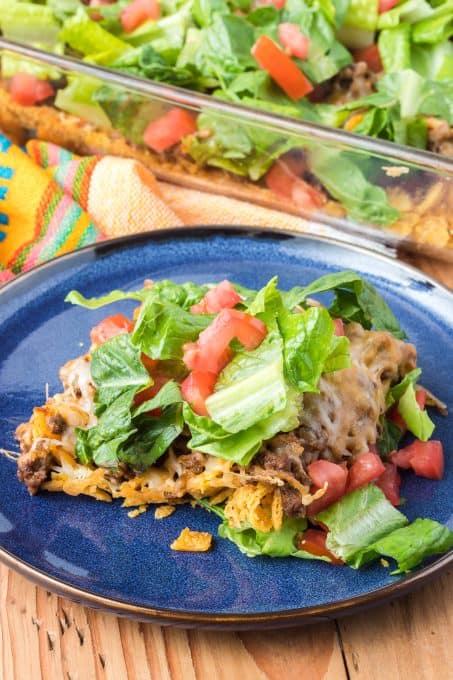 If you like Taco Casserole, try one of these easy weeknight meals:
Taco Pockets- Combine premade crescent rolls and a filling made from scratch to get deliciously savory Taco Pockets! They make the perfect appetizer for Game Day, a potluck, or when you're feeding a large crowd!
Taco Braid– ground beef seasoned with taco seasoning, covered with shredded cheese and tomatoes, and wrapped in braided pizza dough. It's a fun and different way to eat a taco!
Chicken Taco Salad– This Chicken Taco Salad is packed with fresh veggies and protein! Taco-seasoned chicken is cooked in a zesty cilantro lime sauce, then tossed in a spinach salad loaded with beans, avocado, and corn.
Slow Cooker Carne Asada Taco Boats– slices of beef spiced just the way you like it, prepared in the slow cooker, and put together with Old El Paso ingredients. They're fun to create and a proven family favorite!
Easy Layered Taco Dip- With layers of taco-seasoned ground beef, refried beans, sour cream, cheese, diced tomatoes, green onions, and jalapeños, it's sure to be a hit with everyone. Make sure to have plenty of tortilla chips on hand for dipping!
Walking Tacos Recipe– A fun way to eat tacos and with less mess! This easy recipe makes a great meal for a taco bar, outdoor even and is even a great addition to your tailgating or game day menu.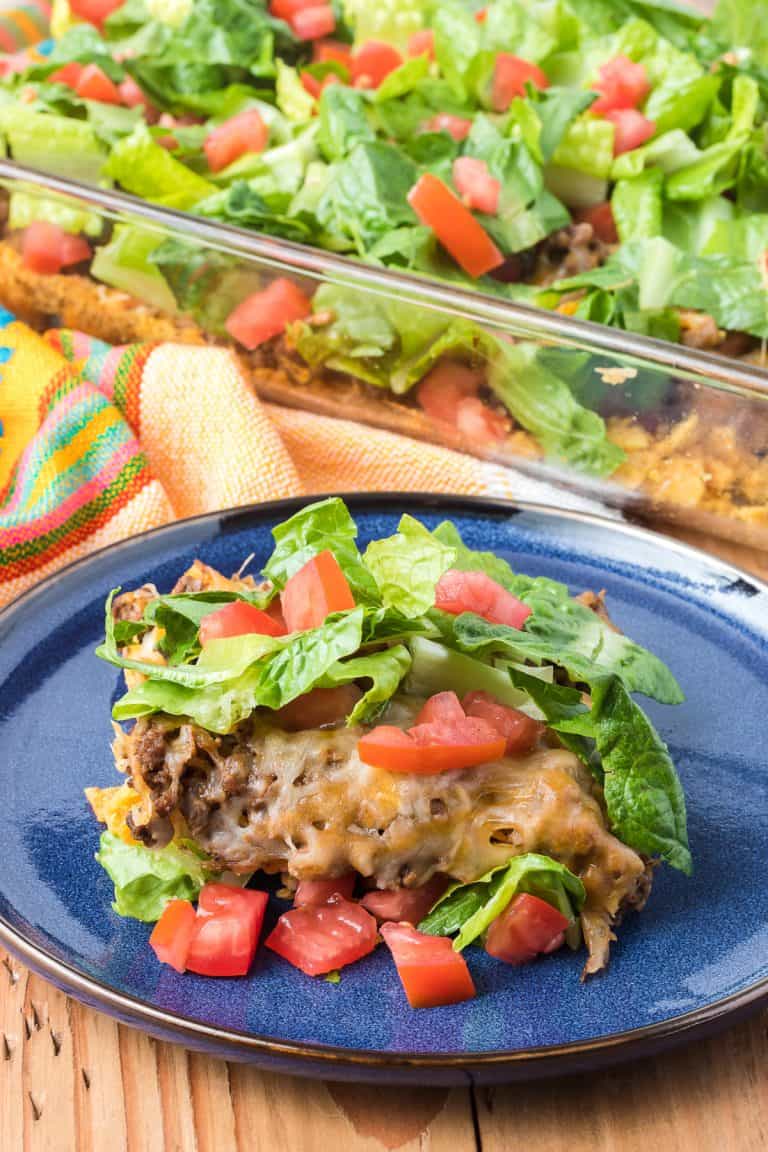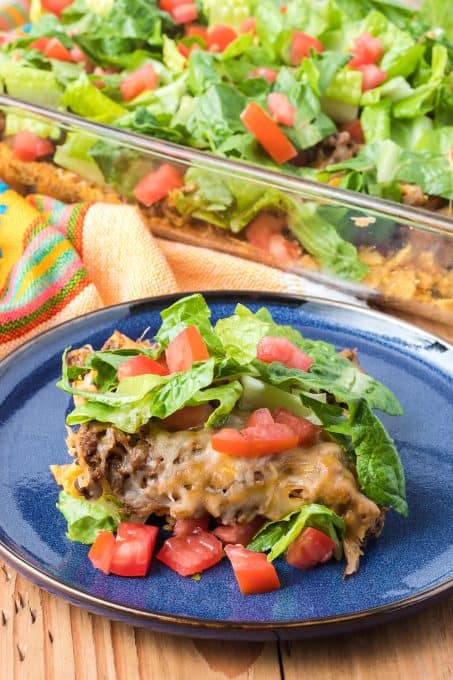 ~ FOLLOW ME ~
Keep an eye out for more of my easy recipes each week!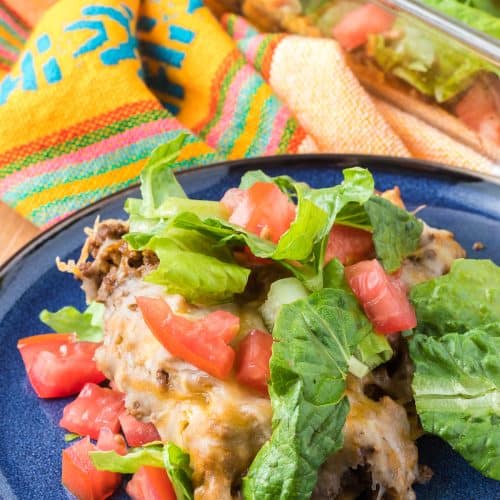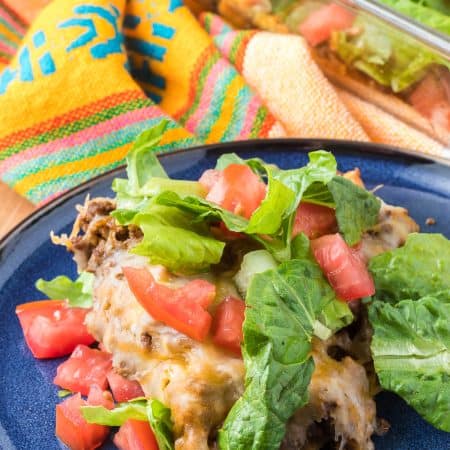 Ingredients
9.4 ounces Fritos crushed (do not have to be fine crumbs)
1 tablespoon olive oil
1 medium onion chopped
1 lb. ground beef I actually used 1.16 lbs.
3 tablespoons homemade taco seasoning
½ cup water
2 cups shredded Mexican cheese blend
3 plum tomatoes diced
1 head Romaine lettuce
Instructions
Preheat oven to 350 degrees F.

Prepare a 9 X 13-inch baking dish by spraying it with cooking spray.

In a large skillet, drizzle the olive oil and cook the onion over medium high heat until soft. Add the ground beef and cook until browned and cooked through.

Place the crushed Frito chips into the bottom of the baking dish, spreading evenly.

Evenly distribute the taco seasoned beef over the chips.

Sprinkle the cheese over the beef.

Bake for 10 minutes.

After removing from oven, scatter the tomatoes and lettuce over the cheese layer, alternating between each.
Nutrition
Serving: 1serving | Calories: 531kcal | Carbohydrates: 34g | Protein: 29g | Fat: 32g | Saturated Fat: 10g | Polyunsaturated Fat: 8g | Monounsaturated Fat: 11g | Trans Fat: 1g | Cholesterol: 72mg | Sodium: 680mg | Potassium: 699mg | Fiber: 5g | Sugar: 3g | Vitamin A: 9682IU | Vitamin C: 10mg | Calcium: 542mg | Iron: 4mg
Did you make this recipe?
Share it with me on Instagram and make sure to follow me on Pinterest for more recipes.
This post was originally published March 15, 2014, and has been updated in format and with pictures on September 6, 2023.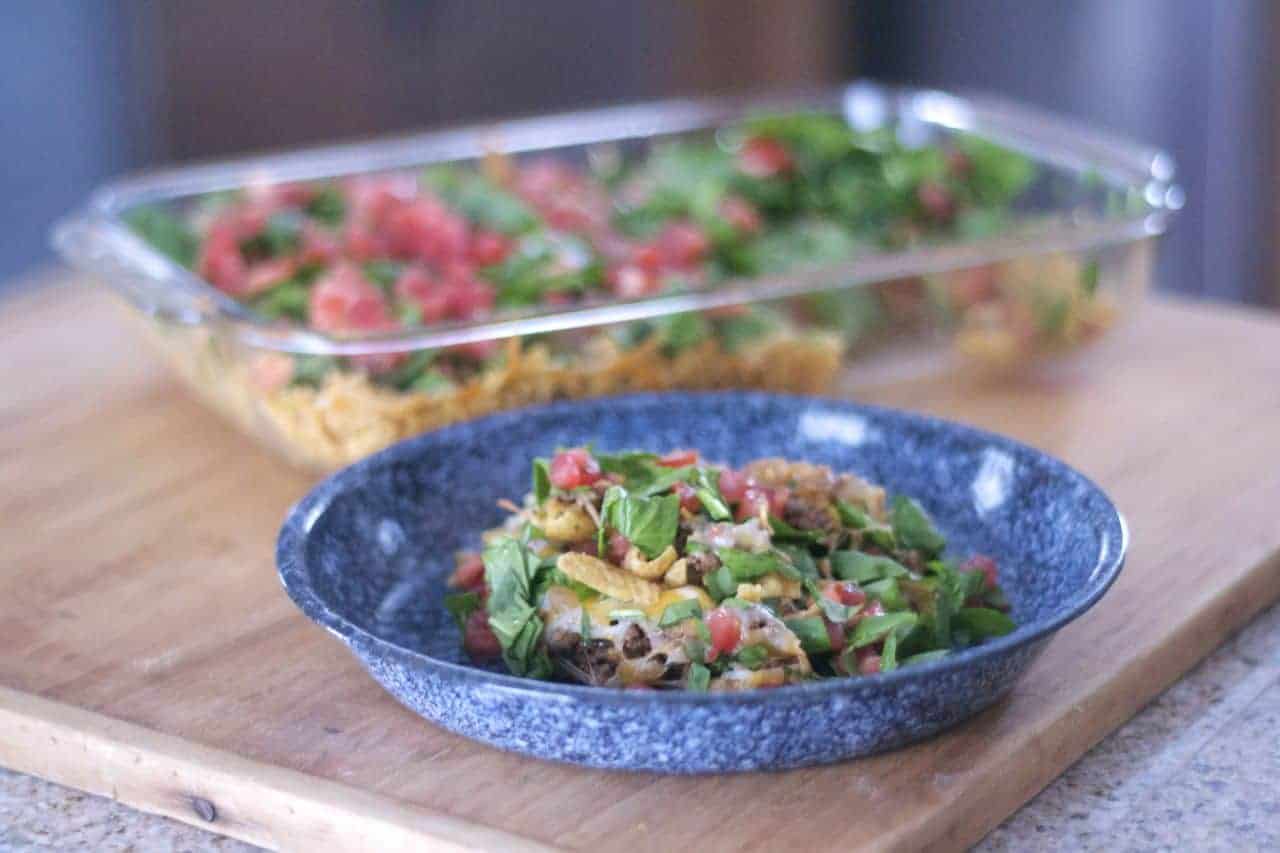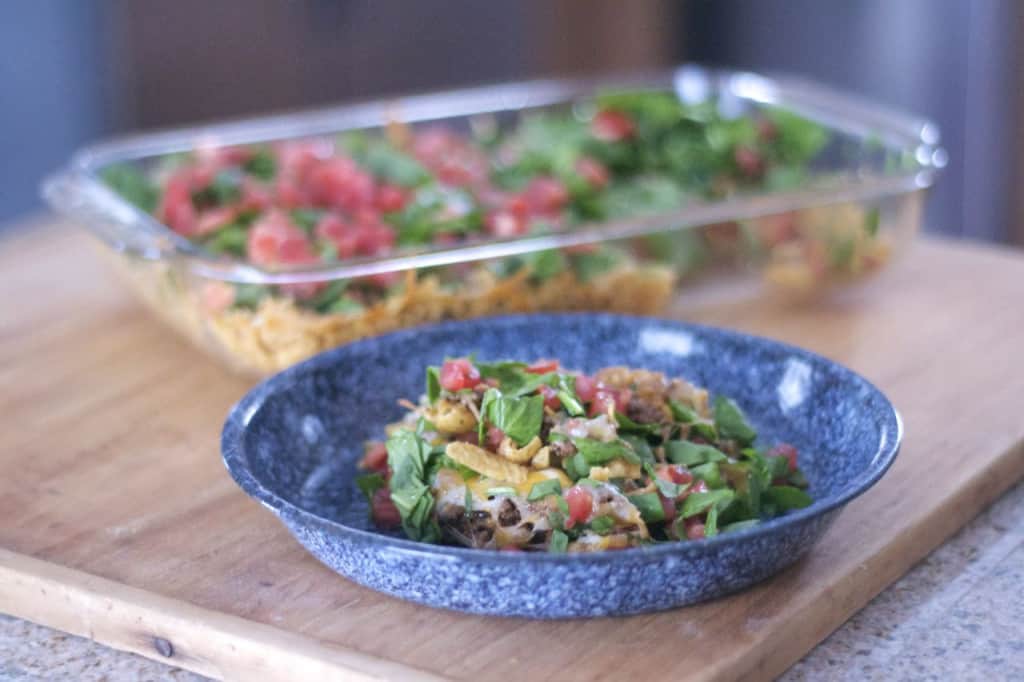 Reader Interactions