Slow Cooker Carne Asada Taco Boats – slices of beef spiced just the way you like it, prepared in the slow cooker, and put together with Old El Paso ingredients. They're fun to create, easy for a busy weeknight, and the family will love them!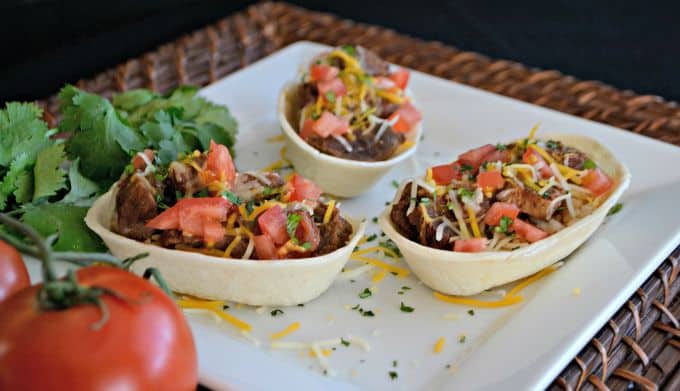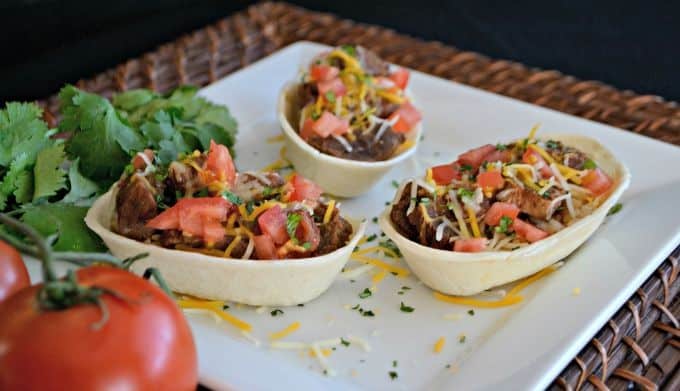 This time of year, you just can't beat a meal made in the slow cooker.
Whoever invented this kitchen appliance was GENIUS!! Thank you, Irving Naxon, you have made our lives SO much easier and I for one, am very grateful.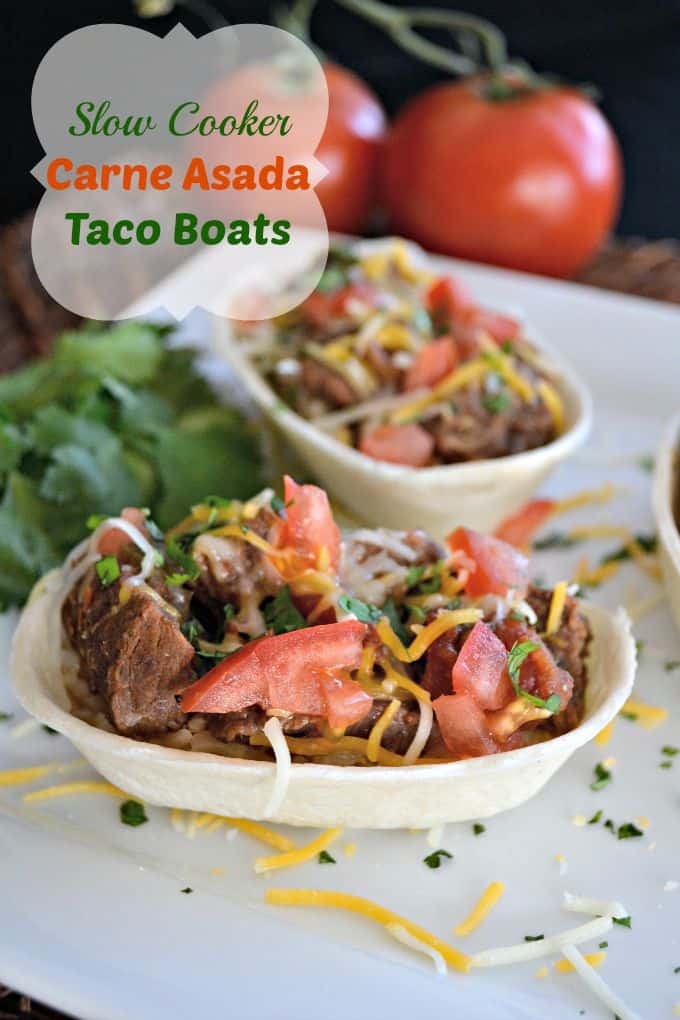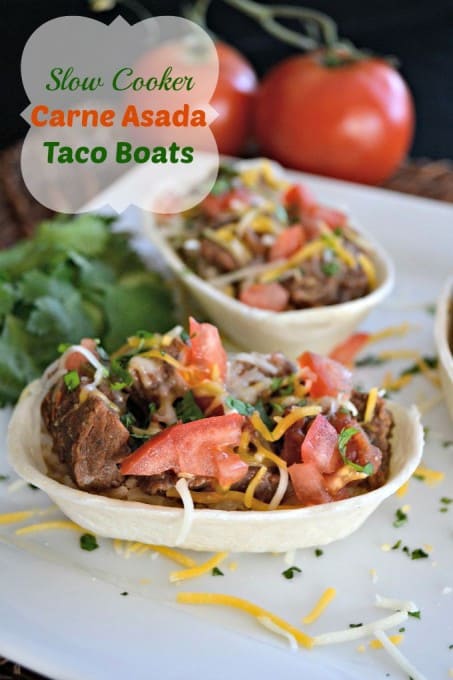 I bet many of you are in back-to-school mode and if you aren't already, then you very soon will be. I know my personal page on Facebook has been flooded with all of those first-day pictures of all ages.
A couple of my son's friends even had their first day of college pictures – one took her selfie away at school and one so graciously allowed his mom to take it. Way to go, you two – I know your moms are beaming! Personally, I can't believe it's that time of year again. The summer has just FLOWN!
SAVE THESE SLOW COOKER TACOS TO YOUR FAVORITE PINTEREST BOARD!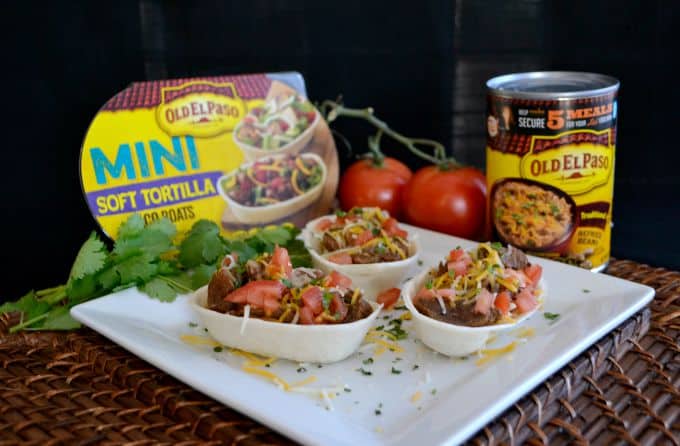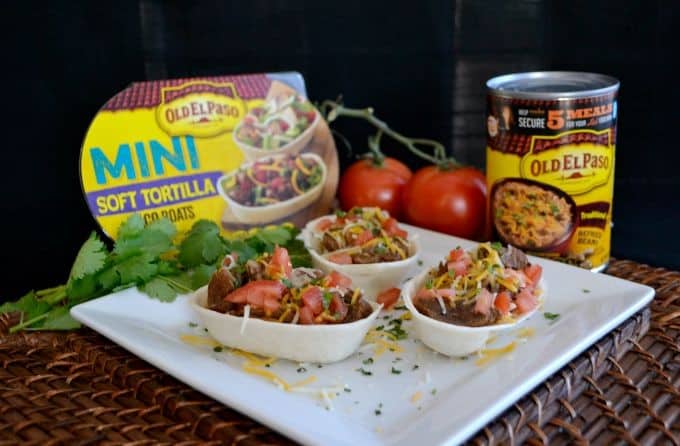 So with back to school comes setting up routines, busy days, homework, sports practices, dance and music lessons, tutoring and I could go on and on.
As a mom, I know how awesome it can be when the afternoon rolls around and you've either got dinner already planned or better yet, cooking! Am I right? It's so much easier to be able to shuttle the kids hither and yon, attend one of their games or help them with their homework without the distraction of making dinner.
Make the slow cooker your friend this year and if you don't have it, definitely invest in one. You'll be so very glad you did.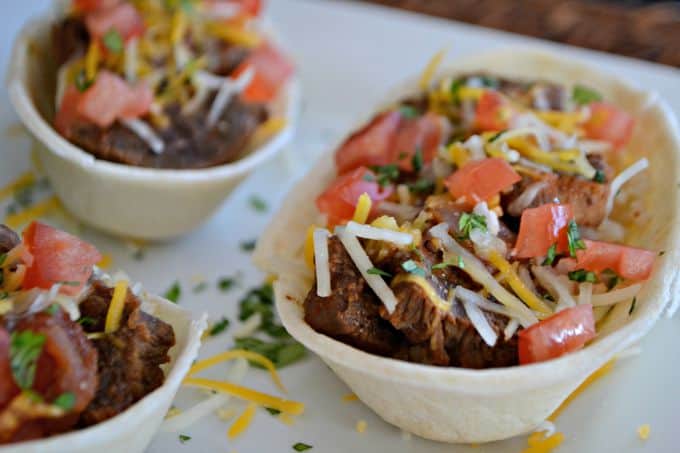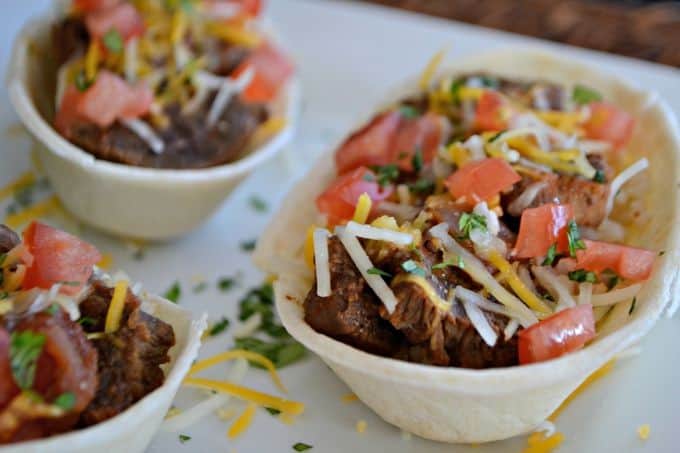 I was shopping for taco shells in Albertsons the other day when I came across these awesome Old El Paso Taco Boats! The shape made them easy to eat without everything falling onto the plate as a taco does (0r at least when I eat a taco anyway 😉 ).
These boats are not only fun and easy to put together with Old El Paso products, but easy to eat and can be made according to each person's tastes. There was SO much flavor in each and every bite!
Also, be sure to look for the Box Top on each Old El Paso product as well as other General Mills items and clip them out! Your child's school will earn 10 cents with each Box Top they redeem through the Box Tops for Education program, up to $20,000 per school year. it's a great way to help them earn money for books, gym equipment, etc.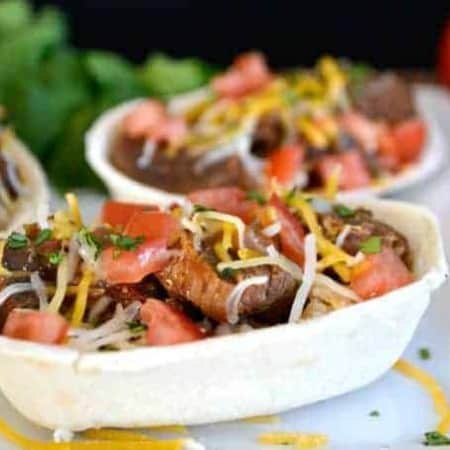 Slow Cooker Carne Asada Taco Boats
A great back to school weeknight dinner, these Slow Cooker Carne Asada Taco Boats will have your family begging for more. There's a mouthful of flavor in each bite and they're fun to make as well as fun to eat!
Ingredients
2 lbs. flank steak
1 15- ounce jar chunky salsa a little less than two cups
1 10- ounce can diced tomatoes with chiles
1 teaspoon cumin
1 teaspoon garlic powder
½ teaspoon chili powder
½ teaspoon oregano
½ teaspoon paprika
¼ teaspoon kosher salt
¼ teaspoon ground black pepper
Taco Boat Assembly
1 12 count package Old El Paso Mini Soft Tortilla Taco Boats
1 16- ounce can Old El Paso Refried Beans heated according to package directions
1 cup cooked brown rice
assorted taco toppings - shredded Mexican cheese chopped lettuce, diced tomato, diced avocado
Instructions
Turn your slow cooker on to high heat.

Place the salsa, diced tomatoes, cumin, garlic powder, chili powder, oregano, paprika, salt and pepper into the slow cooker and stir to combine well.

Cut the flank steak across the grain into thin strips and again into pieces about 1-2 inches long.

Add them to the slow cooker and mix.

Cover and cook on high for 3 - 4 hours.
Assembly
Place a small amount of Old El Paso refried beans into the bottom of one Old El Paso Mini Soft Tortilla Taco Boat.

Cover with a small amount of brown rice, some carne asada, and add the assorted toppings of choice.
Did you make this recipe?
Share it with me on Instagram and make sure to follow me on Pinterest for more recipes.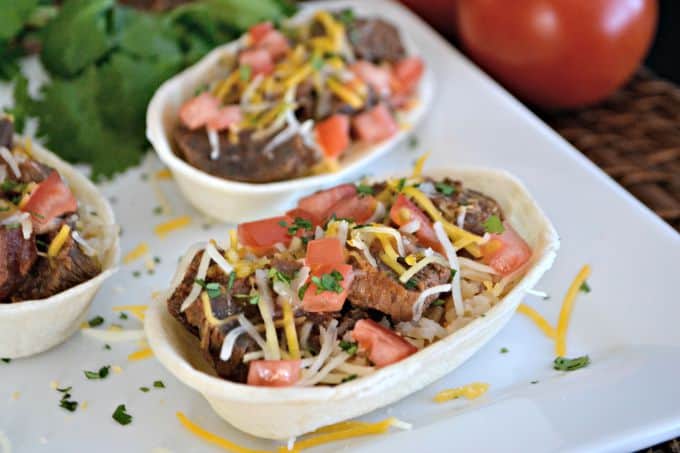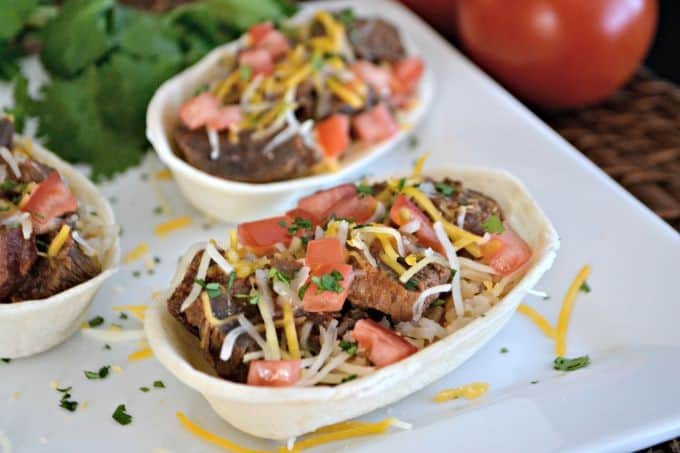 Feel free to add more (or less) chili powder. 3 out of our 5 family members like their food spicier, but because I'm in charge (haha) I make it with a little less kick so I can enjoy it without feeling like a fire-breathing dragon. With the amount of chili powder, I added along with the chiles in the diced tomatoes, it was perfect – had the right amount of kick, a bit spicy, but not so much I was drinking after every bite.
I recommend using a slotted spoon to place the carne asada into the taco bowls so that the bottoms stay strong. For leftovers, that sauce and extra meat are delicious over some Old El Paso Mexican Rice or brown rice!
Have a family that LOVES Mexican food? You won't have any leftovers with these recipes…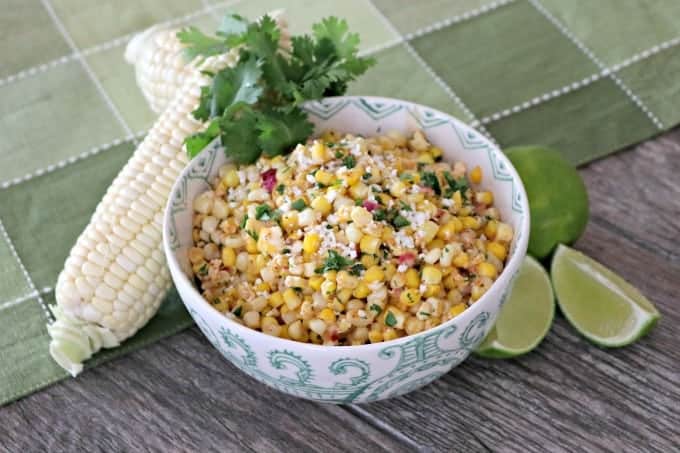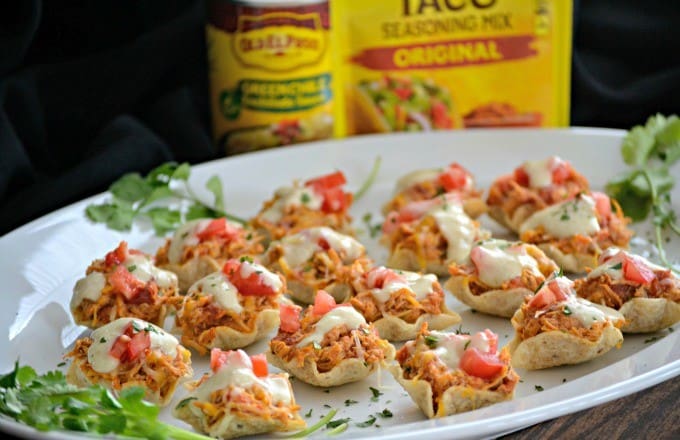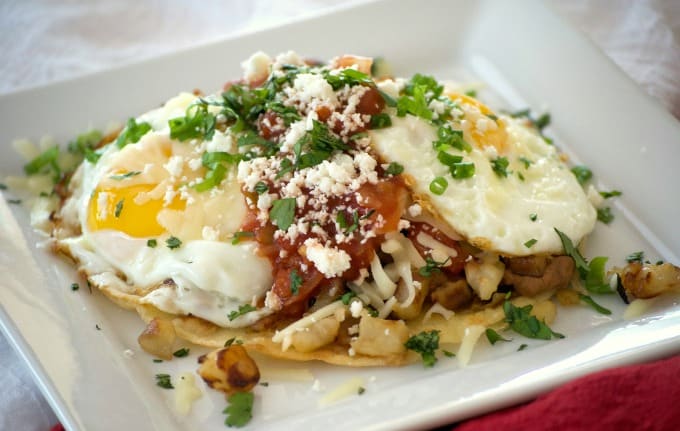 Ease your stress on those busy weekdays and use your slow cooker along with Old El Paso. Dinner will be easy and delicious! Old El Paso products, found at your local Albertsons Safeway store, are an easy weeknight meal solution.
Shoppers can clip the Box Tops found on the Old El Paso packaging, and on other General Mills products, to earn 10 cents each for their schools through the Box Tops for Education program.
This is a sponsored conversation written by me on behalf of Albertsons Safeway and Old El Paso. The opinions and text are all mine.