Fresh corn, chili pepper, cilantro, lime, Cotija cheese and more make this Skillet Mexican Street Corn an absolutely irresistible side dish. The recipe comes from Mary Younkin's (creator of the blog, Barefeet in the Kitchen) cookbook, The Weeknight Dinner Cookbook. It's a recipe you'll be making again and again!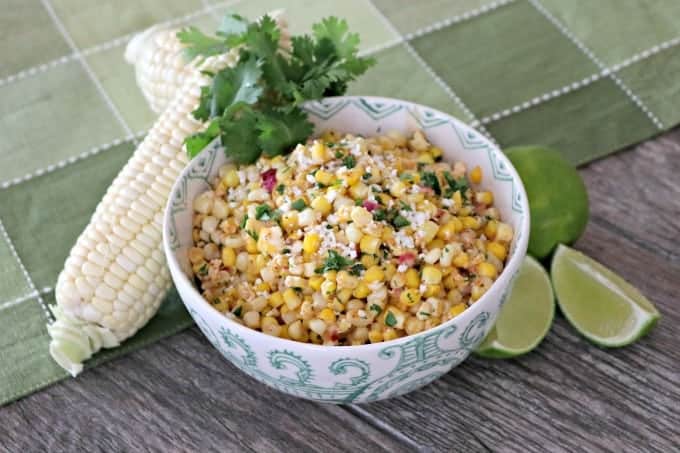 Have you ever had Mexican Street Corn?
If you have, you know how absolutely delicious it is.
If not, you're in for a treat and will be so happy this delightful goodness has come into your life.
You're welcome.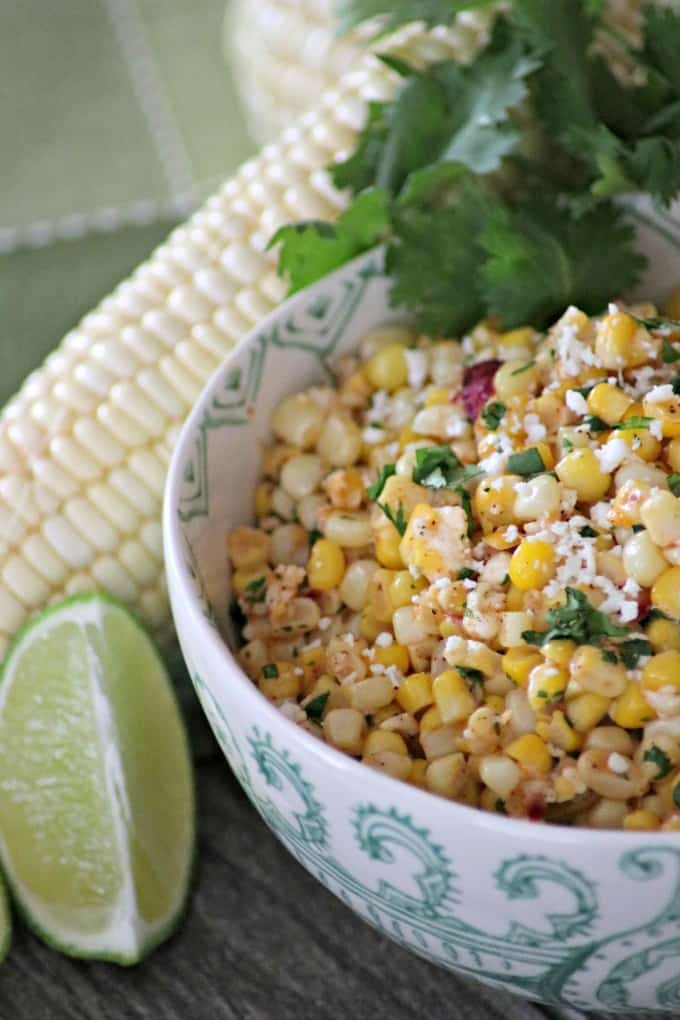 Actually, I can't take credit for it. I'm just passing it along.
Miss Mary from the incredible blog, Barefeet in the Kitchen is responsible for this awesome recipe.
It's just one of many delicious and easy recipes in her Weeknight Dinner Cookbook. This is one cookbook I think everyone should have in their kitchens. I love it so much that I bought one for each of my kids for when they have they're out on their own.
I know we all have crazy busy weekdays whether we're shuttling the kids to and from wherever, things come up that we aren't expecting or the boss wants you to work a few extra hours at the end of the day.
Cue The Weeknight Dinner Cookbook! Mary has section in the book with recipes that can be made in 15-25 minutes, 30-45, and meals that require just 5-10 minutes of prep and will cook on their own.
There's also a side dish section, condiments and spices, and of course, stress-free desserts.
Mary is a sweetheart and I am so very fortunate to have been blessed with her friendship through this wonderful world of blogging. She makes me laugh, we act goofy together, she SO stinkin' helpful with all things blogging AND she loves to feed me!! She is one of a kind and I love her dearly. I wouldn't trade her for anything!
She is a very talented recipe creator and it certainly stands out in each recipe on her blog and in her cookbook. The great news, there's another cookbook in the works as well. As I write this, Mary is in her kitchen diligently recipe testing, writing and photographing many recipes. You are going to want her new cookbook as well. Believe me.
I've tested some of the recipes and tasted others at her home. There are a couple in there that I CANNOT wait to share with you. Oh, my gosh, they're SO good and I know you'll fall in love with them as well!

There are So many delicious and easy recipes in Mary's cookbook and some other blogger friends have made them as well. These Mediterranean Nachos from The Weeknight Dinner Cookbook are great for dinner! I know I'm also going to be making them when football season rolls around!
Brianne made the BBQ Chicken Tostadas. It's a SUPER easy recipe for a night when you're rushing around trying to get dinner on the table or want the kids to eat before heading out the door.
This Easy Rice Pilaf from The Weeknight Dinner Cookbook was made by Nicole of Wonky Wonderful. It's a great and easy side dish when you're wondering what to pair with your main dish.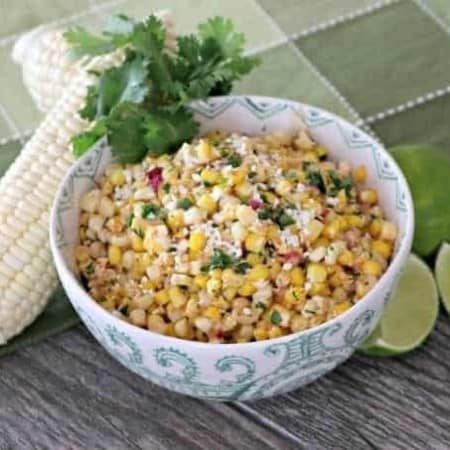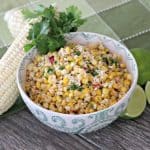 Skillet Mexican Street Corn
Corn, cilantro, cayenne, lime, Cotija cheese and more make this Skillet Mexican Street Corn from The Weeknight Dinner Cookbook an irresistible side dish.
Ingredients
5

cups

fresh corn

about 6 ears

1

tablespoon

unsalted butter

1

tablespoon

mayonnaise

1/2

teaspoon

kosher salt

1/2

teaspoon

chili powder

1/8

teaspoon

cayenne pepper

juice of 1 lime

about 2 tablespoons

2

tablespoons

finely chopped red onion

1/4

cup

crumbled Cotija cheese

1/4

cup

finely chopped fresh cilantro

Lime wedges

for serving (optional)
Instructions
Remove the kernels from the corn and set aside.

Melt the butter in a large nonstick skillet over medium-high heat.

Add the corn, mayonnaise, salt, chili powder and cayenne.

Stir to coat and cook for about 3 minutes, until hot.

Remove from the heat or transfer to a serving dish.

Drizzle with lime juice and sprinkle with the onion, cheese and cilantro.

Stir to combine.

Serve with lime wedges, for an extra kick of lime, if desired.
I give you BIG baking hugs and muffins!