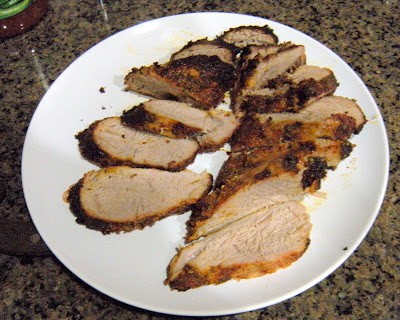 Cinco De Mayo is a few days away, and since everyone in the blogosphere is posting those kind of recipes, I'm going to jump on the train, too.
One of the things I did when I was doing my 365 days of baking was posting every recipe regardless of the end result. I wanted to be honest with you and let you know that not every recipe is going to turn out perfectly or taste absolutely delicious.
I know there are blogs out there where everything looks perfect, is easy, and makes you want to jump into the computer and scarf down every last bit of that virtual food.
Here, that doesn't always happen.
LET'S BE REAL, PEOPLE!
I'm not going to ALWAYS make things that are incredibly tasty or look like they just fell out of a Martha Stewart kitchen.
I'm just little ol' Lynne, self-taught baker/cooker chick in her little ol' kitchen makin' food to feed my family.
I'm not going to "pull the wool" over your eyes and pretend I'm something I'm not or present things to you that are or appear better than they actually were.
Who wants that?!
I know I wouldn't want to read a blog if the author was lying to me.
So,…
I'm not going to change that tonight, either.
Keep reading…
Mexican Spiced Pork Tenderloin – serves 4-5
1 1/3 pound pork tenderloin
juice of 1 lime
2 tablespoons honey
1 tablespoon freshly chopped cilantro
1 teaspoon cumin
3/4 teaspoon garlic powder
1/2 teaspoon chili powder
1/2 teaspoon paprika
1/2 teaspoon salt
1/4 freshly ground pepper
Prepare a 9 X 13-inch baking dish by spraying it with cooking spray.
To make marinade, whisk together the lime juice, honey, cilantro, cumin, garlic powder, chili powder, paprika, salt, and pepper in a small bowl.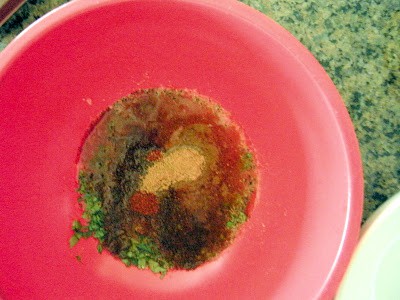 Place tenderloin in prepared baking dish and completely coat all sides with marinade.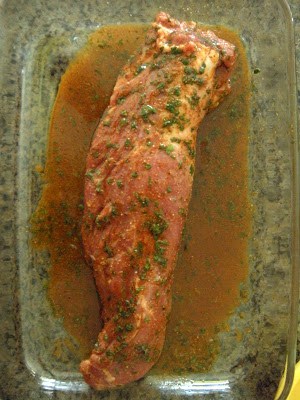 Cover the dish with plastic wrap and refrigerate for 30 minutes. (I think next time I make it I'll refrigerate it for an hour, and prick the meat with a fork, so that it is infused with more flavor.)
Preheat oven to 375 degrees F.
Bake for 35 minutes or until the inside temperature reaches 155-160 degrees F. when measured with a meat thermometer.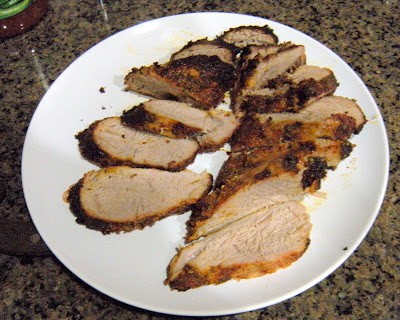 I rate everything I bake on a scale of 1-4 with 4 being the best and this Mexican Pork Tenderloin earned 3 rolling pins.
The flavor was really good and the family really liked the spice combination, especially Mr. 365.
It really wasn't too spicy, just had a little bit of a kick to it. Feel free to add more chili powder to it if you like the spicier foods.
So, about me being honest and showing you dishes as they actually turn out…
Ok, pictures are not so great and there's a REALLY good reason for that and it's the same reason that the baking dish has marinade in it that's burnt to a crisp.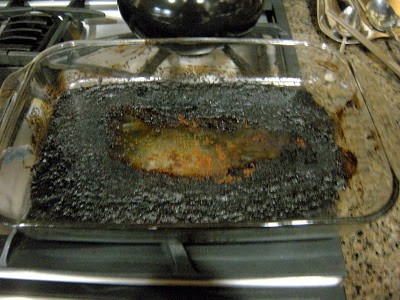 *sigh*
Ok, you ready?
So,…
Yeah, there I go again with the so…
Anyway, the package of the tenderloin said to cook as I stated here for 35 minutes at 375 degrees F. or until the inner temp. when measured with a meat thermometer reaches 155-160 degrees F.
F-A-H-R-E-N-H-E-I-T.
Do you get where I'm going with this?
At the end of 35 minutes, I stuck the thermometer in and it read 69 degrees.
Ooops, not done. It's been in for 35 minutes and has another 95 degrees or so before it's actually cooked.
Really?
Ok, let's put it in for another 20 minutes and see how it goes.
I remove the dish from the oven.
77 degrees??!!!! What the heck??!! WHY IS THIS TAKING SO FLIPPIN' LONG TO COOK??!! I cut it in half. It certainly looks like it's cooked, but I better go by the thermometer, I'm not into raw pork and most certainly don't want to come down with that trichinosis stuff.
Ooookkkkkaaayyyy, in the oven for another 15 minutes
AND
I'll raise the temperature to 400 degrees F. to ensure that it will be done.
It's 6:45. We're starving. We NEED to eat dinner. The sides are getting cold because they were ready practically an hour ago and the carrot sticks I placed on the table to eat with dinner are now gone.
*measuring with the meat thermometer*
WHAT??!!! Now it's only 91??
Seriously?????!!!!
Oh, wait, …
what's that C on the thermometer after the number? I didn't see that before.
Hmmm….
Yes, it amounted to a charred and slightly dry dinner, but fortunately it was still edible and tasted pretty darn good.
Wow, imagine how good it would have tasted if I had cooked it the correct way?
Don't do what I did.
Make sure the thermometer reads FAHRENHEIT and NOT Celsius, unless you are a genius, unlike me, and know how to convert between the scales or are actually aware that you're using the incorrect scale.
It was good and I will make it again, being sure to read the thermometer CORRECTLY. 😉
I give you BIG baking hugs and muffins!!