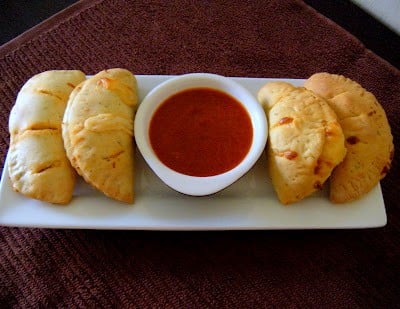 Finger food is so wonderful and so much fun to eat. It's like being a kid again where you don't have to use any utensils. That is as long as you wash your hands as mom told you.
That would just be gross if you didn't. Even though you've been with your hands all day, you really don't know where they've been. There are a countless number of people you've indirectly come in contact with either by handling money, pushing a grocery cart, or shaking someone's hand.
Now that I think about it, it is pretty gross. And I'm not even a germaphobe.
SAVE THIS PEPPERONI CALZONE TO YOUR FAVORITE PINTEREST BOARD!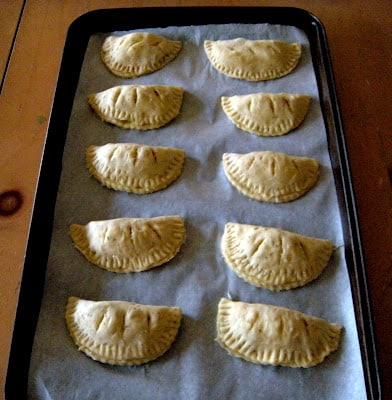 Seriously, this post did not start out to be a lecture on the health benefits of washing your hands before you eat, but I do highly recommend it! Also, PLEASE when you use a public restroom, WASH YOUR HANDS after using the facilities!!!!!!
THAT I just can't stress ENOUGH!!
I have to admit, it's one of my pet peeves, just standing there at the sink washing my hands as I see women exit the stall and immediately walk out of the bathroom. OMG!!!! I just don't understand.
Maybe it's me. Am I alone on this one? How difficult is it? Ok, I'm going to start ranting, haha, actually I already have, but it was a condensed version. See, I get off on one of those tangents and there I go…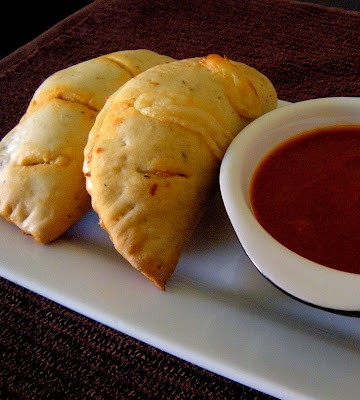 Ingredients
1 3/4- 2 ¼ cup flour
1 envelope Fleischmann's Pizza Crust Yeast
1 ½ teaspoons sugar
1 teaspoon dried oregano
¾ teaspoon salt
½ teaspoon garlic powder
⅔ cup very warm water (120-130 degrees)
3 tablespoons olive oil
4-6 ounces thin pepperoni slices (about 60)
2 cups shredded mozzarella
1 egg beaten
Instructions
In a large bowl, whisk together 1 cup flour, yeast, sugar, oregano, salt, and garlic powder.

Add water and olive oil, mixing together until blended well.

Gradually add 1/2 cup of flour at a time until a soft, but somewhat sticky dough ball is formed. Add more flour if necessary.

On a lightly floured surface, knead the dough until smooth and elastic for about 4 minutes, adding additional if necessary.

Preheat the oven to 375 degrees.

Prepare two baking sheets by lining them with parchment paper.

Roll out the dough so that it is about 1/8 – 1/4-inch thick. Using a 4 1/2-inch round cookie cutter, cut circles into the dough. Re-roll the dough and cut into more circles if possible.


Place one of the dough circles on a plate. Brush the outer edge of the circle with the beaten egg.

On one side of the dough, layer 4-5 pieces of pepperoni leaving a little of the brushed egg on the edge exposed.

Cover with 1-2 tablespoons shredded mozzarella. Carefully fold the dough over cheese and pepperoni bringing the egg brushed edges together.

Seal the edges by crimping them with a fork. With a sharp knife, cut three vents in the top of the calzone.

Repeat process with remaining dough circles, pepperoni, and cheese and place finished calzones on the prepared baking sheets.

Bake for 25-30 minutes or until lightly golden.
Nutrition
Calories: 192kcal | Carbohydrates: 26g | Protein: 6g | Fat: 6g | Saturated Fat: 2g | Cholesterol: 11mg | Sodium: 210mg | Potassium: 47mg | Vitamin A: 100IU | Calcium: 80mg | Iron: 1.6mg
Did you make this recipe?
Share it with me on Instagram and make sure to follow me on Pinterest for more recipes.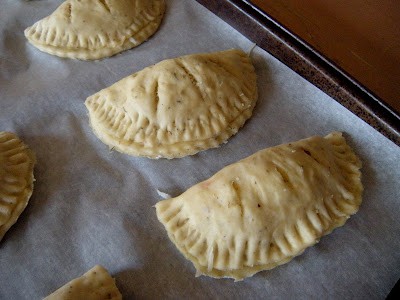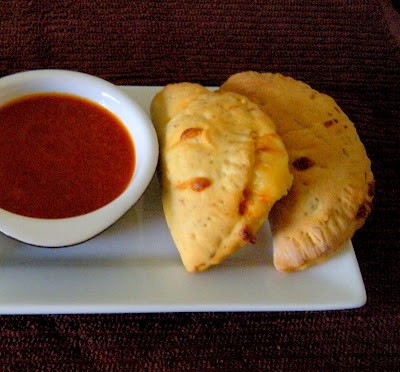 We each ate a couple of these at dinner, and they were filling. I liked that they were smaller than the usual version we purchase at restaurants. Believe it or not, this is the first time I've ever made them.
I'll definitely be making them again. The crust with the garlic and oregano was delicious, and it was a welcomed change from plain dough. I'm not a big pepperoni fan, but they were good and not too strong, nicely balanced with the cheese.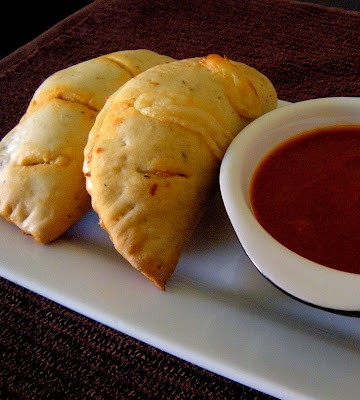 Next time, I'll make bigger calzones and put some different fillings in like mushrooms, uh, meatballs, and…and…I can't think of something else. I'll sleep on it and let you know in another calzone post.
OH! I almost forgot to give it a rating! LOL! I rate everything I make on a scale of 1-4 with 4 being the best and these Mini Pepperoni Calzones earned 3 1/2 rolling pins. As I said, I will definitely be making them again.
Reader Interactions