Why does it feel like Friday?
And this day has been SOOOOOOOOOOO very long!
I think it's because I started cleaning at 7:45 this morning, as soon as I got home from dripping, (dripping, really, you KNOW I meant to say DrOpping), the kids off at school.
I accomplished so very much and exhausted myself in the process, but it was such a huge accomplishment to get it all done in one day.
Then I found as I went to relax on the couch this afternoon, that I felt like I should be up cleaning or straightening something. I just couldn't sit still. It was weird.
Needless to say I haven't made anything today, not even dinner. LOVE it!!! Sometimes we just need to take a break in the kitchen.
We only had one child of three home, but that doesn't mean I won't feed that child dinner if his sisters aren't home. He was content eating the leftover mac & cheese his sister had made before she left an hour before our typical dinner time. So, he wasn't hungry and then hubby came home saying he was full from eating a big lunch.
SCORE!!!
Me, I grabbed a bowl of cereal and will make the eggplant parm. I had planned to make for dinner tonight, tomorrow.
Easy peasy.
Instead of a recipe, I give you a review.
A review of, of, of…
CHOCOLATE!!!
Yes, I am PMS-ing, so you all get to benefit.
I'm not embarrassed to say it. It happens, we all go through it.
Well, that is if you're a woman.
Thanks, Chantelle, for sharing the above picture!
I know I have some men who read, and sometimes, I wonder if you go through it, too.
Don't take offense, I'm just sayin'.
I know you men have to put up with us during this wonderful time, and that sure as heck can't be easy. I wonder what it will be like for Mr. 365 when I go through…
"the change".
Boy will that be fun. I'm already looking forward to it, let me tell you!
As long as it doesn't happen in the middle of an Arizona summer, I think we'll be good.
Having hot flashes on top of sweltering in 110+ temps. is not making me excited.
That is not going to be a pretty site.
My poor family. HAHA
Or at that point, it will probably just be hubby at home.
NOW we know why the kids leave the nest when they do, so they won't have to put up with mom's wonderful mood swings and and all-around wonderful demeanor during that time in her life. 😉
1. Now, I know this doesn't have chocolate in the title, but I need to share this with you. I originally found it at Michelle's site, the Brown Eyed Baker. It's a Root Beer Float Cake!! I LOVE me some root beer floats!! Oh, and cake, too. Cake is good, very good. Thank you, Michelle for this wonderful creation!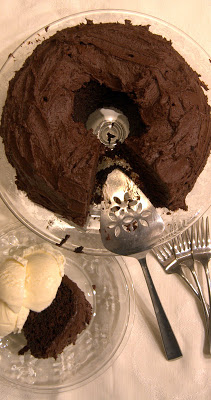 2. Chocolate Pecan Wafers – How about a cookie or two?
I found these in my New Doubleday Cookbook and they were a hit. There's also a story about Ellen DeGeneres in that post.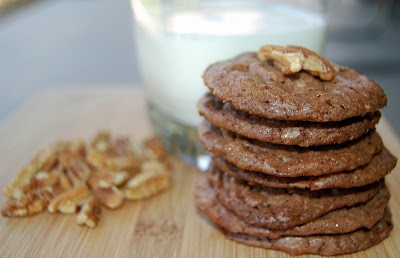 3. This Chocolate Strawberry Bread turned out to be better than I thought it would for a quick-bread. Now you'll have another recipe for all those strawberries you're going to bring home from picking! See the pretty chocolate swirls? Chocolate ALWAYS goes well with a strawberry!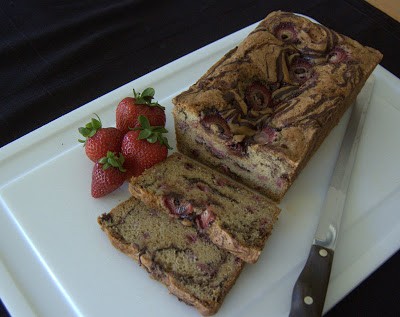 4. If you're as addicted to chocolate, peanut butter and pretzels together as I am, then these Chocolate Peanut Butter Pretzel Brownies are for YOU! I found these at that wonderful website, Joy the Baker. Be sure to stop by her page and thank her for sharing the recipe with us.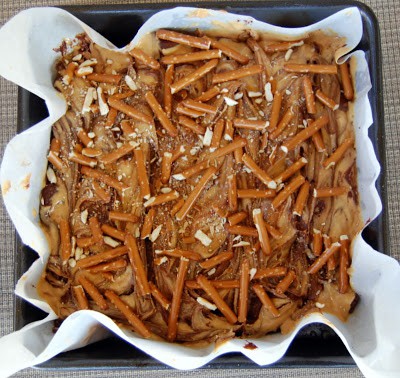 5. In the mood for another cookie perhaps? Then how about these Chocolate Thumbprint Cookies. Even though these were made on Father's Day last year, you can still make them. Hey, you might even make your mother happy with these on Mother's Day!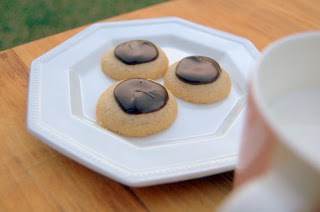 I could go on, but I'll leave you with these muffins I made us for breakfast one day, Salted Nutella Banana Muffins. Who doesn't like Nutella?! Or maybe you haven't even tried that wonderful jar of goodness. That stuff spells T-R-O-U-B-L-E with a capital T for me, man. When I'm craving chocolate as I am now and I see that puppy sitting in the pantry, I'm armed with a spoon in just a few seconds.
That stuff doesn't have a chance of surviving.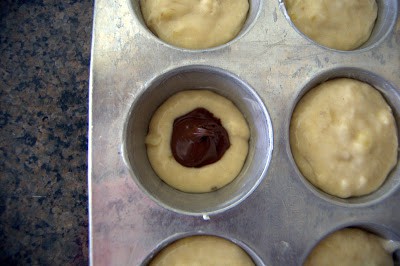 So, pour yourself a BIG glass of milk while you ponder which recipe to tackle first. And don't forget to drink another while you're eating your creation. I think your taste buds with thank you!
*rummaging through the pantry* Now, where is that Nutella jar?
I give you BIG baking hugs and muffins!!