Oreo Pancakes are sweet, fluffy pancakes filled and topped with crushed Oreos! Our recipe includes a fresh whipped cream topping for the ultimate decadent breakfast.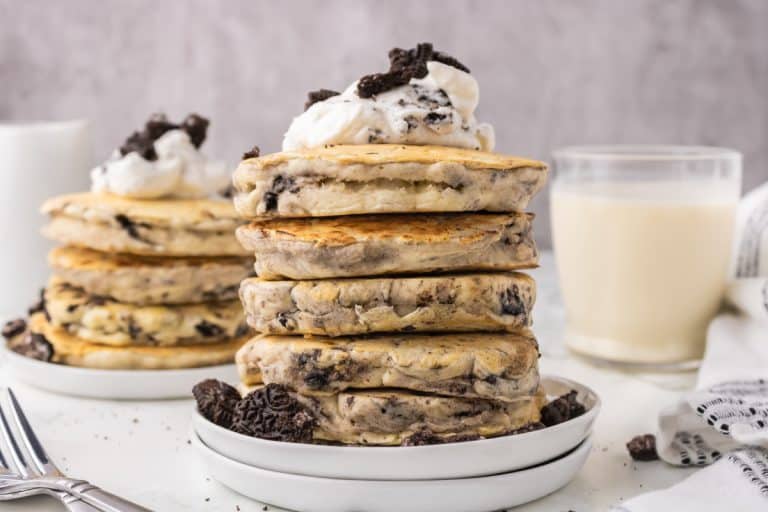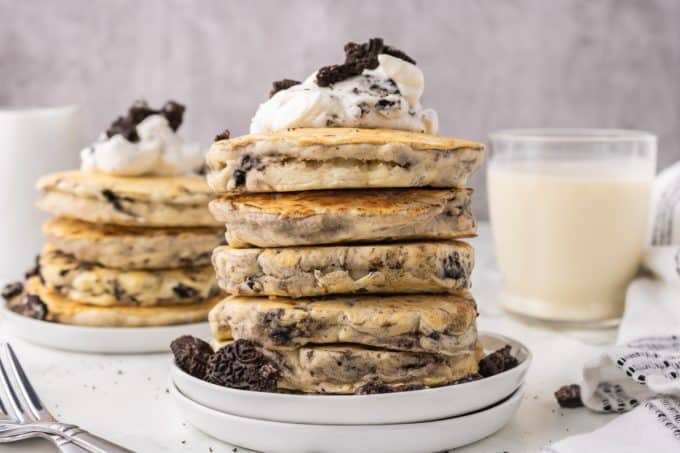 If you thought it couldn't get anymore decadent than chocolate chip pancakes, buckle up.
This Oreo Pancake recipe is about to blow you away. Once you taste these rich pancakes, you'll wonder where they've been all your life.
SAVE THIS EASY OREO PANCAKES RECIPE TO YOUR FAVORITE PINTEREST BOARD!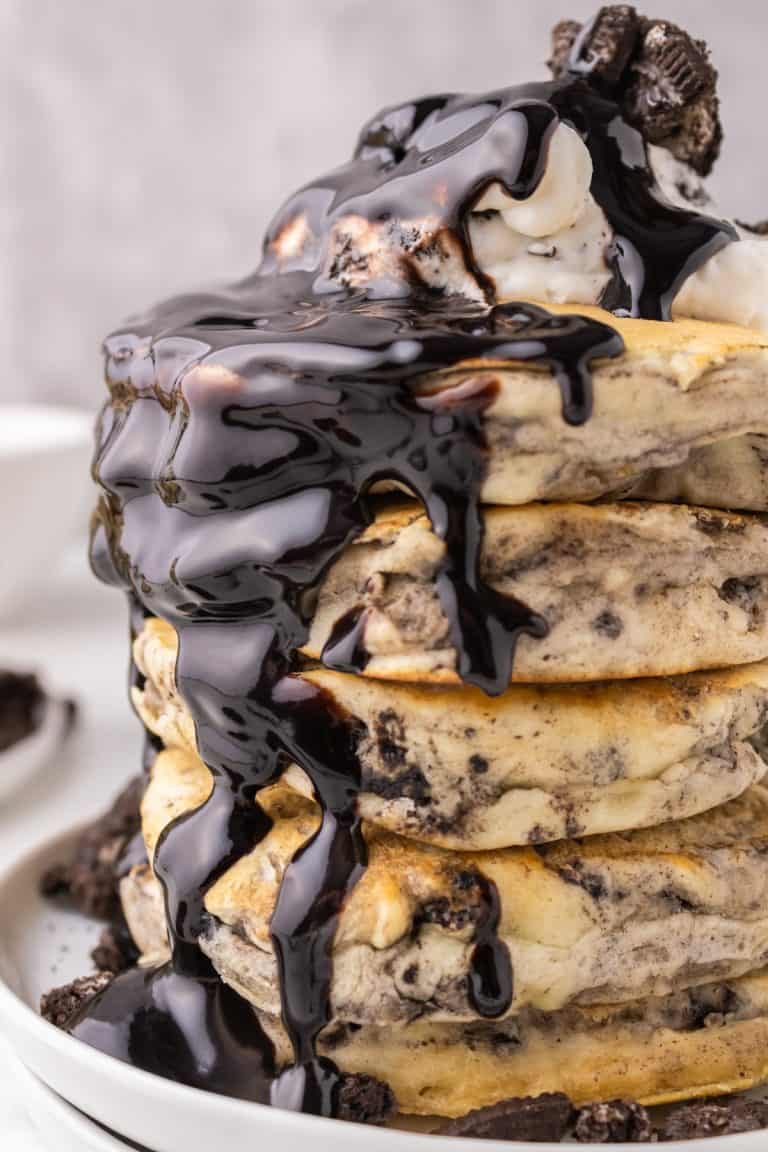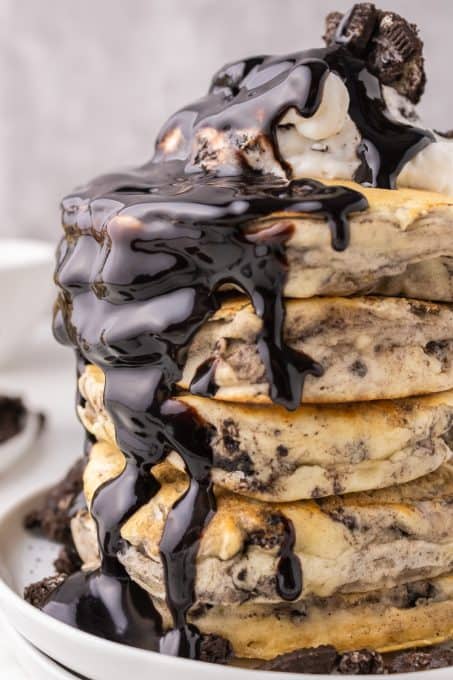 I am a firm believer in chocolate for breakfast. Maybe not every day, but life is too short to miss out on Chocolate Croissant French Toast and Chocolate Chocolate Chip Muffins. Today's chocolatey breakfast is designed with Oreo cookie lovers in mind! And you KNOW we love Oreos here at 365!
Soft, fluffy pancakes.
Crunchy Oreo cookie pieces in every bite.
Topped with homemade whipped cream.
Drizzled with chocolate syrup and more Oreos.
When it comes to Oreos in pancakes, it's hard to go wrong. Whatever you make, it's going to taste pretty good because it has Oreos inside. But after tasting lots of different cookies and cream pancakes over the years, this one stands out as the best by a long shot.
The pancakes puff up beautifully in the pan. There's just the right amount of Oreo cookies so you get a moist pancake texture with the happy "crunch" of Oreo cookie pieces.
Make these Oreo Pancakes for a special birthday breakfast or your next family brunch. Not into sweets in the morning? Serve them for dessert instead!
Did I mention they're also pretty darn easy to make, too?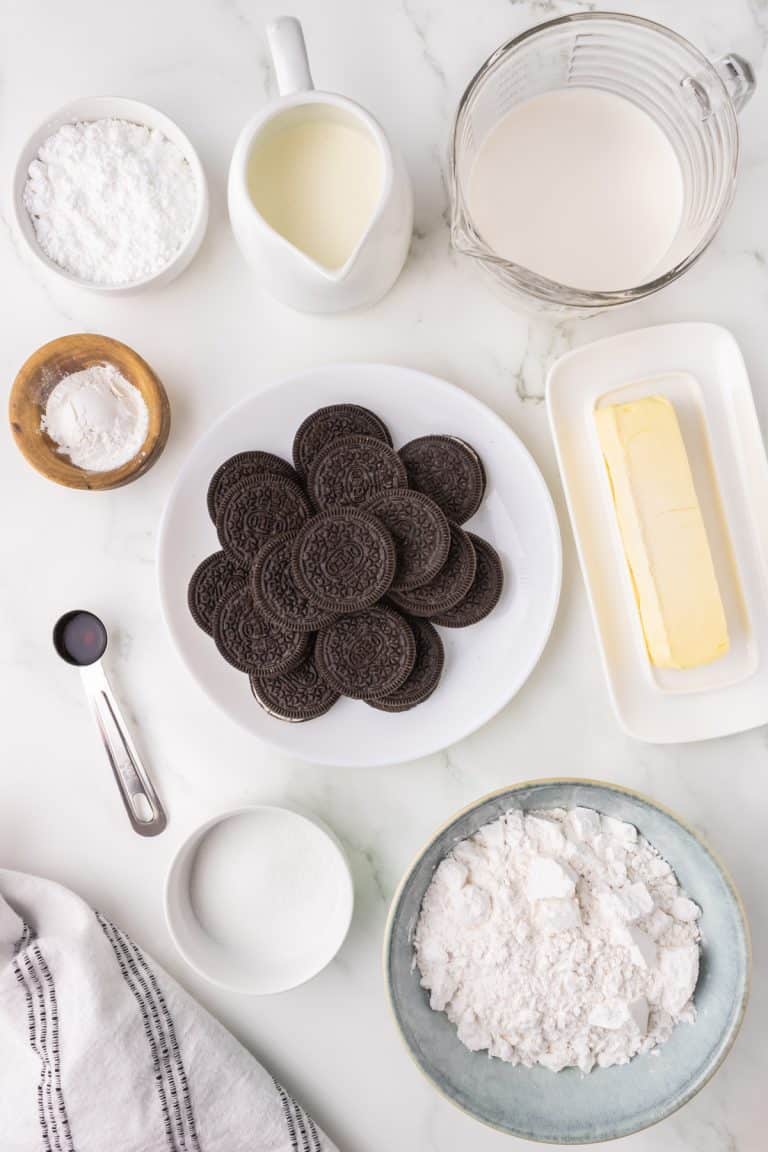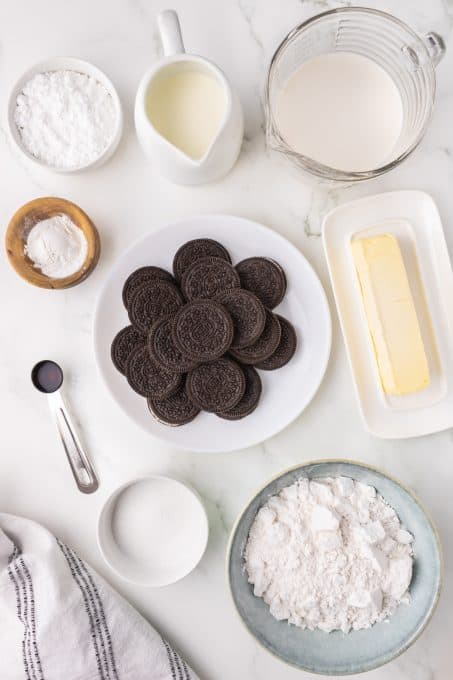 What You'll Need
Gather these ingredients for the Oreo pancake batter:
Flour – all purpose flour is best.
Sugar – for a bit of sweetness.
Baking powder – for fluffiest pancakes.
Milk – I used skim, but you can use whatever milk you have on hand.
Butter – Melted, for richness.
Oreos – Crushed into large pieces.
For the whipped cream and toppings you will need:
Heavy cream
Powdered sugar
Vanilla extract
More Oreos
Chocolate syrup – Bottled ice cream topping is perfect.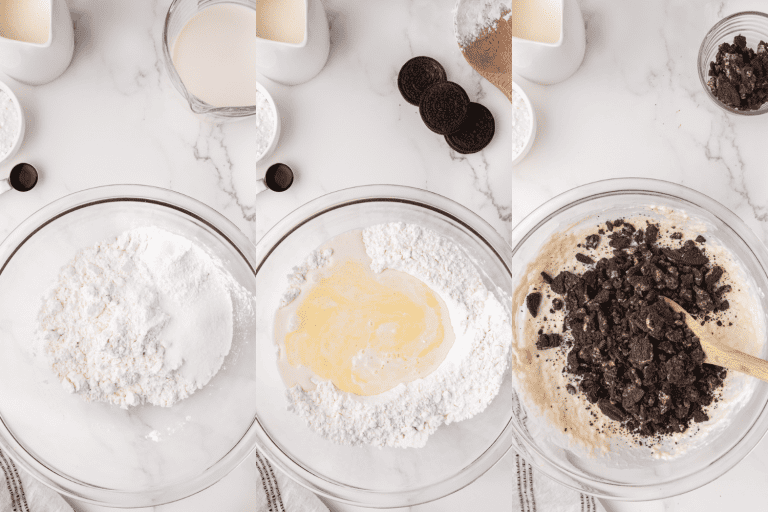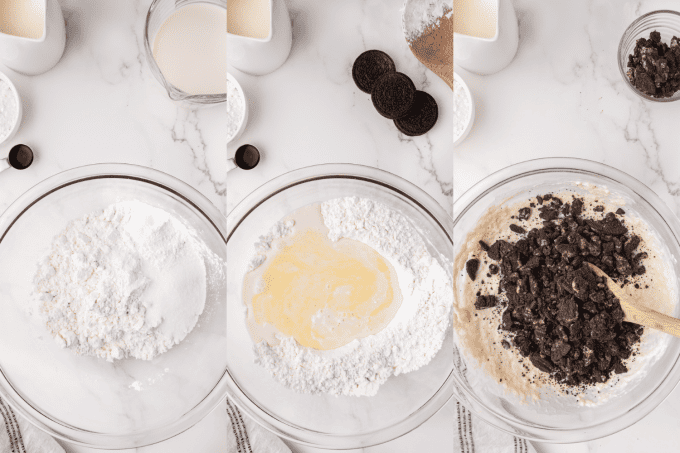 How to Make Oreo Pancakes
STEP 1: Make the pancake batter.
Whisk together your dry ingredients, then make a well in the center. Add the wet ingredients and mix until just combined. Set aside ¾ of the crushed Oreos and fold the remainder into the pancake batter.
STEP 2: Prepare the pan.
Heat a nonstick pan or griddle on the stove over medium heat. When it's hot, add a little melted butter or vegetable oil to the pan. You don't need a ton, just enough to ensure the pancakes don't stick.
STEP 3: Cook the pancakes.
Ladle ⅓ cup batter into the pan. Cook the pancake until it firms up, then flip and cook on the second side.
These pancakes won't bubble like regular pancakes — the Oreos add weight to the batter which keeps them from bubbling. You'll know the pancakes are cooked through when the top bounces back if you press it gently with your spatula and is golden brown.
Repeat until you've used all the pancake batter. Now it's time to make your toppings!
STEP 4: Make the whipped cream.
Add the heavy cream, powdered sugar and vanilla to a mixing bowl. Use a hand mixer or stand mixer to beat the cream mixture until it turns into stiff peaks. Fold in a handful of crushed Oreos.
STEP 5: Serve!
Top stacks of pancakes with fresh whipped cream, chocolate sauce and the remaining crushed cookies if desired! Serve and enjoy right away.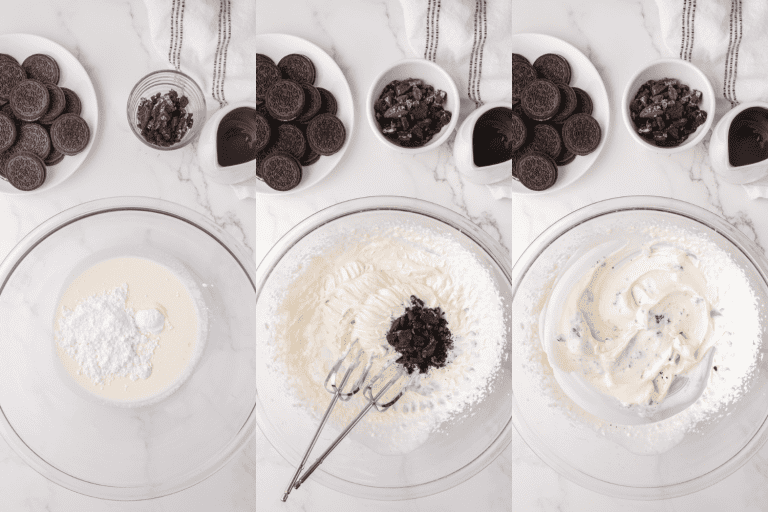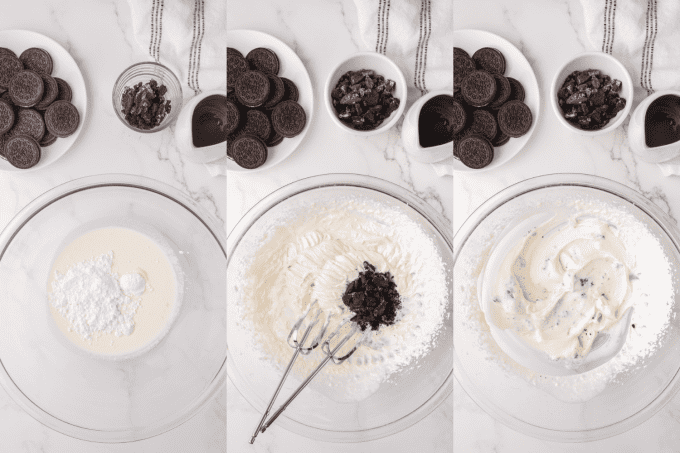 How do you crush Oreos?
With years and years of baking experience, I stand by the rolling pin method for crushing cookies of all kinds. Just add the cookies to a gallon sized bag with a zip top. Place the bag on a counter and roll a rolling pin over the bag until the cookies reach the desired size.
These cookies should be crushed into large pieces, more like chunks than crumbs. I aim to get about 4-6 bite-sized chunks per Oreo cookie.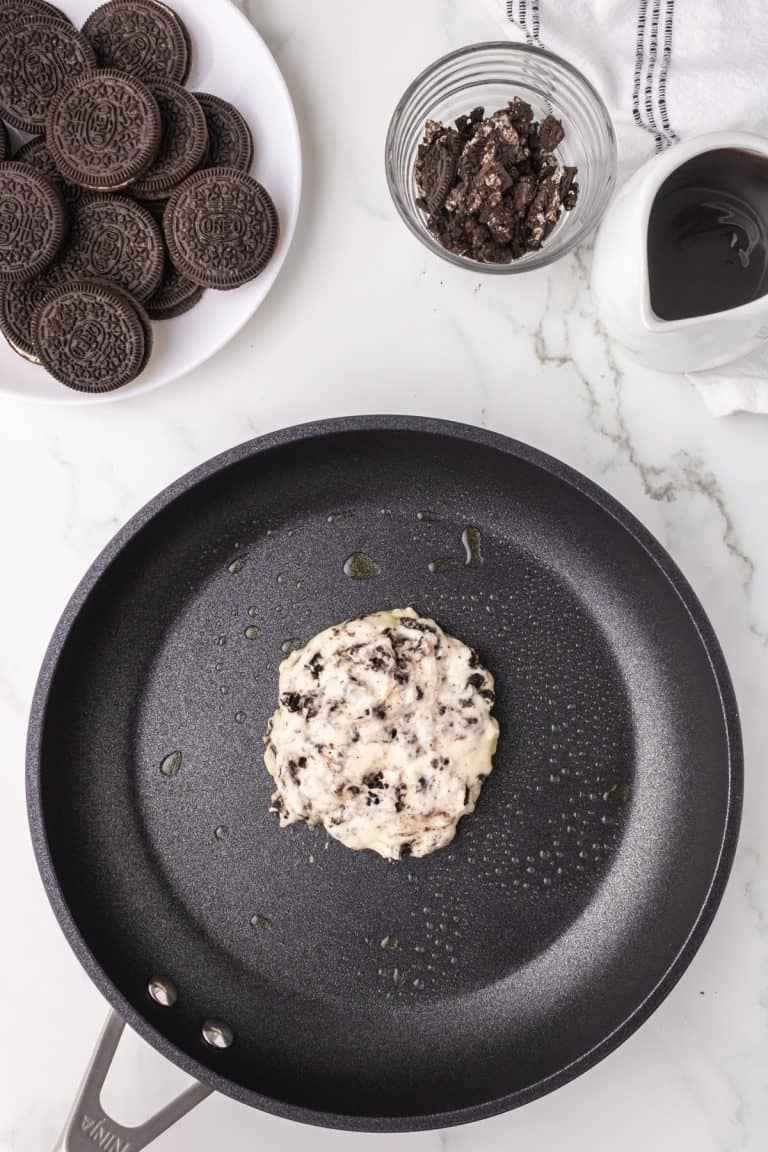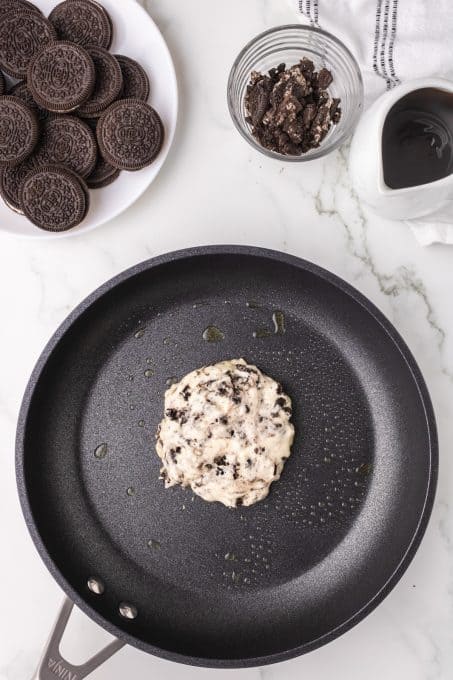 Can I freeze Oreo pancakes?
These pancakes hold up great in the freezer! Freezing pancakes is the best way to ensure they stay fresh and delicious if you won't be eating them all right away.
I recommend freezing them flat on a baking sheet first. Once frozen solid (after about 1 hour), transfer the frozen pancakes to a freezer safe container and keep frozen for up to 3 months.
One note: Freezing changes the texture of the Oreo cookies. They will be soft instead of crunchy when you reheat the pancake. My family and I thought they tasted great regardless, but if you want that crunch factor, plan to eat your Oreo pancakes immediately!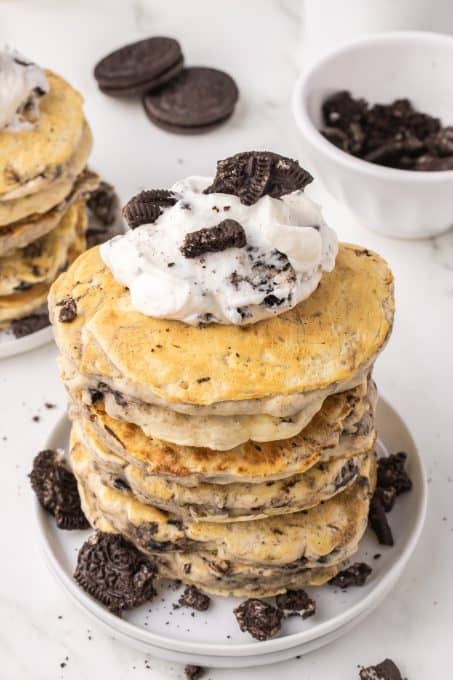 More Recipes with Oreos
Milk's favorite cookie is also one of my favorite cookies to use in dessert recipes!
Oreo cookie fans rave over my Homemade Chocolate Oreo Cupcakes and this Easy No Bake Oreo Pie. I couldn't help but combine Oreos with another classic cookie to make Oreo Chocolate Chip Cookies a while back. They were an instant hit with everyone who tasted them. 
I couldn't find a recipe for Oreo truffles without cream cheese, so I created my own: Oreo Balls. They make perfect gifts for the holidays, great party favors and a fun dessert to pass around after dinner. I know you'll love these Oreo Candy Corn Truffles too.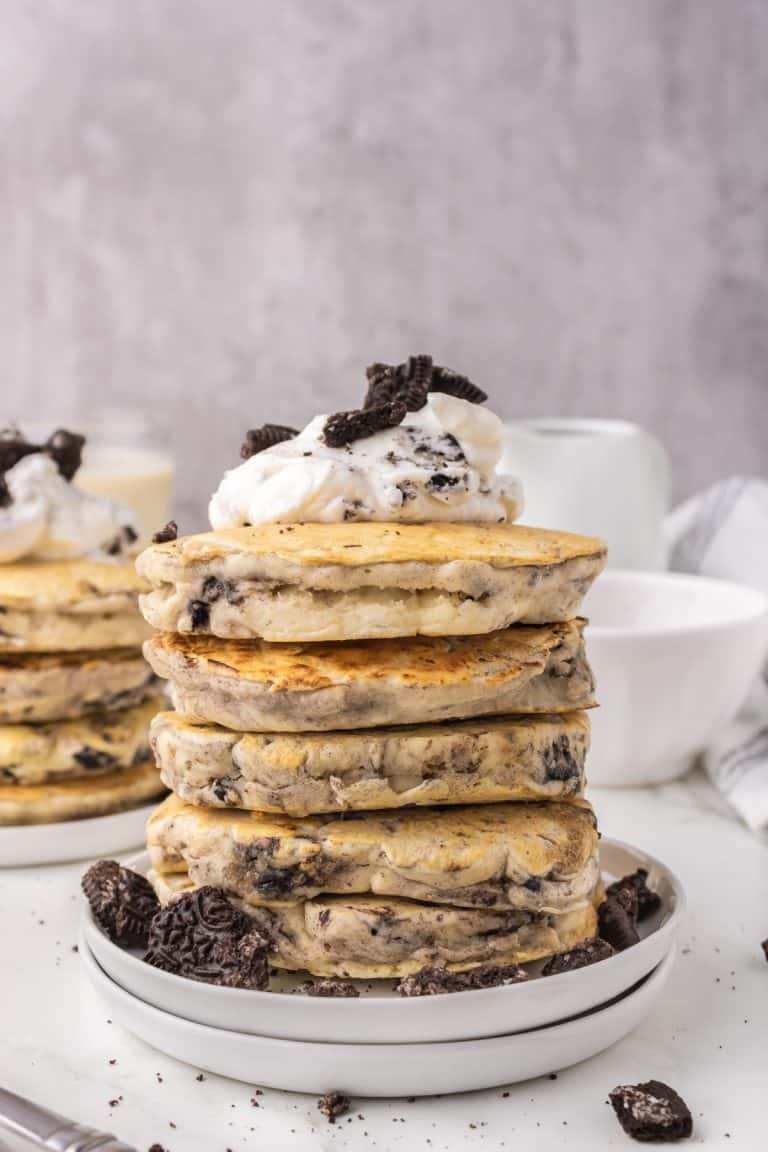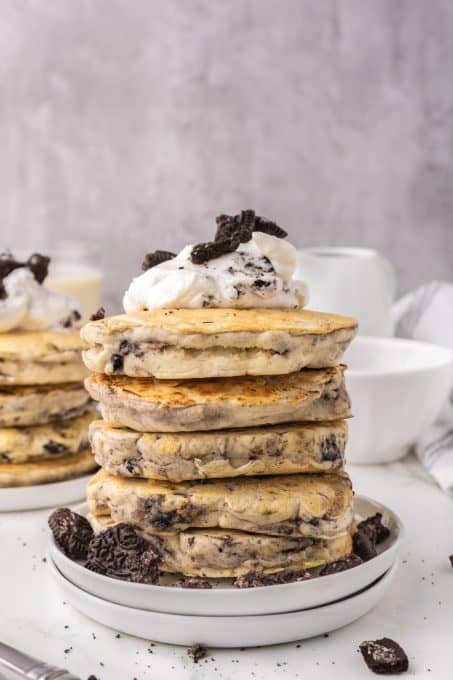 Breakfast for Dessert
Oreo Pancakes taste a bit more like dessert than a typical breakfast for most people. But since I've been known to sneak a slice of Oreo Cake with my morning coffee, I have no qualms about the occasional stack of sweet chocolatey pancakes for breakfast.
If my sweet breakfast recipes are a little much for you first thing in the morning, save them for dessert instead! Strawberry Nutella Crepes and Lemon Crepes can give your meal a fancy finish. My kids always loved baked goods like Nutella Cinnamon Rolls and sliced of Chocolate Strawberry Bread for dessert and then for breakfast the next day.
This Cinnamon Sour Cream Coffee Cake and Apple Crumb Cake are two more recipes that blur the lines between "breakfast" and "dessert". Give them a try and let me know what you think!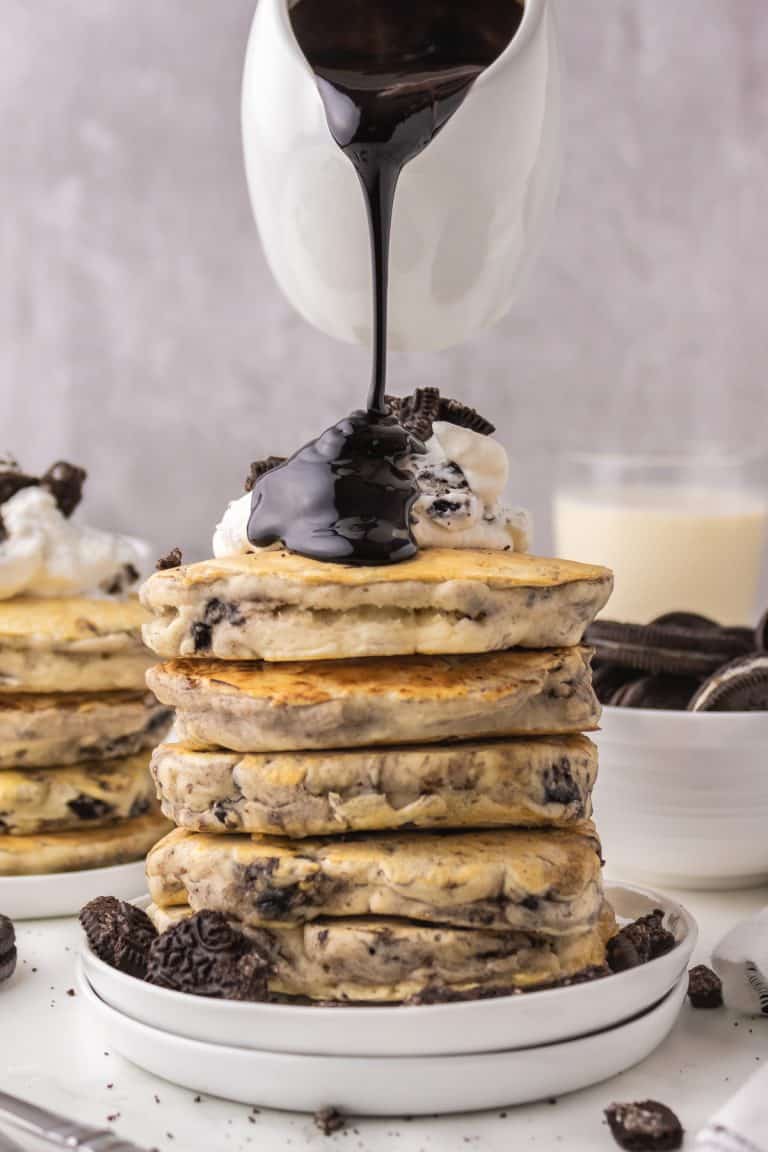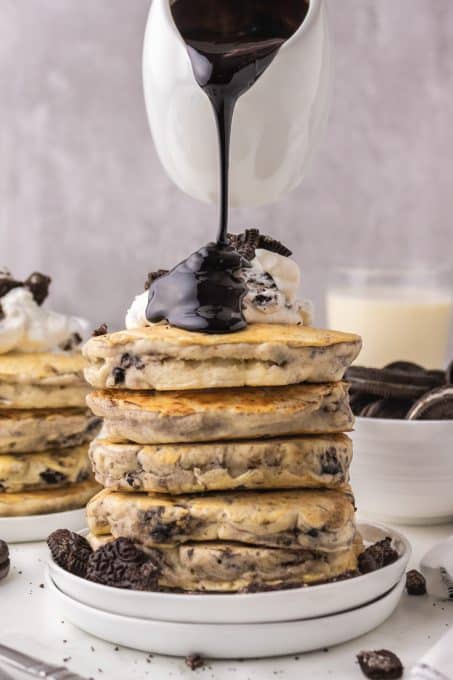 Pancake Recipes
Everyone needs a few good pancake recipes up their sleeve. Whether you love rich, decadent Chocolate pancakes , or prefer healthy whole wheat pancakes, we have dozens of tasty pancake recipes on the blog for every craving.
Cinnamon Peach Pancakes and Buttermilk Pancakes with Blueberries and Strawberries are two fruity favorites. Banana Peanut Butter Chip Pancakes have a lovely balance of fresh fruit and sweet nutty flavor. Lemon Ricotta Pancakes make me so happy with a combo of tangy ricotta cheese and zesty citrus.
I even have a pancake recipe on the savory side! Bacon Pancakes are filled with salty, crispy bacon pieces and taste UH-MAZING topped with pure maple syrup. Believe me, it's breakfast lover's heaven! 
But my MOST FAVORITE PANCAKES are the ones my Grandma used to make. They are my go-to and my whole family absolutely loves them as well.
Even more recipe inspiration for your next breakfast:
Surprise the cookie and cream lovers in your life with these fluffy Oreo pancakes for a special breakfast. They'll be the perfect pancake to celebrate National Pancake Day and even Shrove Tuesday!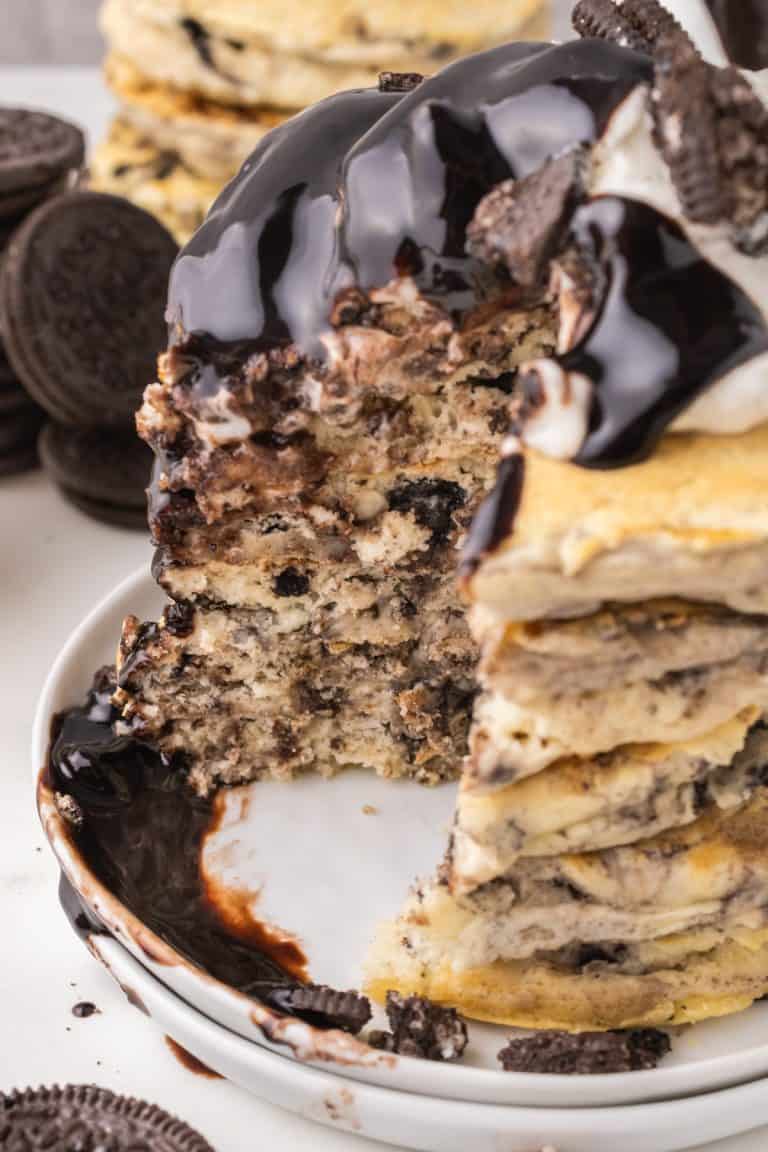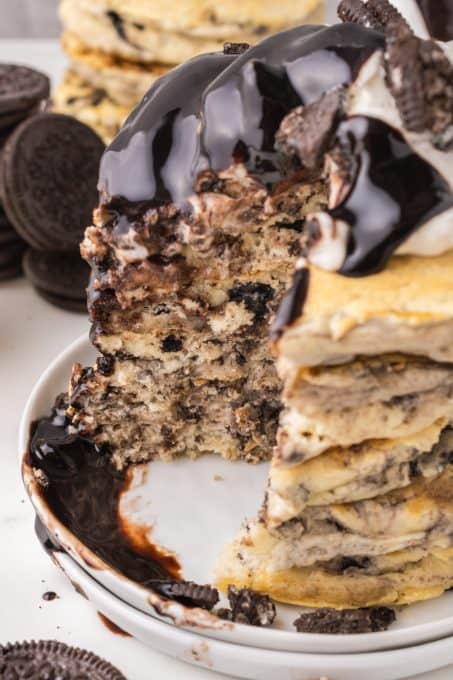 ~ FOLLOW ME ~
Keep an eye out for more of my easy recipes each week!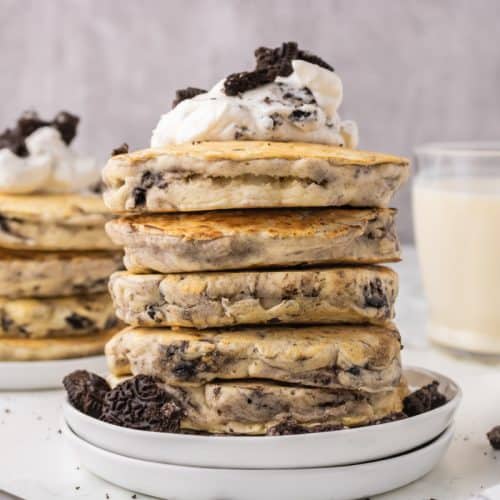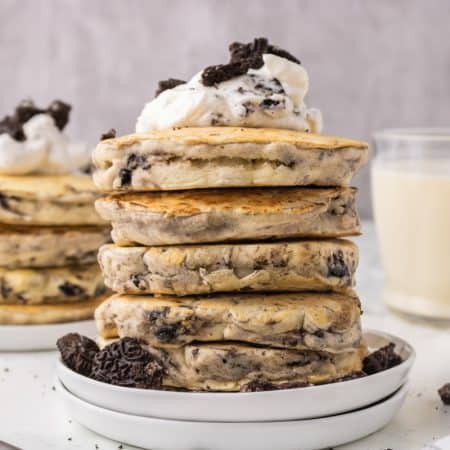 Fluffy pancakes filled with Oreo cookie pieces and topped with fresh whipped cream. Make these easy cookies and cream pancakes for a decadent breakfast or dessert!
Ingredients
Pancakes
1 ¾ cup all purpose flour
2 tablespoons granulated sugar
1 ½ tablespoons baking powder
1 ¼ cups milk
¼ cup butter melted
15 Oreos crushed and divided
Whipped Cream
1 cup heavy cream
½ cup powdered sugar
1 teaspoon vanilla extract
¼ cup crushed Oreos
Optional toppings
chocolate syrup
½ cup crushed Oreos
Instructions
Oreo Pancake Instructions
In a large mixing bowl, mix together the flour, sugar and baking powder. Make a well in the middle.

Add melted butter and milk to the well of the dry ingredients. Mix until there are no lumps remaining, but do not overmix.

Crush the Oreos by placing them in a plastic bag and using a rolling pin to break them into chunks. Set aside ¾ cup of the crushed Oreos. Fold the remaining Oreos to the pancake batter.

Set a pan on the stove over medium heat. Cover the bottom of the pan with a thin layer of cooking oil, melted butter or spray with cooking spray.

Add ⅓ cup of the pancake batter to the hot pan. Cook until the sides of the pancake begin to look firm (2 – 4 minutes). Flip and cook the other side for the same amount of time. Transfer cooked pancakes to a serving plate. Repeat with the rest of the pancake batter until all of the batter has been cooked.
Whipped cream topping instructions
Add heavy cream, powdered sugar and vanilla to a heavy mixing bowl. Beat with an electric mixer until stiff peaks form. Fold in ¼ cup of the reserved crushed Oreos.

Serve pancakes right away topped with whipped cream, chocolate syrup and the remaining crushed Oreos if desired.
Notes
To store: Place pancakes in the freezer until frozen, then add to a freezer safe bag or container. Reheat in the microwave for 30-60 seconds, or longer depending on the amount of pancakes you are reheating at once. See blog post for more recipe tips! 
Nutrition
Serving: 1pancake | Calories: 397kcal | Carbohydrates: 49g | Protein: 6g | Fat: 21g | Saturated Fat: 11g | Polyunsaturated Fat: 2g | Monounsaturated Fat: 6g | Trans Fat: 0.2g | Cholesterol: 48mg | Sodium: 158mg | Potassium: 364mg | Fiber: 1g | Sugar: 22g | Vitamin A: 602IU | Vitamin C: 0.2mg | Calcium: 156mg | Iron: 4mg
Did you make this recipe?
Share it with me on Instagram and make sure to follow me on Pinterest for more recipes.
Reader Interactions