Pancakes with bacon inside! These easy Bacon Pancakes are homemade buttermilk pancakes with small pieces of bacon in each bite. They're a great idea for a delicious weekend breakfast—especially with plenty of maple syrup on top.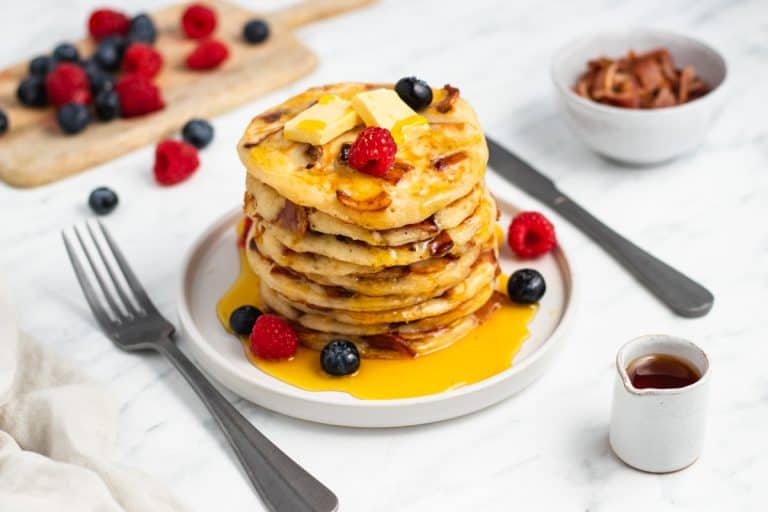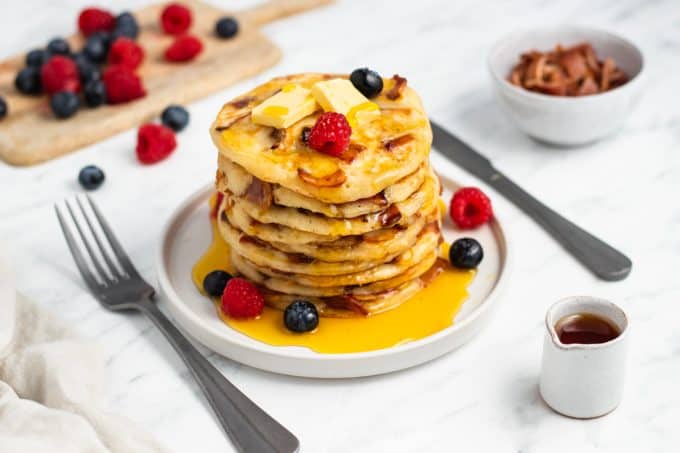 Crazy about pancakes? You'll love these Cinnamon Peach Pancakes too!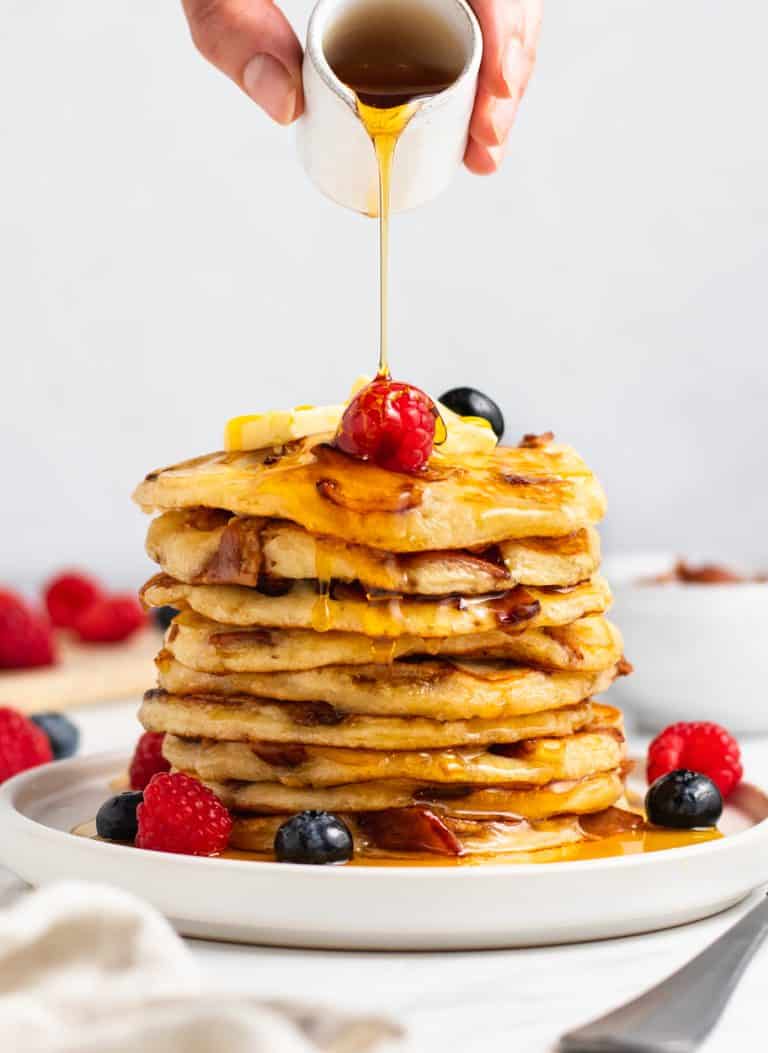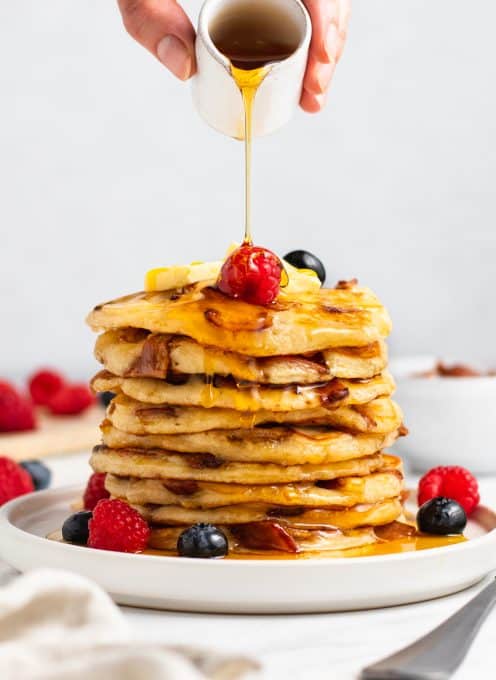 I could eat pancakes for breakfast, lunch and dinner. That is, if it wouldn't give me some kind of vitamin deficiency!
My favorite ways to eat a batch of fluffy pancakes is with a side of hot crispy bacon on a slow weekend morning. I love when a little syrup from the pancakes drips onto the bacon, too. The combination of salty bacon, sweetness and maple flavor are swoon-worthy.
Today's pancakes take the pancakes-and-bacon magic to the next level. Bacon is added to the pancakes as they cook. The bacon pieces sink into the batter so you you get that delicious sweet and salty flavor in every bite!
This time I even opted to cook the pancakes in the leftover bacon grease. It creates less waste and gave the pancakes an even stronger bacon flavor!
They cooked up soft, sweet and fluffy with crispy, salty bacon pieces in every bite. Seriously, if you like bacon, you NEED these pancakes in your life!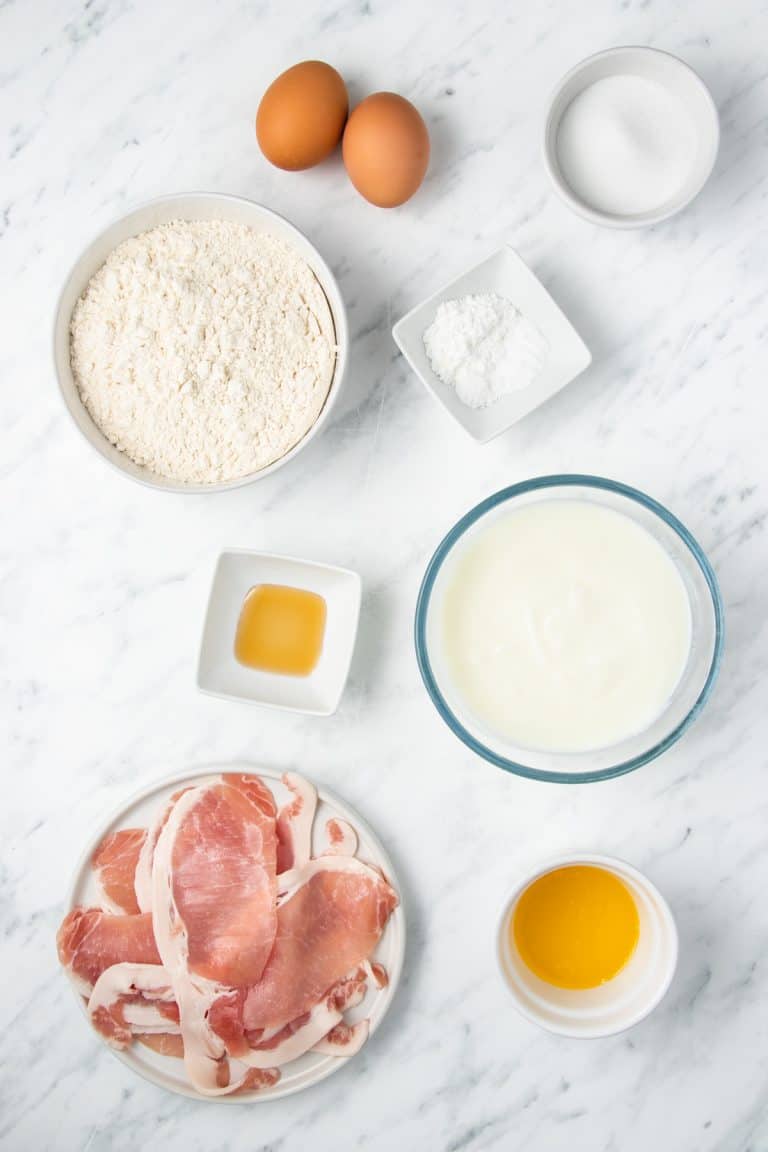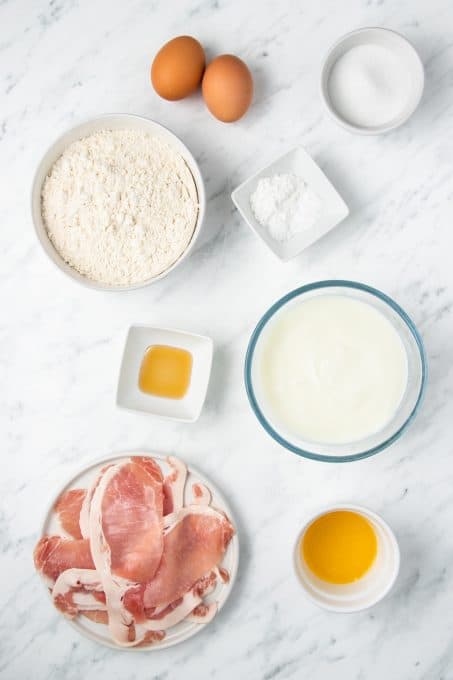 What do I need?
You will need these ingredients to make these easy bacon pancakes.
Bacon – Thin cut strips are best.
Flour
Baking soda
Salt
Buttermilk – or a homemade buttermilk substitute.
Eggs
Melted butter
Sugar
Vanilla extract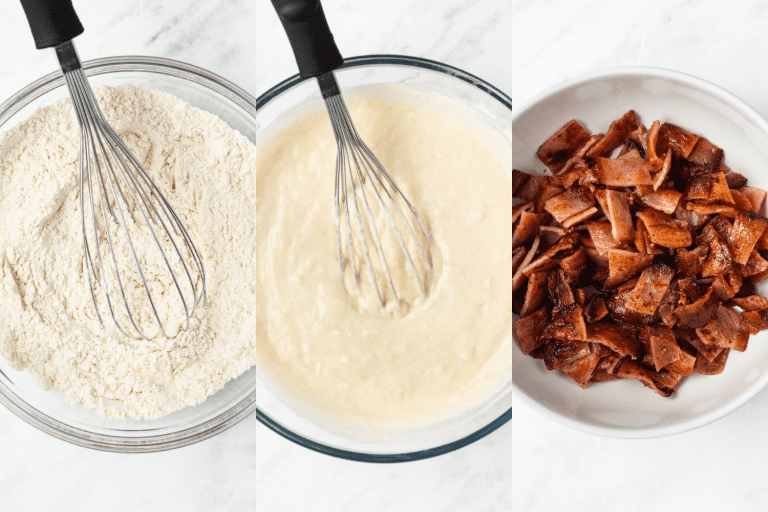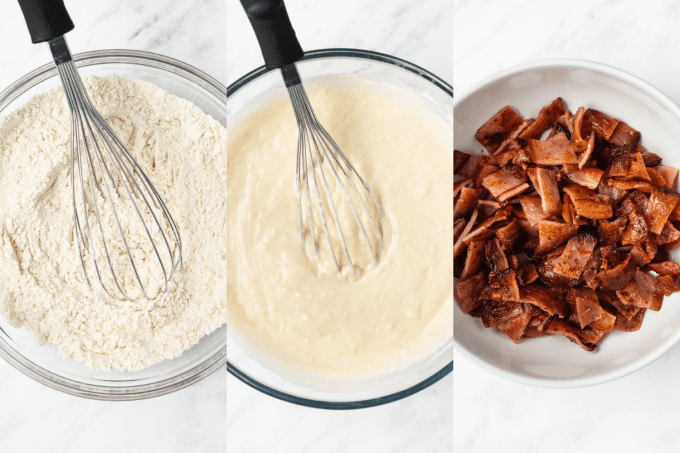 How do I put a bacon strip in to my pancake?
First things first: Cook your bacon! You can fry up your strips the old-fashioned way, or try this method for baking bacon on a baking sheet with some parchment paper. Transfer each bacon slice to a plate lined with paper towels. Drain the bacon fat from the pan to save for cooking the pancakes in, if you like. Crumble each bacon strip into small pieces.
Now, make the pancake batter. First, mix together the wet ingredients in a large bowl. Then fold in the dry ingredients from a medium bowl just until the ingredients combined. A few lumps are okay. Just don't over mix or your pancakes will be dense.
Now it's time to preheat a large frying pan or griddle on the stovetop. Drizzle enough bacon grease into the pan to just lightly coat the bottom. If you prefer, you can use a neutral cooking oil or some butter here instead of the grease.
To cook the pancakes, pour batter into a hot nonstick skillet or hot griddle. Immediately place a handful of bacon pieces on top of the pancake. Let it cook until the edges are golden brown and air bubbles appear. Then flip it and cook it for another couple of minutes on the second side. Repeat until all the batter is used.
If your pan is large enough, feel free to cook 2 or 3 pancakes at once to save time. Just make sure not to overcrowd the so the pancakes cook evenly.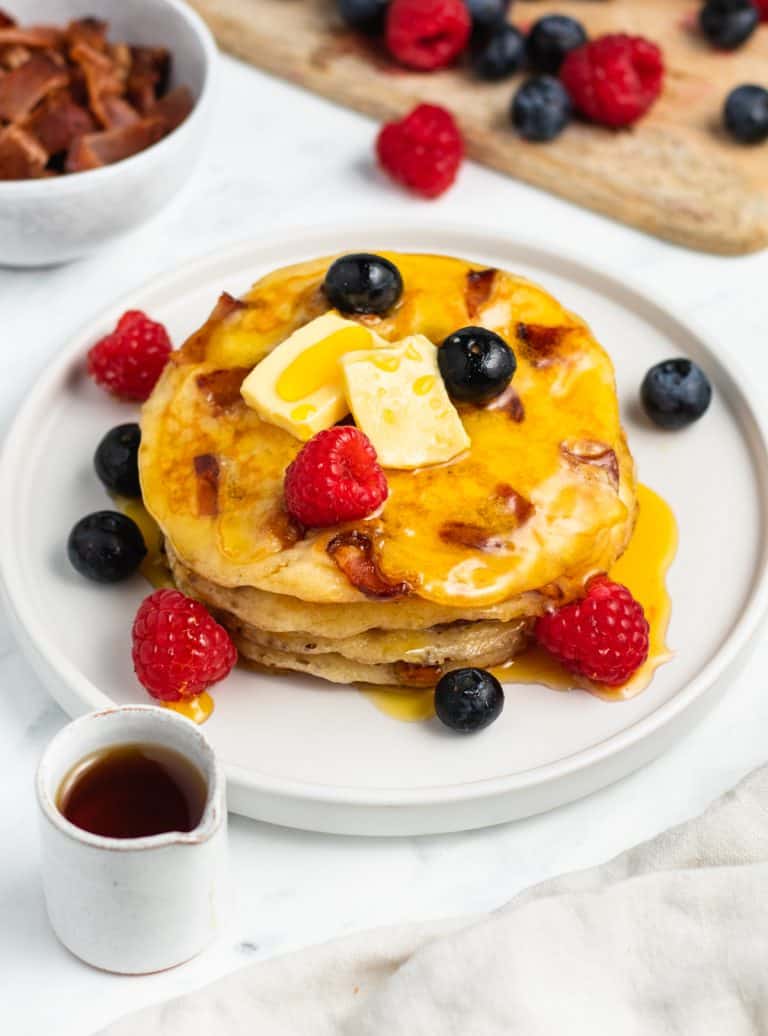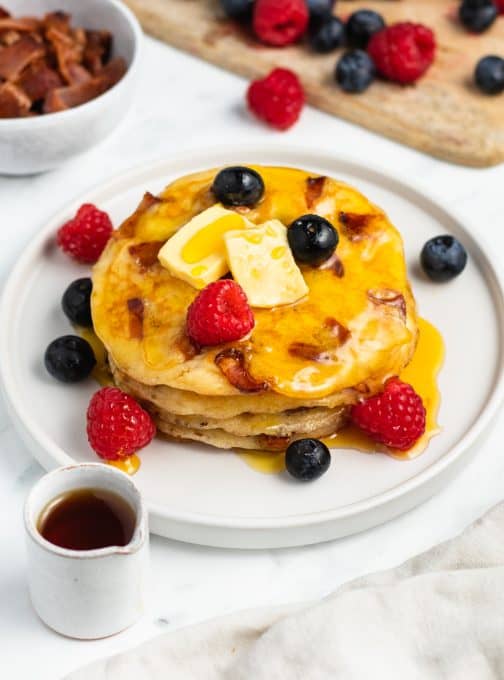 What can I serve with bacon pancakes?
Serve your pancakes hot with butter, pure maple syrup or your other favorite toppings!
Fruit toppings are a delicious addition to pancakes with bacon. I think cinnamon apples or a helping of warm applesauce would complement the flavors in these pancakes especially well. Apple plus maple plus bacon? Yes, please!
These pancakes are flavorful enough that the toppings are just a bonus. They're soft and sweet even without the addition of syrup or fruit.
Can I make these gluten free?
Yes, this recipe is super easy to make gluten free. Swap out the all purpose flour for your favorite gluten free baking mix. As long as the flour blend can be used 1:1 as a replacement for all purpose flour, you're good to go.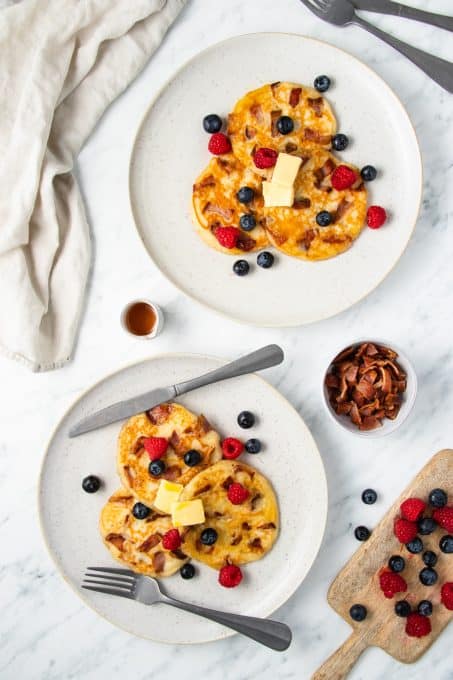 How do I store the leftover bacon pancakes?
You can store the cooked pancakes in the fridge in an airtight container for up to 3 days. Bacon pancakes can also be frozen in a freezer bag for up to 3 months! Reheat the leftover pancakes on a baking pan covered with tin foil in the oven, or microwave or toaster oven.
Or you can prepare the batter up to 1 day in advance and store in the fridge until you're ready to fry the pancakes. This is my preference if I need to prep them in advance. They taste so good hot and fresh right out of the pan!
Bacon Recipes
Have you heard the expression that bacon makes everything better? This pancake recipe proves it's true because it's a perfect combination!
Whoever first thought to add bacon to desserts and baked goods was a certifiable genius. The salty, smoky flavor adds a whole new dimension of flavor to dishes like this Bacon Caramel Apple Crisp.
I mentioned earlier that I love to bake bacon in the oven. This Cajun Candied Bacon uses that method to create that's a little spicy, a little sweet and a whole lot irresistible. Sweet and Spicy Ranch Bacon is another flavorful variation you'll love.
Cooking with bacon is an easy way to add flavor to whatever it is you're cooking. Our Bacon and Tortellini Zuppa Toscana recipe comes together in one pot and tastes like restaurant quality!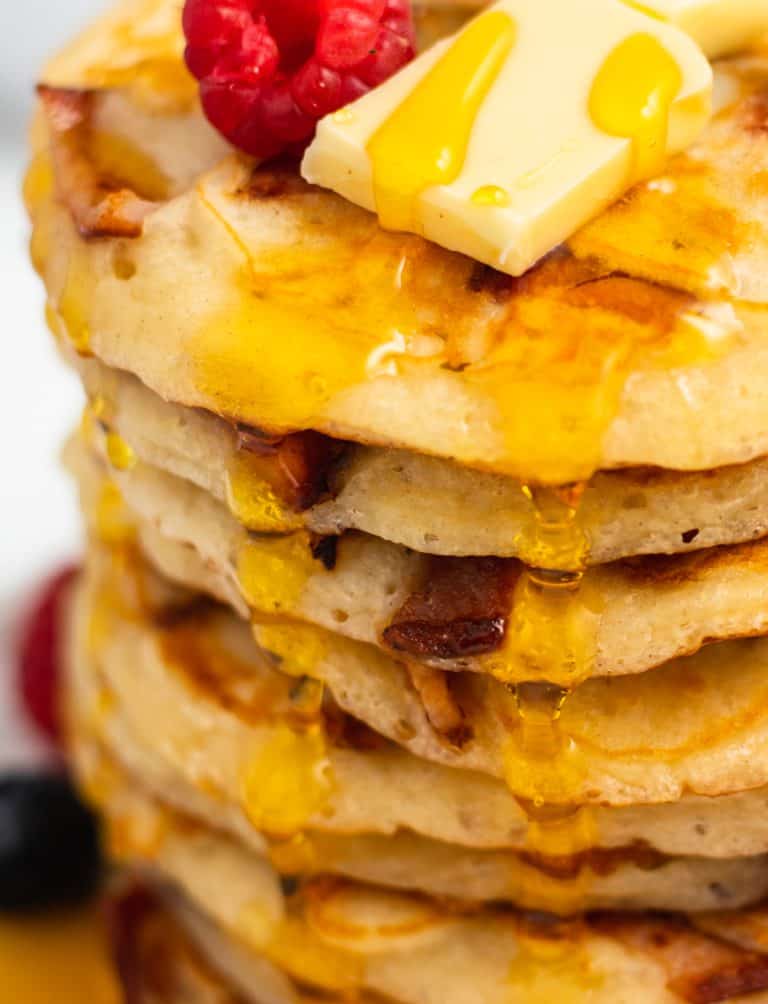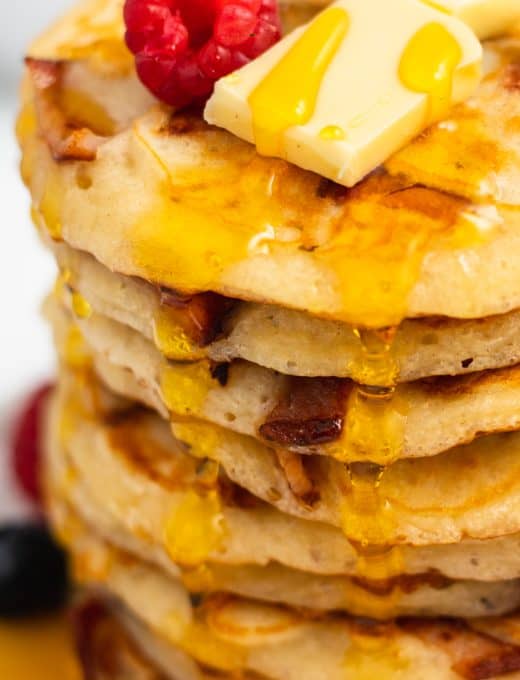 Breakfast Recipes
A friend of mine has a theory that there are two categories of foods: foods that taste better with bacon and foods that taste better with chocolate. Pancakes happen to fall into BOTH categories!
The amount of bacon in today's pancake recipe proves that I don't like to do anything halfway. That's why I pull out all the stops when I make these Chocolate Cherry Pancakes, with both chocolate chips inside and chocolate sauce on top!
Beyond chocolate, there are so many other pancake flavors I come back to over and over. From Whole Wheat Pumpkin Pancakes in the fall to Patriotic Buttermilk Pancakes in July, pancakes are always a good idea.
Pancakes aren't the only breakfast food I could eat every meal of the day. Waffles like these Baked Blueberry Waffles and these Lemon Poppy Seed Waffles are another breakfast favorite.
Looking for savory pancakes and breakfast ideas? Try this Denver Scrambled Breakfast Braid and our Mexican Breakfast Casserole!
Breakfast casseroles are so easy to prep ahead of time. For a sweet option, try an Almond Berry French Toast Casserole or this make ahead Peanut Butter and Jelly French Toast.
Here are some of my favorite pancake recipes.
Which of our other easy pancake and breakfast recipes have you tried?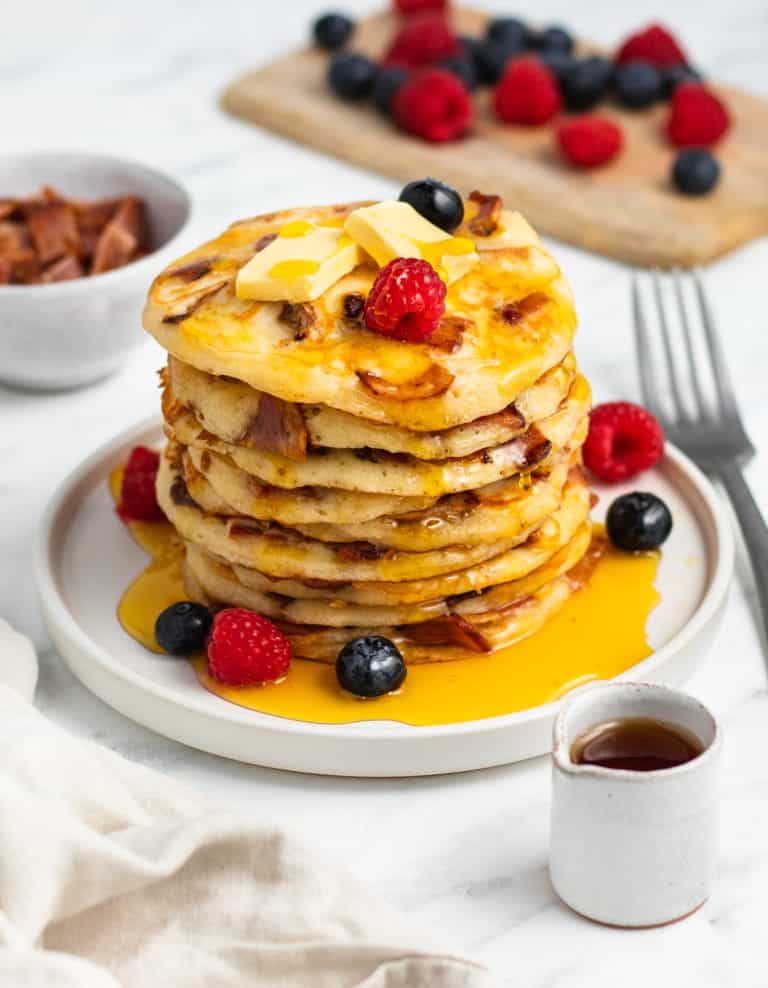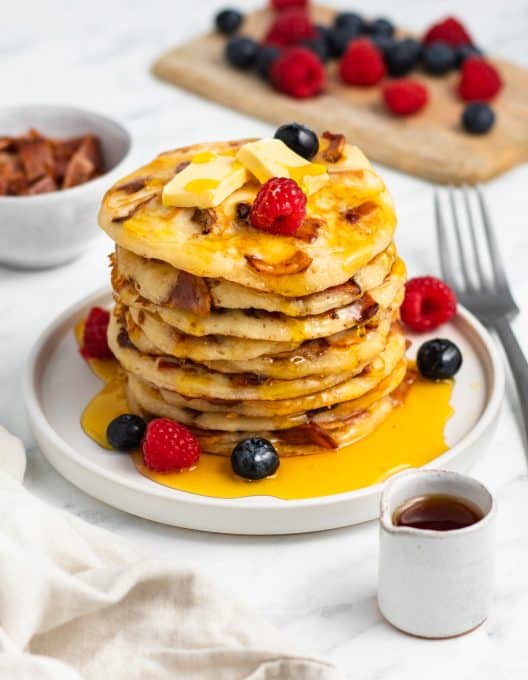 These Bacon Pancakes are the perfect breakfast for any day of the week, weekend or Sunday brunch, and will surely become a family favorite. Be sure to serve with real maple syrup, and some extra bacon on the side, too!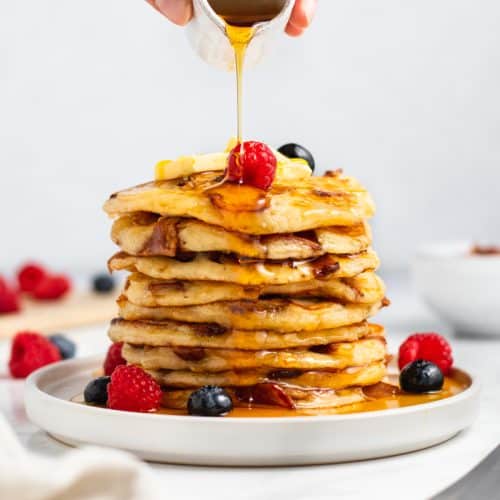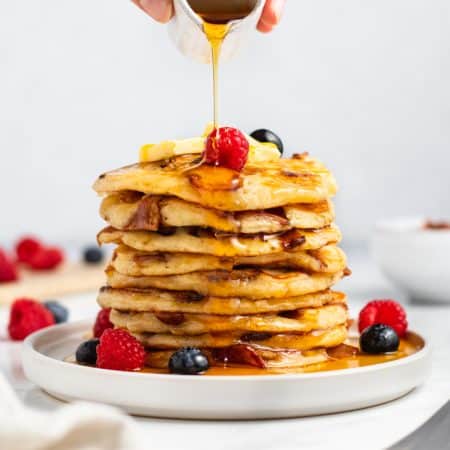 Pancakes with bacon inside! These easy Bacon Pancakes are homemade buttermilk pancakes with small pieces of bacon in each bite. They're a great idea for a delicious weekend breakfast—especially with plenty of maple syrup on top.
Ingredients
1 ¾ cups all-purpose flour
2 ½ teaspoons baking powder
½ teaspoon baking soda
¼ teaspoon kosher salt
2 cups buttermilk
2 large eggs
2 tablespoons butter melted
3 tablespoons granulated sugar
½ teaspoon vanilla extract
8 slices thin cut bacon
Instructions
In a large frying pan on a medium setting, fry the bacon until browned – a few minutes on each side. You can also bake your bacon as I do. You can pour the slightly cooled (NOT hot!) bacon fat into a heat proof container and use that to cook the pancakes in, if desired, for additional bacon flavor.

Transfer the bacon to a plate lined with paper towels to soak up any excess fat and cool slightly.

Chop the bacon into approx. ½ inch pieces. Set aside.

In a medium mixing bowl, whisk the flour, baking powder, baking soda and salt together.

In a large bowl, whisk together the buttermilk, eggs, melted butter, sugar and vanilla extract. Mix well.

Pour the dry ingredients into the bowl with the wet ingredients and gently fold everything together until just combined. It's ok if the mixture is a little lumpy.

Heat a little neutral oil (or you can use some butter or some bacon fat as previously discussed) in a large frying pan on a medium setting. Wait until the pan is hot before adding the batter.

Scoop approximately 1/4 cup of the pancake batter into the pan. While the batter is still wet, place bacon pieces all over the top of the pancake. Cook until browned on the bottom and bubbles are starting to appear all over the surface – about 3 minutes. Flip and cook for another 2-3 minutes on the other side.

Repeat with the remaining batter. You can fry 2-3 pancakes at a time in the pan to save time.

Serve with maple syrup, butter, fresh berries or your alternative toppings of choice.
Nutrition
Serving: 1pancake | Calories: 194kcal | Carbohydrates: 20g | Protein: 6g | Fat: 10g | Saturated Fat: 4g | Polyunsaturated Fat: 1g | Monounsaturated Fat: 4g | Trans Fat: 0.1g | Cholesterol: 50mg | Sodium: 261mg | Potassium: 199mg | Fiber: 1g | Sugar: 5g | Vitamin A: 175IU | Calcium: 91mg | Iron: 1mg
Did you make this recipe?
Share it with me on Instagram and make sure to follow me on Pinterest for more recipes.
Reader Interactions