Cajun Candied Bacon brings the perfect balance of sweet and spicy flavors to your table! Oven baked bacon is sprinkled with brown sugar and Cajun spices to delight your taste buds.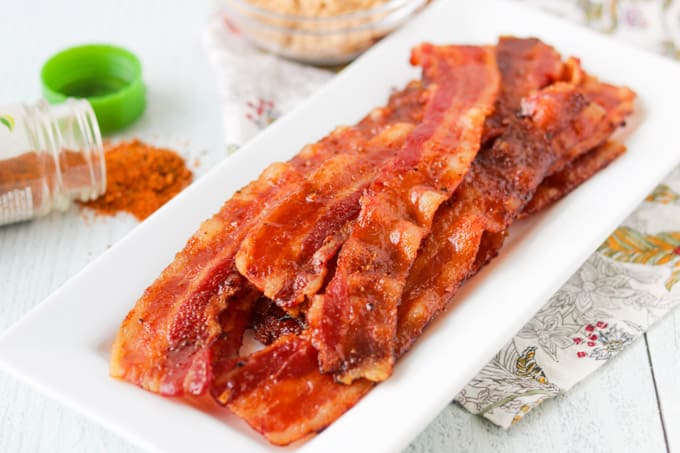 Name a more perfect breakfast meat than bacon. I'll wait.
Bacon is even better when you bake it in the oven!
No mess or splattering grease and it gets perfectly crispy every day.
Check out my guide for How To Bake Bacon in the Oven for more reasons why baked bacon is the best.
SAVE THIS EASY SPICY BACON WITH BROWN SUGAR RECIPE TO YOUR FAVORITE PINTEREST BOARD!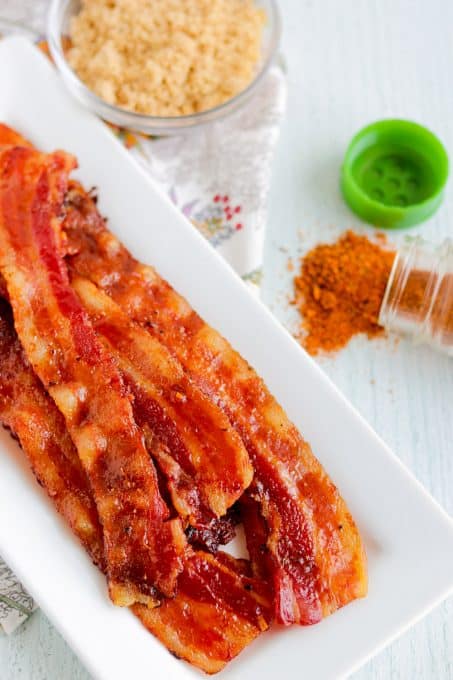 Of course, we think Oven Baked Bacon is even better when you add sugar and spice and everything nice!

Candied bacon is a beautiful thing. It only takes 3 ingredients and 1 baking pan.
In about 20 minutes, your Cajun Sugared Bacon will be golden brown, crispy and ready to turn an ordinary meal into something divine.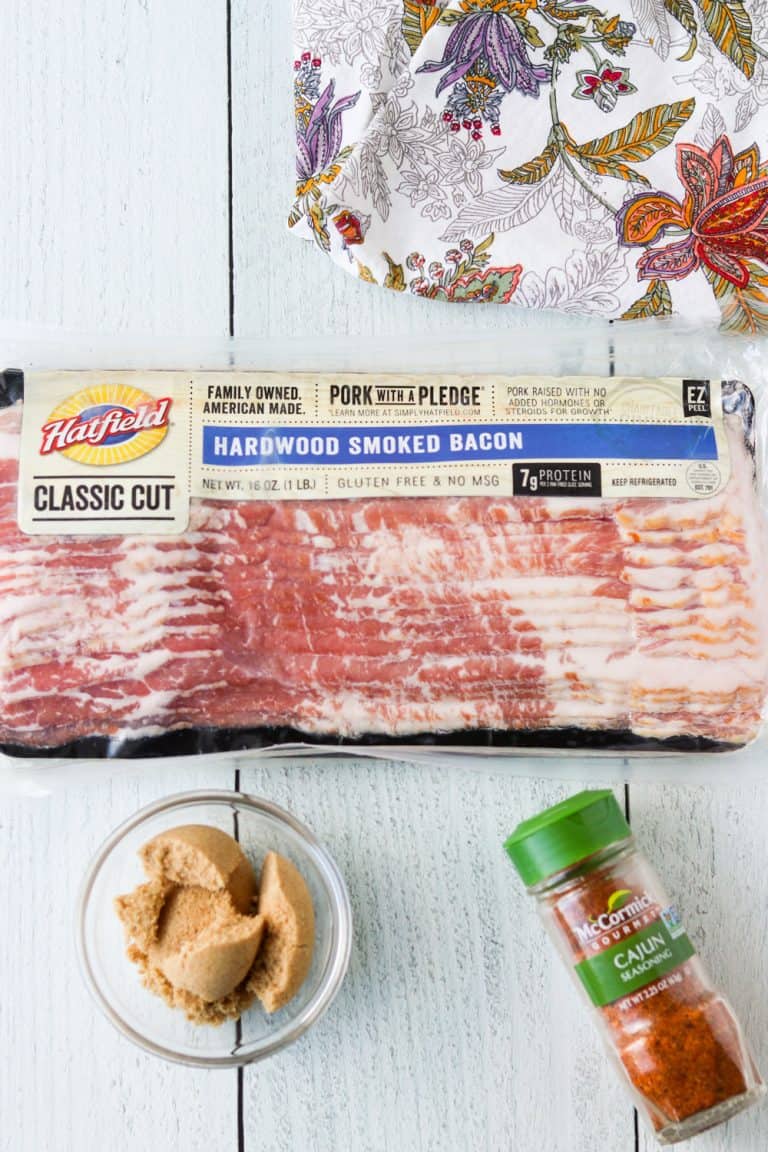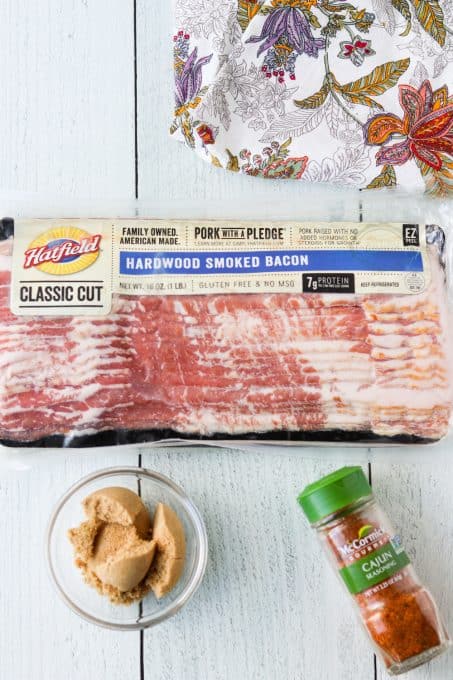 Candied Bacon with 3 ingredients
Here's all you need to make this spicy bacon recipe.
bacon
brown sugar
Cajun seasoning
What Cajun seasoning is best? That all depends on your preferences.
You can find tasty blends of cajun seasoning in the spice aisle at the grocery store or whip up a homemade version. (My friend Mary over at Barefeet in the Kitchen swears by this one!)
Of course, the spicier the seasoning blend, the spicier your baked candied bacon will taste.
I tend to go a little lighter on the heat for myself, but add more to the rest of the batch for other family members.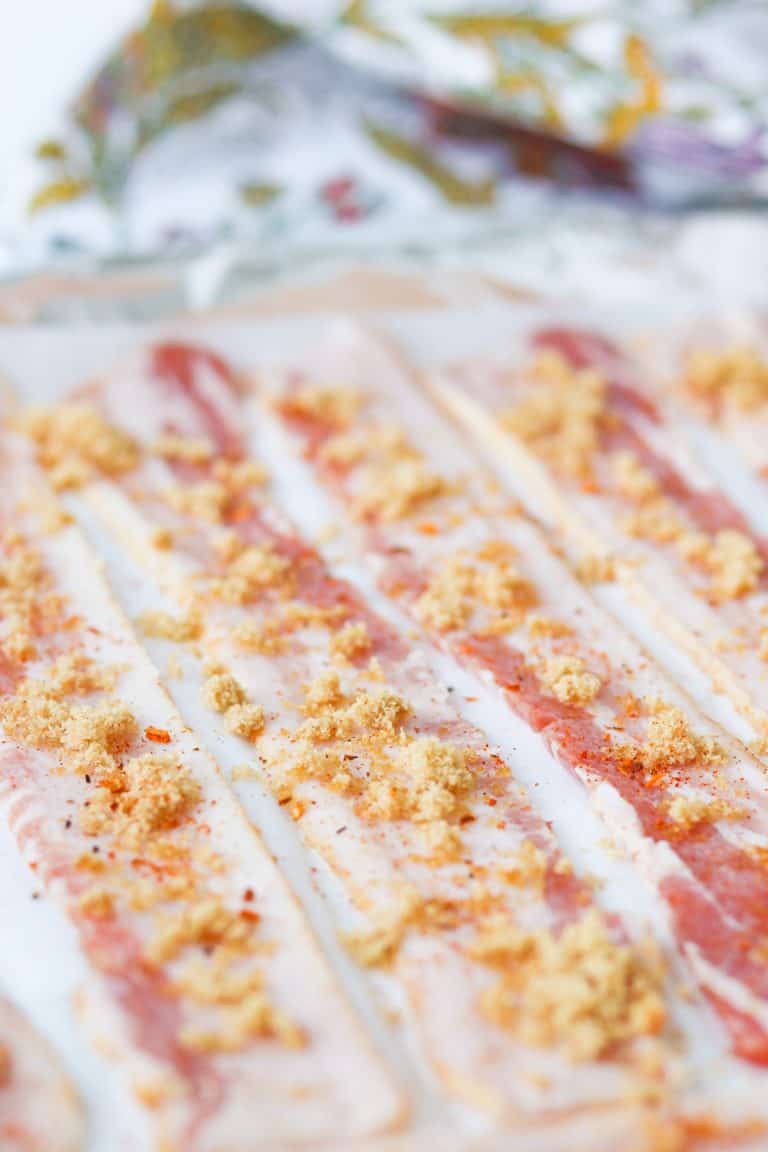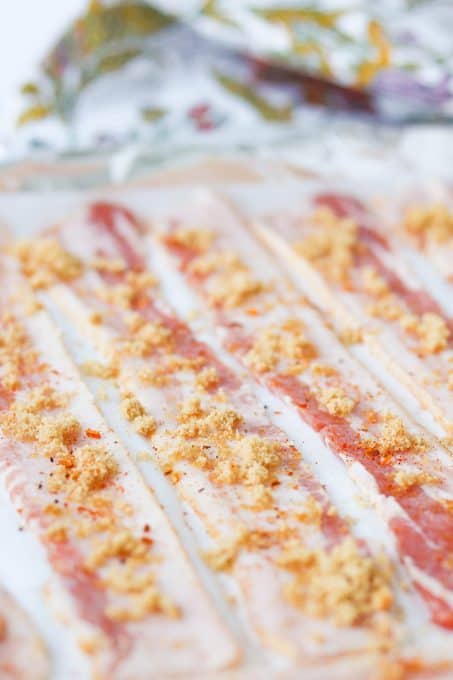 How to make candied bacon
Line two rimmed baking sheets with foil and then with a sheet of parchment.
Place the bacon strips evenly over the foil in a single layer and so they are not touching.
Sprinkle the brown sugar and Cajun spice evenly over each piece of bacon.
Put the baking sheets into a cold oven on the center rack.
Turn it on to 400 degrees.
Cook until bacon is done and crisped up to your liking.
Drain on paper towels and enjoy!
Tips for best sugared bacon
If both baking sheets don't fit in the center rack, you can place them each on different racks.
Make sure to watch it carefully when it approaches the 17-minute mark.
You want the bacon to be a golden crisp, but not burnt.
The amount of time your bacon takes to cook depends on the thickness of your slices and how hot your oven tends to run.
Thicker bacon slices may take closer to 21 or 22 minutes to get that candied crisp consistency.
Also, one pan may cook more quickly than the other, so be sure to keep a close eye on each, removing one before the other if needed.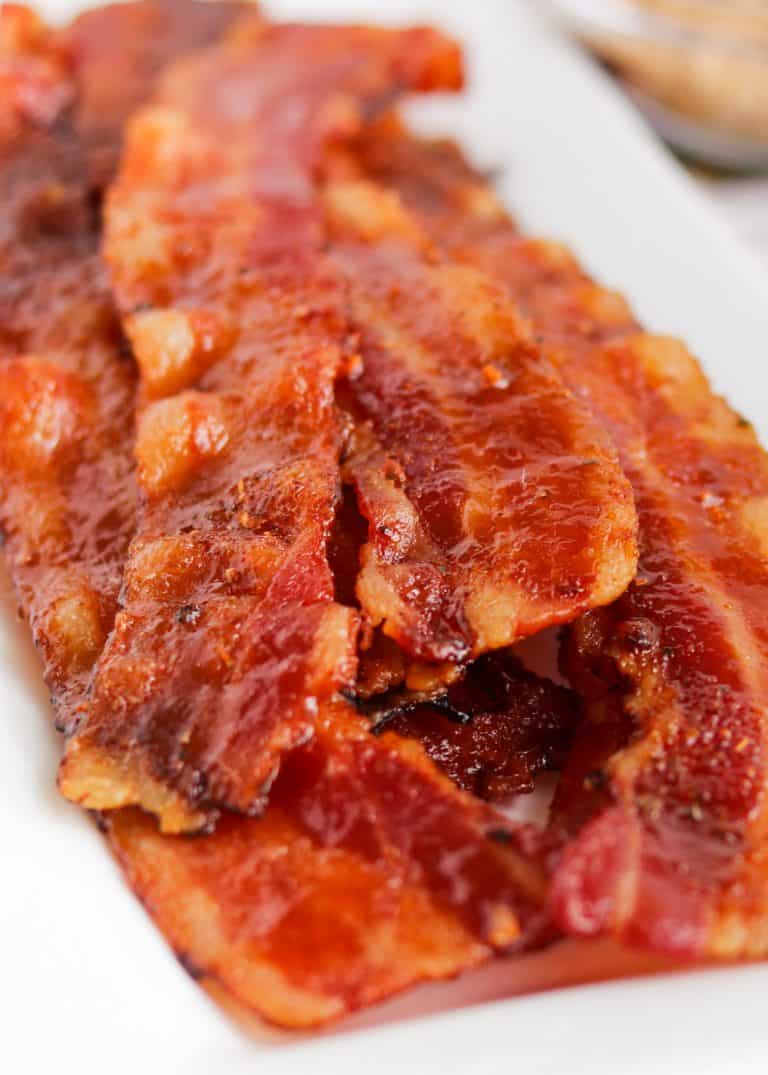 Serving Suggestions
Real talk?
I could happily gobble up a whole plate of this Cajun Sugared Bacon on its own.
I'm hooked on the stuff.
If you can resist eating it all straight from the oven with your hands, you can add it to tons of dishes to add instant flavor and spice.
Try chopping it up and tossing it in your favorite simple Summer Salad or rolling it in a wrap with spinach, onion and tomato.
It's also delicious with a side of scrambled eggs and toast for an easy, flavorful breakfast.
Oh, and it's pure bliss served alongside a stack of Pancakes or Waffles with maple syrup.
You could even fold it into a batch of homemade scones or biscuits for a protein rich on-the-go breakfast treat. There's really no wrong way to enjoy this candied bacon.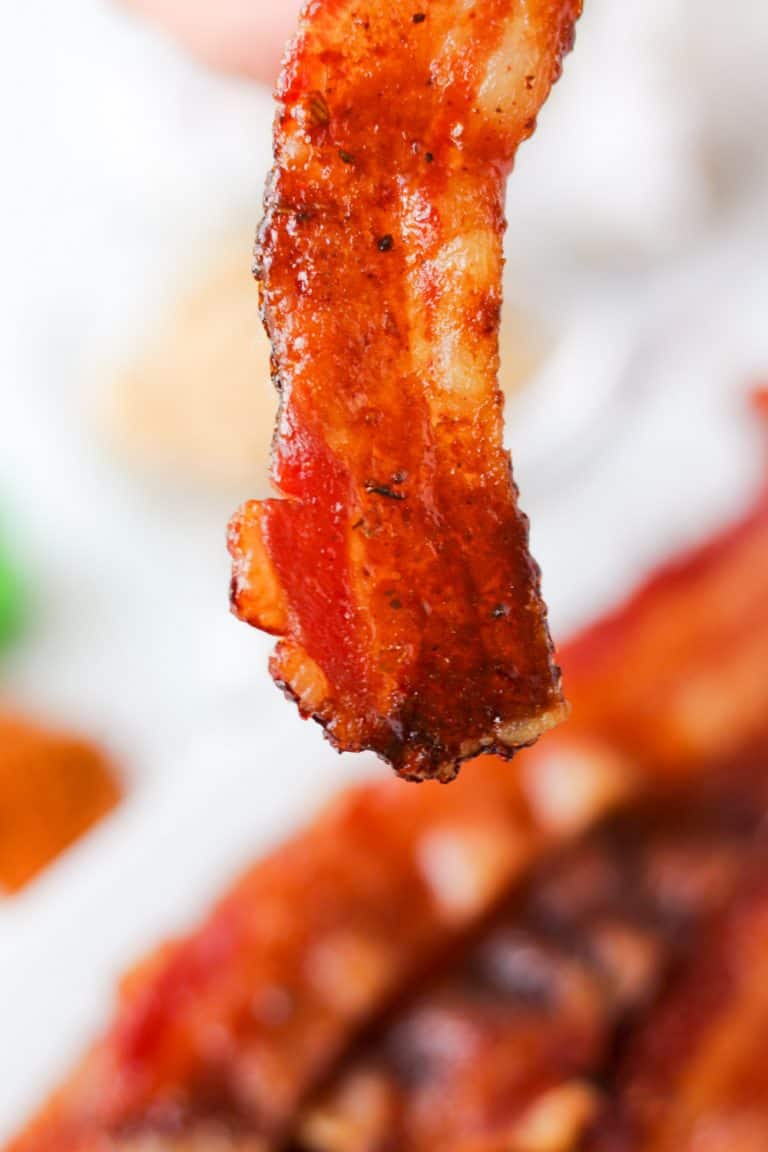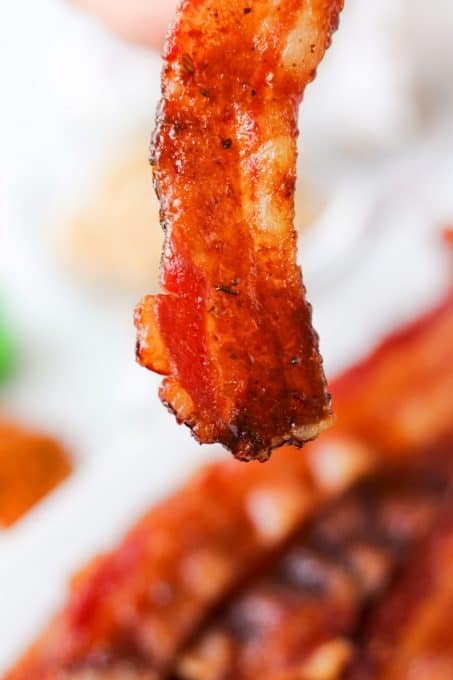 Recipes with bacon
Our bacon love doesn't end with this Spicy Sugared Bacon recipe.
For a nutty take on candied bacon, check out this Pecan Sugared Bacon!
It's definitely on the sweeter side compared to this Cajun version and my pecan loving friends go, well, nuts over it.
If you love the combo of salty bacon and sweetness, this Bacon Caramel Apple Crisp is a must try dessert!
It's decadent, indulgent and the ideal treat for the bacon lover in your life.
These Maple Bacon Brussels Sprouts are an amazing side dish for your holiday menus too.
Check out these other delicious recipes with bacon for even more inspiration . . . .
~ FOLLOW ME ~
~ FACEBOOK ~ PINTEREST ~
~ INSTAGRAM ~ TWITTER ~
SIGN UP FOR THE WEEKLY
365 DAYS OF BAKING & MORE
NEWSLETTER BELOW!
JOIN THE
365 DAYS OF BAKING AND MORE FACEBOOK GROUP
TO RECEIVE ADVANCE NOTICE OF MY LIVE FB VIDEOS,
SHARE RECIPES AND MORE!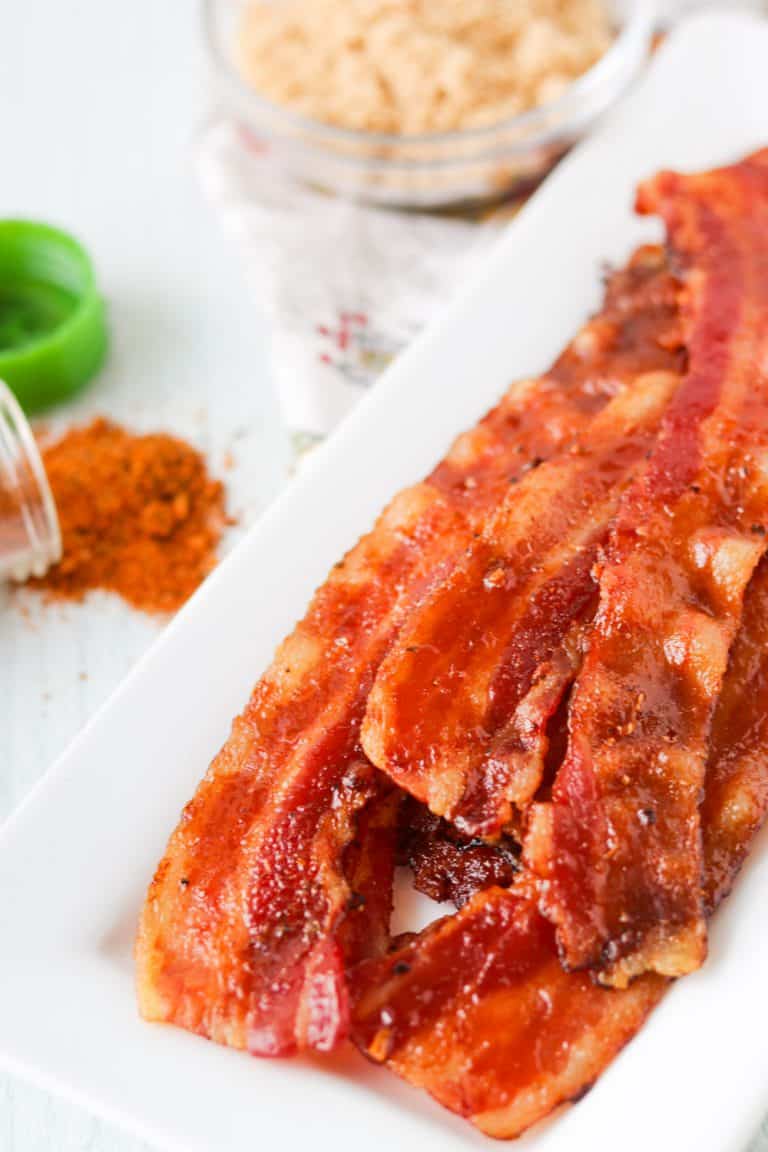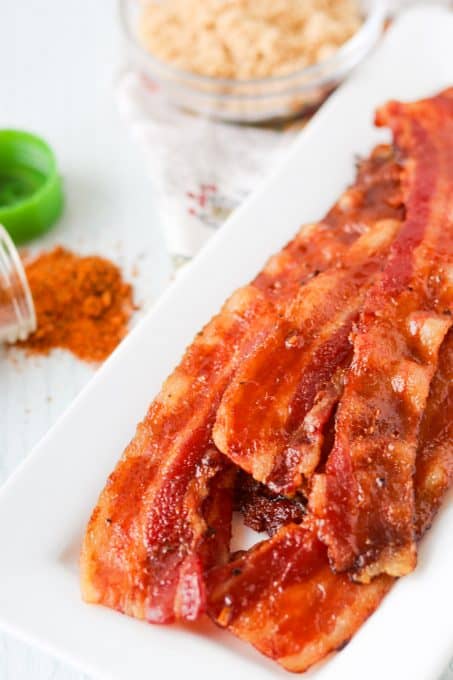 Brown Sugared Bacon with a kick! A sprinkle of Cajun seasoning makes this sugared baked bacon even tastier.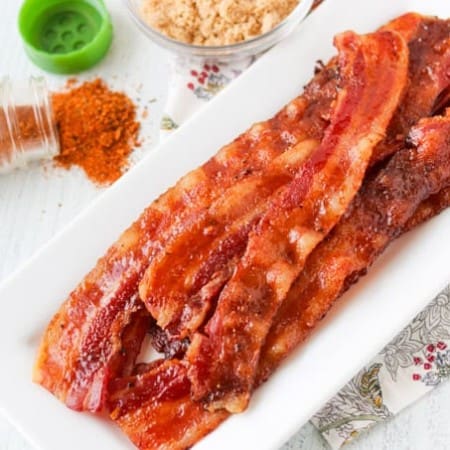 Cajun Candied Bacon brings the perfect balance of sweet and spicy flavors to your table! Oven baked bacon is sprinkled with brown sugar and Cajun spices to delight your taste buds. 
Ingredients
1 lb. bacon
3 tablespoons packed light brown sugar
½ teaspoon Cajun spice more or less, if desired
Instructions
Prepare two rimmed baking sheets by lining them with tin foil, and then covering each with a sheet of parchment.

Place the bacon on the baking sheets in a single layer, and disperse the brown sugar evenly over the bacon slices. Sprinkle each slide with Cajun spice.

Put the baking sheets into the cold oven and turn it on to 400° F. Bake for 17 – 22 minutes, depending on how thick the bacon slices are and how your oven runs temperature wise. If not completely cooked to your liking, check every couple of minutes until done. SEE NOTE

Remove the bacon from the oven and transfer slices to a plate lined with paper towel.
Notes
As the bacon approaches the final minutes of baking, be sure to check each pan for doneness. Depending on your oven, one pan may cook more quickly, so be sure to adjust cooking times accordingly. It may be necessary to remove one pan from the oven before the other. ALWAYS know that when baking your bacon in the oven, it can go from being cooked perfectly to burnt in no time.
Nutrition
Serving: 1g | Calories: 508kcal | Carbohydrates: 10g | Protein: 14g | Fat: 45g | Saturated Fat: 15g | Polyunsaturated Fat: 7g | Monounsaturated Fat: 20g | Trans Fat: 1g | Cholesterol: 75mg | Sodium: 753mg | Potassium: 242mg | Fiber: 1g | Sugar: 9g | Vitamin A: 165IU | Vitamin C: 1mg | Calcium: 14mg | Iron: 1mg
Did you make this recipe?
Share it with me on Instagram and make sure to follow me on Pinterest for more recipes.
This post was originally published on 2/15/14, and has been updated in format and with pictures on 8/20/21.
Reader Interactions