Homemade Pumpkin Spice is the spice blend you need for all your fall and holiday baking. Make this to have on hand for all your favorite pumpkin spice recipes, including No Bake Pumpkin Dream Bars!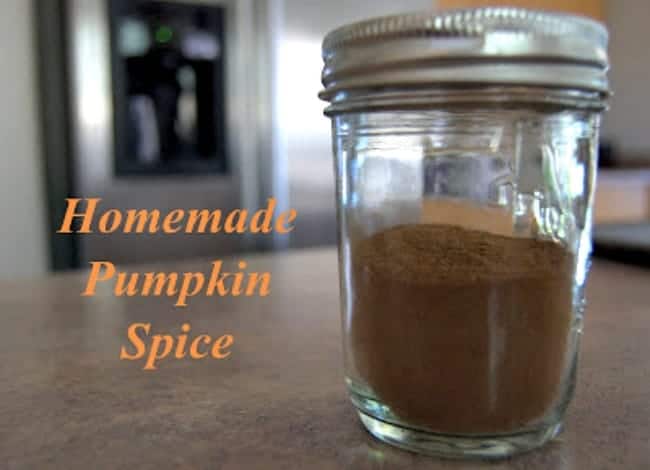 Ok, I've got the sugar and (pumpkin) spice part, but not the everything nice. This post is going to get right to the point. I'm a woman on a mission, on the run, people to do, things to…
WHOA!!!! That's certainly NOT how the saying goes, Lynne!! It's places to go, people to see and things to do.
I went for a run this morning and became EXTREMELY motivated to set some goals, do some projects, and get. my. act. together!
Yes, I am a woman on fire. GREAT things are happening, you are all a part of it and I THANK YOU!!
Some things cannot be discussed as of yet, but I'll let you know as they, as they… shoot! What's the word I'm looking for…as they…accrue? Nah, I don't think that's it, but I don't want to take the time right now to find the exact word.
SAVE THIS HOMEMADE PUMPKIN SPICE TO YOUR FAVORITE PINTEREST BOARD!
As I said, I'm a woman on a mission!
I had plans to make something today, but I was out of pumpkin pie spice and darn if I was going to go out to the store to buy it! Seriously, how many months out of the year am I going to use the stuff and for the amount of money I pay for that little container and am I going to use my money's worth?
"I think not," I said to myself. (It's gotten to the point where I talk to myself a lot. Don't judge me!)
Besides I'm paying for gas to get to the store, too. I figured that there's GOT to be a recipe online from someone who has chartered these unknown spice mix free waters before me, right?
And voila, there is!
Actually, there's quite a few of them, but I have made recipes from this captain and she rocks. So, this is from Jamie at My Baking Addiction. She has an incredible blog with so many wonderful recipes. If you haven't been by to see her, please do!
Homemade Spice Blend Recipe
It is so easy to make your own spice blends at home that I think I might just give up the store-bought ones altogether. I made a Homemade Taco Seasoning that I'm in LOVE with!
It's easy, tastes great if not better than those packets you buy at the store, I'm saving money, AND there no artificial gobbeldy gook or preservatives in mine.
So there, Mr. TacoSeasoningPacketMakerMan. *raspberries*
I'm working on making some other spice concoctions that you might see posted here soon. Ooh, I like that term, it makes me sound like a mad kitchen scientist.
What's in Pumpkin Pie Spice?
Pumpkin spice has no actual pumpkin in it. Instead, it's a blend of the spices commonly used to flavor a pumpkin pie (and lots of other pumpkin recipes).
My homemade pumpkin spice recipe is a simple mix of . . .
Cinnamon
Nutmeg
Ginger
All Spice
Cloves
If you have all these ingredients in your spice cabinet right now, you can make your own homemade pumpkin spice. There's really no reason to buy a grocery store spice mix ever again!
Then, you'll be ready to make Chai Spiced Pumpkin Cake, Pumpkin Spice Cranberry Pecan Pound Cake, Chocolate Chunk Pumpkin Bread and more.
How to Make Pumpkin Pie Spice
Mix all the spices together
That's it. There's no step 2!
I stored my pumpkin spice blend in a small jar but you could also use a ziploc bag, a Tupperware container or any container you have with a nice fitting lid.
If you have some empty spice containers with shaker lids lying around, store it in that and be ready to sprinkle your homemade spice over everything.
Looking for more homemade spices and seasonings? Check out this Homemade Taco Seasoning next time you're having a Mexican night, and this Easy Homemade Curry Powder when you're craving Indian food.
Are you more of an apple spice kinda girl? This Homemade Apple Pie Spice with cardamom sounds good too!
SIGN UP FOR THE WEEKLY
365 DAYS OF BAKING & MORE
NEWSLETTER!
Pumpkin Spice Recipes
This pumpkin spice blend is ready to use in just about any of your favorite pumpkin recipes this fall.
Pumpkin Spice Baked French Toast is the ideal breakfast for pumpkin lovers, with cream cheese and a streusel topping. For an adorable Halloween treat, give these Pumpkin Spice Meringue Pumpkins a try this season.
Pumpkin Spice Cream Cheese Cookies, Pumpkin Spice Oatmeal Drop Cookies and White Chocolate Pumpkin Spice Cookies are two more great cookie recipes to put on your list this autumn.
How does a slice of No-Bake Pumpkin Nutella Cheesecake or Pumpkin Chocolate Chunk Cake sound? Paired with a cup of coffee, tea or apple cider, it's the best way to welcome fall.
And, folks, I definitely couldn't write a post about pumpkin spice without mentioning the ever-popular Dairy-Free Pumpkin Muffins my pumpkin loving friends can't get enough of.
Are you a pumpkin spice latte fan? I hardly know anyone who isn't these days! My friend Rebecca is a tea drinker and her Pumpkin Spice Chai Latte recipe is a definite winner!
Looking for a pumpkin recipe you can serve for dinner? Try these Stuffed Pumpkins. Also, Pumpkin Biscuits with Cinnamon Honey Butter make a good dinner side dish or pumpkin-y breakfast.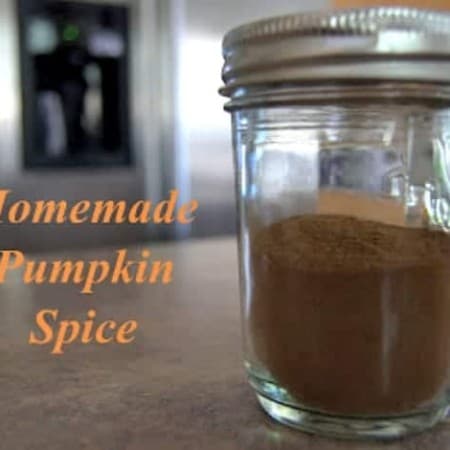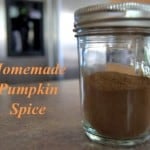 Homemade Pumpkin Spice
Ingredients
3

tablespoons

ground cinnamom

2

teaspoons

ground ginger

2

teaspoons

ground nutmeg

1 1/2

teaspoons

allspice

1 1/2

teaspoons

ground cloves
Instructions
In a small bowl, mix all ingredients together.

Store in a jar with a tightly fitted lid.
Nutrition Facts
Homemade Pumpkin Spice
Amount Per Serving
Calories 10
% Daily Value*
Sodium 2mg0%
Potassium 10mg0%
Carbohydrates 1g0%
Vitamin C 0.2mg0%
Calcium 8mg1%
Iron 0.3mg2%
* Percent Daily Values are based on a 2000 calorie diet.
I am SO excited to use this seasoning mix in some different recipes this Fall season. I've seen many different recipes calling for pumpkin spice but was hesitant to spend the money. Yes, I'm cheap, what can I say?
Now that I have my very own homemade pumpkin spice, I can't wait to bake up a fall storm.
There are so many reasons to get in the kitchen and bake this time of the year. Why not give these babies a try with your pumpkin pie or pumpkin cake this season?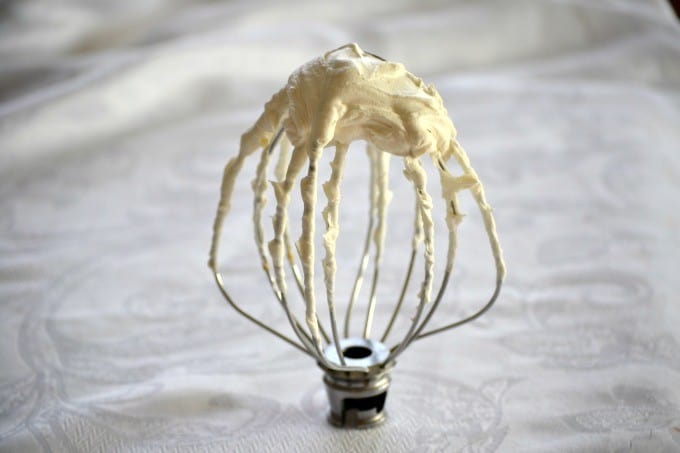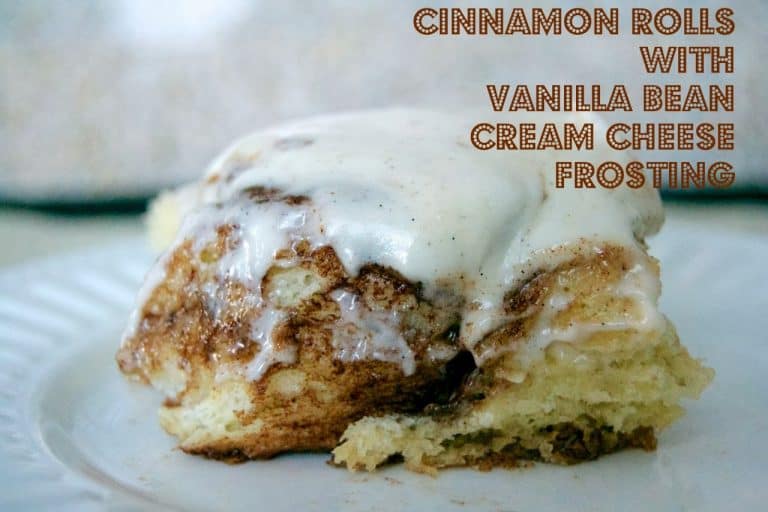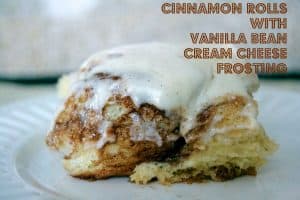 Caramel Apple Cheesecake Bars speak for themselves. These are some of my favorite fall treats!
This pumpkin spice mix would also be perfect for adding to Whole Wheat Pumpkin Pancakes and Caramel Pumpkin Cheesecake Tartlets.
I rate everything I make on a scale of 1-4 and this Homemade Pumpkin Spice earns 4 rolling pins.
It's easy, quick, inexpensive and ROCKS!! Make it. You'll be glad you did.