Homemade Pumpkin Spice is the spice blend you need for all your fall and holiday baking. Skip the expensive store bought blends and make your own in seconds. Keep a jar of this pumpkin pie spice on hand and you're ready to make all your favorite fall treats!
This is the ONLY pumpkin spice recipe you need. Use it in everything from No Bake Pumpkin Dream Bars to Pumpkin Spice Baked French Toast.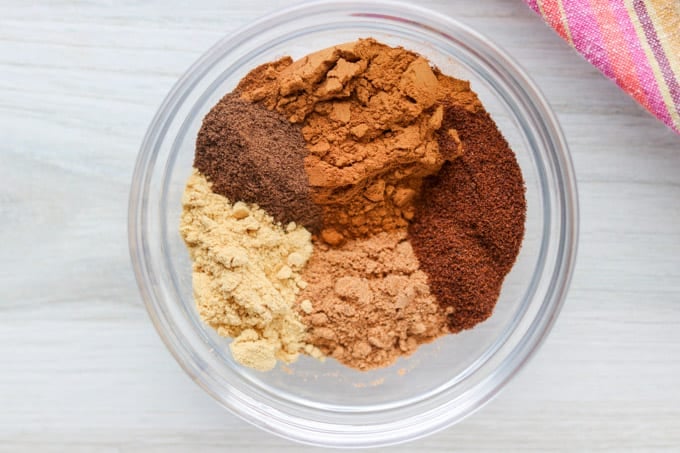 If you've been shelling out for store bought pumpkin pie spice, consider this a sign to make the switch.
Homemade pumpkin spice mix tastes so much better–and it's a zillion times more cost effective!
From September to December, I'm reaching for the pumpkin spice constantly.
It goes into everything from cookies to coffee to pancakes all season long.
SAVE THIS DIY PUMPKIN SPICE MIX TO YOUR FAVORITE PINTEREST BOARD!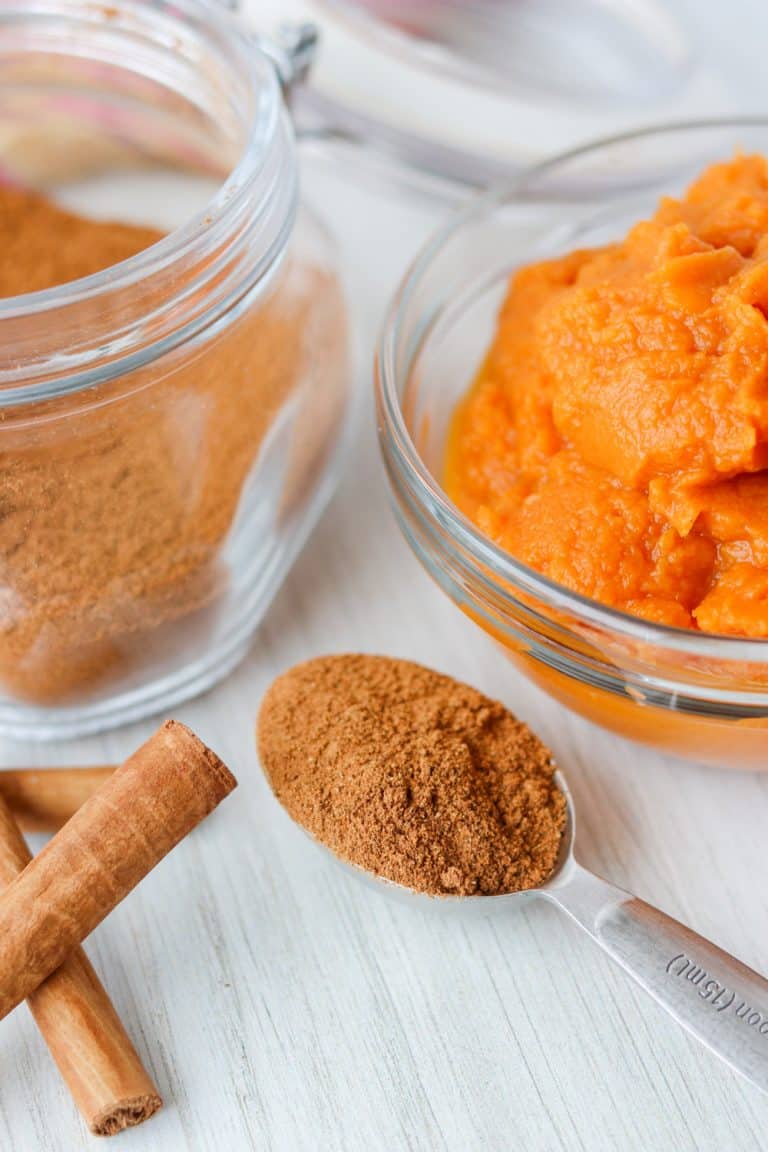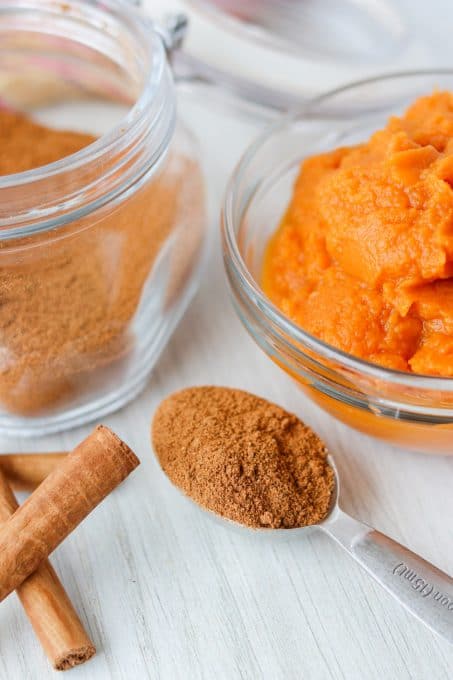 For years, I used those little jars of pumpkin pie spice from the store.
Then, one day in mid-October a while back, I ran out.
In the middle of making a batch of Pumpkin Muffins.
With no time to run to the store, I decided it couldn't be too hard to make my own.
After a quick search, I found this Homemade Pumpkin Spice recipe from Jamie at My Baking Addiction.
She has an incredible blog with so many wonderful recipes.
If you haven't been by to see her, please do!
The flavor of the homemade pumpkin pie spice was SO. MUCH. BETTER. than the stuff I'd been getting from the store.
With no artificial preservatives, the pure taste of the spices shone through.
I also love that you can tweak the blend as much as you want to customize it to your taste preferences.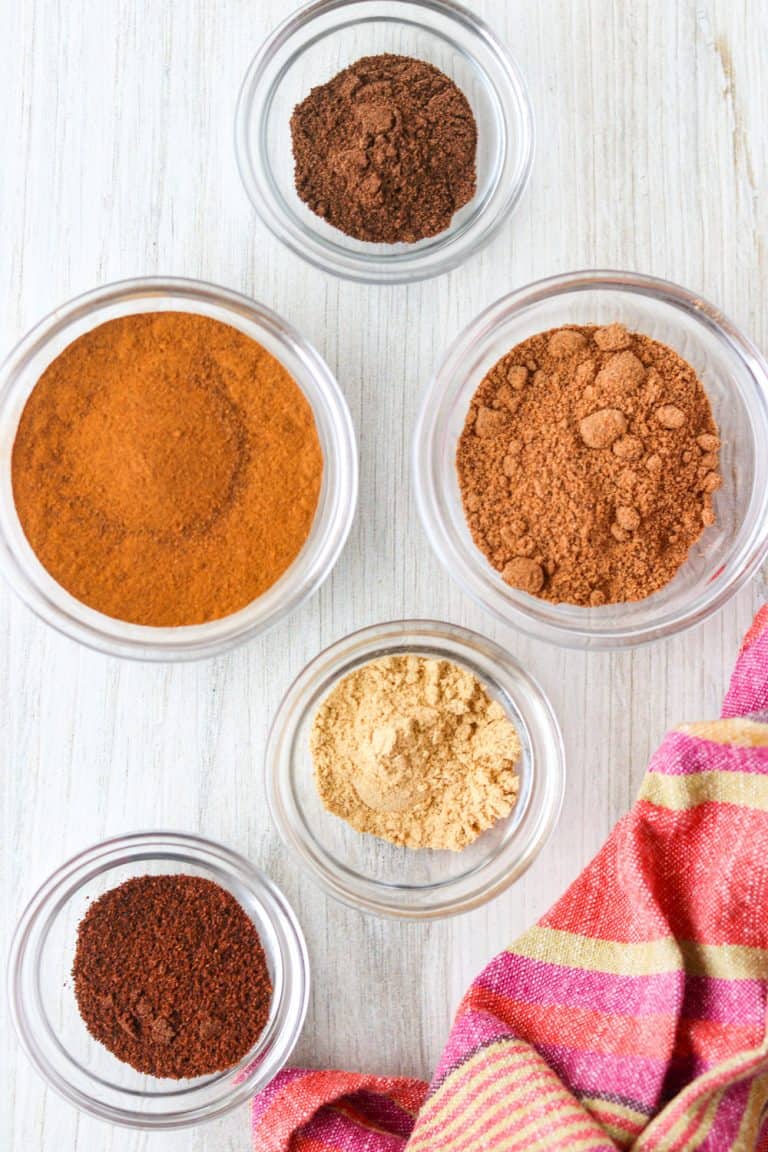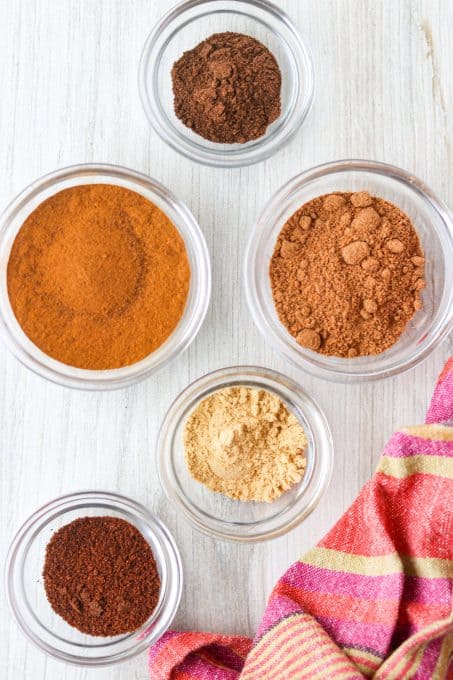 What is Pumpkin Pie Spice?
Pumpkin spice has no actual pumpkin in it.
Instead, it's a blend of the spices commonly used to flavor a pumpkin pie (and lots of other pumpkin recipes).
My homemade pumpkin spice recipe is a simple mix of . . .
Cinnamon
Nutmeg
Ginger
All Spice
Cloves
If you have all these ingredients in your spice cabinet right now, you can make your own homemade pumpkin spice. There's really no reason to buy a grocery store spice mix ever again!
All you do is mix the spices together.
That's it! No step 2.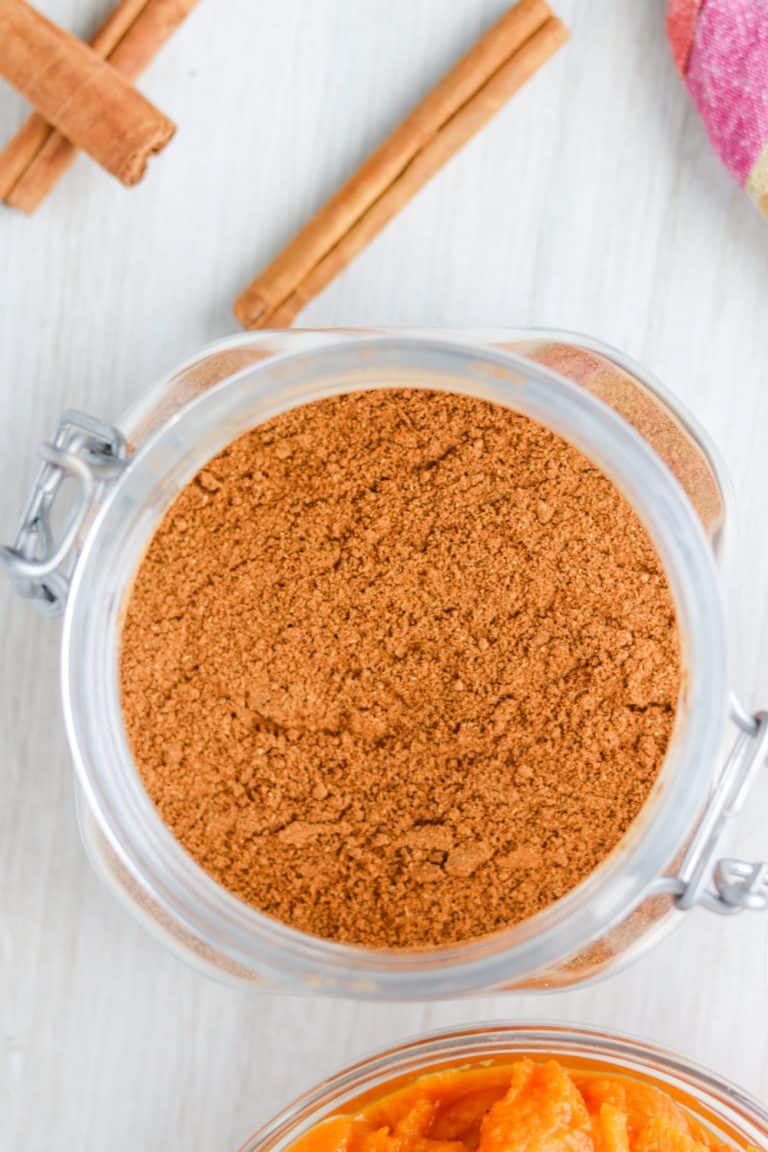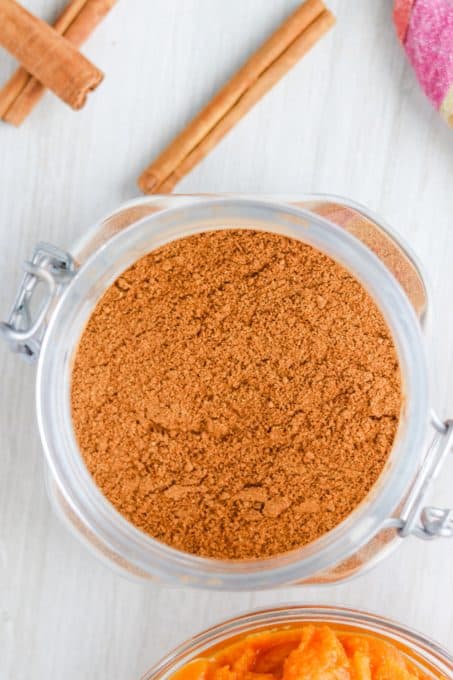 How do I store it?
I stored my pumpkin spice blend in a small jar but you could also use a ziploc bag, a Tupperware container or any container you have with a nice fitting lid.
Got any extra spice jars with shaker lids lying around?
Store your pumpkin pie spice in that and be ready to sprinkle it over everything.
We love it in our coffee, on ice cream and even sliced fruit!
How long does this DIY Pumpkin Spice keep?
You're going to love this: it keeps forever.
Okay, maybe not literally forever–but pretty darn close.
Stored in a sealed container in a cool location (but doesn't need to be the refrigerator), the spice blend stays good for at least two years.
After a couple of years, the flavors will start to become muted.
If you notice that happening, it's time to make a fresh batch.
I never end up needing to replace my spice mix because I use it so often.
Even if you're not an avid baker of pumpkin spice recipes, you'll probably use this spice blend up long before you'd need to toss it.
What can I make with Homemade Pumpkin Pie Spice?
This pumpkin spice blend is ready to use in just about any of your favorite pumpkin recipes this fall.
Pumpkin Spice Baked French Toast is the ideal breakfast for pumpkin lovers, with cream cheese and a streusel topping. For an adorable Halloween treat, give these Pumpkin Spice Meringue Pumpkins a try.
Our Pumpkin Spice Oatmeal Drop Cookies have been a hit at every fall fathering. White chocolate fans can't get enough of these White Chocolate Pumpkin Spice Cookies either.
How does a slice of No-Bake Pumpkin Nutella Cheesecake or Pumpkin Chocolate Chunk Cake sound? Paired with a cup of coffee, tea or apple cider, it's the best way to welcome fall.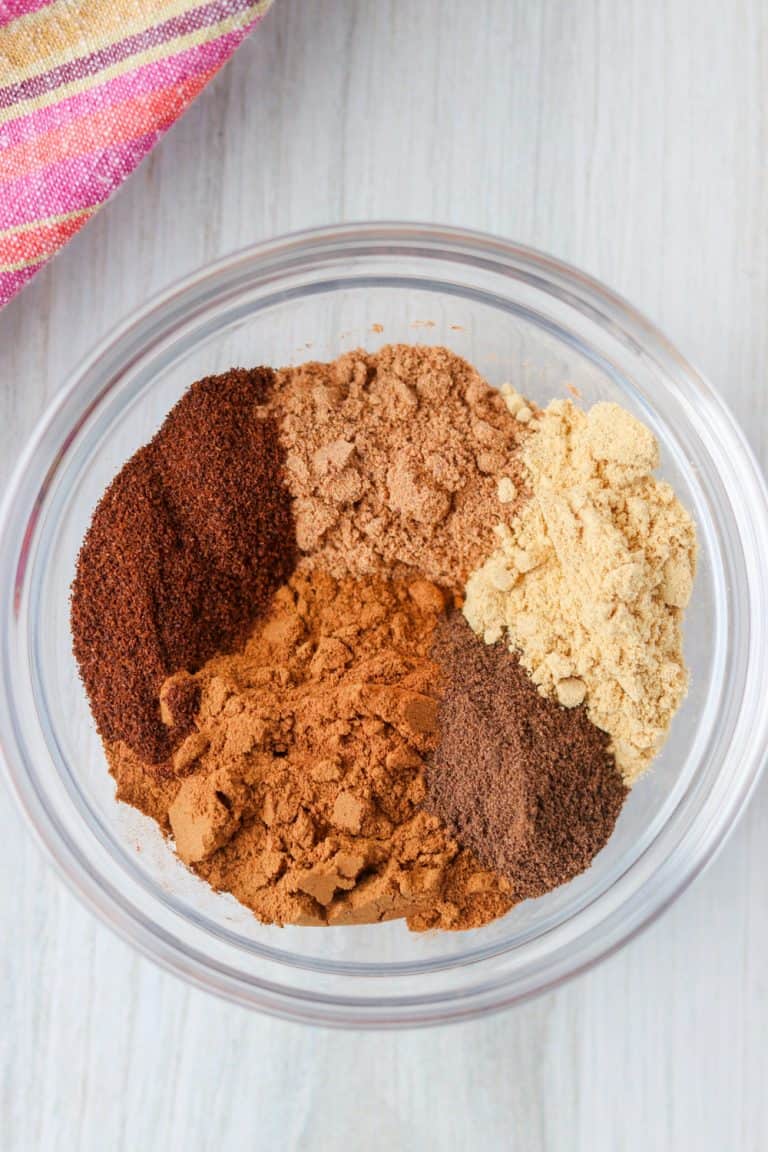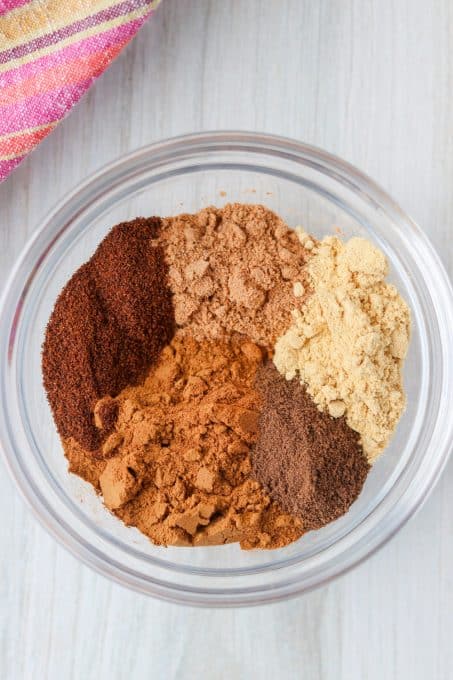 And, folks, I definitely couldn't write a post about pumpkin spice without mentioning the ever-popular Dairy-Free Pumpkin Muffins my pumpkin loving friends can't get enough of.
Are you a pumpkin spice latte fan? I hardly know anyone who isn't these days! My friend Rebecca is a tea drinker and her Pumpkin Spice Chai Latte recipe is a definite winner! You can make it with coffee too, if you're a pumpin latte purist!
I could talk your ear off for days about all the fabulous recipes you can make this this blend. Here are just a few more delicious ideas:
When pumpkin spice is involved it HAS to be good!
And remember to top all of your pumpkin pies this holiday season with my easy Stabilized Whipped Cream instead of using Cool Whip!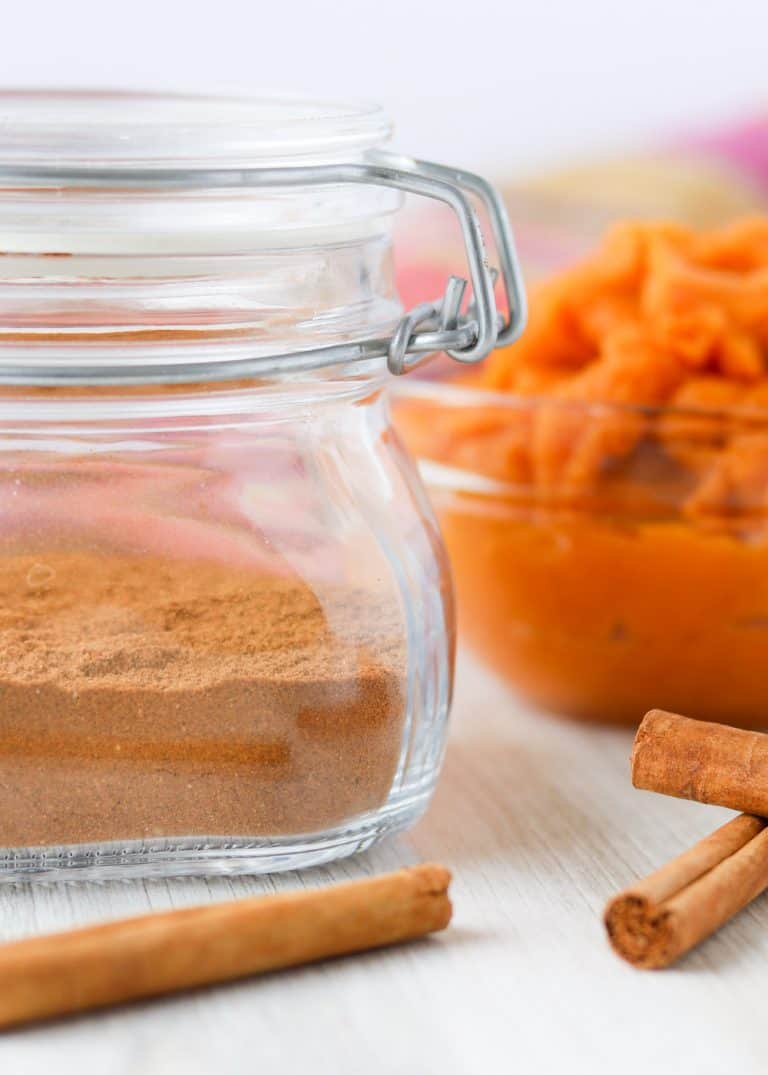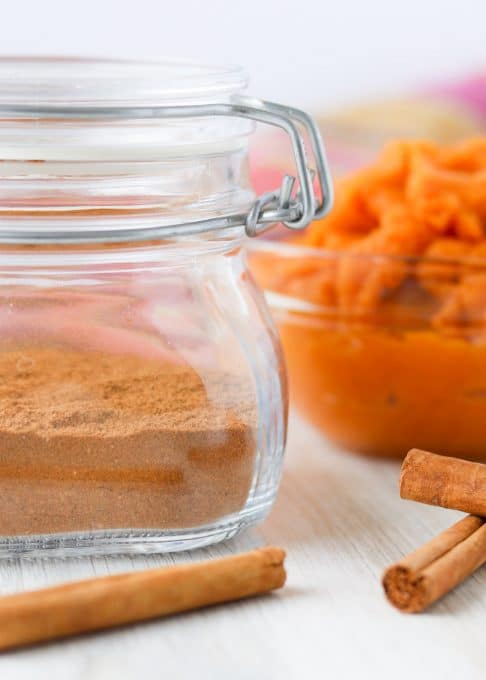 ~ FOLLOW ME ~
~ FACEBOOK ~ PINTEREST ~
~ INSTAGRAM ~ TWITTER ~
SIGN UP FOR THE WEEKLY
365 DAYS OF BAKING & MORE
NEWSLETTER BELOW!
JOIN THE
365 DAYS OF BAKING AND MORE FACEBOOK GROUP
TO RECEIVE ADVANCE NOTICE OF MY LIVE FB VIDEOS,
SHARE RECIPES AND MORE!
One taste of this flavorful Homemade Pumpkin Spice and you'll ditch your store bought jar forever!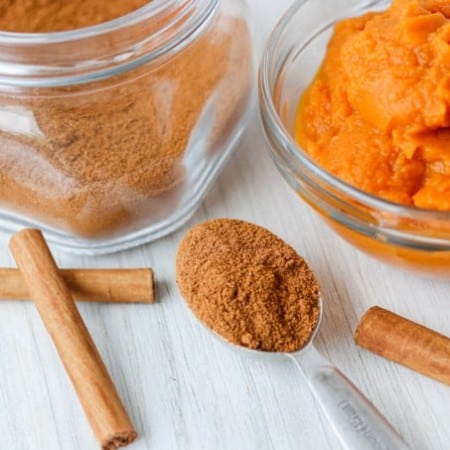 Homemade Pumpkin Spice is the spice blend you need for all your fall and holiday baking. Skip the expensive store bought blends and make your own in seconds. Keep a jar of this pumpkin pie spice on hand and you're ready to make all your favorite fall treats! 
Equipment
mason jar or sealed container
Ingredients
3 tablespoons ground cinnamon
2 teaspoons ground ginger
2 teaspoons ground nutmeg
1 ½ teaspoons allspice
1 ½ teaspoons ground cloves
Instructions
In a small bowl, mix all ingredients together.

Store in a jar or container with a tightly fitted lid. 
Nutrition
Serving: 1g | Calories: 22kcal | Carbohydrates: 6g | Protein: 1g | Fat: 1g | Saturated Fat: 1g | Polyunsaturated Fat: 1g | Monounsaturated Fat: 1g | Trans Fat: 1g | Sodium: 3mg | Potassium: 46mg | Fiber: 3g | Sugar: 1g | Vitamin A: 19IU | Vitamin C: 1mg | Calcium: 58mg | Iron: 1mg
Did you make this recipe?
Share it with me on Instagram and make sure to follow me on Pinterest for more recipes.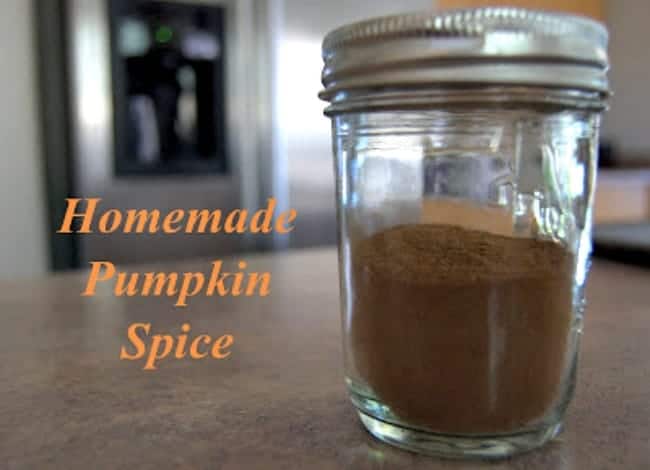 Back in my early days of blogging, I used to rate everything I made on a scale of 1-4 rolling pins.
Homemade Pumpkin Spice earns an easy 4 rolling pins.
It's easy, quick, inexpensive and ROCKS!! Make it. You'll be glad you did.

This post was originally published on 10/21/2012, and was updated in format and with new pictures on 8/27/2021.

Reader Interactions