This Pumpkin Chocolate Chunk Cake is just the perfect Fall recipe for the season. It has chunks of semi-sweet chocolate throughout a pumpkin flavored cake topped with a pumpkin spice cream cheese frosting.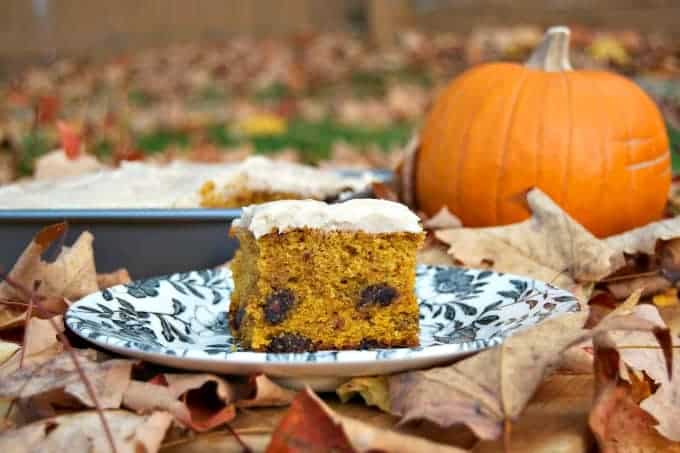 Have you had enough pumpkin yet?
I think not, and this Pumpkin Chocolate Chunk Cake is one you won't want to skip!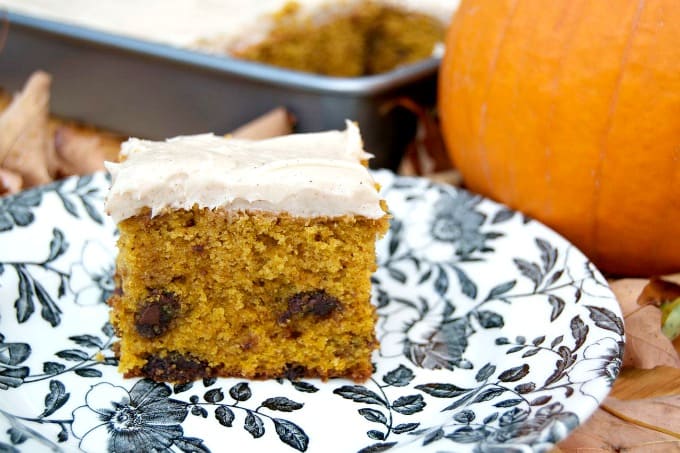 I still have at least one more of these pumpkin-type recipes up my sleeve for you this season.
C'mon, it's only around this time of year and won't be around much longer. Then we're off to holiday cookies, fudge and candies, and holiday appetizers. Can you believe it?!
This year is F-L-Y-I-N-G!! I feel like I've said that recently, but it's true!
Last year at this time my family was sitting in a home in Bethlehem, New Hampshire waiting to experience what those hardcore Yankee natives later called the "coldest winter we've had in a long time."
Of course, it was!
And just like when we first moved to Arizona, people said, "boy, this is the hottest summer we've had in a long time!" Ah, well… *insert eye roll here*
But here we are, back in the desert of Arizona, living where we previously lived for 11 years. We've returned "home" and I have to say that it feels pretty darn good to be back.
Last week as we were driving down "the 17" (Interstate 17) toward our "final destination" we both commented that it felt like we'd only been away on a "working" vacation these past fourteen months.
SAVE THESE PUMPKIN CHOCOLATE CAKE TO YOUR FAVORITE PINTEREST BOARD!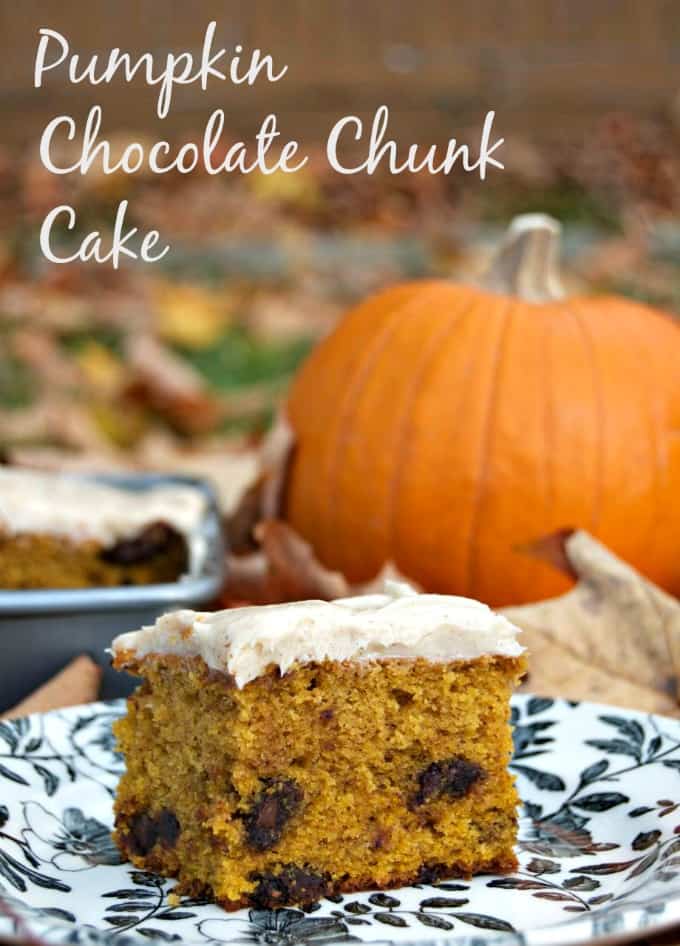 It was an experience I know the family will never forget. We ran out of oil (the necessary ingredient for heat in the northeast) FOUR times! You'd think that after the first time we would have learned our lesson. But, no.
See, living in AZ you don't need to think about heat and hot water and running out of things that provide those two luxuries. If you pay your bill, they just keep coming. In New England, yes if you pay your bill there, too those luxuries will be provided, but ONLY if you order them….which was what we neglected to do.
Being away for 11 years we forgot that one needs to set up a regular delivery schedule with the fuel company for oil and propane for hot water. And unfortunately, because we were renters they said we needed to pay on delivery, so couldn't schedule. GAH!!!
Long story short, it was cold. We ran out of oil 4 times and propane twice. BUT we lived through it as I knew we would, no one was in any danger and we'll be reminiscing and telling some great stories for years to come.
Money was extremely tight this past year and the effort each member of the 365 family put forth to earn it made us truly humble and beyond grateful. We came away from the experience completely appreciating the value of a dollar, and it was important to the Mr. and me that the kids learn how to budget.
We also wanted them to know as one gets older and has more responsibilities that there are bills to be paid. Things in life aren't given to you, but they will have more personal value if you earn them.
Consequently, it now pains them to part with their money.
Not that they're stingy as they'd gladly be willing to help someone in need, but they aren't spending it frivolously as they had when they were younger. Neither are the adults.
We're changed, I tell ya. Changed! This past year was probably the most challenging for all of us both as individuals and as a whole, yet in the end, we learned more about ourselves, each other and grew closer as a family because of it. That in itself is priceless.
Life is genuinely good. And I wouldn't change a thing.
~ This is the recipe I told you on Monday that I ran out of cake flour for and had to make it myself. Here's how I did it.
You can also make your own homemade pumpkin spice instead of buying it in the store. I can show you that, here!
If you like my Pumpkin Chocolate Chunk Cake, take a look at these other pumpkin recipes my blogger friends have made…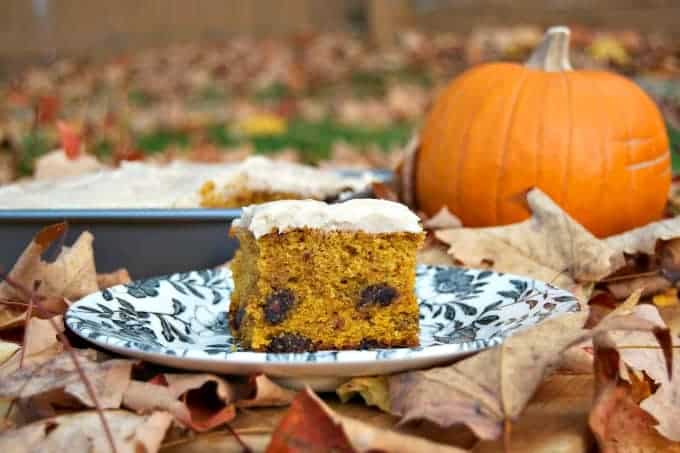 Pumpkin Chocolate Chunk Cake
Chunks of semi-sweet chocolate throughout a pumpkin flavored cake topped with a pumpkin spice cream cheese frosting.
Print
Pin
Rate
Ingredients
8

tablespoons

unsalted butter

plus additional for greasing the pan

1 ½

cups

granulated sugar

1

cup

pumpkin pureé

2

eggs

1

teaspoon

pure vanilla extract

2

cups

cake flour

2

teaspoons

pumpkin spice

1

teaspoon

baking soda

½

teaspoon

salt

½

cup

milk

1 ½

teaspoons

white vinegar

1

cup

chocolate chunks
Frosting
8

ounces

cream cheese

room temperature

8

tablespoons

unsalted butter

room temperature

2

cups

confectioners' sugar

sifted to remove any lumps if needed

2

teaspoons

pumpkin spice

1

teaspoon

pure vanilla extract
Instructions
Preheat oven to 350 degrees F.

Prepare a 9-inch square cake pan by greasing with butter and lightly flouring.

Measure the 1/2 cup of milk and stir in the white vinegar. Allow it to sit for 15 minutes to sour.

In a stand fitted with the paddle attachment, cream the butter until light. Gradually add the granulated sugar, beating until light.

Add the pumpkin pureé, eggs, and vanilla. Scrape down the sides of the bowl as needed throughout the recipe.

In a small bowl, whisk together the cake flour, pumpkin spice, baking soda, and salt.

Add to the pumpkin mixture and blend well.

Slowly add the sour milk and beat until thoroughly combined, remembering to scrape the sides.

With a rubber spatula, mix in the chocolate chunks.

Pour into prepared pan and bake for approximately 45 minutes until a toothpick inserted in the center comes out clean.

Cool the cake in the pan for 5 minutes before turning out on a wire rack to cool completely before frosting.
Pumpkin Spice Cream Cheese Frosting
In a stand mixer fitted with the paddle attachment, cream the cream cheese and butter until well combined. Gradually add the confectioners' sugar. Scrape down the sides of the bowl and add the pumpkin spice and vanilla. Mix until thoroughly combined.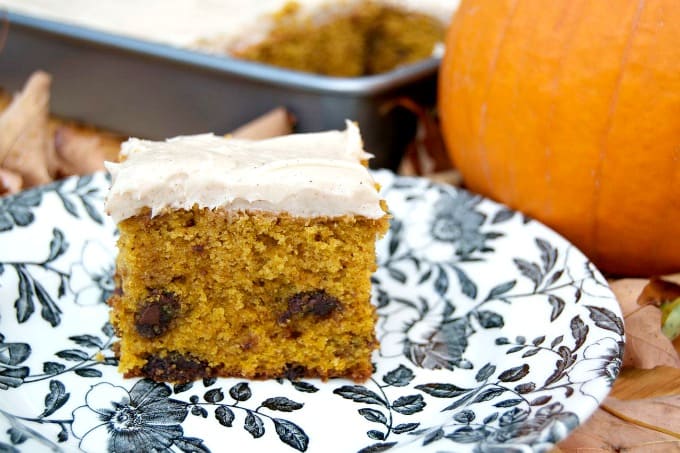 I used to rate everything I made on a scale of 1-4 with a 4 being the best and this Pumpkin Chocolate Chunk Cake earned 3 1/2 rolling pins when I originally made it. It was quite delicious! I am really in love with the combination of pumpkin and chocolate.
They just go so well together! I think cream cheese frosting is always good on top of cakes, but flavored with the pumpkin spice just gave it that extra umph!
If you like this Pumpkin Chocolate Chunk Cake then you'll also enjoy…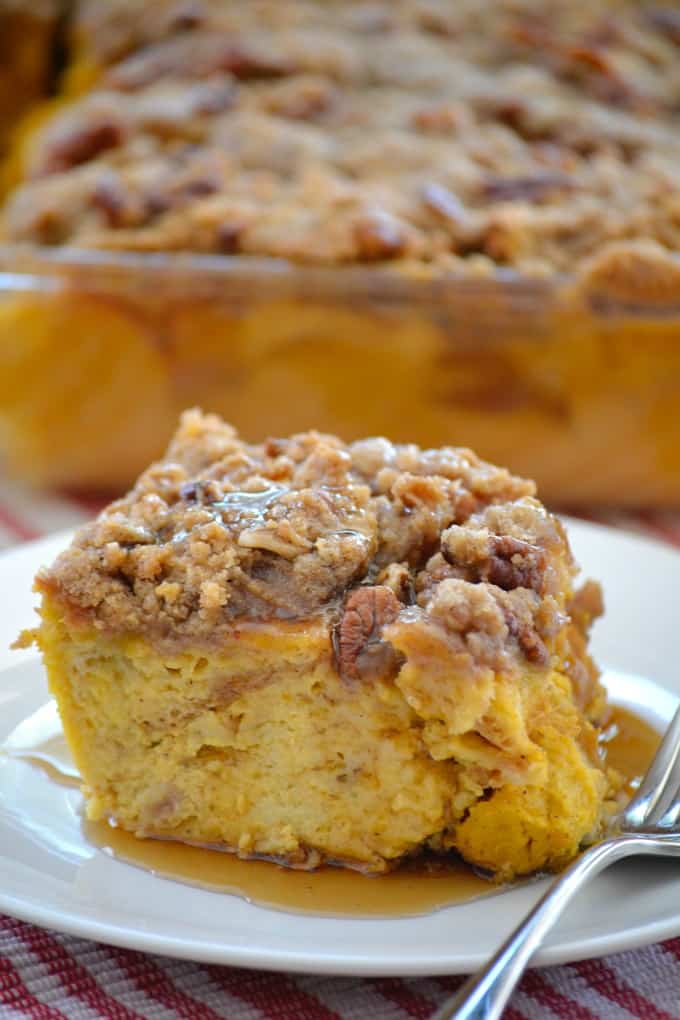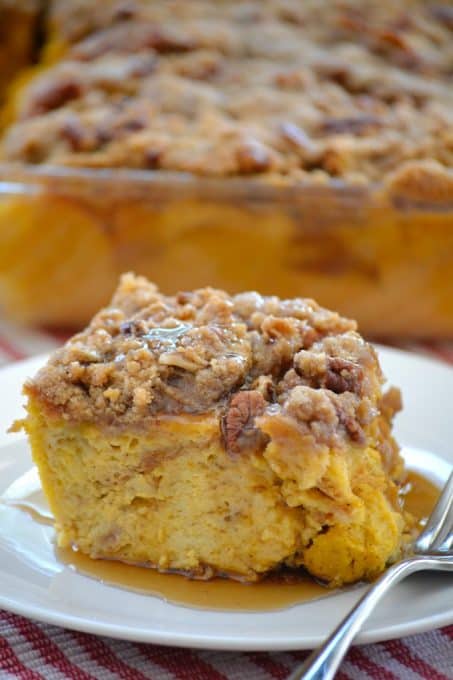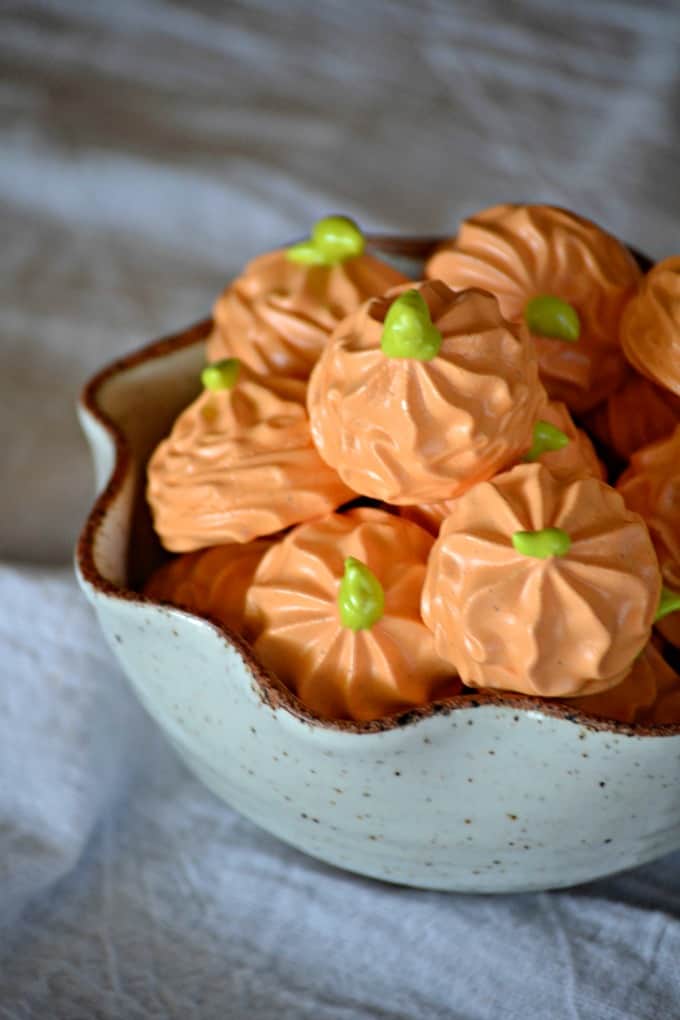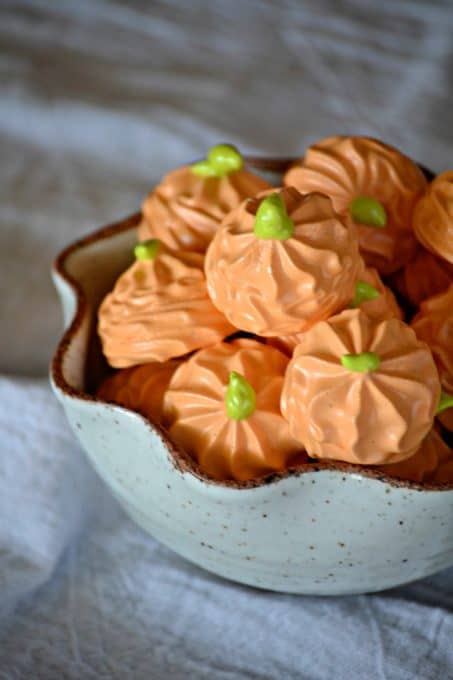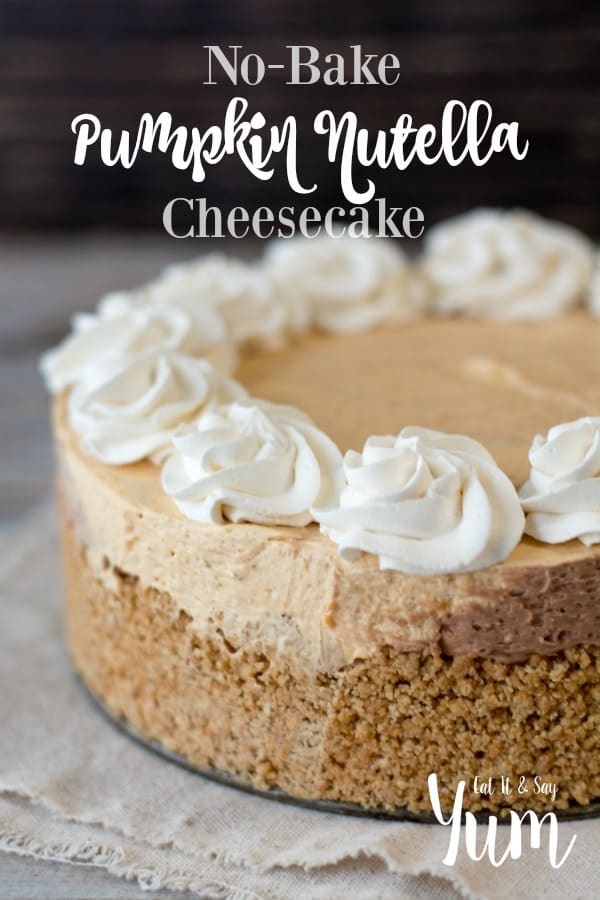 *This post was originally published Oct. 29, 2014.*