Fluffy cream cheese frosting with a pumpkin inspired twist! This Pumpkin Spice Frosting is full of the fall flavors you crave and so easy to make. Pipe it onto Pumpkin Cake, cupcakes and more!
Fall is here and it's time to bust out all the pumpkin treats!
Mix up a jar of Homemade Pumpkin Spice now to bake with all season long.
SAVE THIS EASY PUMPKIN SPICE ICING RECIPE TO YOUR FAVORITE PINTEREST BOARD!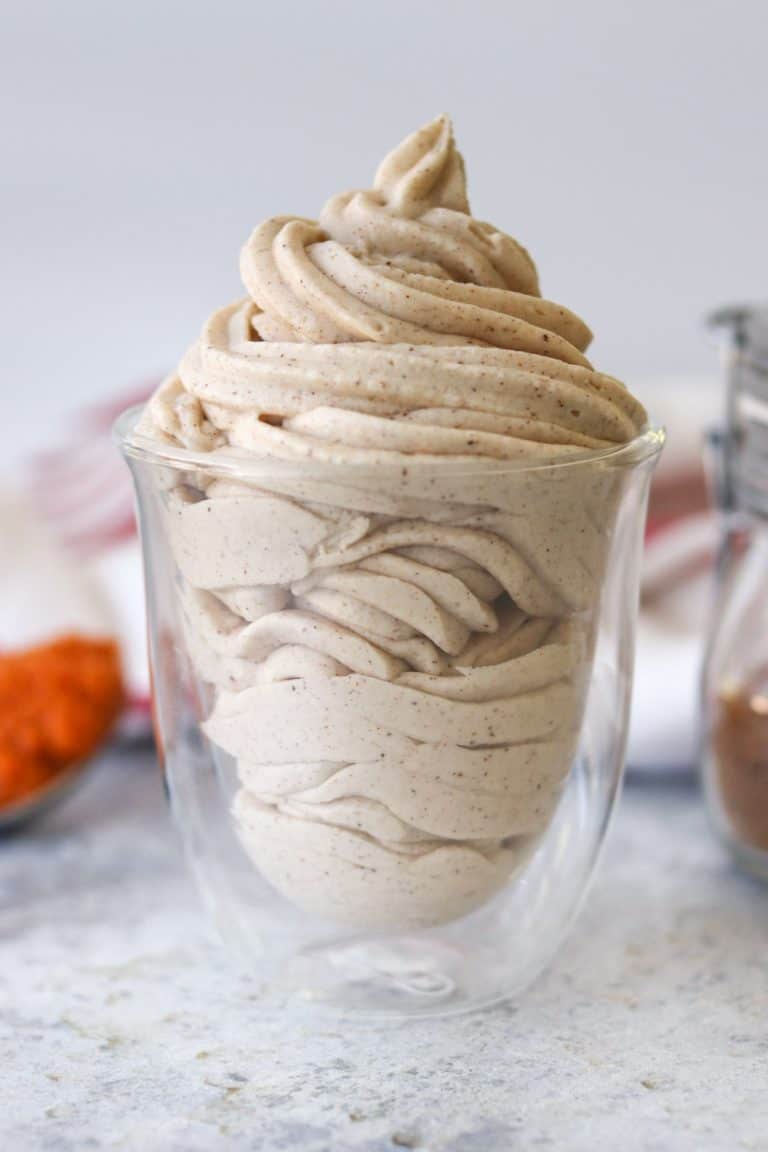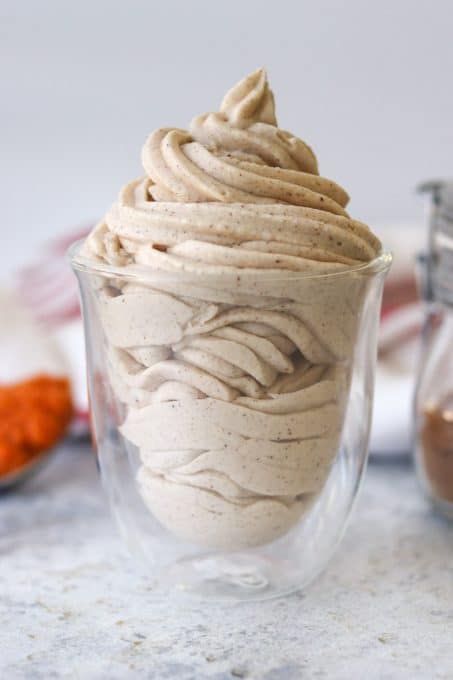 I love cream cheese frosting. It's the perfect topping for any kind of pumpkin dessert!
This variation takes a rich cream cheese icing and blends it with pumpkin pie spices.
The result is a pumpkin cream cheese frosting that adds instant seasonal flair to any dessert.
I made this batch to go with my Pumpkin Chocolate Chunk Cake.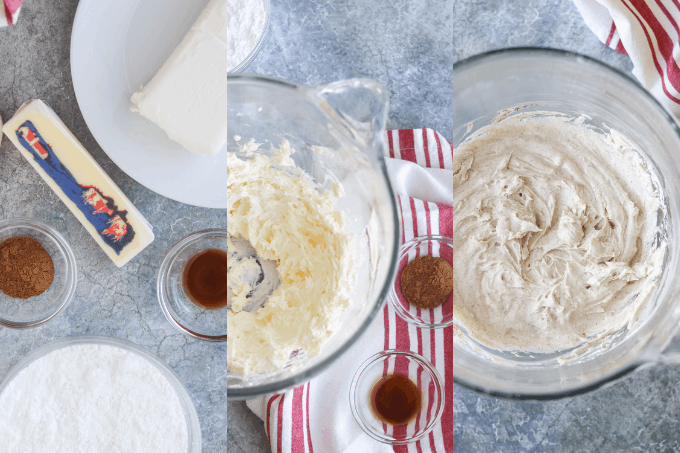 Pumpkin Cream Cheese Frosting
Like many pumpkin spice desserts and drinks, this frosting doesn't contain any actual pumpkin.
Instead, it's flavored with my homemade blend of . . . .
nutmeg
cinnamon
ginger
allspice
cloves
Just beat together some cream cheese and butter, add powdered sugar, vanilla and the spice mix.
You'll have an impressive fall frosting ready in minutes!
The only challenging part is resisting the urge to eat it all with a spoon.
If you're obsessed with pumpkin spice, this is going to be your new favorite frosting recipe!
It's amazing on pumpkin cakes, pumpkin cupcakes and pumpkin breads, of course.
(Have you tried this Chai Spiced Pumpkin Cake yet?)
Don't limit yourself to using this only with recipes that have the word "pumpkin" in the name.
Spread this cream cheese frosting on a loaf of Chai Banana Bread for an even sweeter spiced dessert.
Or use it to add a homemade finish to spice cake made from a boxed mix.
Need a quick sweet treat for the kids (or yourself)?
Spread some cinnamon graham crackers with pumpkin spice frosting!
You can't go wrong with a frosting this good.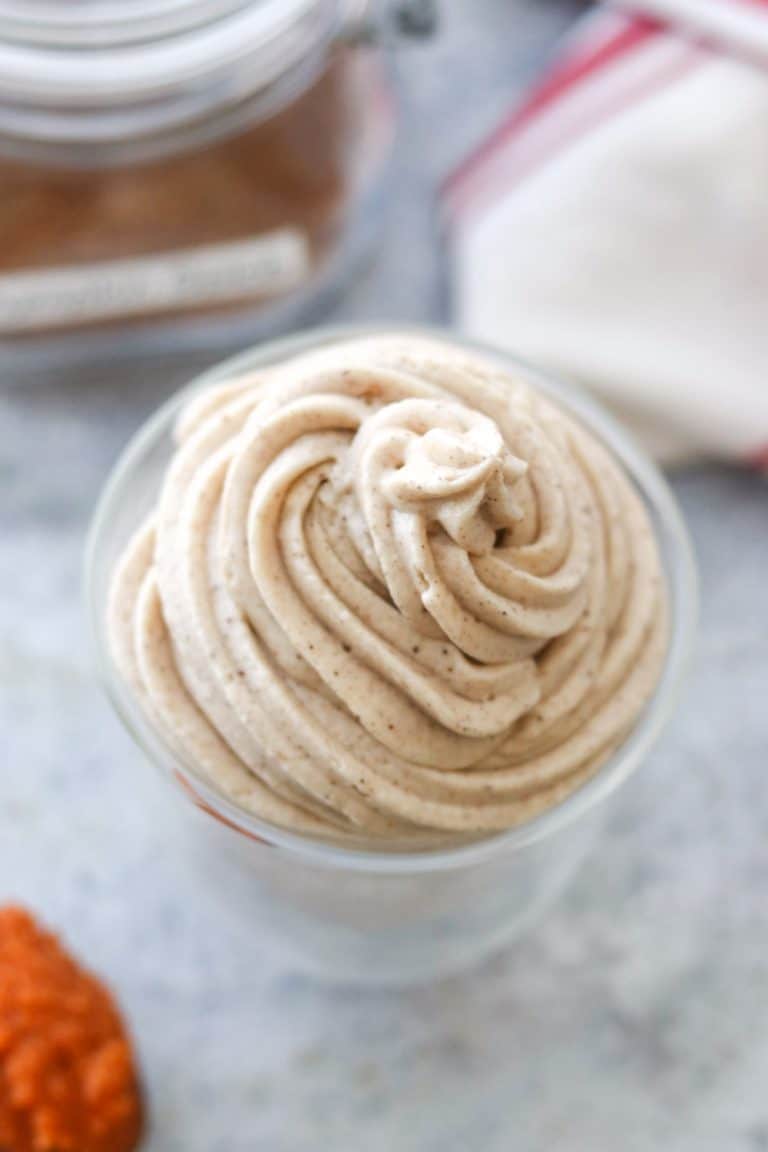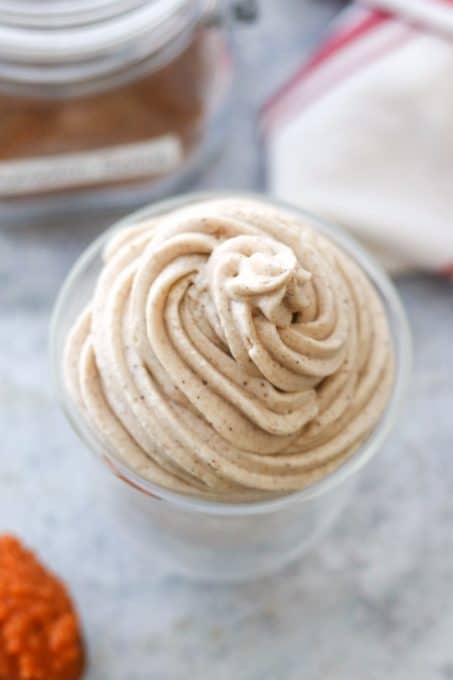 Frosting Recipes
Canned frosting just can't compare to homemade.
The best part about homemade frostings is that most of them are quick and easy to make with just a handful of ingredients.
I've been making this Chocolate Buttercream Frosting for years.
Its rich cocoa flavor and perfect consistency makes it my go-to any time I need a chocolate icing.
Recently, this Marshmallow Frosting has made a few appearances on my dessert table.
Light and airy with a meringue base, it's amazing on fruity cakes especially.
You can even toast it, too, with a small hand torch!
The Vanilla Bean Frosting from this Orange Cranberry Cake is a recipe everyone should know how to make.
The aromatic vanilla flavor pairs beautifully with just about every flavor of cake or cupcake imaginable.
What's your favorite kind of frosting?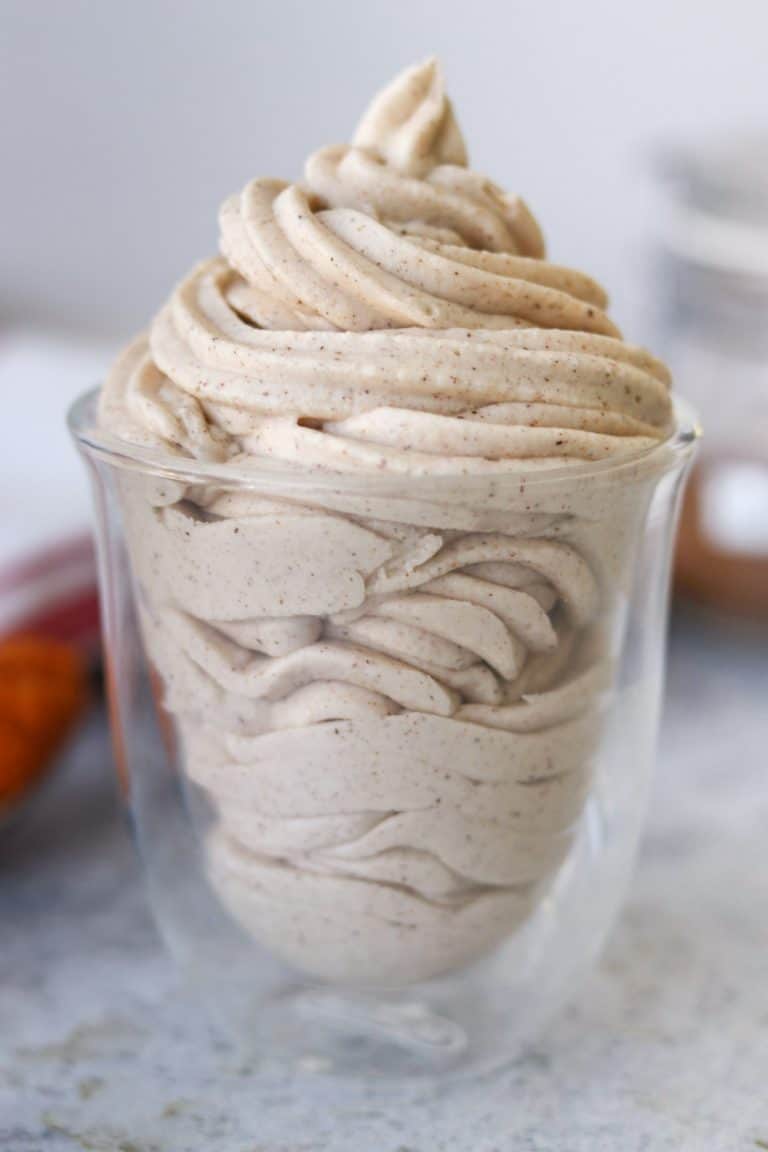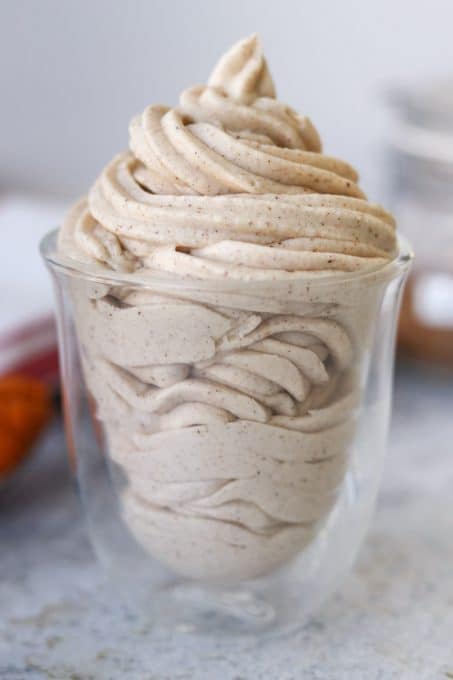 Say 'hello' to fall baking season with this easy Pumpkin Spice Frosting! You only need 5 ingredients and a few minutes to make this impressive topping for all your favorite pumpkin treats.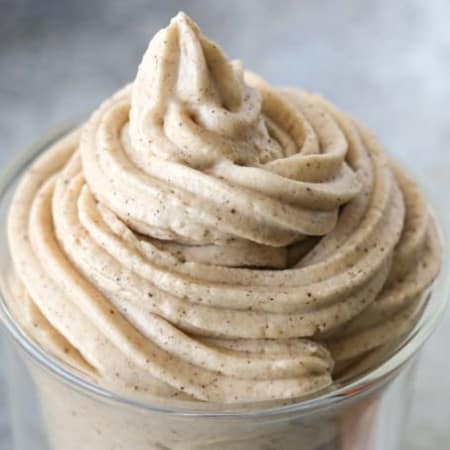 Fluffy cream cheese frosting with a pumpkin inspired twist! This Pumpkin Spice Frosting is full of the fall flavors you crave and so easy to make. Pipe it onto Pumpkin Cake, cupcakes and more!
Ingredients
8 oz cream cheese room temperature
½ cup unsalted butter room temperature
2 cups confectioners' sugar
2 teaspoons homemade pumpkin spice
1 teaspoon pure vanilla extract
Instructions
In a mixer, beat the cream cheese and butter until well combined.

Gradually add the confectioners' sugar.

Scrape down the bowl and add the pumpkin spice and vanilla. Mix thoroughly until combined.
Notes
Makes about 2 ½ cups – enough to frost 12 cupcakes, a two-layer cake without filling, and an 8 X 8-inch cake.
Nutritional information is based on 6 servings, a little less than ½ cup per person. 
Nutrition
Serving: 1g | Calories: 425kcal | Carbohydrates: 42g | Protein: 2g | Fat: 28g | Saturated Fat: 17g | Polyunsaturated Fat: 1g | Monounsaturated Fat: 7g | Trans Fat: 1g | Cholesterol: 82mg | Sodium: 125mg | Potassium: 63mg | Fiber: 1g | Sugar: 40g | Vitamin A: 982IU | Vitamin C: 1mg | Calcium: 47mg | Iron: 1mg
Did you make this recipe?
Share it with me on Instagram and make sure to follow me on Pinterest for more recipes.
Reader Interactions