Light and fluffy Marshmallow Frosting elevates any cake to the next level! These easy frosting recipe tastes heavenly on cupcakes, cakes and just about any sweet treat you can imagine. It's so delicious you'll want to eat it straight off the spoon!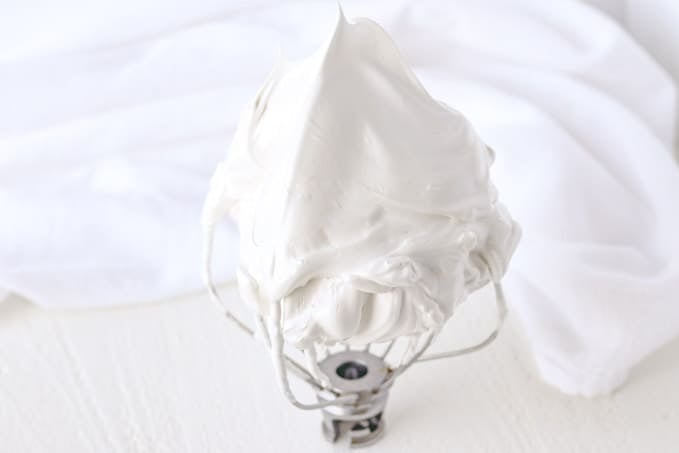 Who doesn't love homemade frosting?
Or ANY frosting for that matter?
This marshmallow inspired version will knock your marshmallow-loving socks off.
SAVE THE BEST MARSHMALLOW FROSTING RECIPE TO YOUR FAVORITE PINTEREST BOARD!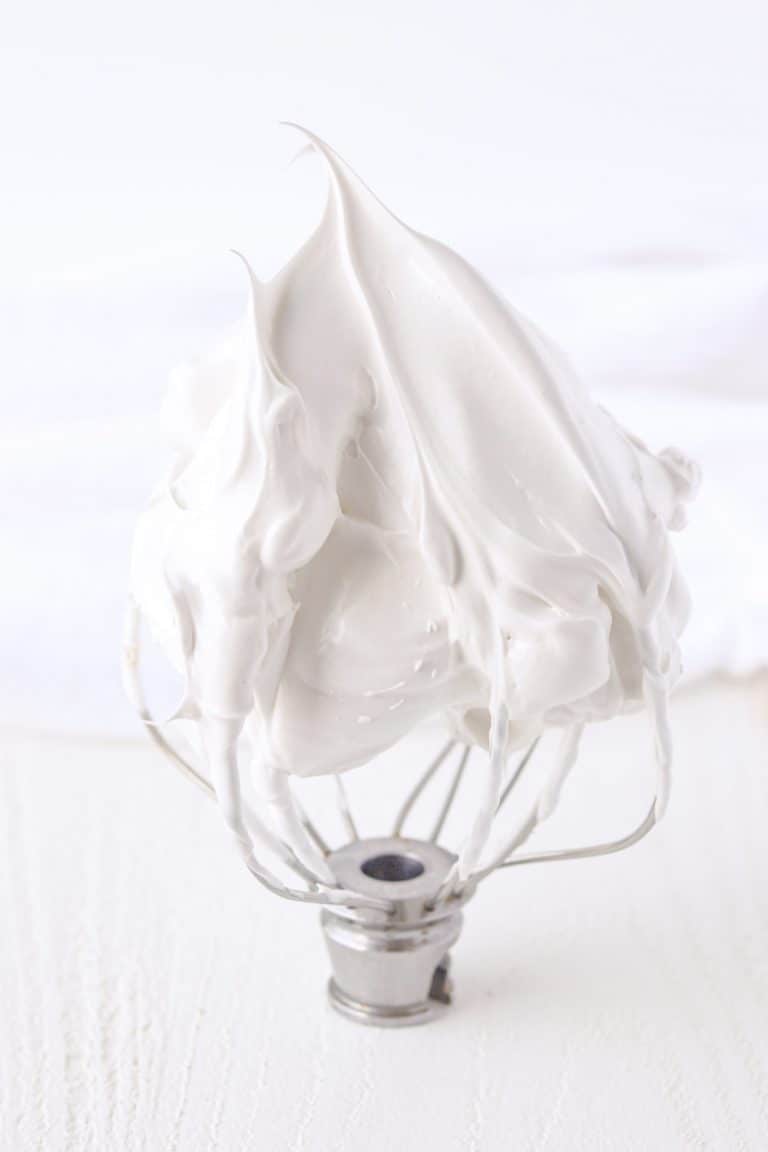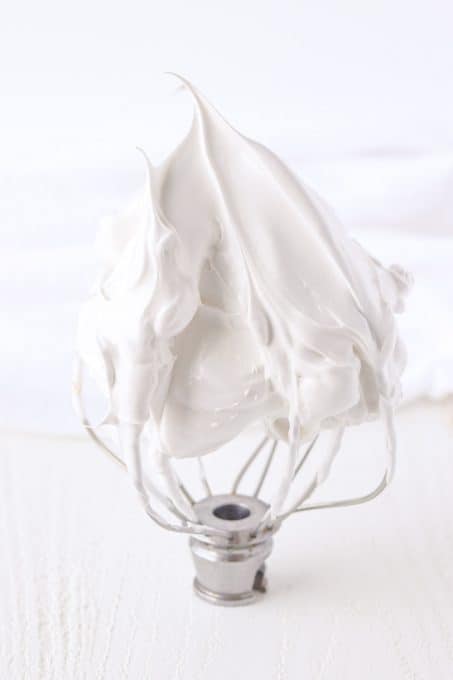 Here's the wildest thing about this recipe: there are NO marshmallows involved OR marshmallow creme!
You're basically making a homemade marshmallow mixture from scratch–only instead of shaping it into actual marshmallows, you're whipping it into the most delicious FROSTING!

NOW have I got your attention?
Thought so. 😉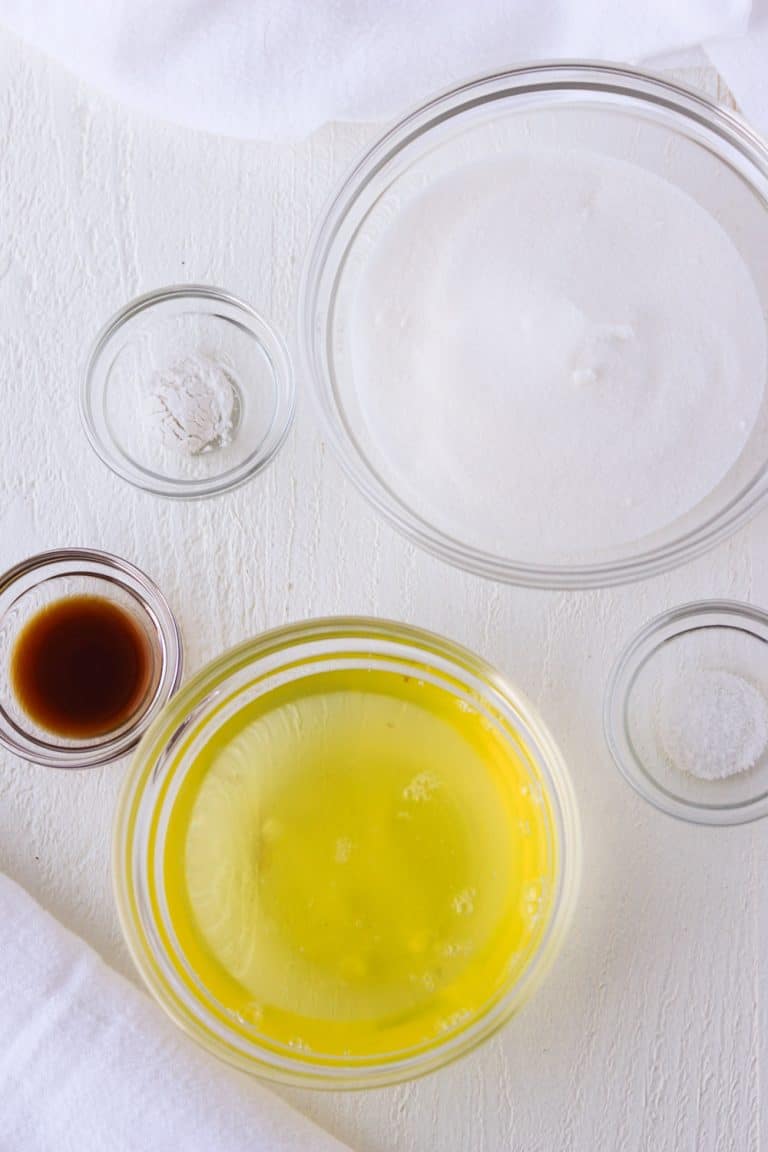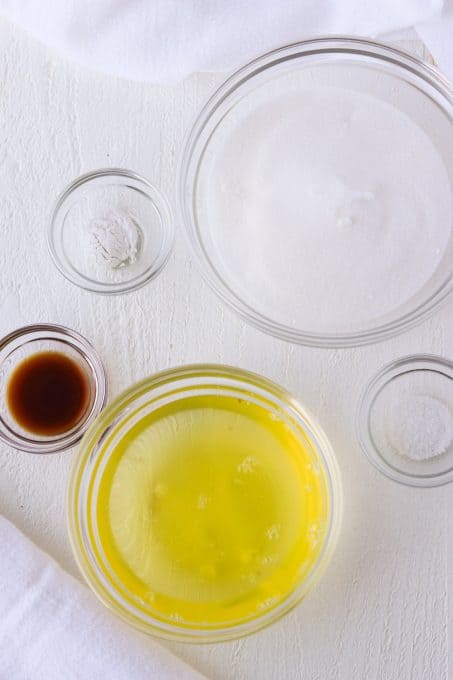 Do I need marshmallow creme or marshmallow fluff to make this frosting?
Nope!
You don't need marshmallow creme or fluff for this marshmallow frosting recipe, either.
(Although I do LOVE baking with marshmallow creme. Mississippi Mud Cake anyone?)
Here's everything you need to make easy marshmallow frosting without marshmallow fluff:
Egg whites
Sugar
Cream of tartar
Salt
Vanilla extract
Seriously.
If you have these ingredients on hand you're just minutes away from spreading perfect marshmallow topping on your favorite cakes and cupcakes.
Or, if you're like me, you're just minutes away from licking the bowl!
No judgment.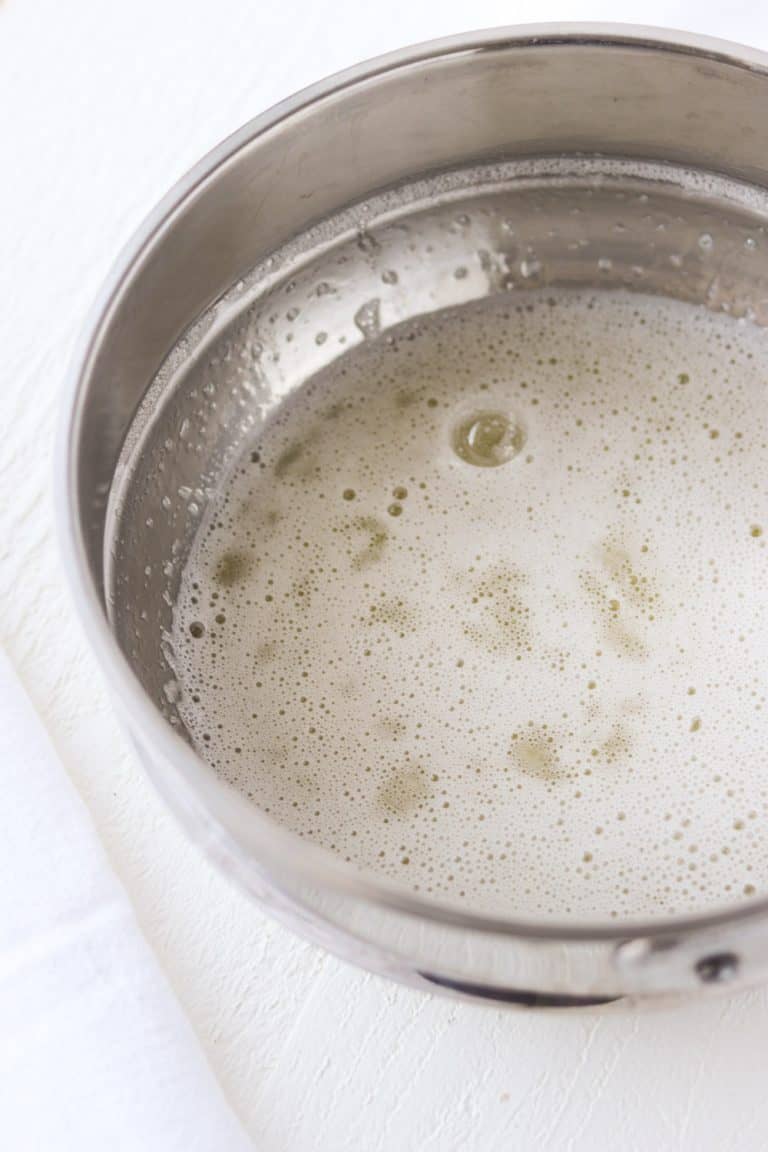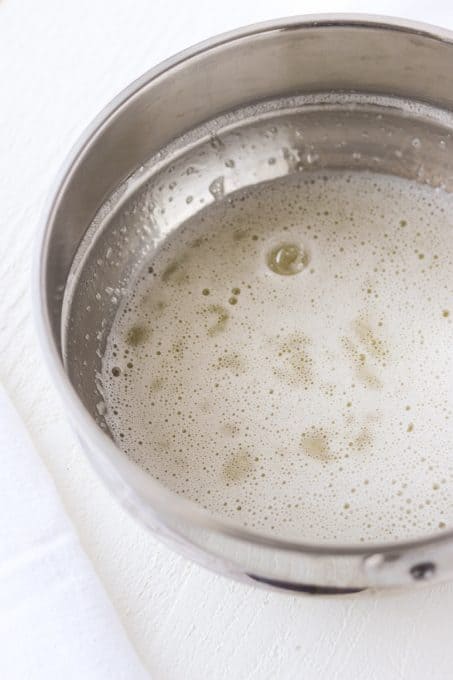 How do you make marshmallow frosting from scratch?
First, grab your double boiler.
If you don't have a double boiler, don't panic!
You can use a large sauce pan couples with a heat proof mixing bowl just as effectively.
Bring some water to boil in the pot of your double boiler or saucepan.
Lower it to a gentle simmer.
Now, you'll mix together egg whites, sugar and the cream of tartar in the top bowl over the simmering water. Whisk continuously until the sugar dissolves into the egg whites (about 3 to 4 minutes).
Use the whisk attachment of a stand mixer (or an electric beater) to beat the warmed egg white mixture until glossy, stiff peaks form.
Stir in the vanilla to combine.
Spread it on cupcakes, cakes or cookies and enjoy!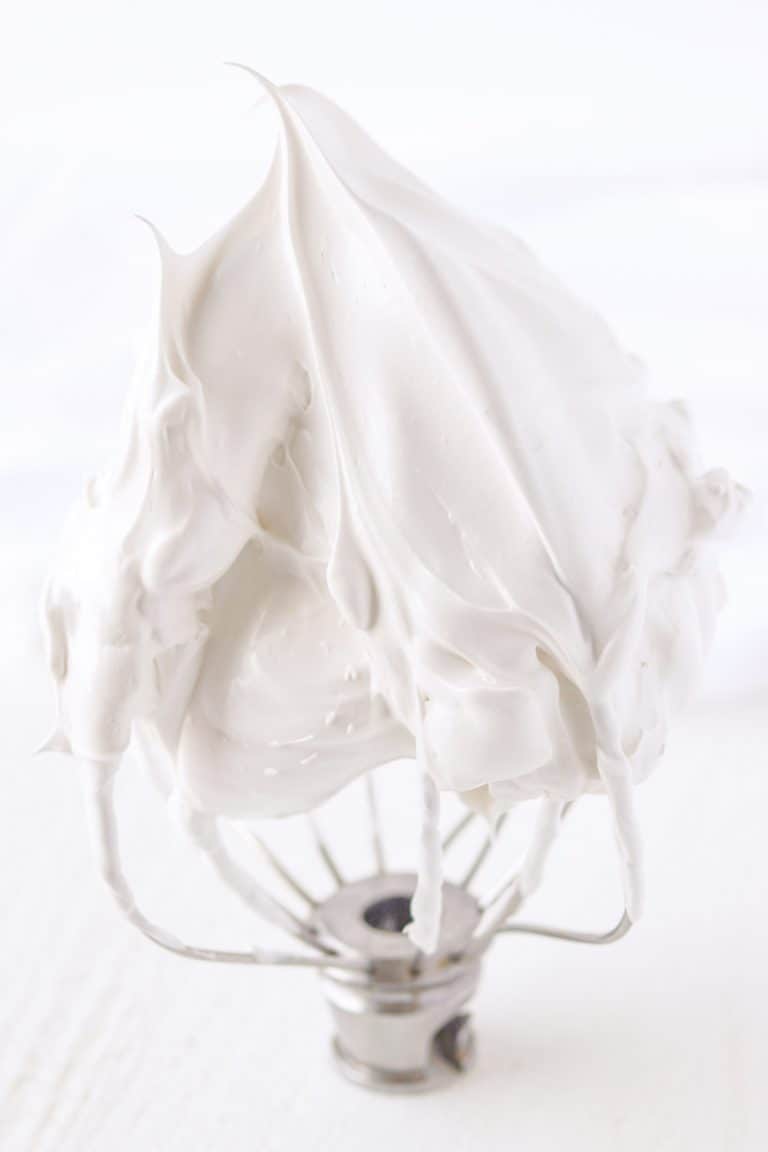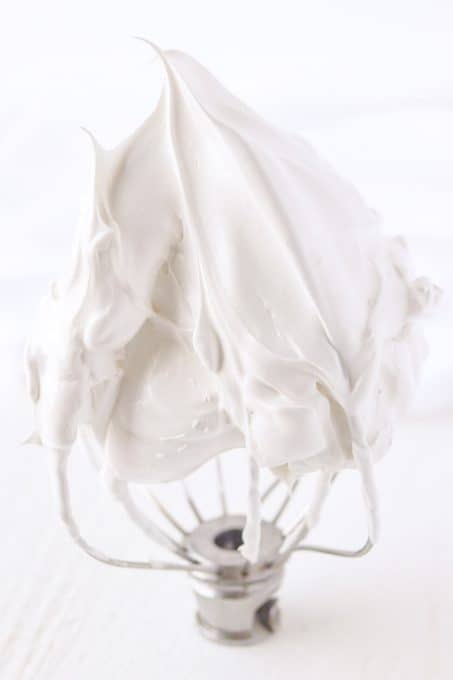 Tips & Tricks
Make sure your egg whites are room temperature before making this recipe. Cold egg whites will not stiffen as well into those gorgeous peaks.
When beating the egg whites, start with your mixer on the low setting.
Gradually increase the speed to high.
The vanilla flavor is prominent in this recipe.
For best flavor, I recommend a good quality PURE vanilla extract, not imitation flavoring.
I don't recommend making this too far ahead of time. It doesn't keep well, as the texture will change and become more watery as the ingredients settle.
For best results, use your homemade marshmallow frosting immediately.
How to use marshmallow frosting
The simple marshmallow-y taste of this frosting makes it a perfect addition to all kinds of cake and cupcake flavors. We can't get enough of it on Banana Cake, chocolate cake or a classic white cake. I can imagine it would be divine on Strawberry Cake too.
Try adding to to chocolate cupcakes and garnishing them with graham cracker pieces for an easy S'mores Cupcake idea.
You can even use a small hand torch and toast the frosting, too!
This recipe yields enough frosting to cover a 9 x 13 sheet cake or about a dozen cupcakes. You can also use it to top the top and sides of a double layer cake.
The consistency makes it less ideal for filling the center of a layer cake, so I recommend just using it for the top layer and sides.
If all else fails, grab a sleeve of graham crackers and use them to scoop the frosting straight into your mouth. You can't go wrong.
More Easy Frosting Recipes
Dessert Recipes with Marshmallows
Looking for more dessert ideas to make the marshmallow lovers in your life? Here are some of our readers' favorites!
Shake up your cake decorating game with this easy Marshmallow Frosting recipe. Made from scratch, with love, in minutes!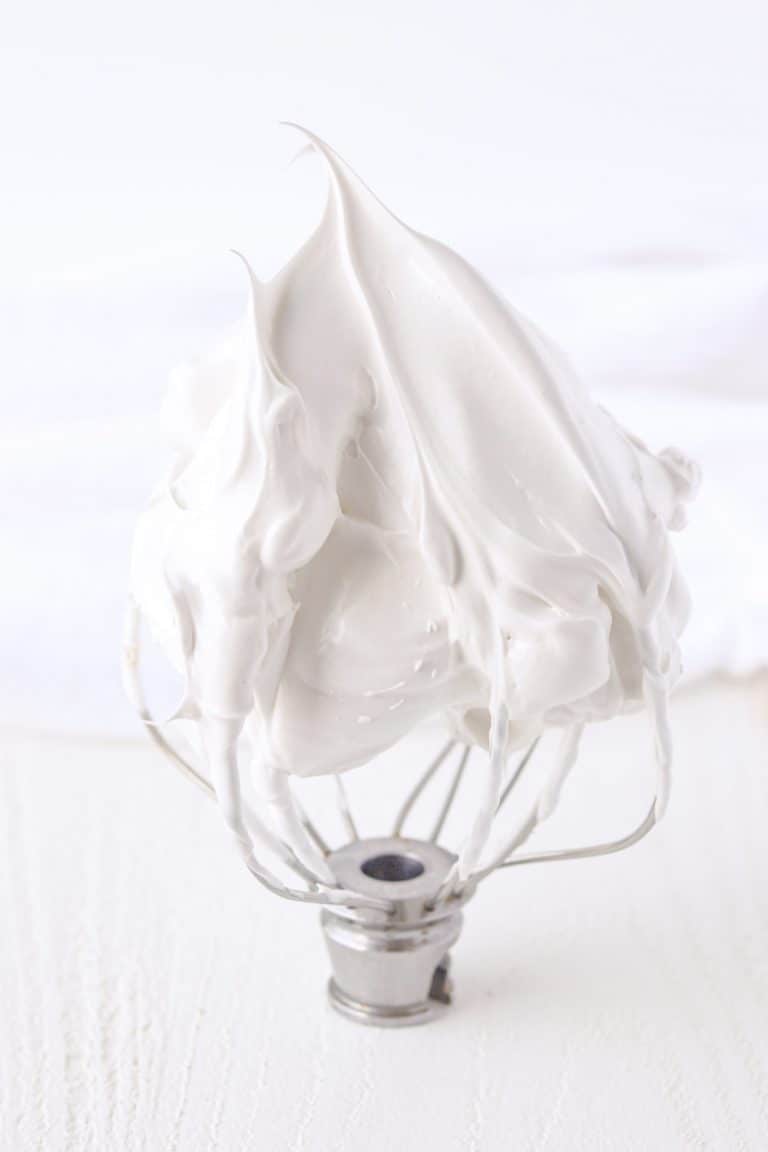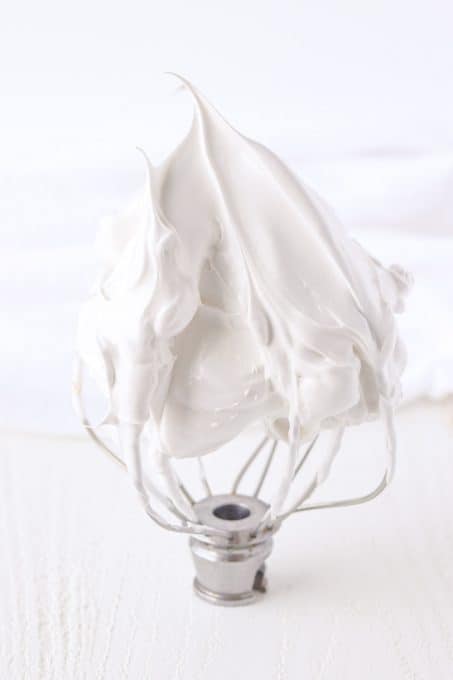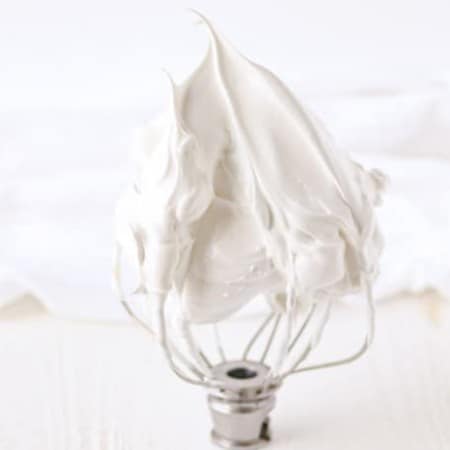 Easy Marshmallow Frosting
Light and fluffy Marshmallow Frosting elevates any cake to the next level! These easy frosting recipe tastes heavenly on cupcakes, cakes and just about any sweet treat you can imagine. It's so delicious you'll want to eat it straight off the spoon!
Equipment
Double boiler or heat proof mixing bowl that will fit over a medium saucepan

Mixer
Ingredients
5 egg whites room. temperature
¾ cup granulated sugar
¼ teaspoon cream of tartar
⅛ teaspoon salt
1 teaspoon pure vanilla extract
Instructions
In the pot of a double boiler, bring some water to a boil and then lower the heat to a simmer. In the top portion of the double boiler, mix together the egg whites, sugar, salt, and cream of tartar.You can also use a heat proof mixing bowl and place it over, but not into, a medium pot of simmering water.

Heat the egg white mixture while whisking constantly until warm and sugar has completely dissolved. The egg will be warm and the mixture smooth when rubbed between your fingers. This should take about 3-4 minutes.

Transfer mixture to your mixing bowl (if not already using it to heat the egg), and using the whisk attachment, and starting on low speed beat the mixture gradually increasing to high speed until stiff, glossy peaks form. This will take about 7-9 minutes.

Add the vanilla and mix until combined. Use immediately.
Notes
Makes enough frosting for a 9 X 13-inch cake, 12 cupcakes, or the outsides of a double layer 8-inch or 9-inch cake. Due to the consistency, I personally don't think it's a sufficient filling for a cake, and just recommend using it to frost the top and sides.
Nutrition
Serving: 1g | Calories: 56kcal | Carbohydrates: 13g | Protein: 1g | Fat: 1g | Sodium: 45mg | Potassium: 31mg | Sugar: 13g | Calcium: 1mg | Iron: 1mg
Did you make this recipe?
Share it with me on Instagram and make sure to follow me on Pinterest for more recipes.
Reader Interactions