How Water Sponge Cake – a sponge cake made with hot water and baking powder, giving it a light and airy texture and covered with an easy and quick caramel frosting.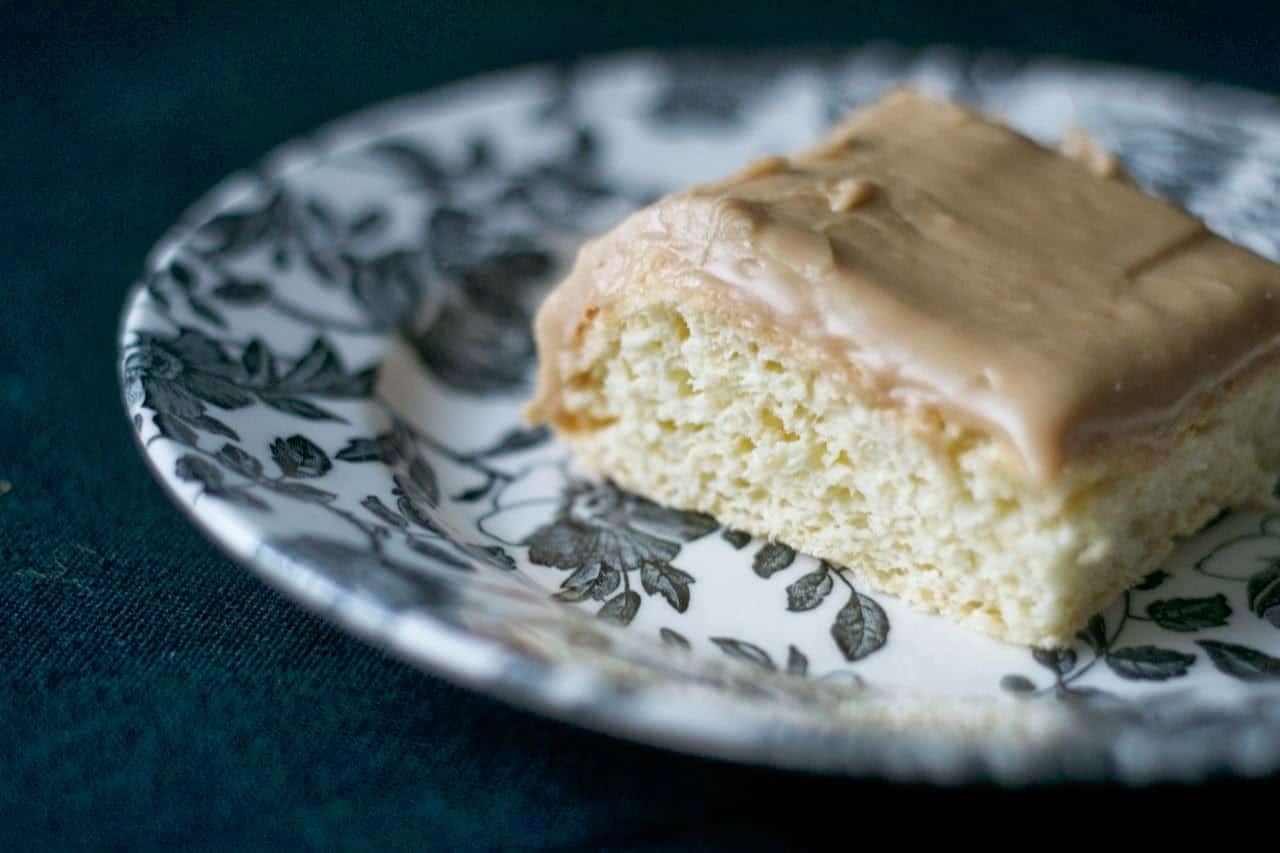 It's Thursday.
Which means tomorrow, Friday, will be one week into this 365 Days of Baking.
It's going pretty quickly.
I mean, I've been baking and posting for almost 7 days straight.
And I'm feeling that it's sort of consuming me.
I've become obsessed and my life has now begun to revolve around what I'm baking for the day and if I can organize my day with enough time to not only finish my recipe and have it baked, but also to have enough daylight with which to take adequate pictures.
My family called me on it today.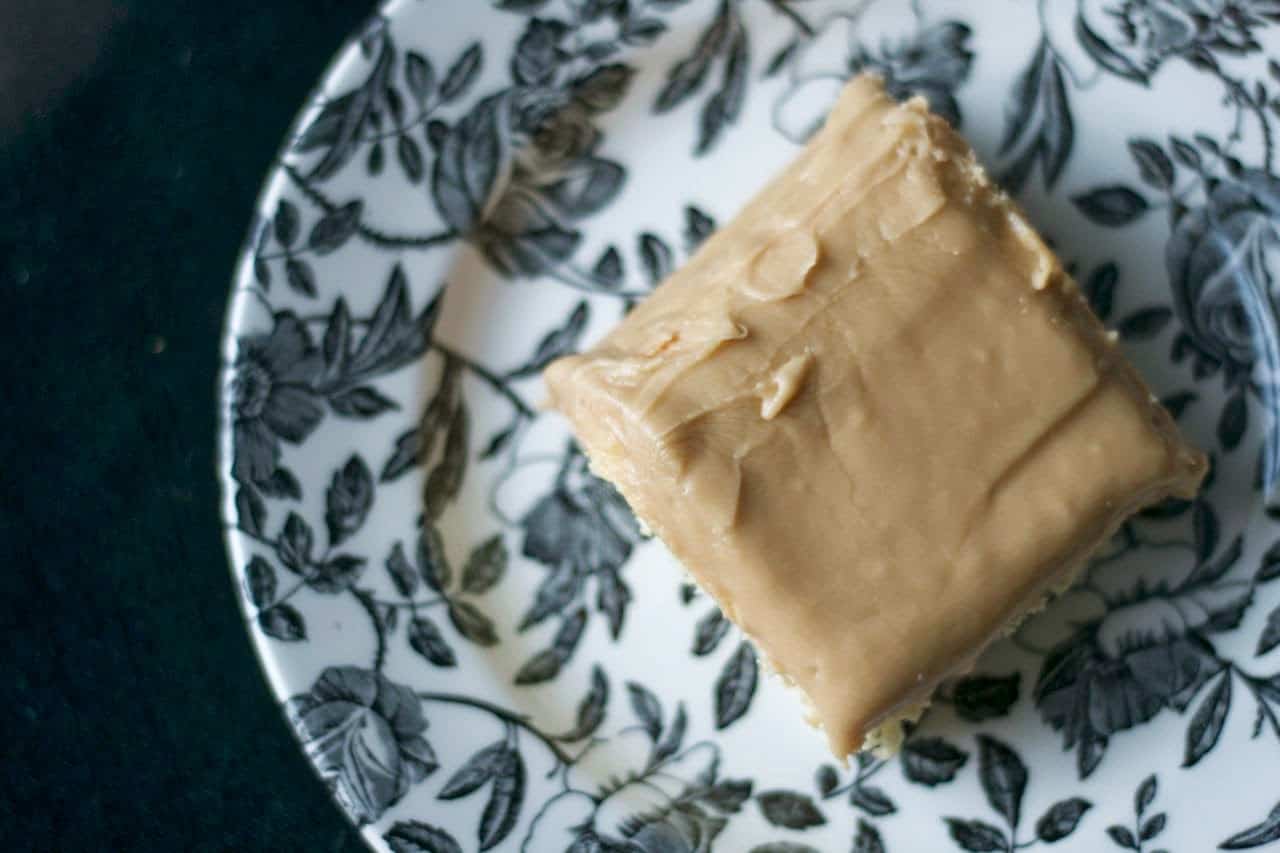 It was brought to my attention, so now it's just time to take a step back and prioritize some things early in the game before I get too sucked in.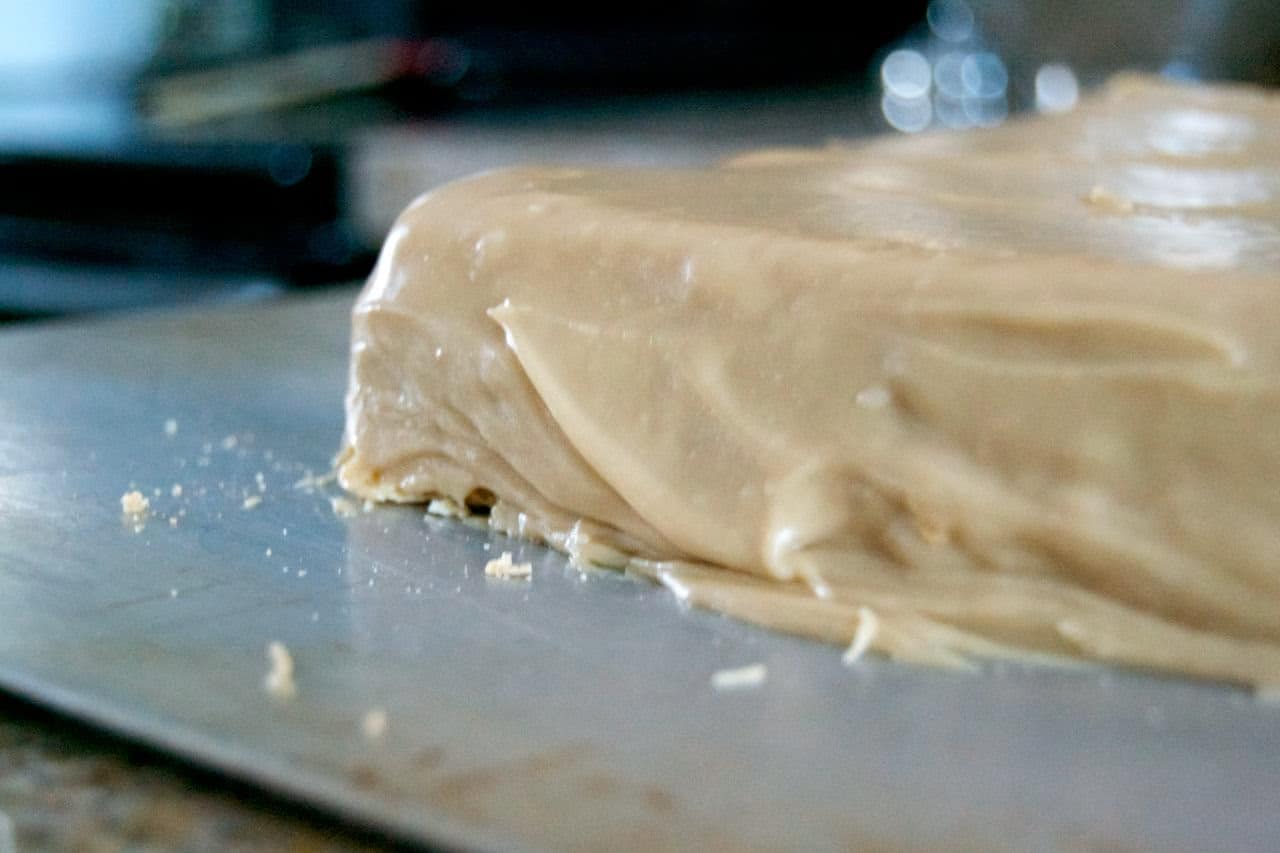 I found this recipe in my Fannie Farmer Thirteenth Edition, pp. 578, 600; author, Marion Cunningham; publisher, Alfred A. Knopf, Inc., division of Random House; ISBN 0-394-56788-9.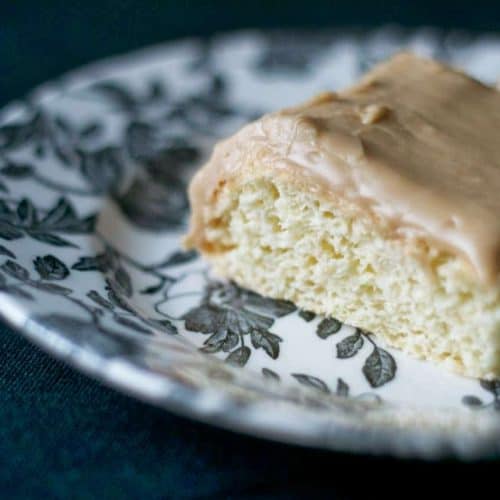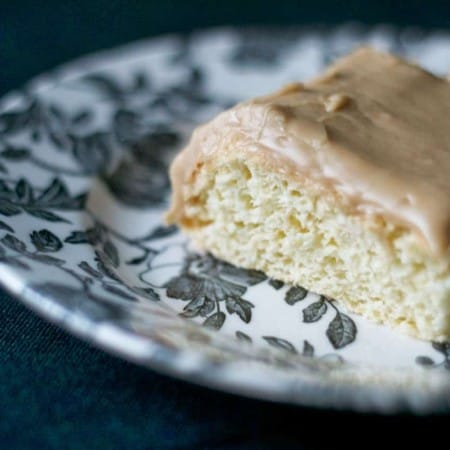 Hot Water Sponge Cake with Quick Caramel Frosting
A sponge cake made with hot water and baking powder, giving it a light and airy texture.
Ingredients
Cake
2 eggs separated
¼ cup hot water
1 teaspoon vanilla
¾ cup sugar separated
⅛ teaspoon salt
1 cup cake flour
1 ¼ teaspoons baking powder
Frosting
8 tablespoons 1 stick unsalted butter
½ cup packed dark brown sugar
¼ cup milk
2 cups confectioners' sugar
Instructions
Cake
Preheat the oven to 325 degrees F.

Prepare a 9-inch square baking pan by spraying it with cooking spray and lining the bottom with wax paper.

In a mixing bowl, beat the egg yolks, hot water and vanilla until very thick and pale. This should take a few minutes.

Gradually add 1/2 cup of the sugar and then set aside.

In a clean mixing bowl, beat egg whites until foamy.

Add the salt and continue beating until soft peaks are formed.

Gradually add the remaining 1/4 cup of sugar and beat until peaks are stiff, but not dry.

Gently stir in one fourth of the egg whites into the yolk mixture.

Sift the flour and baking powder over the yolk mixture.

Fold in the remaining egg whites gently until well combined.

Pour into prepared baking pan.

Bake for 25-30 minutes or until a toothpick inserted in the middle comes out clean.

Turn the baking pan over onto a wire rack and allow cake to cool in place before completely removing it from the pan.

Frost with a crumb layer and then complete with final frosting layer.
Frosting
In a small saucepan, melt butter and brown sugar over medium heat, stirring constantly until sugar is dissolved.

Add the milk and mix in completely.

Allow to cool.

Transfer to a mixing bowl and beat in enough confectioners' sugar until the frosting is thick enough to spread.

Make a crumb layer on the cake by placing a very thin layer of frosting all around.

This will prevent any loose crumbs on the cake from showing through the final layer of frosting.

Allow crumb layer to briefly set and complete your frosting of the cake.
Did you make this recipe?
Share it with me on Instagram and make sure to follow me on Pinterest for more recipes.
I rate everything I make on a scale of 1-4 and this Hot Water Sponge Cake with Quick Caramel Frosting earned 3 rolling pins.
I liked it much better without the frosting, as did some of the family.
We thought it was too sweet.
The cake was quite good and reminded me of a great Angel Food cake.
And it really did look like a sponge.
I also don't think I folded the egg whites into the yolks enough though I thought I had.
The cake wasn't evenly level as you can see and there were some spots when you bit into the cake where all you could taste / see were egg whites. So, fold them in completely.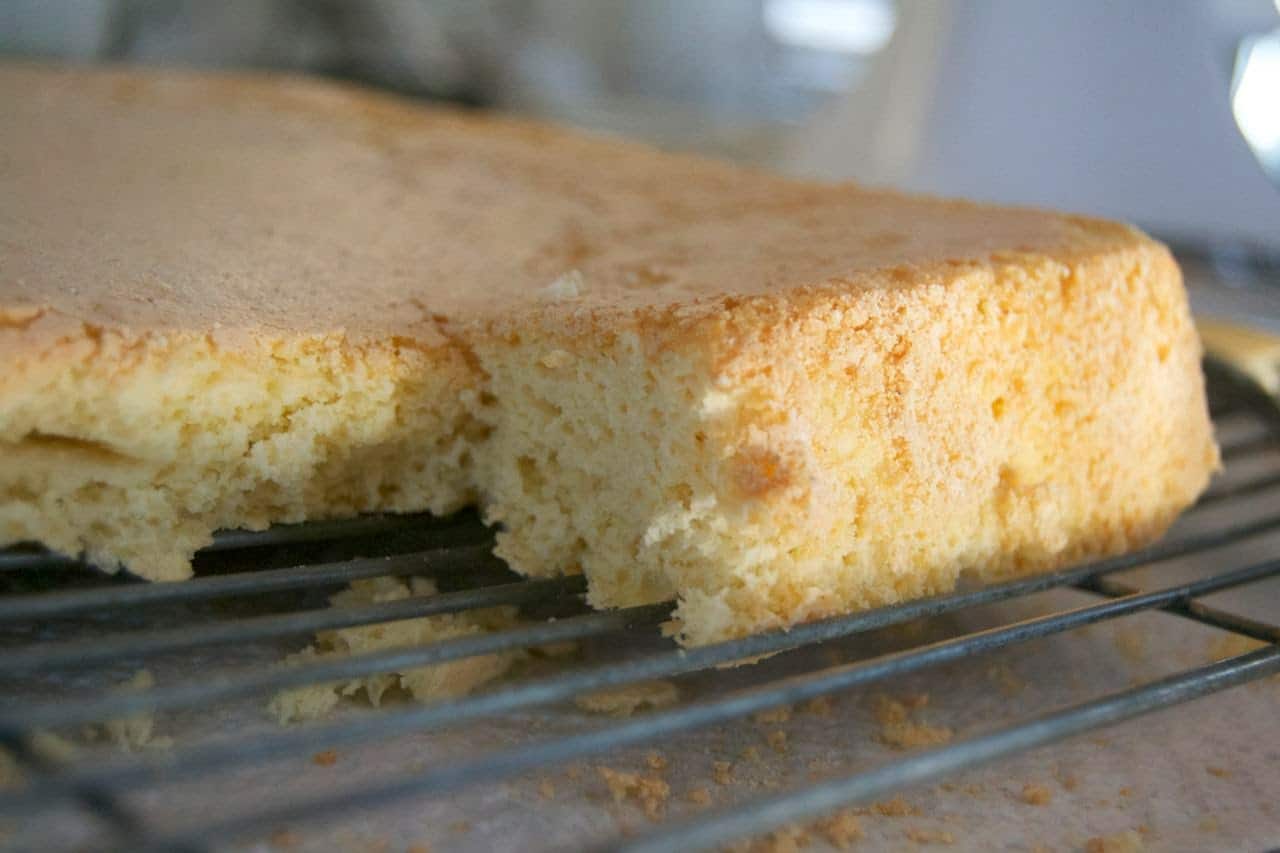 It kind of caved in in the middle.
You can kinda sorta see the egg whites in the middle of this cake piece.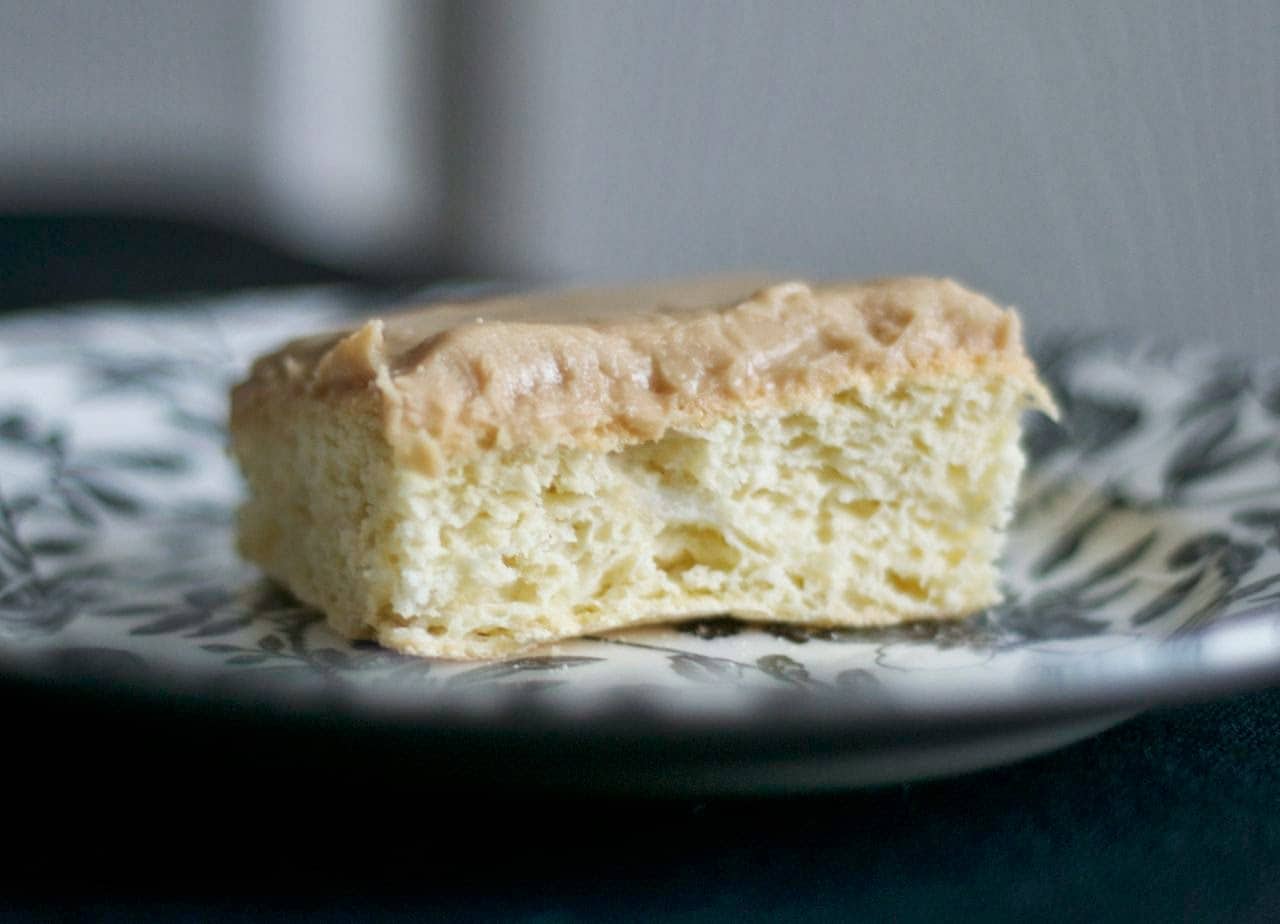 The frosting was ok. It was just too sweet and I didn't like the texture of the confectioners' sugar in it.
So, not a complete baking fail, just another day in the kitchen.
The cookbook says it's an easy sponge cake for those new to baking and yes, it is quite good. Just remember folding in those egg whites for those of you who want to make this one. It really is easy.
Oh well, c'est la vie!
There's your French lesson for the day. haha
On to Day 7!
Thanks for following and for your support!
It's greatly appreciated!!
Video will be up tomorrow. We were having some editing difficulties, but it happened. You'll want to see my antics yet again.
TAKE A LOOK AT THESE VIDEOS FOR SOME GREAT CAKES…

Reader Interactions