S'Mores Cake – a Devil's Food Chocolate layer cake mixed with Dark chocolate morsels, with a graham cracker vanilla cream filling and covered with a toasted marshmallow frosting!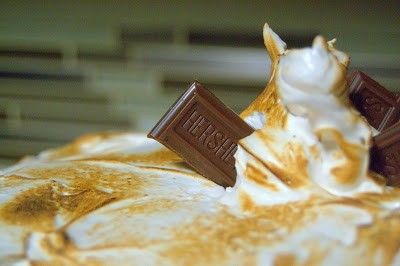 This post is part of the 12 Cakes of December! I along with 11 other bloggers are bringing you a different cake each day! It's been So much fun and today, the 4th day is ME!!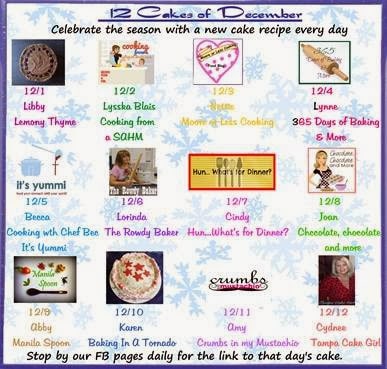 I decided to bake a S'Mores Cake. It was probably a bit too ambitious for this girl who rarely bakes cakes and knows not how to decorate them, but I went with it anyway. I told the ladies in my group that I've leaned some very important things with this experience:
1) I desperately NEED to take a cake decorating course. That "crumb layer" thingy that cake decorators are always talking about. Yeah, Me not so good at applying it and how can I when I don't even know what the heck the thing is? Oh, yeah, I guess I should have watched a YouTube video about it. "Things that should've been brought to my attention YESTERDAY!!!" (name the movie)
2) Procrastination is NOT my friend. I think I must enjoy the thrill of waiting until the last minute to do thing as it's something I've continually done throughout my life. but it just causes me TOO MUCH STRESS!!! Yet I continue. Making the cake yesterday, I learned…I don't want to do that anymore. Granted the glass of wine at the end of the day helped, but I don't want to get into that habit of always de-stressing with a glass of wine. Not a good example to set for my youngin's.
3) My expectations of myself are WAY TOO FREAKIN' HIGH!!! I always get these pictures in my head as to what I think my finished product if going to look like and then it doesn't look anything like that. Come to think of it, I don't think there's been a time that it's even looked better than the picture in my head. I just need to go with NO pictures and a clean slate. I also need to stop comparing myself to those incredible things I see on Pinterest. *sigh*
3) You should have some fruit nearby to much on when making a cake full of sugar so that you can nibble on that and not the batter, the filling, the frosting, the candy bar…and then get a headache…that you have to relieve with the glass of wine.
I also learned in this new-to-us house that we're in that the floor is slanted in the kitchen. How do I know this?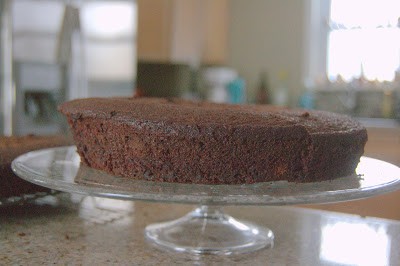 This recipe was adapted from my New Doubleday Cookbook, pp. 804,823; authors, Jean Anderson and Elaine Hanna; publisher, Doubleday, a division of Bantam Doubleday Dell Publishing Group, Inc., an imprint of Random House, Inc.; ISBN 0-385-19577-X.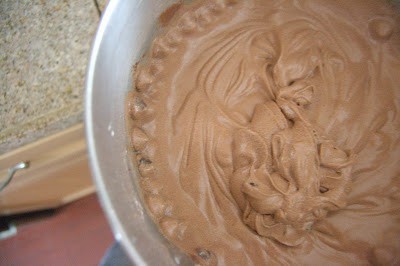 The Devil's Food Cake batter mixed
The Vanilla Cream Filling cooling. Graham Cracker crumbs not yet mixed in.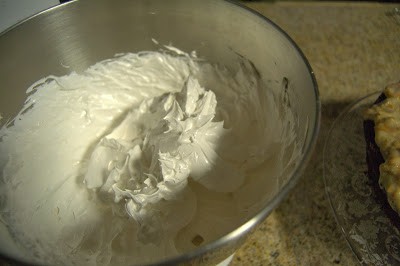 Final Marshmallow Frosting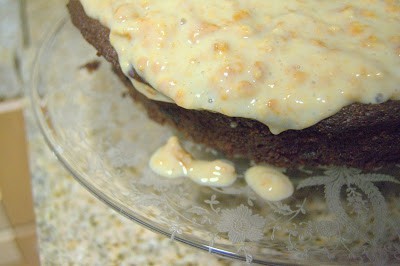 Graham Crackers in Filling spread on top of first cake layer.
It's dripping!!!!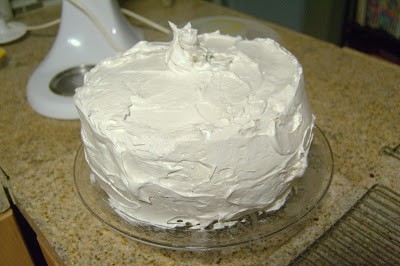 Frosted and ready to be torched!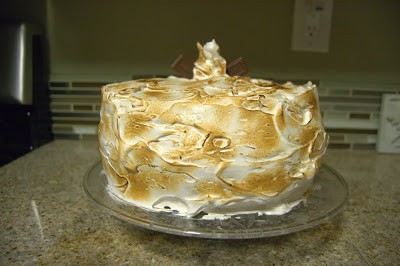 Toasted and ready to be served!
S'Mores Cake – makes one 9-inch 2 layer cake (16 servings)
Ingredients –
Devil's Food Cake – 2 9-inch layers
2 cups sifted cake flour
2 cups sugar
1/2 cup cocoa
1 teaspoon baking soda
1/2 teaspoon salt
1/2 cup vegetable shortening
1 1/4 cups milk, separated
1 teaspoon vanilla
3 eggs
1 teaspoon baking powder
1 cup dark chocolate morsels
Graham Cracker Vanilla Cream Filling – enough filling for a 9-inch double layer cake
2 tablespoons cornstarch
1/3 cup sugar
3/4 cup milk
1 egg yolk lightly beaten with 1/4 cup milk
1 teaspoon vanilla
9 Graham crackers, crushed coarsely
Marshmallow Frosting – makes 5 cups, plenty to frost the outside of the cake
4 large egg whites, at room temperature
1 cup granulated sugar
1/4 teaspoon cream of tartar
pinch of fine sea salt
1 teaspoon vanilla extract
Directions –
Devil's Food Cake
Preheat oven to 350 degrees F. Prepare two ungreased 9-inch round cake pans by lining them with wax paper.
Sift together flour, sugar, cocoa, baking soda and salt into the bowl of an electric mixer.
Drop in shortening by pieces and add 3/4 cup of the milk and the vanilla extract.
Mix at the lowest speed for just 15 seconds to blend. *you may want to use a towel to cover to prevent splatters*
Beat 2 minutes at medium speed, making sure to scrape the sides of the bowl once or twice.
Add remaining ingredients and mix two minutes more.
Divide batter evenly into the two prepared cake pans.
Bake for 40-45 minutes until cakes shrink slightly from the sides of the pans and are springy to touch.
Cool on wire racks for 5 minutes and then invert on racks to remove from pans.
Remove wax paper from bottoms, turn right-side up and allow to cool completely before assembling.
Graham Cracker Vanilla Cream Filling
To be made while cakes are in oven
In a small saucepan, combine cornstarch, sugar and milk, whisking constantly over medium heat until mixture comes to a boil and is thick. Then boil 30 seconds longer.
Remove from heat and whisk a small amount of the hot mixture into the yolk/milk, then return all to pan gradually while whisking constantly.
Mix in vanilla and allow to cool to room temperature.
Before spreading filling on cake, mix in crushed graham crackers.
Marshmallow Frosting
Fill a medium saucepan with 1 inch of water and bring it to a simmer over medium heat.
Place egg whites, sugar, cream of tartar and salt in the cleaned bowl of an electric mixer and whisk by hand to combine. Place the bowl over the saucepan, and make sure that the bottom of the bowl does not touch the water.
Heat the egg mixture and whisk constantly until the sugar has dissolved and mixture is hot to touch (about 120 degrees F. on an instant-read thermometer) about 6 minutes. You will feel that the mixture is smooth and no longer grainy from the sugar.
Place the bowl on the mixer fitted with the whisk attachment. Turn the mixer on to medium and whisk for 1 minute.
Increase speed to high and whisk until stiff, glossy peaks are seen, about 5 minutes more.
Add the vanilla and mix again until just incorporated, about an additional minute.
Use immediately or store in an airtight container at room temperature for up to 3 hours.
Assembly
Place one of the cake layers on a cake stand or plate.
Place the graham cracker vanilla cream filling on top of the cake, spreading evenly just before the edges.
Gently place second cake layer on top.
Here's where that "crumb layer" spreading of the frosting should happen. YouTube it because I can't tell you how to do it. This layer of frosting, should prevent any crumbs from the cake or filling from being mixed in to the final frosting layer.
Spread marshmallow frosting on top and sides.
Now comes the FUN part!!
TORCH that baby and watch the marshmallow frosting brown and get all toasty!! Move the torch around, so as not to blacken it, but giving it an nice toast overall.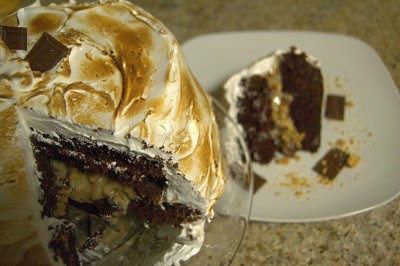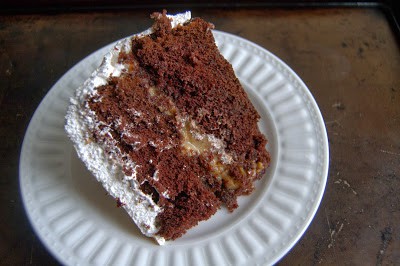 I rate everything I make on a scale of 1-4 with 4 being the best and this S'Mores Cake earned between 2 1/2 and 3 rolling pins, so let's suffice it to say 2.75.
The Devil's Food cake was really tasty, especially with the dark chocolate morsels mixed in.
The graham cracker vanilla filling I thought was just ok, but Mr. 365 thought that was the best part.
And the marshmallow frosting was quite delicious, especially toasted.
I think I had eaten TOO much of the pre-baked product to really enjoy the final assembled piece.
And we aren't big cake eaters either, so if anyone wants to come over…
we'll sit, chat, have a glass of milk and I'll give you a huge honkin' piece of S'Mores cake!
You'll see it when you scroll down the page.
*Just a note. It tastes better to me this morning than it did last night. When you cover it, make sure you use toothpicks to hold the tin foil or plastic wrap off of it or it will stick and pull the frosting off when removed.
Ask me how I know that…
I give you BIG baking hugs and muffins!!