This is a sponsored post written by me on behalf of PAM Cooking Spray.
Pumpkin Spice Cranberry Pecan Pound Cake – a holiday dessert filled with the flavors of pumpkin spice, fresh cranberries and toasted pecans. It is the perfect accompaniment with that cup of coffee or tea!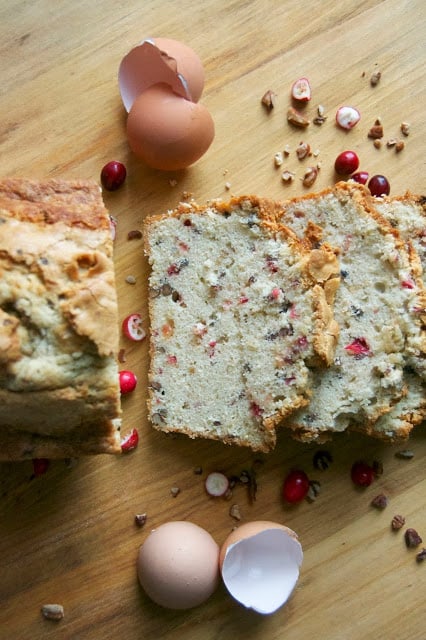 So how are the holidays going for you so far?
Are you stressed or do you feel like you've got a good handle on it and things are going ok?
I certainly hope it's the latter for you.
The holidays can be stressful enough without having to worry about a menu, the food, or that post-party unavoidable clean-up.
Thanksgiving came and it was pretty special here for our family.
We moved here to New Hampshire in August from Arizona so that we could be closer to family. Being so far away for 11 years was difficult, especially during the holidays when family would all be together and we'd be 2,000 miles away.
This Thanksgiving was different. We were able to host it and have everyone in our home for the weekend. It was incredible having all of the cousins, and my in-laws together again, sharing LOTS of laughter and love.
And since I was hosting for the very first time, I really just wanted to spend as much time with everyone as I could.
Isn't that what the holidays are all about – spending time, quality time with those who are special to you and making memories?
I, for one, don't want to be stuck in the kitchen missing out on conversations or those hysterical moments that people will recall later because I'm cooking or worse, cleaning up messes in pans that I didn't properly prepare before I stuck them in the oven. I can't stand that!!
That's where Pam Cooking Sprays come in very handy.
I can quickly spray whichever pan I'm using with the most appropriate Pam product, know I'm good to go and not have to worry that I'll be stuck scrubbing and using extra elbow grease to clean it up.
I made scrambled eggs for breakfast one morning and I don't have a non-stick pan. Inevitably those eggs STICK and CAKE up on the bottom of my skillet so much so, that I rarely offer to make scrambled eggs. I've even sprayed it with some oil, but up to this point it hasn't been Pam.
That morning, I sprayed the skillet with the Pam Original which also has 99% less residue build-up than bargain brand cooking sprays. I wanted to put it to the test.
All I can say is that I SO wish I'd taken pictures because I could tell there was an immediate difference just while moving the spatula around in the pan.
THEY WEREN'T STICKING!!!!
My daughter was standing next to me and she was laughing rolling her eyes because I was so excited, but even she was impressed because she's had to scrub that pan a time or two herself.
I used the Baking Spray on this Pound Cake and the pound cake came out of the pan easily and without a hitch! It also saved me the extra step of flouring the pan as directed in the recipe because it's already in the spray!! I also liked that it added zero calories to the recipe seeing as I had already used enough sugar and butter.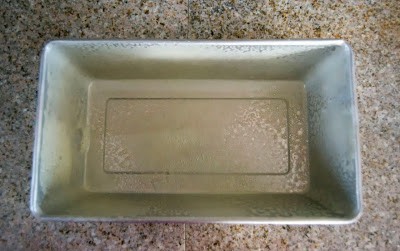 I'm happy that I've found a product that will allow me to spend more time with family, not missing out on conversations or funny moments because I'm in the kitchen cleaning. Thank you, Pam!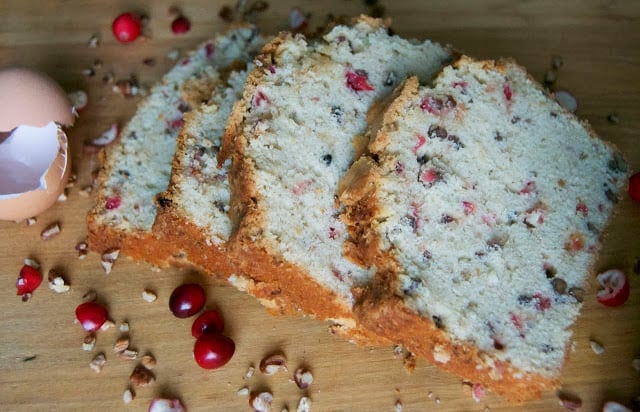 Pumpkin Spice Cranberry Pecan Pound Cake – makes one 9 X 5-inch loaf
Ingredients
1/2 pound (2 sticks) unsalted butter
1 2/3 cups sugar
5 eggs
1 teaspoon vanilla
2 cups cake flour
1/2 teaspoon salt
1 teaspoon Homemade Pumpkin Spice
1/2 cup fresh cranberries, chopped
1/2 cup pecans, toasted and chopped
Directions
Preheat the oven to 325 degrees F.
Prepare a 9 X 5-inch loaf pan by spraying it with Pam Baking Spray.
In the bowl of an electric mixer fitted with the whisk attachment, cream the butter.
Slowly add the sugar and beat until light.
Add the eggs, one at a time, making sure each is well combined into the batter. Also, scrape the sides of the bowl with a rubber spatula after each addition.
Add vanilla.
In a medium bowl, whisk together flour, salt, pumpkin spice, cranberries and pecans.
Gradually add flour mixture to the wet ingredients and beat until thoroughly combined.
Spoon batter into prepared loaf pan and bake for 1 1/4 – 1 1/2 hours or until a toothpick inserted into the top comes out clean. (Mine was in the oven for 1 hour 35 minutes)
Place the pan on a wire rack and cool for 5 minutes.
Remove from pan and allow to cool completely before serving.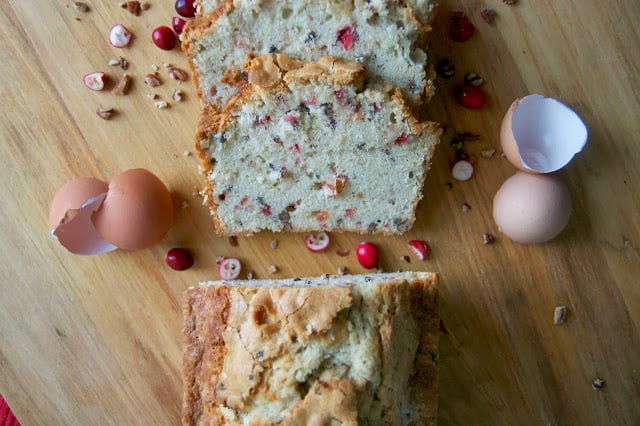 I rate everything I make on a scale of 1-4 and this Pumpkin Spice Cranberry Pecan Pound Cake earned 3 1/2 rolling pins.
It's a great dessert for the holidays since it has the wonderful flavors of the season!
Who doesn't like the great taste of cranberries with pecans?
And it isn't overly pumpkin spiced because there's just a touch of the yumminess in there.
One piece was a bit big for me to eat at a time. I think these would be perfect if the slices were cut in half when served at a party.
Or maybe you have guests with really big appetites.
THE CONTEST IS OVER AND
A WINNER HAS BEEN CHOSEN!!!
CONGRATULATIONS TO TERRI YOUNG!!
I am very happy to announce that Pam is sponsoring a giveaway ~ a prize pack worth $50 to one lucky winner. The prize includes one full size sample of Pam Cooking Spray and a beautiful Le Creuset Pie Dish!
In order to enter, I want you to leave a comment below. Easy Peasy! Tell me what tips or tricks you're using this holiday season to ensure that you're spending less time in the kitchen and more time enjoying the ones you love!

I can't wait to hear them! Good luck and thanks for entering!!
NO PURCHASE NECESSARY TO ENTER OR WIN. A PURCHASE DOES NOT IMPROVE YOUR CHANCES OF WINNING. VOID WHERE PROHIBITED OR RESTRICTED BY LAW. INTERNET ACCESS AND VALID E-MAIL ADDRESSES ARE REQUIRED TO ENTER.
Promotion Description:
By participating in a Sweepstakes on https://www.365daysofbakingandmore.com/ 365 Days of Baking, each entrant unconditionally accepts and agrees to comply with and abide by these Official Rules and the decisions of Massive Sway ("Sponsor"), which shall be final and binding in all respects. Sponsor is responsible for the collection, submission or processing of Entries and the overall administration of the giveaway. Entrants should look solely to Sponsor with any questions, comments or problems related to the Sweepstakes.
Promotion begins at the time the blog post announcing the Sweepstakes is published on the Blog and ends midnight PST on Tuesday, December 10th.
Eligibility:
Open to legal residents of the U.S. who are physically located in the U.S. or the District of Columbia who are not a minor (as defined by state of primary residence) usually a minimum of 18 yrs. old. Sponsor and parents, affiliates, sales representatives, advertising and promotion agencies, clients and each of their respective members, officers, directors, employees and contractors (including participating bloggers) (collectively, the "Promotion Entities"), and members of their immediate families and/or persons living in the same household as such persons, are ineligible to enter the Sweepstakes or win a prize. Void in all jurisdictions other than the U.S.
Entry:
Leave a comment on the Blog post to enter for a chance to win. Facebook comments will not be counted as a valid entry.
Winner Selection:
The winners of the Sweepstakes will be selected in a random drawing by Blog from among all eligible Entries received throughout the Promotion Period using the selection tool indicated on https://www.365daysofbakingandmore.com/. The random drawing will be conducted by Sponsor or its designated representatives, whose decisions are final. Odds of winning will vary depending on the number of eligible Entries received. Winner will be notified by email at the email address provided in the Entry Information after the random drawing. Potential winner must accept a prize by email as directed by Sponsor within 48 hours of notification. Any winner notification not responded to or returned as undeliverable may result in prize forfeiture. No substitution or transfer of a prize is permitted except by Sponsor.
Prizes:
The prize for this Sweepstakes is a kit with an approximate retail value ("ARV") of $50, including:
Full sized varieties of PAM Cooking Spray
Le Creuset Pie Dish
Only one prize per person and per household will be awarded. Prizes cannot be transferred, redeemed for cash or substituted by winner. Sponsor reserves the right in its sole and absolute discretion to award a substitute prize of equal or greater value if a prize described in these Official Rules is unavailable or cannot be awarded, in whole or in part, for any reason. The ARV of the prize represents Sponsor's good faith determination. That determination is final and binding and cannot be appealed. If the actual value of the prize turns out to be less than the stated ARV, the difference will not be awarded in cash. Sponsor makes no representation or warranty concerning the appearance, safety or performance of any prize awarded. Restrictions, conditions, and limitations may apply. Sponsor will not replace any lost or stolen prize items. Prize will only be awarded and/or delivered to addresses within the US Only. All federal, state and/or local taxes, fees, and surcharges are the sole responsibility of the prizewinner. Failure to comply with the Official Rules will result in forfeiture of the prize.
Privacy:
All entrants acknowledge that if they are chosen as a winner, certain of their personally identifying information may be disclosed to third parties at least as required by law, including, without limitation, names and mailing addresses on a winner's list. All personal information submitted as part of the Sweepstakes may be shared by and between the Promotion Entities, and each of the Promotion Entities will use such information in accordance with their respective independent online privacy policies.
Limitation of Liability:
Sponsor is not responsible for any incorrect or inaccurate information, whether caused by website users or by any of the equipment or programming associated with or utilized in the Sweepstakes or by any technical or human error, which may occur in the processing of submissions in the Sweepstakes. Sponsor assumes no responsibility for any misdirected or lost mail, or any error, omission, interruption, deletion, defect, delay of operation or transmission, communications line failure, theft or destruction or unauthorized access to, or alteration of, Entries. Sponsor is not responsible for any problems or technical malfunction of any telephone network or lines, computer online systems, servers or providers, computer equipment, software, failure of email or players on account of technical problems or traffic congestion on the Internet or at any website or combination thereof, including injury or damage to entrant's or any other person's computer related to or resulting from participating in the Sweepstakes. If, for any reason, the Sweepstakes is not capable of running as planned, including infection by computer virus bugs, tampering, unauthorized intervention, fraud, technical failures, or any other causes beyond the control of Sponsor which corrupt or affect the administration, security, fairness, integrity or proper conduct of the Sweepstakes, then Sponsor reserves the right in its sole discretion to cancel, terminate, modify or suspend the Sweepstakes. In such event, Sponsor may, in its sole discretion, perform the random drawing from among all eligible Entries received prior to or after such cancellation, suspension, or modification.
This is a sponsored post written by me on behalf of PAM Cooking Spray.
For more information, visit http://www.pamcookingspray.com.
I give you BIG baking hugs and muffins!