Here's how you can create this marshmallow fluff and peanut butter brownie for your kids next school day treat. It's a lick your fingers after kinda brownie.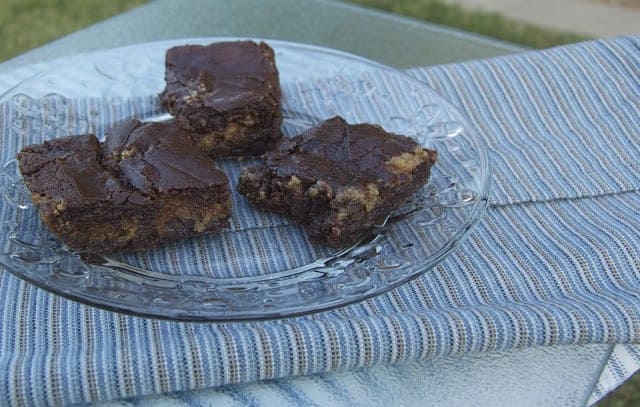 What better way to have your kids come home with this brownie recipe baking in the oven? Fluff and peanut butter will always have a special place in my heart.
We received our order of Marshmallow Fluff yesterday. Woo Hoo! 12 TUBS of the stuff! My son's excited because he knows there won't be a shortage for quite some time. When I was ordering it, I never realized the different flavors there were. For the longest time, I thought it was just the regular one that they've been doing for so long.
So, between being inspired by our old favorite, the Fluffernutter, and my middle daughter' request for something chocolate, I decided to combine the two. And, what better way to combine them with a brownie recipe. Well, I must admit that they needed some work.
These proved to me that I am better at this point following recipes instead of creating them. Don't get me wrong, these were still good, but didn't bake and resemble that picture I had in my head. You know, the perfect picture that I was going to submit to Tastespotting. No, not today.
SAVE THIS FLUFF AND PEANUT BUTTER BROWNIE TO YOUR FAVORITE PINTEREST BOARD!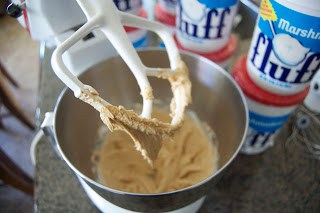 So here's the story. I baked these for 35 minutes at 300, took them out of the oven and let them cool completely (about 1/2 hour). Seeing that they were extremely mushy (probably due to the amount of butter and relatively low baking temperature – those are my guesses and I'm stickin' to it), I decided to bake them again at 300 for another 15 minutes. I didn't want them to get burnt, so 15 minutes was my time limit. Almost success!
These were VERY rich and reminded me more of fudge than a brownie. They were a little caky on the top, but waaaaayyyyyyyyyy moist on the bottom. The taste of peanut butter was definitely present, but, I think the marshmallow fluff was just completely SUCKED into the brownie batter because I couldn't see it as a separate layer. But then again, oh yeah, I ran a knife through the final product to "kind of mix them" together. Ah well, my job here is not done.
Whoops, I almost left without rating these.
SIGN UP FOR THE WEEKLY 365 DAYS OF BAKING & MORE
NEWSLETTER BELOW!
I rate everything that I bake on a scale of 1-4 with a 4 being the best. Based on a variety of input from the peanut gallery, these brownies earned 3 brownies.
No, not brownies, haha, rolling pins! They earned 3 rolling pins!
There aren't many things I eat that I can't stop eating. I should retract slightly because there are a lot of things that I do that puts it in that category. So, to clarify, sometimes with really good recipes, my brain doesn't know when to stop eating. These pumpkin cream cheese muffins are a PERFECT example of what I'm talking about by chef-in-training. You'll know what I'm talking about when you have them.
Another dessert I know will be very popular with the friends and relatives is this berry pretzel dessert recipe. To top it off it's a no-bake dessert to0. So thank you barefeetinthekitchen for this awesome treat.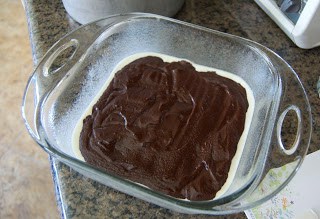 What is a fluffernutter you ask?
Well, they've been around for a good hundred years so you're a little late to the party. This craze sandwich that my son takes EVERY DAY to school is exactly that, a sandwich with… you guessed it, fluff and peanut butter. I know, it was a maze to get there, but I finally told you. Honestly, I just LOVE saying that word. Fluffernutter.
It's almost as awesome as saying snickerdoodles. Almost. There are times where he makes them at home and I see him slab as much as a concrete brick onto the bread. It looks like it could be a few pounds when he actually eats it. And yes, there's fluff on every part of his mouth. It's quite amusing to see. One of those moments where it's so darn rewarding to have kids.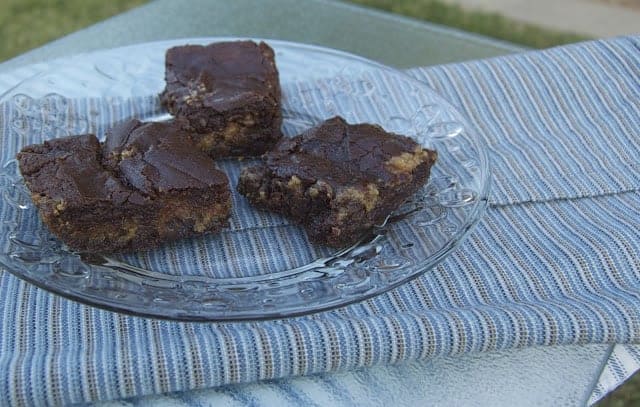 Fluff and Peanut Butter Brownie
Ingredients
½ cup creamy peanut butter
6 tablespoons butter
1 ½ cup Marshmallow fluff
2 ounces unsweetened chocolate 2, 1 ounce squares
1 cup sugar
1 egg
⅛ teaspoon salt
½ cup flour
1 teaspoon vanilla
Instructions
Preheat oven to 300 degrees.

Butter and flour an 8-inch baking dish.

Combine 2 tablespoons butter and peanut butter in a small saucepan. Heat contents over low heat and stir until well combined and butter is completely melted.

Place marshmallow fluff in the mixing bowl. Add peanut butter/butter mixture and mix until completely incorporated; set aside.

In a saucepan over low heat, melt the chocolate and remaining 4 tablespoons of butter. Mix well.

Remove from heat and stir in the sugar, egg, salt, flour, and vanilla; pour half of the brownie mixture into the baking dish. Spread so that the whole bottom of the dish is completely covered.

Place about 9 dollops of peanut butter/fluff mixture on top of brownie layer. Spread gently and cover entire chocolate layer.

Again, using dollops, place the brownie mixture on top of the pb/fluff. Spread gently so that the batter touches all the edges of the dish.

Run a knife through the brownies to somewhat combine the layers.

Place baking dish in oven and bake for 50 minutes.
Nutrition
Calories: 3307kcal | Carbohydrates: 452g | Protein: 52g | Fat: 167g | Saturated Fat: 76g | Cholesterol: 344mg | Sodium: 1562mg | Potassium: 1435mg | Fiber: 18g | Sugar: 330g | Vitamin A: 2335IU | Calcium: 158mg | Iron: 15.9mg
Did you make this recipe?
Share it with me on Instagram and make sure to follow me on Pinterest for more recipes.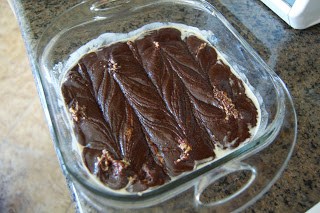 I can't say enough about these brownies. While on the topic of brownie recipes, my butterscotch chocolate chip brownies use a few other combinations that work really well together. I have a hard time putting them down and my family won't help me with that so, MODERATION baby. Here's to hoping that works.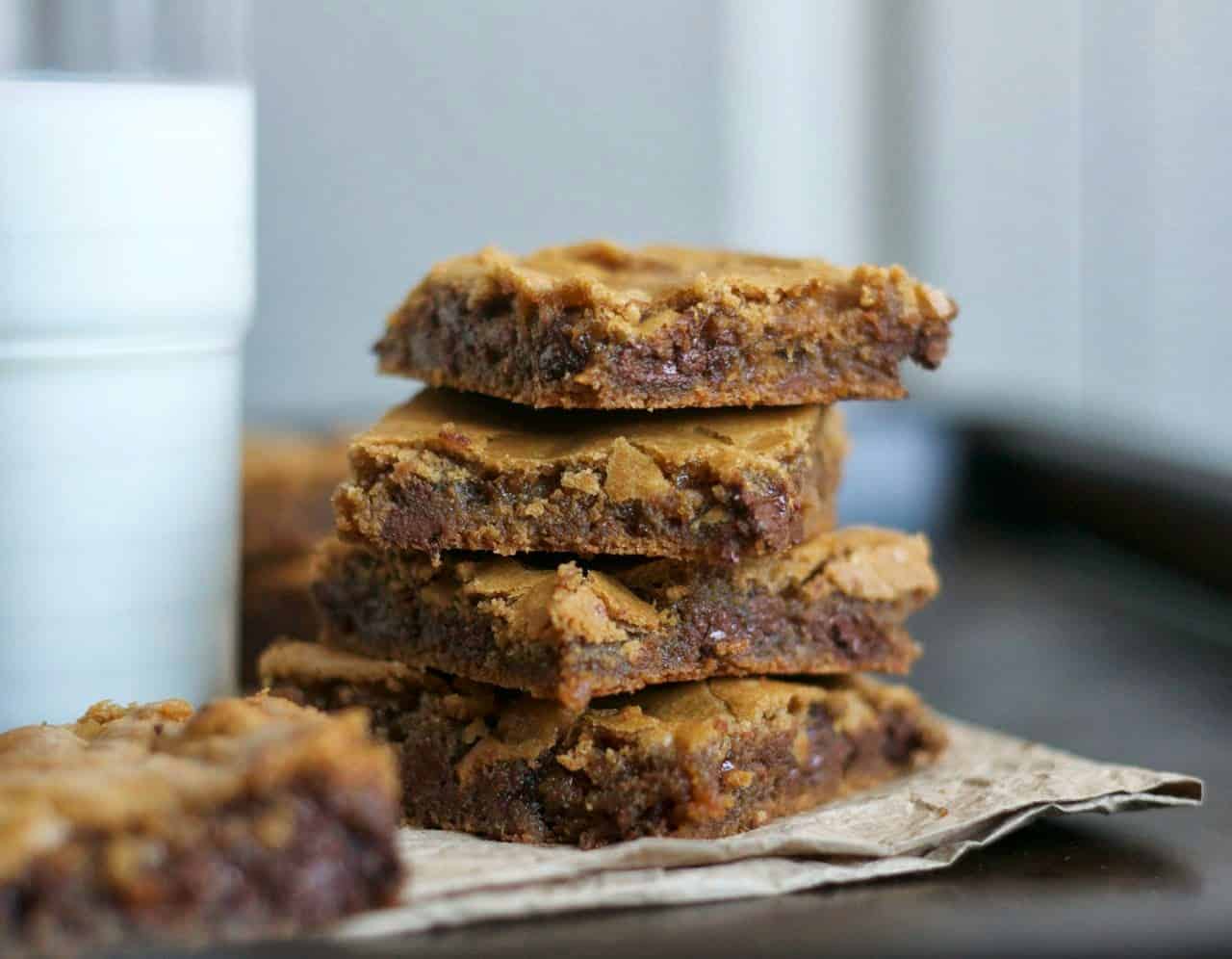 If milk isn't your thing and coffee is, then this homemade french vanilla coffee creamer saves you the time and effort so you can relax while eating these brownies.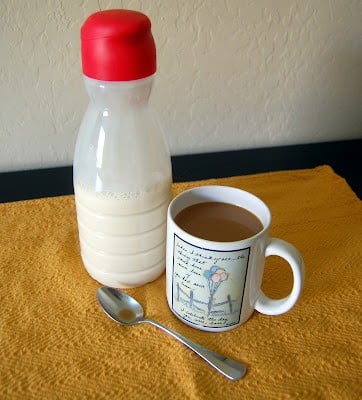 Reader Interactions