I've ALWAYS wanted to make a Boston Cream Pie. Maybe it's my New England upbringing and love for all things Boston or maybe it's just because it's always really yummy whenever I have a slice in a restaurant.
I found this recipe in my New Doubleday Cookbook, pp. 802, 801, 823; authors, Jean Anderson and Elaine Hanna; publisher, Doubleday, a division of Random House, Inc.; ISBN 0-385-19577-X.
Boston Cream Pie – a 2-layer (9″) cake (16 servings)
2 (9″) layers Basic Three-Egg Butter Cake
1 recipe Basic Vanilla Cream Filling
1 recipe Chocolate Glaze
Basic Three Egg Butter Cake
2 cups sifted cake flour
2 teaspoons baking powder
¼ teaspoon salt
½ cup milk
1 teaspoon vanilla
½ cup butter, softened to room temperature
1 cup sugar
3 eggs, separated
Preheat oven to 375ºF.
Sift flour with baking , and salt and set aside; combine milk and vanilla.
Cream butter until light, add sugar gradually, continuing to cream until fluffy.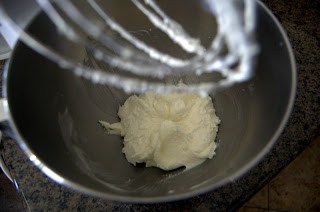 Add egg yolks, one at a time, beating well after each addition.
Add dry ingredients alternately with milk, beginning and ending with the dry and adding about 1/3 of total at a time; beat just until smooth.
Beat egg whites until soft peaks form and gently fold into batter.
Spoon into two greased and floured 9″ layer cake pans and bake 25-30 minutes until cakes shrink slightly from sides of pans and are springy to the touch; cool upright in pans on wire racks for 5-7 minutes; then invert on wire racks.
Turn right side up and cool completely.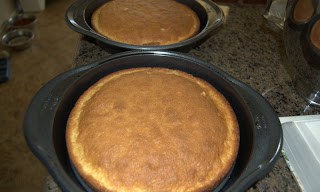 Basic Vanilla Cream Filling
2 tablespoons cornstarch
1/3 cup sugar
¾ cup milk
1 egg yolk lightly beaten with ¼ cup of milk
1 teaspoon vanilla
Blend cornstarch, sugar and milk in a small saucepan and heat, stirring constantly, over moderate heat until mixture boils and is thick; boil and stir ½ minute longer.
Off heat, beat a little hot mixture into egg yolk, return all to pan gradually, beating constantly. Mix in vanilla and cool to room temperature, beating now and then.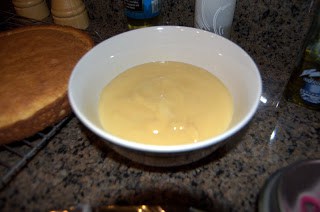 Chocolate Glaze
2 (1-ounce) squares unsweetened chocolate
1 teaspoon butter
1 cup sifted confectioners' sugar
3 tablespoons warm water
Melt chocolate and butter in the top of a double broiler over simmering water; stir to blend well.
Set top of double broiler on a damp cloth, add ½ cup confectioners' sugar and 1 tablespoon water; beat until smooth.
Add remaining sugar and water and beat until glossy.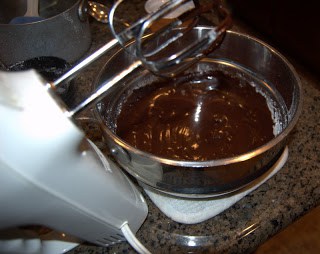 Assembling the Cake
Sandwich cake layers together with filling, spread glaze on top, and let stand until glaze hardens. Store in refrigerator.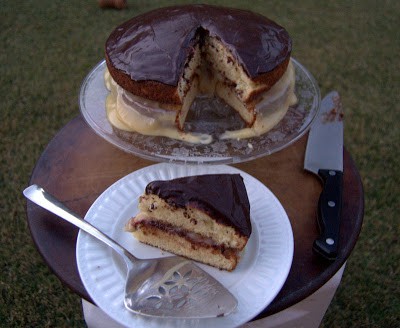 This was really good and my husband really loved it. I rate everything that I bake on a scale of 1-4 with 4 being the best. This Boston Cream Pie recipe earned 3½ rolling pins.
I have to admit that I did become really upset when I placed the top layer on top of the filling and it all started leaking out the side.
I was SO upset that it didn't turn out perfectly as I think everything I make should.
Ok, I'm realistic and I know there are some things that will flop. but the Boston Cream Pie?
C'mon!
I realize it was baker's error impatience and that I should have sliced the top of the bottom layer off to make it even. Both cakes were a little domed in the middle, so naturally and with gravity playing its' part, the filling would tend to run out the sides.
Oh well.
It was still edible and pretty good for the first time.
I just learned what to do to make it better the next time I make it.
Happy baking!