It's almost June. This year is FLYING!
Only four more days until our two younger children are out of school.
Then SUMMER begins!!!!
Who knows what we'll be doing. We don't really have any major travel plans…although I DO have my 25th high school reunion coming up toward the latter part of the summer.
If I go, I'll have to borrow somebody's kitchen, so I can continue my 365.
We'll see what happens. I'll keep you posted (haha – no pun intended.).
This recipe is adapted from my Fannie Farmer Cookbook Thirteenth Edition.
Nutella Sour Cream Cookies – makes about 60 cookies
2 eggs
3/4 cup sugar
½ cup sour cream
¼ + 2 tablespoons Nutella
5 tablespoons butter, melted
½ teaspoon vanilla
2 cups flour
½ teaspoon baking soda
¼ teaspoon freshly grated nutmeg
Preheat the oven to 375ºF.
Cover cookie sheets with parchment paper.
Beat the eggs well, then add the sugar, sour cream, Nutella, butter, and vanilla, beating well until well incorporated.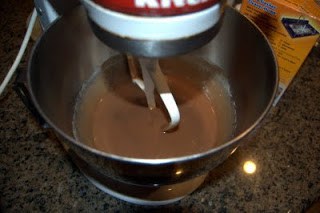 Mix the flour, baking soda, and nutmeg together and add to the first mixture, beating well.
Arrange by teaspoonfuls, 1 inch apart, on the cookie sheet.

Bake for about 10 minutes.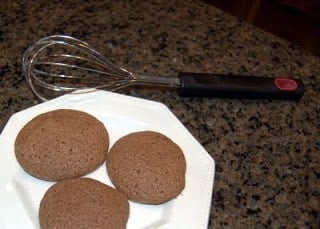 Ok, yeah. Don't make these. I really wanted to use Nutella in a recipe, so I changed this recipe around and it didn't work out.
I don't even think they look that appetizing.
On my rating scale of 1-4 with 4 being the best, these cookies earned a 1 – definitely not worth the effort or money spent on ingredients. I couldn't taste the Nutella. The only flavor I detected was the nutmeg. They just tasted blah.
Not the kind of cookie I enjoy.
We'll go for a better recipe tomorrow.
Happy Baking!