A great evening spent with friends. Everyone needs to remember to do that once in a while. It's good to socialize and forget about "things" even if it is only for a few hours.
It helps to keep me grounded.
And everytime I come home after being with friends, I'm thinking, "darn! Why don't I do that more often?".
I found this cookie recipe in my Fannie Farmer Cookbook Thirteenth Edition, p. 621; author, Marion Cunningham; publisher, Alfred A. Knopf, Inc., a division of Random House, Inc.; ISBN 0-394-56788-9.
Cornflake "Macaroons" – about 18 cookies
1 egg white
½ cup sugar
½ cup shredded coconut
1 cup cornflakes
¼ teaspoon almond extract
¼ teaspoon vanilla
Dash of salt
Preheat the oven to 350ºF.
Place parchment paper on top of two cookie sheets.
Beat the egg white until stiff, then stir in the remaining ingredients.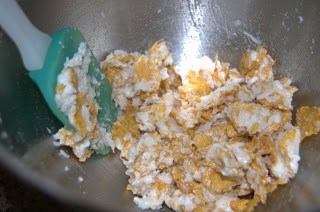 Place by teaspoonfuls on the cookie sheet.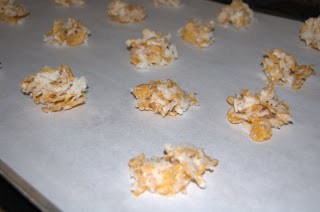 Bake for about 10 minutes or until lightly browned.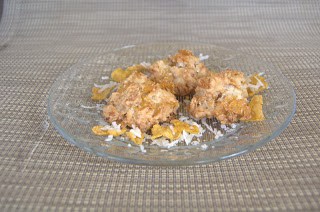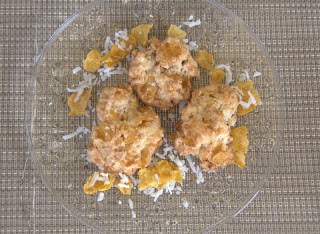 I rate everything I bake on a scale of 1-4 with 4 being the best and I thought these cookies earned 2½ rolling pins. They were different. They weren't bad, they just weren't something that I feel I absolutely have to make again. I really liked the texture: the egg white was similar to a meringue, and the chewiness of the coconut mixed with the crunch of the cornflake was a good combination. I like that there wasn't too much coconut, like a genuine macaroon, and I think a little less sugar would have been better – they were very sweet. But that was probably because I used sweetened coconut, too. Use unsweetened or cut the sugar amount in half.
I have to say that the smell of these brought me back to childhood. I used to eat these sugar cookies from Nabisco that came in a pink wrapper and of course, they don't make them anymore. The faintly smelled of coconut and were absolutely delicious. I really miss those cookies… They were big, their shape reminded me of a flower and they had a hole in the middle that I used to stick my finger through and eat from the outside in.
Ah, the good 'ol days…(sigh)
Happy baking!