Homemade French Vanilla Coffee Creamer – French vanilla creamer you can make yourself at home with just THREE ingredients! If you're out of your favorite coffee creamer, THIS is a great solution.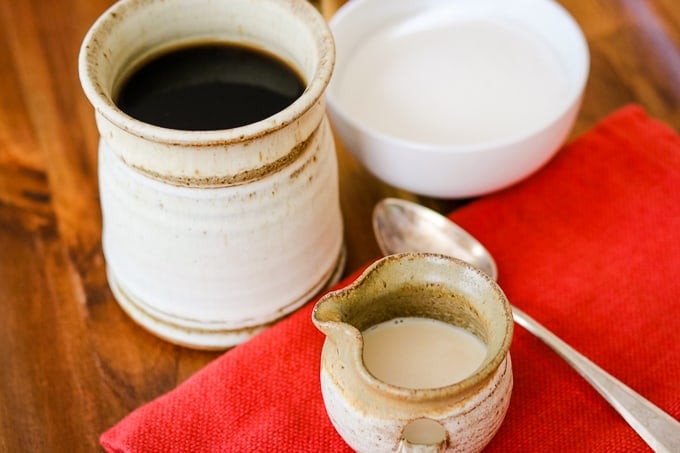 This Homemade French Vanilla Coffee Creamer is less expensive and you know (and can pronounce!) all of the ingredients! It tastes just as good, if not better and you'll enjoy your coffee without having to make a mad dash to the store!
I love my morning coffee. And honestly, I NEED a good cup of coffee to get me started for the day.
Are you like me?
Mmmmmm….coffee……*inhales VERY deeply*……
SAVE THIS HOMEMADE FRENCH VANILLA COFFEE CREAMER TO YOUR FAVORITE PINTEREST BOARD!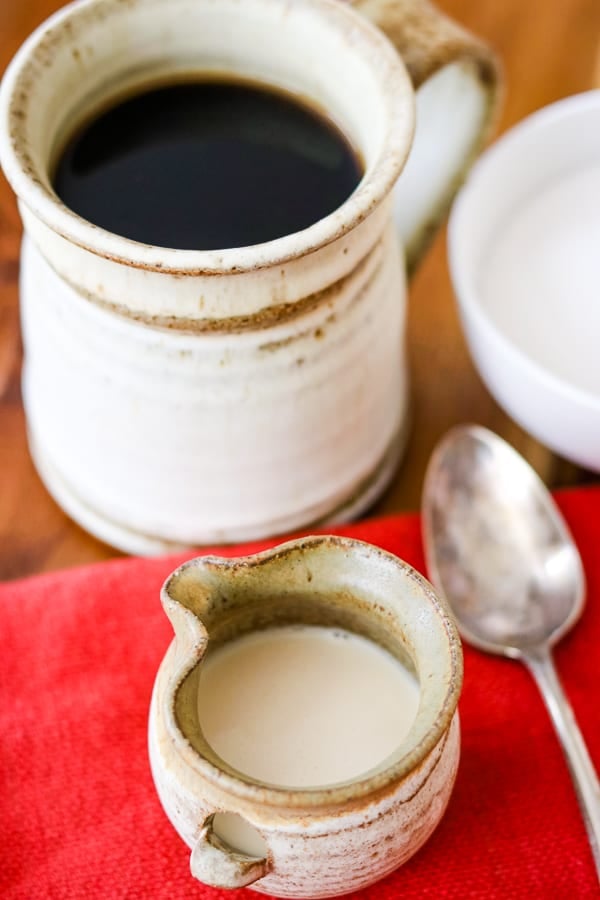 This is stinking brilliant! So, what's a middle-aged woman girl to do when she's out of coffee creamer?
Make it from scratch, o' course. You don't have to head out to the store or even to the coffee shops anymore!
I don't know if there's anything worse than making a pot of coffee on a Sunday morning, moving into the mindset that you're going to sit and relax while enjoying it, only to find out that there's no creamer.
And no, I am NOT drinking my coffee black. I do have limits people!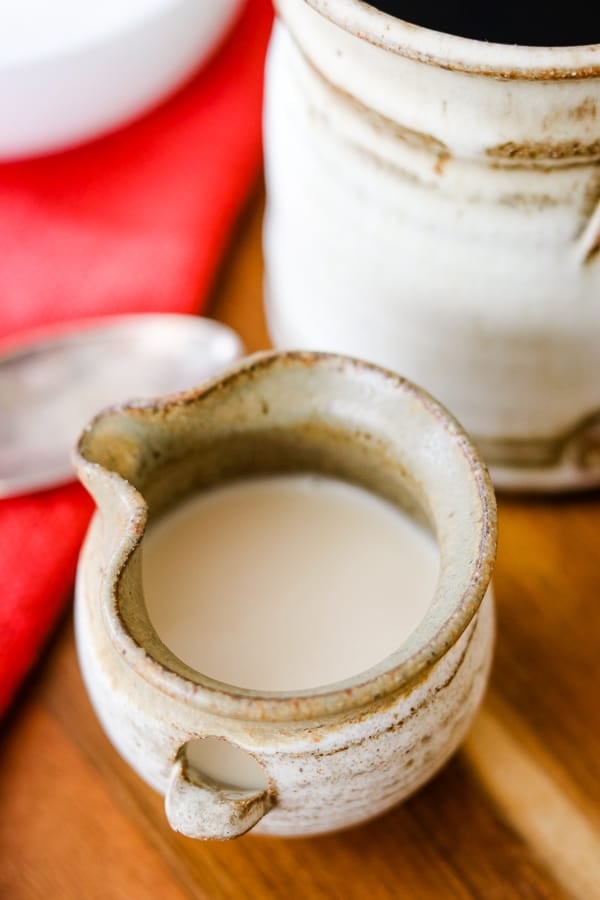 WAIT!!!
There is something.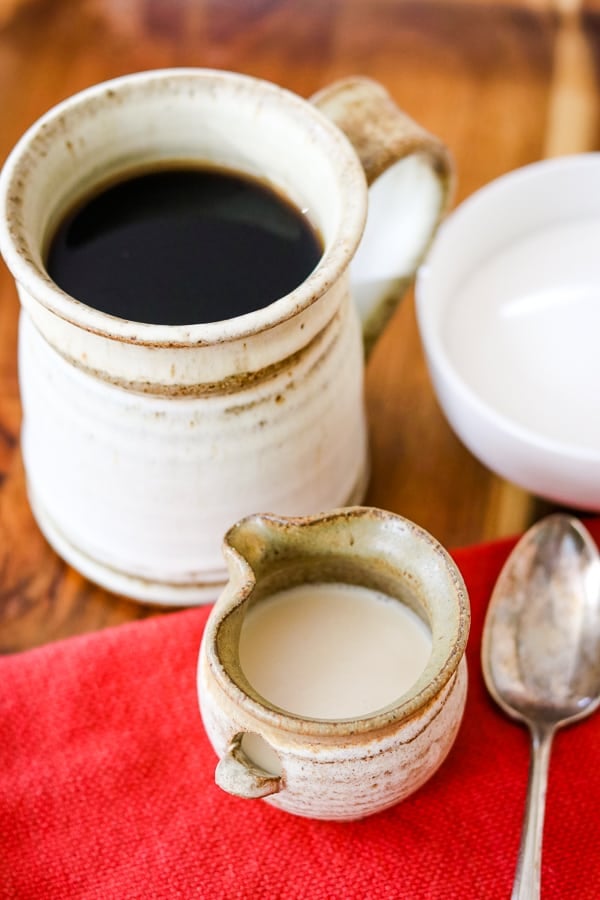 Pouring yourself a bowl of cereal and then going to the fridge to find out someone used the rest of the milk.
Yeah, that sucks. Communication people!
And like I really needed a cup of coffee this morning after waking up at 3 am in a coughing fit.
I was pretty psyched though, being able to sleep 4 hours in my own bed before I moved out to the couch.
At least when I woke up I had that feeling I had when the kids were infants, and gave me their first 4 hour stretch of sleep instead of waking every two hours to feed.
I was psyched, man. Then I continued coughing and couldn't go back to sleep.
And then I took a 5-hour nap this afternoon.
I awoke after 3 hours, looked at the clock and said, "Nah.", rolled over and went back to sleep.
Shhhh…don't tell the family. But they were all very good to let me sleep. The girls made some cupcakes while I slept, and Mr. 365 went out to get some dinner seeing as how I slept through the lasagna making I had planned for dinner.
You're probably wondering…
How long is Homemade Coffee Creamer good for?
Generally, it will last 7-10 days tightly sealed in your refrigerator.
You'll also want to make note of the expiration date of your milk because that could affect it.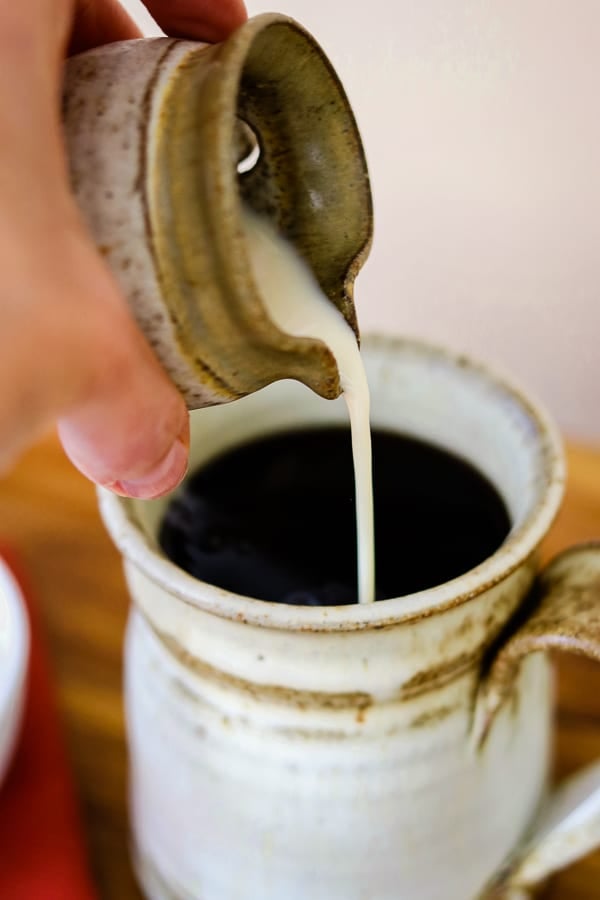 I found this on Mommy Savers.
I had this great idea about adding that wee bottle of Bailey's Irish Cream to the mix.
Yes, it is alcohol, but who says you can't start drinking at 7 am? Besides, it's just a smidgen.
But alas, Old Mother Hubbard went to the cupboard and…the cupboard was bare.
Darn it!
I guess I already drank it and didn't even remember.
I had a small bottle of Godiva Chocolate liquor, but I wasn't in the mood for chocolate in my coffee.
Yes, I know, GO FIGURE!
And WHY have I never thought about making our own creamer at home before??!!
I guess it's true that necessity IS the mother of invention.
This was SUPER easy, did the trick, and is less expensive than the fancy store-bought stuff.
It will save you money and you know exactly the ingredients you're putting into it, none of those fancy words that you can't pronounce.
I may never buy creamer again.
The full recipe is below.
Take a look here to find more delicious flavors for
homemade coffee creamer
. Start your mornings off with something new!
SIGN UP FOR OUR
365 DAYS OF BAKING & MORE
NEWSLETTER BELOW!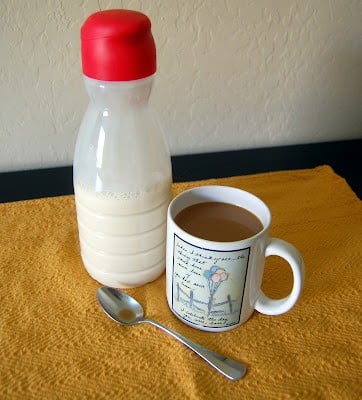 I like to enjoy this Homemade French Vanilla Coffee Creamer with a cup of coffee in my favorite mug.
My mother gave it to me over 30 years ago for my birthday.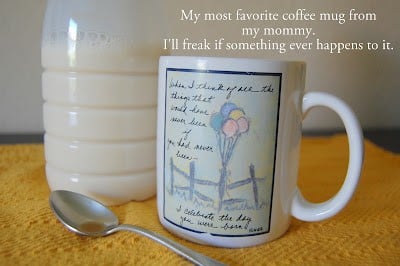 It says, "When I think of all the things that would have never been if you had never been…
I celebrate the day you were born."
I sure do miss her.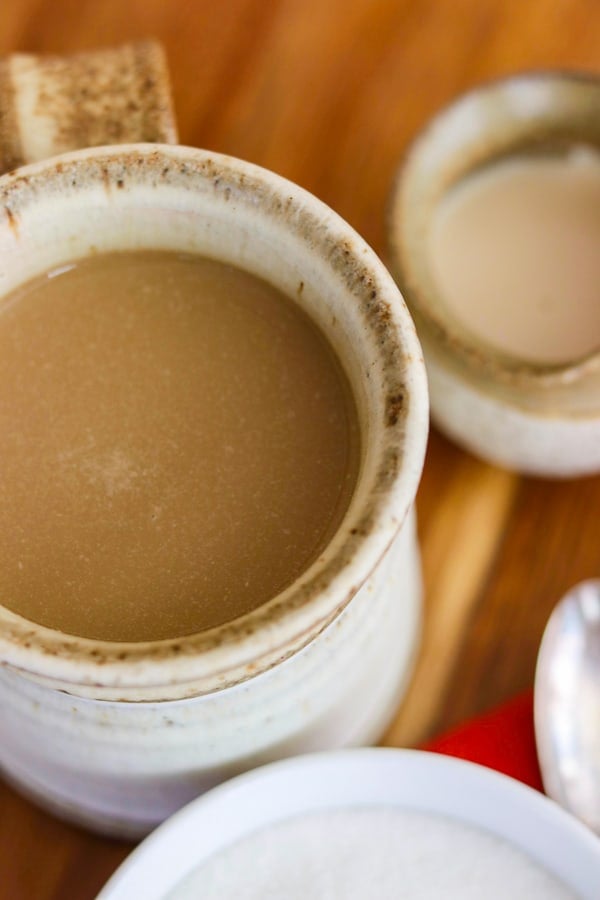 HOW TO MAKE HOMEMADE FRENCH VANILLA COFFEE CREAMER –
Into a container to hold at least 28 ounces, pour the milk. I like to use this ceramic milk bottle I bought on Amazon. It has a silicon lid, too.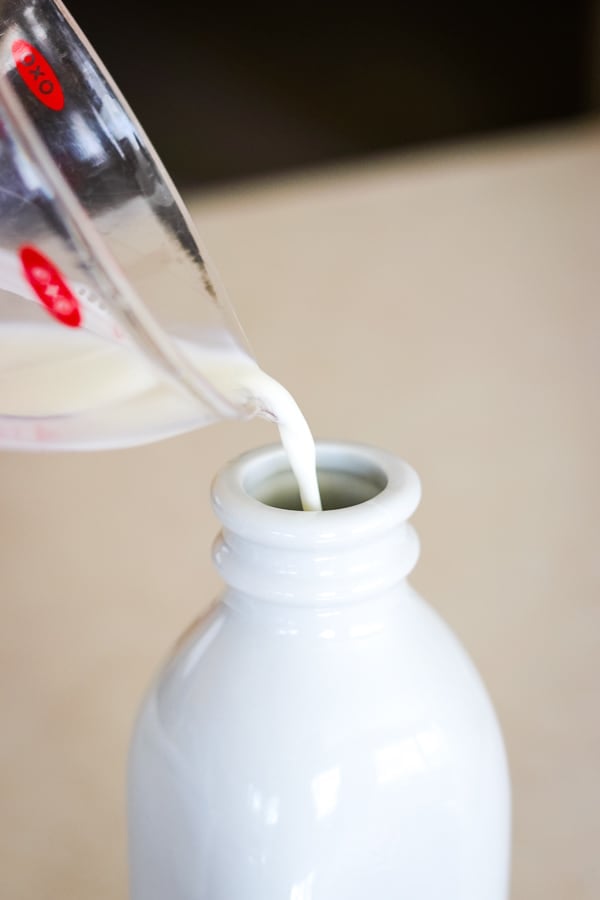 Add the vanilla.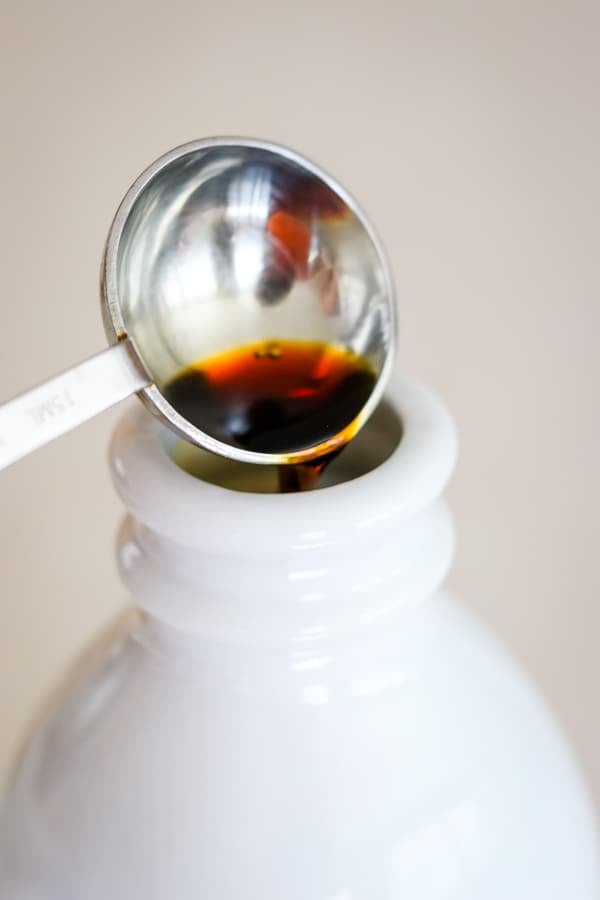 Carefully pour in the sweetened condensed milk.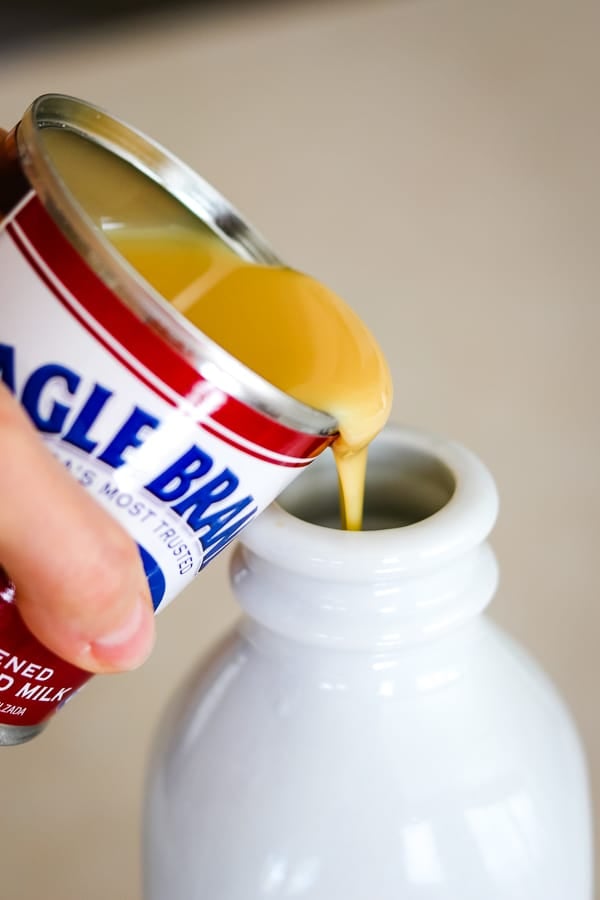 Secure the cap tightly and shake vigorously until ingredients are thoroughly combined.
Enjoy your coffee!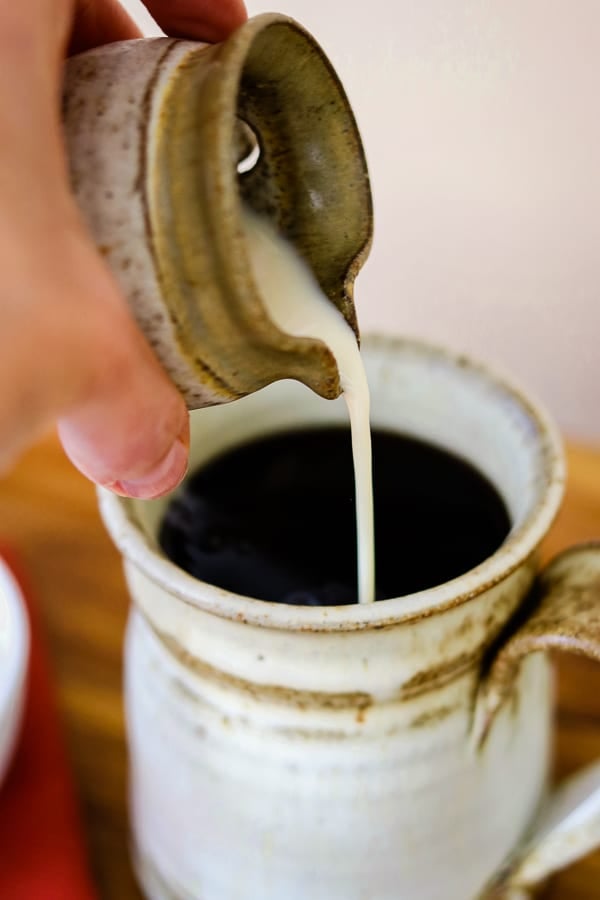 Can you picture yourself enjoying a cup of coffee with your new homemade creamer while enjoying this Easy Crepe Recipe? I know I certainly can!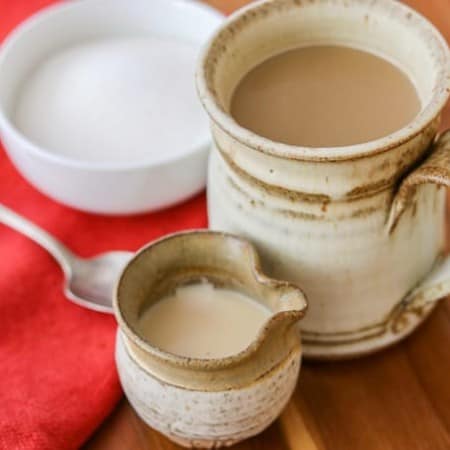 Homemade French Vanilla Coffee Creamer
This Homemade French Vanilla Coffee Creamer is made with just three ingredients! It's easy to make, tastes great and has ingredients you can pronounce.
Ingredients
14 ounces whole milk
14 ounces sweetened condensed milk
1 tablespoon pure vanilla extract
Instructions
Into a container large enough to hold 28 ounces, pour the milk.

Add the condensed milk.

Add the vanilla.

Secure the cap tightly and shake vigorously until ingredients are thoroughly combined.
Notes
Expiration date of the creamer would be that of your milk.
Nutrition
Calories: 55kcal | Carbohydrates: 8g | Protein: 1g | Fat: 1g | Saturated Fat: 1g | Cholesterol: 6mg | Sodium: 24mg | Potassium: 71mg | Sugar: 8g | Vitamin A: 60IU | Vitamin C: 0.3mg | Calcium: 56mg
Did you make this recipe?
Share it with me on Instagram and make sure to follow me on Pinterest for more recipes.
Mr. 365 LOVED it and says not to buy any creamer again.
I'm also eager to try it with some other flavorings. I might just have to go out and buy me some more Bailey's.
I'm partial to the Bailey's. I used the empty creamer bottle that I had.
It just seemed logical and convenient seeing as how I didn't have any other container to really put it in beside a square Rubbermaid container.
Oh, and don't try to take pictures of yourself pouring the condensed milk into the small-mouthed container because you're bound to miss and it will make a sticky mess down the side of the bottle and all over the counter.
Just sayin'.
If you like this HOMEMADE FRENCH VANILLA COFFEE CREAMER, take a look at these great recipes here on the 365 blog!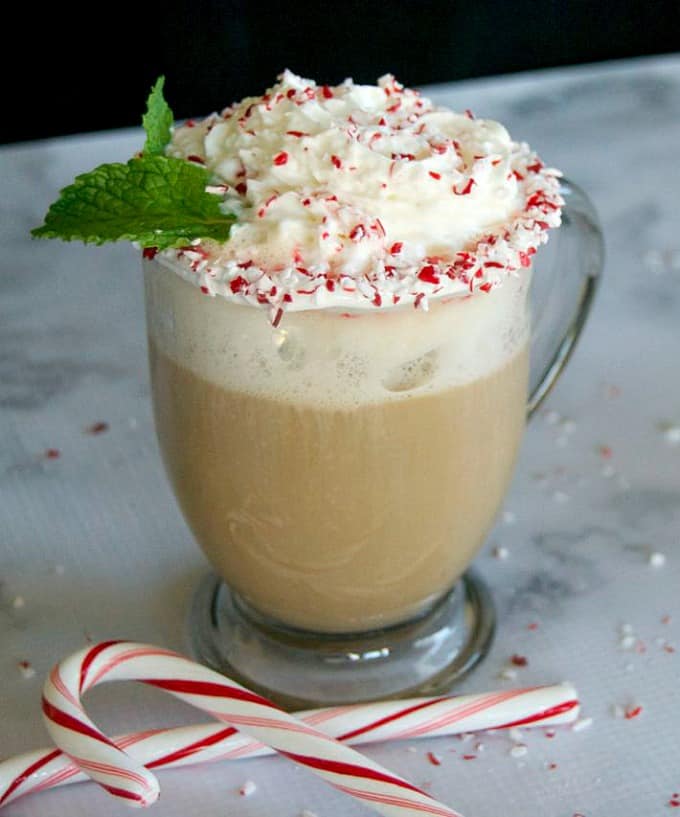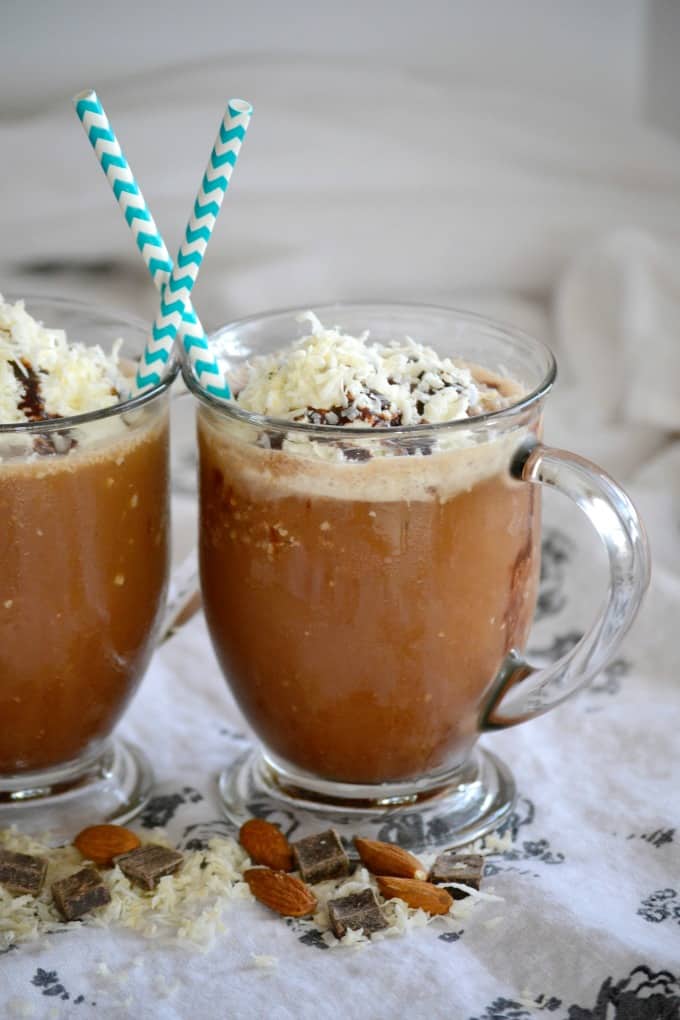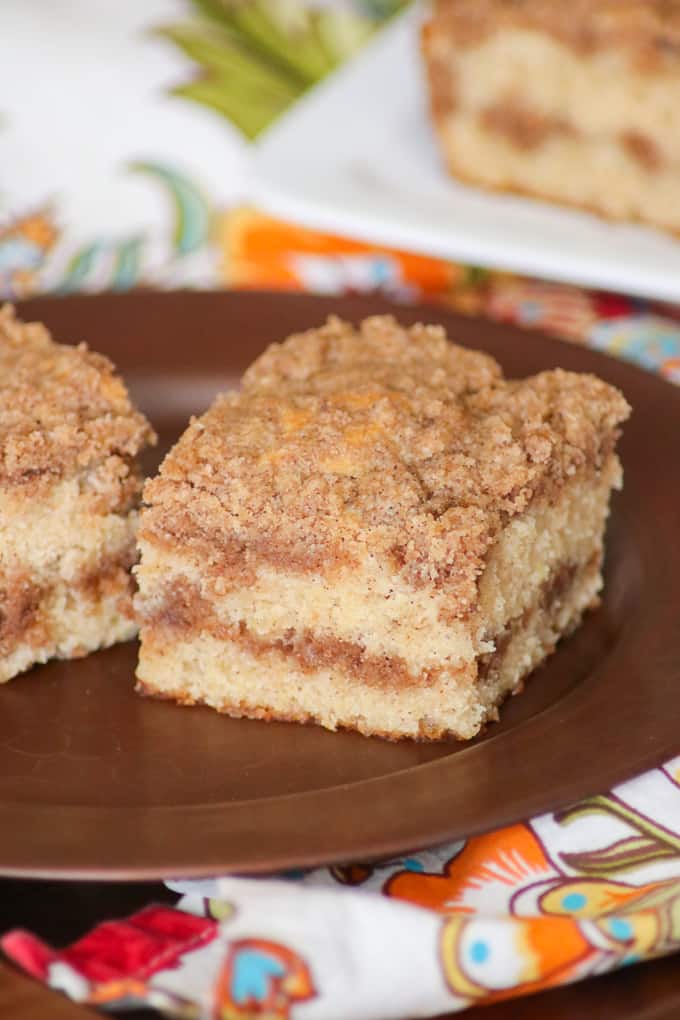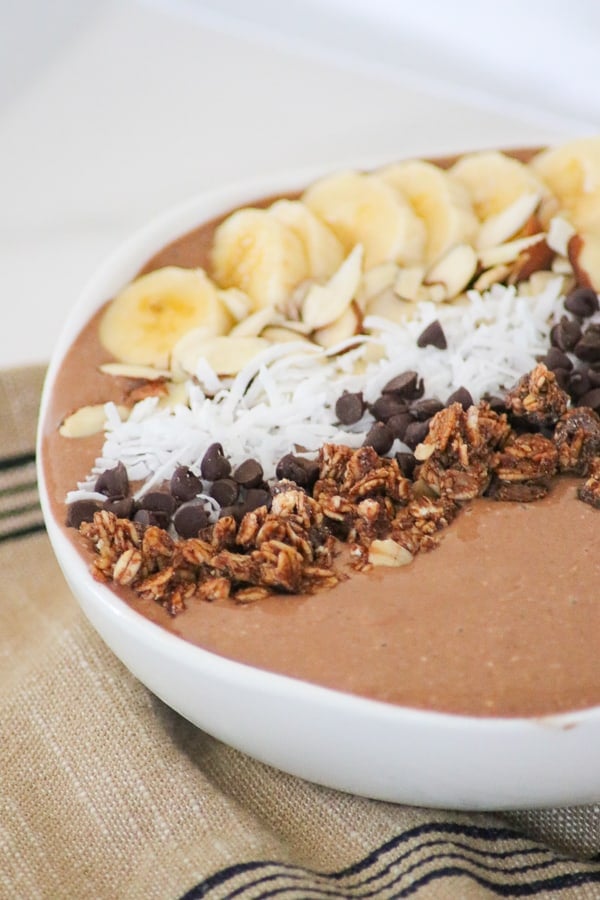 Reader Interactions