It's Furry Friend Friday – Dog-Friendly Southern Utah week! Each Friday I share pictures and updates on Logan, our Golden Retriever puppy. If you love Golden Retrievers, puppies or dogs in general then you're going to enjoy following his antics each week.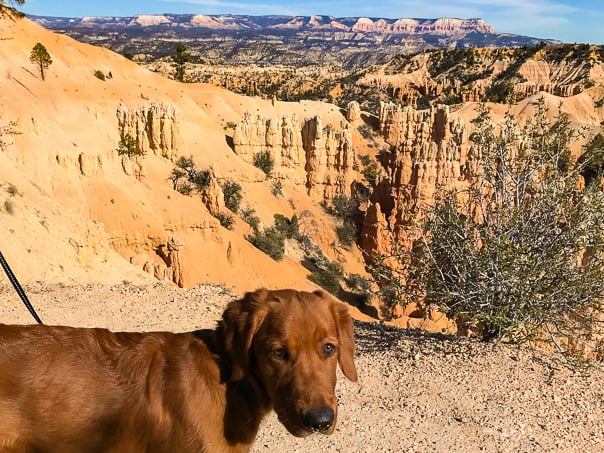 Yes, we didn't have a Logan post last week, so I apologize for that.
This is NOT a sponsored post, I'm just sharing places and things that worked for us while we road tripped with Logan.
Kurt, Logan and I decided to take a road trip to a place we had never been – Southern Utah.
I've seen pictures of how beautiful it is up there, so we packed winter clothes (or the few that we own haha) and headed north!
Since we wouldn't have any family here for Thanksgiving and I really didn't want to cook a large turkey for the two of us, we decided that it was probably the best time for a little road trip.
We went to Page, Arizona on Monday and stayed there for one night.
Tuesday and Wednesday we stayed in Bryce Canyon, Utah.
On Thursday we were in St. George, Utah and then made our way home Friday.
It was a great trip and Logan did REALLY well, too!
SAVE THIS FURRY FRIEND FRIDAY – DOG-FRIENDLY SOUTHERN UTAH TO YOUR FAVORITE PINTEREST BOARD!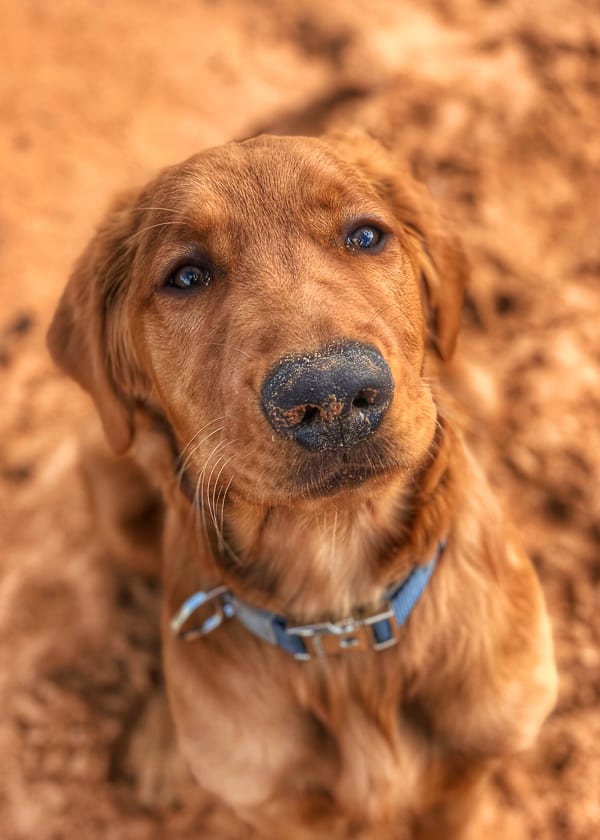 Page, AZ
Our first stop brought us to Page, AZ.
I know there are SO many gorgeous areas to hike in northern Arizona with the Grand Canyon being one of them.
But we'd been there, done that. A few times even.
I've seen beautiful pictures of Horseshoe Bend, Antelope Canyon, the Wave, Monument Valley and more on Instagram and absolutely fell in love with the scenery.
I was stoked when I mentioned to Kurt that I thought we should go up to Bryce Canyon for a few days to do some hiking and he agreed!
It was definitely my intention to stop at a few of these places on our way up north.
BUT…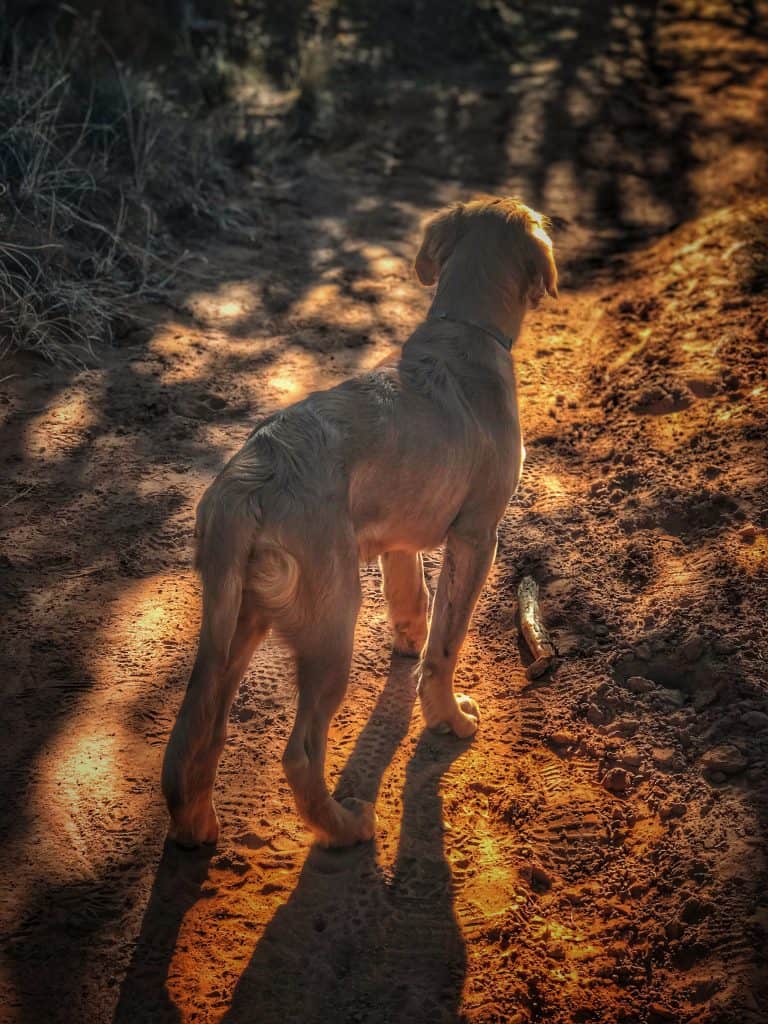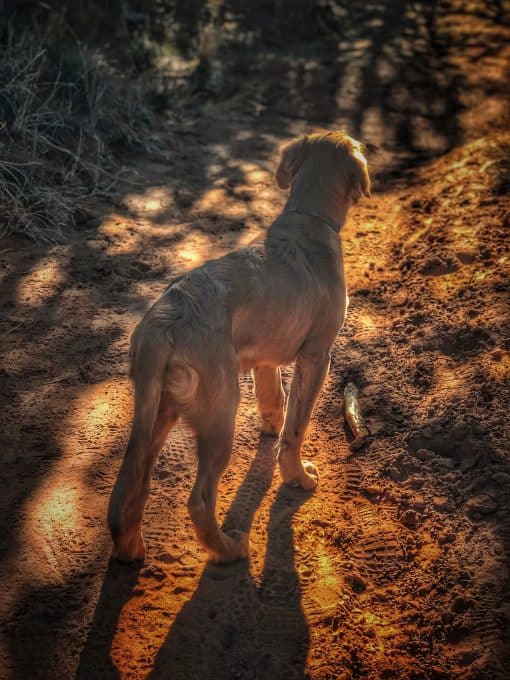 Are these places Dog-Friendly??
Since we now have this wonderful guy and we're wanting him to hike with us there was no question as to whether or not he was coming with us. We just had to find things to do and places to stay that were dog-friendly and could accommodate Logan.
You may not be able to head to the sights you have your heart set on and it may be discouraging, but it's definitely doable if you do some searching. There are so many wonderful sites and apps now that can help you plan a trip with your beloved pooch.
After doing my research, I found that each national park has different requirements for dogs.
In general, they are welcome as long as they are on a leash that is no longer than 6 ft, and that they are allowed to be on paved surfaces and in developed campgrounds.
There are some very dog-friendly parks across the U.S. which can be found here. If you're interested in exploring others, just go to the park's website and do a search and they'll give you the specific regulations and the trails you are able to hike with them.
This is a great national park site with lots of helpful information, too
Of course, it goes without saying that by being a great dog owner you'll pick up after your pet, bring plenty of water for them, be aware of the temperature when you'll be hiking, and not require them to do more than they're physically able. These guys and gals get thirsty, hot, cold, tired and exhausted just like us!
HORSESHOE BEND
When I saw that Horseshoe Bend was in Page, AZ AND that it was dog-friendly, we were going no ifs, ands or buts!
And it didn't disappoint!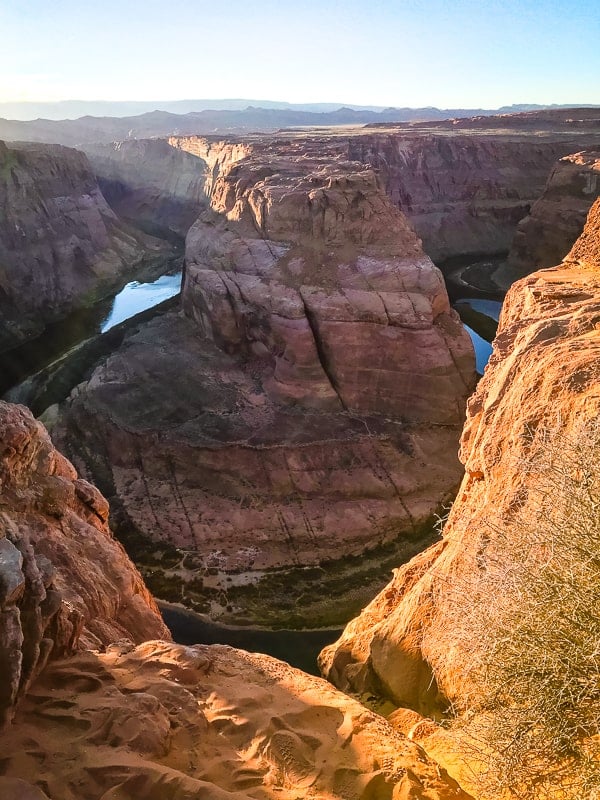 If you're ever in the area, I highly suggest it! I was so very excited to check that one on my bucket list.
We went on Monday just about sunset and it was very busy!
Of course, that's going to be one of THE most popular times to be there because the setting sun is glorious and the colors are amazing. If you don't mind a crowd and lots of people trying to get THE best shot for their Instagram then you'll be fine.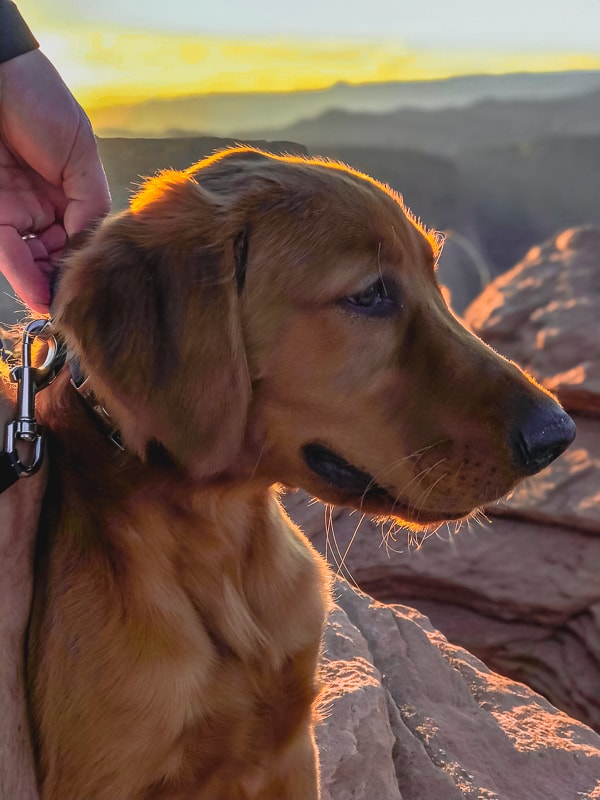 Also, parking is a bear. While I believe they are increasing the size of the small parking lot, the only other parking is on the two-lane road at the trailhead. It can be challenging with traffic, so just make sure your dog is well restrained.
For dinner, we went to a dog-friendly restaurant, Big John's Texas Barbecue. With a dog, you'll need to sit on the outside patio, but there are plenty of tables and there were even heaters because it was chilly. The service was fantastic, food was really good and they even spoiled Logan giving him a bowl full of water and a pork bone to chew on so we could eat dinner without interruption.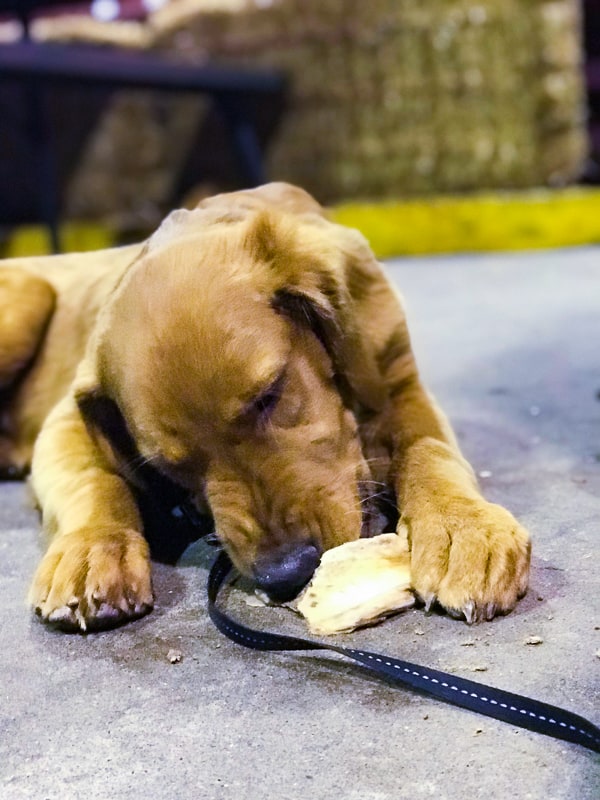 We stayed overnight at the La Quinta Inn & Suites in Page and it was marvelous! It was a brand new hotel, extremely dog-friendly, and the price for the room includes a hot breakfast buffet.
I would definitely stay there again.
As far as Antelope Canyon which is just a short drive from Page, we didn't go.
It is not recommended to take dogs because some of the terrains are steep and require quite a bit of climbing. There may be places to board your dog in Page for the day, but we didn't feel that we had to get to Antelope Canyon so didn't look into it.
You can follow Logan the Golden Dog account on Instagram where you'll see almost daily pictures and adventures of our furry friend!
Bryce Canyon City
Wow.
That was my reaction to first seeing the "town" and the unbelievable sight of the hoodoos in the canyon.
The two days we were there was quite the experience.
Not the greatest place to stay in town, but unfortunately one of the only ones, and it is dog-friendly.
I really thought Bryce Canyon City would be a bustling area with a slew of hotels and restaurants to choose from, but it's not, especially in the offseason.
Yes, it was quite chilly up there with temperatures reaching mid 40's during the day and low teens at night, so I can understand why people wouldn't hike this time of year.
Logan was none too happy that I put a sweater on him, but doggone it it was cold at night!!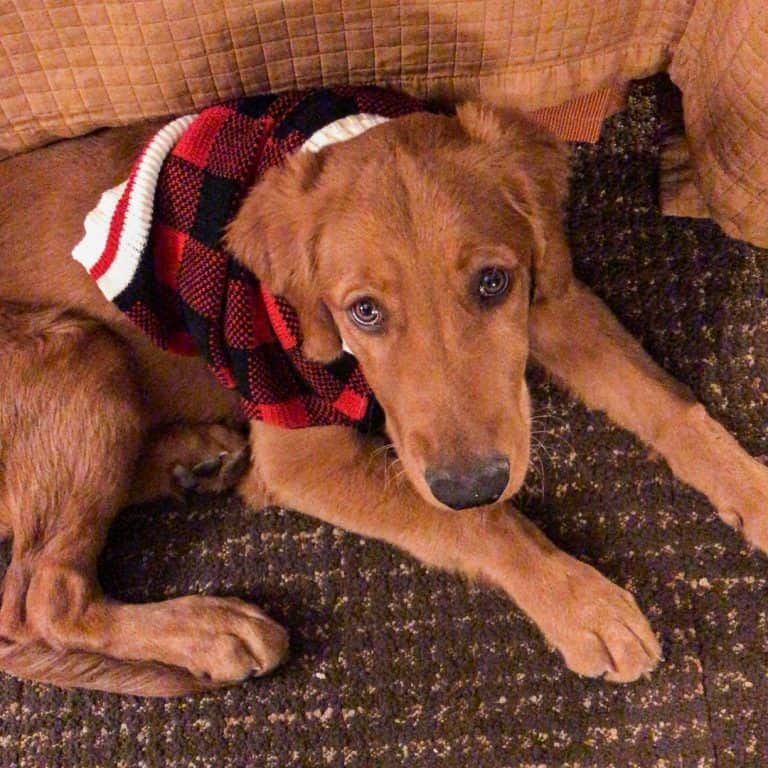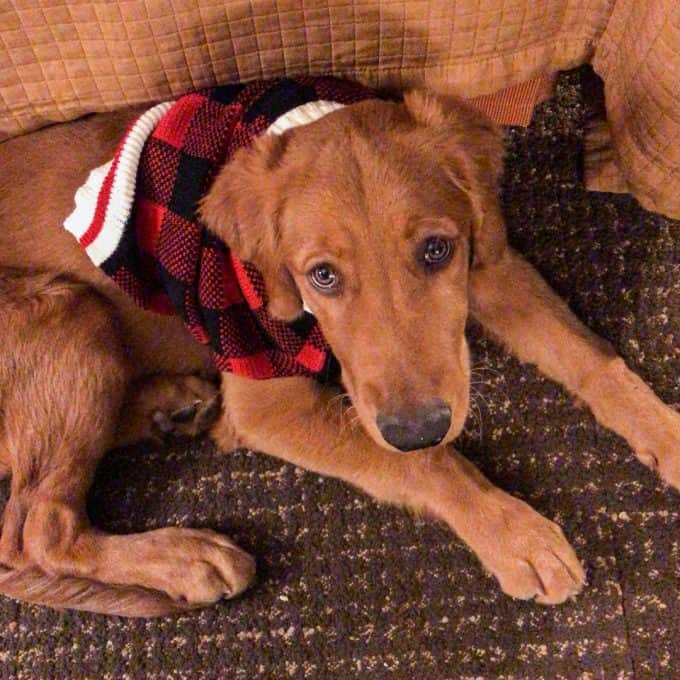 But still, a few more food options than the hotel restaurant (which was just eh) would have been great.
There is a "grocery store" / souvenir shop attached to the hotel, but because it's basically the only one in town the prices are exorbitant.
The hotel was ok, nothing special. We stayed in the Alpine Lodge away from the main hotel because those rooms were able to accommodate pets. It was nice we were able to take Logan right outside instead of walking down any hallways and he actually saw his very first deer both nights we were there!
Bryce Canyon National Park
Pets are not permitted on unpaved trails in Bryce Canyon National Park, but they can hike the Rim Trail with you as long as they are on a leash. It is a paved trail between Sunset Point and Sunrise Point and the views are absolutely stunning!
We were very happy that we chose to go this time of year because even though some parts of the park were busier, it was nice to not run into too many people while hiking with Logan. I can't imagine how busy that area is during the warmer months!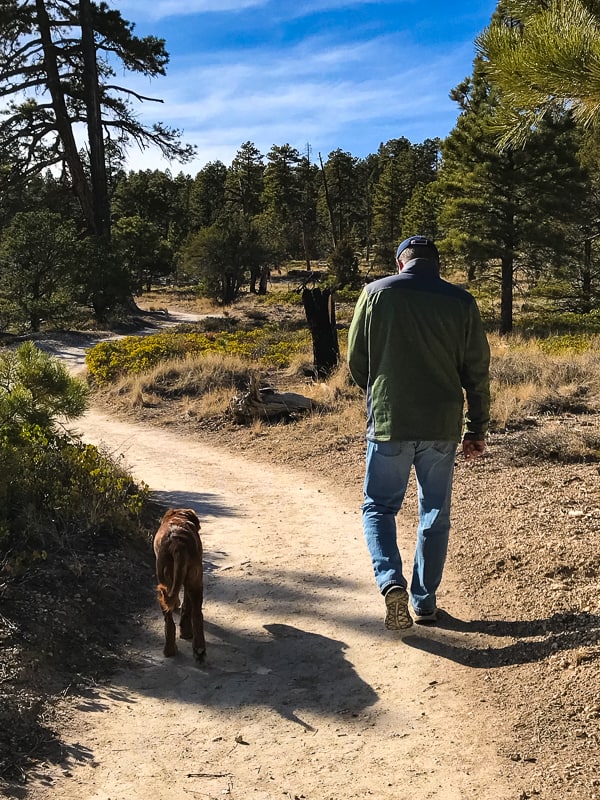 So on Tuesday morning, we hiked the Rim trail with Logan both ways which made it about 3 miles or so. This allowed us to go back to the hotel room, have some lunch and play with him a bit more before we crated him so that Kurt and I could do a short hike on our own.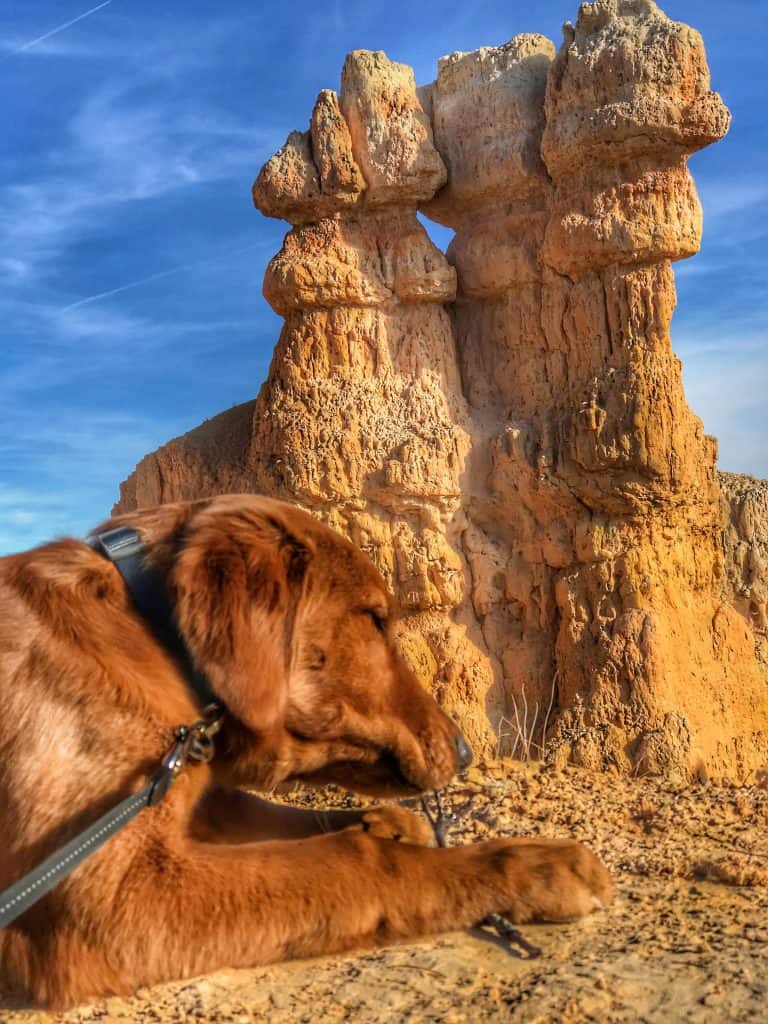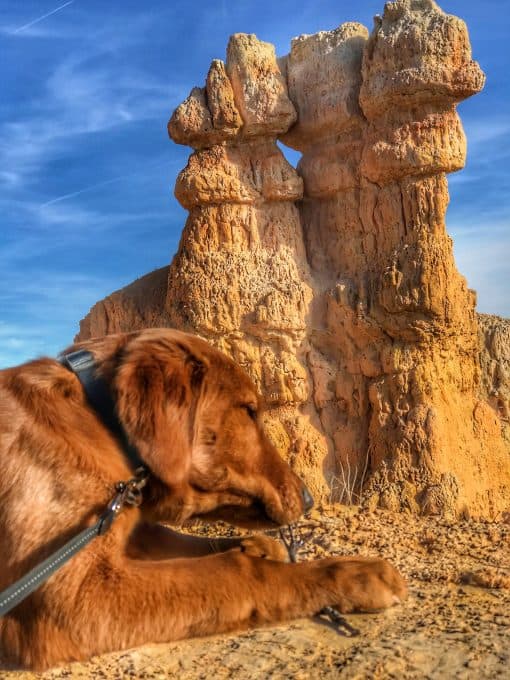 Logan was wiped, so we knew he'd just fall asleep and we'd be able to explore the park a little more. We parked at Bryce Point and went on the trail there which took us down into the canyon a little ways before it started getting dark and we decided to turn back.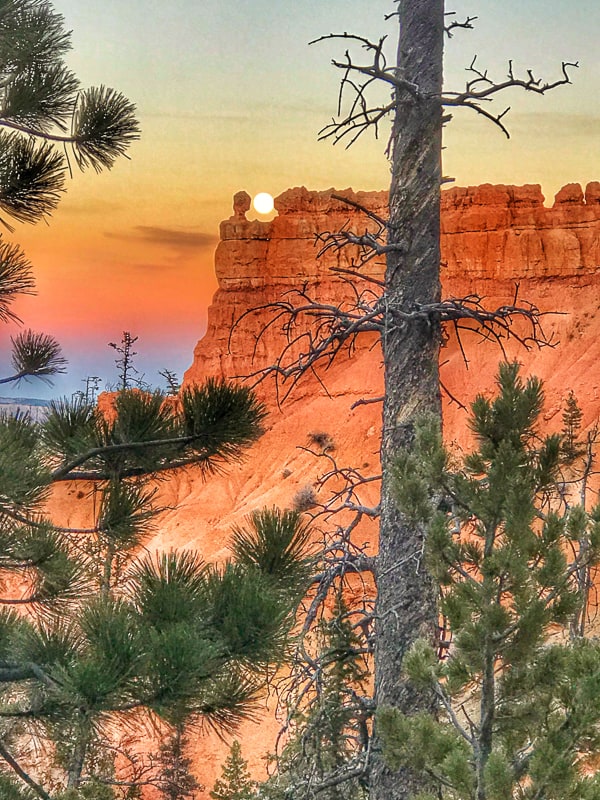 It was absolutely beautiful and I was so happy that we were able to experience it. Hiking and seeing the beauty of the U.S is so wonderful.
It was also great that we were able to experience it both with and without Logan, too. He absolutely loved going on the hikes, especially playing with the pine cones. He was so funny!
On Wednesday, we drove about 40 minutes from our hotel to Kodachrome Basin State Park. And yes, I couldn't get that darn Simon and Garfunkel song out of my head after originally reading the word Kodachrome.
You're welcome. haha
There we hiked the Panorama Trail which is dog-friendly and Logan absolutely LOVED it!! The clay was SO soft, and he really enjoyed the exploring.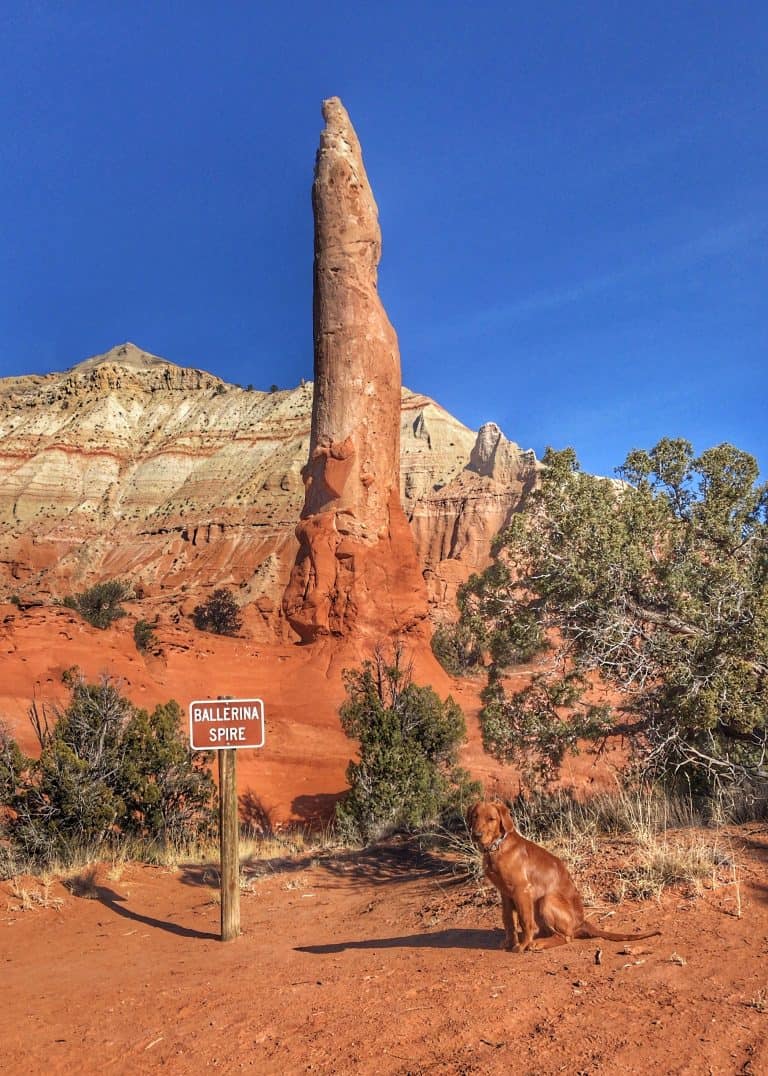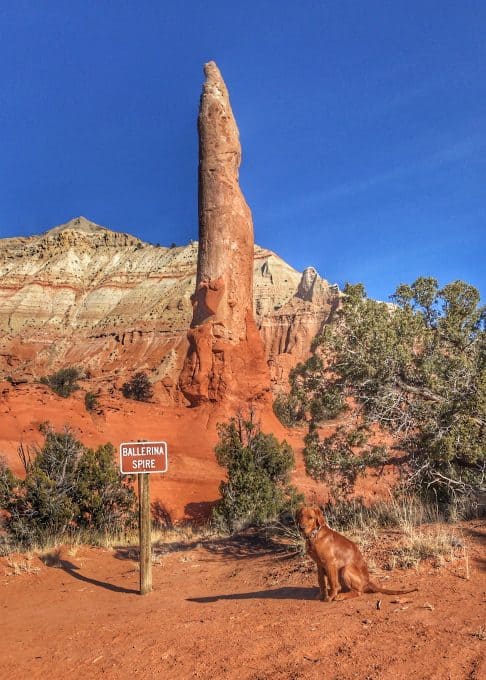 The trail wasn't busy – we didn't see one person and decided to hike the 6-mile loop as opposed to the three.
Again, there were gorgeous views, and cool things to see. AND we exercised with our boy, what's better than that?
On the way home, we stopped at I.D.K. BBQ in Cannonville, Utah. It was DELICIOUS!! We liked it even more so that Big John's in Page. The meat was so good and the place is really cute. Kevin and Emily Clark originally started as a food truck and about 6 months ago opened up shop.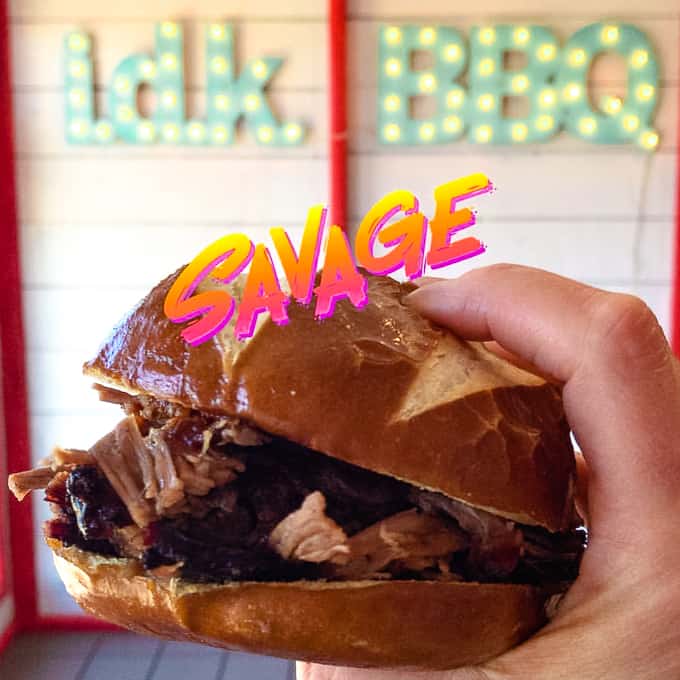 I HIGHLY recommend you stop by. You won't be sorry.
AND she was more than happy to give Logan a couple of pork bones to take back to the hotel. He absolutely did not want us to come near him while he chewed them.
You can follow all of Logan's antics here on my Instagram, too! You'll see what our Furry Friend Friday pup is up to each day.
St. George, Utah
We arrived in St. George a little before noon, and decided to take in a hike so that Kurt and I might be able to go out for Thanksgiving dinner somewhere.
It was a great trail with a bit of elevation and totaled about 3.8 miles out and back.
We only saw one other couple who absolutely fell in love with Logan and vice versa, so we were able to let him off the leash.
He fell in love with the sandy clay and enjoyed the hike immensely! You can see from the picture that he was just about the SAME color as the clay. It was so funny!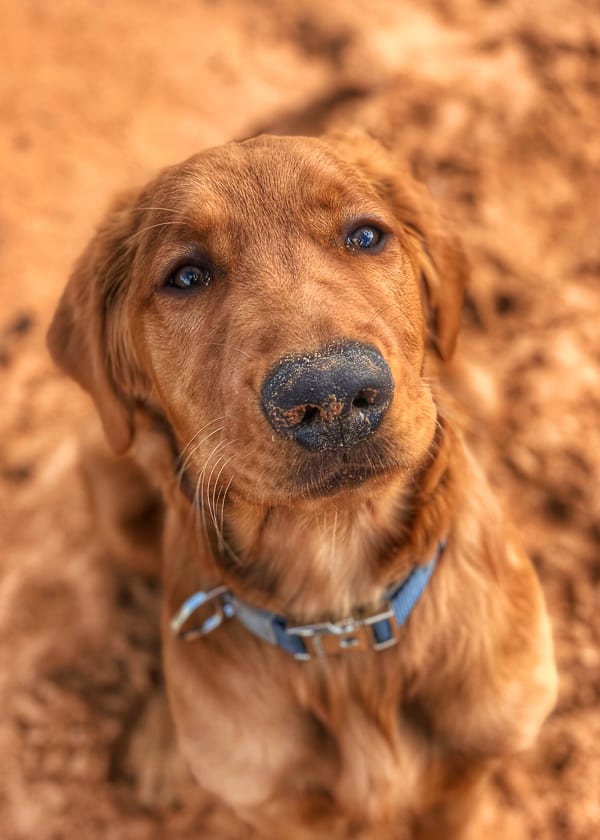 We stayed at the La Quinta Inn & Suites St. George and were extremely pleased with our stay there as well. I think we'll be staying at this hotel chain whenever we travel with Logan from now on. The hotels are clean, comfortable and the staff at both locations was very friendly.
Overall, it was a great first official road trip with the boy. He's proven that he can keep up with us both and enjoys the hiking. It will be a lot of fun to explore more places with him!
I also discovered an app called Bring Fido. It will help you with dog-friendly hotels, restaurants, and activities. You can even search for dog parks in the area you'll be visiting.
SIGN UP FOR THE
365 DAYS OF BAKING & MORE
NEWSLETTER BELOW!
Thanks so much for reading this week's Dog-Friendly Southern Utah episode.
Tune in next week for another Furry Friend Friday!