It's Furry Friend Friday – Dog Farts week! Each Friday I share pictures and updates on Logan, our Golden Retriever puppy. If you love Golden Retrievers, puppies or dogs in general then you're going to enjoy following his antics each week.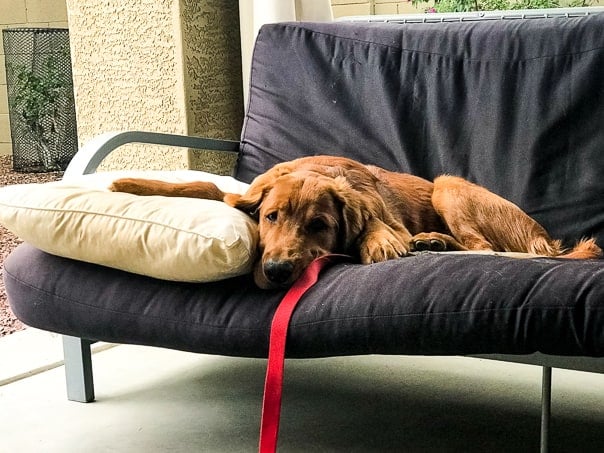 Yes, you read that correctly.
And I'm honestly shaking my head as I type this.
I'm thinking, "did I REALLY just title this post, DOG FARTS??"
It's been a pretty stinky week here at the 365 homestead.
I'll fill you in soon. I'm sure you're DYING to hear about it, right?? LOL
We've really been working on listening and being gentle with Winnie.
As you can see, sometimes he just loves on her a bit TOO much.
SAVE THIS FURRY FRIEND FRIDAY – DOG FARTS TO YOUR FAVORITE PINTEREST BOARD!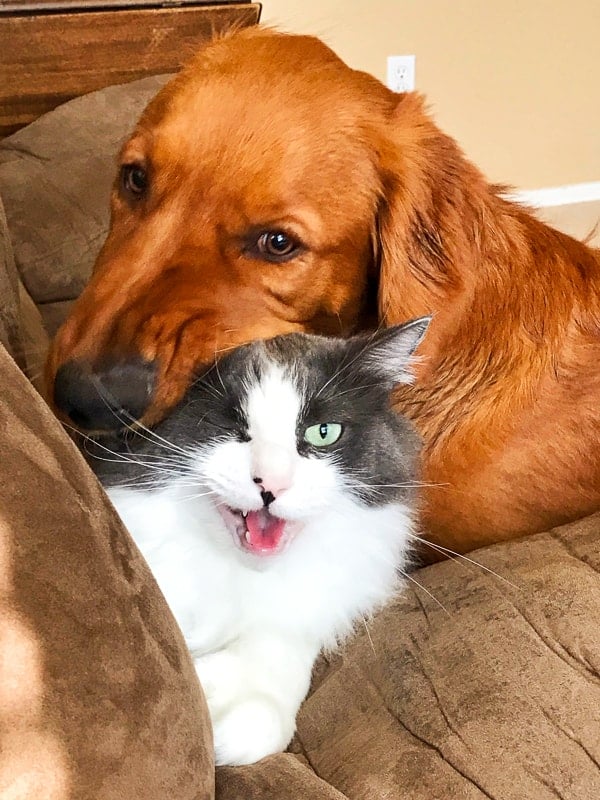 She just doesn't want him in her bubble.
She's independent as all cats are. She likes her space and only likes affection on her terms.
Of course, I can't say that I blame her.
It's her nature. Cats are SO much different than dogs.
How does that saying go, "Dogs think you're God when you give them a treat and cats think you give them treats because they are God"?
Or something like that. But it's true!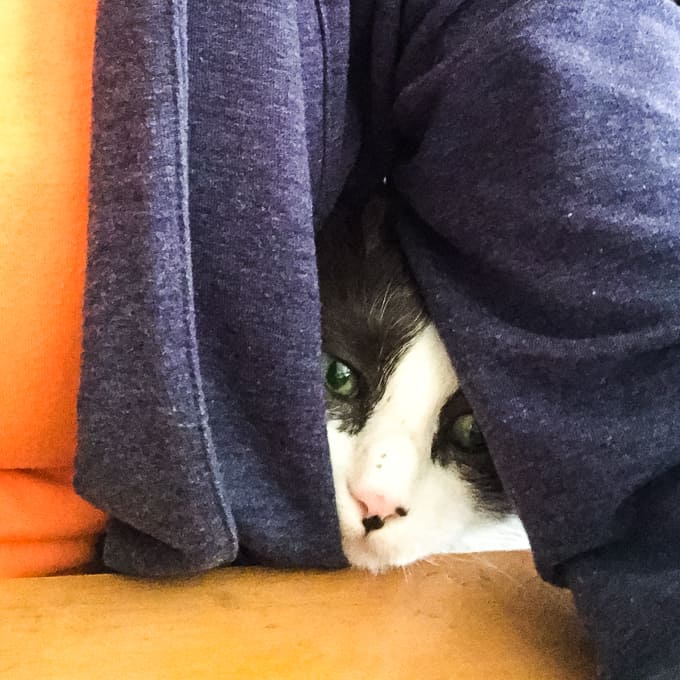 I took this when she climbed up into my lap this afternoon.
She probably felt it was safe to do so because the big guy was sleeping.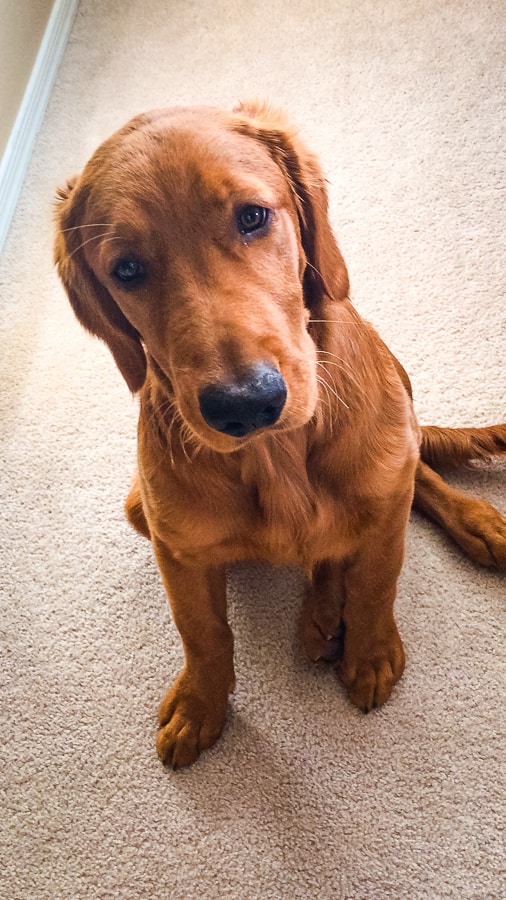 He's been sleeping practically all day, actually.
I think he's growing.
Last week I took him to his final vet appointment for all of his vaccines – his bordatella and the titer for his Leptovirus.
He did well with all of his vaccines and never had any issues.
He also weighed 46.3 lbs., but that was over a week ago, so I'm sure he's even bigger now!
You can follow Logan the Golden Dog account on Instagram where you'll see almost daily pictures and adventures of our furry friend!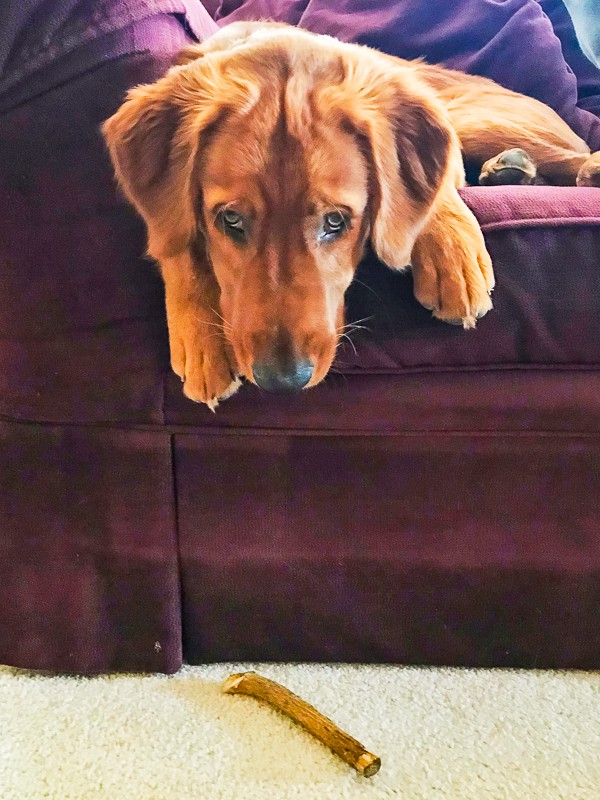 Logan the Golden Dog is still enjoying the morning snuggles, as am I.
Obviously, he can no longer fit ON my lap which makes me sad.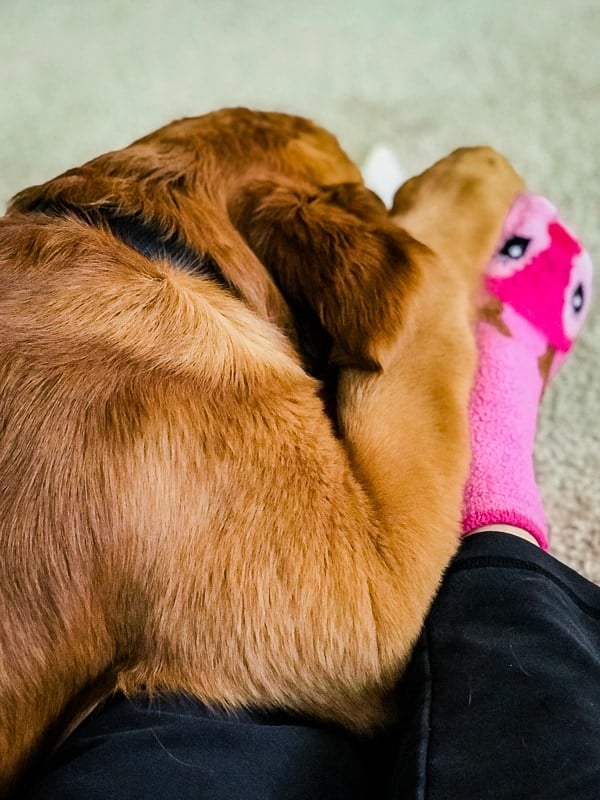 I knew he wouldn't stay a puppy forever, but it's pretty darn wonderful when their whole body can fit in your lap, isn't it?
I'll gladly take our morning time though.
Ok, now on to the word or phrase of the week, dog farts.
It's ugly, but it's ALL he was doing there for a while this week.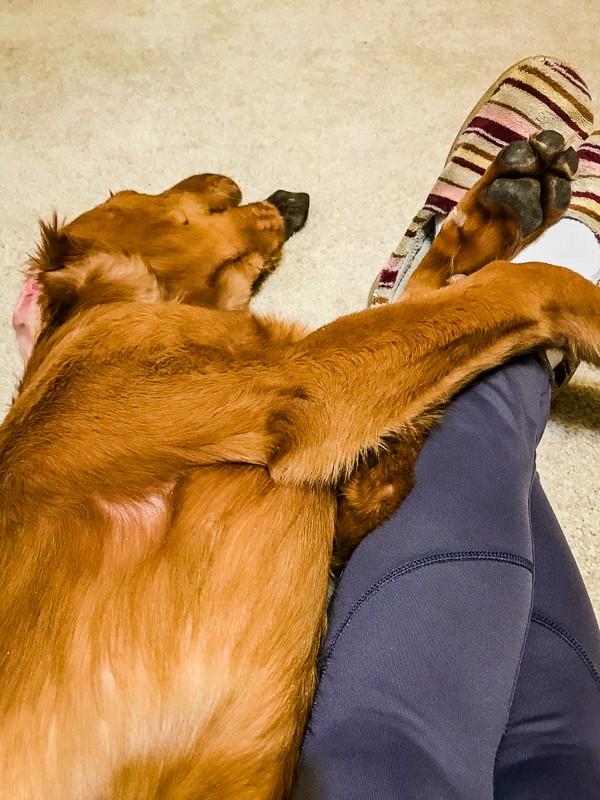 He was getting towards the end of his bag of food, so I'm thinking that was probably it. The dog food we give him is Iams Large Breed Smart Puppy. It's what the breeder started the litter out with.
I am going to switch him to something else eventually, just not sure what.
We very rarely feed him table food because I'm not sure how his stomach will do and I don't want him to be sick.
So, I've been researching dog foods and diets and have honestly become overwhelmed with the opinions. Of course, everyone's got one and theirs is the best.
Grain-free, raw, yada yada. Who knows.
Right now he's doing fine, so maybe it was just a little bug or something.
What causes dog farts?
Just like humans, they have gas, too.
And typically it can be caused by a change in diet or from eating something new or spoiled.
Dogs that swallow air, especially if they're eating rapidly will have more of a tendency to pass gas.
Also, it's more prevalent in dogs who are overweight, obese or don't get much exercise.
There's also the chance that they could have a disease. So, if it continues, and you haven't changed their diet or know that they haven't eaten anything without your permission, it's probably time to call your vet.
~ references from VetWest.com
I have to say though he was pretty funny.
They weren't always silent, but deadly. Sometimes he made a bit of noise and even surprised himself.
He'd whip his head around like, what the heck was that?!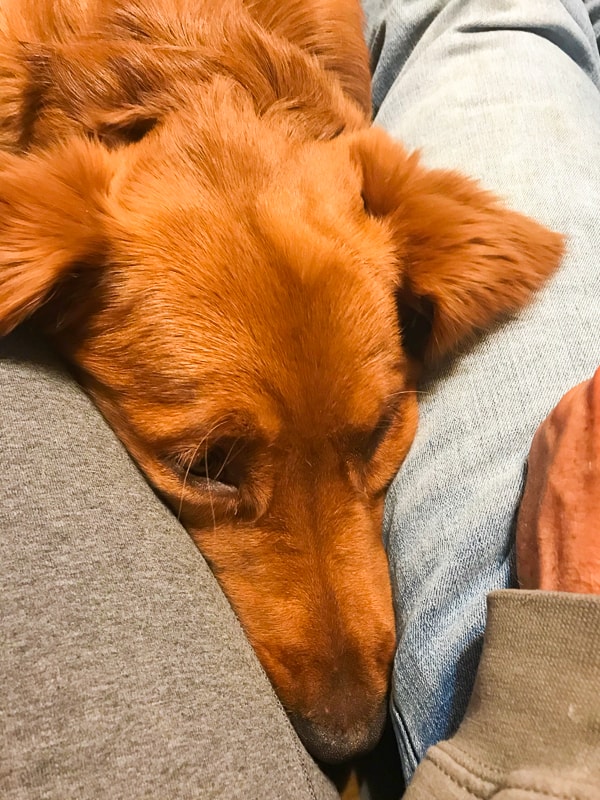 So, that's been life here this week.
Tomorrow we're off to "find him some water", says dad.
For our Saturday hike, Kurt wants to take him to a lake, but I'm not sure which one.
I'll take plenty of pictures and you can follow our day on my Instagram stories as well as Logan's.
You can follow all of Logan's antics here on my Instagram, too! You'll see what our Furry Friend Friday pup is up to each day.
Did you enjoy reading this week's tails (haha) about Logan the Golden Dog and dog farts? If so, please take a look our past posts!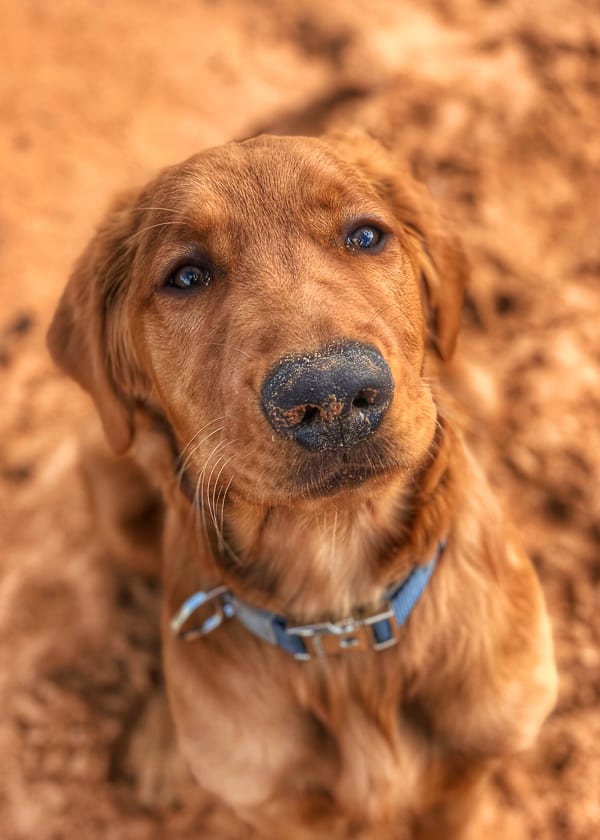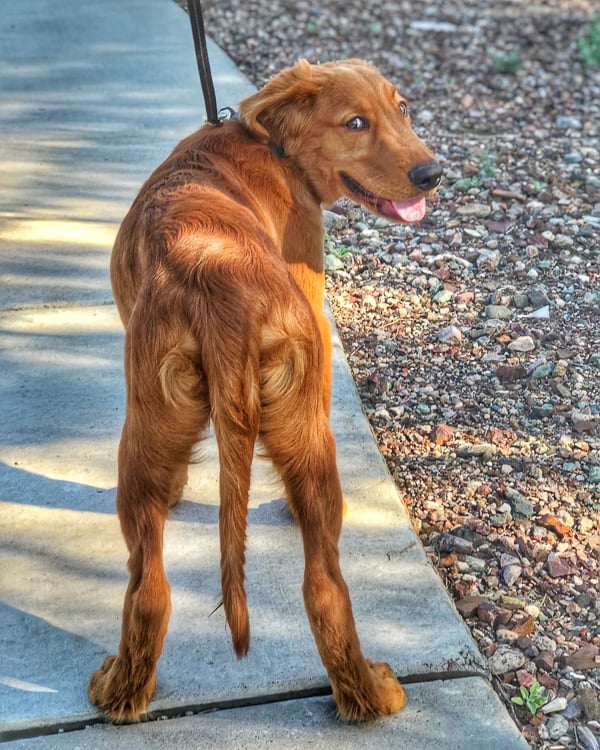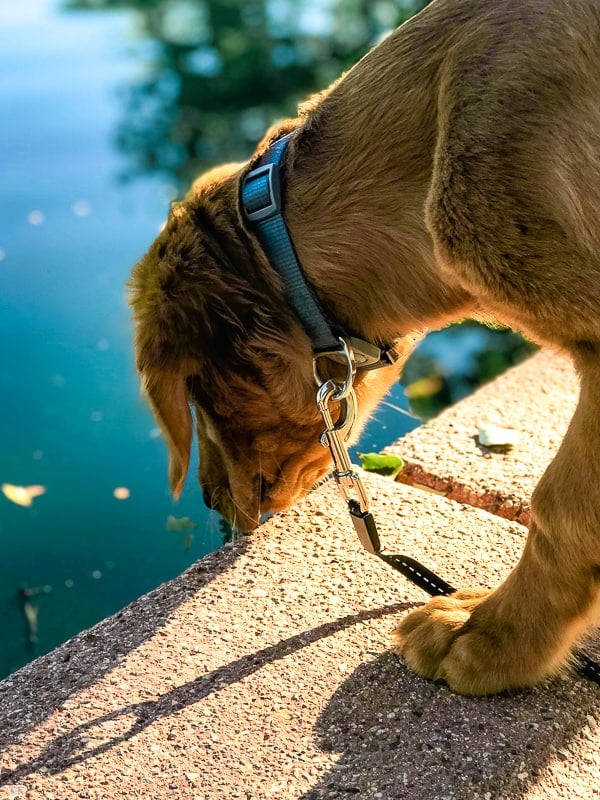 Thanks so much for reading this week's Dog Farts episode.
Tune in next week for another Furry Friend Friday!