It's Furry Friend Friday – Poop week! Each Friday I share pictures and updates on Logan, our Golden Retriever puppy. If you love Golden Retrievers, puppies or dogs in general then you're going to enjoy following his antics each week.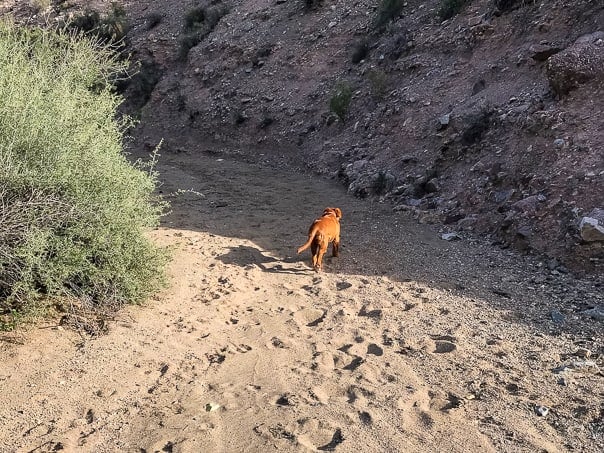 Yes, I indeed said the word poop.
I've decided that for each week's Furry Friend Friday post that I'll have a word of the week. A word that relates to Logan's adventures over the past week.
And yes, this week's word is poop.
But more on that in a minute.
For this past Saturday hike, we drove about a bit more than an hour west out to the Wickenburg area. It's a pretty town and we like visiting on occasion.
If you're ever in the area, check out The Local Press. It's a small little place, but they serve THE best sandwiches!! Anywho…
SAVE THIS FURRY FRIEND FRIDAY TO YOUR FAVORITE PINTEREST BOARD!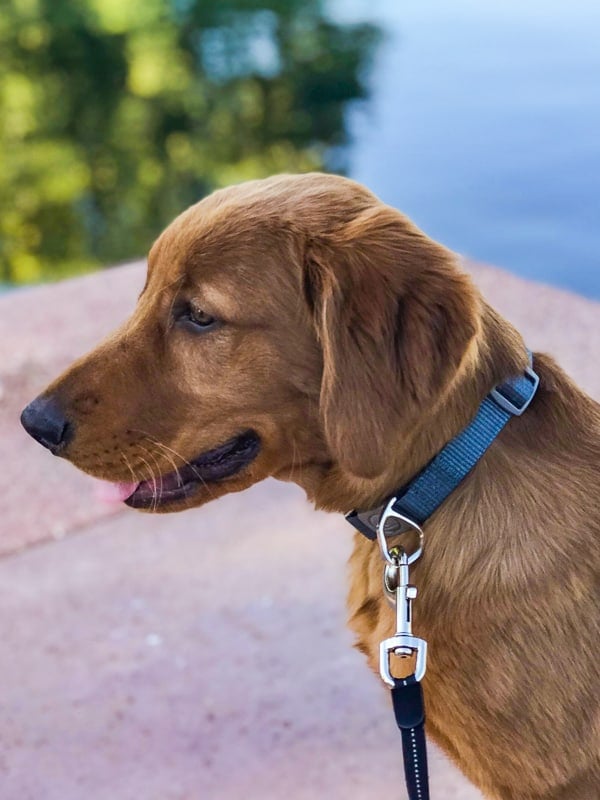 We "thought" we'd be hiking this neat trail with some water for him to romp in.
WRONG!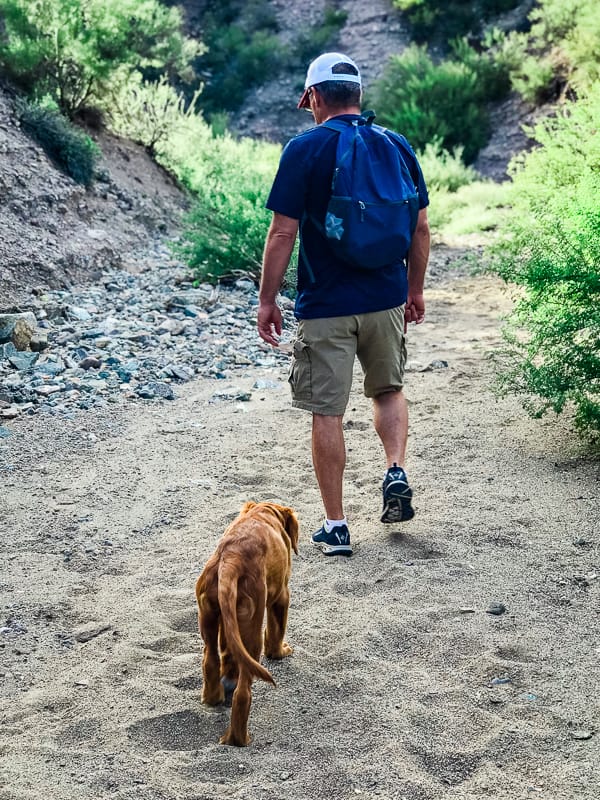 That's what it was, just a sandy creek bed for miles. The views weren't that great, the sand tough to walk in, and the POOP!
Oh, the poop! Lots and lots of poop.
The trail is on a road with quite a few homes and A LOT of them have horse barns, so it's THE perfect trail to go horseback riding on.
Not for walking dogs who all of a sudden discover that horse poop is a really great thing to eat!! HELLO!!!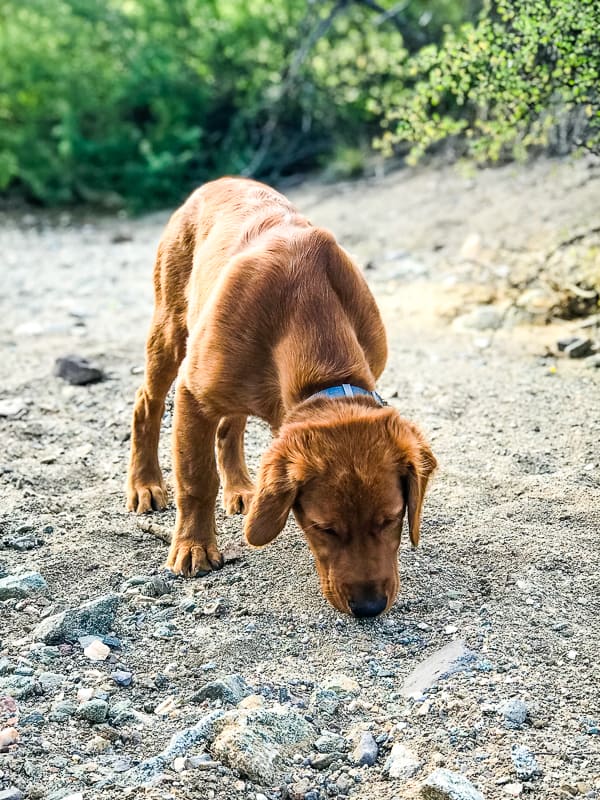 The little stinker.
(haha and there was honestly no pun intended when I wrote that.)
It was so disgusting because he'd pick it up and then we'd have to put our fingers in his mouth to get it out.
ICK!
Needless to say, we did NOT hike the entire 8 miles of that trail.
He did try to get a little bit of rock climbing in, but didn't have much luck.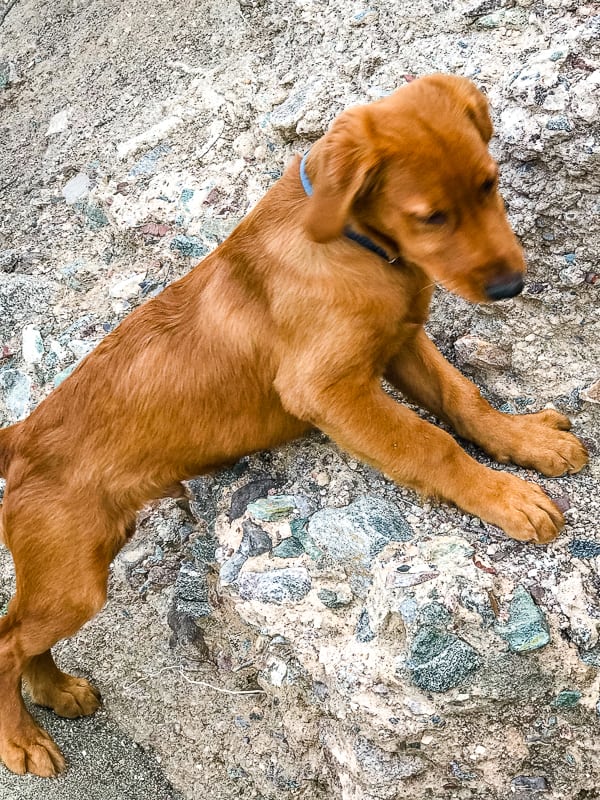 He discovered that he can now easily jump up onto the couch which is especially helpful when he wants to torment the cat who thought the couch was her "safe place".
Turns out the unused ping pong table is practically all she's got.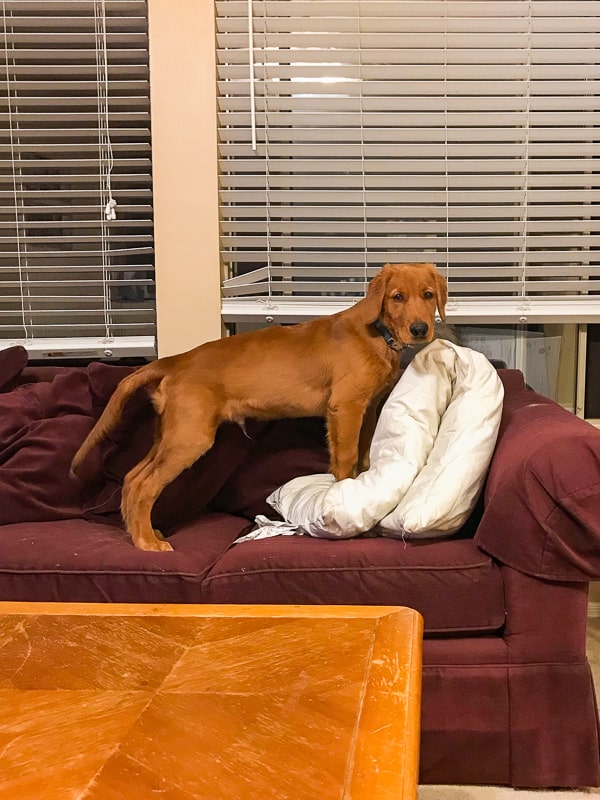 You can follow Logan the Golden Dog account on Instagram where you'll see almost daily pictures and adventures of our furry friend!
On some days, I'll take him for walks in our local park. There's a pond with ducks and fish and a waterfall.
It's great for both of us to get out after I've been working, stretch our legs and get some fresh air. It also helps get his energy out.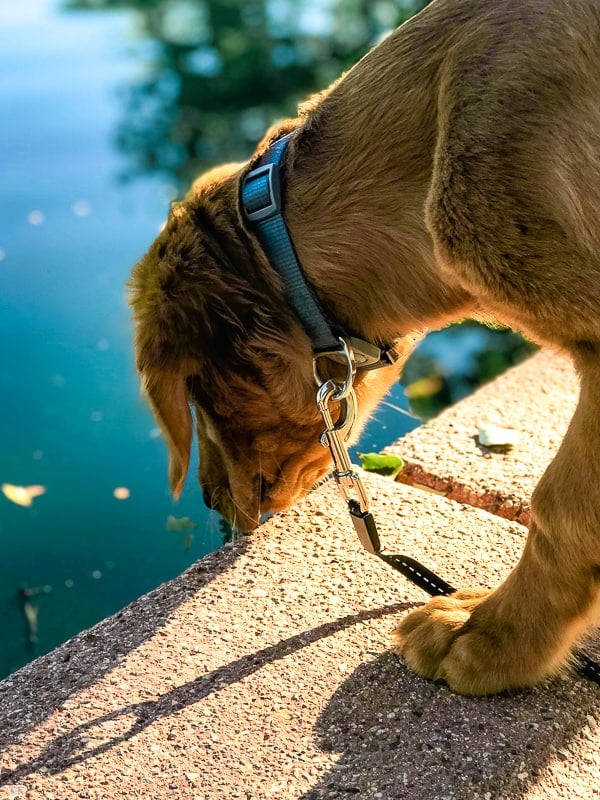 Kurt and I were talking about that yesterday – imagine if we didn't walk him the two to three times a day that we do. He'd be tearing this place apart! YIKES!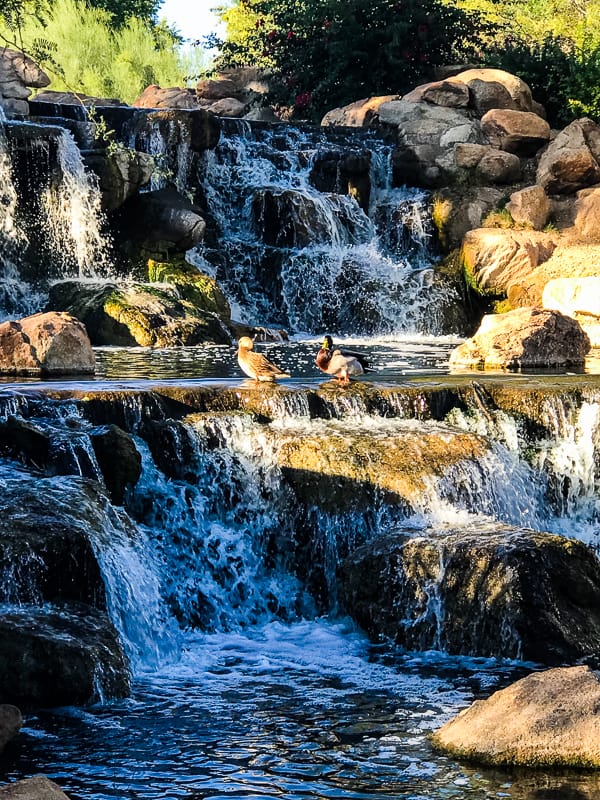 Kurt's gotten upset and had to reprimand him on their morning trail hikes this week because he started eating…yup, you guessed it, POOP!
When I go for my workout every morning, Kurt will walk him on the trail near our house and the past few days he's started picking that stuff up. He won't go after his own in the backyard, it's all the others. UGH!!
So tell me, WHY???? Why do dogs like to eat poop???
Brady and Keiser NEVER did that. I mean I've heard of dogs doing it and one of our friend's dogs like to eat his own, but ours??!!
If any of you have ANY helpful hints on how to deter this or if it happened with your pooches, please, PLEASE let me know. I'm almost ready to go get him a muzzle.
He's still a love and super cuddly in the mornings. It melts my heart!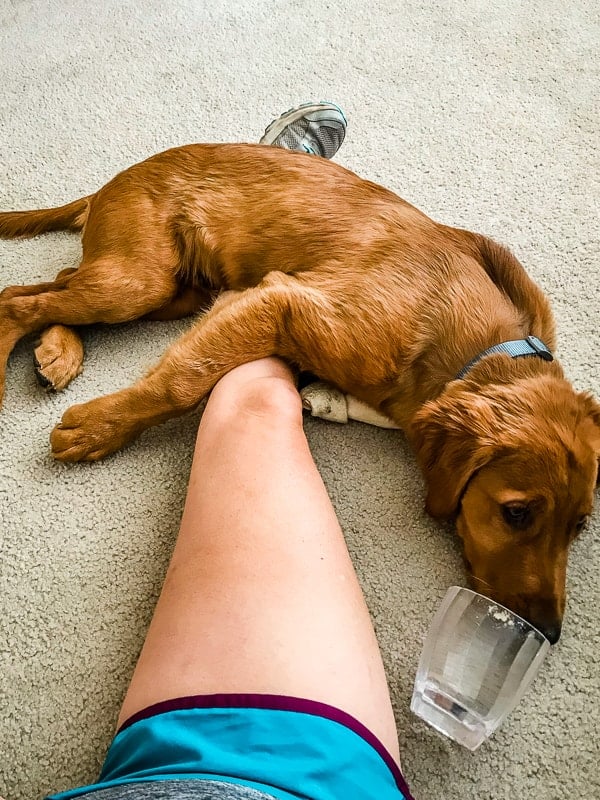 On Monday night when we took him for a walk, we let him off leash in the fields so he could run. I got a good headstart and then Kurt let him go.
The son of a gun came flying at me and instead of going around, he took out both legs and I landed on my derriere! It HURT!! I've got one large eggplant colored bruise on my keister!
That night we also saw a group of javelinas again, but they were far enough away that it wasn't a concern.
He likes to lay under the table while I'm working and yesterday I looked over to see him gnawing on the table leg.
WHAT???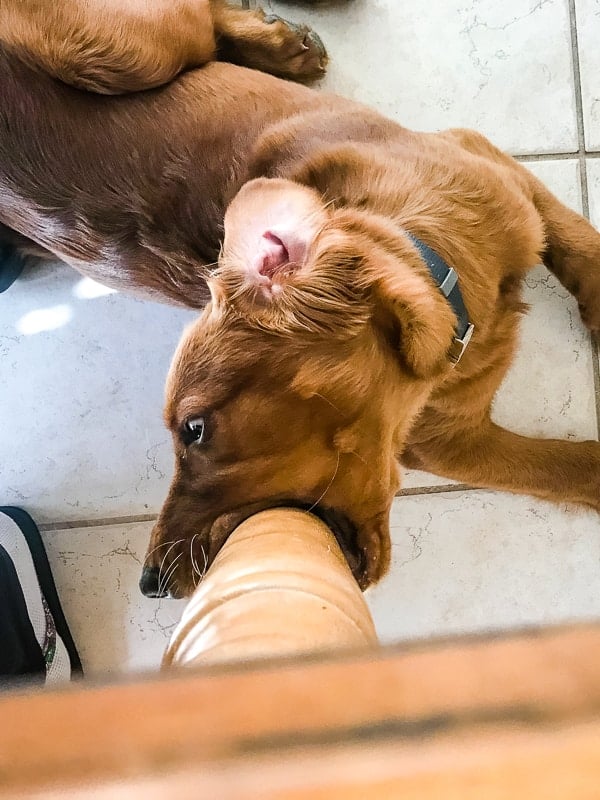 You can follow all of Logan's antics here on my Instagram, too! You'll see what our Furry Friend Friday pup is up to each day.
He's unreal. Keeps our life interesting that's for sure!
SO, if you have those tips on keeping this puppy's diet poop-free, I'd love to hear it!
I think we finally have him pretty much house-trained. He did have an accident last night – and yes, it was POOP! But overall, he's doing a really great job and now I'm super excited to get our carpets professionally cleaned. haha
Thanks so much for reading!
Tune in next week for another episode of Furry Friend Friday!