This Lemon Curd is the perfect combination of sweet and tart. It works well in a variety of dessert recipes and is even delicious enjoyed on its own with berries, some whipped cream or spread on your morning muffin.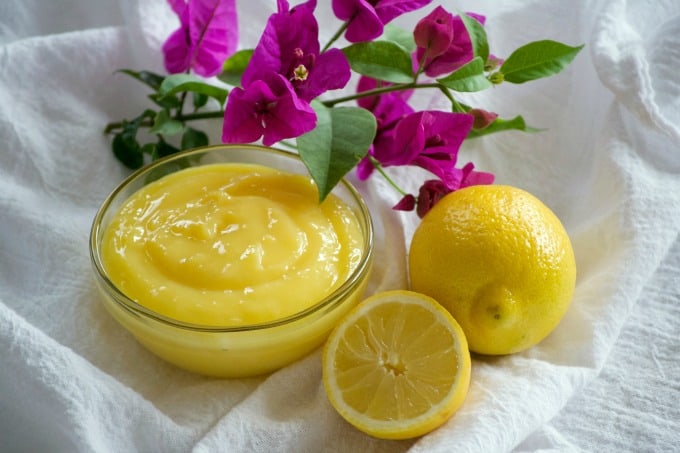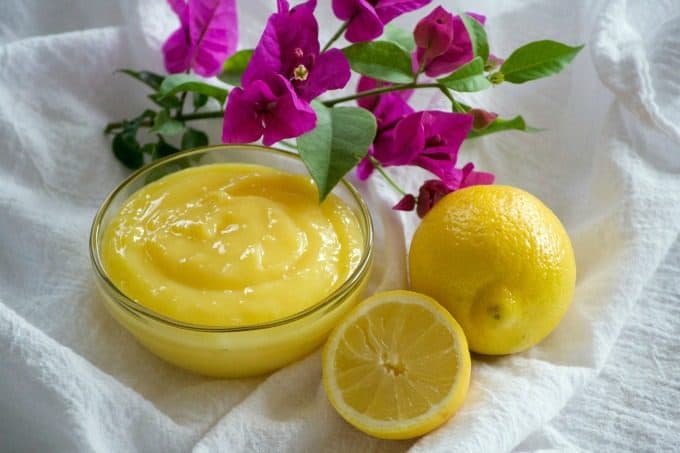 It's been a rough few days here.
I've been saying in my past posts to join me here on the 365 Days of Baking Facebook page on Monday's for our LIVE recipe videos, BUT for the past two Monday's I haven't been on!
Sorry, folks.
SAVE THIS LEMON CURD TO YOUR FAVORITE PINTEREST BOARD!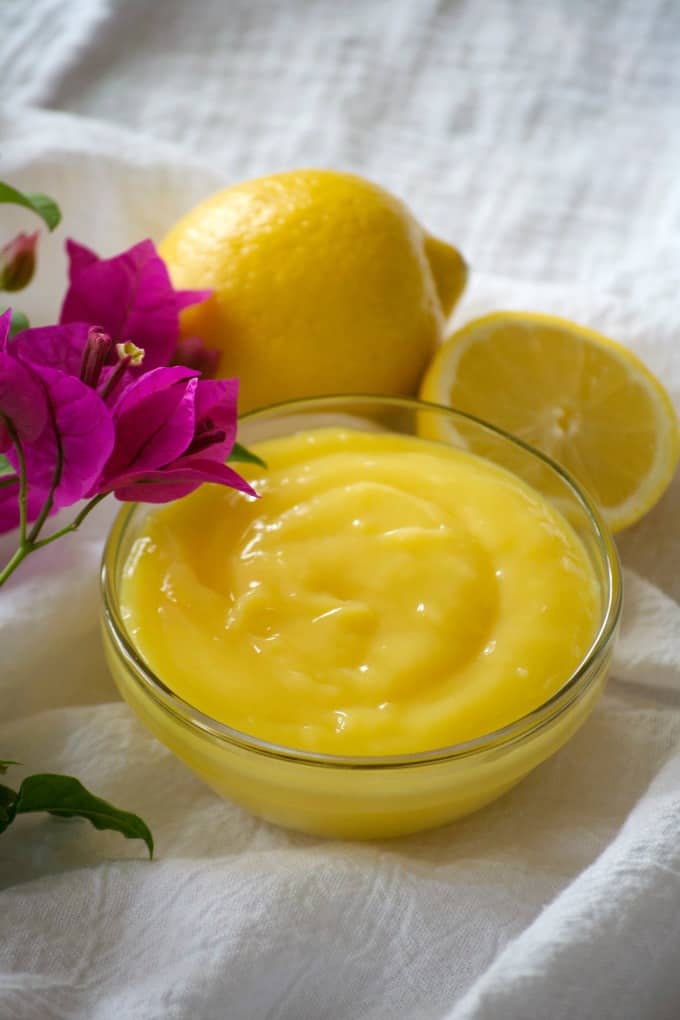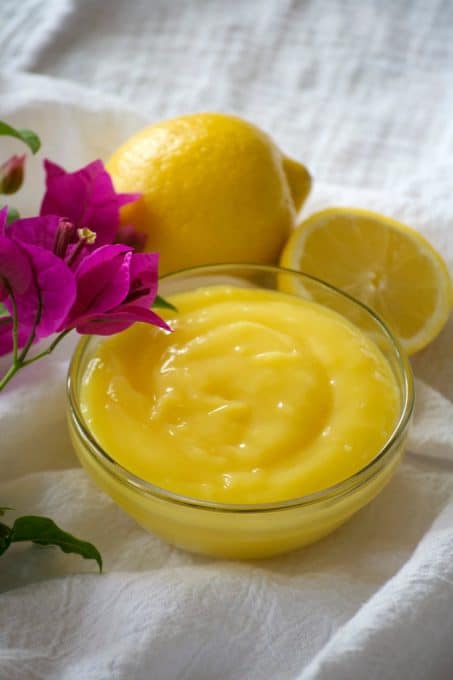 Last Monday, I came down with an ophthalmic migraine and lost part of my vision.
So, when I can't see things it makes it very difficult to accomplish anything.
This past Monday, I had the flu and was feeling absolutely horrible along with coughing and sneezing, so I figured people wouldn't want to see me hacking while preparing food. haha
Also, we had a bad day on Saturday.
We had to put our beloved Brady to sleep. He was 12 years old and lived a wonderful life, and the past few months have been difficult for him.
He'd been having trouble breathing, wasn't eating much and just wasn't himself.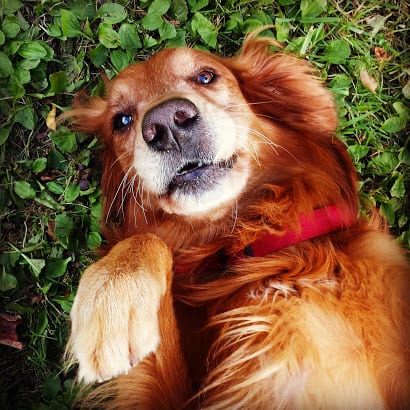 He was our first family dog. As I said on my personal FB page, he has his quirks and wasn't perfect, but he was perfect for us.
It's so bizarre that I'm not greeted first thing in the morning.
His corner in the living room is empty. His food and water bowl are no longer on the floor.
There's a void in our lives now.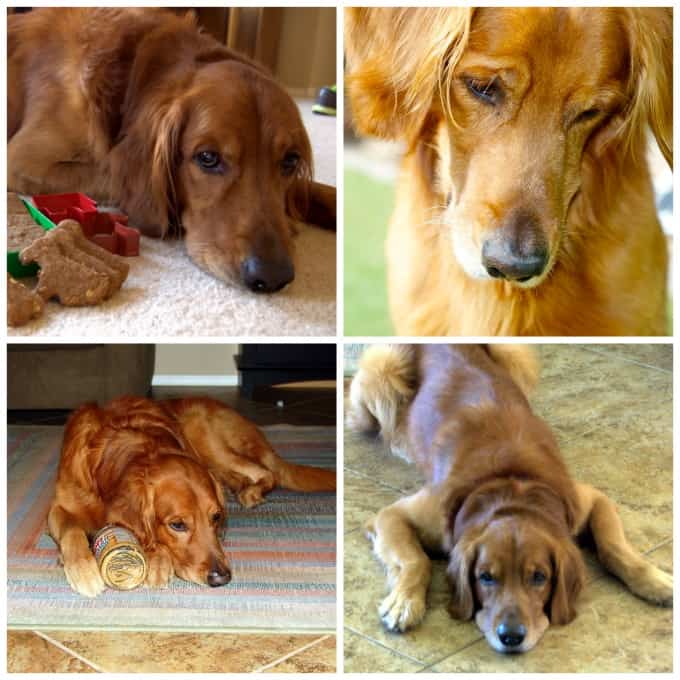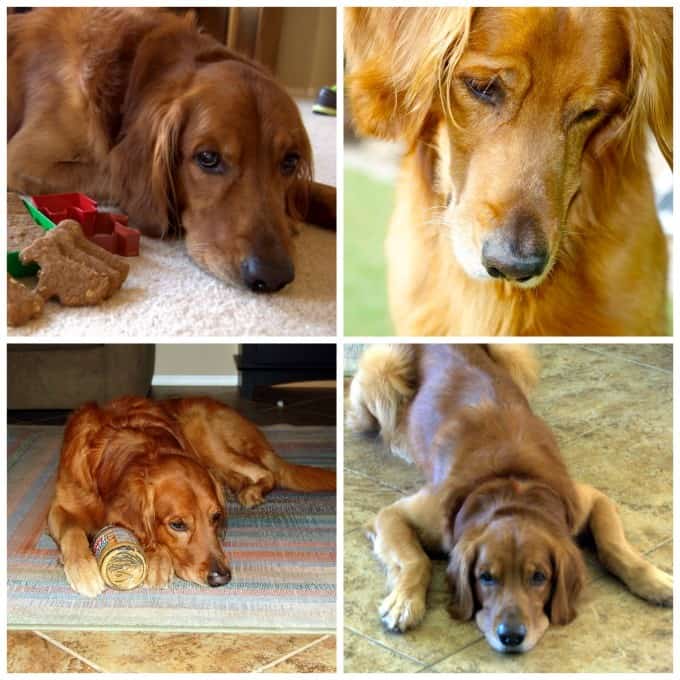 Despite the fact that you know the end is coming and regardless of how much you prepare yourself and your children, death still completely rocks your world.

I'd like to believe that this guy, our 2-year-old Keiser, who we lost two years ago, was right there at the gate ready to run with him and chew on his ears.
They're together again.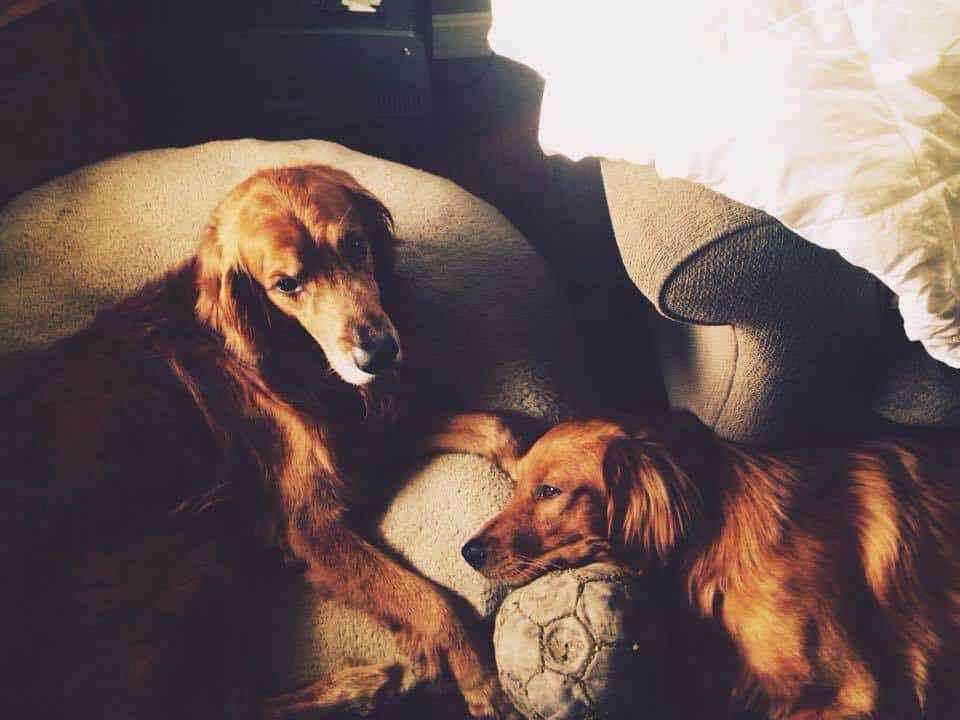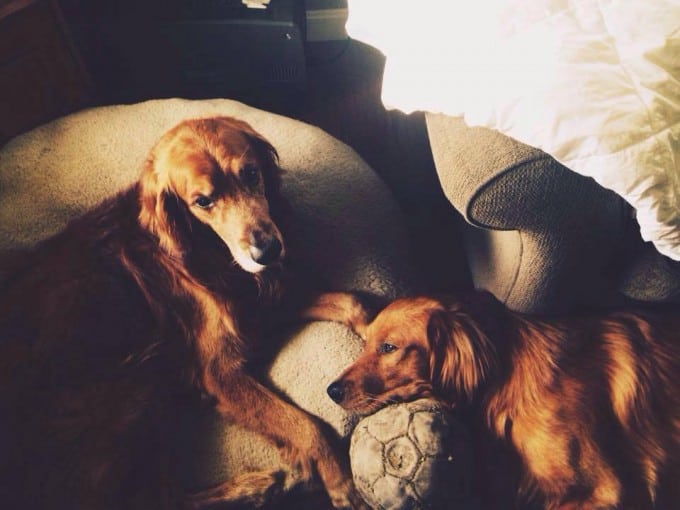 Although there's something now missing in our lives, we're all forever grateful to have known him.
Our lives better for it and he gave us so much unconditional love.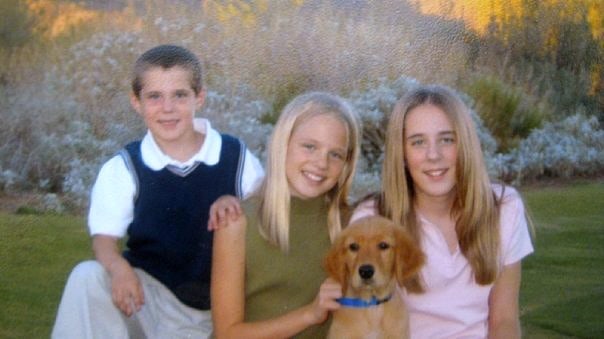 I made this lemon curd to use in a few different desserts I'm going to be putting up in the next few weeks, so be sure to watch them. They're pretty gosh darn incredible!
If you like lemon desserts, be sure to take a look at this No-Bake Lemon Cheesecake, Copycat Chick-fil-A's Frosted Lemonade and this collection of Out of This World Lemon Desserts. They're from your favorite bloggers so you know they'll be good!
SIGN UP FOR THE
365 DAYS OF BAKING & MORE
NEWSLETTER BELOW!
To make this Lemon Curd, I used my Anolon saucepan, this citrus juicer, and this GIR spatula.
I found this recipe in my Fannie Farmer Cookbook, Thirteenth Edition, p. 677.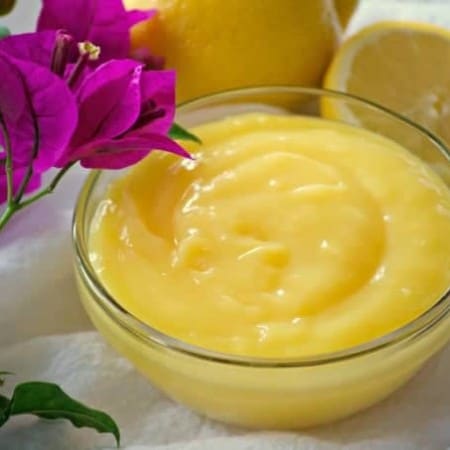 This Lemon Curd is perfectly sweet and tart and can be used in many recipes, spread on your morning muffin, or on its' own with berries and whipped cream.
Ingredients
4 large eggs
8 tablespoons unsalted butter
6 tablespoons fresh lemon juice
freshly grated zest from 2 large lemons
1 cup granulated sugar
Instructions
In a small bowl, beat the eggs.

Place a medium bowl over a pot of simmering water or use a double broiler.

DO NOT allow the water to come to a boil. Keep it simmering.

Put the butter, lemon juice, zest and sugar into the bowl and stir until butter is melted and sugar is completely dissolved. Mixture will no longer feel gritty when rubbed between two fingers.

Whisking constantly, slowly ladle a little bit of the lemon mixture into the eggs.

Slowly add the egg mixture to the lemon mixture while whisking continually.

Continue to whisk and cook until lemon curd is thick, up to 20 minutes or more.

Remove from heat and allow to cool.

Place a sheet of plastic wrap on top of the surface to prevent a skin from forming. Can be stored in the refrigerator for up to two weeks.
Nutrition
Serving: 1g | Calories: 924kcal | Carbohydrates: 104g | Protein: 12g | Fat: 54g | Saturated Fat: 32g | Cholesterol: 448mg | Sodium: 133mg | Potassium: 168mg | Fiber: 1g | Sugar: 101g | Vitamin A: 1875IU | Vitamin C: 17mg | Calcium: 63mg | Iron: 2mg
Did you make this recipe?
Share it with me on Instagram and make sure to follow me on Pinterest for more recipes.
With summer on the way, you'll need some more light and fruity recipes for those growing kids. Or for yourself!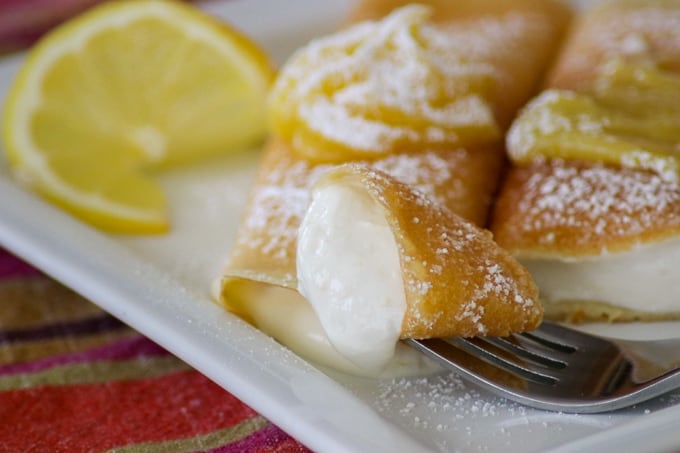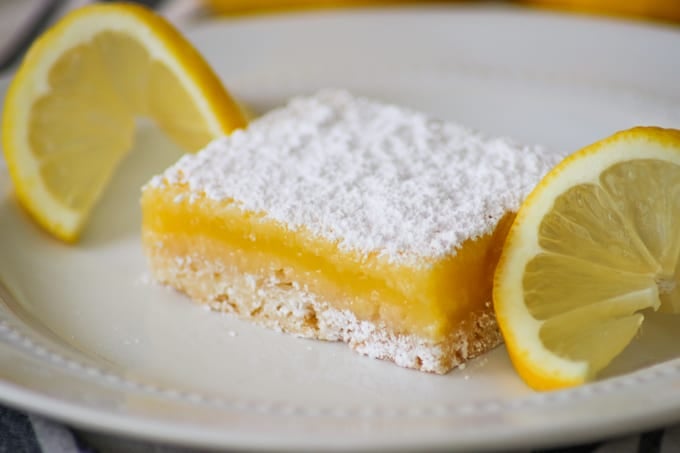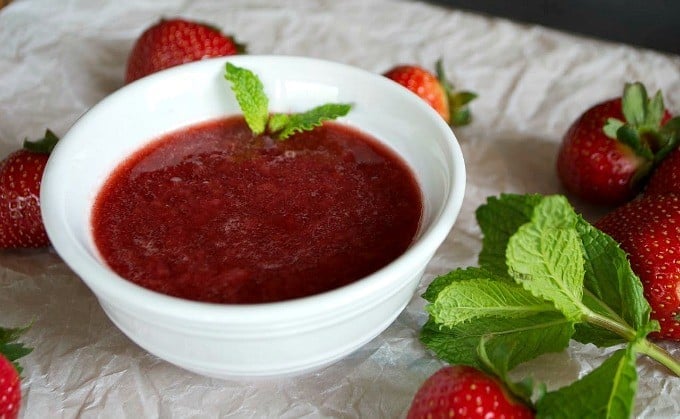 Reader Interactions