Pina Colada Bread is a delicious quick bread inspired by the beachside cocktail! With a hint of rum flavor chunks of pineapple, diced maraschino cherries, and a toasted coconut topping, this next-level pineapple bread tastes like tropical paradise.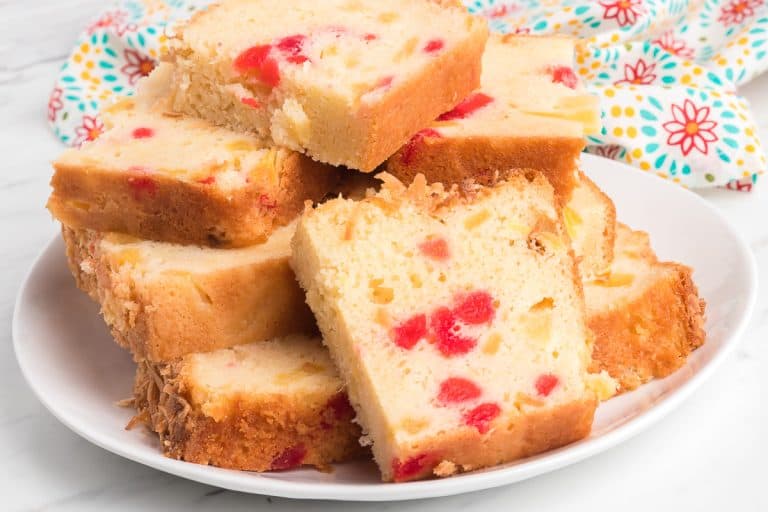 My very popular Pineapple Bread meets your favorite vacation cocktail. Get ready for a major explosion of flavor! 
I'm ready for summer. Give me a hammock by the beach, a good book and something refreshing to sip. Nothing says "beach weather" quite like an ice cold piña colada — the inspiration for today's easy quick bread recipe.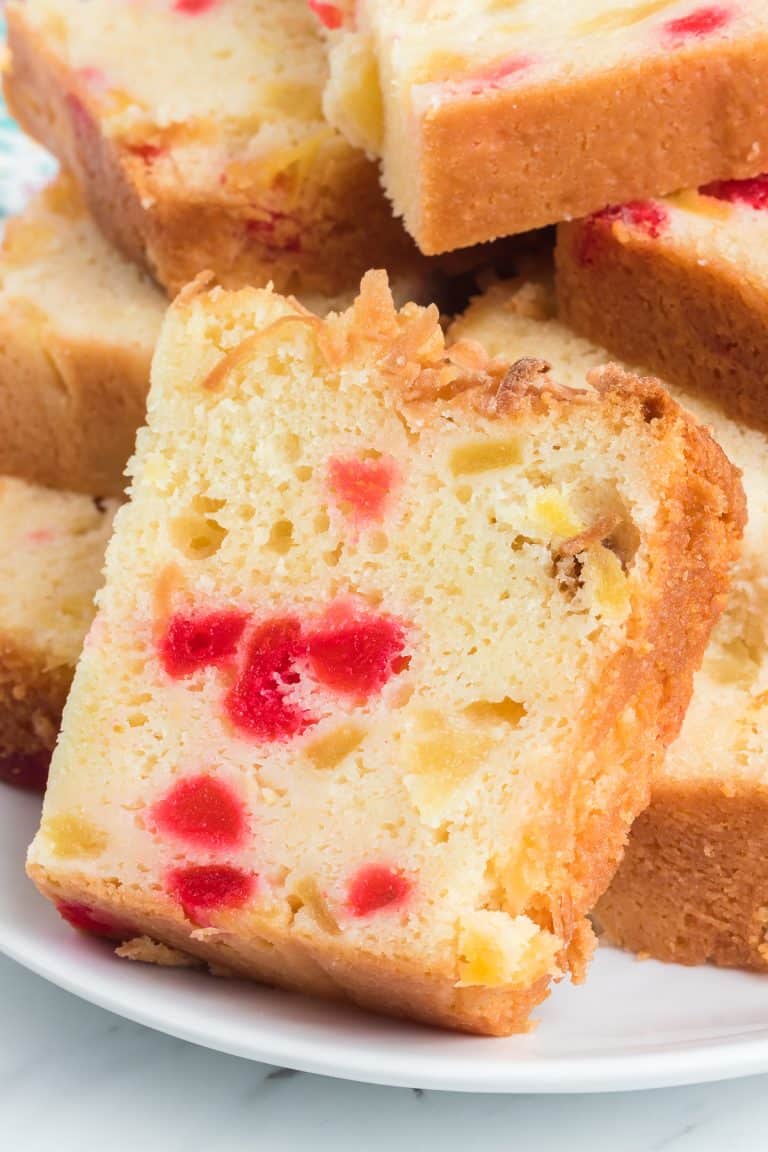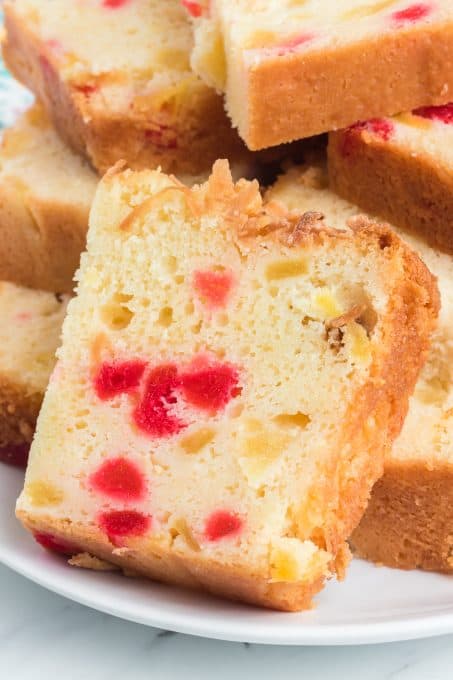 Like the pina colada cocktail, this sweet bread is full of juicy pineapple, coconut and just the right amount of sweet maraschino cherries. But I didn't want this bread to taste just like coconut and pineapple. I wanted to completely recreate the flavor and aroma of a real piña colada, the kind you'd order from a poolside bar on vacation.
Which means I needed one special ingredient: rum. Today's scrumptious tropical treat has a hint of rum flavor that beautifully enhances the sweet pineapple and nutty coconut. And guess what: it does all of that without a drop of alcohol! 
Instead of real rum, we use rum extract, a super concentrated flavor that transforms a standard pineapple loaf to a pina colada bread! 
Don't want to use it? Just make sure you substitute it with the same amount of pure vanilla extract.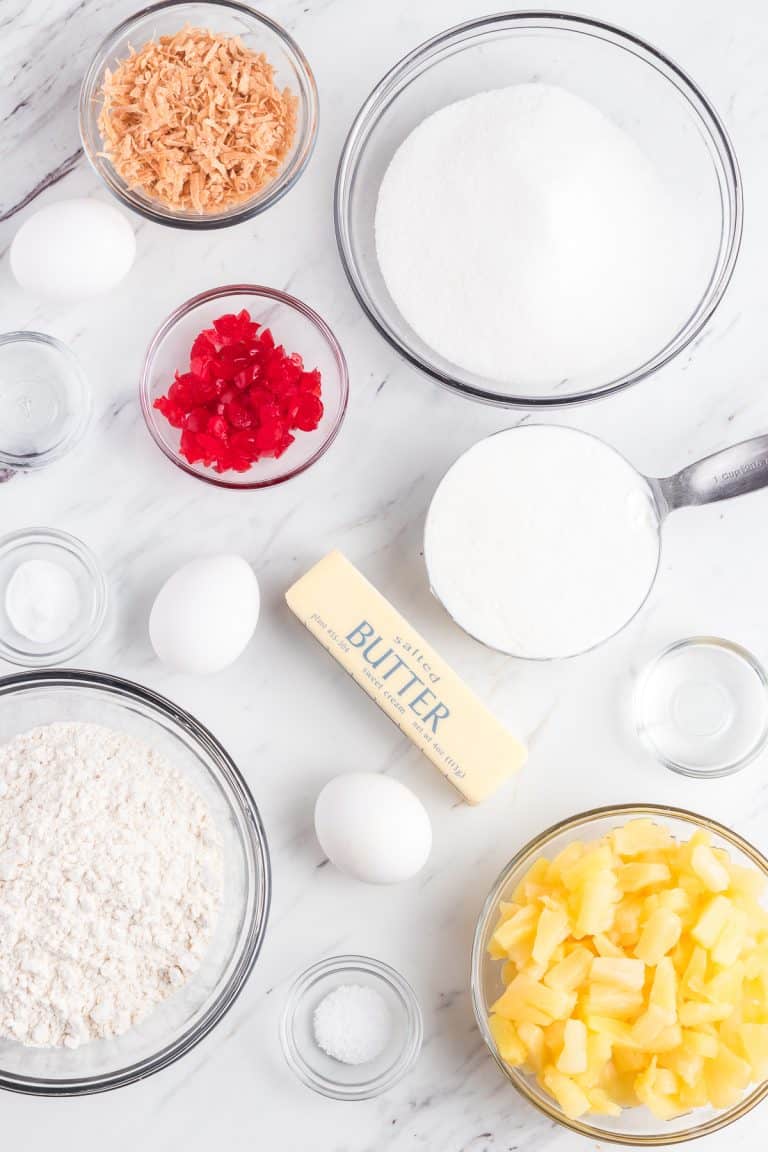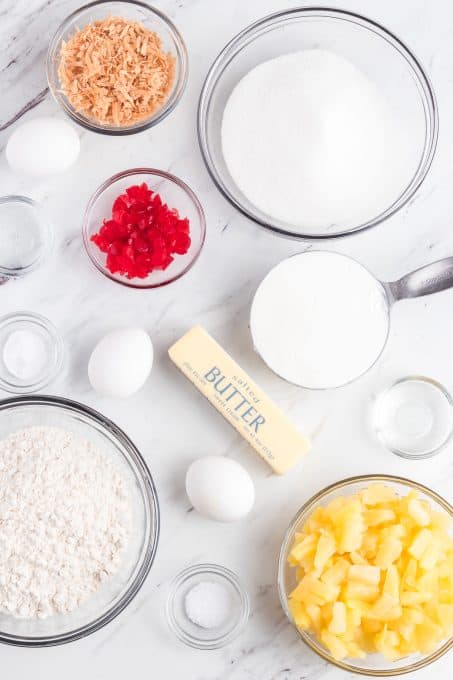 What ingredients do I need for this Pina Colada Hawaiian Bread?
Let's gather our ingredients. Here's what you'll need:
Rum extract – My secret for adding rum flavor to recipes without using actual rum. You can get it here online or in the baking aisle of a well stocked grocery store. 
Coconut extract – Another flavor addition that amplifies the taste of the coconut here. 
Unsalted Butter
1 cup Sugar
1 ½ cups all-purpose flour
Baking soda
Salt
Large Eggs
Sour cream – or swap it out for plain Greek yogurt.
Pineapple tidbits – Drain the pineapple juice for 10 minutes in a fine mesh sieve.
Unsweetened coconut – I'll walk you through how to toast the coconut, too.
Maraschino cherries  – Drained, dried with a paper towel, and diced.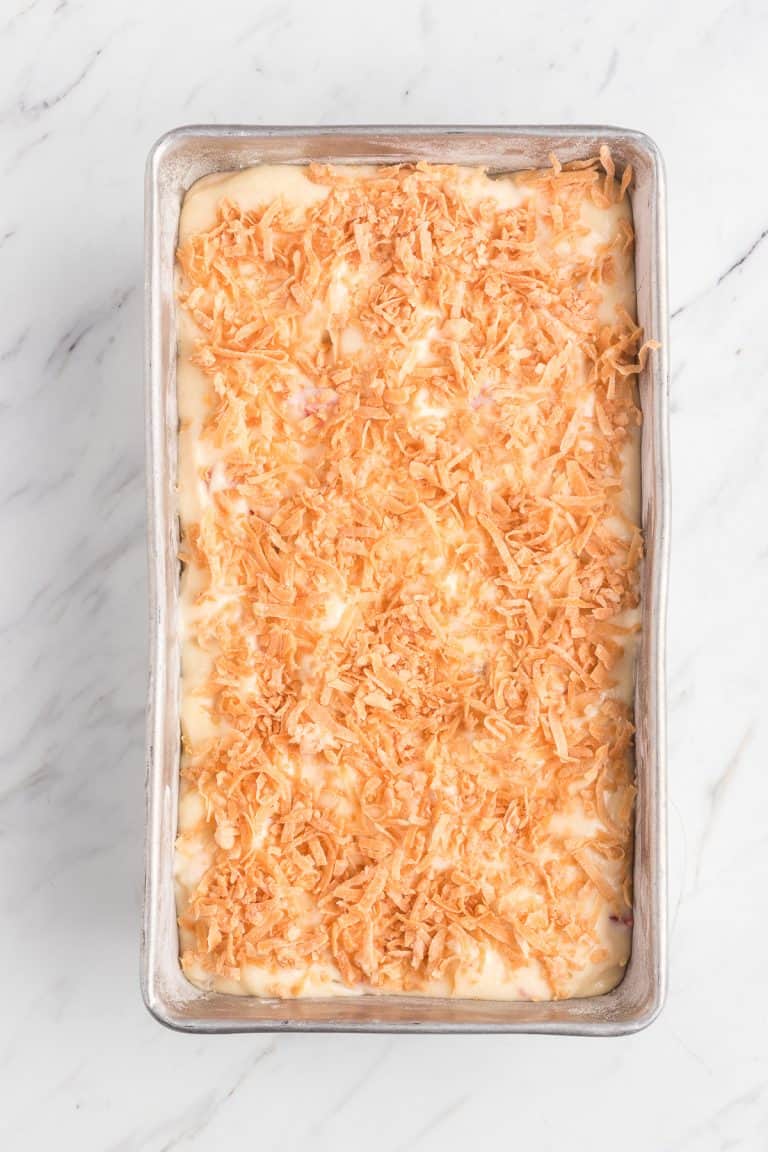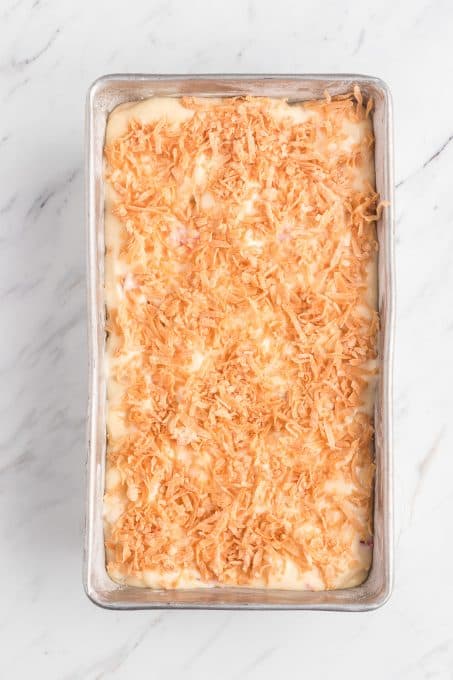 How To Toast Coconut
Toasted coconut creates a delicious, slightly crispy topping for the moist pineapple bread. It's an extra step, but I promise it only takes a few minutes and it's well worth it! 
Spread the shredded coconut over a baking sheet lined with parchment paper. Bake in a 300 °F oven for 5 – 10 minutes, stirring every few minutes, until it's golden brown.
Keep a close eye on the coconut as it toasts. It can go from perfect for burnt in the blink of an eye.
Once the coconut is toasted, set it aside to cool while you make the bread batter.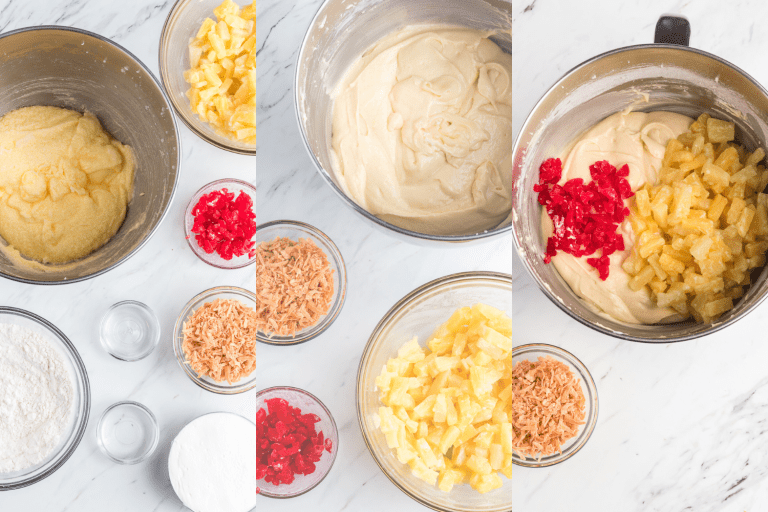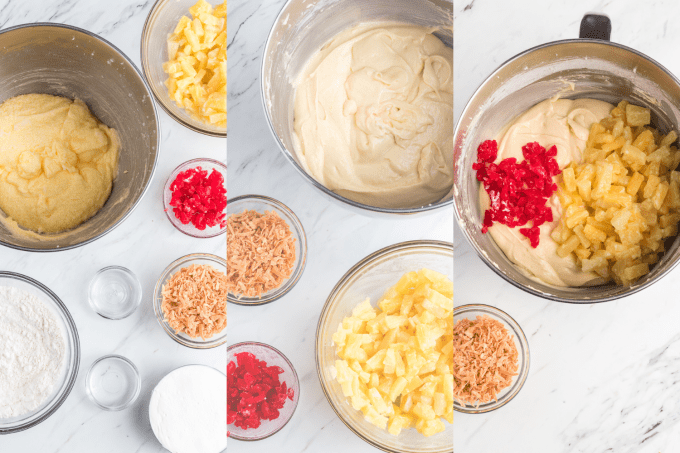 How to Make Pina Colada Quick Bread
First, place the drained, chopped cherries and drained canned pineapple tidbits each in a small bowl. Sprinkle them with a little flour from the amount called for in the recipe and toss to coat. This step helps prevent the fruit from sinking to the bottom of the bread as it bakes. You can see how nicely distributed they are in the pictures.

In a small mixing bowl, combine the dry ingredients by mixing the flour, baking soda and salt.
For the batter, cream together butter and sugar in a large bowl with an electric or stand mixer. Now add the eggs one at a time followed by the rum and coconut extracts. Mix the flour mixture into the wet ingredients and the sour cream in batches to form a thick batter.
Finally, fold in the pineapple and cherries, and pour the batter into a 9 X 5-inch loaf pan. You can use the flat side of a rubber or offset spatula to help spread out the better here. 
Sprinkle the toasted coconut flakes over the top of the bread. Bake at 350° F for 30 minutes in the middle of the oven. At this stage the top may look set but if you look, the center is still gooey. 
To bake the center without burning the top, you'll cover the bread pan loosely with foil and then return it to the oven. Continue baking until the center of the loaf is set. In my oven, this takes an additional 45-55 minutes.
Cool the bread for a few minutes in the pan on a wire rack , then slide it out of the pan to finish cooling. 
Yes, you'll loose some coconut off the top as you remove it, but a good amount will still remain.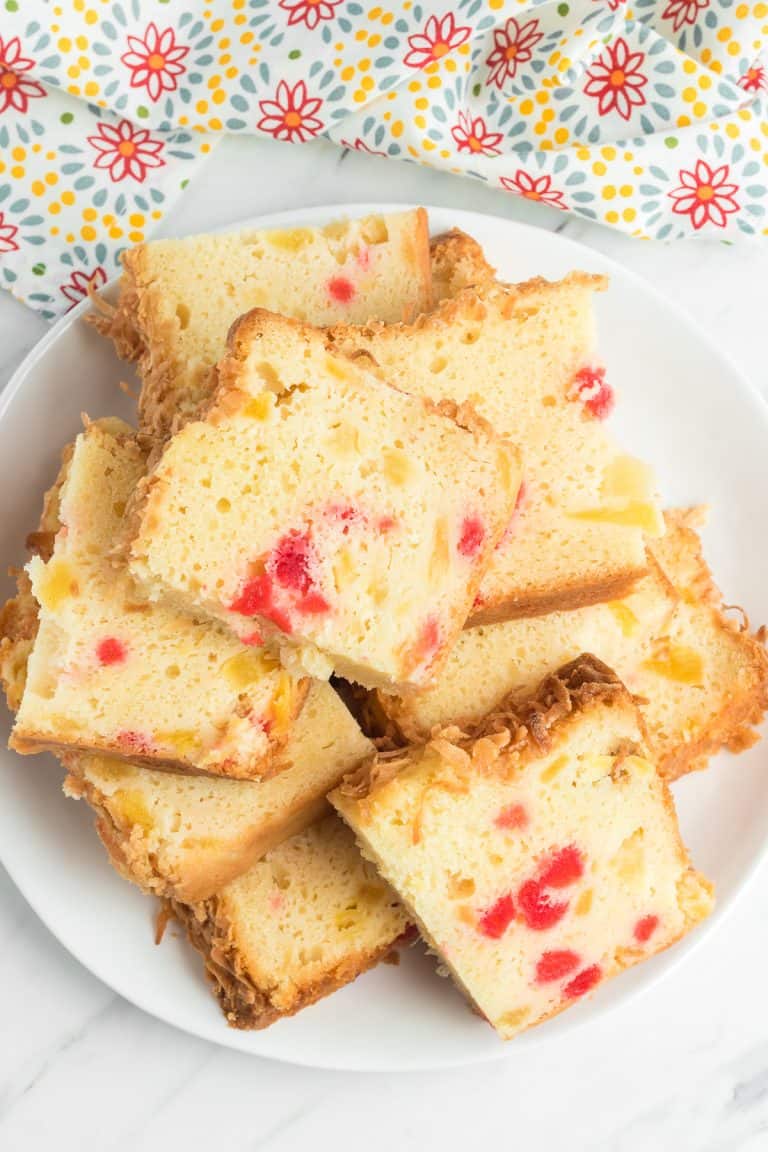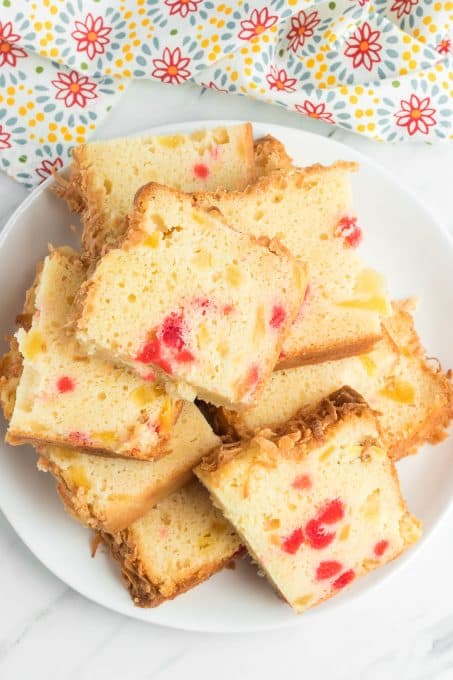 Tips and Tricks for Easy Quick Bread
Make pina colada bread a day ahead of time. After baking, wrap your loaf in foil and let it rest overnight. It slices so much easier and cleaner the next day! That is, IF you can even wait that long to try it.
Grease and flour your loaf pan. Using the inside of your butter wrapper is a great way to coat the bottom and sides of the pan. Then sprinkle a small amount of flour over the butter coating. Or spray with baking spray if you prefer. 
How to tell if bread is done: insert a toothpick into the center of the loaf. When it comes out clean, the pina colada bread is fully baked. If batter sticks to the toothpick, the loaf needs more baking time. Leave it in the oven for another 5-10 minutes, then check again.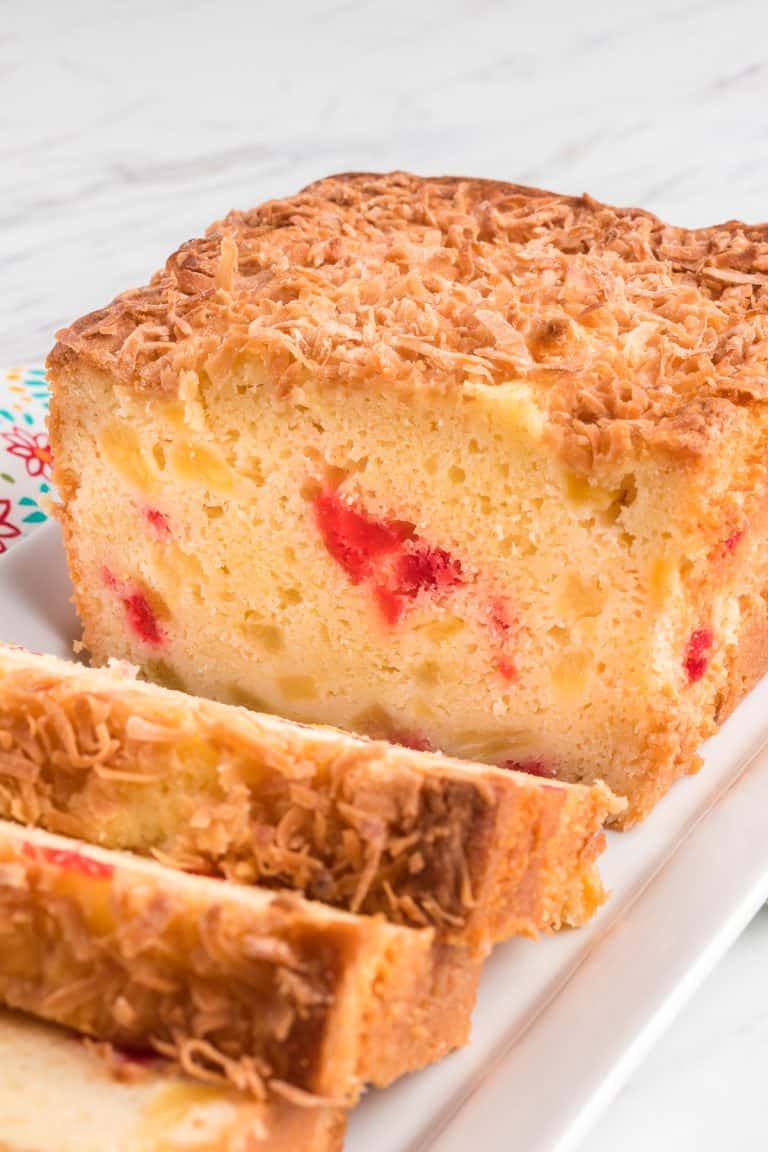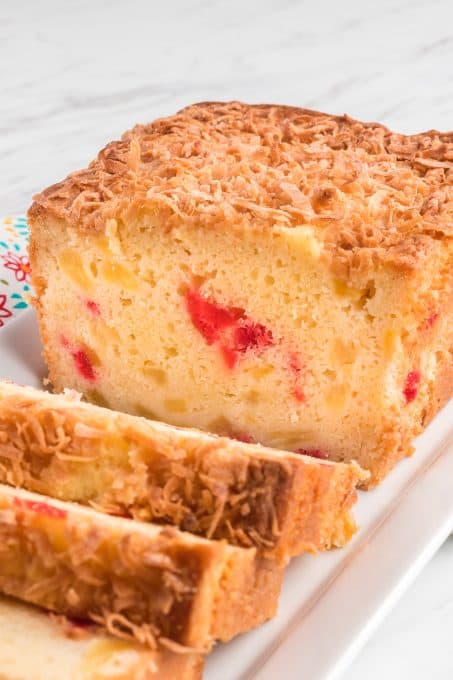 Storing Quick Bread
Pina Colada Bread stays moist and delicious for days if you store leftovers right. Maintain that freshness by keeping it tightly wrapped with aluminum foil or plastic wrap, and slice it as you go.
Similar to other quick breads made with fruit, the loaf stays moister for longer if it's stored unsliced. Unless you plan to eat it all at once (which I know is tempting!), keep the loaf unsliced and cut off only what you'll eat at one time. 
Wondering if you can freeze pineapple coconut bread? You bet! This Pina Colada Bread holds up well to freezing, although the toasted coconut will soften as it thaws. It still tasted amazing after freezing sans the crisped coconut texture, so don't hesitate to stash leftovers in the freezer if needed.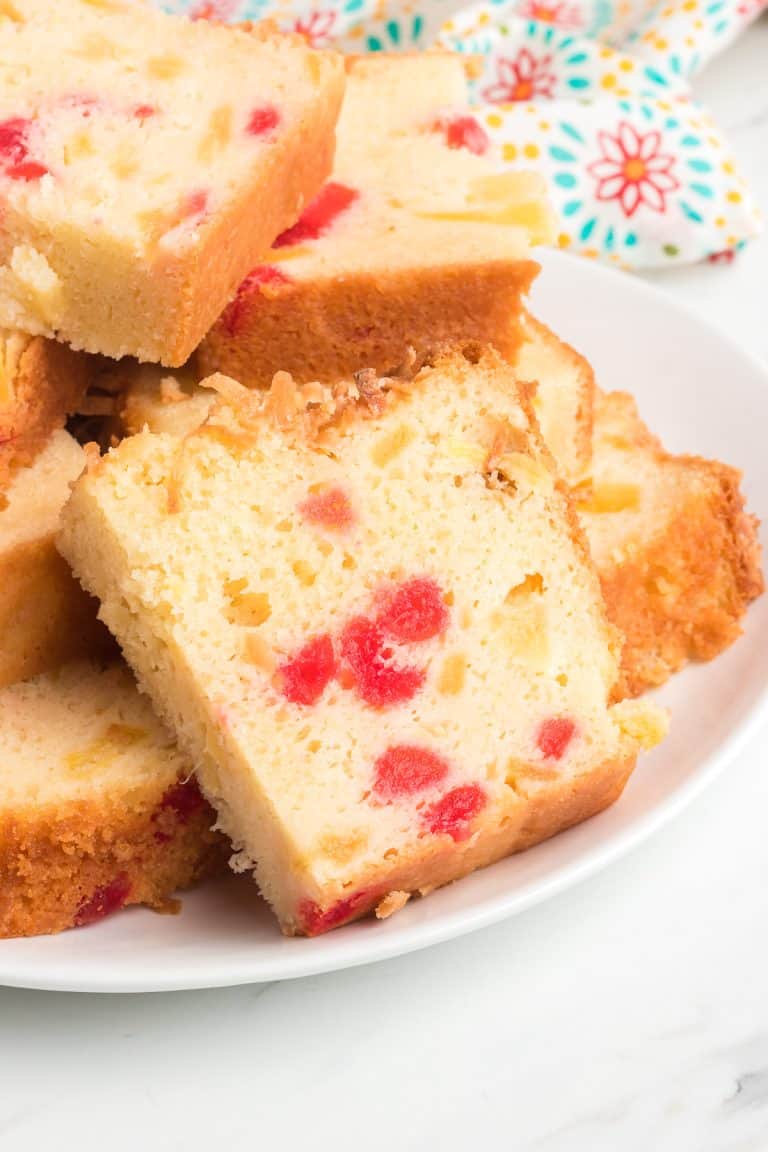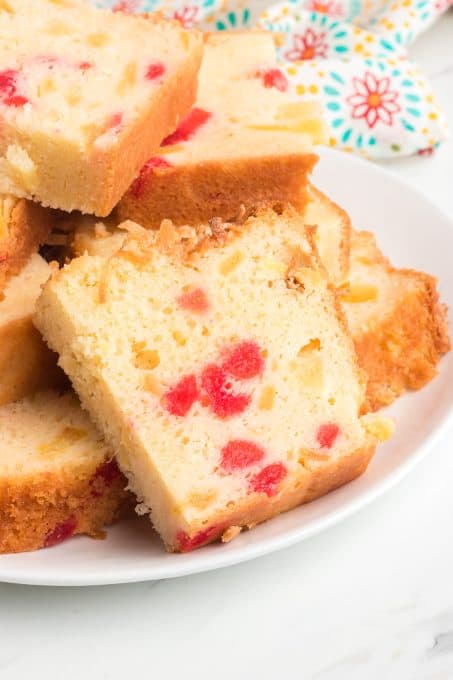 Pina Colada Dessert Recipes
For an even sweeter take on the pina colada dessert, try my Pina Colada Cupcakes. They're light, fluffy and perfect for a party! If you want a dessert with a richer rum flavor, this Pineapple Rum Cake is just the ticket. It's a homemade copycat of a dessert I had on a Caribbean cruise — but I think my version tastes even better than the original.
Pina Coladas make me think of summer. And in the summertime I rarely want to turn on the oven to bake. That's where Pina Colada Milkshakes come in! Creamy, cold and sweet, they're satisfying with or without the rum.
Want a dairy free option? I created this Pineapple Coconut Silk Smoothie as a lighter, healthier take on the milkshake with my favorite pina colada flavors. Sip it for breakfast, dessert or as an easy pick-me-up any time of day.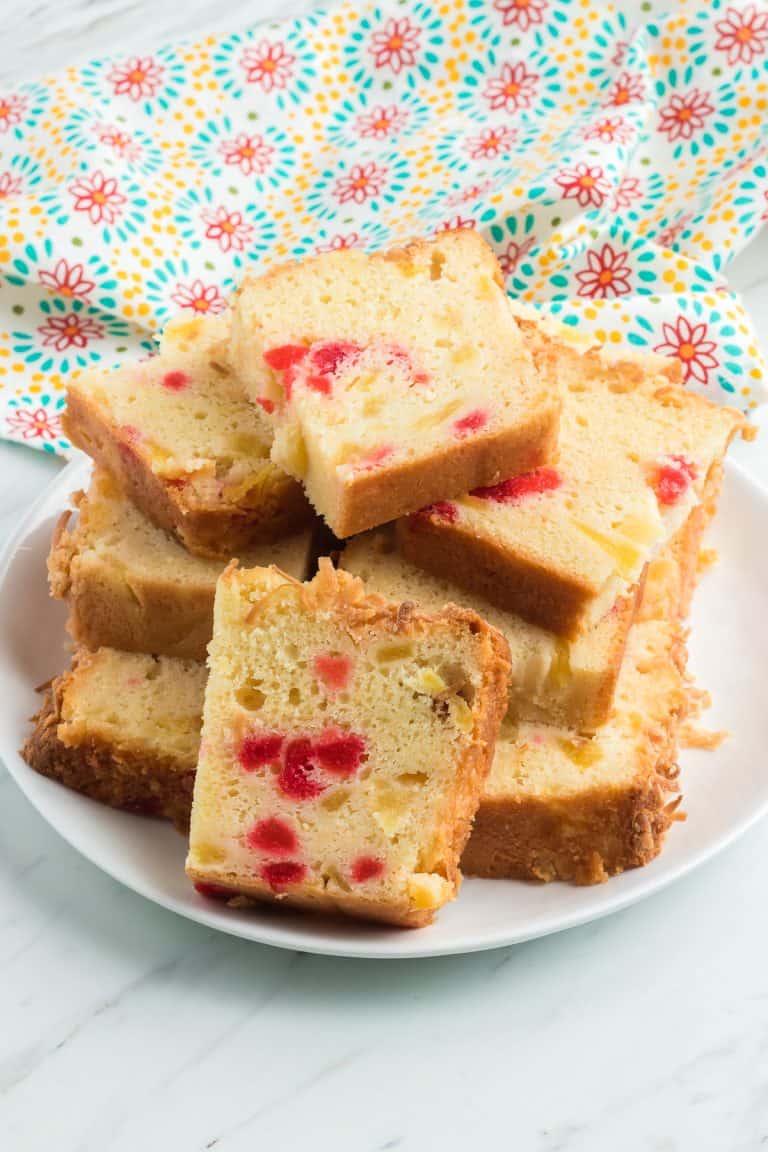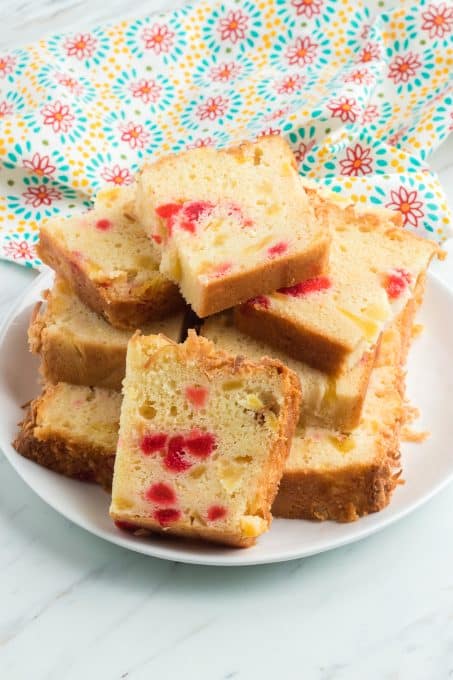 More Easy Quick Breads
Banana Bread was the first ever recipe I shared on this blog. Since then, I've put a few twists on the classic loaf. From Chai Banana Bread with warming autumn spices to this Peanut Butter Banana Bread with chocolate chips, I think I have a banana bread for every craving, mood and season!
When I think of summer, I think of pineapple, coconut and lemon. When blueberries are on sale, I try to make a couple loaves of Blueberry Lemon Bread and Blueberry Banana Bread to stash away in the freezer. In fall, few things make a kitchen smell cozier than freshly baked Pumpkin Bread. To no one's surprise, I have also have a recipe for  Pumpkin Bread with chocolate baked inside. Given the choice, I'll choose the chocolate option on the table just about every time! 
Check out even more easy bread recipes to save for baking inspiration!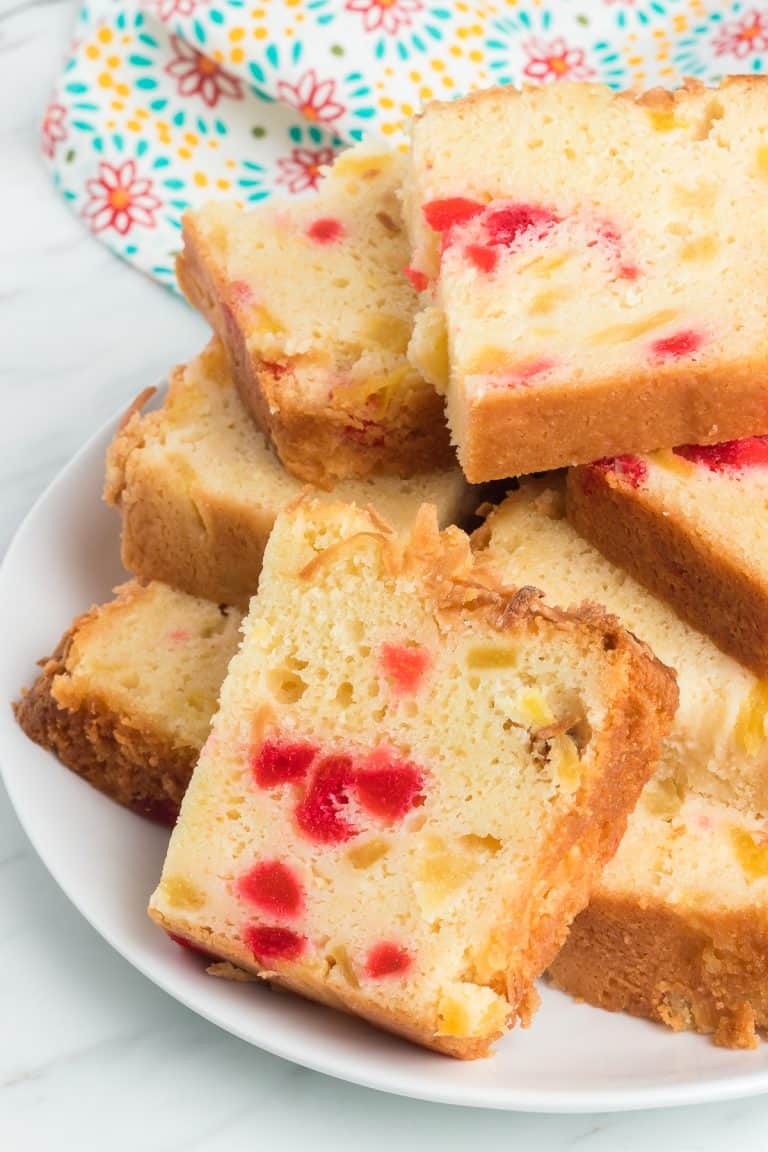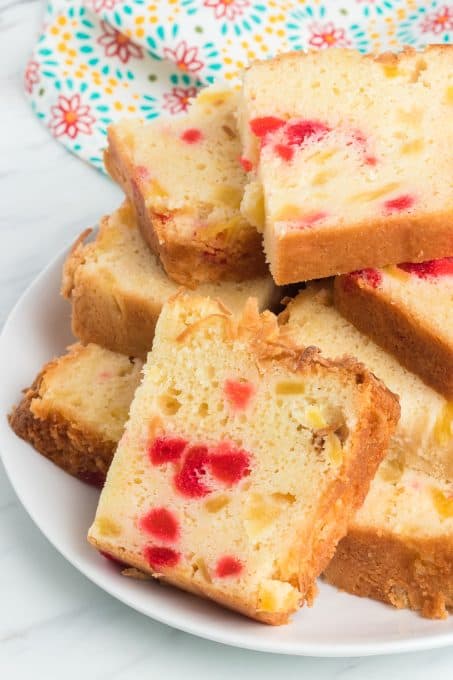 ~ FOLLOW ME ~
Keep an eye out for more of my easy recipes each week!
Start by making this Pina Colada Bread. A slice of this bread filled with pineapple and cherries and a taste of coconut is a little taste of summer vacation without leaving home.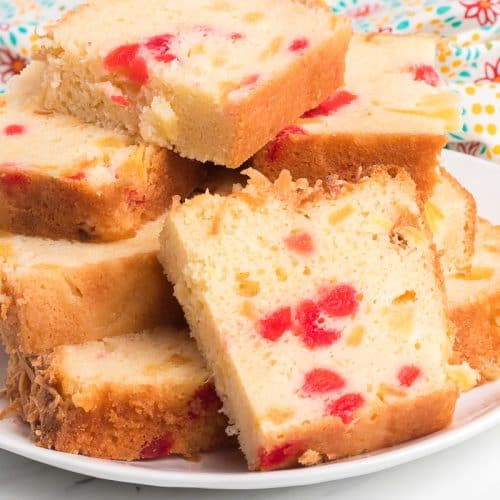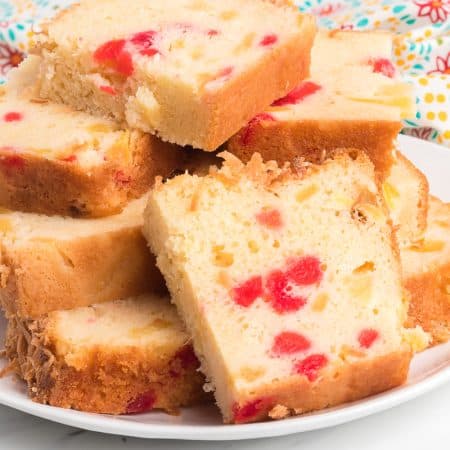 Pina Colada Bread is a delicious quick bread inspired by the beachside cocktail! With a hint of rum flavor chunks of pineapple, diced maraschino cherries, and a toasted coconut topping, this next-level pineapple bread tastes like tropical paradise.
Ingredients
½ cup unsalted butter room temperature
1 cup granulated sugar
1 ½ cups all-purpose flour with 3 tablespoons (divided) set aside
½ teaspoon baking soda
½ teaspoon salt
3 large eggs
1 cup sour cream
1 tablespoon rum extract
1 teaspoon coconut extract
20 oz. pineapple tidbits
½ cup unsweetened coconut toasted
¼ cup chopped maraschino cherries *See recipe
Instructions
Remove about 8 whole maraschino cherries from the container and place onto a folded paper towel to drain and sit for about 15 minutes. We want them to be as dry as possible when we add them to the batter so it doesn't discolor. It may also be necessary to blot them dry after they've been sat.

Pour pineapple into a fine mesh sieve placed over a medium bowl. Allow pineapple to drain as completely as possible, about 10 minutes.

Once the cherries have dried, place 1 teaspoon of the reserved flour into a small bowl. Dice the cherries so that the total comes to 1/4 cup, and add them to the flour. Toss to coat completely. In a medium bowl, place the two teaspoons of flour, add the drained pineapple, and toss to coat completely. Doing this will help to suspend the fruit in the batter instead of having it all sink to the bottom
To Toast the Coconut
Preheat oven to 300° F. Spread coconut in a single layer onto a rimmed baking sheet lined with parchment paper. Bake for approximately 5-10 minutes, checking and stirring after 5 minutes. Coconut will be finished when it is golden in color, but be careful not to burn.
Bread
Increase oven temperature to 350° F.

Generously butter and flour a 9 X 5 loaf pan halfway up the sides of the pan.

In a small bowl, combine flour, baking soda, and salt; set aside.

In a mixing bowl fitted with a paddle attachment, cream butter and sugar until light and fluffy. This should take about 5-7 minutes.

Add eggs, one at a time, incorporating each completely before adding the next. Add the rum and coconut extracts.

Alternately add the flour and the sour cream, beginning and ending with the flour, mixing the final bit of flour in until just combined.

Fold pineapple and diced cherries into batter.

Pour into prepared loaf pan.

With a rubber spatula, smooth the top and sprinkle toasted coconut on top.

Bake for 30 minutes, cover bread with foil to prevent the coconut from burning. Bake for another 40-50 minutes for a total baking time of 70-90 minutes.

Cool bread in pan for 20 minutes before removing from pan to cool completely. Before removing, gently slide a table knife around the edges to loosen. Bread will slice best after it's been wrapped tightly in tin foil and left to sit overnight.
Notes
Note: Cooking times may vary, depending on altitude and a difference in oven temperatures. Check doneness of bread after it has been in the oven for a total of 60 minutes by inserting a toothpick into the middle to see if it comes out clean. If not, leave in the oven and check every 5-7 minutes until completely baked.
Nutrition
Serving: 1slice | Calories: 304kcal | Carbohydrates: 40g | Protein: 4g | Fat: 15g | Saturated Fat: 9g | Polyunsaturated Fat: 1g | Monounsaturated Fat: 3g | Trans Fat: 0.3g | Cholesterol: 73mg | Sodium: 168mg | Potassium: 138mg | Fiber: 2g | Sugar: 26g | Vitamin A: 441IU | Vitamin C: 5mg | Calcium: 42mg | Iron: 1mg
Did you make this recipe?
Share it with me on Instagram and make sure to follow me on Pinterest for more recipes.
Reader Interactions